The Portable Document Format, also known as PDF, is a digital format used mainly to exchange professional documents. Sometimes users have to edit these professional files to edit content, layout, and margins. Sometimes they need to add fresh images and insert links. In such a scenario, PDF editing plays a crucial role. PDF editing is not an easy task. If you do it manually, you may face several difficulties like editing or moving elements, funky fonts and size issues, and much more. That's the reason it's highly recommended to use online best PDF editor tools and software to complete the PDF editing job effortlessly.  
How to Edit PDF Files on Laptop 
1. Edit PDF files using ApowerPDF
ApowerPDF is an all-in-one solution for your PDF files. It comes with several features like editing PDF text and images, creating PDF files, merging and splitting PDF files, extracting pages from PDF files, watermarking PDF documents, and more. It has a clean and user-friendly interface that permits uses to perform essential editing functions efficiently.
Price: It costs $29.95/Monthly, $39.95/Annual, $59.95/Lifetime.
Compatibility: Windows, Mac, Android, and iOS.
Pros:
Easy to use with a fantastic interface 
Free version available with limited features 
Image insertion feature 
Proper document scanning
It comes with an Editing history feature 
Combine PDF files 
Cons: 
It lacks integration capabilities with file sharing tools
There is no image edition option 
To edit PDF file on ApowerPDF, follow the below steps
Step 1. Download and Install ApowerPDF on your PC.
You can download ApowerPDF from their official website. Currently, they have both the premium and free versions available.
Step 2. Run APowerPDF and open the PDF file that you wish to edit. 
Step 3. From the Toolbar of ApowerPDF, select the Edit button, then a right-side Content Editing menu will appear. From there, select the Edit Text & Images option.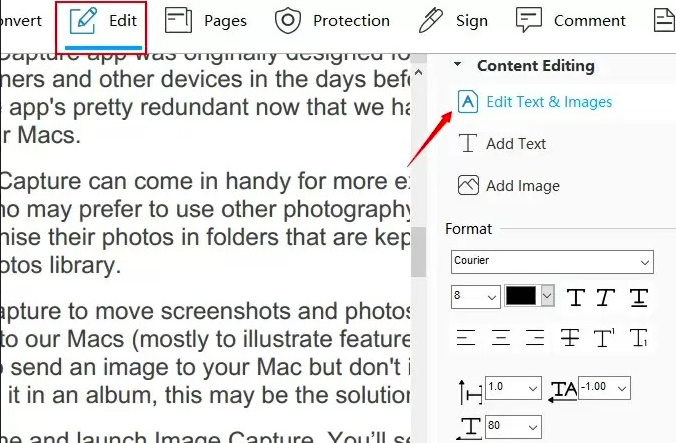 Step 4. Select the text you want to modify and start editing your PDF document.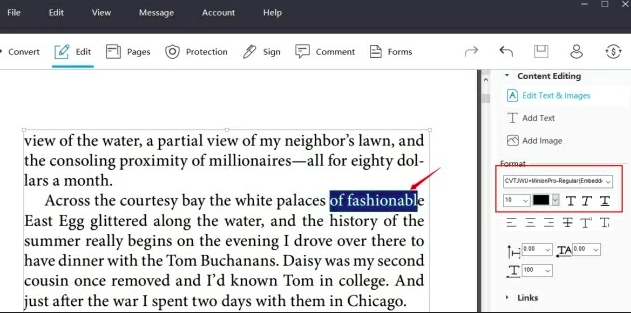 2. Edit PDF files using Soda PDF
Soda PDF is one of the fully functional PDF solutions available for both desktop and web-based app. Users have the complete freedom to access all the features of this tool on any device with a web browser, including smartphones, tablets, desktops, and laptops.
It comes with several advanced features like splitting a PDF file into multiple files, editing all text and images, annotating PDF documents, and much more. Merging PDF files, collaboration on PDF documents, and storing your documents in the cloud are some of the unique features that make this tool outstanding.
Price: Its Desktop STANDARD version costs $65.00/Annual, Desktop + Web PROFESSIONAL version costs $160.00/Annual.
Compatibility: Windows, Mac, Android, and iOS.
Pros:
Offers a neat and clean interface.
Signing documents digitally.
Password protection is available on documents.
Users can merge multiple PDF files into one.
Cons:
Slow loading.
Spooling of batch printing could cause the program to freeze up.
The URL to PDF creator doesn't work correctly. 
To edit PDF file text on Soda File, follow the given steps below
Step 1. Download and Install Soda PDF on your PC.
Step 2. Run Soda PDF and open the PDF file that you wish to edit.
Step 3. Click on the Edit button in the Soda PDF toolbar, then you will see your PDF text in the border-box. It happens because of the OCR technology of Soda PDF, which differentiates between text and the image.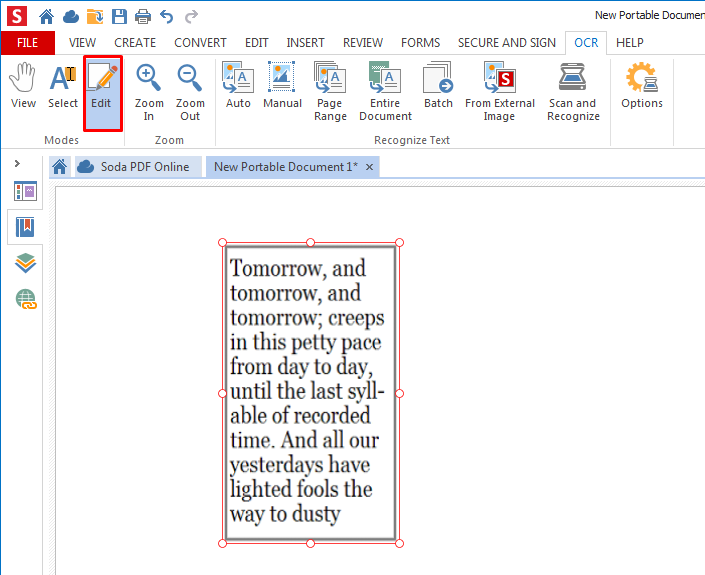 Step 4. Select the text you want to modify, you will see multiple options appearing on the screen. From there, you can easily edit text in PDF files besed on your needs.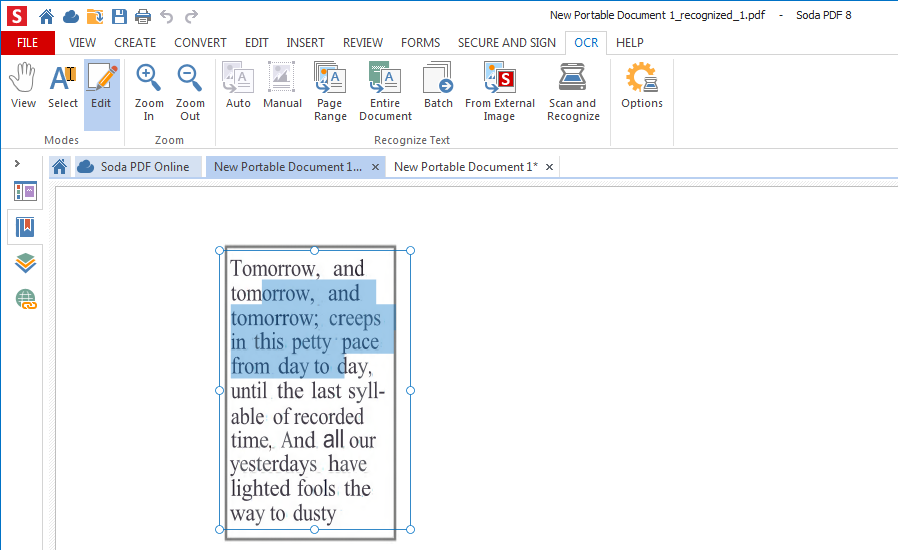 3. Edit PDF files with Adobe Acrobat DC
The Adobe Acrobat DC is one of the latest and most popular PDF software by Adobe. This powerful PDF creator tool comes with a wide range of features and functionalities. You can say this is the gold standard PDF software on today's market. 
If you need a professional tool for PDF viewing, editing, managing, and manipulating documents, PDF file combining, and much more. Then this tool is a one-stop solution for you. Adobe Acrobat DC has unique features like Digital Signature, convert to PDF file, annotations, watermarking, PDF reader, PDF file merge, and encryption.   
Price: $14.99/Month, $179.88/yr.
Supporting OS: Windows, Mac, iOS, and Android
Pros:
Text indexing for quick searches 
Cloud-based commenting and sharing option
Full editing features in mobile apps 
Convert photos made on the phone into a PDF in the desktop app.
Cons:
Needs to be a better way to label the page numbers 
Very expensive 
Sometimes text scanning misinterprets some characters.  
To edit PDF file on Adobe Acrobat DC, follow the given steps below
Step 1. Open a file in Acrobat DC and click on the Edit PDF tool in the right panel.
Step 2. Use several Acrobat edit tools like add new text, edit text, or update fonts using selections from the format list. You can add, replace, move, or resize images on the PDF page using sections from the Objects list. You can use other tools like adding watermark, annotating PDFs, PDF file encryption, and PDF file merger to further edit your PDF file.
Step 3: Name your file and click the "Save" button.      
4. Edit PDF files with three online PDF editors for free
No doubt, paid PDF file editor software is the best if you need professional-level PDF edit with loads of advanced features. Still, if you need casual PDF editing, then online free PDF editors are always a good option for you. Here I will recommend three reliable PDF online editorials that are free to use and have limited basic features. Here, you will learn about three popular online PDF editors: Soda PDF online Tool, iLovePDF online tool, and PDF2Go online tool. Let's discuss more on these three free online PDF editor tools.  
Soda PDF online tool
Soda PDF online tool is a great tool where you can easily edit PDF files with a wide range of free PDF editing tools. You have to select the PDF file for editing by uploading the document from your system or cloud storage services like Dropbox or Google drive. Drag and drop the PDF File in the Drop files here option. 
When you upload your PDF file online, it will automatically open the Soda PDF application in your browser. There you will find several user-friendly features to help your edit PDF documents.  In the edit section, you will get link insertion, add page marks, and remove page marks, helpful when editing a PDF file.
Rather than the edit option, you can get many more options like; in the covert section, there are merge, split, export compress features and other sections like E-sign, comment, secure, OCR are beneficial for PDF file editing.      
Price: Free 
Supporting OS: Windows, Linux, Mac
Pros:
Edit PDF pages and content
Manipulate and share document 
Compress tool to reduce the size 
E-sign PDF files
Merge files 
Cons:
iLovePDF online tool
iLove PDF online tool is suitable for PDF file editing because this tool allows you to upload and edit directly from the web free of cost. To edit the file, you have to navigate the website of iLovePDF's home page. 
You will get the PDF file upload option; select the required PDF file you want to edit. Now select the edit your PDF option in the top toolbar. Click on the Edit PDF button to process the file. After completing the process, download your edited PDF file to your system or select to save it in your Google Drive or Dropbox account.
When it comes to the feature, you will get text edit, image addition, zoom in, zoom out, add a shape and fit page option with this free online PDF editor.  
Price: Free
Supporting OS: Windows, Mac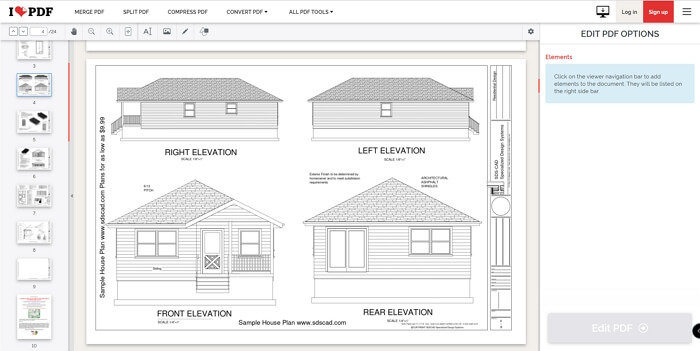 Pros: 
Simple interface
Free to use  
Quick editing with smooth features 
Cons:
Not come with loaded features 
PDF2Go online tool
PDF2Go online tool is another highly recommended free online tool for PDF editing. It is free to use online tool where you will have to upload the PDF file you want to edit. Click on a page thumbnail on the left panel. Choose an editing tool from the menu above the preview and edit as per your requirement.
When it comes to features, you can draw, write on your PDF file. Zoom in and out on the page using magnifying glasses buttons, undo changes, reset the whole page, and much more.
By accessing the options menu on the left side, you can easily change the color, font, stroke size. After completing the editing, you have to click on the Save and again on the Save button to get your edited PDF file.        
Price: Free
Supporting OS: Windows, Mac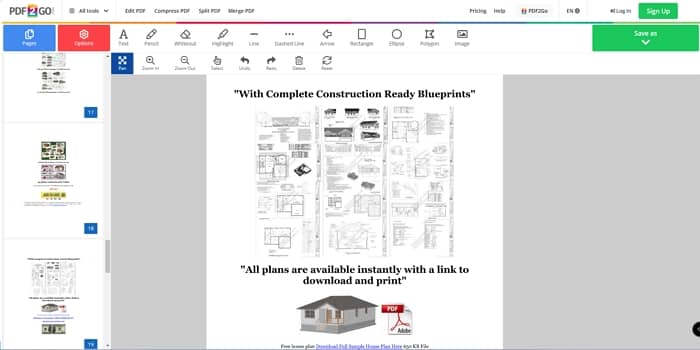 Pros:
Easy drop and drag file 
User-friendly interface 
Amazing features 
Super-fast loading  
Cons:
No advanced level features like merge PDF or split PDF files 
How to Edit PDF Files in Mobile?
If you want to edit a PDF file on your mobile, you must search for a mobile-based PDF application or, say, editor. Here I will recommend going with the famous and most trusted Small PDF application to edit PDF files. Let's discuss more on this application.
SmallPDF is a trusted desktop, mobile, and cloud-based PDF document management and conversion tool which allows users to edit, convert, and electronically sign the document conversion process. 
This tool provides impressive features like editing, unlocking PDF documents, merging, splitting, editing, rotating, signing, and the capability to convert PDF to Word, Excel, JPG, PNG, and PPT documents.  
Pricing: Free Trial, iOS version charges $11.99/month  
Follow the given steps to edit PDF files on a SmallPDF application:
Step 1. Download the SmallPDF application from Playstore if you are an android user or visit App Store if you are an iPhone user and install it.
Step 2. After launching and logging in to this app, it's time to upload the required PDF file you want to edit. You can add text, highlight, draw signs and add pages to that uploaded PDF file easily.
Step 3. After required changes and editing, you can also save to the device or save to the cloud, compress and convert the file along with the share feature using this SmallPDF mobile app.   
Pros:
Very fast
Easy to use over mobile phone
Sharing document feature 
Exporting from one format to others.
Condensing files 
Cons:
Limited feature for the free trial 
Limitation on uploading large files 
Documentation is hard to navigate
Conclusion
No doubt, there are several PDF editing software and online tools that can help you edit PDF files. Here in this post, you got three highly recommended trusted web-based software and one mobile application for PDF file editing.
 You can go with any of them to edit files, but I recommend you go with ApowerPDF and Soda PDF if you ask me. Now the question is why? The answer is pretty simple! ApowerPDF and Soda PDF software performs well in editing PDF content, changing PDF font size and font style, inserting links, and adding images on the PDF file, which are extremely useful during PDF editing. These tools are genuinely reliable and come with a user-friendly interface along with advanced features.          
No more content