There are scenarios where we have enormous PDFs and need to allot certain PDF pages to different individuals who could be colleagues in the office for collaboration or presentation. To do this, you'll have to split the PDF pages.
For instance, you can split a 30-page PDF document into six separate files, each having five pages, or you can split the document into several PDF files as it suits your preference. The task of breaking PDF pages can be overwhelming, especially when you don't have an idea of the process and tools to employ.
This article will explain ways to split PDF pages on your Windows PC and Mac using offline and online PDF editor tools. Without further ado, let's get started. 
How to Split PDF Pages Offline
Split PDF Pages in Windows using EaseUS PDF Editor
If you want to split your PDF pages offline, you need to try some desktop PDF editor tools.  EaseUS PDF Editor, an all-in-one PDF creator, editor, converter, and printer can be your first choice. The application presents its users with different editing access such as editing PDF text, extracting PDF pages, merging PDF files, cropping and removing PDF pages, etc.
Price: It costs $29.95/Monthly, $49.95/Annual, $79.95/Lifetime.
Compatibility: Windows
To split PDF documents using the EaseUS PDF Editor:
Step 1. Launch this PDF editor program, then open the PDF file that you want to edit.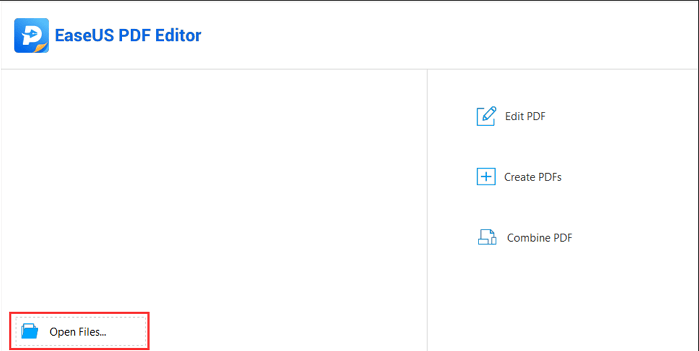 Step 2. Click on "Page" at the right upper portion and choose the "Split Document" option.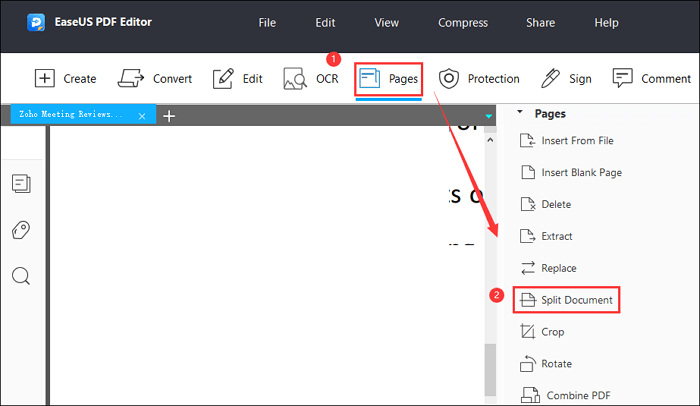 Step 3. The "Split Document" window will appear. You can split the PDF by number of pages, file size, and top-level bookmarks. Once the setting is done, click "OK" to split your PDF document.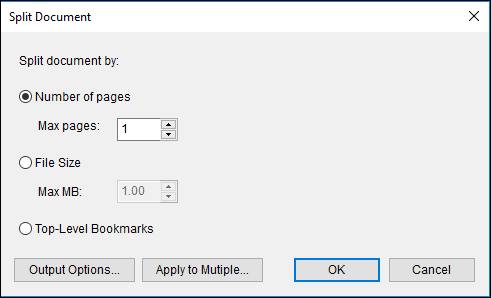 Pros: 
Easy to use and highly affordable.
All-in-one PDF Creator, Reader, Converter, and Printer.
Cons:
Lacks support for Linux.
The free version has ads and watermarks.
Split PDF Files in Windows Using Soda PDF
To split your PDF pages offline, Soda PDF is another PDF editor tool you can try. This tool is an easy-to-use PDF tool that allows you to edit PDF files, convert, compress, sign, secure, split, and merge PDF files in just a few clicks. 
Compared with EaseUS PDF Editor, it offers an extra Cloud sharing collaboration option to work across multiple devices and share and edit your PDF files in real-time. That means you can access your files online or offline on any platform. Start from your computer, save to Dropbox, Google Drive, SharePoint, or Evernote & finish the job on your phone.
Price: Its Desktop STANDARD version costs $65.00/Annual, Desktop + Web PROFESSIONAL version costs $160.00/Annual.
Compatibility: Desktop version compatible with Windows OS & Linux. Online version compatible with MAC & web browsers
To split PDF files in Windows using Soda PDF:
Step 1. Run Soda PDF, click Convert from the toolbar and  choose the Split tool. 
Step 2. Select the actual range of the PDF file pages you're  splitting into a new document.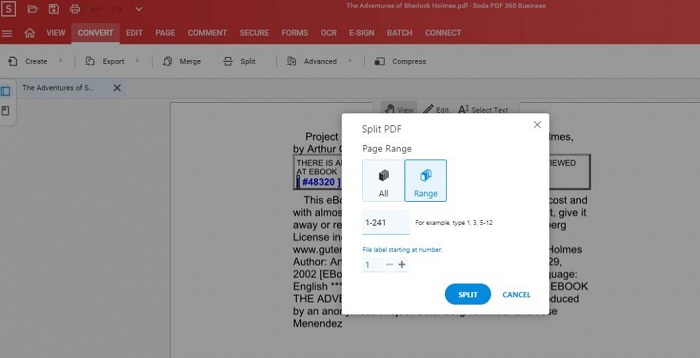 Note: Ensure you indicate the page's range using a hyphen or comma. For instance, use 1-30 if you want the pages from 1-30 split, or use 1, 3, 4 if you're going to skip page 2 from being split.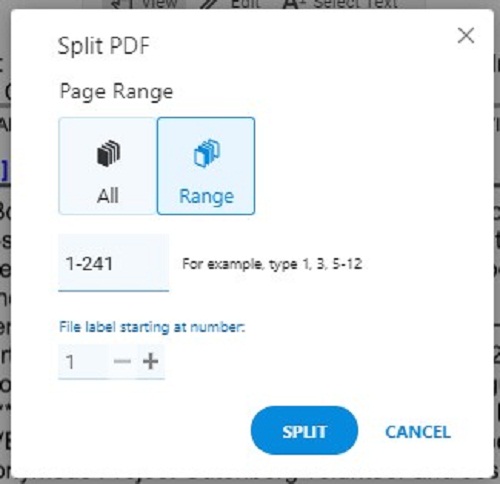 Step 3. Once you've segregated the pages, click Split. Your  PDF document is split into the specific range of your choice.
Pros:
Easy to use and high brand reputation.
Great PDF editor with powerful OCR. 
Cloud sharing collaboration option to share your PDF files and edit them in real-time.
Cons:
No Linux support.
7-day Trial requires users to register.
Split PDF Pages on Mac Using Preview
Splitting PDF documents for Mac users can be done with the use of an implicit application called Preview. The application enables users to transform PDF pages into separate forms and permit users to see pictures in PDF formats.
To split PDF documents using the built-in Preview application on Mac:
1. Open the PDF document with a right-click and select Preview from the options.
2. Click the View menu present at the top-left corner of the toolbar and select Thumbnails. Choose Single Page or Two Pages.
3. A window will pop up, separating the PDF page chosen, then drag the particular PDF page to the desktop.
4. The split files are saved on the desktop. 
How to Split PDF Pages Online for Free
There are many online PDF editing tools you can utilize to perform various PDF document requirements. An interesting attribute of these online tools is that you can perform some basic tasks for free. Below is some selected PDF online editors you can utilize to split PDF pages.
Merge PDF Files with ILovePDF Online PDF Editor
ILovePDF is an online PDF editor that provides you with an easy means to edit or split PDF documents online. It gives users options to either split a specific document by page ranges or separate the total pages from the PDF document.
Users can quickly upload a PDF file from their Google Drive or PC straight into the website interface. It merges and splits PDF files as promptly as possible.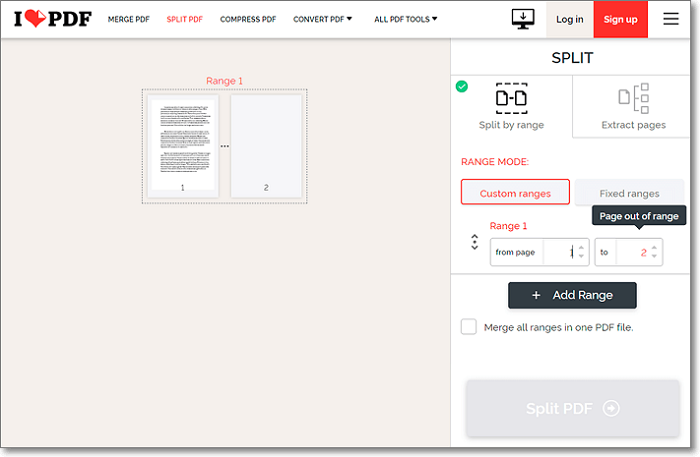 Price: It offers a free plan and a subscription plan. For the subscription plan, the price ranges from $4 monthly and $48 annually. 
Supporting OS: Windows, Mac, Linux.
Pros:
It easily links Google Drive cloud storage to select a PDF file.
It has a good functionality speed.
Cons:
It has limited features in the free plan.
Merge PDF Files with SmallPDF Online Editor
SmallPDF is an online free PDF Splitter that assists users in performing various PDF options, including editing and managing PDF documents with ease. You can split, merge, and edit PDF text, images, and content to a PDF file using the SmallPDF Online editor.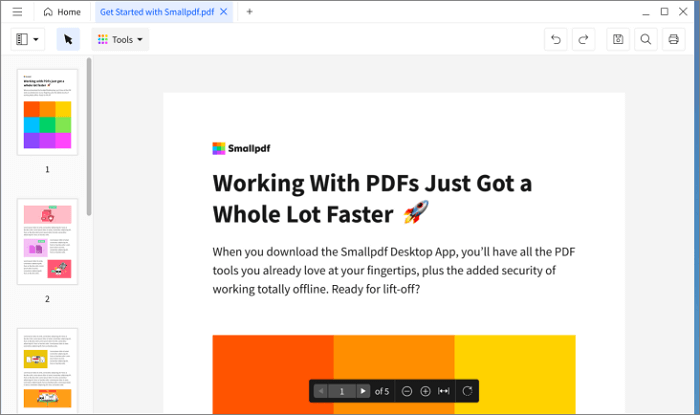 Price: The Pro plan costs $9 monthly(per user, billed annually.).
Pros:
It presents users with multi-functional tools.
Files are easily accessed with Google Drive cloud storage.
Cons:
Limited functions in the free version.
Supporting OS: Windows, Mac, Linux.
Final Thoughts
We've explained the processes involved when splitting PDF documents in Windows and Mac. Depending on what device you're using, splitting PDF pages is an easy task when the right tools are utilized. 
If you are looking for an easy-to-use and highly affordable PDF editor tool, we recommend EaseUS PDF Editor.
If you fancy the powerful OCR feature and Cloud sharing collaboration option, you can choose Soda PDF.
And if you just need to deal with a small number of PDF files and don't want to download and install third-party software, ILovePDF and SmallPDF online tools will be your choice.
No more content