Imagine you have three or four sections of a PDF file you've gotten from different sources, and you'll need to combine them into a single file. To do these might seem difficult when you lack the right tools to employ. 
 If you're using a Windows PC and need to merge or split PDF files, you'll require a third-party application or some online tools on your device to carry out this operation. Windows 10 only allows you to see PDF documents in the edge browser, but that's much you can do.
However, for Mac users, the built-in Preview application in the MacOS gets the job done rapidly without any problem. This article highlights some offline software and online tools you can employ to merge PDF files in Windows 10 and Mac and also gives guidelines on how to use these tools.
How to Merge PDF Files Offline
Merge PDF Files in Windows Using EaseUS PDF Editor
Combining PDF files in Windows 10 requires some offline applications, and the EaseUS PDF Editor is the best PDF editor to get the job done easily. As a full-featured and easy-to-use tool, it can help you edit, merge, extract, convert, compress, and modify any PDF file with ease.
Price: It costs $29.95/Monthly, $49.95/Annual, $79.95/Lifetime.
Compatibility: Windows
To merge PDF files into a single document by using EaseUS PDF Editor:
Step 1. Launch EaseUS PDF Editor on your PC, and click on the "Page" button. A sidebar will appear on your right hand, and you need to select "Combine PDF" under the "Pages" tab.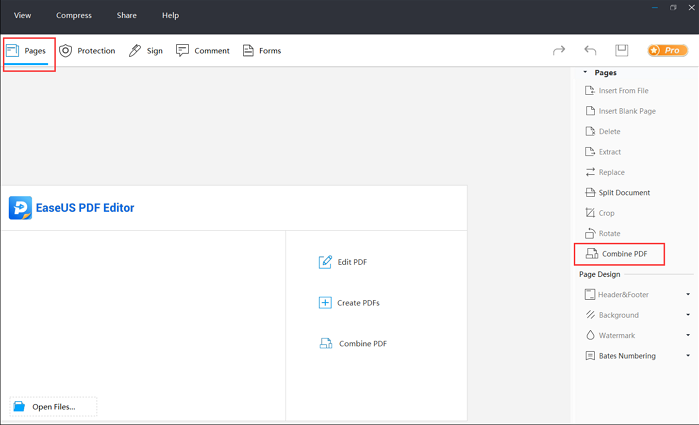 Step 2. There will be a pop-up window that asks you to add the PDFs you want to merge. You need to click on "Add Files..." to import the two or more PDF files you want to combine. Then, click on "OK" to merge those files into one.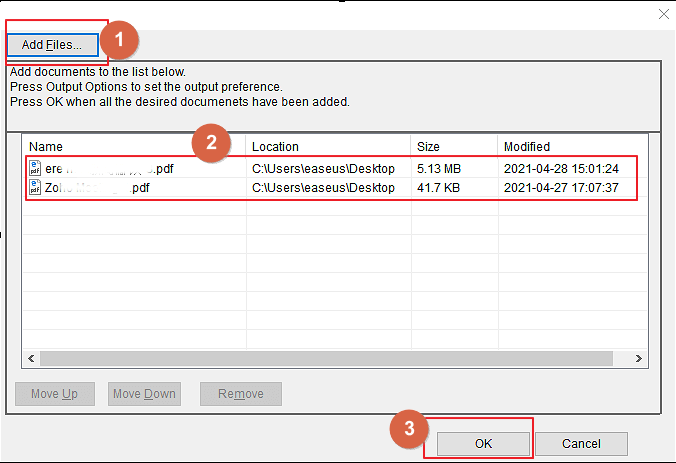 Step 3. Check the combined PDF, and if there is nothing that needs to be corrected, you can click on the "File" button and choose "Save" or "Save" to export the combined PDF file to your computer.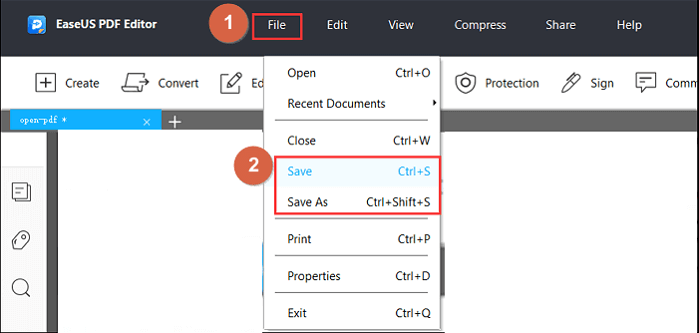 Pros:
Easy to use and highly affordable.
All-in-one PDF Creator, Reader, Converter, and Printer.
Cons:
It lacks support for Linux.
The free version has ads and watermarks.
Merge PDF Files in Windows using Soda PDF
Soda PDF is a great document management application that provides a solution to various PDF documentation tasks. It's a simple-to-use software that can edit, merge, convert, compress, sign & secure your documents in just a few clicks.
Additionally, its Cloud sharing collaboration option allows you to share and edit PDF files in real-time across multiple devices. For example, you can create a PDF file on your computer, then save it to Dropbox, Google Drive, SharePoint, or Evernote and finally finish the job on your phone.
Price: Its Desktop STANDARD version costs $65.00/Annual, Desktop + Web PROFESSIONAL version costs $160.00/Annual.
Compatibility: Desktop version compatible with Windows OS & Linux. Online version compatible with MAC & web browsers
Here's how to utilize Soda PDF to combine PDF files:
Step 1. Download and install Soda PDF on your PC.
Step 2. Navigate to the Tools menu and choose Merge PDF. Click the "+" sign to add the documents you want to merge.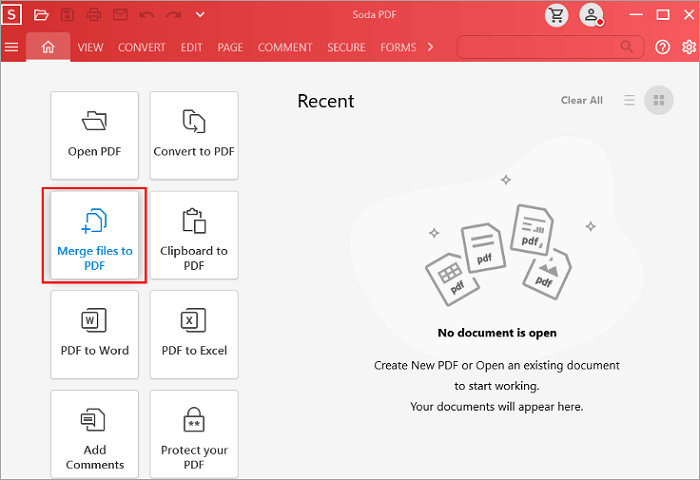 Step 3. Select the Merge Files button. The application will automatically join the files into a single document.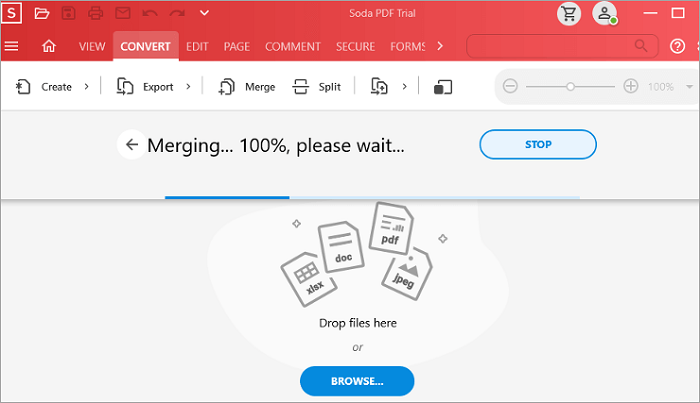 Pros:
Easy to use and high brand reputation.
Much cheaper than its competitors.
Cloud sharing collaboration option to share your PDF files and edit them in real-time.
Cons:
No Linux support.
7-day Trial requires users to register.
Merge PDF Files on Mac using Preview
Preview is a powerful built-in application in macOS used for signing documents, editing images, and carrying out many PDF operations. The Preview application can be used to Merge PDF Files in Mac and can perform this function effectively. Here's how to employ Preview in merging PDF files.
1. Launch the Preview application and click on the View > Thumbnails.
2. Select the PDF pages to be combined. If you're going to choose multiple pages, hold down the CMD button.
Note: If you want to combine many PDF files, you'll need to open a lot of preview windows on your desktop. So ensure they are organized to make the process easy.
3. Drag and Drop the PDF documents into the new file you're merging. The PDFs are then combined into a single document, and the pages will systematically number themselves.
How to Merge PDF Documents Online for Free
Many online PDF editing tools can merge and split PDF files without difficulty. An interesting attribute of these online tools is that you can perform some basic tasks for free. However, to gain access to the full features of these tools, you should subscribe to their services. Below are some online PDF editors that can effectively combine PDF files for free.
Merge PDF Files with DocFly Online PDF Editor
Docfly's online PDF editor tool lets you merge, extract, split, create, convert and edit PDF documents for free online. You upload your files and begin the editing process instantly. It enables you to merge multiple files seamlessly for free.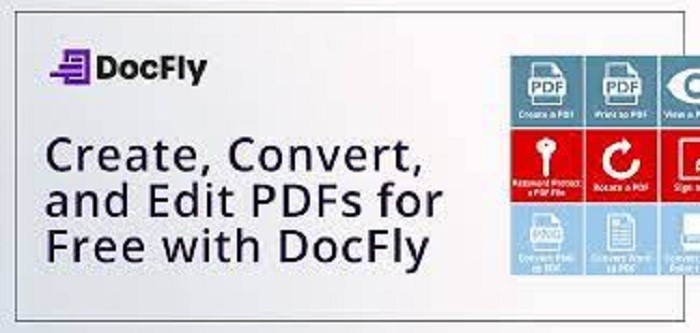 Price: It offers users a free and paid plan. The monthly plan costs $7.99, while the annual plan costs $47.88.
Supporting OS: Windows, Mac, and Linux.
Pros:
Support to deal with large PDF files.
Support any platform as long as there's an internet connection.
Cons:
File conversion can be slow when working with multiple files.
Export limited 3 documents per month for free with no sign-up necessary.
Merge PDF Files with SmallPDF Online Editor
SmallPDF is an online free PDF Splitter that assists users in performing various PDF options, including editing, split and managing PDF documents with ease. You can split, merge, and add other text, images, and content to a PDf file using this online tool.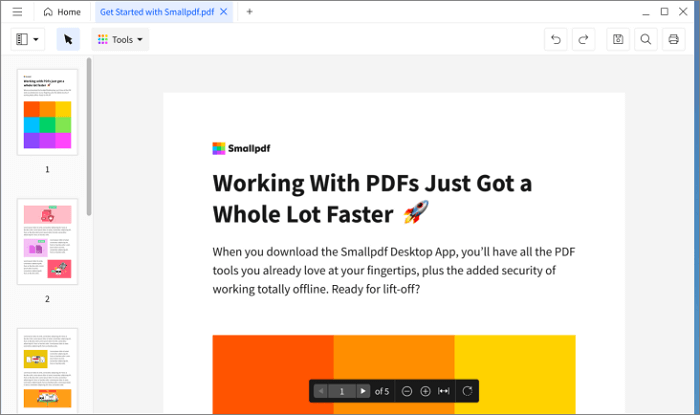 Price: The Pro plan costs $9 monthly(per user, billed annually.).
Supporting OS: Windows, Mac, Linux.
Pros:
Support to deal with large PDF files.
Files are easily accessed with Google Drive cloud storage.
Cons:
The free version only supports arranging and combining entire PDFs instead of individual pages of PDFs.
Final Thoughts
To ensure developed work productivity, exploit any of the techniques accessible to you in this article. If you need to use any of the listed applications to merge PDFs into a single document and perform other PDF engagements, I recommend EaseUS PDF Editor. It is a simple-to-use and highly affordable application that provides you with a series of PDF document editing options.
No more content