"I have completed my homework in Google doc. Later on, I have converted my file into PDF format and sent it to my teacher. The teacher gave feedback and I have to make some revisions to my submitted work. Unfortunately, I have lost the original Google doc, and now I want to edit the text in my PDF file. Is there any online tool that can help me edit the text in my PDF file?"
--User on the internet.
You are either a student like the above user or a working professional. Editing text in your PDF file is a common use case. However, editing PDF files might not be as simple as you do with your word file.
When you convert your text file into PDF, it converts your text into image format. That is why no matter wherever you open the file, its format remains consistent. But the trouble is editing them. But how to solve this problem?
A common technology called OCR (Optical Character Recognition) is helpful to convert scanned PDF to editable Word documents and easily edit the text in PDF files. The images are cut down to bordered boxes using OCR, and the text from images is read and converted back to digital text.
In this article, we introduce four offline and two online best PDF editor tools with OCR technology that can help you easily edit PDF text. Let's see each tool one by one.
How to Edit Text in PDF Offline
#1. Edit Text in PDF files with Soda PDF
Soda PDF is the top-notch tool when it comes to PDF text editing in Windows. According to research, its OCR technology is one of the best among all PDF editors. Using Soda PDF, you can edit the text in your PDF files, and it will feel the same as you edit in a word editor.
When you use Soda PDF on your PDF files, it turns your digital images into rounded boxes. Those boxes separate the text from the image and allow you to edit the PDF text.
Soda PDF is available for almost any platform. Whether you wish to edit the text of your PDF in Windows, MAC, Android, or iOS; It has always got your back. Let's see how you can edit your text in PDF using SodaPDF in easier steps below:
Price: Its Desktop STANDARD version costs $65.00/Annual, Desktop + Web PROFESSIONAL version costs $160.00/Annual.
Compatibility: Desktop version compatible with Windows OS & Linux. Online version compatible with MAC & web browsers
Pros:
Easy to use and high brand reputation.
Much cheaper than its competitors.
Cloud sharing collaboration option to share your PDF files and edit them in real-time.
Cons:
No Linux support.
7-day Trial requires users to register.
Steps to Edit Text in PDF Files using Soda PDF
Step 1. Download and Install Soda PDF on your PC.
Step 2. Run Soda PDF and open the PDF file that you wish to edit.
Step 3. Click on the Edit button in the Soda PDF toolbar, then you will see your PDF text in the border-box. It happens because of the OCR technology of Soda PDF, which differentiates between text and the image.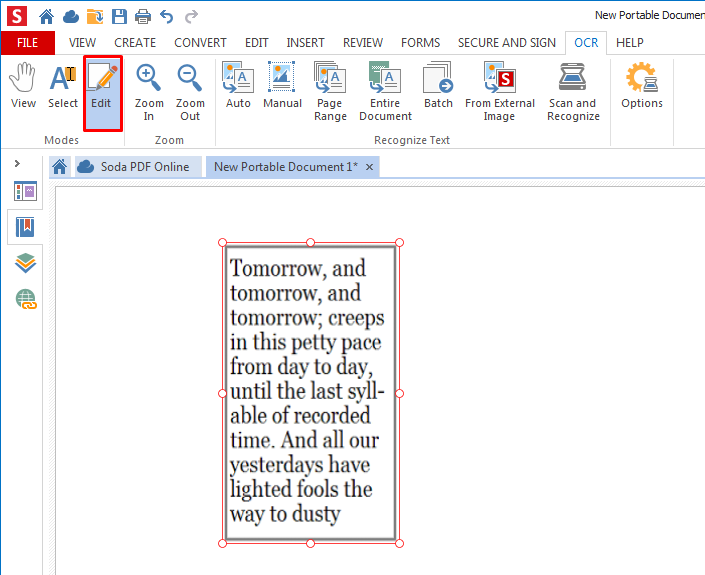 Step 4. Select the text you want to modify, you will see multiple options appearing on the screen. From there, you can easily edit text in PDF files besed on your needs.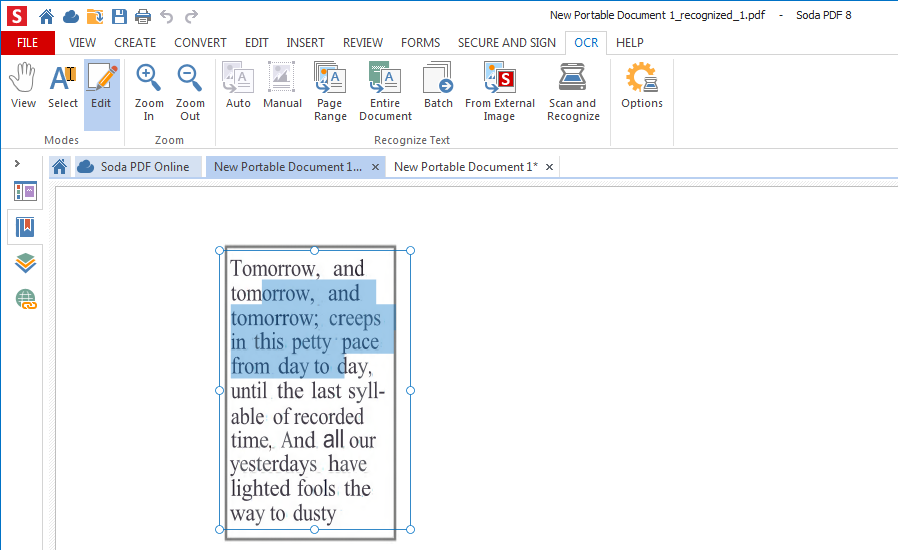 #2. Edit text in PDF in Windows using EaseUS PDF Editor
Another name that is popular for editing the text of your PDF files is EaseUS PDF Editor. It is an OCR-based tool that lets you edit your PDF files easily and quickly. The best thing about EaseUS PDF Editor is its inline text editing, which makes text editing in PDF 10x faster.
So, being a Windows user, EaseUS PDF Editor should be your go-to tool. It is currently available in both premium and free versions. The free version gives a bit fewer features than the premium one.
Price: It costs $29.95/Monthly, $49.95/Annual, $79.95/Lifetime.
Compatibility: Windows
Pros:
Easy to use and highly affordable.
All-in-one PDF Creator, Reader, Converter, and Printer.
Cons:
It lacks support for Linux.
The free version has ads and watermarks.
Steps to Edit Text in PDF Files using EaseUS PDF Editor
Step 1. Launch EaseUS PDF Editor and import the PDF file you want to edit. You can click on the "Open Files..." button to do that.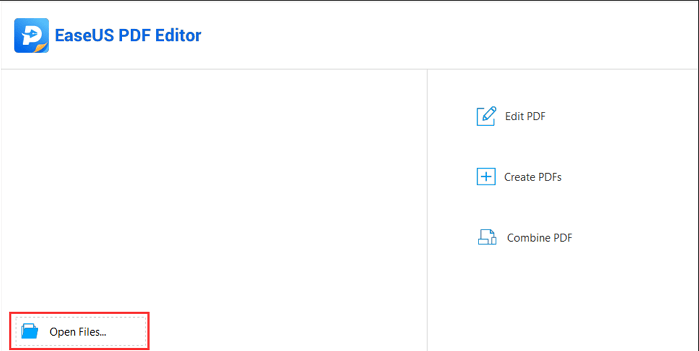 Step 2. If you want to edit the text and images in the PDF, click on the "Edit" button, and there are many options for you. It allows you to insert or remove the words and pictures freely, and you can also adjust the font, size, color of the PDF text.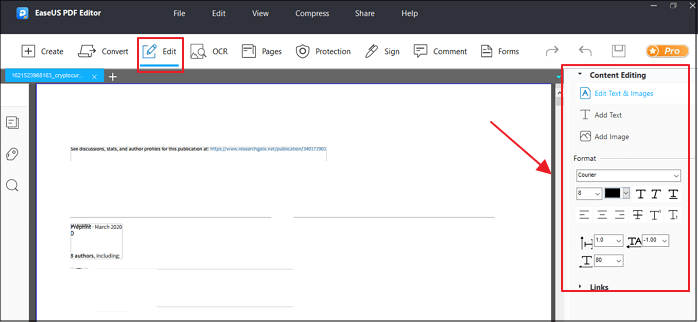 Step 3. More tools are available under the "Pages" option. This versatile software supports deleting, extracting, cropping, rotating the pages with ease. You can add many elements to the PDF, including header & footer, background, watermark, etc.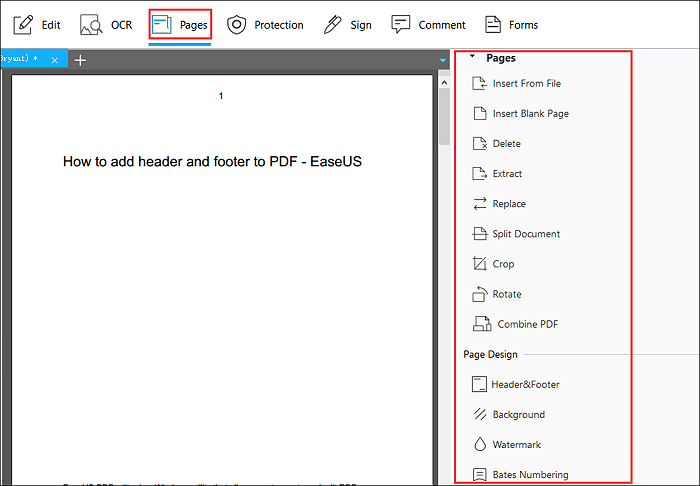 Step 4. After editing, you can choose to encrypt the PDF with a password, sign the PDF with an e-signature, or add comments to it. Then, click on the "File" button and select "Save" or "Save As" to preserve the changes you made to the PDF.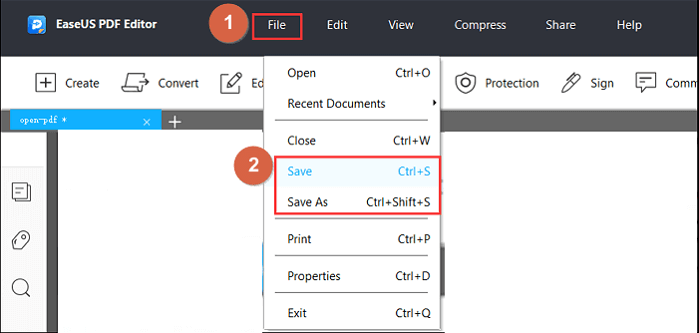 #3. Edit text in PDF with Adobe Acrobat
Adobe Acrobat is a top-quality software because of its brand, which is Adobe. Adobe Acrobat Pro has an excellent OCR (optical character recognition) engine which can easily convert your scanned documents into editable copies of PDF.
Adobe is also the acceptable PDF standard worldwide. With its OCR technology, the process of editing text in your PDF documents becomes pretty simple. You can begin editing the text just by loading your PDF file into the Adobe Acrobat environment. Below are the steps to edit the text in PDF with Adobe Acrobat.
Price: Acrobat Pro DC of individuals charges $14.99/month, $179.88/yr. 
Supporting OS: Windows, Mac, Android, and iOS.
Pros:
Powerful OCR makes editing PDF text easier and smoother.
Professional tool, more than a PDF Text Editor.
Multiple output conversion formats.
Cons:
Not available for Linux.
Costly and hard to integrate with MS Word.
Steps to Edit Text in PDF Files Using Adobe Acrobat
Step 1: Download and Install Adobe Acrobat on your device.
Step 2: Open the PDF file in Adobe Acrobat.
Step 3: Choose Tools > Edit PDF > Edit.
Step 4: Select the text you want to edit. The text box turns blue upon selection, and a rotation handle appears at the top of the selected text box. Each text box is independent, and inserting text in one text block does not push down an adjacent text box or reflow to the next page.  
#4. Edit text in PDF on iPhone/iPad and Android Devices
After reviewing some top software for text editing in PDF in Windows and MAC, let's move to the other devices. When it comes to text editing in PDF for iPhone/iPad and Android Devices, the best lightweight tool is PDFelement. It has s simple OCR technology and is completely lightweight to support mobile devices.
Price: Starts at $9.99/quarter.
Supporting OS: Windows, Mac, Android, and iOS.
Pros:
Powerful OCR identifies text and images with very high accuracy.
MS Office support.
Documents compression.
Cons
Unreliable text editing. Sometimes, it changes the format of text automatically while editing the PDF.
crashes occasionally.
Steps to Edit Text in PDF Files Using PDFelement
Step 1: Download PDFelement from your app store.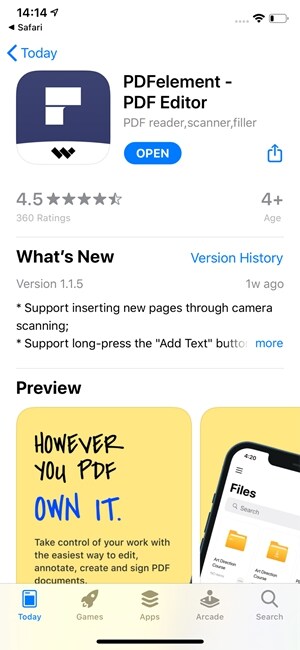 Step 2: Open the application and select your PDF file.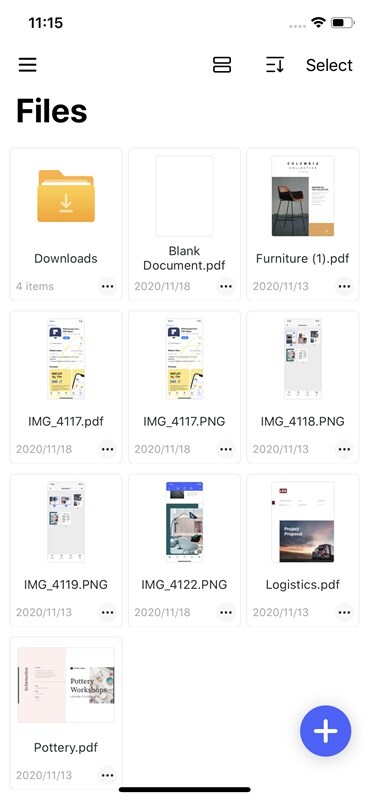 Step 3: Open the text editing tool and begin editing your PDF file right away.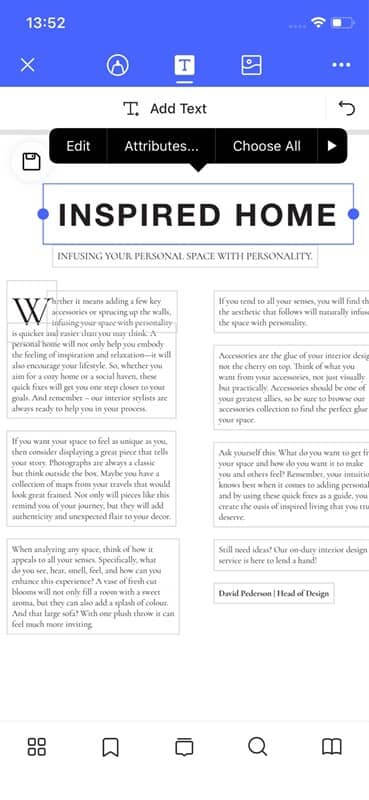 Step 4: Once done, simply click on save changes
How to Edit Text in PDF Online for Free
1. PDF Buddy Online PDF Editor
PDF Buddy is an easy-to-use online PDF editor. If you wish to edit the text in PDF without downloading any software, then this is the perfect software for you. You can start editing the text of PDF files by uploading them to their website.
Price: $7.99/month.
Supported OS: It is available on the web so that you can access it from any OS with a working browser.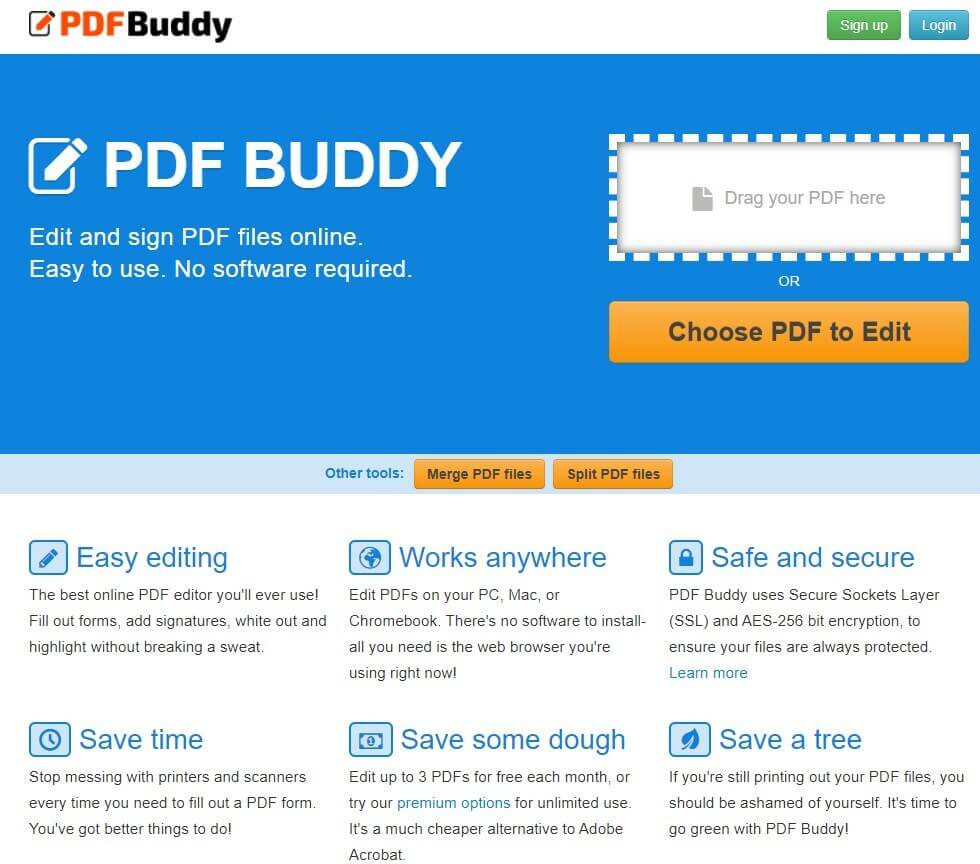 Pros:
No need to download and install.
Friendly user interface.
Cons:
Files can't be bigger than 20 MB
No option to create new PDFs.
The free version only edits up to 3 PDFs each month.
2. Sejda PDF Editor
Sejda PDF Editor is also an online PDF text editor that allows you to start editing PDF straightaway. It does not require you to download any 3rd party application. However, you must have a good internet connection to work with Sejda PDF Editor.
Although there are many other online PDF text editors, its huge user base entrusts Sejda. It correctly identifies the text and images from the PDF document and makes the whole editing procedure efficient.
Price: $5 for Web Week Pass. The desktop version + web cost $63/year.
Supporting OS: Windows and Web.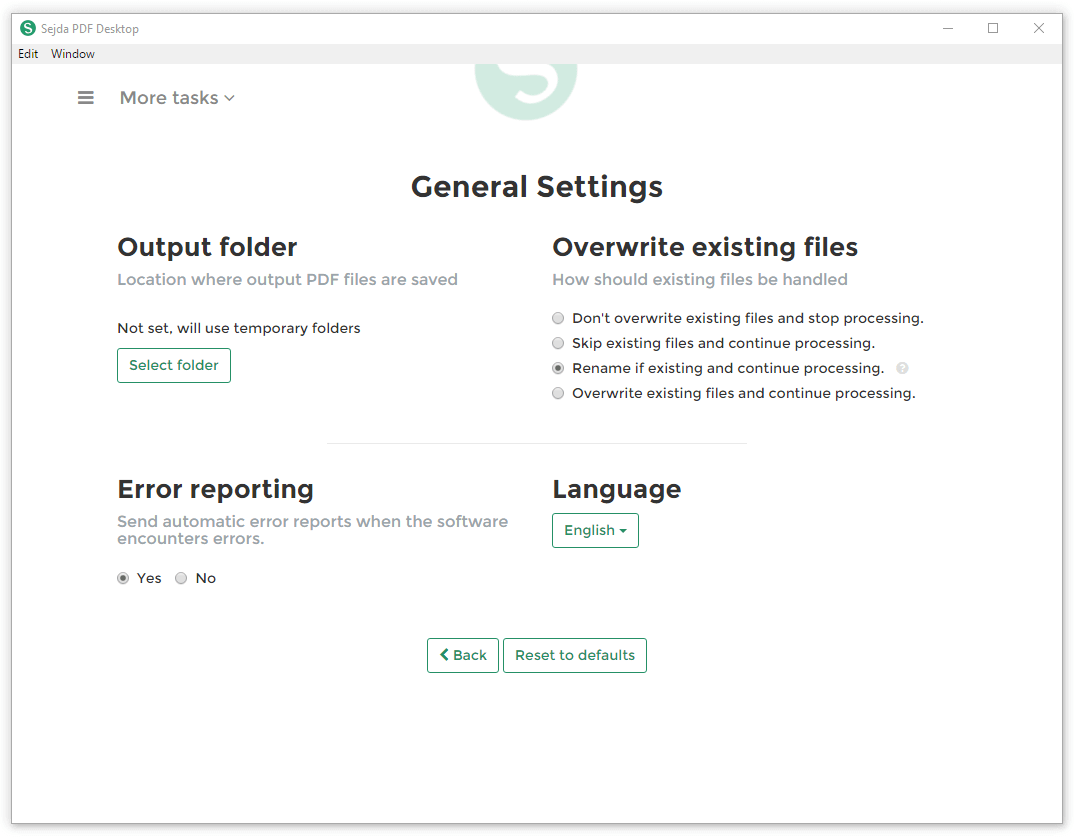 Pros:
Add signatures to your PDF documents.
Edit unlimited PDF documents.
Fast PDF conversions rate.
Cons:
Lack of security.
Not that user-friendly.
Conclusion
Suppose you started reading this article thinking that PDF text editing in Windows, Mac, and Mobile is a complicated task. In that case, we hope that you have changed your mind.
Among the seven mentioned PDF text editors in the article, which one is the best for you? The answer to this question is self-explanatory. But, the tip for choosing one is to see its compatibility with your device.
With device compatibility, you can look for other brand value, supported features, and price options. Considering these factors, you can decide for yourself which PDF text editor is best for you.
From user reviews and our research, Soda is the perfect PDF text editor. Just getting this one software, you get the support of PDF editing on all types of devices, including Windows, Mac, iOS, and Android. Also, its sleek interface and highly reputable brand make it trustworthy to use.
No more content