"During my design presentation, my HR sent me a PDF copy of the design document. However, her design had some flaws. Some of the heading text was much smaller than the paragraph text. I tried searching online for an easier way to fix the font size by directly editing the PDF file. But, none of the PDF editor software delivered things as they promised."--User on the internet
If you have encountered a similar situation just like the user above, don't worry! We are here to help you change the font size in your PDF document. In this article, we offer three offline and two online PDF editors that can quickly workaround and do the job for you.
Now read on and then you will see each software discussed in detail to help you choose the perfect one for your scenario.
Part 1. How to Change Font Size in PDF Offline
#1. Change Font Size in PDF with EaseUS PDF Editor
EaseUS PDF Editor is a highly recommended tool for changing the font size of a text in PDF for Windows. It uses OCR technology to determine the text from the PDF. The best thing about EaseUS PDF Editor is its inline text editing, which makes text editing in PDF 10x faster.
The software is more than a PDF Editor. It allows creating, editing, and splitting your PDF files and supports converting PDF to Word, Excel, PPT, images, and many other formats.
Price: It costs $29.95/Monthly, $49.95/Annual, $79.95/Lifetime.
Compatibility: Windows
Pros:
Full-featured and highly affordable.
Cons:
No Linux Support.
The free version has ads and watermarks.
Steps to Change Font Size in PDF Files using EaseUS PDF Editor
Step 1. Launch EaseUS PDF Editor and import the PDF file you want to edit. You can click on the "Open Files..." button to do that.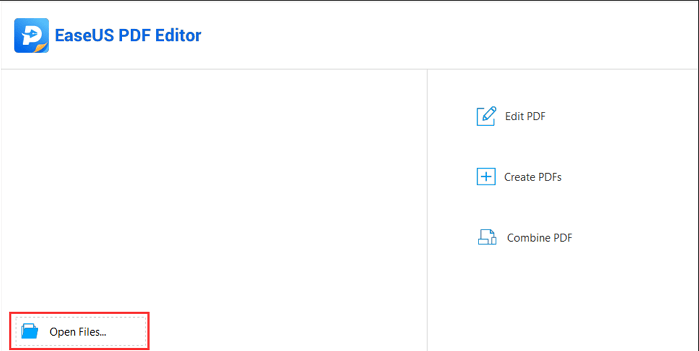 Step 2. If you want to edit the text and images in the PDF, click on the "Edit" button, and there are many options for you. It allows you to insert or remove the words and pictures freely, and you can also adjust the font, size, color of the PDF text.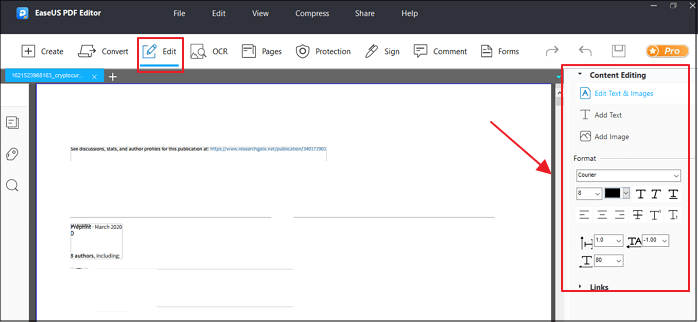 Step 3. More tools are available under the "Pages" option. This versatile software supports deleting, extracting, cropping, rotating the pages with ease. You can add many elements to the PDF, including header & footer, background, watermark, etc.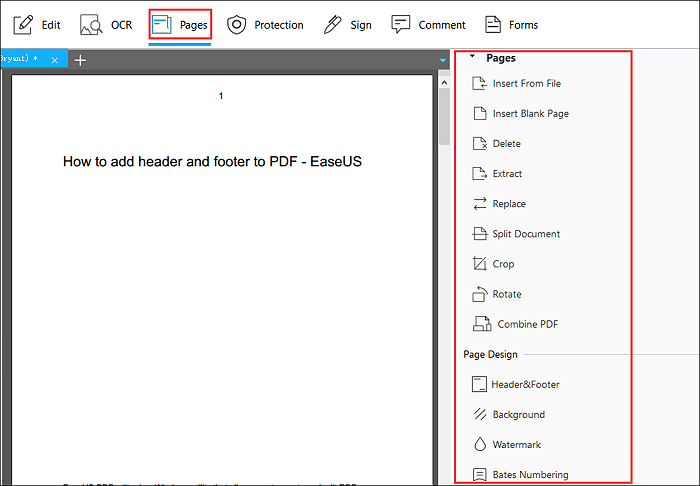 Step 4. After editing, you can choose to encrypt the PDF with a password, sign the PDF with an e-signature, or add comments to it. Then, click on the "File" button and select "Save" or "Save As" to preserve the changes you made to the PDF.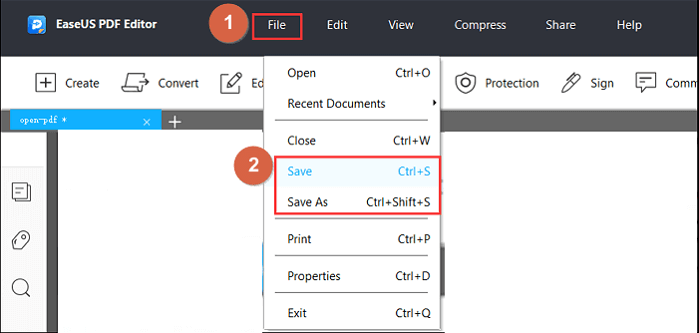 #2. Change font size in PDF with Soda PDF
After EaseUS PDF Editor, Soda PDF is the second most recommended tool for changing the font size in PDF files. Its OCR technology is one of the best among all PDF editors.
The software makes changing your font size style of PDF document just like the way you edit in a word document editor. When you use Soda PDF on your PDF files, it turns your digital images into rounded boxes. Those boxes separate the text from the image and allow you to change or format the font style of your text.
Price: Its Desktop STANDARD version costs $65.00/Annual, Desktop + Web PROFESSIONAL version costs $160.00/Annual.
Compatibility: Desktop version compatible with Windows OS & Linux. Online version compatible with MAC & web browsers
Pros:
Easy to use and high brand reputation.
Cloud sharing collaboration option to share your PDF files and edit them in real-time.
Cons:
Lack of Linux Support.
7-day Trial requires users to register.
Steps to Change Font Size in PDF Files using Soda PDF
Step 1. Download and Install Soda PDF on your PC.
Step 2. Run Soda PDF and open the PDF file that you wish to edit.
Step 3. Click on the Edit button in the Soda PDF toolbar, then you will see your PDF text in the border-box. It happens because of the OCR technology of Soda PDF, which differentiates between text and the image.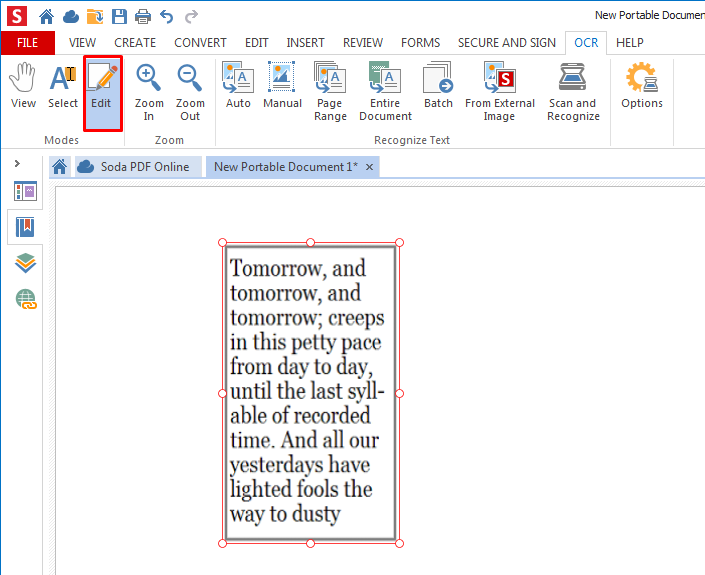 Step 4. Select the text you want to modify, you will see multiple options appearing on the screen. From there, you can easily edit text in PDF files besed on your needs.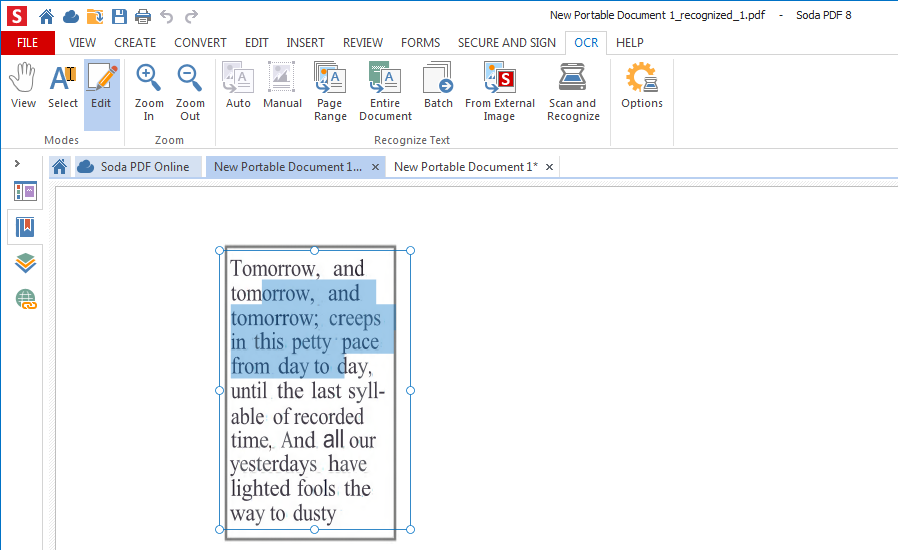 #3. Change font size in PDF with Adobe Acrobat
Adobe Acrobat is another software that you can use to change the font size of the text in your PDF documents. It is a simple and yet highly reliable tool. What makes it reliable is the brand name of Adobe; since Adobe is the official format of PDF files.
Adobe Acrobat also uses the same OCR technology to read the text from the images of PDF. Once the text is interpreted by it, you can begin changing its font size.
Price: Acrobat Pro DC of individuals charges $14.99/month, $179.88/year. 
Compatibility: Windows and Mac
Pros:
Powerful OCR makes editing PDF text easier and smoother.
Professional tool, more than a PDF Text Editor.
Multiple output conversion formats.
Cons:
Not available for Linux.
Costly and hard to integrate with MS Word.
Steps to Change Font Size in PDF Files Using Adobe Acrobat
Step 1: Download and Install Adobe Acrobat on your device.
Step 2: Open the PDF file in Adobe Acrobat.
Step 3: Choose Tools > Edit PDF > Edit
Step4: Select the text you want to change. In the right-side Format panel, select the font size you wish to change.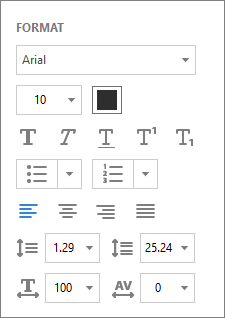 From the right side menu, you will see the font size of your selected text. Just change the font-size value to see the direct effect on your PDF document.
Part 2. Change font size in PDF online for free
For users that do not want to download any application, an online PDF editor is an appropriate tool. All you have to do is go to their website, upload your PDF file, select your text within PDF, and change the font size from the front panel. Without any doubt, online PDF tools are great, but you are limited to some basic features and internet availability to work with them.
Here we list the 2 best online PDF editor tools for your reference.
1. PDF Buddy Online PDF Editor
PDF Buddy is considered one of the best online PDF editors in 2022 for Windows. It is very suited for uploading and editing PDF files. With clear instructions, you can perform all the actions easily. You can sign up for their online web version quickly and start editing your PDF files.
Price: $7.99/month.
Supported OS: It is available on the web so that you can access it from any OS with a working browser.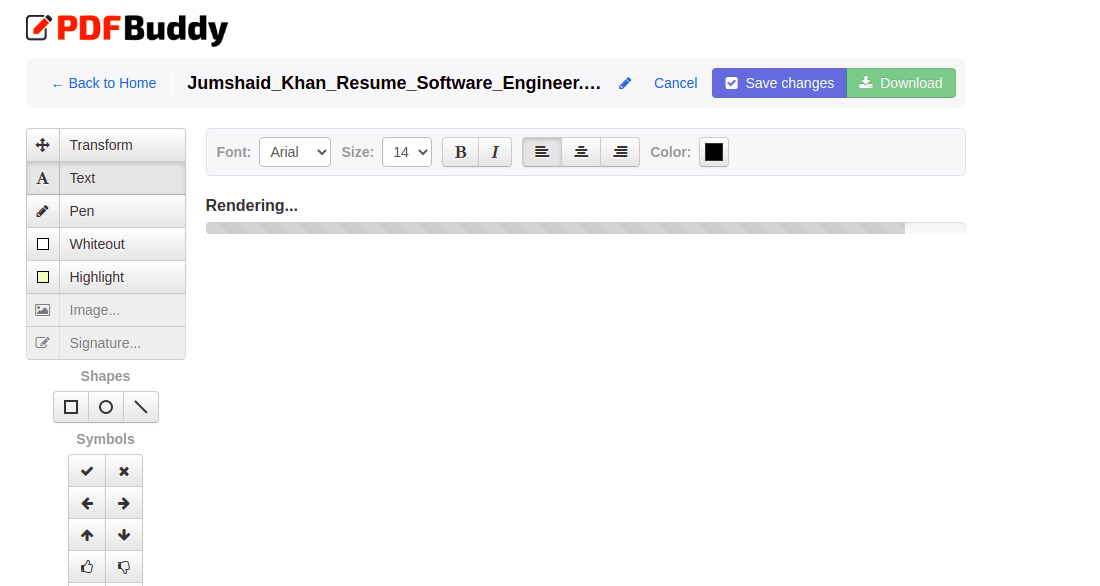 Pros:
No need to download and install.
Friendly user interface.
Cons:
Files can't be bigger than 20 MB
No option to create new PDFs.
The free version only edits up to 3 PDFs each month.
2. Sejda PDF Editor
Sejda PDF Editor is also an online PDF text editor that allows you to change the font size in PDF documents. Just like PDF Buddy, you don't need to download it on your system before using it.
Many users of Sejda trust its PDF font changing ability due to its highly accurate results. Not only is it fast, but it's super-best at identifying the text from the digital PDF images.
Price: $5 for Web Week Pass. The desktop version +web costs $63/year.
Supporting OS: Windows and Web.
Pros:
Fast PDF Editing and conversions rate.
Cons:
Lack of Security
Internet Availability is a must.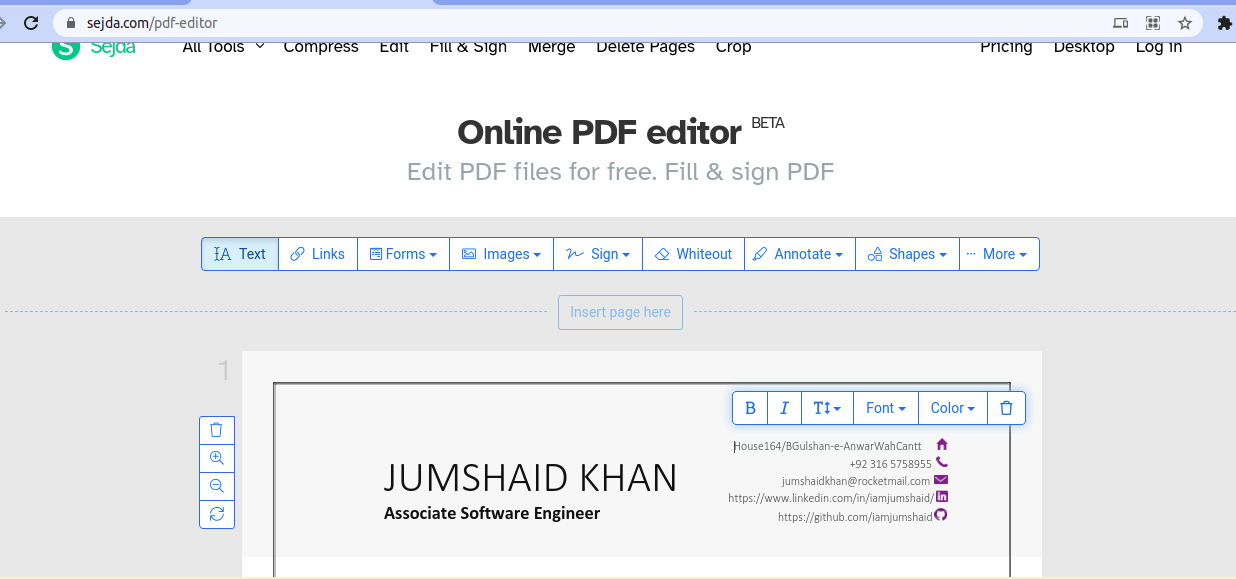 Conclusion
Changing the font size in a PDF document has become a more manageable task due to the availability of PDF editor programs. They are available as both offline (downloadable versions) and online (web versions). 
The choice for which PDF editor is best for changing font size depends on the price, OS availability, brand value, and working accuracy. You can prioritize your wishlist depending upon these factors.
If price is your priority and you want your work done at the least price, then EaseUS PDF Editor is a recommended tool for you.
If you care about both price and brand, Soda PDF should be your utmost choice.
If you wish professional font size editing in your PDF, you can go for Adobe Acrobat software. 
For minor font size changes in your PDF document, Sejda PDF editor and PDF Buddy give extraordinary functionality in their free versions.
No more content