There comes a time when you might want to remove a watermark from your photos. For instance, when you have lost the original image copy, you need to use a photo without a watermark somewhere. Also, if you want to provide open access to your photos for promotional purposes. 
When you need to remove a watermark from your photos, all you need is a watermark remover software. The software will remove watermarks from photos and videos without disturbing the original quality. Additionally, these tools are equipped with numerous other features to edit and convert images. 
Top 10 Best Watermark Remover Software
Based on the ease to use, affordability, and many other factors, we have shortlisted the following op 10 best watermark remover software for your reference.
1. Apowersoft Watermark Remover (easy to use)
Apowersoft Watermark Remover is a powerful watermark tool to add and remove watermarks from videos and photos. The software can remove text, timestamps, and many other objects from your photos. 
The program supports several image formats such as BMP, PNG, JPG, JPEG, and many more. Also, you can remove watermarks from video files like MP4, WMV, AVI, etc. Further, you can choose from hundreds of cool fonts, colors, and other effects to enhance the quality of your photos with this tool. 
It also helps to add watermarks to your photos or videos, for example, watermark Instagram photos, add text to Instagram photos, add logo in YouTube videos, and so on. So try it whenever you need to add or remove watermarks from your photos or videos. 
Price: It costs $25.00/Monthly, $39.00/Annual, and $59.00/Lifetime.
Compatibility: Windows
Pros
Supports batch processing. 
Clean and intuitive interface. 
Works with both images and photos. 
Cons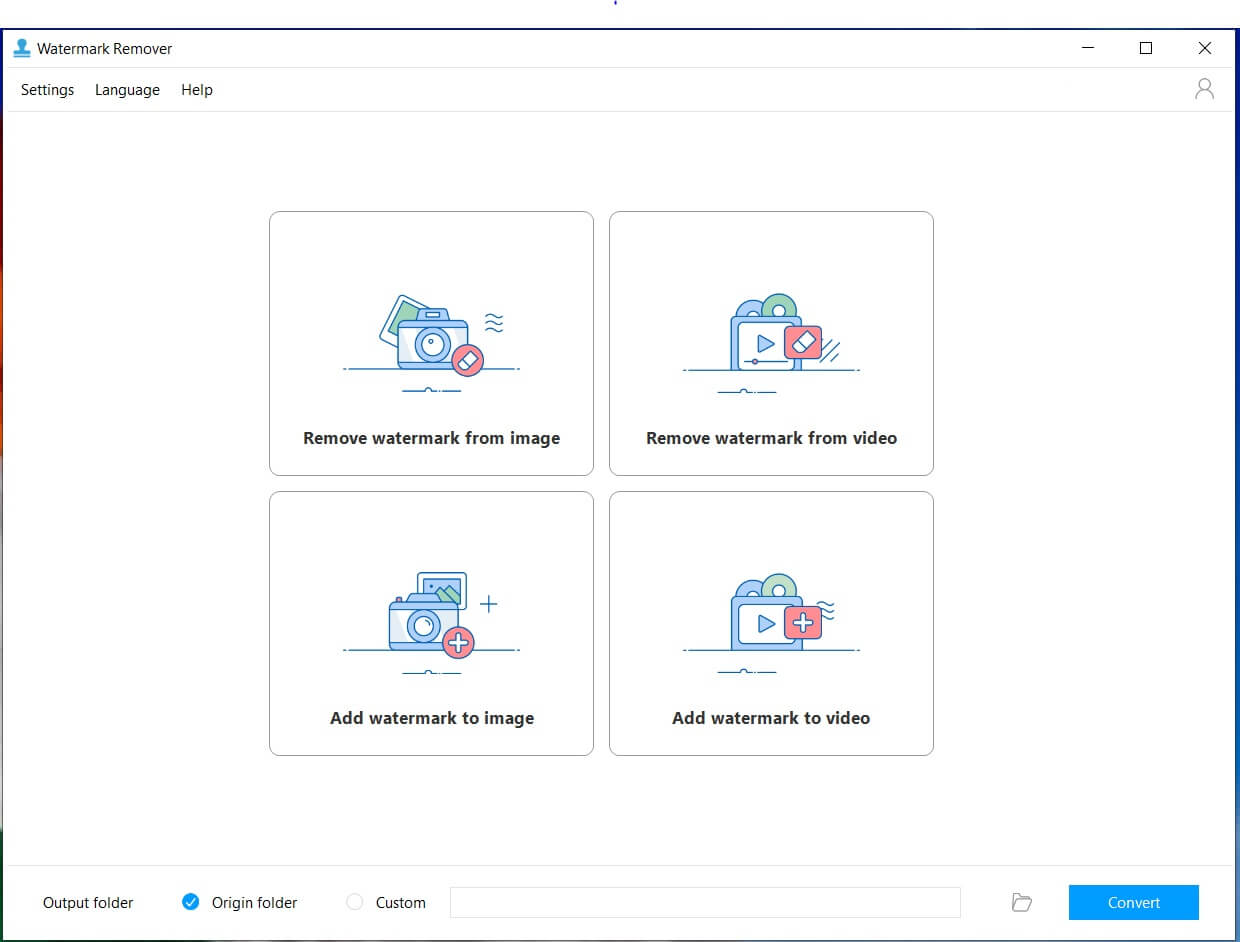 2. Photo Stamp Remover (best for delete transparent watermarks)
Photo Stamp Remover is the best Windows watermark remover with a virtual backdrop. The program can stitch two images into one to produce a full resolution visual story. 
The tool comes with a patented technology that can produce HD-quality photos. Photo Stamp Remover offers Batch Mode and Screen Recording Mode to easily edit your photos and remove their watermarks. Further, it can remove multiple watermarks from a photo using advanced algorithms.  
Price: $49.99
Compatibility: Windows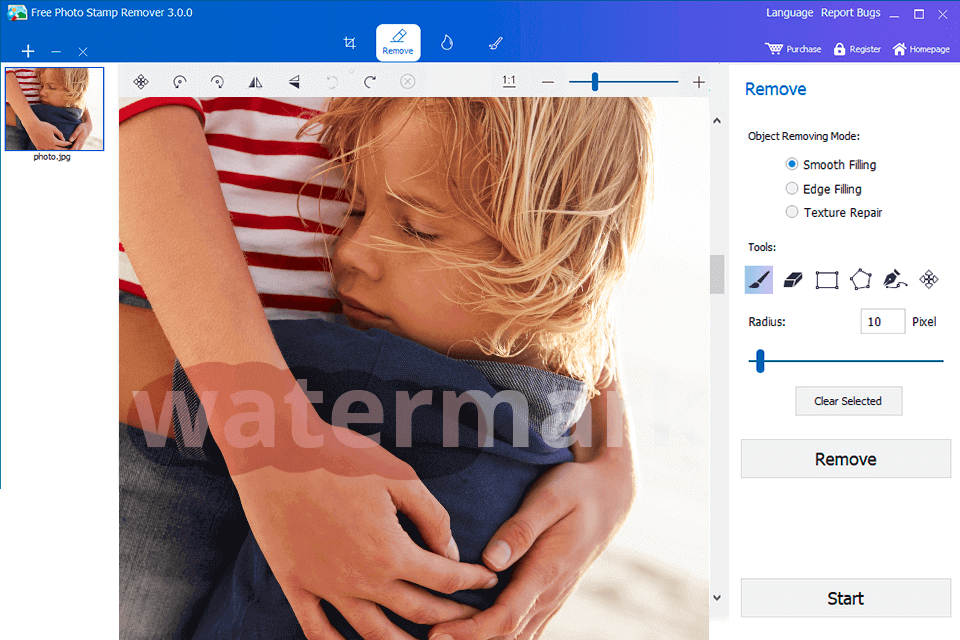 Pros 
Supports batch processing. 
It can even delete transparent watermarks. 
Cons 
Limited features with the free version. 
3. Wondershare Fotophire (plus photo editing tools)
Wondershare Fotophire is a complete suite for graphic designers. The program has a compact digital photo editor, photo clutter, and eraser features. The watermark removal feature is simple and fast. 
There you will also find built-in cropping tools to alter photo parameters like temperature, brightness, contrast, and more. Besides the watermark removal, the program can erase the unwanted background from your photos too. 
Price: $49.99/Year
Compatibility: Windows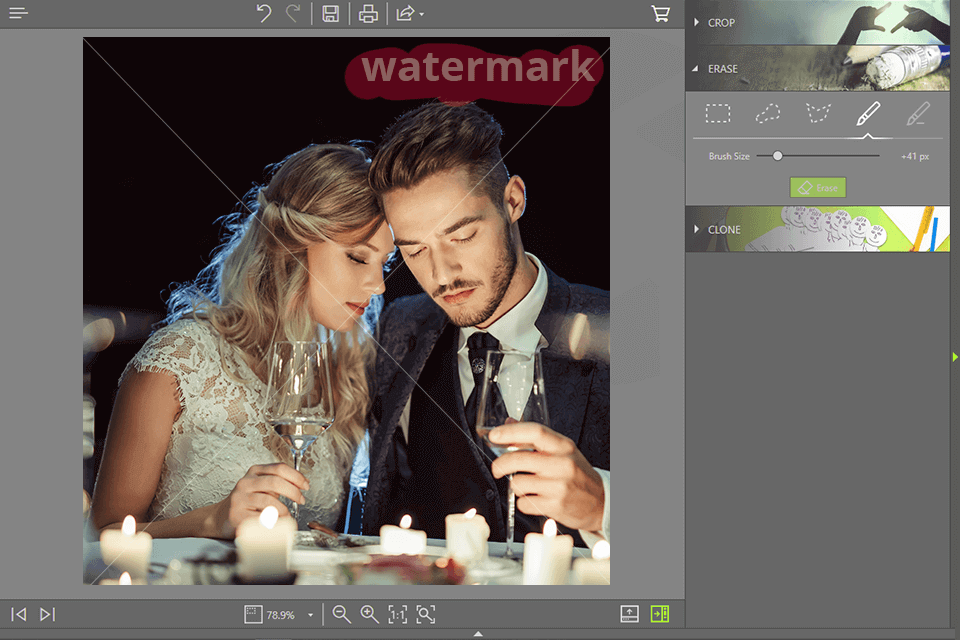 Pros 
Intuitive user interface. 
Several photo editing tools. 
Built-in clutter feature. 
Cons 
4. InPaint (work well with small images)
InPaint is a well-known online watermark remover software. It can effectively remove watermarks while maintaining the original quality of the image. You can use a marker tool to customize your watermark removal requirements or use a wand tool to automatically remove watermarks. 
InPaint uses the surrounding pixels to remove watermarks from a photo without leaving any traces. Overall, if you are new to photo editing, InPaint is the best option for you. 
Price: $19.99
Compatibility: Windows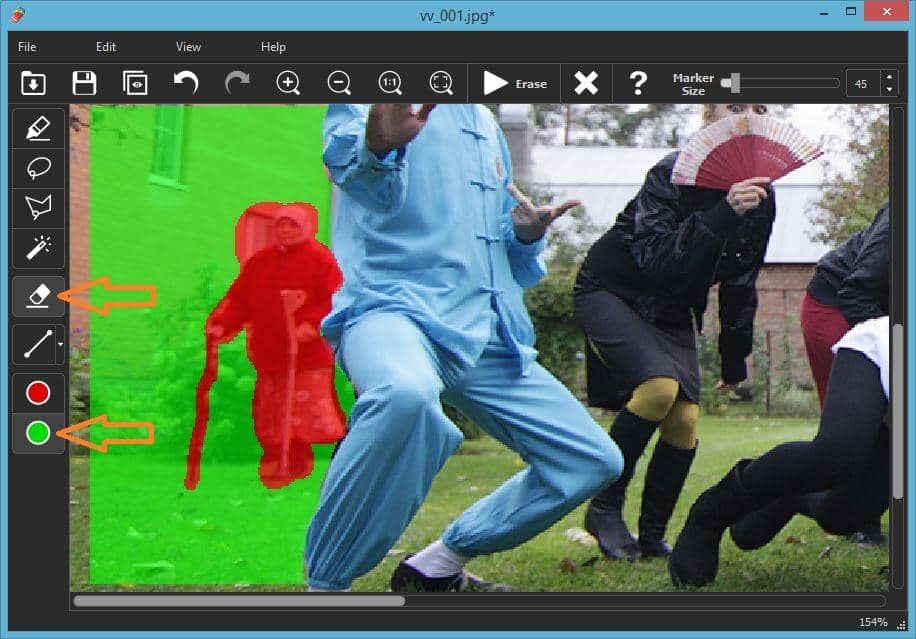 Pros
Supports batch processing. 
The user interface is great. 
Cons 
Doesn't work well with large image sizes. 
5. Artipic (good for beginners)
Artipic is highly reliable software to improve the look of your pictures. This software is perfect for amateur and professional photographers. 
The software performs all the operations related to image editing, retouching, and sharing. To remove the watermark with this software, you will get filler pixels technology that can maintain the original photo quality. 
Price: 39.90€
Compatibility: Windows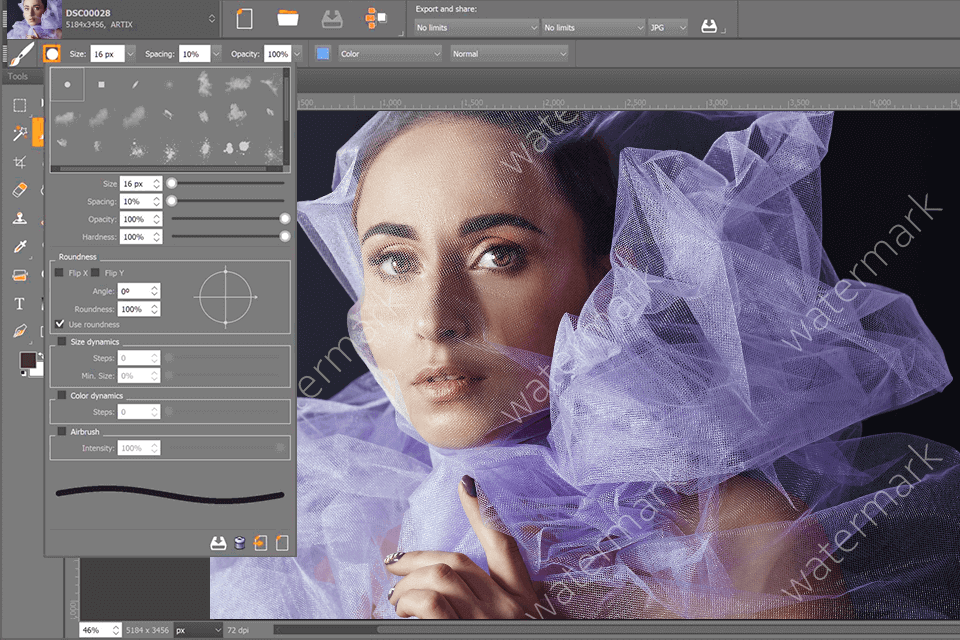 Pros 
Good for beginners. 
Supports batch watermark removal. 
Leaves no traces behind. 
Cons
Doesn't provide any additional features.  
6. Photoshop (best for professionals)
Photoshop is a state-of-art photo editing tool for professional artists and designers. This tool has all the awesome features to edit your photos, such as Spot Healing, Magic Erase, blur watermark, Healing Brush, and so much more. 
 The program is designed to create professional graphics, so it hardly takes a few minutes to remove unwanted watermarks. Here you can remove watermarks in several ways while preserving the original photo quality. 
Price: $239.88 per year
Compatibility: Windows, Mac, Android, and iOS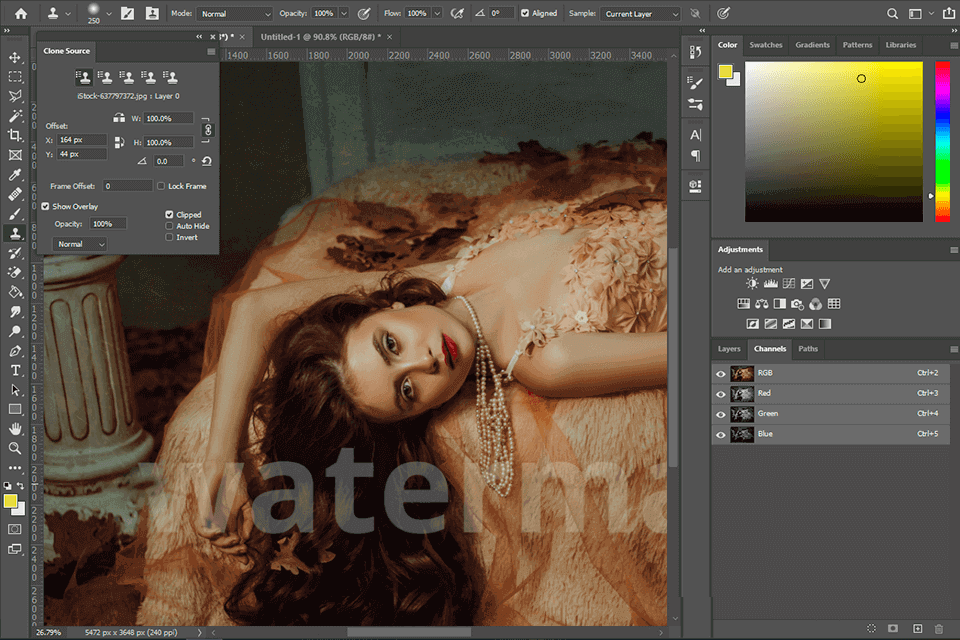 Pros 
Several ways to remove watermarks. 
Lots of tutorials. 
Robust photo editing tool. 
Cons 
7 days free trial. 
The full software is a bit expensive.
7. Paint.NET (free)
Paint.NET is the sophisticated watermark remover to use in 2022. The software is designed ergonomically with many stylish features. Paint.NET has a simple user interface from which you can easily access the multiple photo editing features. 
To remove watermarks, you simply have to click on the Clone Stamp tool, change the brush, click on the Ctrl button, and then on the image background to create a clone. Now, just press and hold the left mouse key, take the cursor on the watermark, and your work is done. 
Price: Free 
Compatibility: Windows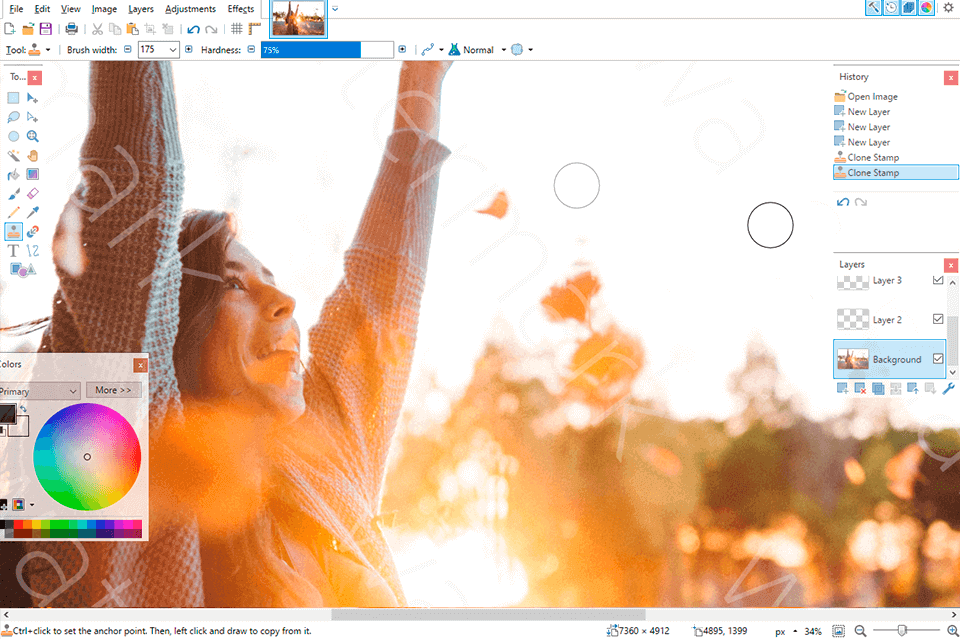 Pros
Intuitive user interface. 
Several online tutorials. 
Cons 
Limited brushes. 
No burn and dodge features. 
8. PhotoUPZ (lightweight graphic editor)
PhotoUPZ is a lightweight graphic editor with intuitive layout and removal features. This tool can help you erase wrinkles or blemishes from your photos, so removing the watermark is a child's play with PhotoUPZ. 
The best thing about this software is it is a portable program that you can copy on your USB flash drive. Using this software, you can remove the watermark without losing the original photo quality. Plus, there are many ways to remove watermarks with the software like marker tool, guiding line option, etc. 
Price: $19.90 
Compatibility: Windows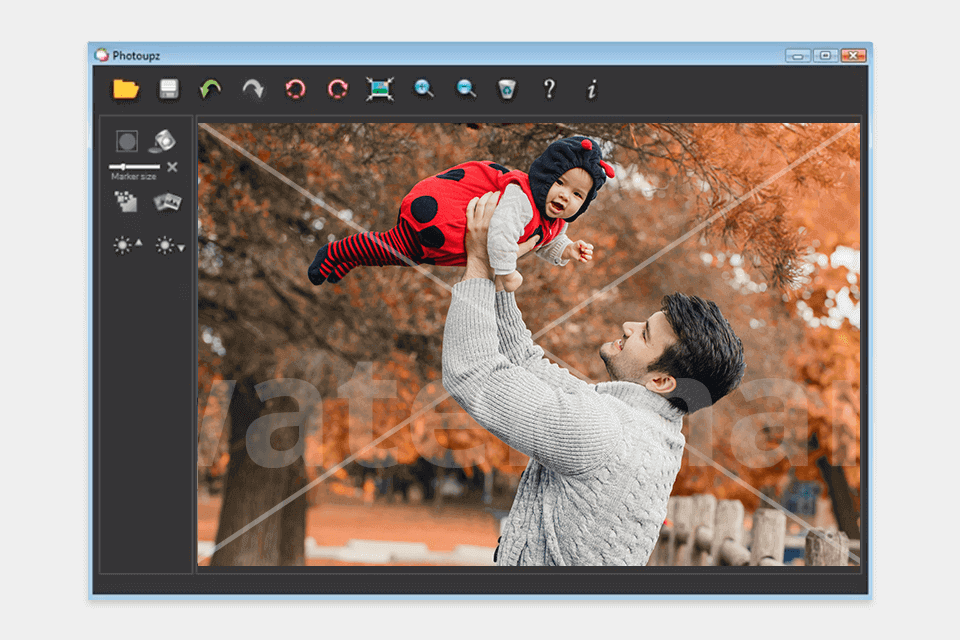 Pros 
Automatic customization. 
Protects the photo's original quality. 
The watermark area can be enhanced. 
Cons 
9. GIMP(free)
GIMP is just like Photoshop, but it's open-source and 100% free. You have to install GIMP on your computer and then customize it the way you want. For example, you can choose which file types the software can handle and other photo editing features. 
GIMP has the potential to manage all the basic and advanced photo editing features. It can remove all types of watermarks while retaining the photo quality. All in all, GIMP can offer all the Photoshop features but in a bit of a complex interface. 
Price: Free 
Compatibility: Windows, Mac, and Linux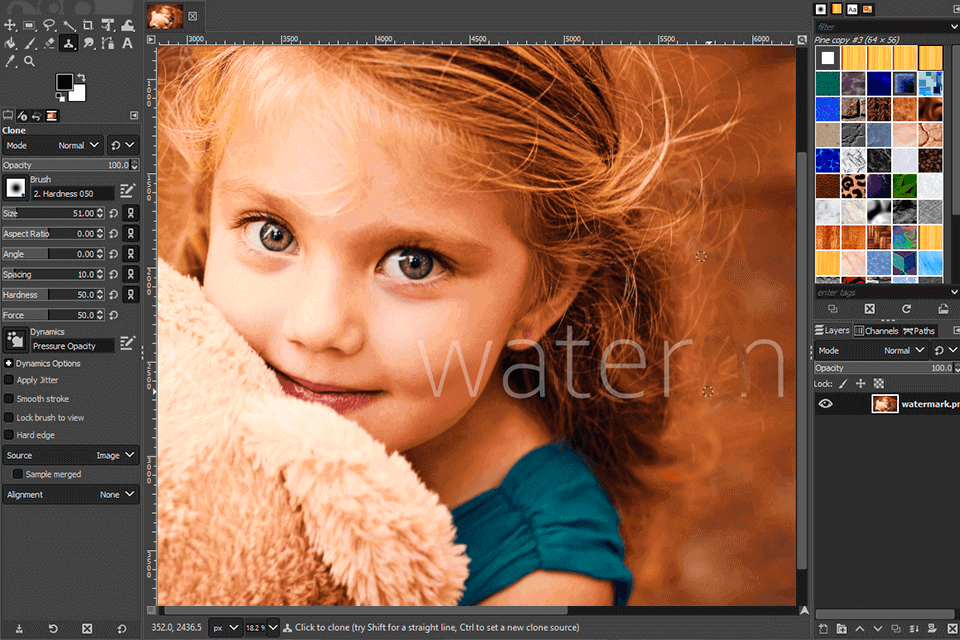 Pros 
Supports batch watermark removal. 
It can be used without installation. 
Cons 
Complex user interface. 
Difficult to use. 
10. PDF Watermark Remover (for PDF files)
PDF Watermark Remover has a simple interface and intuitive layout. This program can easily remove watermarks from your photos. All you have to do is upload a PDF version of your watermarked image on the program, and it will remove all watermarks for you. 
It can remove several types of embedded photos from PDF files such as logos, stamps, watermarks, signatures, and more. You can even batch remove watermarks with this software. 
Price: $99
Compatibility: Windows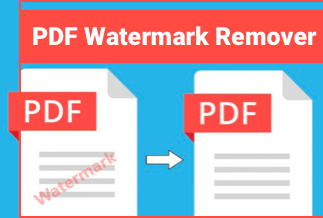 Pros 
It offers several presets for removing watermarks. 
Save edited PDF files in separate folders. 
Cons 
Only support PDF file format. 
Expensive tool. 
Sum Up
All the above-discussed ten watermark remover software is simply great. But, if you want to know which is the best of the best watermark remover in 2022, that's Apowersoft Watermark Remover. 
We support Apowersoft Watermark Remover because: 
Advance watermark removing features 
Several cool fonts and color options 
Highly intuitive user interface 
All in all, Watermark Remover has all the right features of a great watermark remover software. But you should compare the pros and cons of all the best ten tools and then select the most suitable tool. 
Best of luck! 
No more content