Typing is now considered a necessary ability. You probably engage with computers nearly every day, irrespective of your age and job. Rapid typing is a talent that can save you enough time. There are various typing programs accessible online to learn and practice typing. Typing program is a piece of software that allows you to enhance your typing abilities by playing games, taking lessons, or completing typing tests.
The following is a curated selection of the best free typing programs in 2022, along with essential features, compatibility, and download links. These are all the most excellent typing applications for your PC that will allow you to learn to type quickly without paying any money.
Top 20 Best Free Typing Programs
If you want to type correctly with the aid of a typing tutorial, we have listed the top 20 free typing programs among the finest available. Below are the most fantastic typing programs for your PC that will help to learn typing quickly for free.
1. Rapid Typing Tutor
Rapid typing is a simple keyboard instructor that can assist you in enhancing your typing skills and eliminating errors. Rapid typing courses, designed for different student levels, will educate you about touch-typing and improve your existing knowledge and skills.
Typing tutors can be utilized in the classrooms with the supervision of a teacher and for self-study. In addition, there are several courses available, including introduction, beginner, experienced, advanced, and testing.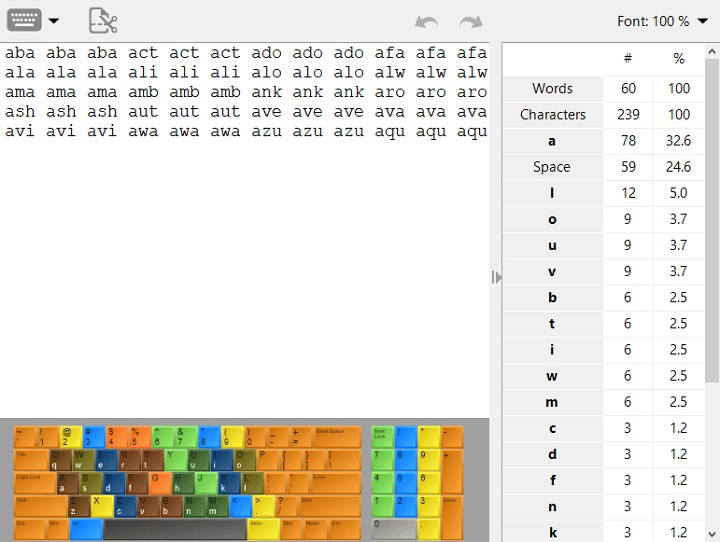 Features:
The programs offer their services in multiple languages.
Compatible with practically all keyboard layouts.
Typing Tutor shows a virtual keyboard with highlighted zones.
The typing tutor monitors the student's progress.
Charts and tables are used to display student statistics.
2. Typing Bolt
Typing Bolt is an online typing teacher that uses Bolt AI to help you master touch typing. Bolt AI drives our website, and it is also what makes Typing Bolt so unique. Bolt is an Artificial Intelligence engine that analyses typing tendencies and records user levels, including various proprietary methods. With this engine typing bolt, every user might receive personalized typing training.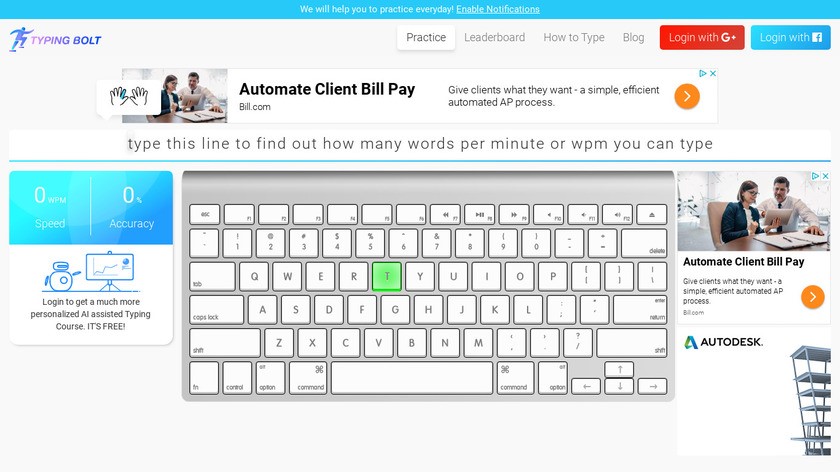 Features:
Bolt AI powers the software.
Automatically adapts the difficulty levels.
A UI that is customizable by the user.
Bolt AI analyses the keystroke dynamics of each user.
After each phrase you enter, real-time statistics on your performance are updated.
3. Typing Master
Typing master is a touch-typing teacher that adjusts to your specific requirements. It includes almost ten hours of specialized workouts that will take you from beginner to expert keyboarding. As a result, your typing skills are sure to increase, and it will save endless hours of critical working time. In addition, typing master identifies and removes your weak points with customized training. This application has evolved significantly and is now jam-packed with new features and interactive enhancements.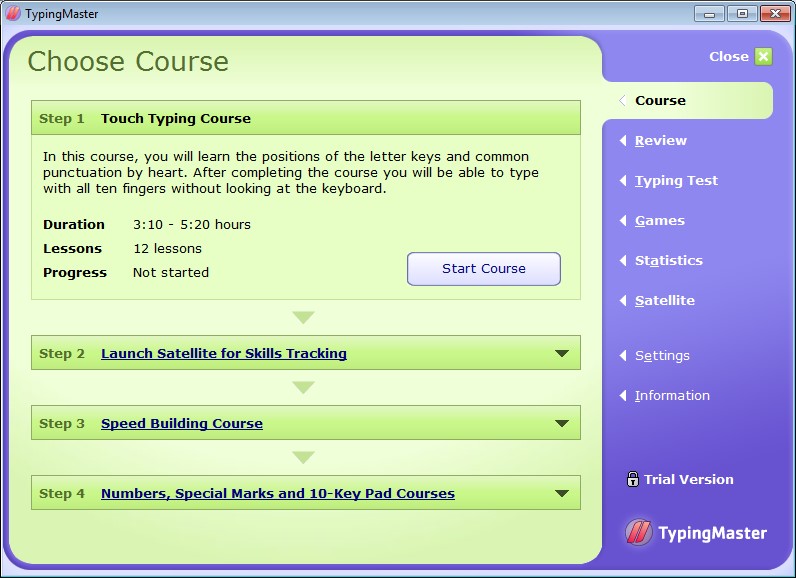 Features:
Increases keyboard and typing skills.
Evaluates your typing abilities and generates customized training
Easy user interface and visual training.
Best tools for beginners.
Help you to assess your speed and accuracy.
4. Typing.com
Typing.com is the one-stop destination for students interested in learning to type. The ability for pupils to proceed at their speed while measuring speed and accuracy is a significant advantage. In addition, the approach to monitoring activities to measure learners' development over time is the most attractive feature of Typing.com. The data given by the reporting capabilities are critical to the user's success and growth.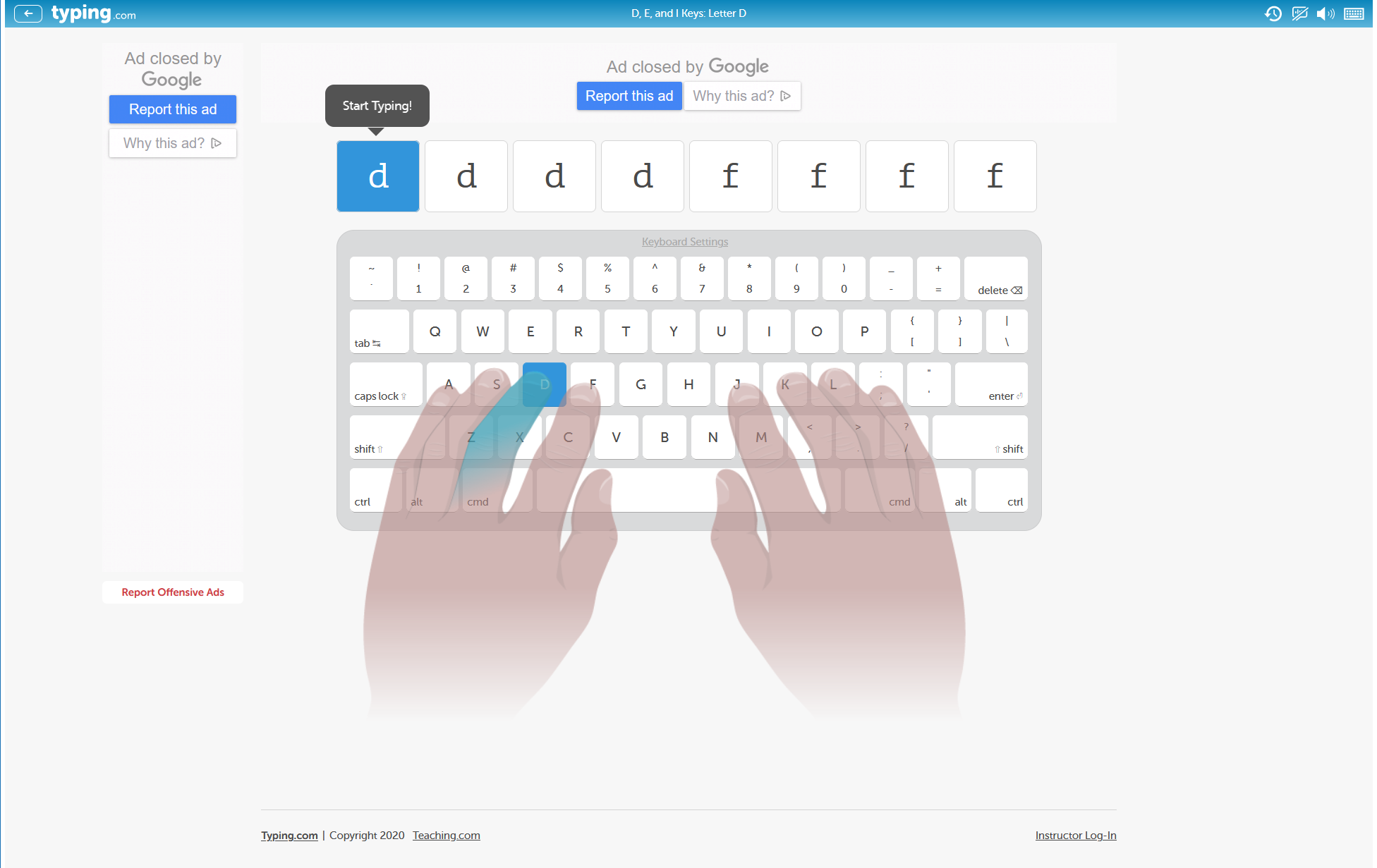 Features:
Offers powerful technology fundamentals.
Students get the benefits of creating personalized lessons.
Learnings and instructions in two languages
Ease-to-use interface for students with any level of skills.
Gamified learning to assure speed and accuracy.
5. Typing Club
Typing Club is one of the most efficient methods of learning to type. It's a web-based and quite effective program for learning. Typing Club is available to both individuals and schools at no cost. It doesn't require a long time to learn with this software. You can just invest a few minutes every day for about one or two weeks and become an expert. There is no need for you to make a profile.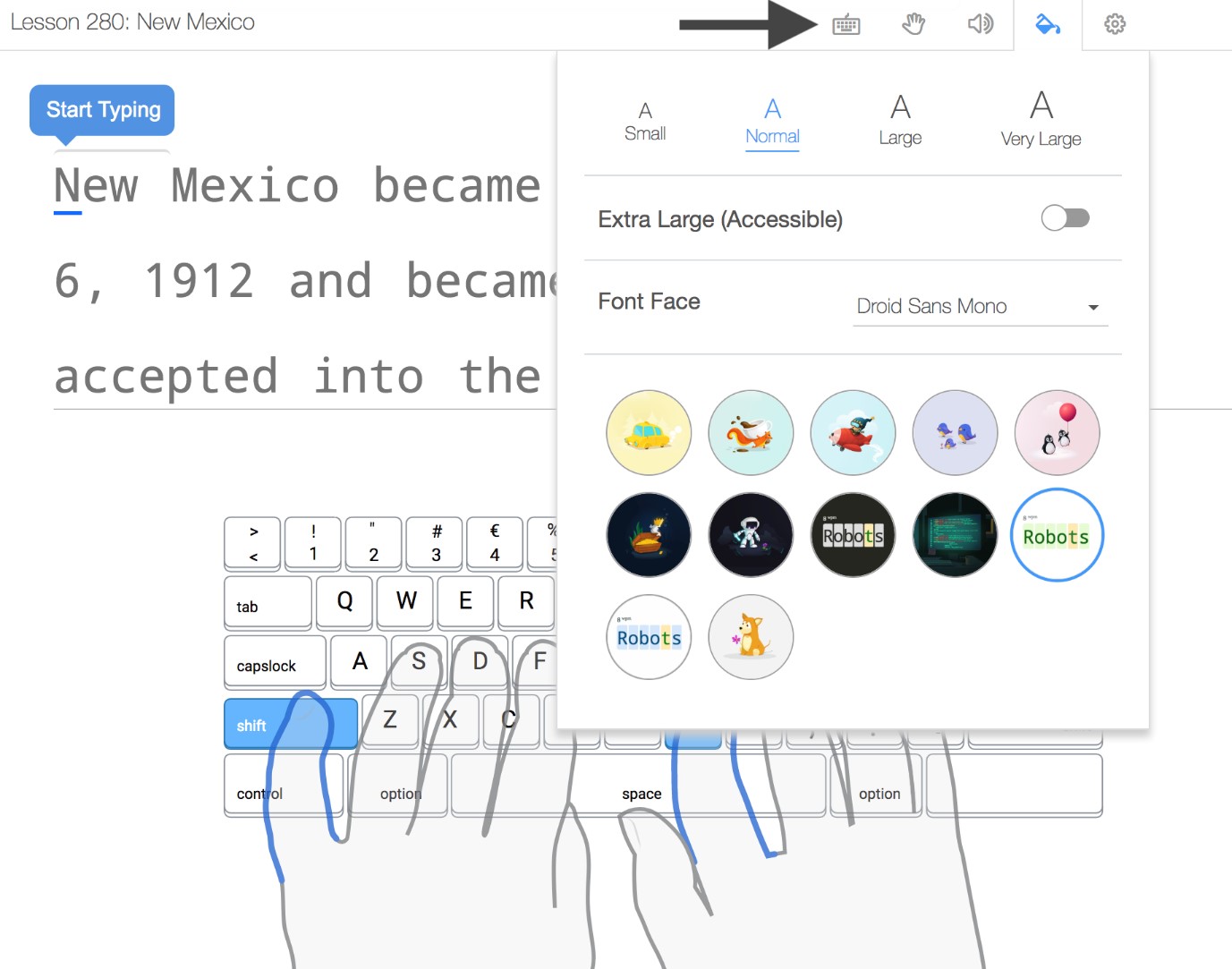 Features:
Accurate guides with hand gestures.
Offers interactive and engaging experience.
Voice over is available for instructions.
Improves typing with videos, games, and other challenges.
Saves your progress for better understanding.
6. Ratatype
RataType is another online typing trainer that includes 15 typing classes with several assignments in each. The first step in teaching good posture, finger motion, and finger position are to teach better. Surprisingly, if you commit several mistakes, you must redo an activity. Rata Type provides Spanish, Ukrainian, Russian, and other keyboard layouts in addition to QWERTY training. In addition, it contains a typing test to check how fast and accurate you are.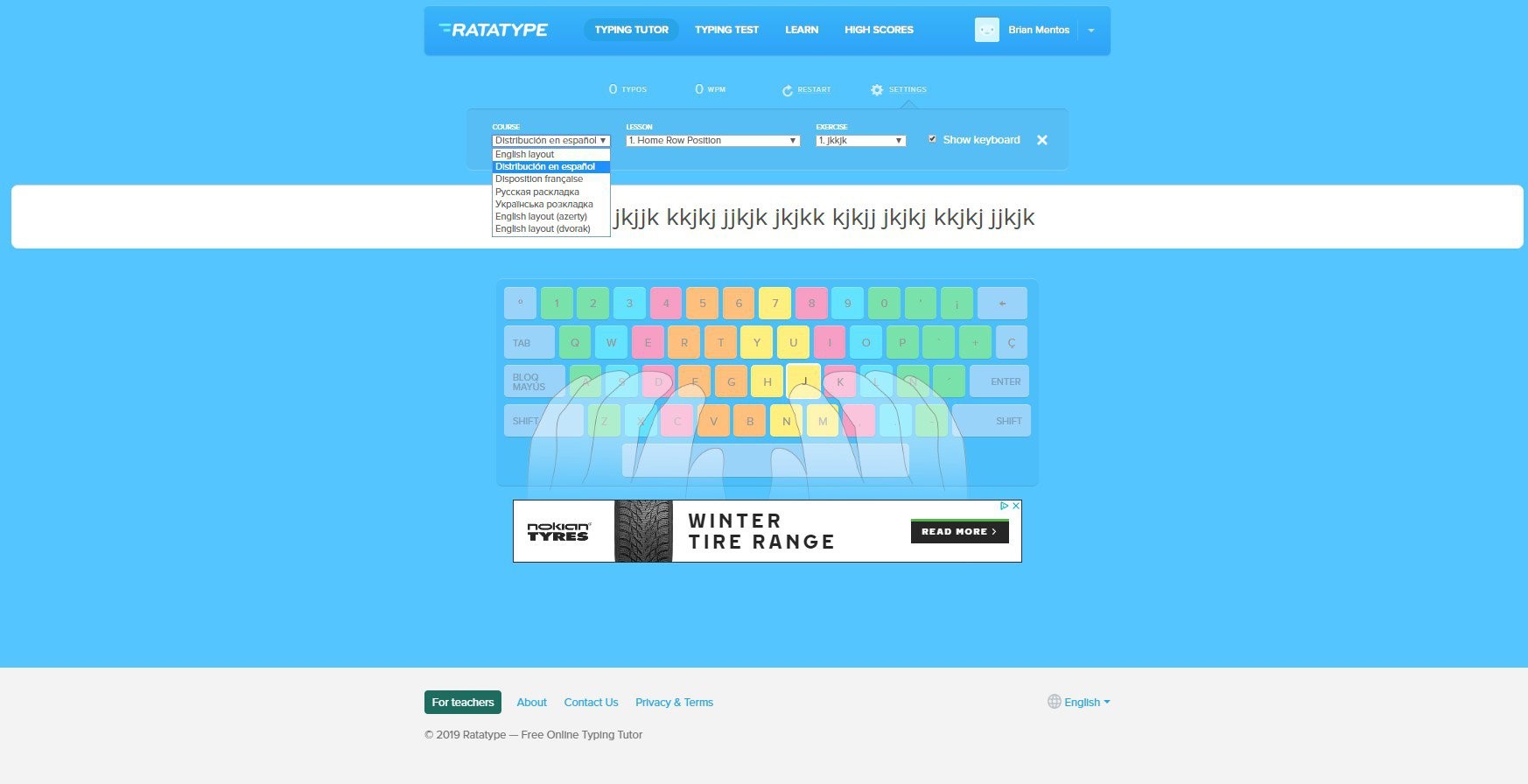 Features:
Helps to enjoy games with learning touch typing.
Upgraded UI and offers typing certificates.
Provides professional group creation for better learning.
Game mode to enhance typing skills.
Best platform for both students and adults.
7. Typing Fingers
Your search for the most fantastic typing platform has come to an end. Typing fingers can assist you in becoming a typing expert in three simple steps: Learn, Play, and Test. First, with 32 engaging courses and enjoyable games in 7 different languages, you can learn to type effectively without glancing at the keyboard. Next, improve your abilities with entertaining and informative sessions and game types. Finally, assess your writing abilities with a variety of typing tests.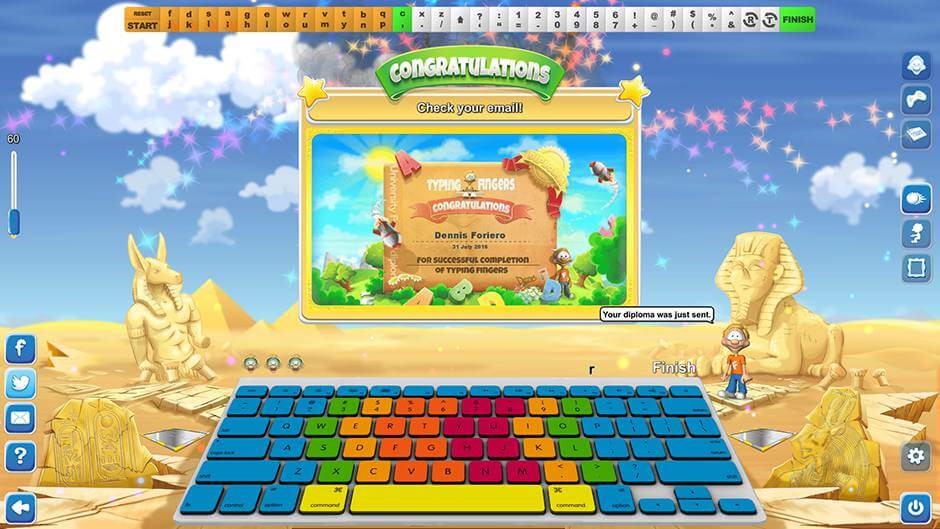 Features:
Offers 32 lessons in 7 languages.
Provides learning with voice-over.
Coloured keyboards and speed control.
Improves typing abilities and saves time.
Apps are available on multiple platforms.
8. The Typing Cat
Typing Cat is another best typing teacher that will help you increase your typing skills. It provides a variety of keyboard designs and assists you in learning computer keys available on the internet. As a result, increase your typing speed and efficiency. Furthermore, it assists you in improving your general computer abilities. Users can customize their keyboard layouts to include Colemak, Dvorak, and Workman.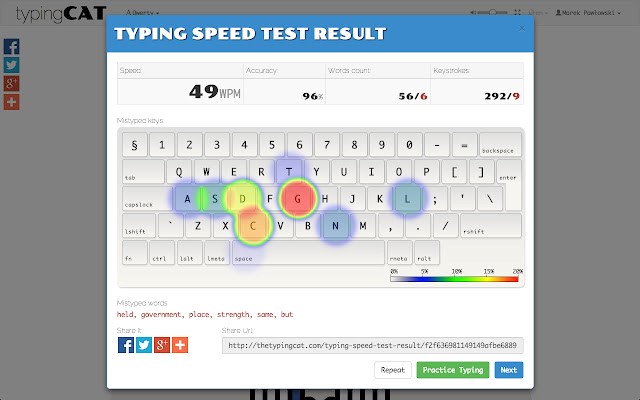 Features:
Evaluate the user's typing speed.
Offers several typing courses and quick results.
It has numerous keyboard layouts.
Offers enticing themes to make learning enjoyable.
A productive platform for enhancing typing skills.
9. Typing.io
Typing.io is another best typing trainer explicitly designed for programmers. The courses on Typing.io rely on open-source code and enable you to practice critical typing sequencing that appears in actual code. Several typing teachers avoid symbol keys and the most commonly typed key, backspace, or delete. These keys are included in Typing.io, leading to realistic practice and uninflated WPMs. The programs also support tracking typing growths.
Features:
Assists in monitoring typing progress.
Offers 16 different languages for learning.
Exhibits typing more characters after typos.
Allows uploading and typing codes.
Offers fingering guide for touch typing.
10. TIPP10
TIPP10 is a freeware touch typing teacher for ten fingers. TIPP10 may be used straight in browsers or by downloading Mac OS, Windows, and Linux software. TIPP10 is simple to use and has a simple user interface. Novice and even youngsters will quickly make their way throughout, allowing them to begin training without delay. With the program's clever practice sessions, helpful assistance functions, and detailed progress tracker, you can learn keyboard skills fast and effectively.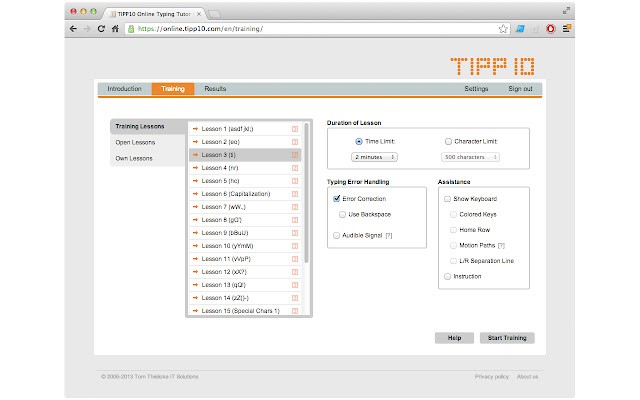 t
Features:
Simple program for improving typing skills for free.
Offers an intelligent selection of texts.
It has virtual assistance and a ticker keyboard.
Wide range of customizations.
Multilingual and independent platform.
11. Key Hero
Essential Hero is an excellent location to hone your typing abilities. The game records all of your achievements (accuracy and speed) and assists you in determining the sort of error you make. It's also great to master touch typing and other typing skills. Its colemak keyboard is enjoyable, eliminating finger motions while typing and addressing some problems associated with the Dvorak standard keyboard.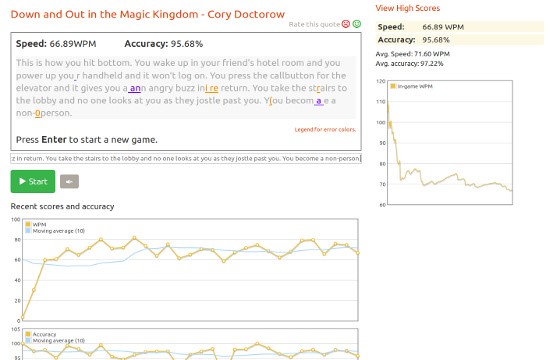 Features:
Offers a wide range of layouts to choose from.
Provides touch typing benefits and identifies queries.
Helps you to recognize the mistakes.
Improves typing speed and accuracy.
Monitors your typing speed (word per minute).
12. Speed Typing Online
There are 17 classic courses in speed typing online typing trainer. These courses enable you to master all of the characters on the keyboard before having your abilities checked through assessments. The program provides two lesson styles, allowing you to pick how you study. You can also tailor the duration of all courses with the Speed Typing Online program. You may also use this program to define typing objectives.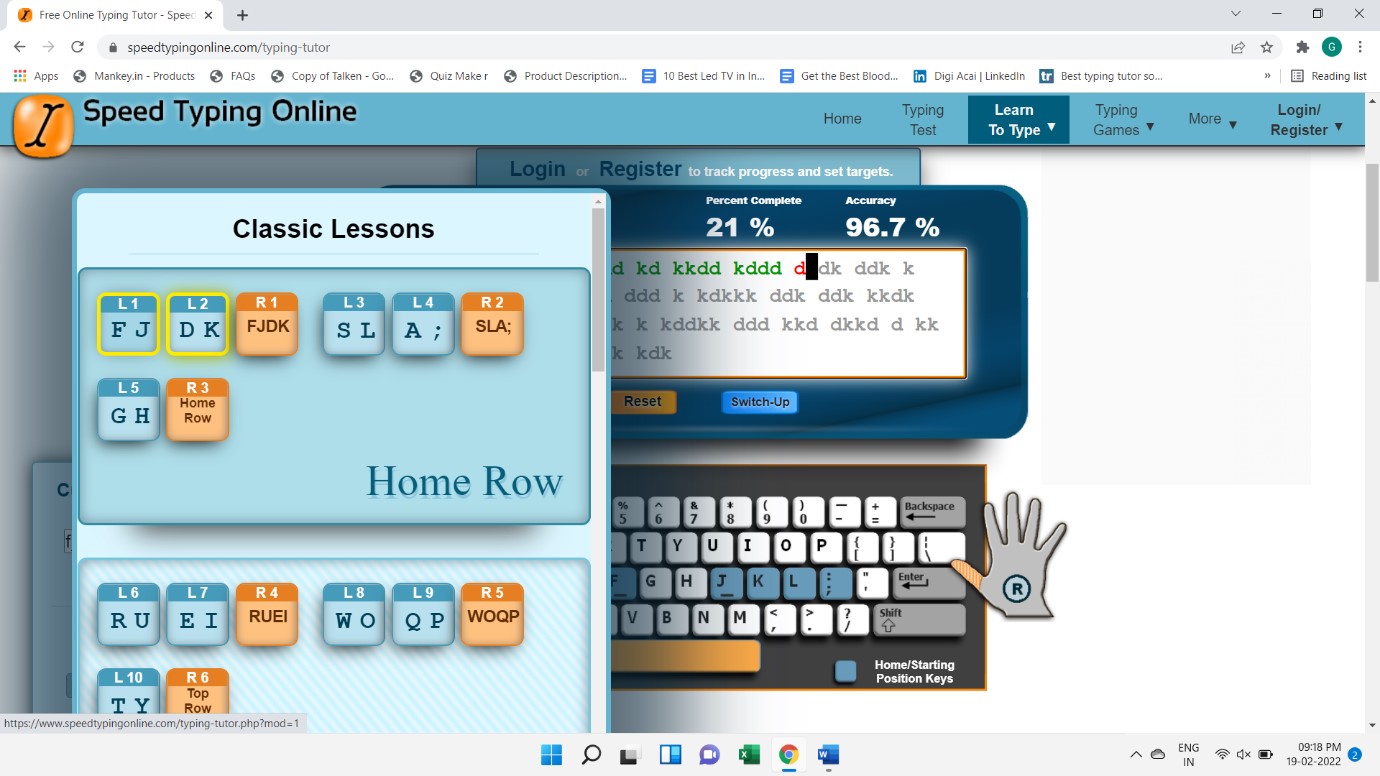 Features:
Two distinct entrance modes make the session enjoyable.
Examine your typing accuracyand speed,presented every second.
The report may be customized and conveniently saved.
A wide range of testing round times is available.
Provides real-time statistics
13. Goodtyping
Goodtyping is another best typing tutoring platform available for free. This program provides 23 distinct keyboard layouts to select as per your needs. The program provides typing practice in various languages, including English, Italian, French, and Spanish. In addition, it provides 7 guided lessons to help you learn with step-wise instructions from the start. It is a web-based program, which means you do not have to download it to enhance your typing skills.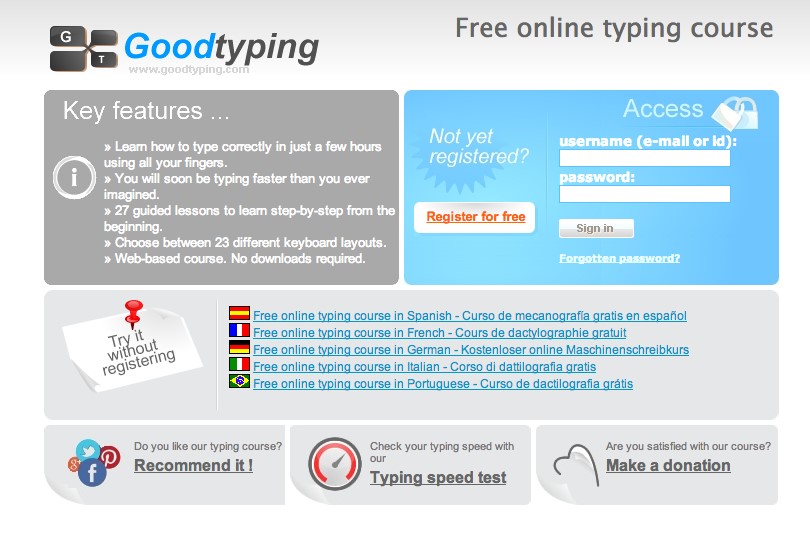 Features:
You can monitor your learning progress.
Learn totype effectively with your fingers within only a few hours.
You will be capable of learning how to type quickly.
Because this is a web-based program, no installations are necessary.
All Windows versions are supported.
14. GNU Typist
GNU Typist is a typing instructor that anybody may use. By regularly doing its tasks, you may learn accurate typing and enhance your abilities. It is free software distributed under the GNU General Public License terms. Furthermore, it is a GNU project authorized software that incorporates a range of typing tutorials. Furthermore, it translates a primary and easy-to-understand scripting language that defines typing tutorials.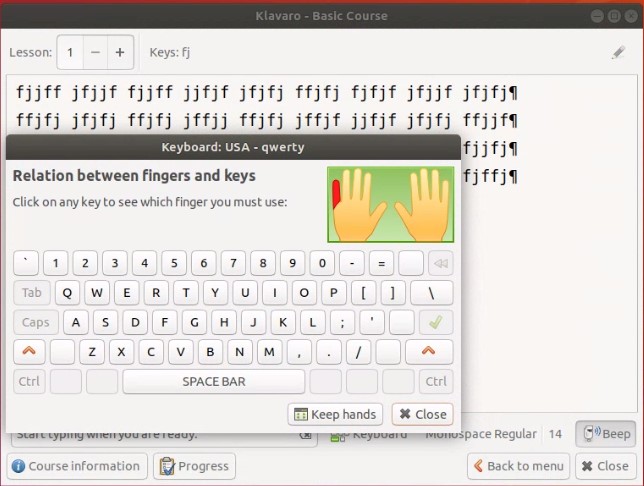 Features:
Offers tutorials in an intuitive and easy scripting language
Assists internationalization.
Easy navigation through lessons with an arrow key-based interface.
Used on multiple OS.
Quickly change current lessons or build new ones to meet your specific needs.
15. Tux Typing
Tux Typing is free desktop software that teaches kids to type in an exciting and entertaining environment. Both children and adults may set goals for themselves at varying degrees of complexity. Tux Typing is a straightforward tool to set up and use, so teachers can immediately have kids learning typing skills. Its user interface is straightforward, though there are some unusual user paths, such as Phrase Typing.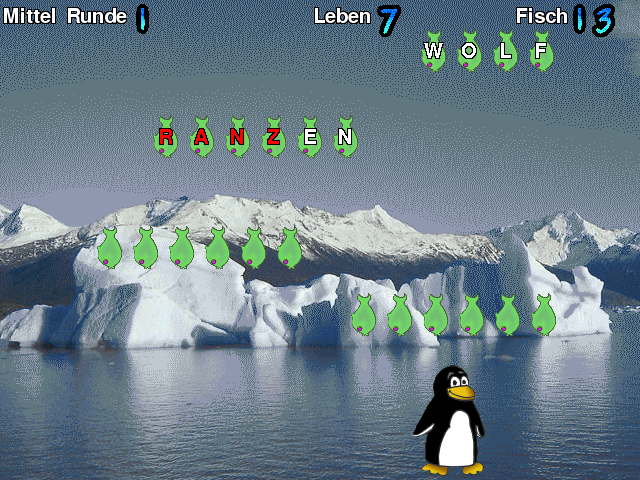 Features:
Open-source and accessible platform to learn typing.
Enhances speed with assessing your word per limit.
Available for various operating systems.
Assists in multiple languages.
The platform is customizable as per your requirements.
16. Bodie's Typing Tutor
Bodie's Typing is a beautiful free Windows program in science and education applications, with the subsection Typing. Bodie's Typing is a little software that doesn't take up more space. The program comprises a series of exercises meant to educate the fingers of both hands gradually. Also, it memorizes the position of every key to type accurately and without having to glance at the keyboard.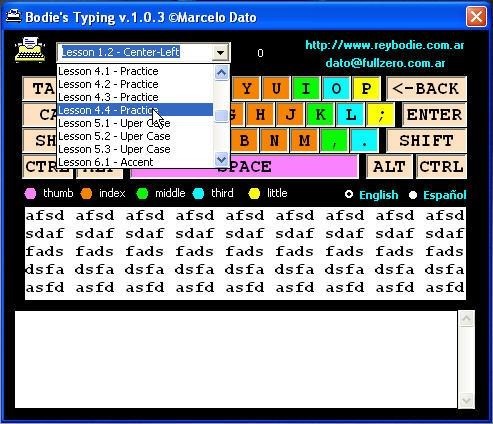 Features:
It's an easy-to-use platform available for free.
Offers excellent results in enhancing your typing skills.
Offers advanced learning regarding touch typing.
Fits to software group of science and education.
Provides courses in two different languages.
17. Letter Chase Typing Tutor
Letter Chase Typing Tutor is a practical, trial version tool exclusively accessible for Windows. It is a comprehensive typing software for all skill levels. Letter Chase touch typing program is compatible with all windows versions and several networks. The program offers proper direction with animated hand gestures to beginners to learn touch typing. In addition, it is an expert software in instructing fast typing. Two distinct sessions will get you up to pace quicker with increased precision.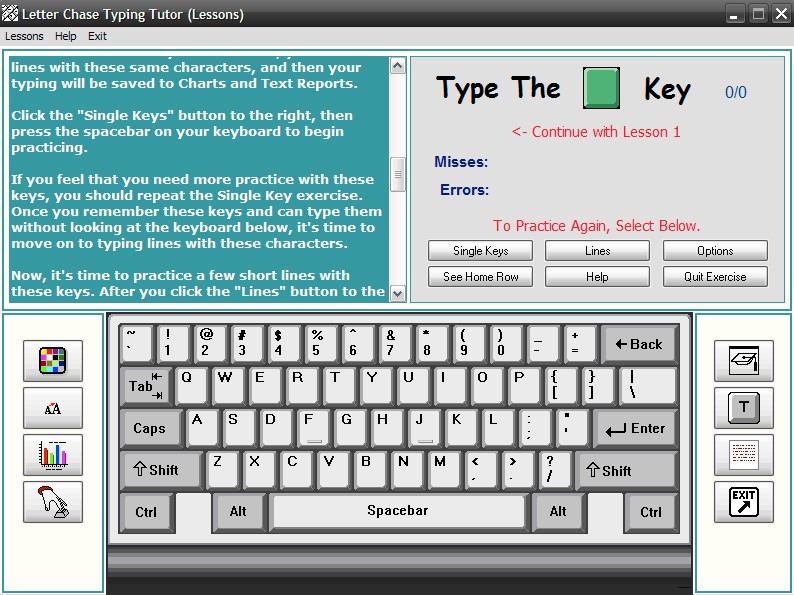 Features:
Monitors accuracy with speed for better results.
Provides typing drills at different stages.
Offers engaging learning with games, tests, etc.
It is a safe and free program to use.
Also, accessible as an application.
18. Type Faster
Type Faster is a free typing program to use. It allows the user to adjust typing styles as well as practice. Typing becomes necessary for someone whose career revolves around typing on desktops or PCs, where this talent is highly valued. This program would aid in the learning of touch typing as well as other related abilities. Furthermore, it is a bit of software that teaches you about 'touch type.' This implies that you do not need to stare at the keys to type text accurately.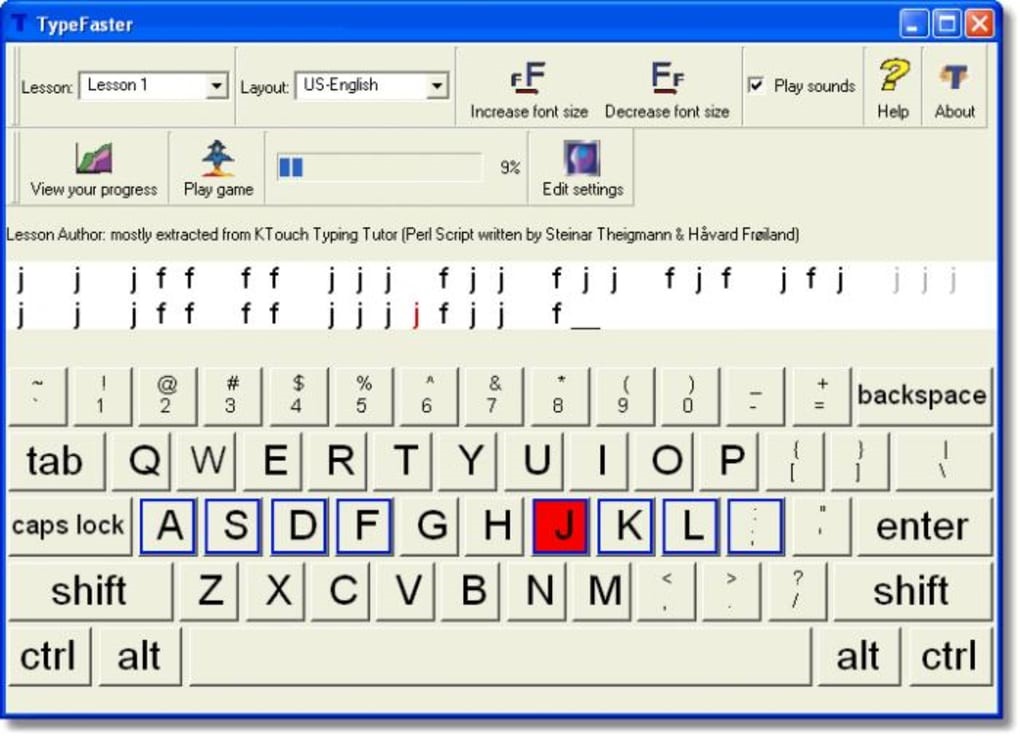 Features:
Offers 14 keyboard languages.
Multi-user and single-user options are available that create a great experience.
Clearly illustrates which fingers are to be used.
If you want to embed it on a website, you may get the source code.
Provides 3D typinggame instruction for teachersand coaches.
19. Mavis Beacon
Mavis Beacon Free is an application that provides a complete typing instructor to make you better with your typing speed. This typing training program takes users through a step-by-step process. You will be subjected to a thorough evaluation, skill-building activities, and personalized courses. All of which are tailored to your achievements and present typing abilities. You will enhance your typing performance and quality after your classes.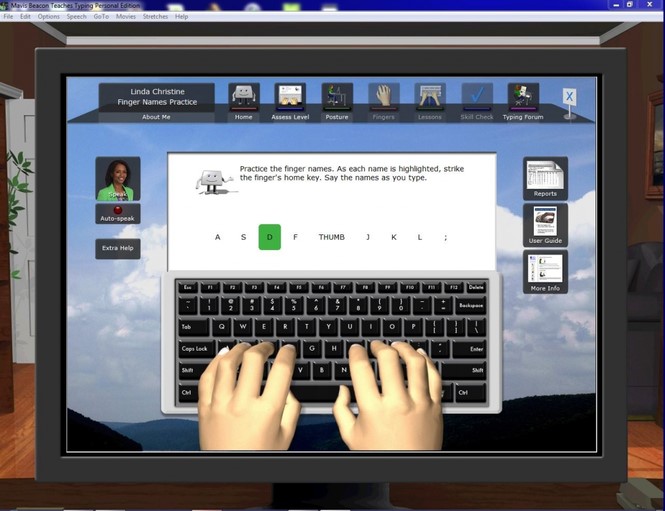 Features:
Functions well on all windows versions.
Offers step-wise instructions for quick and accurate typing.
Teaches typing with 16 arcade-style games.
Provides 430 personalized lessons.
It enables you to choose a music tune while learning.
20. Bruce's Unusual Typing Wizard
Bruce's Unusual Typing Wizard is intended for novice and expert typists who want to improve their speed or precision. This program also contains a special algorithm that can identify whether a user's typing posture is significantly off and change the typing posture. This removes the annoyance of repeatedly entering errors when a character is missing or added. A game is also provided to aid in practicing strange letter combinations.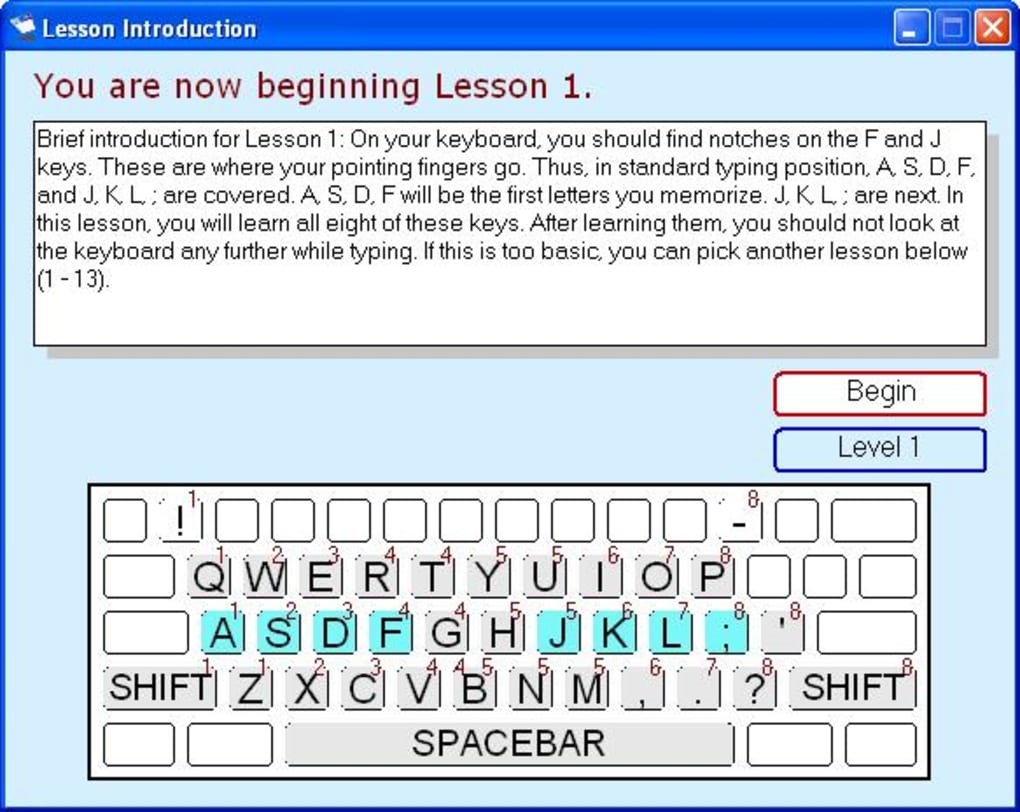 Features:
Users get the benefits of preparing their lessons.
Includes a game that helps learners to practice letters and words.
Supports multiple users, each with their own set of statistics.
The user can change the text utilized to practice typing.
The game and the onscreen keyboard may both be customized.
Conclusion
I hope you like our list of the top free typing programs for Improving Typing Speed. You may use their typing programs to get varied typing tasks, and eventually, they help you boost your typing skills. Some of the most excellent alternatives, in our viewpoint, are Ratatype, Typing.com, Typing Club, and Typing Master.
These applications provide simple lessons that are updated throughout time. You may easily use every choice to increase your typing speed and efficiency. After carefully examining all alternatives, select the best solution to your needs.
No more content