You may be faced with several instances when you feel the need to convert JPG to Word or open a JPG image in Microsoft Word and make necessary changes in the text or simply add the images in the document file before sending them out for further processing use. You may feel the need just to incorporate these images in a document. They may contain relevant information and need to be appended to the file to enhance its value. You may need to edit the photos in Word format.
In either scenario, you can adopt a few easy methods that will help you to successfully change the jpg file to a Word document without any losses. Explore the article to learn about two such tools and some easy guidelines to help you in this endeavor. 
2 Ways to Convert JPG to Word
Method 1: Use EaseUS PDF Editor to Convert JPG to Word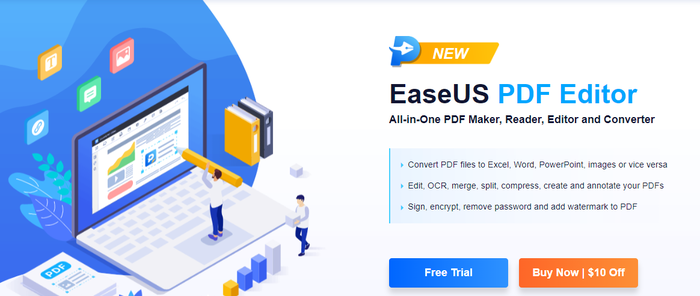 Applicable scenarios/users
When you need to convert PDF files to Word, Excel, PowerPoint images, or vice versa
To sign, encrypt, add watermark to PDF or remove password
To edit, OCR, merge, compress, split, create, or annotate your PDF files
EaseUS PDF Editor is a multipurpose tool that can help you easily convert jpg to Word and is an All-in-One PDF maker, reader, editor, and converter. The tool is packed with features and can help quickly search for and replace specific text in your PDF document. It can set any color and image as your file background, add bates numbering to multiple PDFs for prompt identification, and offer various reading options like zooming, rotating, etc. 
Price: It costs $29.95/Monthly, $49.95/Annual, $79.95/Lifetime.
Compatibility: Windows
Step by step guide:
There are two parts to converting your jpg file to the world with the help of the EaseUS PDF Editor:
Convert JPG into PDF
Convert PDF to word
Convert JPG into PDF with EaseUS PDF Editor 
Step 1: Launch your EaseUS PDF Editor. Go to the Home page, navigate to the top right corner and click Utilities. When you get the drop-down menu, click on PDF Editor. Go to Free Trial, save pdf_editor.exe, and double click on the exe file.
Step 2: Once the software is installed, go to Menu and click Create > From Files, then select the images you want to convert. Conversion will start after the selection is done.
Step 3: After the conversion is done, click on Save, which will store the PDF copy on your computer.
Convert PDF into Word with EaseUS PDF Editor 
Step 1: Click 'Open' and then 'File' to import the file that needs to be converted into Word.
Step 2: Now go to the toolbar on the top left-hand side and click on 'Convert'. Once you get the drop-down menu, choose Word.
Step 3: With for the process to complete. When done, the converted file will get saved to your computer automatically.
Method 2: Use Online 2 PDF to Convert JPG to Word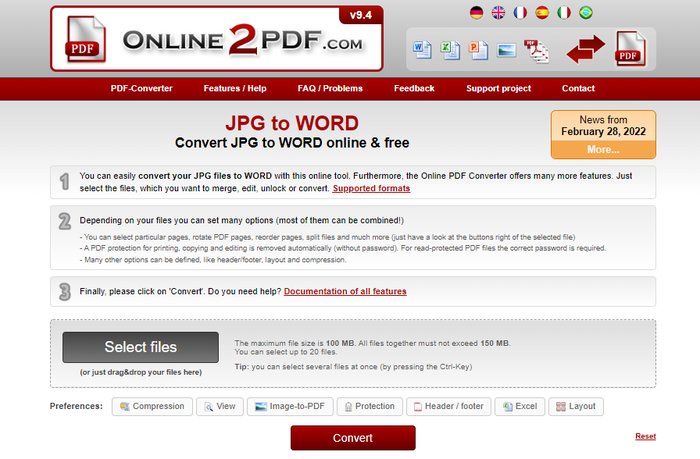 Applicable scenarios/users
You can use this method if you need particular pages selected, Rotate PDF pages, split files, reorder pages, etc.
If you need a PDF protection for copying, printing, and editing removed without the need for a password
Several other options like compression, layout, header/footer, etc.
Online 2 PDF is an online PDF converter using which you can convert jpg to Word. The tool comes with several other functions and features like merging files, rotating PDF pages, unlocking PDf and removing the password, Compressing PDF and reducing file size, Setting or customizing PDF layout, extracting or rearranging pages, splitting files, and much more.
Step by step guide:
Step 1: Go to the webpage and open the tool. Visit Site.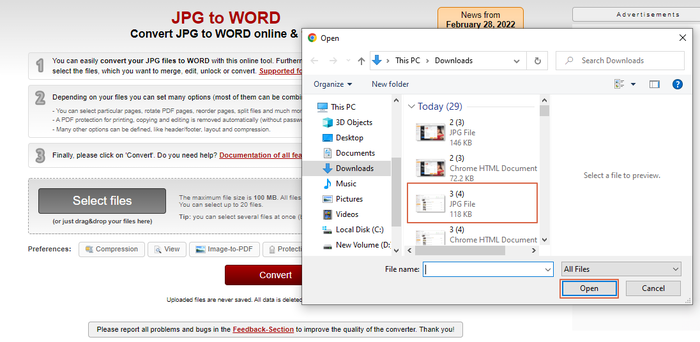 Step 2: Next, use the drag and drop feature to get your file into the tool page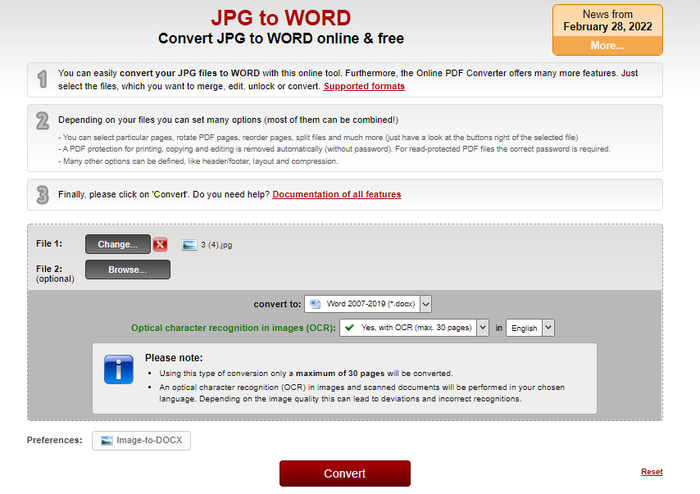 Step 3: The tool will automatically convert Microsoft Office and images to PDF. If you upload the PDF file, you will be asked to select the output format.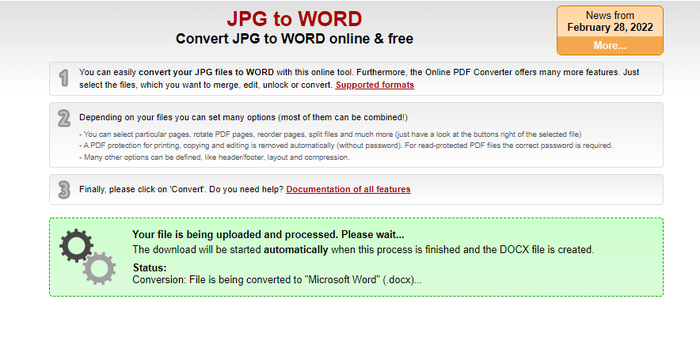 Step 4: Now download your new file
Conclusion
When you find the need to convert jpg to Word, you can accomplish the task with the help of two easy methods. You can simply insert the pictures into the files if there is no requirement to convert the photos to an editable format. However, if you need to edit the images, you will first have to convert them into a PDF format. If you were to take the manual route for conversion, you would come across multiple challenges. Using the software discussed here gives you a much easier process to do the task quickly and without limitations. One of the best PDF converters, the EaseUS PDF Editor, can also help with various input and output formats. You can now convert PDFs from ten different files with just a few clicks. And yes, do not worry about losing the original quality and format. With this software, you can bypass this problem and keep the quality, formatting, and image intact even after conversion.
Price: It costs $29.95/Monthly, $49.95/Annual, $79.95/Lifetime.
Compatibility: Windows
No more content