The superb quality of MP4, which is one of the most common video formats, is known by all. As a result, most videos employ MP4 files as their video format. Almost everyone now uses Whatsapp, a famous messaging application that can be used to send and receive messages, calls, documents, images, and videos all over the world on their smartphone or PC.
However, It can be difficult to share huge mp4 files of excellent videos you've created using Whatsapp. After all, users of Whatsapp are unable to exchange large files as the limit for sending any media, including movies, photographs, and voice messages, using WhatsApp is 16MB. How can you then lower the size of an mp4 file for Whatsapp to make it easier to share? This article will discuss two simple ways to compress MP4 video files for Whatsapp.
2 Simple Ways to Compress MP4 Videos for WhatsApp 
Method 1: Use EaseUs Video Editor to Compress MP4 Videos for WhatsApp
Method 2: Use Free Online Tools to Compress MP4 Videos for WhatsApp
Method 1: Use EaseUs Video Editor to Compress MP4 Videos for WhatsApp
EaseUS Video Editor is an excellent video editor that is simple and easy to use. When you access the app's main interface, you'll be able to figure out how to use it. To make a beautiful video, you only need to click a few basic buttons.
Using this software, you may resize your clip, add text effects and sound, change speech to text, reduce MP4 video files, etc. Expect basic video customization options and the ability to convert video or audio formats. For example, changing MP4 to MOV, MP4 to GIF, etc.
You could convert it to whichever format you desire when you've finished reducing your video.
Features
Compression of video size is supported.
For your device, an excellent video converter
More than 300 effects, as well as transitions, are supported.
Translating speech to text is supported.
Price: It starts $17.97/Monthly.
Compatibility: Windows 7/8/10/11
How to Use Video Editor to Compress MP4 Videos for WhatsApp
Step 1: Launch EaseUS Video Editor on your Windows computer.
Step 2:Click the "Import" button to add an MP4 or other formats video or several videos you want to compress.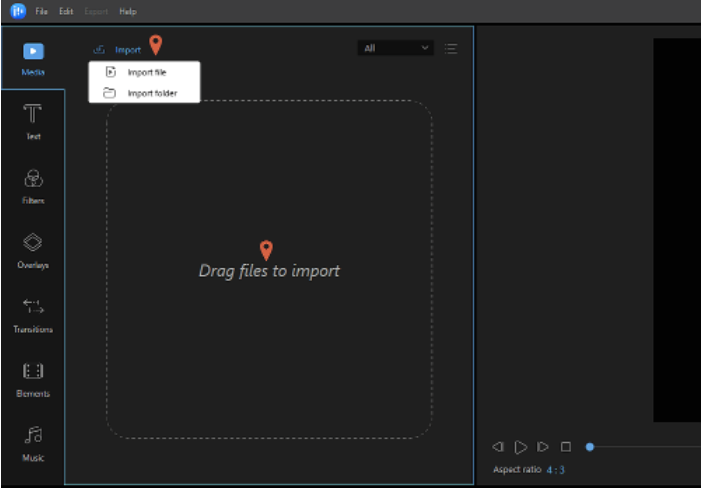 Step 3: Right-click the target file and tap "Add to Project" to add a video to the timeline.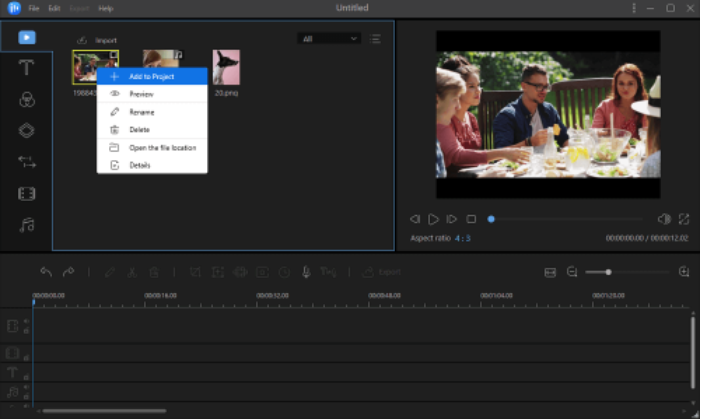 Step 4: Then, click the "Export" button, and you will see the "Output Settings" button, click it, then select a lower resolution or bitrate compared with the original ones. When you finish, tap "OK" to continue.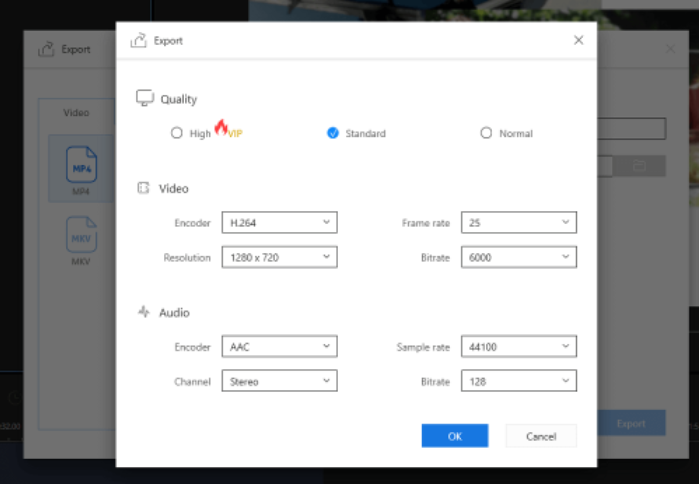 Step 5: Click the "Export" button to export and save your video. You also can select the video format you need here.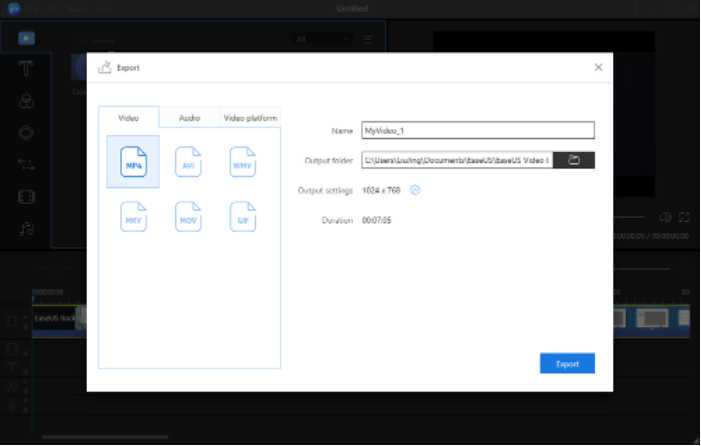 Then, your original video is reduced to a smaller one successfully.
Method 2: Use Free Online Tools to Compress MP4 Videos for WhatsApp
Many consider installing third-party applications too time-consuming, and they question whether they can reduce MP4 files online. They certainly can. We'll go over three handy online MP4 compressors, their capabilities, and how to utilize them.
1. Reduce MP4 File Size Online using Clipchamp
Clipchamp is a free video editing tool that you may use online. This software has already garnered the attention of 8 million video makers. Reduce, freehand cut, flip, as well as alter the contrast and color with this app.
This application offers a superb compress option and a film editing feature. You could compress your movie within a few minutes, plus this clip compressor allows you to pick from seven alternative resolutions while maintaining the MP4 standard. Clipchamp will be the best option for you if you want to conserve time on uploading or cost on storage.
Pros
Batch uploads allow you to compress numerous videos at once.
There are seven distinct resolution settings that it supports.
Have an extensive library of film as well as audio stock footage
Cons
You might need to pay for some function
To utilize the service, you must first register an account.
Compressing videos may result in a reduction in video quality when grains are present.
Step 1: Upload your video 
Start Clipchamp and go to the Clipchamp utility interface to upload your video.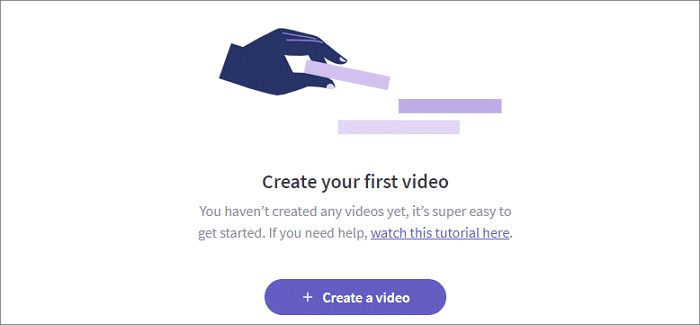 Step 2: Choose your settings
Use the preset settings or adjust the options to your needs.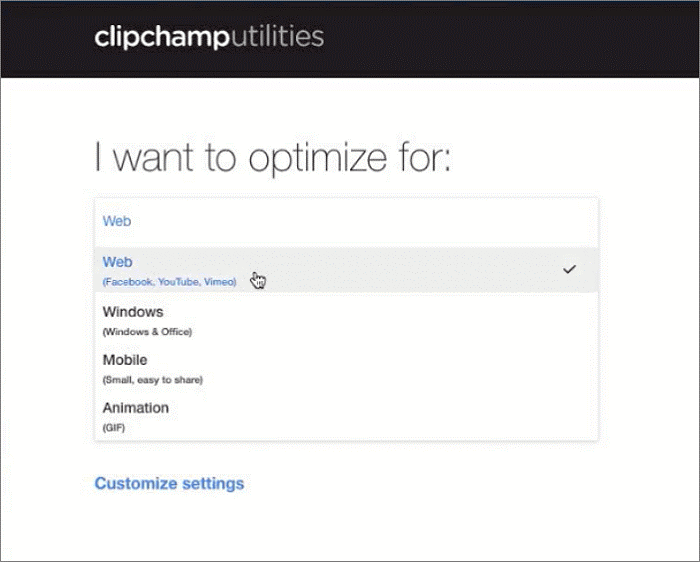 Step 3: Compression
To begin compressing, click Start.
Step 4: Preview
Take a look at the compressed clip online. If you're happy with the outcome, Download the compressed video and save it to your device.
2. Reduce MP4 size online using PS2PDF 
PS2PDF is a free video compressing application available online. This application compresses MP4 videos without restriction and is the quickest online MP4 video compressor. You will not be disappointed if you are looking for a robust online video compressing application.
Pros
Allows you to compress an MP4 video file.
Multiple video files can be compressed at the same time.
Support the use of free software.
Cons
Have an excessive number of advertisements
The primary screen is a jumbled mess.
Step 1: To import your video, go to the site and select the "Add Files" button. You could also import a large number of videos at once.

Step 2: You can change the video resolution and the file size of the video. Reduce the file size or the method.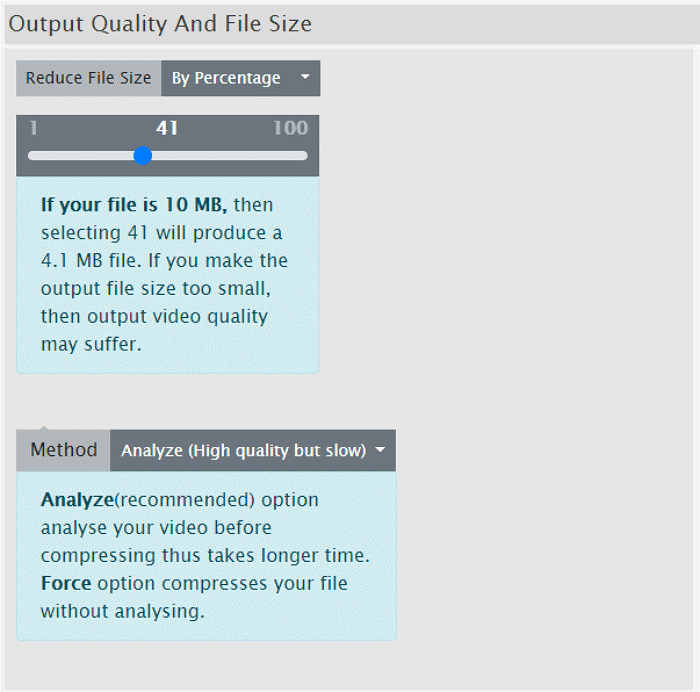 Step 3: To export and save your video, select the blue "Compress Now" icon.
3. Reduce MP4 Video Online with VEED
VEED is an online video editor that includes a free, quick, and simple online video compressor. Since it's an online application, you wouldn't require a specific laptop or desktop to use it.
VEED isn't just the fastest compressor, it also assists non-experts in creating professional-looking videos.
Step 1: Upload your file to veed.io/video-compressor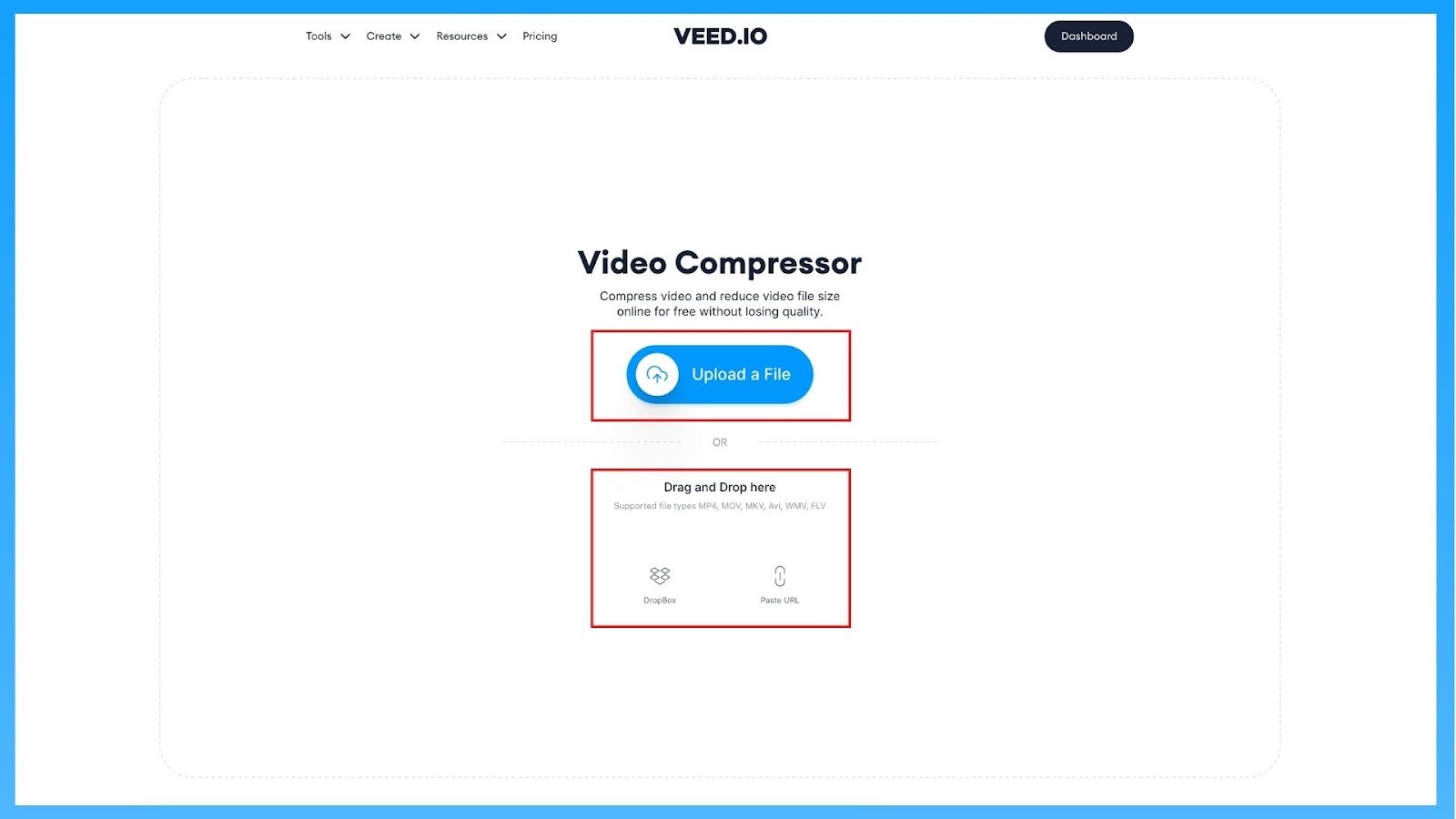 Step 2: Make any necessary adjustments to the video compression parameters
After you've uploaded the file, you'll be sent to a page where you can alter the quality of the video and compress it using a sliding scale.
VEED displays the volume of the video as you alter it, allowing you to determine how much larger or smaller the video file should be. You'll immediately know if the video size is small enough to send via WhatsApp.
Step 3: Save your compressed video to your device
Select 'compress video' from the drop-down menu to compress your video file. Once you've finished, click 'download video' to get your file.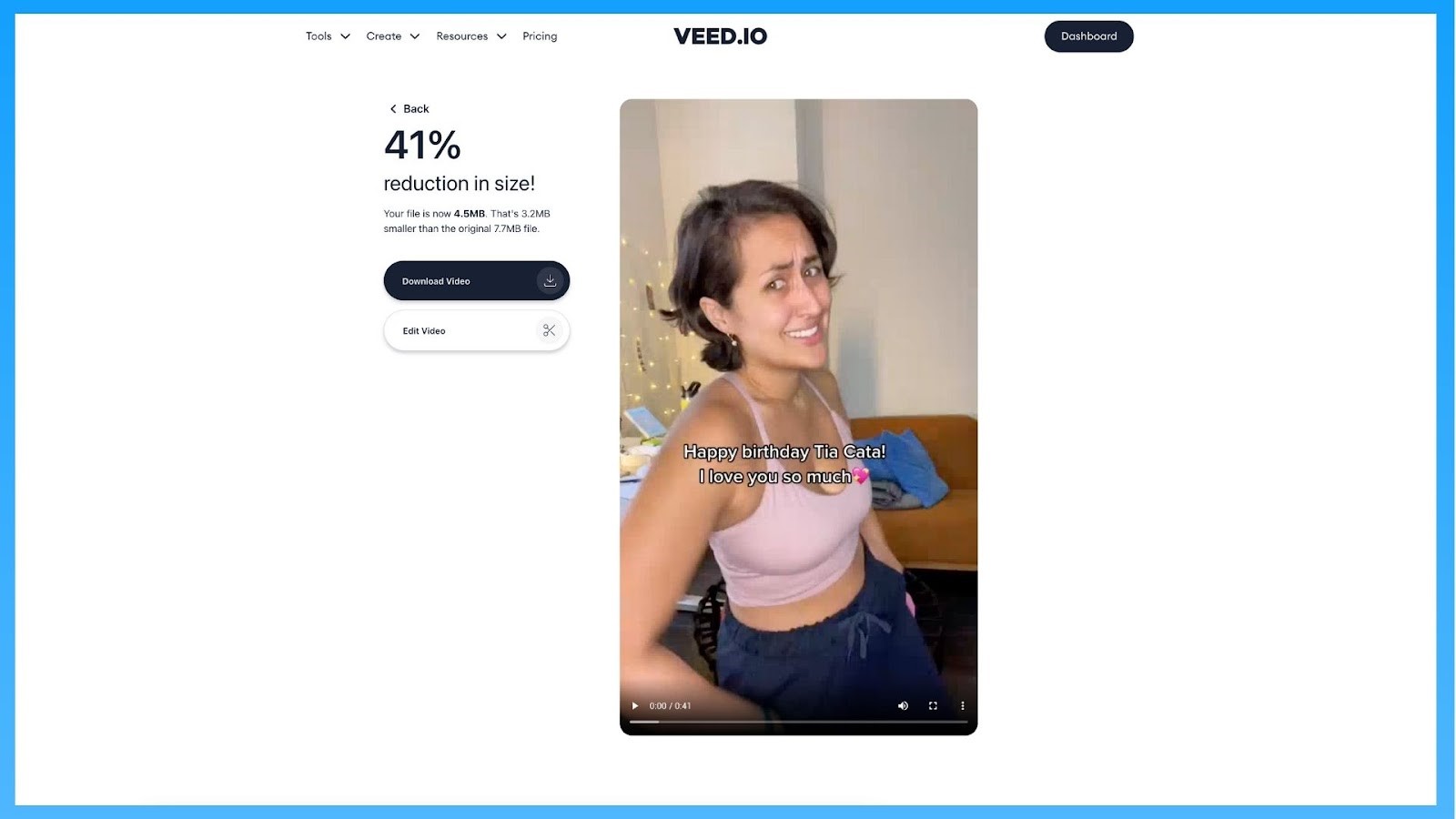 Conclusion
Although it is quite straightforward to reduce MP4 file size online, you can't edit your video. If you need to effectively trim an MP4 video, we strongly recommend EaseUS Video Editor. This tool allows you to compress your MP4 video and transform it into other file types.
Price: It starts $17.97/Monthly.
Compatibility: Windows 7/8/10/11
No more content