Cloning relates to the re-creation of contents of an original disc in an exact copy. It helps create a useful backup of all your crucial data, upgrading or transferring the sensitive data to another machine. There may be situations when both Windows and Mac users may feel the need to take a full backup of the device for its safety from Malware, hackers, any mishap, etc.
The user may also be trying for a successful migration to a new device, and here a free disc clone software helps a lot. Additionally, an effective disk clone software allows the user to quickly upgrade the drive from a hard drive to an SSD without compromising any content with the location change.  
Here we discuss the Top 8 Disk Clone Software that runs successfully on Windows and MAC, respectively. 
Top 4 Disk Clone Software Free Download for Windows
Are you a Windows user looking for an upgrade from your old device and worried about your useful and important data? Not anymore, as a good disk clone software for Windows can work wonders for you.
Check out these fabulous options:
2. EaseUS Disk Copy Pro(Recommend)
1. MiniTool Partition Wizard

MiniTool Partition Wizard is a free disc clone software that is an all-in-one manager for disk partition that converts the dynamic disk to a basic version without any loss in data. It also assists in resizing, formatting, and creating partitions flexibly in GPT and MBR disks. This software also uses a robust disk cloning tool to create a backup instantly.
Pros:
It assists well with its comprehensive check master for discs.
Easy to use and beginner-friendly.
Easily receivers lost or deleted files.
Cons: 
It does not provide support for dynamic disk management.
Price: Free 
2. EaseUS Disk Copy Pro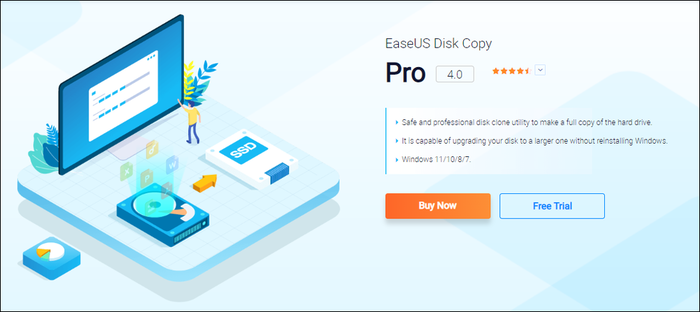 EaseUS Disk Copy Pro allows for an easy upgrade from your old drive to the hard drive, and it also assists in cloning a GPT disk to MBR format and vice-versa. Additionally, it also supports the cloning of HDD to SSD if you are looking for upgraded performance. When using this software, you will experience no loss of data in the recovery process. 
Pros:
It has the capability of larger disk upgradation without any need for the reinstallation of Windows.
It is a professional software that is safe to use for cloning facilities for disks.
It allows for the migration of OS with a click.
It allows for prompt tech service delivery to its clients. 
Cons:
Price: It starts $19.90/Monthly.
Compatibility: Windows

EaseUS Disk Copy Pro Review – Best Disk Cloning Software You Can Use
3. Acronis True Image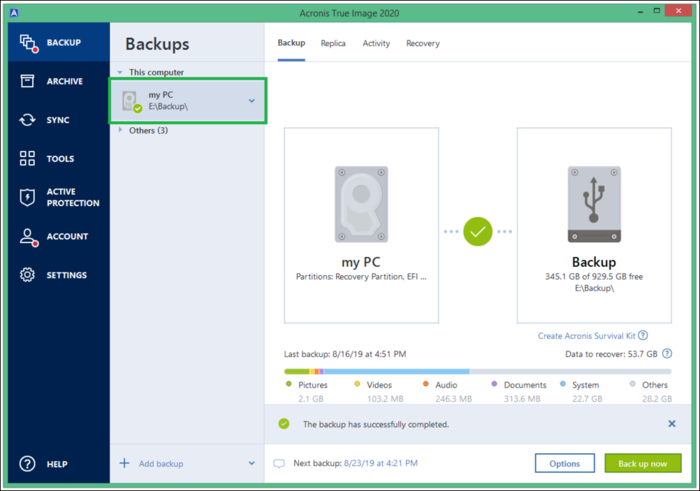 If you are looking for something that has amazing features and also acts as a backup solution for cloning your disk, then Acronis True Image can help you out. It provides backup, cloning along with cyber protection, assessment of vulnerabilities, antivirus scan, and many other facilities. Additionally, it also reverses any unauthorized encryption on a hard drive to keep your data ultra-safe. 
Pros:
There is a facility of Storage for 5TB in the premium plan and a facility for electronic signatures.
It protects from ransomware.
It supports the effective cloning of drive.
Cons:
Sometimes the boot time gets increased with this software.
Price: Free Trial
          $59.99 (Sometimes discount is available)

Acronis Cyber Protect Home Office Review: A Reliable & Excellent PC Protector
4. Uranium Backup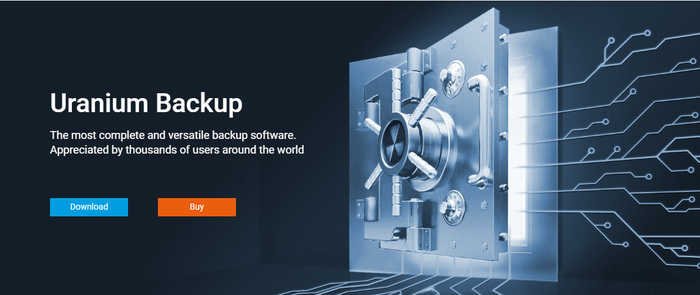 Uranium Backup allows for creating a copy of your important data from remote and local FTP servers. There is an option of cloud backup and recovery of drive images in case of calamities. There are many software variants available for the users as per their needs. There is a faster recovery of data through the intuitive control panel of the software. 
Pros:
Allows for disaster recovery.
Easy restoration is possible even through web access.
There are remote server options for the users.
Cons:
It does not provide remote access or control of the device.
Price: Free Trial
          $93/per user for one time.
Top 4 Disk Clone Software Free Download for Mac
You can look for many attributes while selecting the top disk cloning software for Mac devices. It must have:
Compatibility with the latest version of the MAC operating system.
Advanced features that assist in easy data extraction.
Boosting capability of the overall security of your Mac device.
A beginner-friendly interface.
The top 4 Disk Clone Software for MAC are described as:
1. Carbonite

Carbonite is an amazing software that provides many features to its users. It provides the facility of transferring infinite info from one Mac to another, serving as the best and most convenient cloning app. Your user data is never lost with a cloud backup that is available personally all the time for your assistance. There is the scalability of solutions that are quite flexible and work off-site and on a cloud.
Pros:
Ease of use with good security of data.
Immensely great customer service and help support.
Shows the progress of work while disk cloning is taking place.
Cons:
Indicating and sorting each file and folder for backup may take time.
Price: Free Trial
          $58.99 (After discount)
2. SuperDuper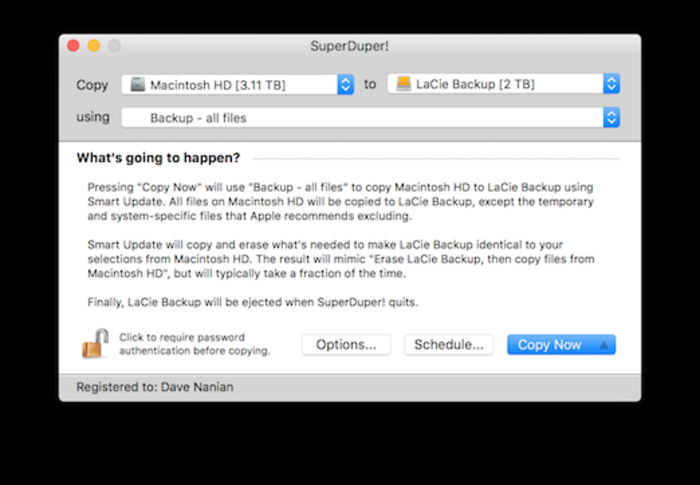 Superduper can be considered one of the best cloning software for Mac devices, going by its ultra-simple interface that can be used even by a beginner. The backing up of the data can be done flawlessly with the flow of disk management along with a great variety of scripts found as a built-in inside the tool. Many advanced features better control files that need to be copied from a drive to be saved on another drive.   
Pros:
Easy preservation of file info of all the files.
There is a seamless sync facility of files on this software.
Support and help are always available from the team.
Cons:
The user interface is confusing at times.
Price: Free Trial
          $27.95
3. Get Backup Pro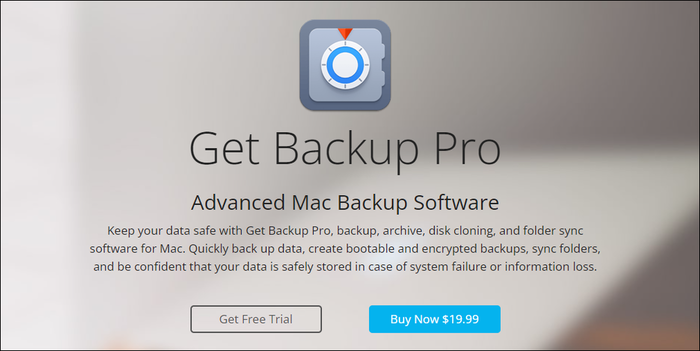 Get Backup Pro is the right software if you are looking for an advanced or amazing tool for your Mac device that assists you well with backup, archive features, disc cloning facility, and easy synchronization for your folders. It requires minimal storage space, which is way less than your original file, and disk cloning can be done pretty easily to create a copy of data effectively.
Pros:
Allows for easy scheduling of your important backups and cloned files as per time or date and can also be set for an automatic mode.
It is a highly secured and fast application for Mac users. 
Data restoration is easily available in case of errors or major mechanical failure. 
Cons:
The user interface of this software air is not well streamlined as per the availability of other options. 
Price: Free Trial
          $19.99
4. Cloneziclon
If you are looking for a free disc clone software for your Mac device, Clonezilla can help you with its metal backup and a system deployment facility. It also supports various files, including FAT, VMFS3, ext, HFS+, and many more. It also provides 256 encryption that ensures the security and safety of your data and Storage. 
Pros:
There is a lite server of Clonezilla that supports Bittorrent. 
Image encryption can be done easily with this software.
There is a multicast facility available.
Cons:
There is no facility for the user to take incremental or differential backup.
Price: Open source and Free.
Final Words
Whether you are a Windows or a MAC user, you will always feel the need for either a paid or free disc clone software that assists in taking backup of your crucial data easily. It not only prevents you from losing it anytime in the event of data theft, breach of security, or mere changing of the operating device but creates a copy of the same so you can carry on with your usual work freely. 
We have mentioned the top 4 disk cloning software for Windows and MAC, respectively, and we are very sure you will be able to make the most of them. However, for Windows, our personal favorite is EaseUS Disk Copy Pro, which provides immense features and ease of use.
Price: It starts $19.90/Monthly.
Compatibility: Windows
No more content