Our Verdict
EaseUS Disk Copy Pro is a versatile disk cloning utility that features sector-level cloning, one-click OS migration, and the ability to resize partitions when copying disks and create WinPE bootable disks.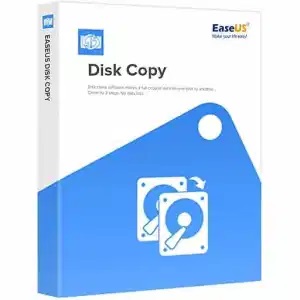 This fabulous cloning software can gratify the growing demand for safeguarding data and generating exact copies with 100 percent certainty. Also, it's a decent tool for recovering data or files from a backed-up disc via a recovery wizard.
Better yet, it will offer you diverse concrete solutions to cloning in accordance with the different situations of your failing disk.
| Parameter | Score(10 Points) |
| --- | --- |
| Disk Clone | 9.5 |
| Overall Performance | 9.5 |
| Features | 9.5 |
| Pricing | 9.0 |
| Interface | 9.0 |
| Support | 9.5 |
As the latest version of this fantastic cloning software, Disk Copy Pro 4.0 supports modern Windows operating systems and can smoothly resolve the issue of partitions not being correctly selected when moving or resizing across disk systems.


Start from$19.95

Table of contents
Parte 1. EaseUS Disk Copy: Main Features
Parte 2. EaseUS Disk Copy: Pricing
Parte 3. How to use EaseUS Disk Copy
Parte 4. EaseUS Disk Copy: Alternative software
Parte 5. Final verdict

Main Features
With a plethora of cloning software available, why should you choose EaseUS Disk Copy Pro? Well, we have some compelling reasons for you. Take a glance at the most critical features of this amazing tool:
Capable of upgrading your disk to a larger one without reinstalling Windows
Enable you to restore data from the corrupted hard drive in minutes.
Support full disk and partition level cloning
Resize partition when copying disks
Auto-detection & preparation of new disks
Support GPT disk
Create a WinPE bootable disk
The limited free version is also available
Pricing
The expense of EaseUS Disk Copy 4.0 starts from merely $19.90 a month. To get more details, check the below pricing options:
Monthly: $19.90 / Month
Annual: $29.90 / Year
Lifetime (Best Value): $59.90
We'll recommend a monthly or annual subscription if your ultimate goal is to complete a one-off cloning task. Still, the lifetime subscription is undisputedly a better and more economical option for other situations as it comes with lifetime free upgrades and a reasonable price.
How to Clone Disk with EaseUS Disk Copy Pro
1.Clone hard drive
Step 1. Download, install and run EaseUS Disk Copy on your PC.
Click "Disk Mode" and select the hard drive that you want to copy or clone. Click "Next" to continue.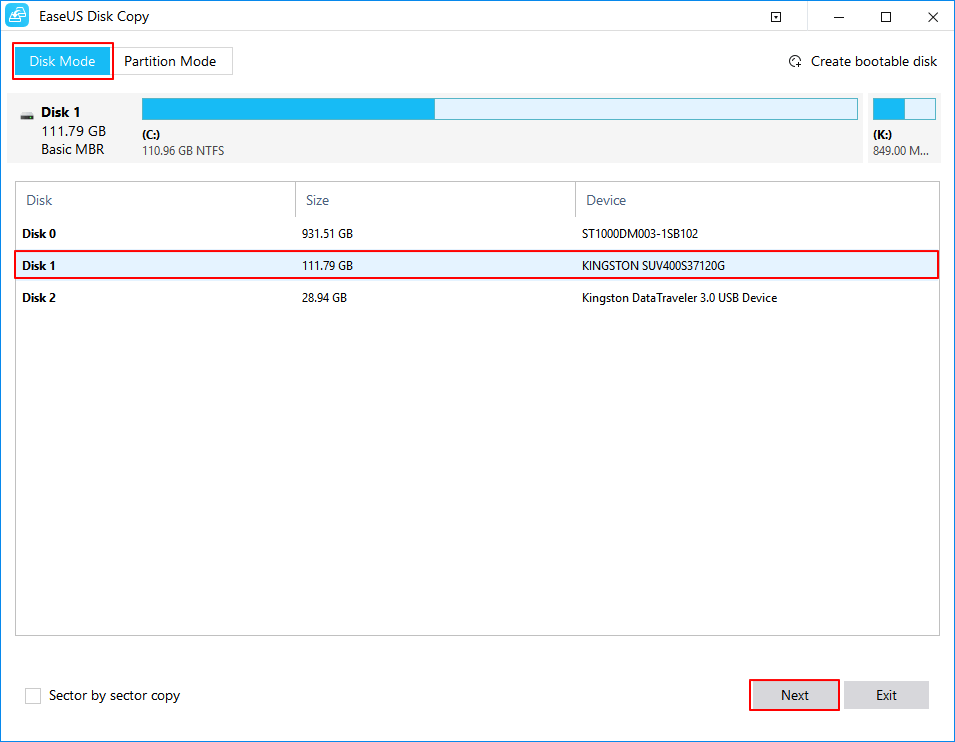 Step 2. Select the destination disk.
Note: The destination disk should be at least the same big or even larger than the source disk if you want to copy or clone the source hard disk.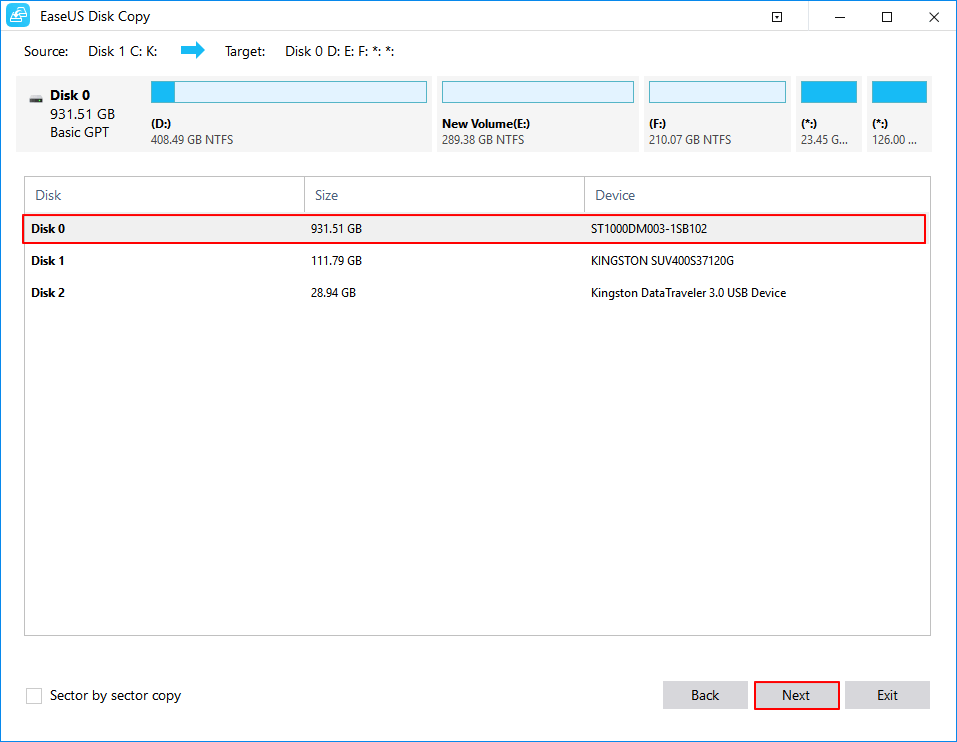 Step 3. Click "OK" to confirm if the program asks to erase data on the destination disk.
Step 4. Check and edit the disk layout.
If your destination disk is an SSD drive, do remember to Check the option if the target is SSD.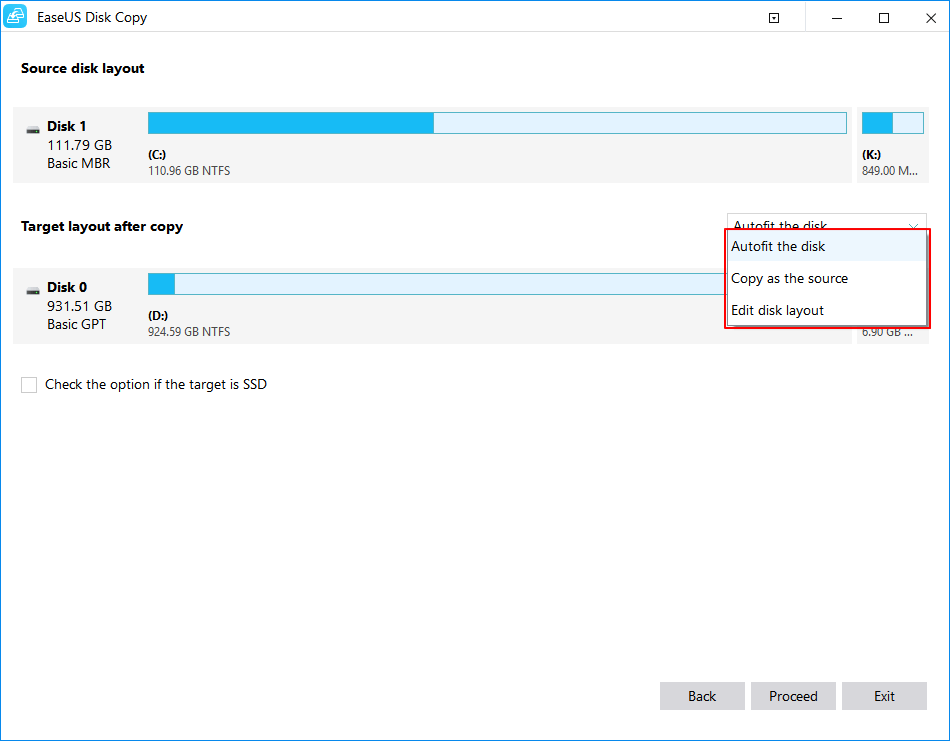 Step 5. Click "Proceed" to start the hard drive cloning process.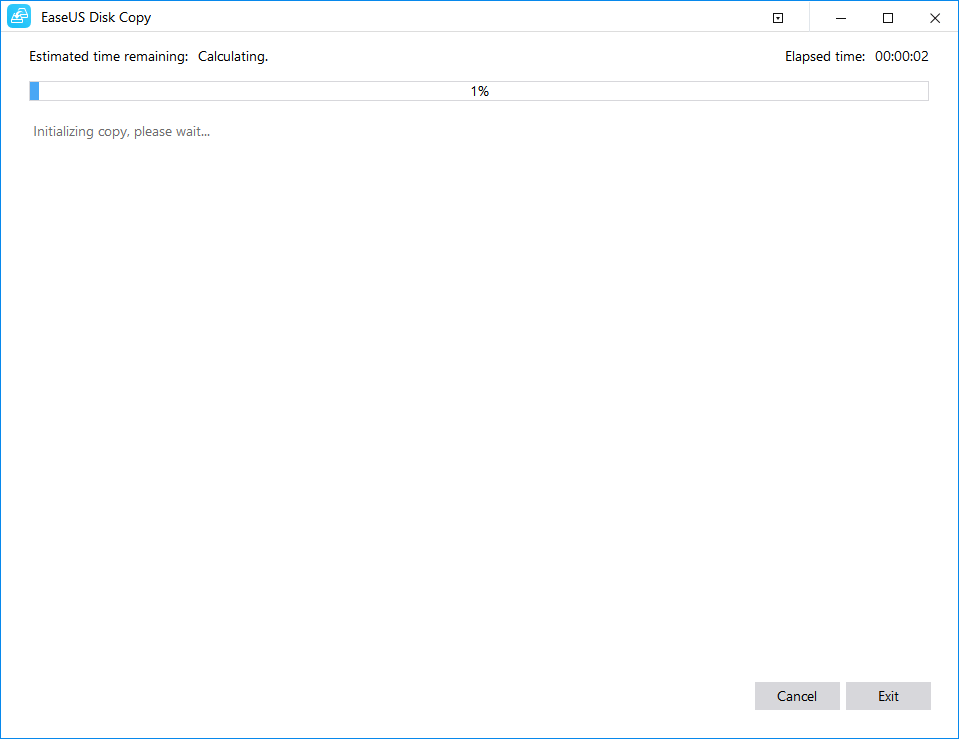 2.Partition Cloning and Migration
Now we have seen one of the core features of EaseUS Disk Copy, which is the easy copying of a whole disk across to another disk without any hassle and the ability to automatically utilize any additional disk space that might exist.
This section will focus on another main cloning functionality that Disk Copy Pro covers - Partition Copy. You can access to this copying feature by flipping the switch toward the top of the page.
Tips:
The target partition size should be the same as or larger than the source partition while using partition clone.
You can clone a larger partition to a smaller one in the situation where the smaller partition remains sufficient room to accommodate the contents of the source partition, and you did not select "Sector by sector copy."
The whole data on the destination partition will be obliterated.
Step 1.Tick "Partition mode" and select a source partition. Upon that, hit"Next."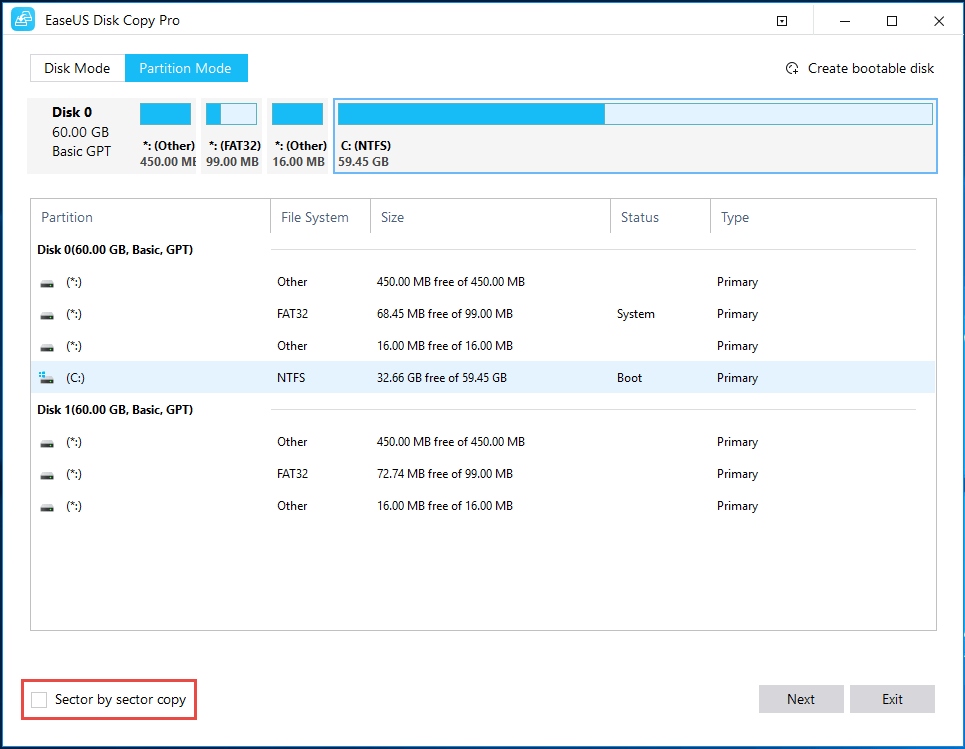 Note:Tick the "Sector by sector copy" option if you want a sector-level clone.
Step 2.Select a destination partition and click "Next."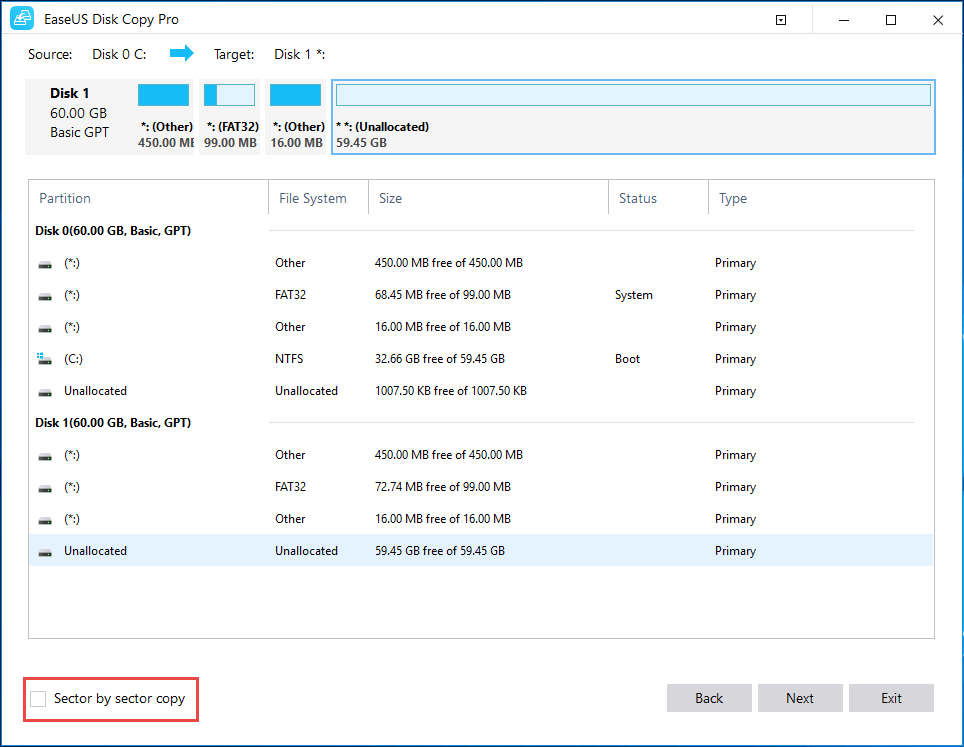 Step 3.Edit the disk layout from the drop-down box and then click the "Proceed" to continue.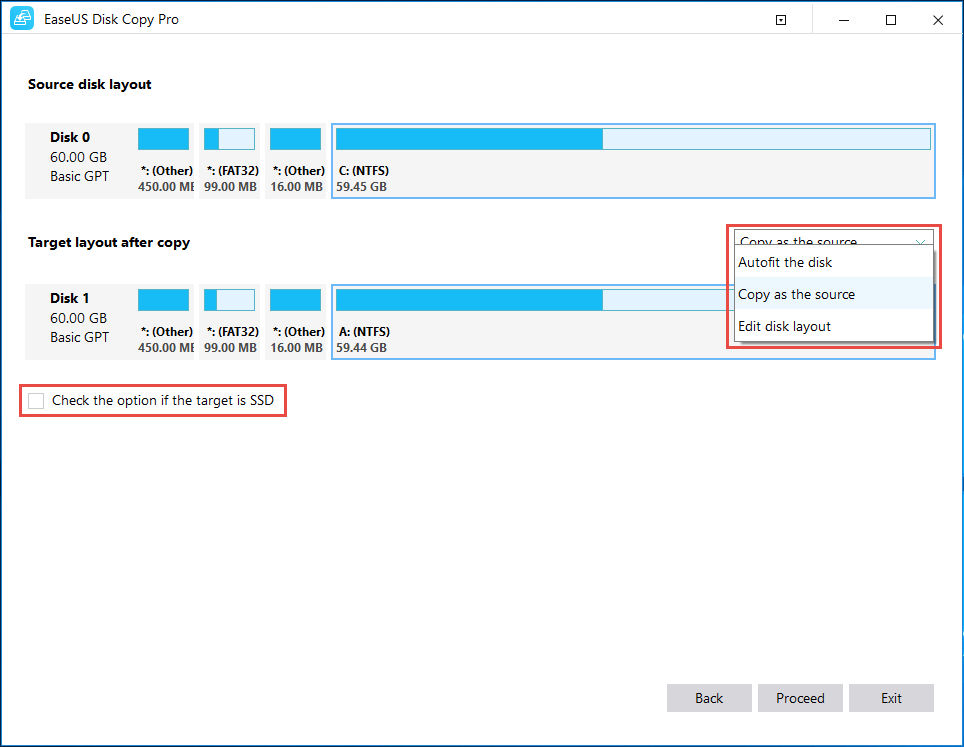 Note:
"Autofit the disk" resize the layout on the destination disk according to its size to render the disk the best status.
"Copy as the source" does not alter anything on the destination disk, and the layout stays identical to the source disk.
"Edit disk layout" enables you to manually resize/move the partition layout on this destination disk.
Step 4.Finish the copying.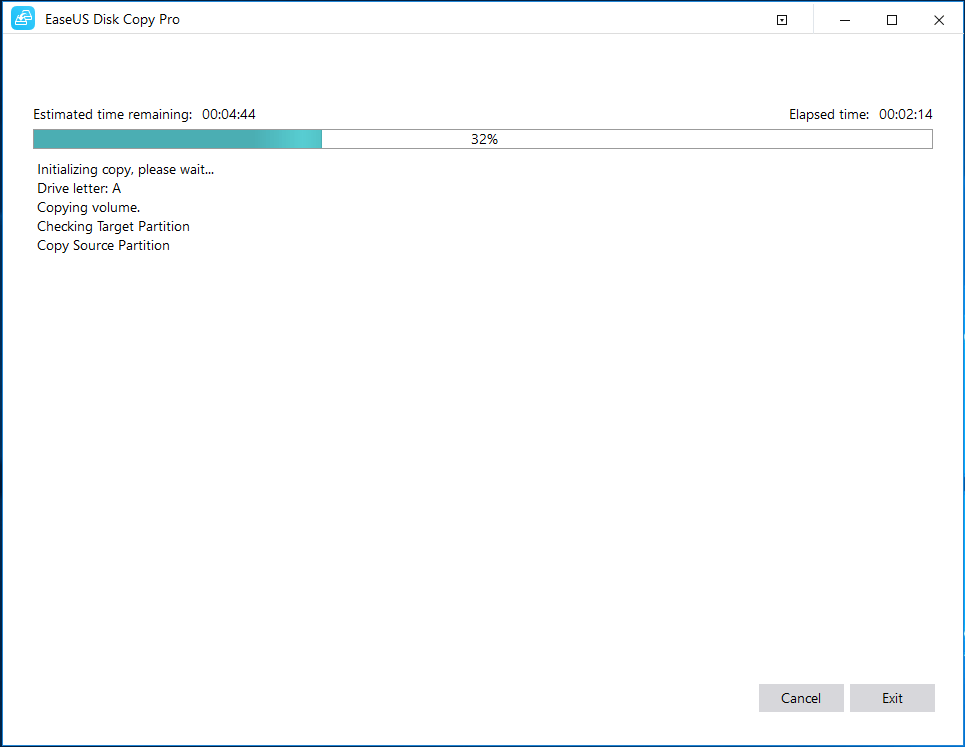 3.Bootable Media Builder
This final section of the review will zero in on the bootable media building tool, which is also built into the core Disk Copy utility itself.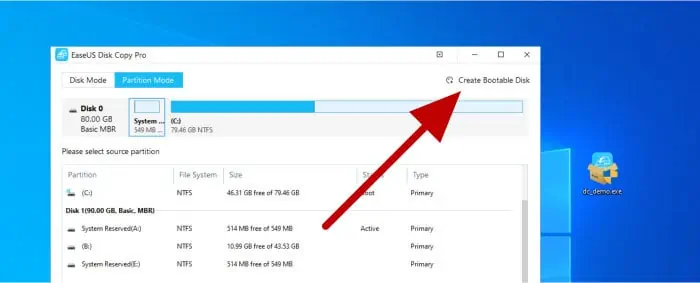 Step 1.Launch the Bootable media building tool and select to make either a bootable USB flash drive, a CD/DVD, or an ISO image file for burning to media at a later date.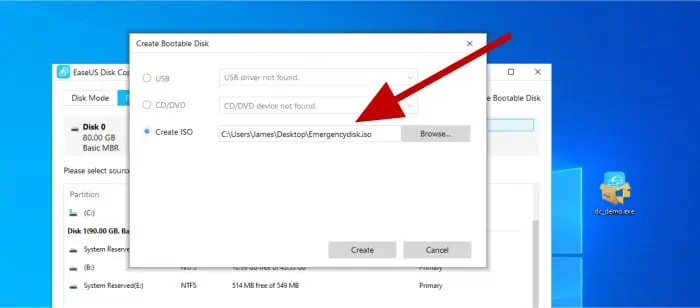 Note:This built-in bootable media tool asks for the Microsoft WinPE tools to be installed on the system before it can start working.
Step 2.With the type of recovery media to be used, selected, and (if necessary) the WinPE tools downloaded and installed to the device, the tool will then go on to complete creating the bootable media.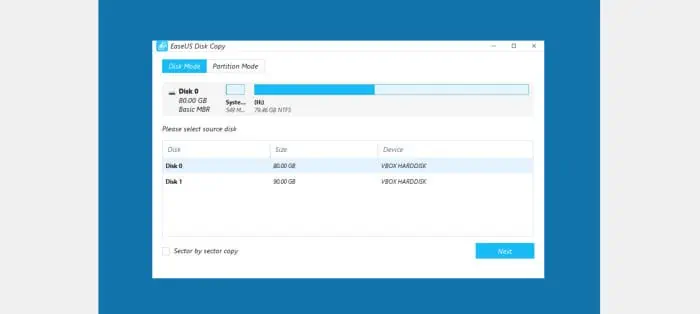 Step 3.When booting a PC up using the bootable media version of EaseUS Disk Copy, you can see a very similar view to that of the main application used earlier.
The option to create bootable media is missing from this live version. Still, with that single omission, the Disk Copy utility works similarly and allows for an existing disk to be copied without the underlying Windows system in use.
Alternative Software
If you are looking for a close substitute to EaseUS Disk Copy Pro, check out the following options:
Parameter
EaseUS Disk Copy Pro
EaseUS Partition Master
AOMEI Backupper
Pricing

Start from $19.90

Buy Now

Start from $19.95

Visit Site

Start from $14.99

Visit Site
Disk Clone
9.5
9.0
8.5
Support GPT disk

Create WinPE bootable disk
Resize partition when copying disks
Clone a Drive with Bad Sectors


Support
Windows 11/10/8/7
Windows 11/10/8/7
Windows 10/8.1/8/7/Vista/XP
Final verdict
EaseUS Disk Copy is a top-notch and easy-to-use disk cloning utility, which should be ideal for anyone craving quickly and easily migration an existing system disk to a new one with the minimal of configuration required.
It's the simplicity and powerful features that distinguish EaseUS Disk Copy Pro from its numerous competitive rivals.
Thanks to its minimalist design, easy-to-use interface, and lack of technical language, you can start using it immediately, regardless of your technical knowledge.
Should I buy EaseUS Disk Copy
Expert's Rating: 

Pros
Intuitive and user-friendly interface.
One-click OS migrate.
Support Windows 11/10/8/7.
Sector-level cloning.

Pros
No free version (Yet you can have a free trial).
Our Verdict
EaseUS Disk Copy is a decent disk clone utility to make a full copy of the hard drive.


Start from$19.95


Start from$19.95
FAQ
Is EaseUS Disk Copy Pro safe?

Disk Copy Pro is safe. It does not make any changes to your computer or media storage.
Are there Family Bundles for EaseUS Disk Copy Pro?

Yes, there are. You'll get a bunch of powerful and exclusive utilities at quite a reasonable price.
What does EaseUS Disk Copy do?

EaseUS Disk Copy is a simple disk cloning utility that assists you in making an entire copy of contents on a disk and migrating your data, system or apps to another hard drive without any hassle. This cloning software allows you to clone source disk/partition(s) to the target disk/partition(s) "as is" or resized proportionally.
Which Windows versions are supported by Disk Copy Pro?

Disk Copy Pro supports Windows 11/10/8/7/.
Does EaseUS Disk Copy Pro support migrating from HDD to SSD?

Yes, Disk Copy Pro enables you to clone HDD to SSD for better performance. Better yet, it's capable of easily upgrading your hard drive from the old disk to a new one or cloning MBR disk to GPT disk or GPT disk to MBR.
EaseUS Disk Copy

Start from$19.95
30-Day Money Back Guarantee