For the proper operation of a Windows system, keeping the correct internal components is essential. One of the most important things here is the drivers that help with proper interaction between the hardware and operating systems.
To maintain the proper functioning of the drivers, you need to install the best free driver updater fit for your system. Options like Auslogics Driver Updater and AVG Driver Updater are top-of-the-range software choices here.
They would help update the hardware drivers on your computer to the latest versions automatically and without much issues. We have looked through more alternatives for a comprehensive list of the top 18 options.
Top 18 Best Free Driver updater for Windows
There are many types of best free driver updaters available in the market. We looked through many options and tried them out. Finally, we settled on the top 18 ones that we found. Here, we shall discuss them further in detail.
1. AVG Driver Updater
Among the different types of software options available for driver upgradation, AVG Driver Updater is a suitable option. While this is not entirely free, standard-level features work well for driver scanning and upgradation in the free trial version.
The advanced version of this driver updater can easily sharpen many driver components. Users can apply it to upgrade the display and sound quality drivers. Expect smooth functionality, sharp UI, and limited PC crashes/freezes.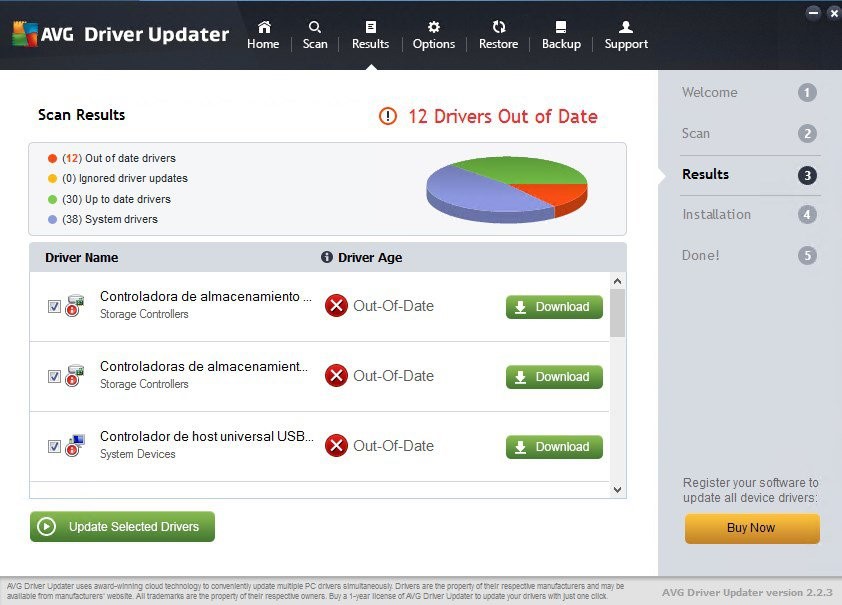 Compatibility: Windows 10/8.1/8/7
Pros:
Cybersecurity benefits guaranteed
Smooth UI quality with one-click operations
Automatic driver scanning and real-time updates
Cons:
Windows users can use this only
The free version, after the trial period ends, scans outdated drivers only
2. DriverPack
This is another of the top solutions available for free driver updater for Windows OS. This software works with different types of devices well and efficiently helps out with their upgradation steps.
Some of the standard devices and tools DriverPack is compatible with are network cards, Bluetooth devices, chipsets, card readers, controllers, and input devices. The software works well with mobile devices and is relatively easy to install and operate.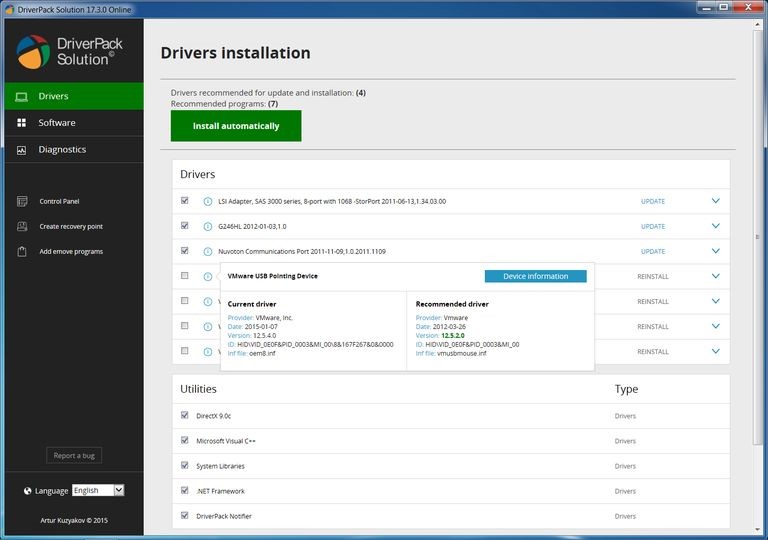 Compatibility: Windows 11/10/8.1/8/7
Pros:
Multi-platform suitability
Hand-picked and basic driver installation methods available
Easy to use regularly
Cons:
In case of driver damage, you cannot fix them; install new ones only
Slow performance of updater and scanner occasionally
3. Driver Easy
This software is one of the most well-designed software options available for Windows 10 users. It is effective for fixing different potential issues with hardware with limited problems. Use the tool to upgrade your defective drivers using a few clicks.
This multi-layered driver update program is efficient and includes restoration and auto-backup features. Download the software and begin operating it efficiently.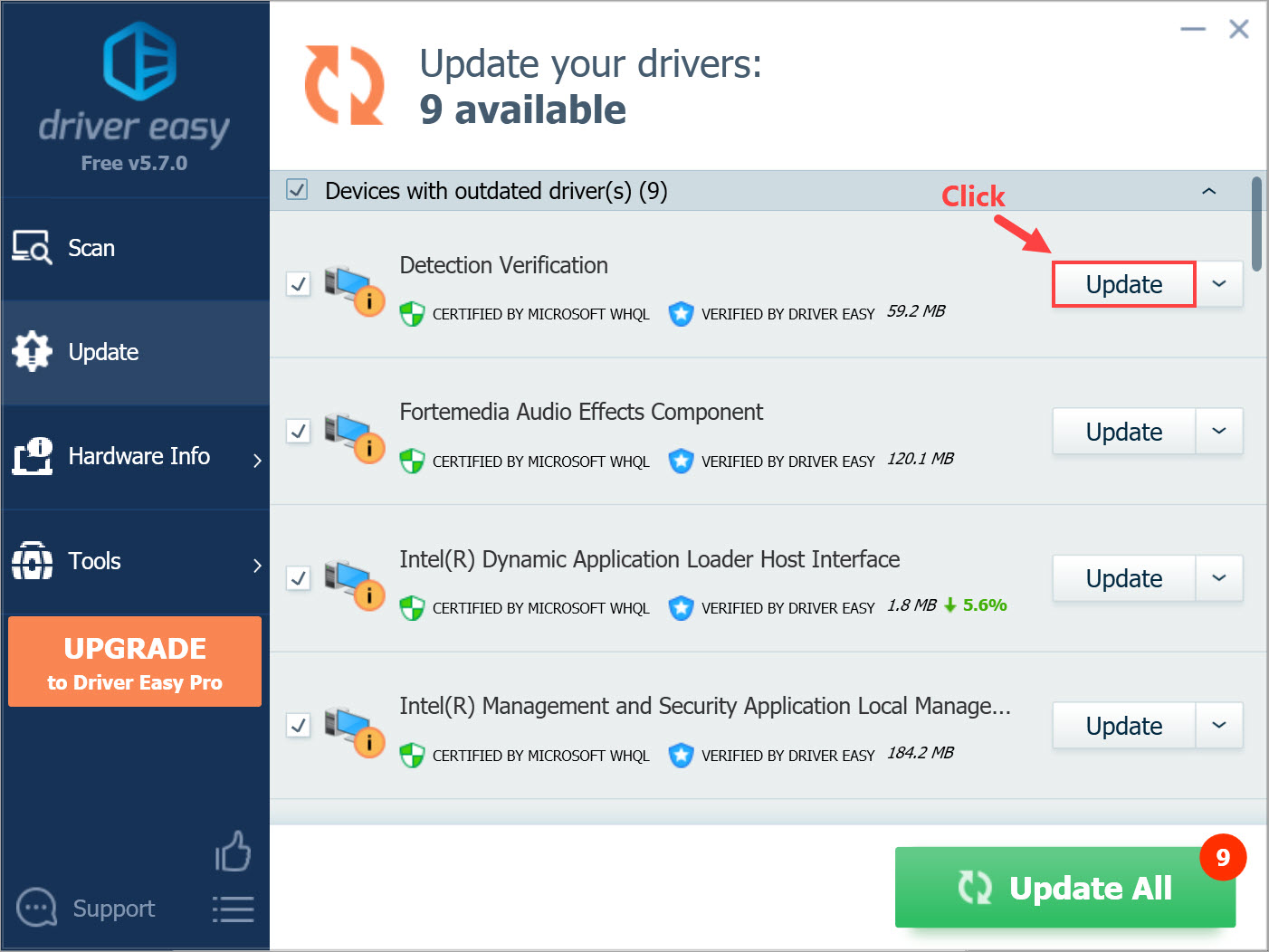 Compatibility: Windows 10/8.1/7
Pros:
Low amount of CPU usage
Schedule driver upgrade functions
The advanced and fast-processing driver scanning engine
Cons:
The free version is available in trial form and includes some basic functionalities only.
No bulk driver downloading is available
Price: Its 1 PC version costs $29.95/year, 3 PCs version costs $59.90/year.
Compatibility: Windows

Driver Easy Review: Quick & Simple Driver Scanner & Updater
4. DriverMax
Another of the top options for Windows driver upgradation is the DriverMax use. With this software, you can expect benefits like scheduled scans, automated installation, and full-device driver backups.
Users can operate this to check the diverse amount of driver downloads and updates easily. Not only does it work with the recent versions of Windows, but it works with older versions as well. It checks the device drivers to check which ones require updating soon due to different issues and helps with driver backup before upgrades.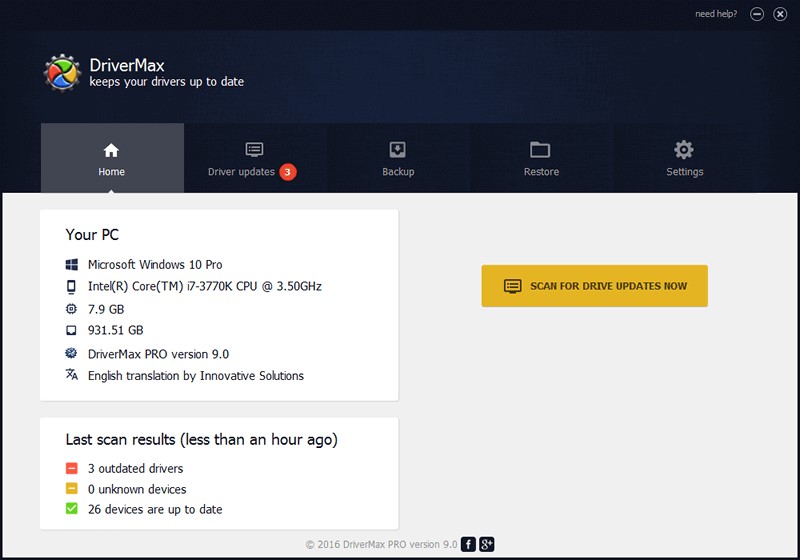 Compatibility: Windows 11/10/8.1/8/7/Vista/XP
Pros:
Driver installation is automated
Quick and automatic driver update schedule
Instant hardware update detection
Cons:
Bulk download not possible
Commercial users may find it challenging to use
5. Avast Driver Updater
Avast Driver Updater is one of the most notable options for the best free driver updater in the market. It includes a vast range of top-quality features that make it a prominent option. The software can automatically scan the PC for missing, corrupt, and outdated drivers.
It comes with Avast Threat Labs support that checks the security quality of all drivers before working on the computer. Avast Driver Updater does real-time scanning for the latest updates and can do so for over 300,000 hardware devices in one session.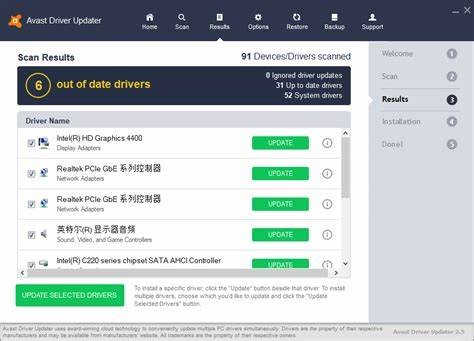 Compatibility:  Windows 10 (not IoT Core or Mobile Edition)/8/8.1 (not Starter or RT Edition)/7 SP1 or higher
Pros:
Fewer system freezes and crashes
The real-time scanning process is smooth
Driver installation occurs systematically step by step and is easy to carry out
Cons:
Only present in Windows
The trial is free only; no free software version
6. IOBit Driver Booster
IOBit Driver Booster is another notable driver updater that completely fixes different performance errors. It can safely check for different system issues and quickly improve the driver's performance capacity.
Users can automatically update all out-of-order drivers and make them suitable for the newest Windows version. If you are using the paid version, use the Rollback button to reset the settings. Back up your drivers and use side tools like driver errors fixer and sound fixer.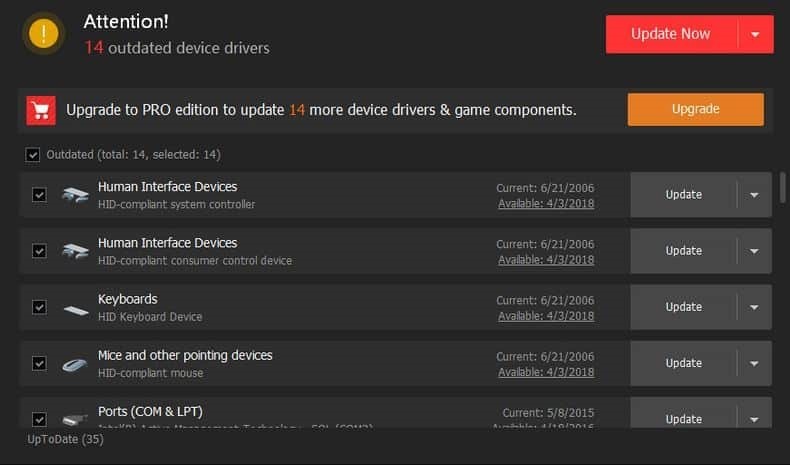 Compatibility: Windows 11/10/8.1/8/7/Vista/XP
Pros:
Decrease device issues
Cleans the defective display drivers
Smooth installation and uninstallation process
Cons:
Have to do one by one when you are manually updating outdated drivers
Pro version may be complicated for some users

IObit Driver Booster 9 Review: Check & Update Windows Drivers Automatically
7. Auslogics Driver Updater
When it comes to the best free driver updater available, Auslogics is one of the top service providers that offer a high-quality solution. With this software, update different PC-based drivers with one-click optimization. This is a free and highly intuitive software that quickly detects device and hardware conditions for red flags.
If you have some not working devices, like your scanner or printer, this software will help update the missing or outdated drivers. You can use this to securely upgrade all of your software, as long as they belong to the same OEM. The software went through many testing sequences before launch.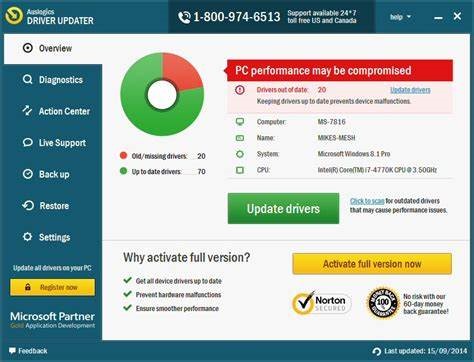 Compatibility: Windows 10/8.1/7
Pros:
Backups occur automatically
Multi-device compatibility
One-click usage for system backup and driver upgradation
Cons:
Does not work on many older Windows versions or other OS options
Cannot work with third-party device types
8. Ashampoo Driver Updater
Another notable device driver updater for Windows is the Ashampoo version. The interface of this software is simple to use, which makes it a suitable tool choice for new users. You do not have to work with any additional plugins.
You can manually search for drivers and choose which options you want to check and update for performance improvement. You can schedule the right time for driver upgradation.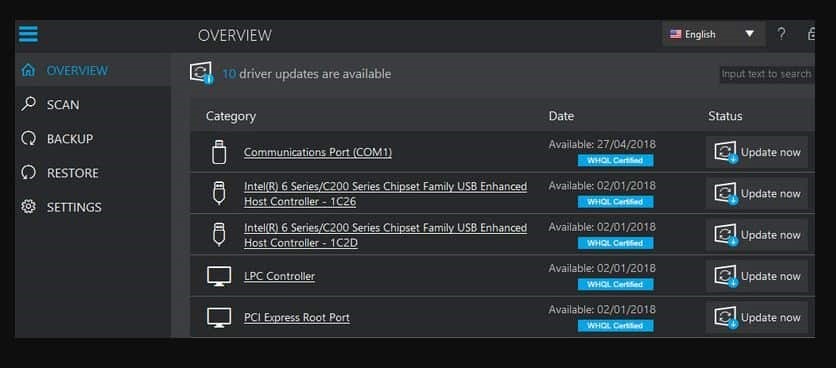 Compatibility: Windows 10
Pros:
Multimedia, Optimization, Office, and Free Program versions available 
Use one-click to see driver updater to detect and optimize drivers quickly
Easy customization
Cons:
The free version has limited features
Automated functions can become faulty

Ashampoo Driver Updater Review: A Well-Designed Program to Ensure Smooth Windows PC Performance
9. DriverFix
DriverFix is another top-rated tool that users can upgrade their old-school Windows drivers without any issues. After a quick system evaluation, one can use a single click of the mouse to update their drivers.
You would get access to device upgradation support for over 500,000 drivers. It is a suitable option for users who choose to improve PC functionality, backup their current drivers, and rectify hardware problems.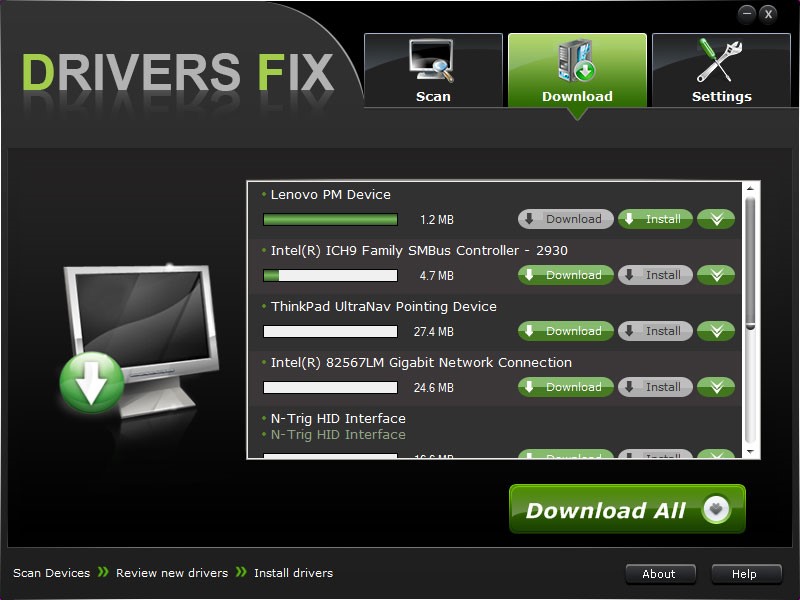 Compatibility: Windows 7 and above
Pros:
Not many PC resources in operation
The interface is compatible with different languages
Works with diverse hardware devices
Cons:
Does not work with macOS
Not valid for older Windows versions
10. ITL Driver Updater
Another notable free driver updater that you must use soon is ITL Driver Updater. Use this software to scan your system automatically and understand which drivers are broken or outdated. It comes with a straightforward and user-friendly interface and is a suitable tool for quick conflict detection.
The installation process of this software follows a simple C:\Program Files\ITL Driver Updater\itldu.exe path. As for its best qualities like backup/restore, auto-scanning, custom exclusion list, and one-click update.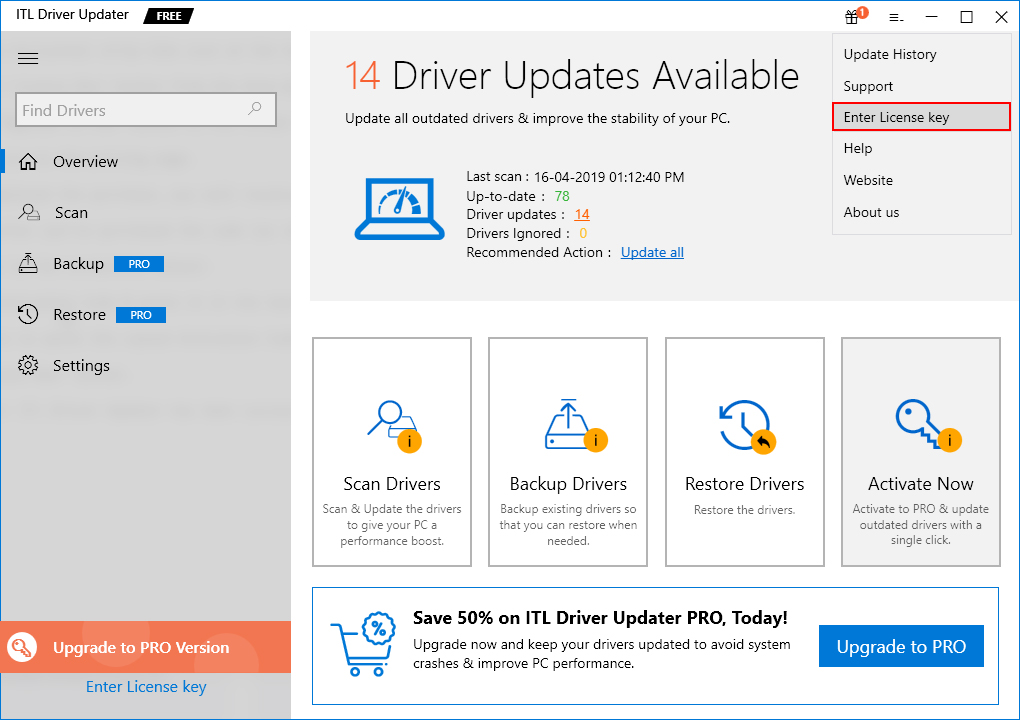 Compatibility: Windows 7 and above
Pros:
Efficiently works to detect and fix out-of-order drivers
Customer service and technical support are available 24x7
Over 11 languages are supported here.
Cons:
The paid version is costly
Does not support older Windows version before v.7.0
11. Driver Genius
Driver Genius is one of the best options available in the context of a top-range driver updater that you can use to ensure smooth and stable system performance. You can use this software easily as well. Scan your entire PC intensively to check for damaged or missing drivers, all within a few seconds.
It comes with a PC optimization and cleaning feature for total system improvement and allows a one-click-based driver updating mechanism.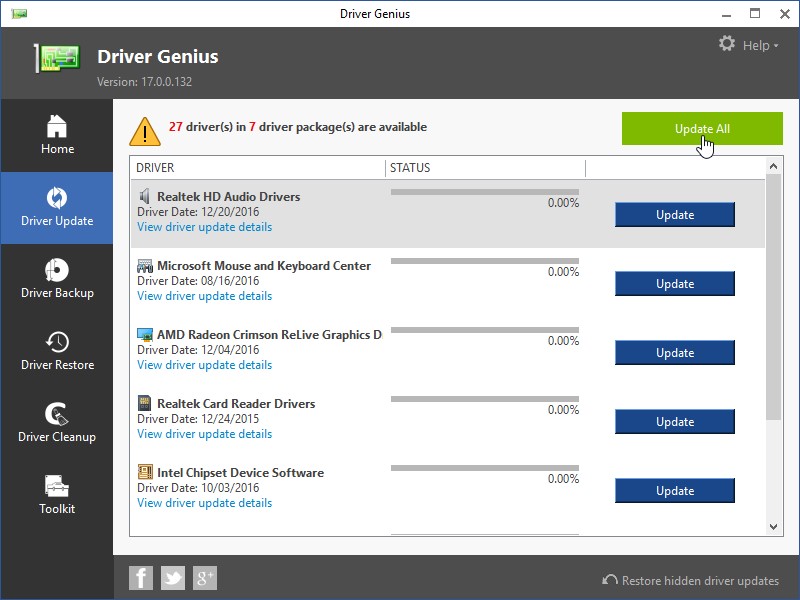 Compatibility: Windows 10, 8, 7, Vista, XP
Pros:
Supports WHQL-authorized driver versions only
Monitor the hardware temperature easily
Clean and boost your system without issues
Cons:
Sometimes shows inaccurate driver updates
It can take time to download completely
12. DriverHub
DriverHub is another trustworthy tool for Windows users to benefit from upgrading and managing their drivers. This works with Windows 10 OS and many other versions and comes with a wide range of features. Scan the drivers in your PC quickly and automatically with DriverHub.
Moreover, users can expect free Windows driver updates through this software. It can work with various device types and involves a simple installation process.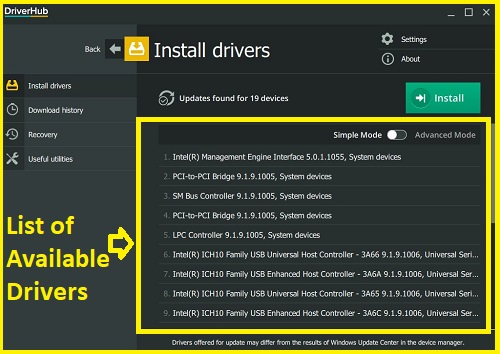 Compatibility: Windows 10/8.1/8/7
Official types of device drivers
Download history available
Safe usage guarantee
Cons:
No background mode is available
Cannot work in low internet connection areas
13. DRIVERfighter
DRIVERfighter is one of the most easy-to-use tools available for driver dating for Windows users. The software can perfectly scan the devices and PC for software performance issues. After that, the tool makes sure to make the necessary processes to accurately and quickly find the primary driver issues.
The software is available in both paid and free versions, though the latter only offers misplaced driver detection and data recovery benefits.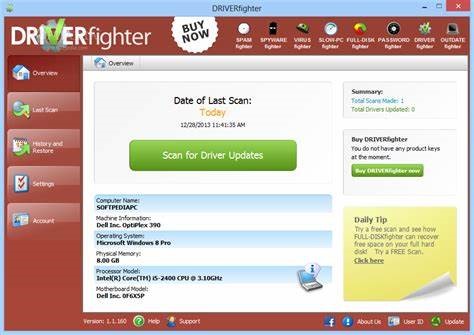 Compatibility: Windows 10/8.1/8/7/Vista/XP
Pros:
Supports different languages
Small size
Fast performance
Cons:
Takes up 15 MB of disk space
The free version shows limited benefits
14. Device Doctor
Another suitable software for driver updates available for free is Device Doctor. Users can run to check the PC for outdated and damaged drivers and quarantine affected disk drives.
Moreover, the software is easy to operate and has a reliable functionality guarantee. It works well with 32-bit and 64-bit systems and is easy to use, with no additional installation necessary.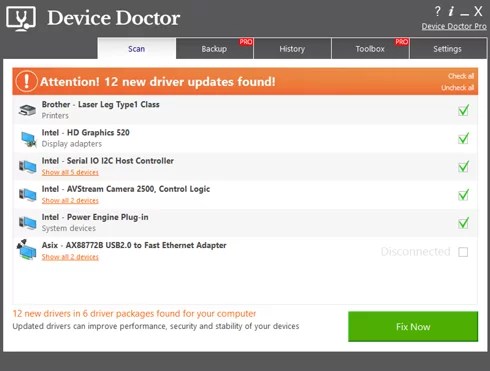 Compatibility: Window 10/8.1/8/7/XP
Pros:
Automated scanning possible
Easy to use
Large database of drivers
Cons:
The free version has limited features
Driver updates slowly
15. Systweak Advanced Driver Updater
This tool comes with a comprehensive database full of high-quality features, primarily for device driver updates. Carry out automatic driver updates with this software and fix the condition of your hardware components.
The tool would regularly detect updates necessary to maintain and provide partial and complete backup benefits. If you find incompatible drivers, you can add them to your exclusion list.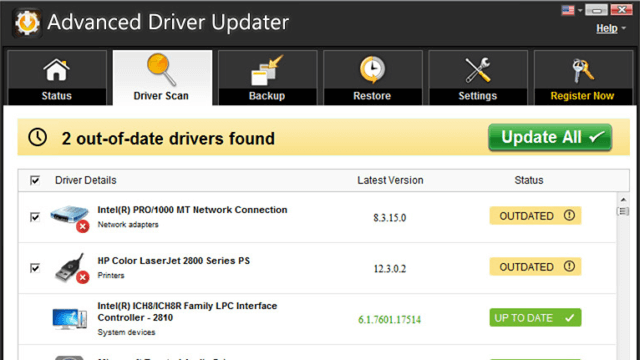 Compatibility: Windows 11/10/8.1/8/7/Vista and XP (both 32 bit and 64 bit)
Pros:
User-friendly interface
Thorough malware checking for all drivers
One-click updates
Cons:
Some system performance issues are possible
Many tasks under autostart
16. System Mechanic
Another notable name for useful free driver updating software types is Iolo's System Mechanic tool. This comes with many valuable qualities that users find extremely helpful for their PC management. Get rid of any sensitive data you may have in your browser history securely. Also, the backup and recovery feature helps get accidentally deleted files back safely. You would get benefits like faster file recovery, PC optimization, and more.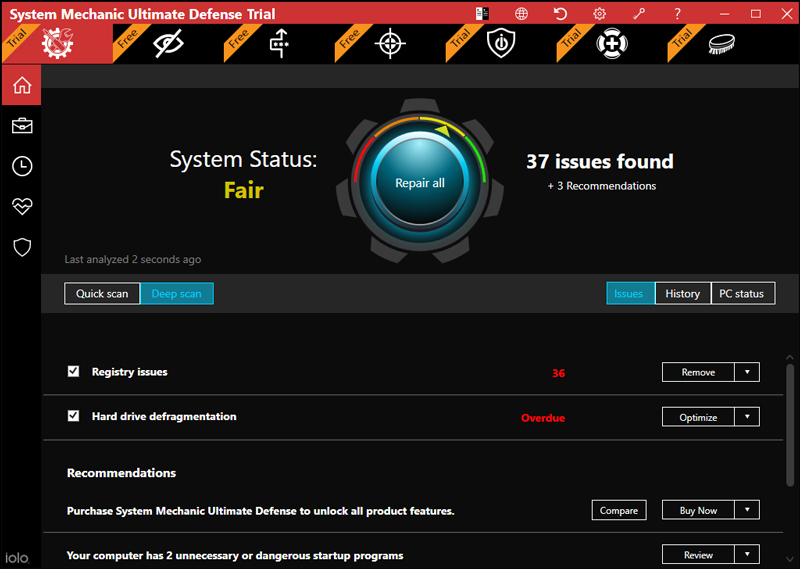 Compatibility: Windows 11/10/8.1/8/7
Pros:
Does not collect excess personal data
Browsing protection
Blocks latest malware and removes them
Cons:
Pro version is too costly
Technical support quality is bad
17. Driver Fusion
This particular software is useful for carefully evaluating the PC condition well. Then, you can make the necessary changes to problems areas to boost driver performance. Users can expect a lot of benefits from this tool, including carefully studying the system and hardware drivers for outdated elements.
With Driver Fusion, you can keep the backup of your drivers safely, which occurs automatically. Get structured summary reports as well.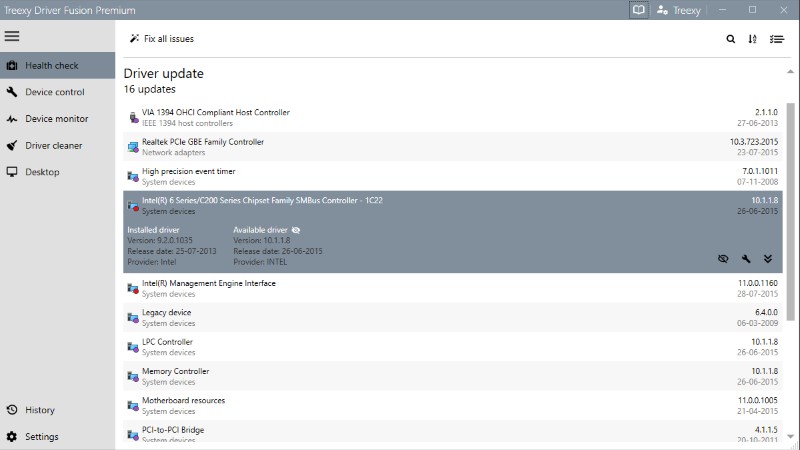 Compatibility: Windows 11/10/8.1/8/7/Vista/XP
Pros:
View and monitor all installed drivers
Quick PC diagnosis for performance issues
Remove unnecessary software entries and driver entries
Cons:
No trial version
Limited benefits as per some users
18. DriverSupport
This tool is another best free driver updater available for Windows. It works with a powerful device driver matching technology. Here, users can easily detect and then install the most recent updates of their drivers as per their PC model and manufacturer type compatibility.
The size of this software is relatively small-scale, and it includes high-quality features like automated driver scanning in scheduled timelines.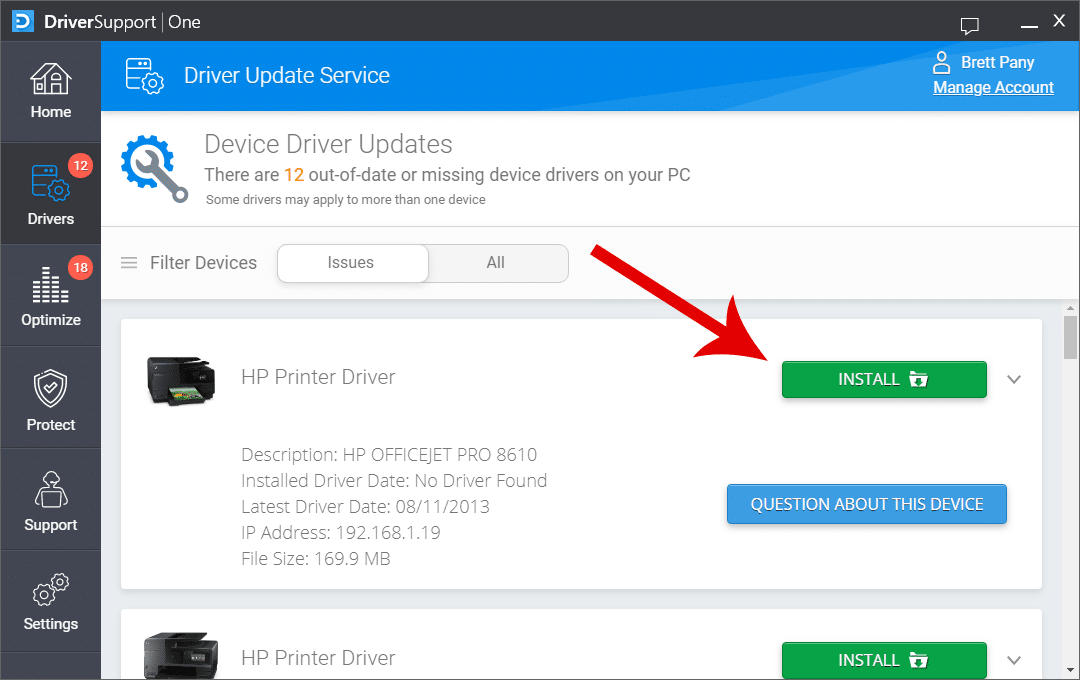 Compatibility: Windows 10/8/7
Pros:
A broad database full of drivers
High customer support quality guaranteed
Easily accessible
Cons:
Not compatible with many Windows versions
Cannot find too outdated drivers
Conclusion
Altogether, multiple top-range free driver updater software is available, with a strong performance guarantee, multi-platform compatibility, and features. In our opinion, some of the best options are the Driver Easy, IOBit Driver Booster, and Auslogics Driver Updater options.
They come with high-quality device and PC detection qualities, a simple interface, and backup and restoration benefits. You can easily use each option to update your PC and improve device functionality. Choose as per your needs after considering all options carefully.
Price: Its 1 PC version costs $29.95/year, 3 PCs version costs $59.90/year.
Compatibility: Windows
No more content