If you are logging in to upgrade to a new system or trying to move data in a simple, quick, and easy way, then you must look for cloning your SSD. One of the features that you must look for in cloning is its ability to clone large drives into smaller ones. There is various software available that you can use to do cloning. However, this article has listed the free SSD clone software for your disk cloning purposes. In addition, we will also recommend to you the best and most free SSD clone software that you can use. Let's get into the details.
Best Disk Cloning Software
We all do not want to lose our essential data, so backing up the data is an important step you must take. For this purpose, we recommend you look for a dependable disk cloning third-party utility. Try EaseUS Disk Copy. It is a safe data clone utility and can be used for home as well as professionals to migrate and restore the necessary data on a Windows-based computer. It has made all the data backup and cloning easier, quicker, and safer.

EaseUS Disk Copy Pro Review – Best Disk Cloning Software You Can Use
The key features of EaseUS Disk Copy are listed below:
Create a complete system backup, including user settings, and a bootable backup
Support Windows 11, UFEL Boot, SSD, and Hard Disk
Clone the system on a removable disk to make the installation easier
Capable of restoring back and improving system speed
Price: It starts $19.90/Monthly.
Compatibility: Windows
How to use:
Step 1. Download, install and run EaseUS Disk Copy on your PC.
Click "Disk Mode" and select the hard drive that you want to copy or clone. Click "Next" to continue.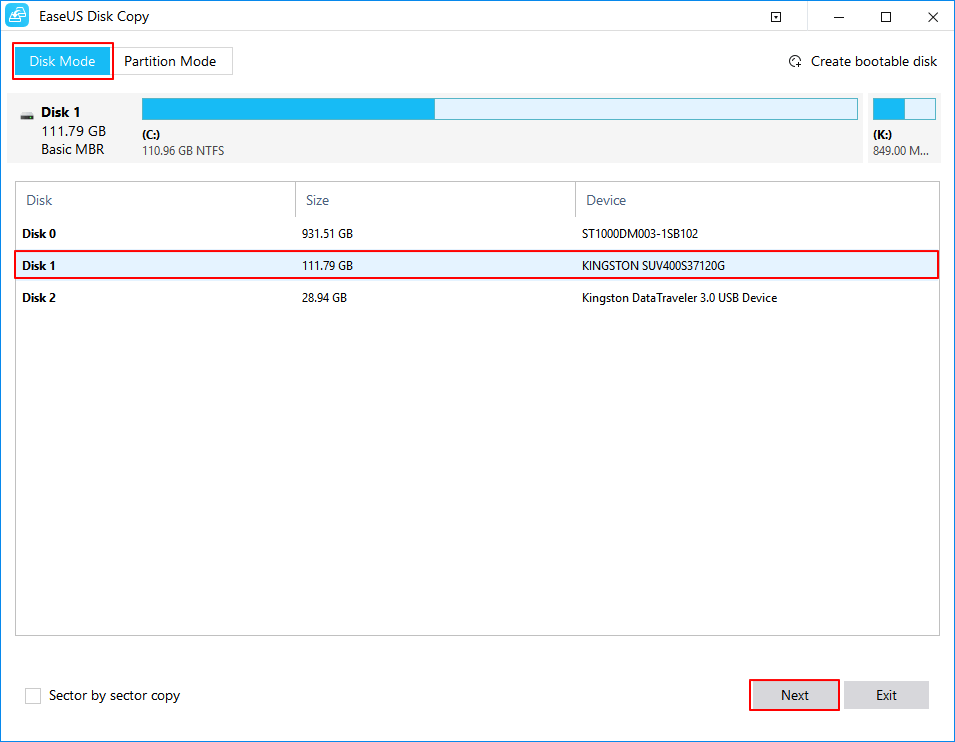 Step 2. Select the destination disk.
Note: The destination disk should be at least the same big or even larger than the source disk if you want to copy or clone the source hard disk.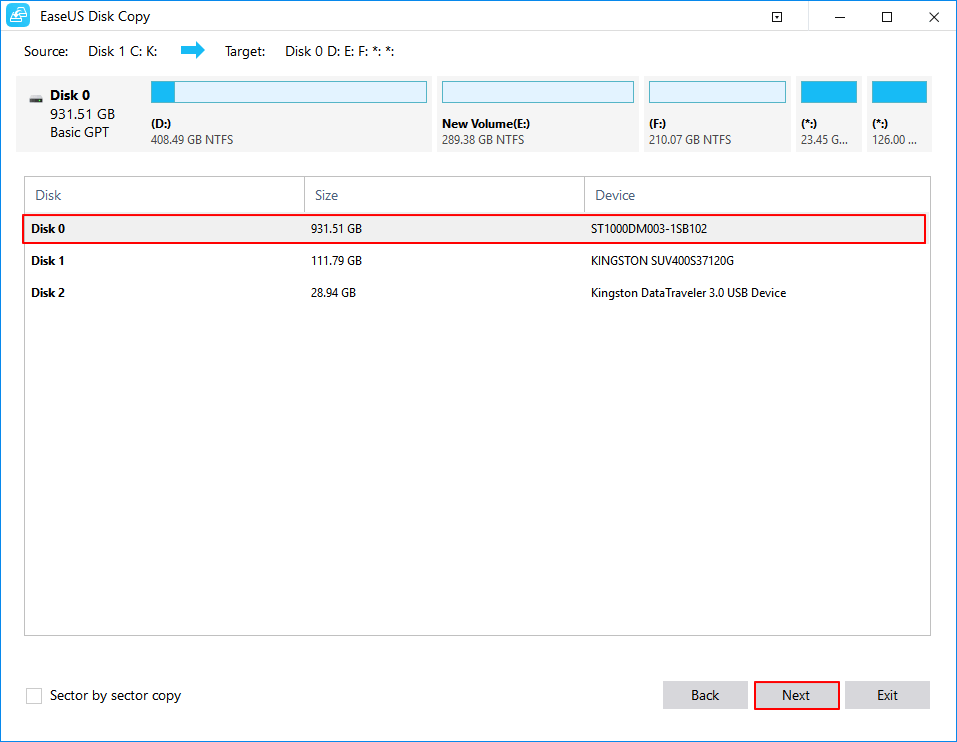 Step 3. Click "OK" to confirm if the program asks to erase data on the destination disk.
Step 4. Check and edit the disk layout.
If your destination disk is an SSD drive, do remember to Check the option if the target is SSD.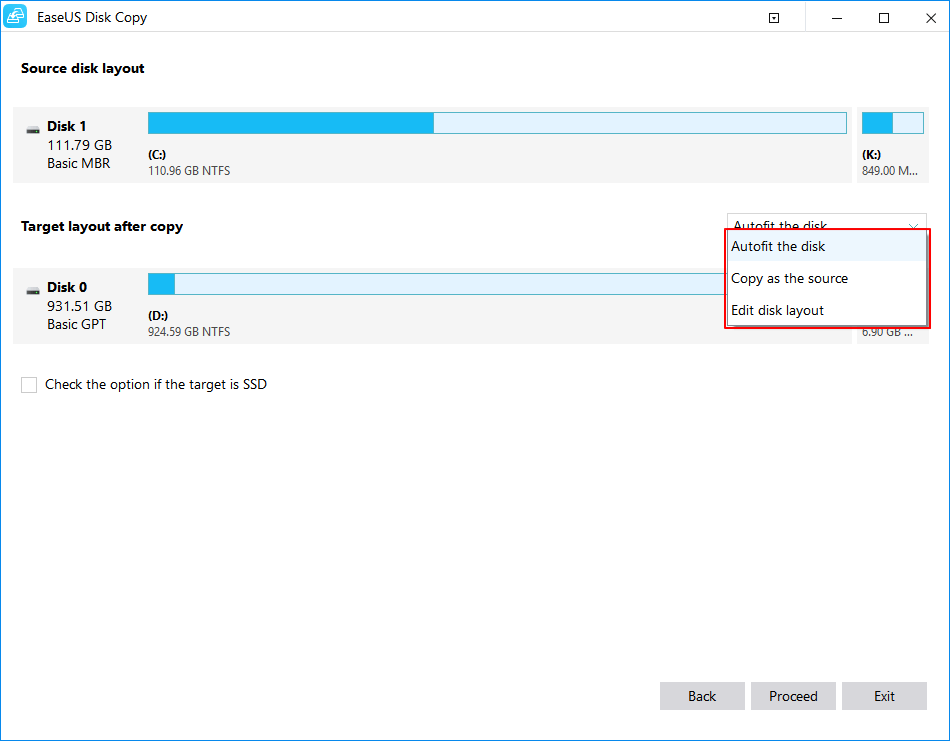 Step 5. Click "Proceed" to start the hard drive cloning process.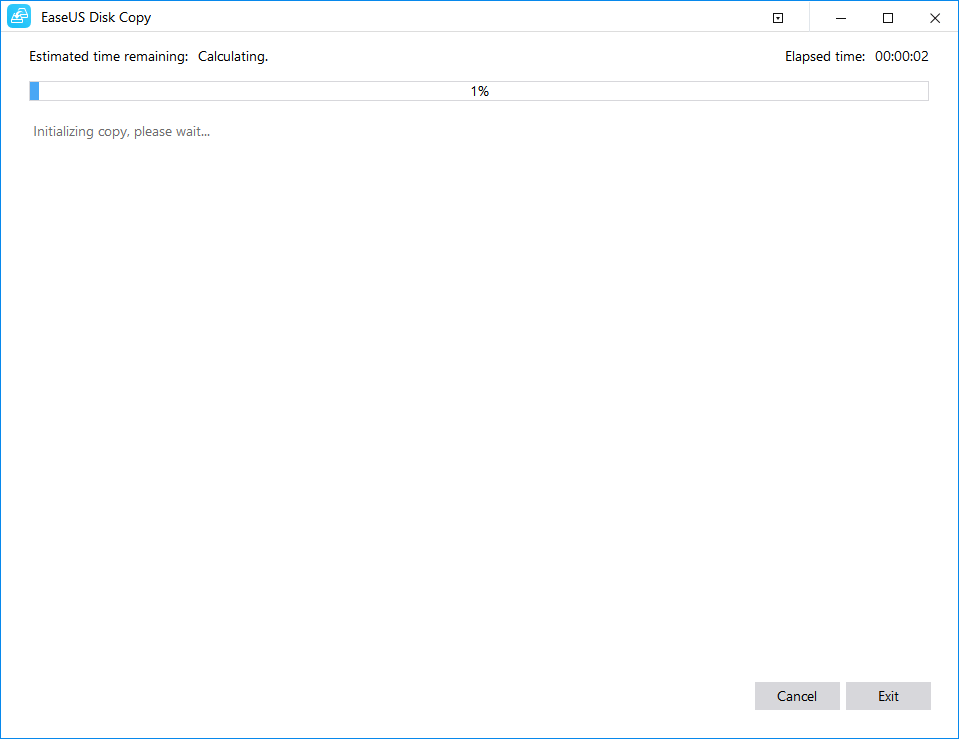 Top 5 SSD Clone Software
An ideal disk cloning software allows you to easily clone the entire system irrespective of traditional SATA, SSD, or hard drive. The system cloning then helps you easily migrate your entire system and data and fields to a new place conveniently. We have combined a list of 5 free SSD clone software that you can use to easily clone your system.
1. Macrium Reflect Free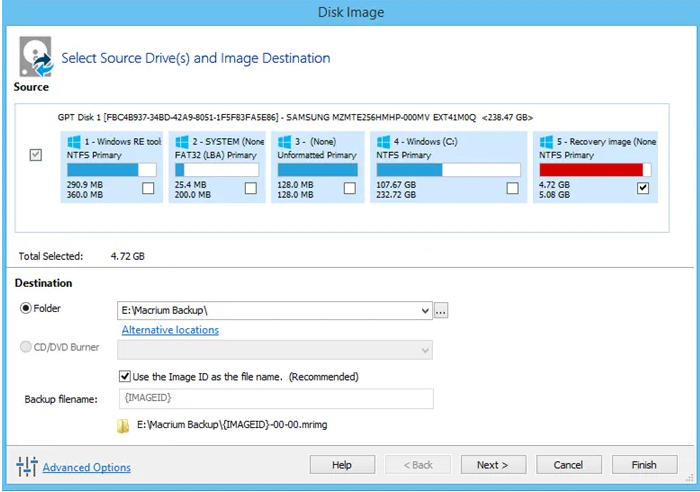 Macrium was primarily a backup tool, but now it has cloning features too. It is simple and easy to understand, and it takes you to each step in Windows to easily determine which partition and files you want to clone to the new place or system.
When a new drive is smaller in space than the previous one, Macrium makes sure to occupy all the available space. MAcrium has an incredible feature of "Intelligent Sector Copy." This feature won't copy blank spaces to the new system.
Pros
Clone data
Provide backup of the entire system as well as selected files
Available for free
Cons
Limited features in the free version
Fastest mode available in the paid version
Price
The price list of Macrium Reflect is listed below:
Home Addition with single license $69.95
Multiple users (4-user pack) $139.95
Work station $608
Starter Pack $489
Compatibility
It supports XP, Vista, Windows 7, and 8.
It supports FAT16, FAT32, NTFS, and Ext 2,3,4 file systems
2. Paragon Hard Disk Manager Advanced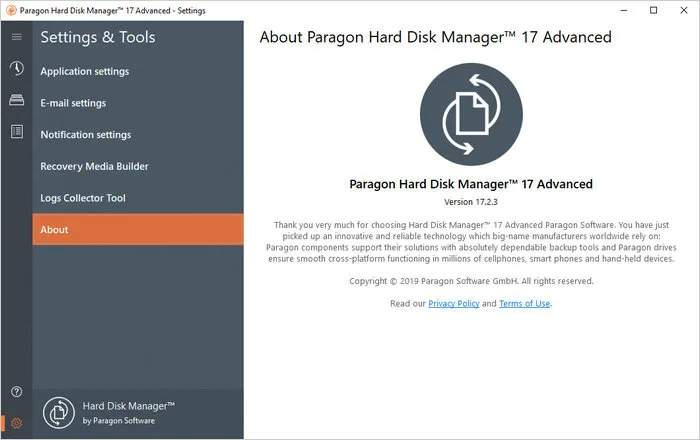 This particular utility offers professional drive copy. Now it has been upgraded with the disk cloning feature that is named hard disk manager. The hard disk manager allows you to create backups, recover data, manage partitions, migrate OS, and wipe the disk.
The cloning feature in Paragon Hard Disk Manager is capable of copying a smaller capacity drive. It excludes files as per the available space. It also supports cloning virtual machines with apps that do not support Windows 10 now.
Pros
A vast range of hard drive management tools
Unique cloning feature
Cover three PCs
Cons
Cloning features are not available separately
Comparatively expensive
Price
For home use that covers up to three PCs for $79.95
For three or four licenses, per license price starts from $5 to $74.95
Compatibility
It supports Windows 7, 8, 8.1, and 10 and Mac
3. Acronis Cyber Protect Home Office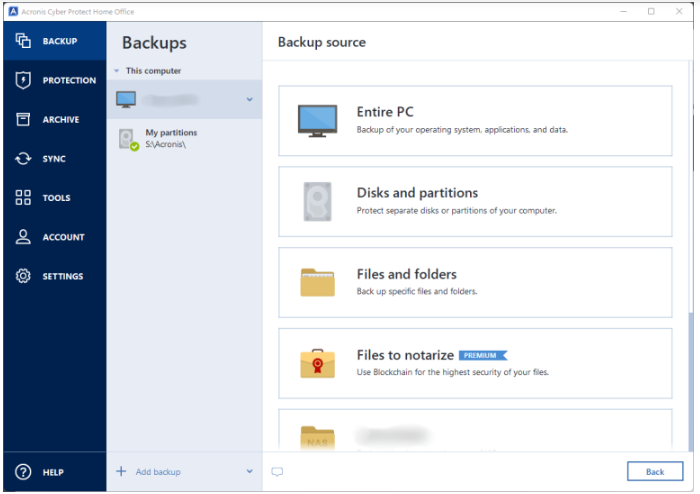 Acronis is the only cloning and backup tool that provides antivirus and anti-theft protection. It has incredible features of real-time protection from all kinds of malware. You can rely on Acronis Cyber Protect Home Office with its impressive cloning capabilities. It efficiently creates a complete backup or even moves data and operating system to an entirely new drive.
Pros
Antivirus and anti-theft backup
Cloning with full data protection
Cons
Expensive if you want the paid version
Price
Essential Plan $49.99
Advanced $89.99
Premium $124.99
Compatibility
It supports Windows, macOS, Android, and iOS
4. O&O DiskImage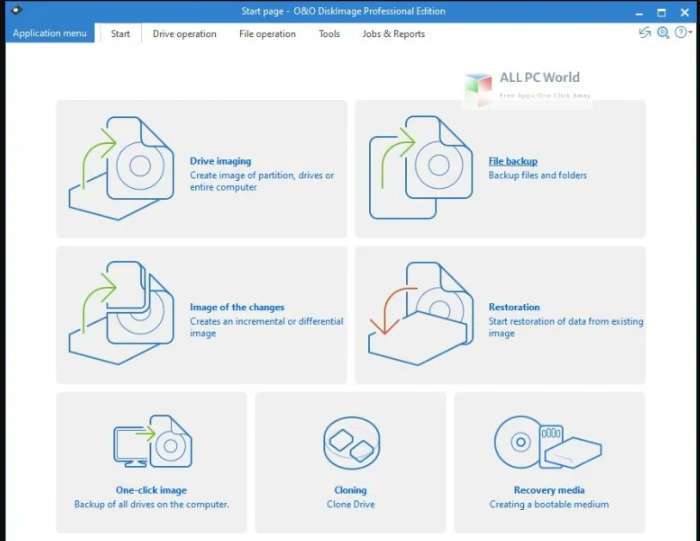 An O&O DiskImage is a cloning software that tech-savvy users mostly use. Being a bit technical in features, it is not recommended to use by beginners. Besides cloning, it can also do backups from a single file to an entire hard drive. This software is designed for those who create a timely backup of their data and clone the old drive to a new one.
Another unique feature it offers is to convert DiskImage files to Microsoft Virtual Hard Disk. For cloning, pick up the source and destination first before starting cloning. The disk image feature creates a boot image of the external drive and offers recovery partitions.
Pros
Provide full Windows integration
Cons
Complex to understand
Not for beginner
Price
Begins at $49.95 as a flat rate, as a one-time payment
Compatibility
Supports Windows 10, SSDs, and UEFI systems
5. CloneZilla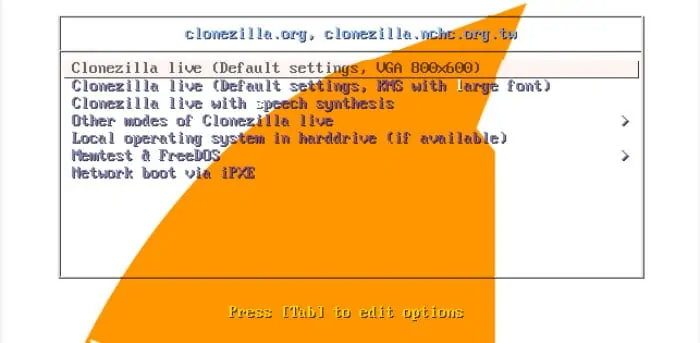 It is a cloning tool but has been around for quite a long time. It clones by creating a bootable USB drive. As it does not run directly on windows, you must go through some extra hoops to clone your SSD.
Pros
Available for free
Capable of cloning multiple drives simultaneously
Cons
Incapable of cloning smaller drives
Does not support Windows
Price
Compatibility
Support BIOS and UEFI, and both MBR and GPT types of partition format
Conclusion
To conclude, we have listed the top 5 free SSD clone software. Every software has its unique features and offerings, and you can choose the one that best meets your requirements. However, we suggest you try EaseUS Disk Copy, as it is the most reliable and safe third-party utility that you can rely on with your data. Download it today and try it for yourself.
Price: It starts $19.90/Monthly.
Compatibility: Windows
No more content