Getty images are among the largest and most popular websites for third-party stock photos and have been around now. As a creator, you can have consistent access to hundreds of stock photos while tons of photographers around the globe find support here. Sometimes you also find yourself looking for photos on the internet to use elsewhere, for instance, posting them on your social media account.
 However, you may find that you have a watermark when you try to save a photo from the website, particularly when you try posting a photo from Getty Images.
You must remove a watermark before posting or using an image elsewhere to steer clear of legal snarls. Explore this article to learn all about the Getty Images Watermark Remover in not one but three different ways. 
3 Ways to Remove Getty Image Watermark
Method 1: Use Apowersoft Watermark Remover to Remove Getty Image Watermark(Recommended)
Method 2: Use Free Online Website to Remove Getty Image Watermark
Method 3: Use Photoshop to Remove Getty Image Watermark   
Method 1: Use Apowersoft Watermark Remover to Remove Getty Image Watermark (Recommended)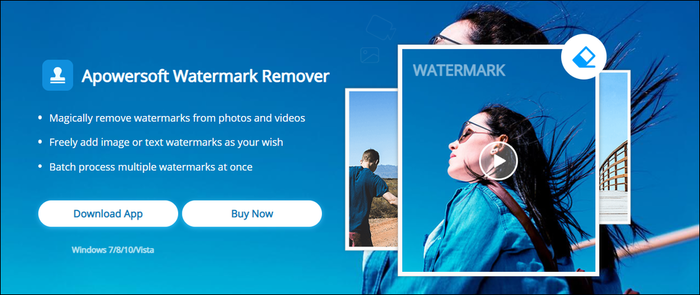 Apowersoft Watermark Remover is a powerful Getty Images watermark remover that can help you get rid of watermarks without a hassle. The software is compatible with almost all photo formats and file types, and with just a few easy clicks, drag and drop feature, and simple editing, you can remove watermarks within minutes. Moreover, the software automatically balances the file size and quality of the processed files. The original quality is maintained to the highest degree while compressed to a reasonable file size, making it simple to transfer and share the image online.
Pros
It gives a seamless effect after the removal of watermarks from images
The working interface is straightforward and hassle-free
Can batch process multiple watermarks at the same time
Cons 
The editing features available are limited
You get just three free trials on Windows
Applicable scenario/users
Social media users
Professionals dealing with hundreds of images that need watermark removal
Price: It costs $25.00/Monthly, $39.00/Annual, and $59.00/Lifetime.
Compatibility: Windows

Apowersoft Watermark Remover Review: An Easy-to-use tool to Remove and Add Watermark for Phots & Video
Step-by-step Guide
Step 1: Download and install the software on your PC.
Step 2: Open the tool and select the "Remove Watermark from Image" option.
Step 3: Import the photo that you need to work on by clicking on the '+' icon.
Step 4: Click the Selection Tool option after your image has been imported and place the red box on the watermark portions that you want to remove.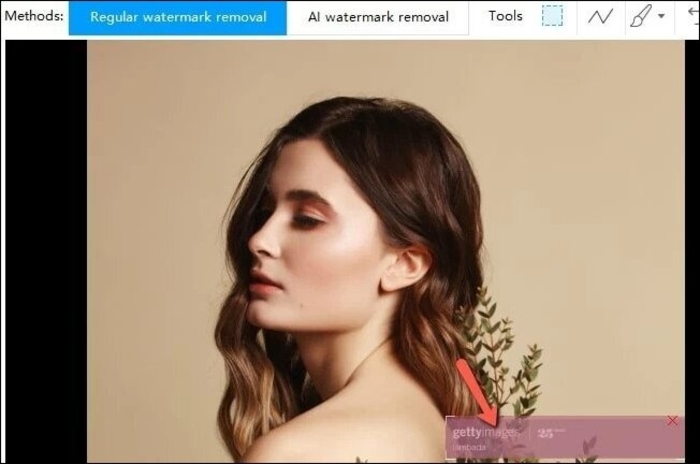 Step 5: Select Convert and Save.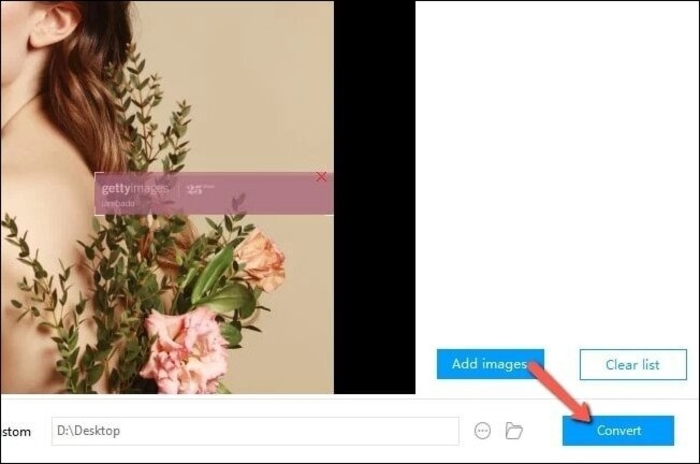  Tip

You can choose to use "AI" or "Manual" to remove watermark on the top-left corner. Using advanced AI technology, it can help to remove these watermarks perfectly. If you are not satisfied with the result, you can use "manual" option to do it yourself.
Method 2: Use Free Online Website to Remove Getty Image Watermark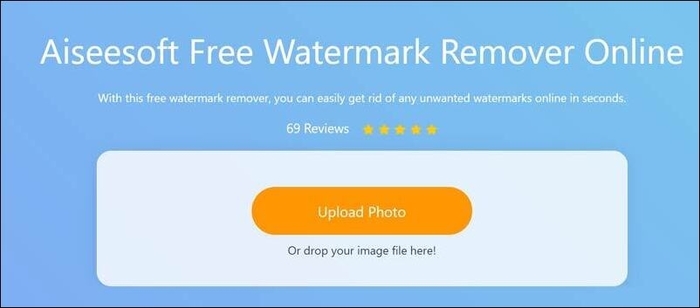 Another alternative you may consider to removing watermark from Getty Images is using an online website that can serve as a Getty Images watermark remover, such as the Aiseesoft Free Watermark remover Online. The tool comes with a simple and hassle-free interface that lets you as a user get rid of the Getty Image watermark quickly and effectively. 
Pros
It helps remove watermark and text from Getty images easily and safely with a single click
Has the ability to do away with multiple watermarks simultaneously from your Getty photos
It helps remove the Getty Image watermark, which may be in formats such as JPEG, JPG, PNG, TIFF, etc. 
Cons
This tool does not give an outcome that is seamless or professional looking
You may need to repeat the process of removing the watermark sections multiple times before getting your desired effect
Applicable scenario/users
Users are looking for free and compatible tools with almost all browsers, especially if you have a Mac. 
Users looking for free images for their social media posts
Step-by-step Guide
Step 1: Visit the Aiseesoft Free Watermark Remover Online website (Visit Site) on your PC and click on Upload Photo. Next, use the browse window to select the Getty photo you need to process and click Open. The selected picture will get imported into the remover.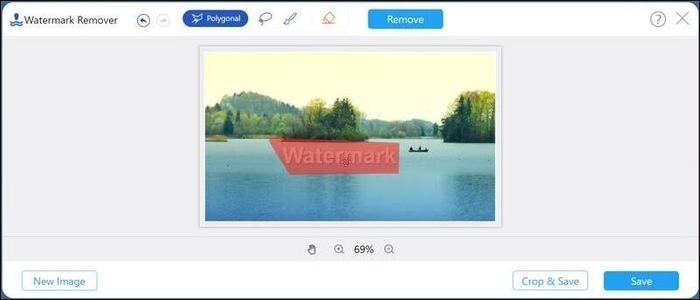 Step 2: Next, pick the required tools that will help demarcate the watermark area. You can choose a brush, lasso, polygonal, etc., or even an eraser to undo what you selected or deleted. You will find all buttons on the top of the screen.
Step 3: Once your Getty images watermark portions are selected, you can start removing them by clicking on the Remove option.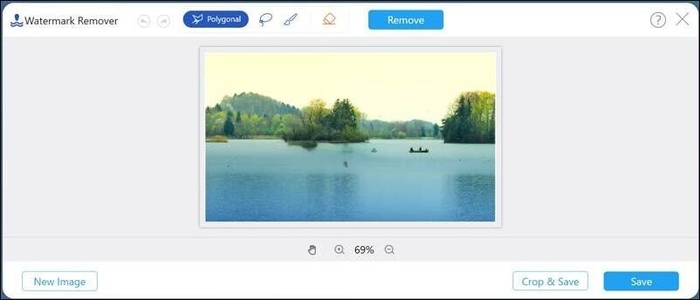 Step 4: Preview the picture and save and download it directly.
Method 3: Use Photoshop to Remove Getty Image Watermark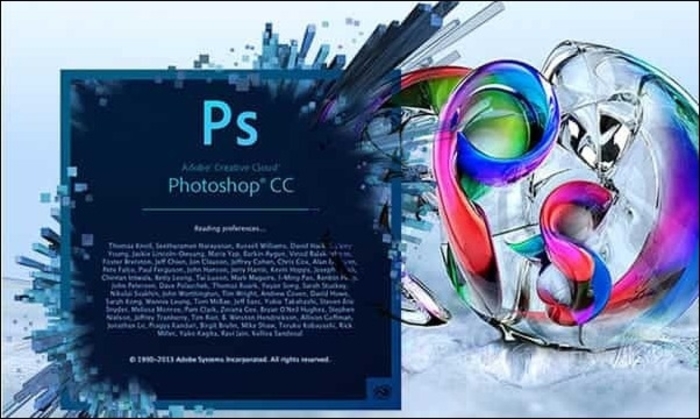 You can also employ Photoshop as a Getty Images watermark remover for a more thorough and professional-looking outcome. This tool comes packed with a variety of features that can help remove watermarks and give a facelift to your pictures. 
Pros
Allows thorough removal of Getty Image watermark 
The overall quality and details of the image are maintained
Your image resolution can also get a boost 
Cons
To use the feature, you will first need to download and register the software
Occupies much space on your computer, which may lead to slowing the system
Applicable scenario/Users
Professionals looking for good images for their businesses
Users looking for great quality pictures
Step-by-step guide
Step 1: Launch Photoshop on your device and add the image that needs processing. You can do it in two ways: open the folder and drag the image directly into the interface of Photoshop, or You can go to File and then click on the Open.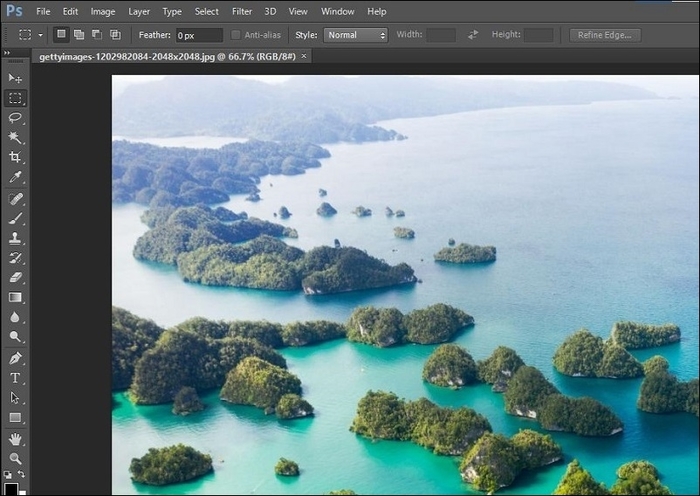 Step 2: Check the position of the watermark. If it is near the edge of the picture, you can cut it out of the image or use the Crop tool on the left toolbar. Next, cut the undesired portion by dragging the frame.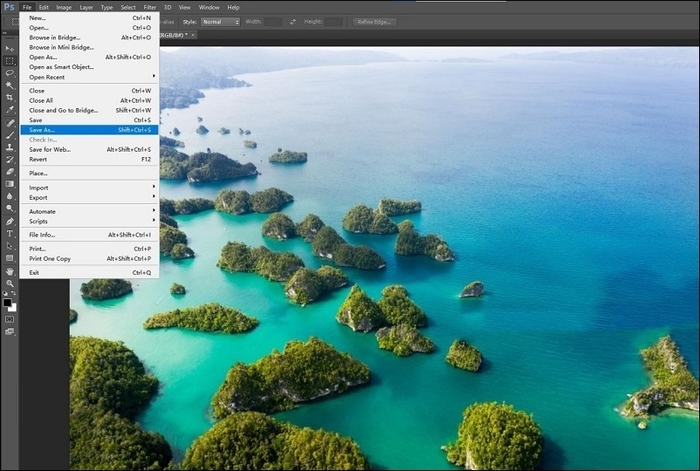 Step 3: If the watermark is near the center of the image, you will be able to get rid of it by using the Content-Aware Fills function. On the toolbar, tap on the Lasso tool and then select the watermark on the image. Next, go to the Edit menu near the top of the screen and look for the Fill Function. Next, go to the Use field and select the Content-Aware Fills option. Click OK to remove the watermark.
Summing Up
After a detailed discussion on different Getty Images Watermark Remover, you now have a few solutions up your sleeve that you can apply as and when the need arises. You can either use the Apowersoft Watermark Remover for easy and free of cost removal of Getty Image watermark online or use more sophisticated and advanced features of Photoshop. It will give you a more professional outcome by meticulously maintaining minor details of the picture and removing the watermarks. You also have a third option of using a Getty Images watermark remover known as Apowersoft to obtain high-quality results in just a few clicks. So take your pick as per your requirement and remove those pesky watermarks to gain a seamless professional-looking photo.
Price: It costs $25.00/Monthly, $39.00/Annual, and $59.00/Lifetime.
Compatibility: Windows
FAQ
1. I am a Mac user, Can I remove Getty images watermark with the Apowersoft Watermark Remover?

Unfortunately, Apowersoft Watermark Remover is only available on Windows PC. If you want to remove watermark on your Mac, Apowersoft Background Eraser is a good choice.
2. Can I use the Apowersoft Watermark Remover to remove watermarks in videos?

Of course, you can. Apowersoft Watermark Remover can not only help to remove watermakrds from photos, but also be used to remove video watermarks. It also has the function to add watermarks in images and videos.
3.Can I use the Getty images with watermark directly?

No, you can't. Because these pictures are copy-protected, and if you use them, you are infringing and will be punished. So, don't use them without the permission of the owners.
No more content