Screen recording has become a prevent requirement in our daily lives and work, which can help us better display the process of presentations, speeches, teaching, etc. We can record these exciting videos to share with friends and family. 
If we use different screen recorders, the videos may be saved as the default format of the recorders. Some videos are saved as MOV, and some are MP4. But formats like MOV can't be opened or played on the Windows computer. So it'd be better to save the videos in the MP4 format, which is widely used to play videos nowadays and can be played on almost all video players. 
There are various screen recorders on the market. Don't know which is the best? We find a professional and powerful software for you, EaseUS RecExperts. It has the function to record screens not only in MP4 format but also in MOV, AVI, MP3, PNG, etc., format. 
Reliable & Professional Screen Recorder - EaseUS RecExperts
Compatible with both Windows and macOS systems, EaseUS RecExperts has a wide range of applications and can satisfy all your needs regarding screen recording. This smart and easy-to-use tool will improve your efficiency maximized. It integrates recording and editing video, even with screenshots, captures GIFs and other functions.

EaseUS RecExperts is recommended for the following specific features:
Multiple Output Formats: The recorded videos can be saved and output for more than 10 formats, like MP4, MOV, AVI, etc. You can choose the form you need. 
Record Any Screen & Audio: EaseUS RecExperts ensures you record the full screen or part of the screen on your computer. While recording, it can record sound both from Microphone and the system, and you can also extract audio from recording files. 
Capture Web Camera: While recording, it can capture your face via web camera, making your videos more attractive.
Scheduled Recording: Preset a start and a stop time in advance. It will record the screen automatically as the setting without your manual operation.
Capture Video into GIF: GIF is very popular now, and you can capture these interesting fragments into GIFs while watching videos or movies to share them with friends and family.
Edit Recording: You can trim the length and adjust the volume of the videos after finishing recording,
Auto-stop & Auto-split: When it reaches the set time, duration, or size, it will stop recording automatically. And the videos can be split into small fragments for easy storage.
Price: It starts $19.95/Monthly.
Compatibility: Windows and Mac
How to Use EaseUS RecExperts to Record Screen in MP4 Format
So much about the introduction, we believe you must know enough about the EaseUS RecExperts. Now, it is time for the operation steps in detail.
I will take a Mac computer as an example. It works the same on Windows.
Step 1: Launch the EaseUS RecExperts software on your computer. 
Step 2: You can either click the "Full Screen" option (for recording the whole screen) or select "Region" (for customizing the recording area). Upon that, choose the recording area with your mouse. If you want to record video with audio, you need to click the "Sound" icon on the bottom-left corner. 

Step 3: Click the "Settings" button to apply more options and select the corresponding specification based on your needs. When finished, click "OK".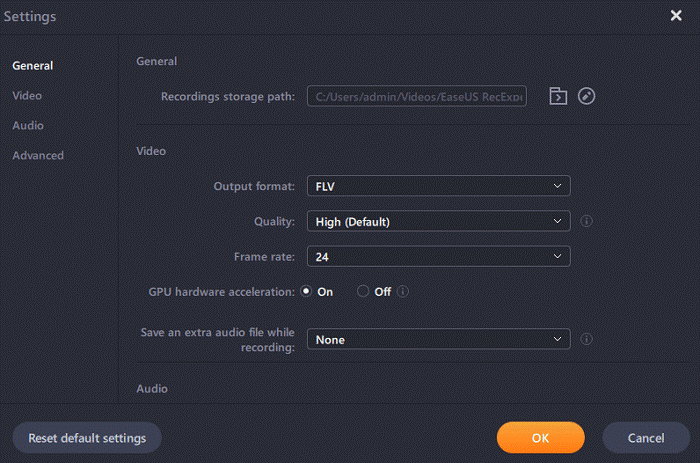 Step 4: Hit the "Sound" button on the bottom-left corner and open the system or microphone sound if you prefer to record audio and screen simultaneously. With that, select "OK" to ensure the audio options.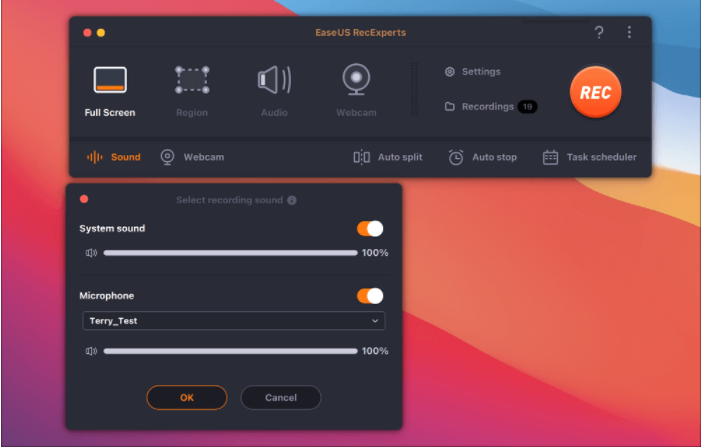 Step 5: Click the "REC" button to start recording. And click the red button on the timing bar to stop recording when it finishes.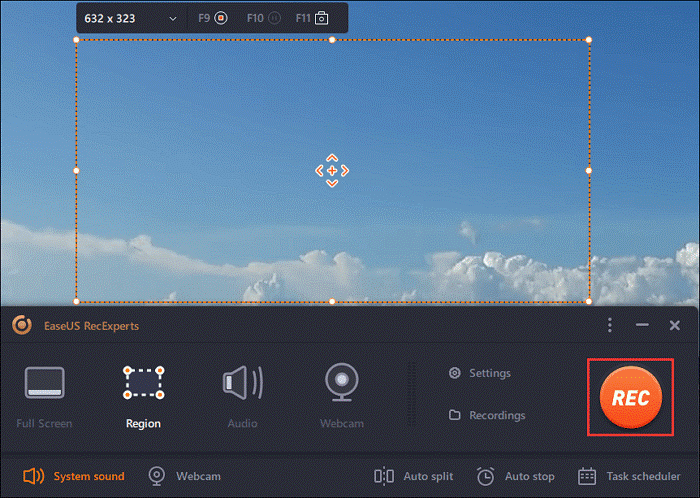 You can find the recording videos in the "Recordings" which is located in the main interface. Select the video and edit it as you want.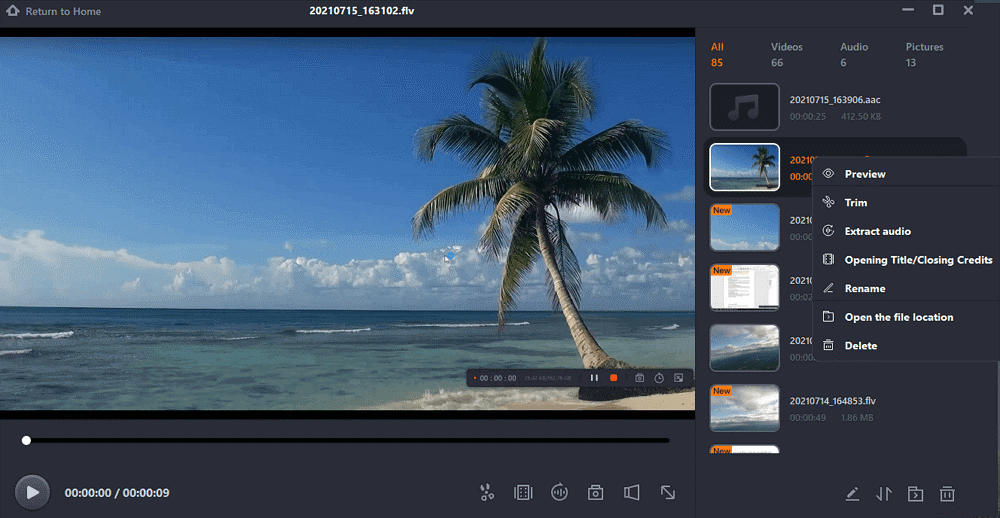 Conclusion
Recording screens in MP4 format makes it convenient to open and play on other devices. EaseUS RecExperts is a perfect tool with easy operations to do that. We have demonstrated the guide step by step, and we sincerely hope the guide works well on your computer. 
No more content