If you have been using Windows operating system, you should be aware of the Product keys that provide you access to the software. Of course, you will need the key for accessing your service, but if you lose it for some reason, you can always get it back by using the product key finder tools.
There are situations where you would lose access to the product keys, which can create huge issues during OS reinstallation.
10 Best Product Key Finder for Windows10
Having understood the essence and importance of the key finders and why they are important, it's time to find the preeminent product key finders you need, offering you the optimal impression ever. Many Windows key finder tools help you find the product key. We have listed the 10 best product key finder tools for Windows 10.
1. EaseUS Key Finder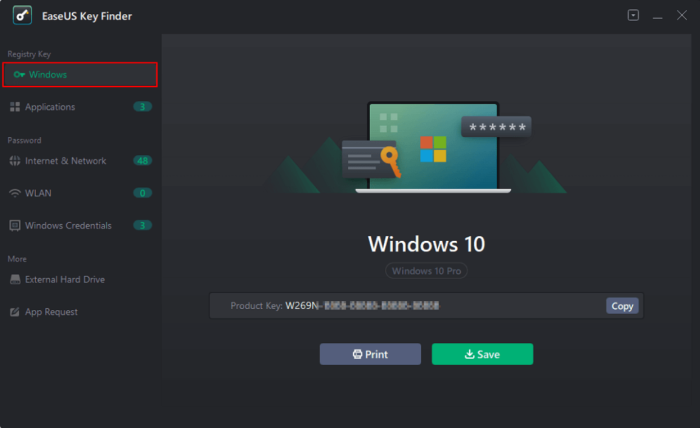 EaseUS Key Finder is definitely the most unique and excellent tool for providing you access to an amazing experience ever for finding your lost or forgotten product keys for Windows 10. In addition, you would find it offering you access to a perfect degree of performance enhancement when it comes to finding your product keys.
The product key finder is known for providing you access to restoring Windows & Windows Server product keys. In addition to Windows, it can also help you recover product keys or serial keys for a host of other software that would include over 1000 different programs. You can also use the software for retrieving the product licenses when a system or hard disk crashes.
Price: It starts $19.95/Monthly.
Compatibility: Windows 11/10/8.1/8/7/Server
Some of the features that you stand to gain with the software can include
It assists you in retrieving Windows system keys. The support consists of several versions such as Windows 11/10/8/7 and Windows Server.
It can help recover Adobe and Office keys as well. The software can find and store the serial numbers for adobe and Office applications.
You can even use it for recovering the passwords saved in the web browsers. The software supports a wide range of browsers, including Chrome, Edge, Firefox, and IE.
How to use the software?
Follow the steps here 
Launch the software on your device.
Under theRegistrytab, locate Windows or applications depending on which product key you want to find.
The product key should be instantly available.
Pros
Ad-free and virus free
One-click functionality
Cons
Website -EaseUS
2. PassFab Product Key Recovery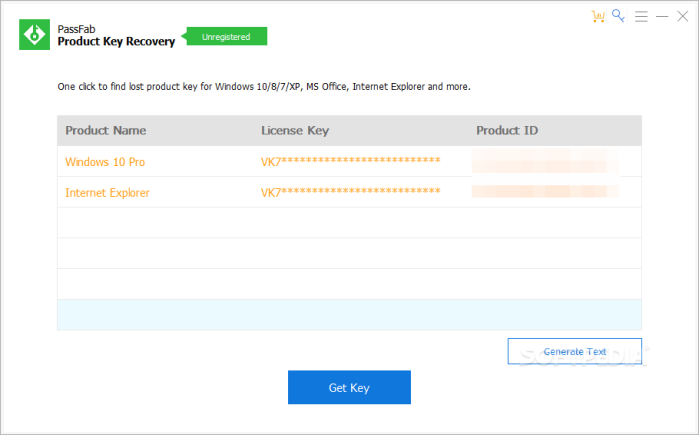 PassFab is another wonderful application for product key recovery. The software provides you with an enhanced experience of recovering your product key within minutes and a few clicks.
It would also be a good resource for helping you deal with a host of other software that includes Microsoft Visual Studio, Internet Explorer, and SQL Server.
To use the product key finder, you need to use the following steps 
Install the PassFab Product key recovery
Launch the software, and it will list out the product keys for different software tools on your device.
Pros
Compatible with any Windows system and Windows Server
Incredibly effective
Cons
Free trial is not up to the mark
Website -PassFab
3. iSunshare Product Key Finder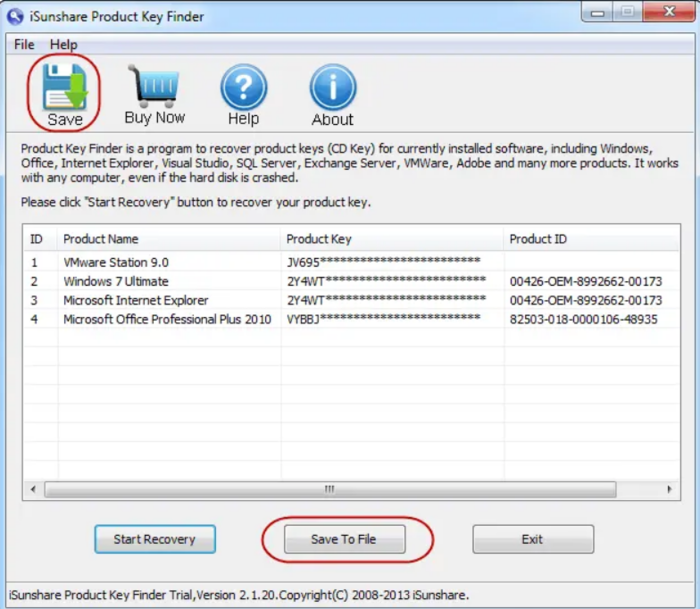 The software iSunshare Product Key Finder claims a 100 percent recovery rate when enjoying an appreciable experience and enhancement in recovering your product keys. The high-end security features and an easy-to-use interface are a couple of the preferences that you would find uncommon and exciting to every extent.
In addition, the software does provide you support for delivering you a decent success rate with several software choices that include Windows OS, Microsoft Office, SQL Server, and many more.
Here is how you would use the software 
Download and install the software on your device
Launch the software
You will find the product keys for almost every compatible software on your device right away.
Pros
The software can be installed practically on any Windows system and provides you with a simple and easy-to-use one-click fetch system.
100% recovery rate
Cons
Website -iSunshare
4. Belarc Advisor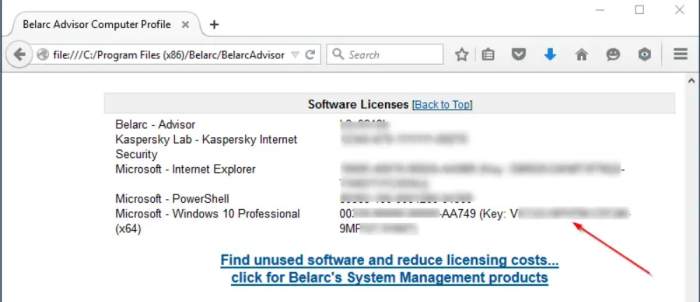 The Belarc Advisor has been considered the clear leader among other tools that you would find quite an unusual extent. In the same way as the EaseUs Key Finder, the tool is designed to gather the complete information on the operating system, which includes hardware, secure update, and product key.
You can follow the steps here below to make use of the key finder 
Install and run the software.
It will automatically perform a database check on your system and list out the details
To find the product keys, you should look at the section software Licenses.
Pros
It scans the entire system
Offers additional info
Cons
Website -Belarc Advisor
5. PowerShell Command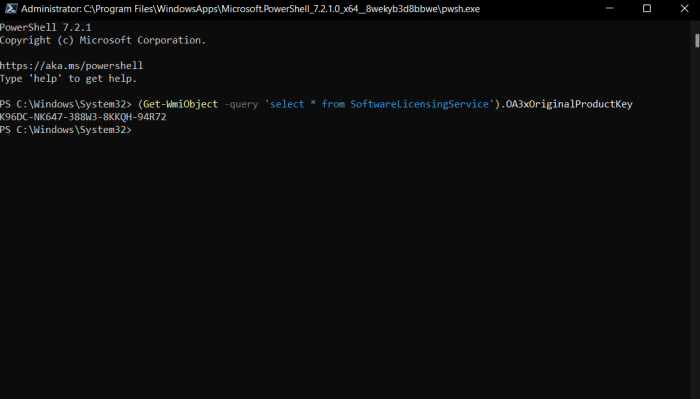 This is a built-in feature in Windows and should be the first choice to access your product key relatively easily. In addition, this can be the simplest way for finding your product keys.
Here is how you would handle the task 
Launch PowerShell from the Windows Search.
Type in the following command
(Get-WmiObject -query 'select * from SoftwareLicensingService').OA3xOriginalProductKey
Pros
Supports all Windows versions
The free and built-in function
Cons
It doesn't work with older versions
6. Command Prompt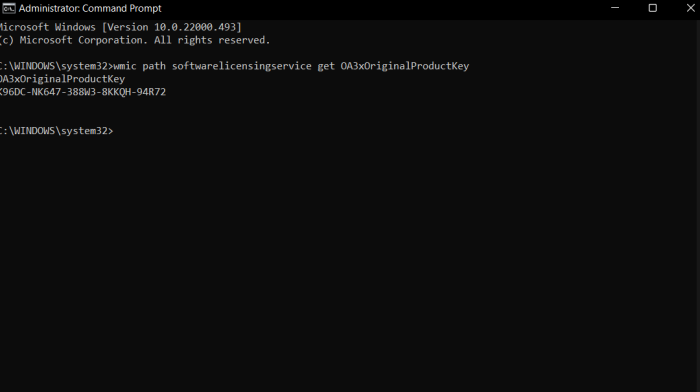 The Command Prompt or CMD is yet another built-in feature that can prove to be quite handy. This should be the right pick ways for enjoying the memorable experiences in finding your product keys without hassles whatsoever.
It supports a wide range of Windows operating system versions that include Windows 7. However, you may find that it may not be a foolproof alternative for the purpose.
Here is how you would be able to use the method to find the product key 
Launch Command Prompt on your device.
Type in the following command on the Command Prompt.
wmic path softwarelicensingservice get OA3xOriginalProductKey
Pros
Built-in feature - No installation needed
Can recover the key instantly
Cons
It does not work with other tools
7. FreePCAudit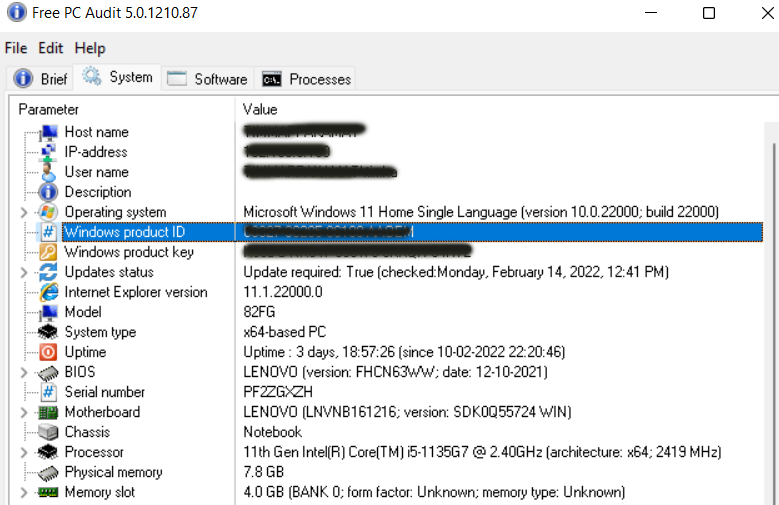 The FreePCAudit is yet another considerable way that you would find quite simple and easy to work with if you are looking to locate your product key. This is a free product key finder that does not require installation. It can simply run from a .exe file and thus provides you with an easy-to-use portable product key finder tool.
Here is how you would be able to use the FreePCAudit software –
Download the FreePCAudit software.
Select the portable file to download.
You can use the tool to find the product key without installing it.
Go to the System tab, and you should find the product key marked against the item Windows Product ID.
Pros
In addition to the product key, you will also find the other details of the software.
Completely free
Cons
It may not work with a few software
Website -FreePCAudit
8. LicenseCrawler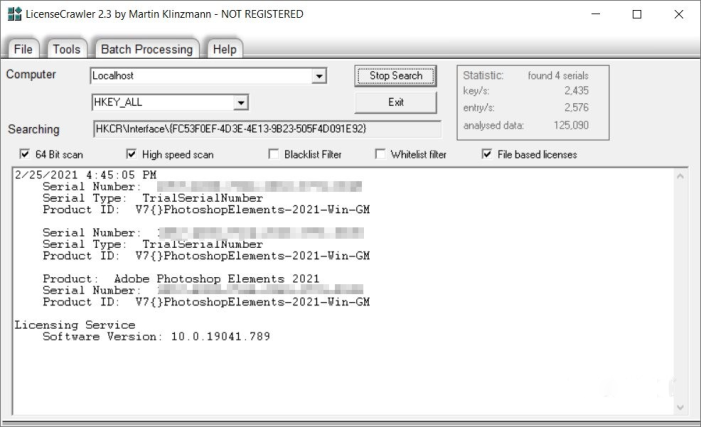 The LicenseCrawler is another powerful tool for finding the product keys with easy and simple steps. It can be your choice to find the product keys for windows and other software.
Follow the steps here below to get your product keys 
Download the LicenseCrawler tool
You can use it straight away to find your product keys. The software does not need an installation.
You should be able to get the product key right away without hassles.
Pros
The advanced and scanning performances
No installation needed
Cons
Performance is a little slower
Website -Licensecrawler
9. Lazesoft Windows Key Finder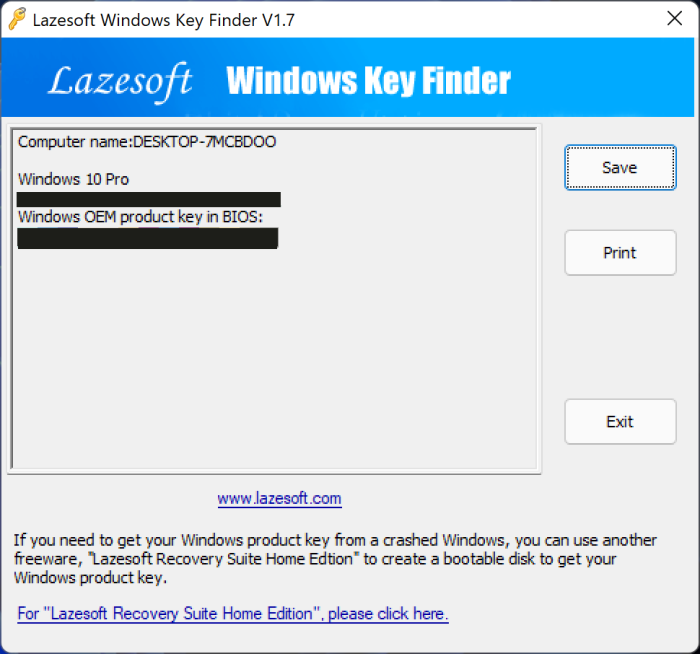 The open-source and free Windows key finder should be what would provide you with distinctive experiences and ease of use. It can be used to find the serial number for Windows OS and Windows Server versions and Microsoft Office.
Using the software is much accessible. Download the tool and launch it. You should be able to get your product keys after a brief scan.
Pros
No installation needed
Completely free
Cons
May fail in the recovery of some keys
Website -Lazesoft
10. Abelssoft MyKeyFinder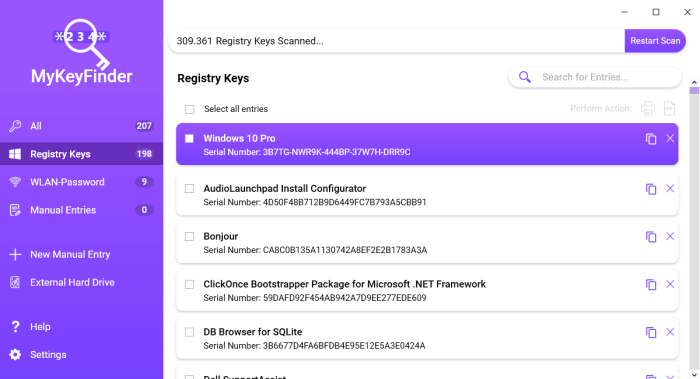 This Key finder is yet another single-click functionality for retrieving your product keys or serial numbers with ease. The software from Germany has been known for a high degree of efficacy in achieving the best possible experience.
Using the tool for finding your product key is as simple as opting for a single click on the tool. If you have opted for the paid version, you can also get access to the WiFi passwords.
Pros
The results can be copied to the clipboard
Adds product keys to the software added in future
Cons
The paid version comes with a few limitations
Website -AbelssoftMyKeyFinder
The Concluding Thoughts
There are many choices available to find the product keys on Windows or even on other software tools can be a blessing in disguise when you are looking to reinstall your Windows operating system and have misplaced or forgotten the product key. The list of the best methods outlined here should prove to be much handy in providing you with a sign of experience ever.
In our view, the EaseUS Key Finder is one of the most exceptional tools in providing you with a great degree of performance excellence. It can handle more than 1000 different software, which would make it a genuinely formidable choice ever.
No more content