Often, some games are released exclusively on Xbox or updated to be made available only on Xbox. But what if you don't own an Xbox console? Here is where the need for Xbox 360 emulators arises.
An emulator is a utility software program that assists you in a virtual simulation, letting you try out any platform without having it in its physical form.
Whether you are planning to get an Xbox console or find an easy way out to run your console games on PC, without a doubt, you can opt for Xbox 360 emulators. With Xbox 360 emulators, you can quickly and safely play your purchased console games on a PC without needing an Xbox console.
Though there are many Xbox emulators available for the perfect gaming experience, we will introduce the 5 best Xbox 360 emulators to you. 
Top 5 Best 360 Emulators for PC
1. Xeon Emulator

Despite being under development, the Xeon emulator is one of the most used Xbox 360 emulators to run your console games on PC. If you want to play Halo, the Xeon emulator is a must-try, and it also supports many Xbox One and Xbox 360 games. 
It is pretty easy to set up and runs smoothly on all the versions of Windows. Its controls are pretty easy to map, engaging you to play your Xbox games on the PC quite well with very few lags.
Pros
Excellent gameplay experience
It supports saving game processes
Compatible with low-quality games
Fewer lags and more stability
Cons
Still under development
It runs only one commercial game
Some ROMs are not supported
Price: Free emulator
Compatibility: DOS, Windows 8, and above
2. Xenia Emulator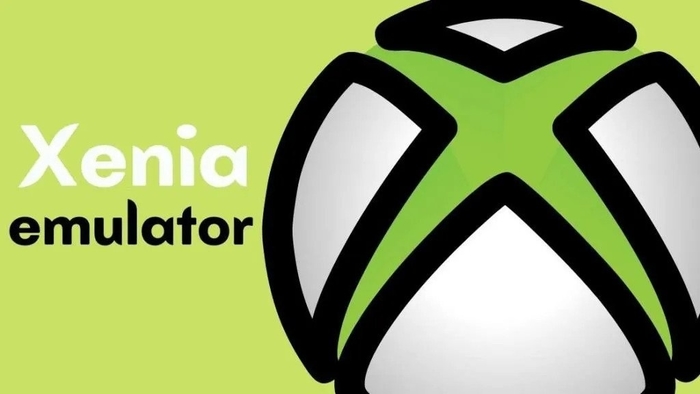 Xenia Emulator is another widely used Xbox 360 emulator that allows you to run almost all the compatible games on the Windows 10 PC. Using a Vulkan Graphics Processing unit assists you in playing even the high specification games reasonably well.
It is one of the best in performance, with minimum lag issues compared to the other Xbox 360 emulators. It is easy to use and allows you to play more than 90 games on your PC. Simply download, install, run your game and play it on your PC freely.
Pros
Open-source emulator
Updates frequently
Supports and runs the majority of games
Bare minimum performance issues
Cons
High-resolution games cause glitches
Minimum requirement of an advanced GPU
Compatible only with Windows
Price: Free emulator
Compatibility: Windows 8, Windows 8.1, and Windows 10
3. EX360E Xbox 360 Emulator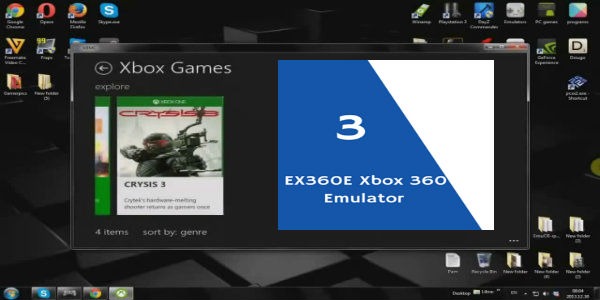 EX360E Xbox 360 Emulator also supports the games of Xbox One and Xbox 360 for Windows PC. Unlike the Xbox Controllers, this emulator needs no virtual environment, and it supports only 64-bit Windows versions for all the Windows OS. It also creates .exe files of your Xbox games.
With the support of GUI patches, it enables a fun gaming experience. You can easily download and install it free from Github and then simply run your Xbox games on your PC and play it freely. 
Pros
Supports GUI patches
Smooth gameplay experience
No requirement for a virtual environment
Supports Arcades games
Cons
Incompatible with 32 bit Windows OS
Complex user interface
Restricted developer support
Price: Free emulator
Compatibility: Windows 7 and later
4. VR Xbox 360 PC Emulator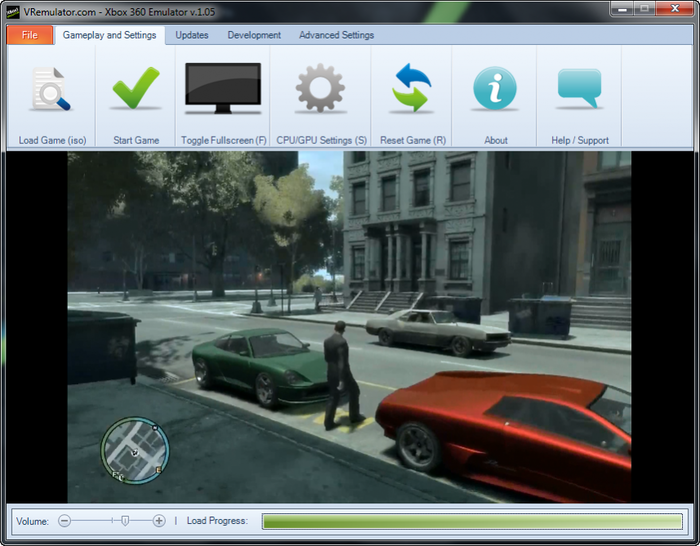 VR Xbox 360 PC Emulator is another popular Xbox emulator with many advanced features to make your PC gaming fun and smooth. With an improved memory consumption, even its FPS rate is relatively high while playing high graphic configuration games. It supports Radeon GPU compatibility and is famous for its SSE 3/4 CPU. 
Being compatible with Windows 32-bit and 64-bit, VR Xbox 360 PC Emulator is relatively easy. Just download it using the official website and install it on your Windows PC to run and play the Xbox games.
Pros
Simple and easy to use
Amazing gaming experience
Supports high FPS
Supports the latest NVidia/ Radeon GPUs 
Cons
Not compatible with Windows 10
Crashes frequently on low-end PCs
The download file is quite large, comparatively
Price: Free emulator
Compatibility: Windows 2000, Windows XP, Windows 7, WinServer, WinVista
5. CXBX Emulator
Yet another emulator, the CXBX emulator, allows you to play Xbox One and Xbox 360 games on your PC. This emulator is so well optimized that it tends to reduce the system lags and memory usage even while playing high-end games. 
It also benefits you from playing your Xbox game in this emulator with a single click by letting you create a .exe version of your Xbox game. But the CXBX emulator is not compatible with Windows 7 and above.
Pros
Simple and easy to use
It offers a smooth gaming experience
Compatible with Xbox pixel shaders
Support Windows versions of 32 bit and 64 bit
Cons
Only 5 games supported
Compatible only with WinNT (XP/2K/2003)
Works on powerful GPU only
Price: Free emulator
Compatibility: WinNT (XP, 2K, 2003) only
Sum Up
Xbox 360 emulators only act as a proxy to your Xbox consoles. Since they are merely used for testing out a platform before its purchase, you cannot expect them to give you high efficiency and as good results as the original. 
For this reason, Xbox 360 emulators are bound to have performance issues, including a few lags and frame drops.
Nevertheless, these Xbox 360 emulators get the exclusive Xbox gaming fun to your PCs without buying an Xbox console. Plus, if you are planning to get a new Xbox console, they prove to be a perfect tester. 
Here we have already mentioned the 5 best available Xbox 360 emulators for 2022 with their specific details. You can check and try out anyone amongst them yourself as per the gaming needs of your suitability.
Still, if you choose to go with our suggestions, our main recommendations would be Xenia and CXBX emulators since they have an edge in performance and provide a smooth gaming experience.
No more content