Often your computer might lag in its performance and productivity. Such instances call you to check up on the duplicate files. 
Multiple ways can create duplicate files. Such as :
Backing up the same file multiple times
Downloading the same file numerous times
Relocation of original files during copy-paste process 
Some situations when you need to take help from professional duplicate file finders include:
Duplicate files consume disk space
Messy file organization
Creates digital chaos
Cluttered cloud storage
Useless or unrequired duplicate files slow down your system 
Backups take a longer time
Duplicate file finders help you locate and delete the copy of your original files to clean up your disk space and organize your file collections better.
With the help of duplicate finder windows 10, you can easily clean the clutter to make the most of your storage and system's productivity.
Here we will introduce you to the five best duplicate finder windows 10/11 for your convenience. 
Top 5 Best Duplicate Finders for Windows 11/10/8/7
1. CCleaner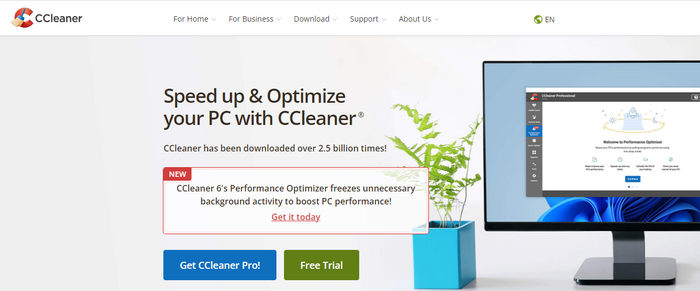 CCleaner is a popular and intuitive duplicate file finder tool that helps remove duplicate files in seconds. It also scans for any digital trash and fixes broken Windows registries to help your system perform efficiently. 
It enables you to customize the search of your files and folders with its inbuilt Selection Assistant feature. It searches the files through their name, size, date, and content.
CCleaner takes a backup of your data to avoid any losses as soon as possible.
Pros
Software installed quickly
Organized user interface
Custom search options
Regular software updates
Cons
Automatic installation of unwanted browser extensions 
Requires premium subscription for file finder features
Large files take time to scan
Price: $29.95
Compatibility: Windows 11, 10, 9, 8, 7, Vista, XP (32-bit and 64-bit), Mac, and Android
2. Easy Duplicate File Finder

Easy Duplicate File Finder is yet another powerful tool to remove duplicate files intelligently. With its 10+ scan modes, it manages your file with excellent management, finding the duplicate files with the most accuracy. 
It makes sure to protect your system files and folders. You can use it for photos, videos, music, emails and contacts, Google Drive, and Dropbox.
All you need to do is start the scan, review the results and delete the duplicate files.
Pros
High accuracy with an intuitive interface 
Remove all duplicate files with a click
Erase duplicate files after byte-by-byte comparison
Charts and graphs support the visual interface
Cons
Slightly expensive
Slow scanning
The unregistered version restricts a duplicate repairing to 10 groups
Price
1 PC $39.95
3 PC $49.95
5 PC $59.95
10 PC $69.95
Compatibility: Windows 11, 10, 8, 7, Vista, and XP (32-bit and 64-bit) and Mac
Price: Its single computer license charges $59.95/year.
Compatibility: Windows

Easy Duplicate Finder Review
3. Duplicate File Detective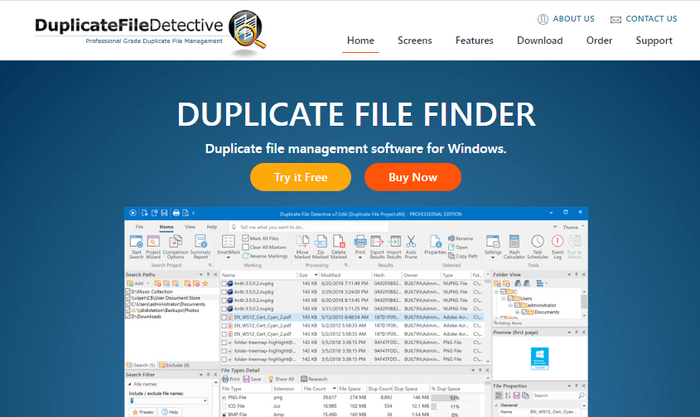 Duplicate File Detective is a user-friendly and intuitive professional tool that helps you search and remove duplicate files more quickly and effectively.
It assists you with a custom schedule option that allows you to receive an email informing the status of duplicate files in a scan. You learn about similar files as it displays the properties of selected files in its report.
Beginners can use its 15-day trial version.
Pros
Monitors multiple networks
Provides technical support
Supports two-week trial
Exports to PDF, HTML, CSV, XSL, etc.
Cons
Quite expensive
Useless for casual users
Nags screen
Price
Single-User Pro license: $60.00 each 
Single-User Pro license - 5 pack: $210.00 each
Single-User Pro license - 10 pack: $360.00 each
Compatibility: Windows 10, 8, 7, and Windows Server 2012/ R2
4. Duplicate Cleaner Pro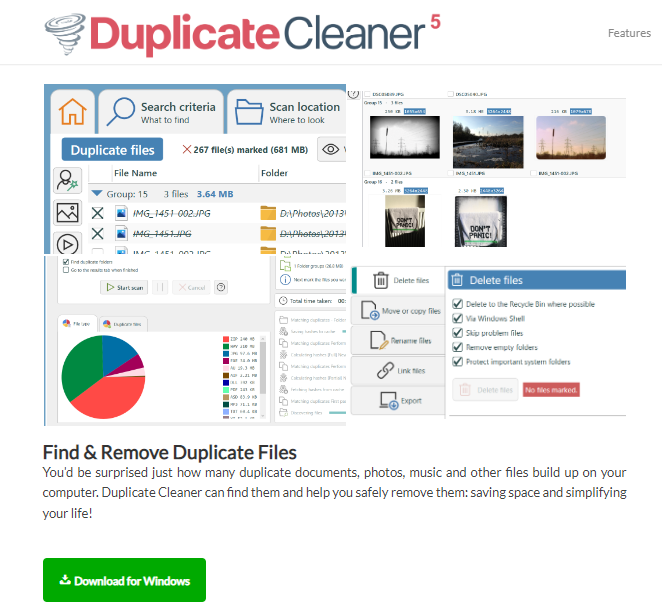 Duplicate Cleaner Pro uses multiple search filters to refine the search process and help you remove duplicate files efficiently.
With its intuitive dashboard, you can set your search parameters to retrieve the exact files, protecting other system files and folders from scanning. You can even perform a quick rescan as it stores the fingerprints of the scanned files in its archive.  
It supports multiple languages, such as English, Italian, Portuguese, etc., to help you understand its working better.
Pros
Supports multiple languages 
Fastest scan engine
Highly intuitive user interface
Scans duplicate files through name, content, size, etc.
Cons
Frequent pop-ups
Only two weeks trial is available 
Unsuitable for power users
Price: $39
Compatibility: Windows 11, 10, 8, 7, Vista (32-bit and 64-bit)
5. Wise Duplicate Finder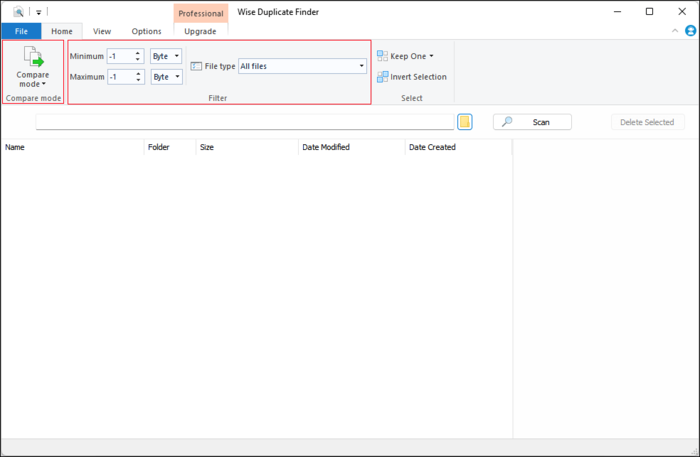 Wise Duplicate Finder is another tool that scans duplicate files and empty folders to remove them and make space for your system's productivity.
It scans for duplicate files after comparing the files by their name, size, and contents. You can either delete them automatically or manually, allowing you a backup and restores option. 
All you need to do is: set the match options, scan the location for duplicate files and remove them.  
Pros
Backup and restore files upon deletion
Scans and deletes duplicate files
Scans for empty folders
Deletes audio, video, and documents 
Cons
Unavailable file preview
No scanning logs
Time-consuming match scan option
Price: Annual Subscription Fee: $19.95
Compatibility: Windows 11, 10, 8, 7, and XP

Wise Duplicate Finder Review: A Decent Duplicate Finder to Use
Sum Up
Now increase your system's productivity by installing a duplicate finder windows 11. We have already suggested the five best duplicate file finders for windows. 
Though every duplicate finder Windows 10 has a primary purpose of scanning and removing the duplicate files from your PC, each one has unique properties. You can choose the one that best serves your purpose depending upon your requirements. 
But suppose you are confused and ought to rely on our suggestions. In that case, we recommend Easy Duplicate File Finder as it is the most convenient, featuring maximum benefits among all the others.
Price: Its single computer license charges $59.95/year.
Compatibility: Windows
No more content