Our Verdict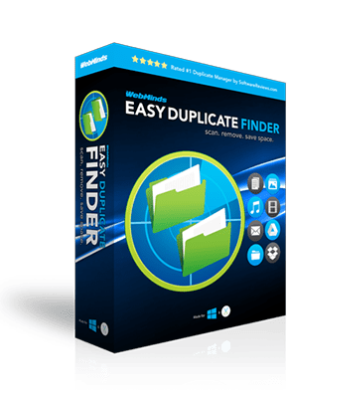 Easy Duplicate Finder is a powerful utility available for both Mac and Windows, designed to scan and locate duplicate files on your devices and then obliterate all the found duplicate files automatically without any hassle, freeing up your valuable space. 
Price: Its single computer license charges $59.95/year.
Compatibility: Windows
| Parameter | Score(10 Points) |
| --- | --- |
| User Friendliness | 9 |
| Duplicate Finding | 9.5 |
| Overall Performance | 9 |
| Features | 9 |
| Pricing | 9 |
| Support | 8.5 |
It also provides you with the options to review before cleaning off all the duplicate files or "Undo" for emergency recovery. In this post, we'll try and test this popular duplicate finder to determine whether it's suitable for you or not. Read on and learn more details about Easy Duplicate Finder's features, Pros and Cons, then make your ultimate choice.
In this article, you'll learn:
Main Features
1. User-Interface
Easy Duplicate Finder comes with an intuitive and simple-to-use interface that renders removing identical files a breeze. The home screen is proportionally listed with core features or operations that you can perform.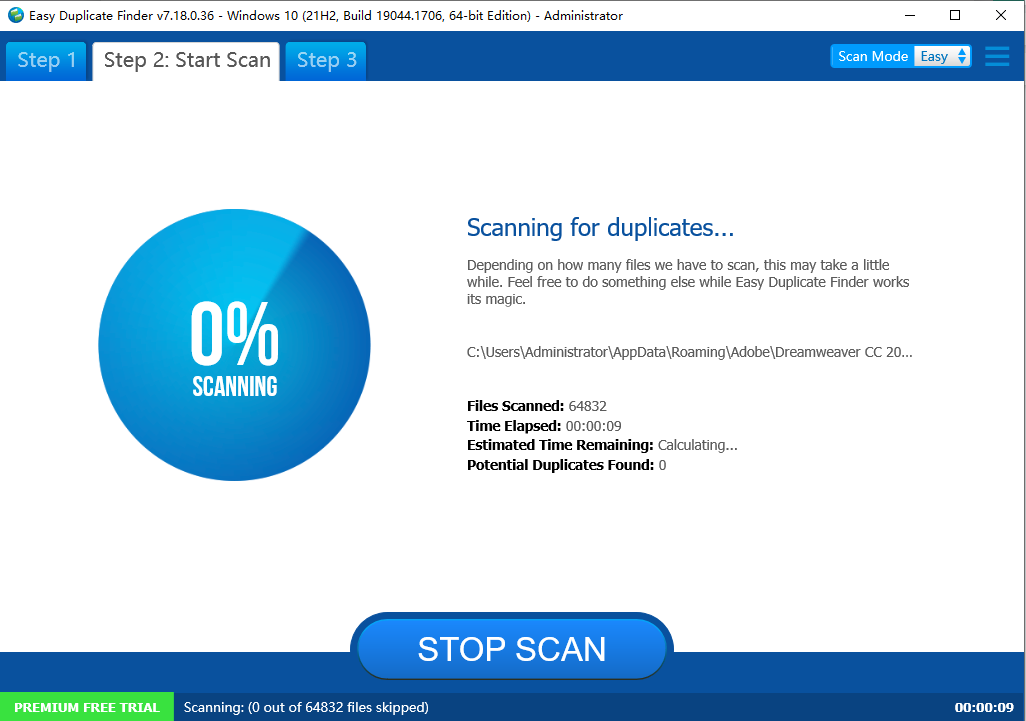 2. Locate True Duplicate
FilesDuplicate files on your devices will accumulate over time and can undermine your computer's performance, not to mention available storage space. Normally, your devices will consequently turn slower as more files and data your hard drive, HDD or SSD get, which leaves deleting all duplicate files quite vital.
Easy Duplicate Finder enables you to unleash hard drive space on your PC, enhance your computer's performance, locate and clean off duplicate files within a few clicks! It boasts smart technology that hunts for real duplicates, not just those with the same file name.
3. Compare Folders against Each Other
Easy Duplicate Finder also allows you to compare files in two or more folders, find the duplicates, and remove them from target folders without impacting the originals.
The software comes with a special Folder Comparison scan mode, aiming at comparing files in target folders against that in source folders, leaving it rather straightforward to tell the originals from the duplicates.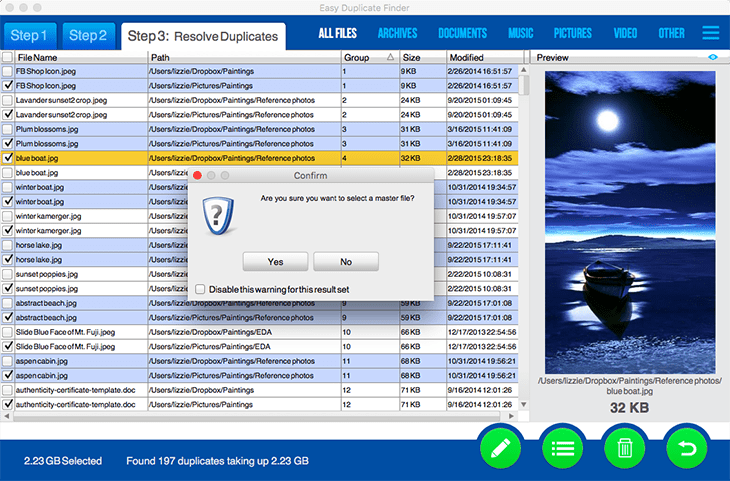 4. Find and Delete Duplicate Songs in The iTunes Library 
You may get caught in the plight of loads of duplicate songs appearing in your library when using iTunes. This issue usually stems from the situation where iTunes imports songs without moving them to a single location but accepts them irrespective of where the song file is. The problem will go even worse as you're syncing music to your iPhone, using Apple Music or Apple TV, which will end up with hundreds of duplicate songs cluttering your playlists. 
Easy Duplicate Finder's innovative technology lets you locate these duplicate tracks smoothly and delete them without any manual searching required, leaving your music collection well-organized and tidy so you can focus on enjoying fabulous music.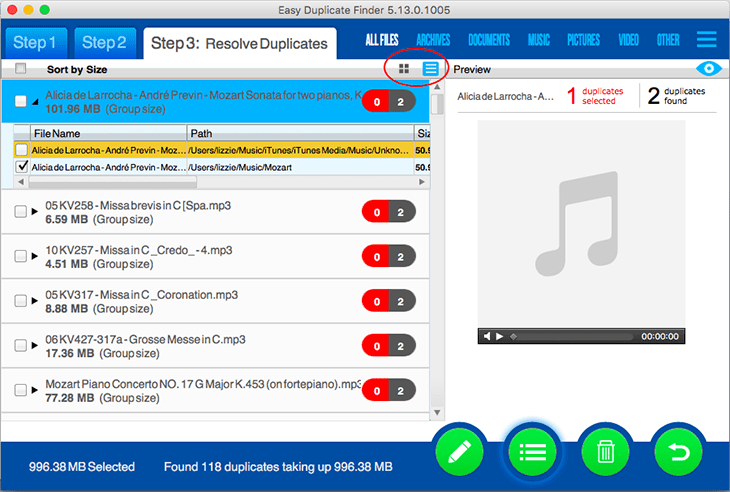 Pricing 
Is Easy Duplicate Finder a freebie? Actually, no. Yet a free trial version is offered, and it doesn't expire, even though it comes with limited features. To take advantage of its full features, you need to purchase a lifetime license, whose retailed price is $29.95 for one PC(includes unlimited updates for one year ). 
Also, you'll have to pay extra money to get newer versions after one year, which is sort of unreasonable. Still, considering its powerful and exclusive functions, $29.95 is a good deal.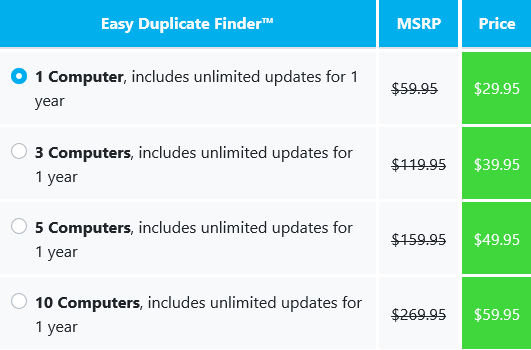 Instructions: How to use Easy Duplicate Finder
This part zeros in on the instructions on utilizing this popular duplicate file finder. Here's the detailed guide:
1. Download and launch the software on your PC.
2. Select a scan mode you prefer. Here we take File Search for instance.
3. Tug the selected folder to the Add a Folder to Include to Scan section. This step is optional, and you can exclude files or folders from the scan if necessary.
4. Click Start Scan and select Go Fix Them.
5. Select the duplicate files that you wish to delete. Alternatively, go with the auto-selection.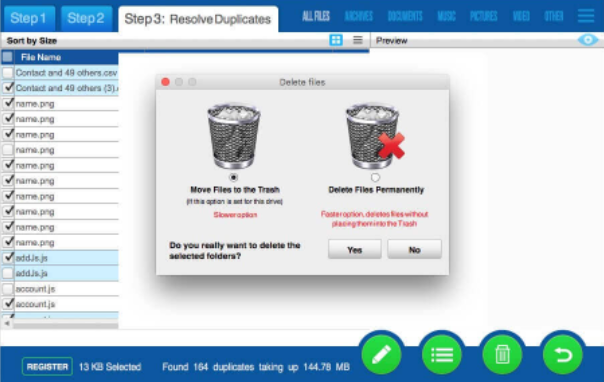 6. Click the trash bin icon located at the bottom and select the option to delete duplicates.
7. Click Yes to confirm the deletion.
Alternative software
Alternatives Parameter Comparison
 
Easy Duplicate Finder
Duplicate Cleaner Pro
Duplicate File Detective
Duplicates Finding  capabilities
9.5
9
8.5
Finding in Real-Time
√
×
×
Outlook Email Finder
√
×
×
Dropbox Duplicate Finder
√
×
×
Scan and Compare
√
√
×
Duplicate Songs in iTunes
√
×
×
Replace deleted duplicate files with links to the original
×
×
√
Conclusion 
Easy Duplicate Finder is a fairly robust software for scanning and finding duplicate files. Not only can it locate identical files on your device with 100% accuracy, but it enables you to preview all types of files and obliterate duplicates in Cloud storage solutions such as Google Drive & Dropbox. 
To sum up, Easy Duplicate Finder is a decent option to use for scanning and deleting duplicate files, yet it also gets a few shortcomings, like photos scan being inefficient. Still, if you are looking to get rid of duplicate files, the scan for files is precise and reliable.
Pro:
+ Find duplicate files fast with 100% accuracy.
+ Ensure your system files and folder are protected.
+ Offer the "Undo" button for emergency recovery.
Cons:
- Some scans can take more time and also provide inaccurate results.
FAQ
Is Easy Duplicate Finder Free?
The software is not available for free. It'll cost $29.95 for one PC. However, you can use the free trial version, which won't get expired.
Is Easy Duplicate Finder Safe?
Certainly! The utility is safe to use, whereas you'd better take a backup of your files in that Easy Duplicate Finder removes the files directly from the hard drive. If your vital data is deleted, you can still undo the action by clicking on Undo button.
No more content