Several issues arise when you work with a machine daily. As you are working online and offline, a PC or laptop is more vulnerable to the threat of internal damage. Duplicate files are one of them as the files eat up the necessary space of the hard drive storage and slow down the computer.
You need a regular clean-up and organize the files and folders on your PC to make it run smoothly with the fastest speed. Further, it helps to manage and organize the data on your computer. It's vital that you have every information readily available whenever required. You can do the work manually, but it's time-consuming and sometimes disappointing. Therefore, we suggest the best duplicate file finder windows 10, that also clean your system thoroughly. 
After examining the features and benefits, here is our list of software you can consider: 
10 Best Free Duplicate File Finder & Cleaner for Windows 10
1. Auslogics Duplicate File Finder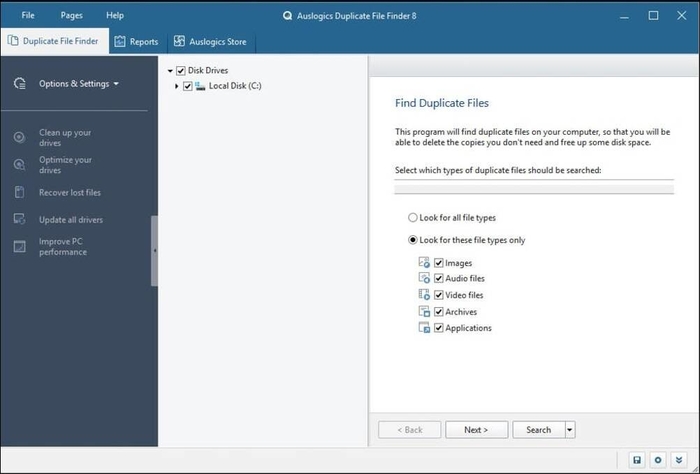 Auslogics is a powerful tool that comes up with a duplicate file finder and cleans your PC to set back its high speed. It's thorough scanning never lets any duplicate file skip from its radar and remove them from your system. Its simple interface is user-friendly and users feel comfortable working with it. 
The features 
It has the MD5 checksum technique that helps to detect duplicate files.
It follows a specific search technique to locate the duplicate files like file type, file creation date, file size and name, and many more.
Its smart algorithm produce accurate results
You can customize scans and restore the accidentally deleted files
Pros 
It can scan hidden folder 
It offers optimized system drives
It's free software and gets regular updates 
Cons 
If you need technical support, first you fill up a form which time taking
Drags and drops feature is not included
2. CCleaner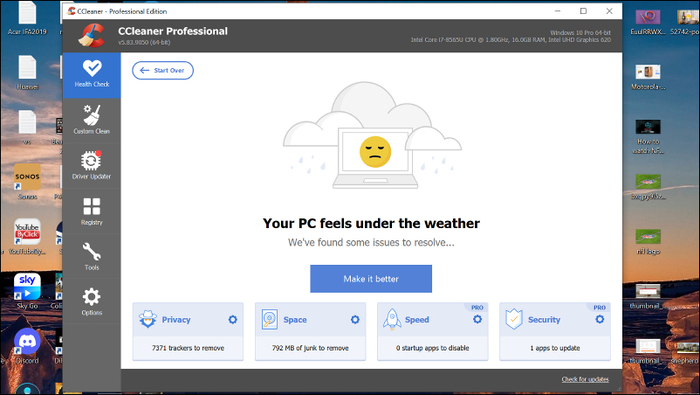 CCleaner is a prevalent software among users, and it can scan and detect at super fast speed. It's an all-in-one computer maintenance software that you can get rid of temporary files, junk, unwanted registry entries, cookies and many more. 
The features
It offers a built-in Selection Assistance option in which you can select files and folders included in your search
It scans and detects startup items
Before the scan, it ensures data backup to prevent vital data lose
It can detect duplicate music files
Pros 
It offers a powerful PC cleaning option
You can exclude files from scanning
Frequent software updates are available
Cons 
Large file scanning takes a little bit extra time
Add ons, extensions, and unwanted browser installed during download process
3. DupeGuru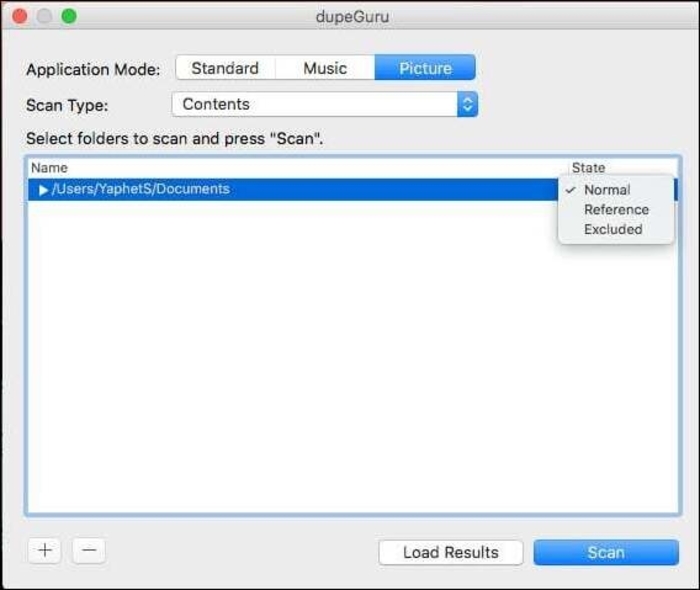 Our next pick is dupeGuru. It's compatible with Windows, MacOS, and Linux and offers an intelligent algorithm that helps to detect similar files easily. The algorithm finds duplicate files based on the file name, creation date, content tags, file size, and other criteria. It also offers a customized search option for the users. 
The features 
It offers fast working process
Its picture mode helps users to locate and remove duplicate photos or similar images
It works to detect similar or identical music files that include various formats like AAC, MP3, WAV, etc
It has a preview option to show you the detected duplicate files
Pros 
It offers various customized services
It's available in multiple languages
It's freeware that provides effective scan results
Cons 
Features are limited
The interface is old fashioned
4. Duplicate Cleaner Pro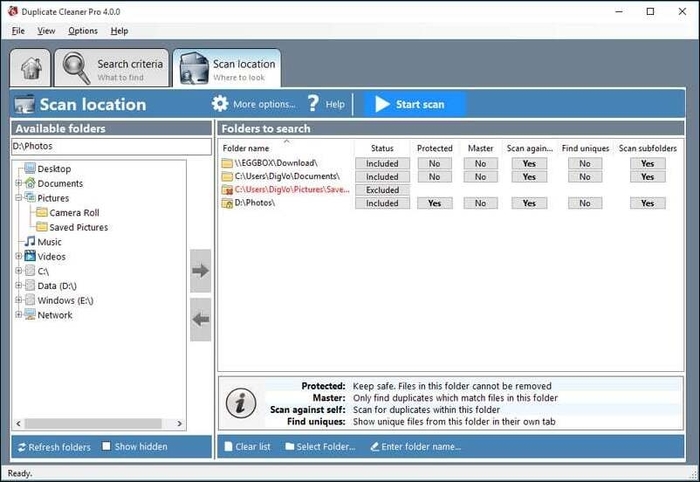 Duplicate Cleaner Pro functions like a pro. Its user-friendly interface helps users to run the program on their system. The software detects and compares similar images that you cropped, resized, edited, or rotated. It offers to customize the removal option of the detected files. 
The features 
It offers a deep search technique
It can locate zipped files content
It provides to customize removal option like you can send the detect files to the recycle bin Or set them with rename
It provides a file preview option 
Pros 
It has an advanced filter option
There are no commercial ads
Search results are highly efficient
Cons 
Take time to scan large files
User interface stuffed with many features
5. Ashisoft Duplicate File Finder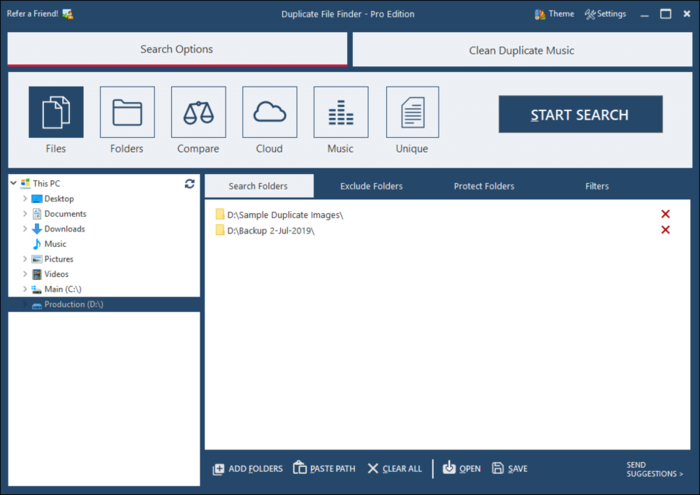 Ashisoft is considered among the best featured duplicate file finder tool. It has a powerful duplicate management method to quickly detect files and tune up the PC. If you're looking for a tool to sort out remove duplicate files and optimize your PC, Ashisoft gives the best performance. 
The feature
It has SHA -1 and byte-by-byte detection techniques to remove duplicate files
Its Selection Assistance helps you to locate files based on the file name, size, creation date, folders name etc
It offers a Photo Viewer option to preview thumbnail images
It provides multiple scanning modes to scan thoroughly
Pros 
It offers a thorough scanning process
Duplicate image detection option available
Easy to use interface
Cons 
It cannot scan subfolders
It doesn't support rare image formats
6. AllDup 
AllDup offers all kinds of scanning and detecting duplicate files on your PC. It scans files, photos, music tracks, documents etc and detects the duplicate set of these files. If your PC is overloaded with duplicate songs images along with files and folders, you need to run the program, remove them to reduce the load and free up the space on your PC. 
The features 
Its algorithm support fast scanning and removal process
It can scan multiple files and folders within no time
It offers the backup option to secure the data of your PC
It has a built-in file viewer option
Pros 
It offers a quick file search algorithm
It's available for all the Microsoft Windows versions
Its flexible function pattern is user friendly
Cons 
The interface is complicated
To get product queries, you need to submit along with support form after filling it
7. Wise Duplicate Finder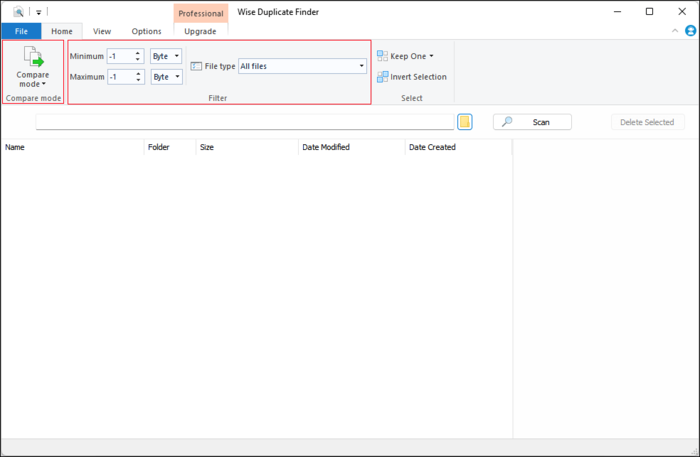 Wise Duplicate Finder is another helpful tool that offers a Deep and Fast Scan technique to detect and remove duplicate files from your PC. The best part is that Wise Duplicate can recover deleted files and help you to restore them. Its sleek interface allows you to navigate various features that are beneficial for users. 
The features
It can locate empty folders and recommend you to remove them permanently
You can enable auto permission, and it'll delete numerous duplicate files from your PC
It can recover deleted files
It backup your files to prevent accidental deleted essential data from your PC
Pros 
The interface is simple and easy
It has a filter option
It offers Deep and Fast scan and allows you to select as per your requirement
Cons 
Scan results saving option is not included
There's no notification option available while the scan is completed

Wise Duplicate Finder Review: A Decent Duplicate Finder to Use
8. Clone Spy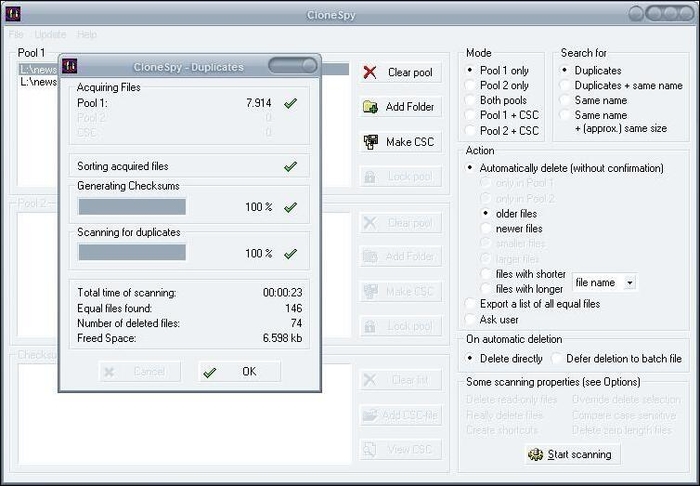 Clone Spy is another duplicate file finder windows 10 software with an auto-delete option. It takes a comparatively long time to detect and remove duplicate files from your PC. In what way it's different from others? It can locate and remove duplicate files from your network and local hard drives. It's available for all the windows versions. 
The features
Scanning and detection can be possible based on the names and extensions
It can perform 0- byte file scanning
It'll show the detailed report of the list of duplicate files from your PC
It offers 5 kinds of different scanning and filtering option
Pros 
Can free up space from network hard drive and local hard drive
Accurate files detection with duplicate content
Detect and remove 0-length files
Cons 
Before scanning, you need to set the parameters
Not suitable for the beginners
9. XYplorer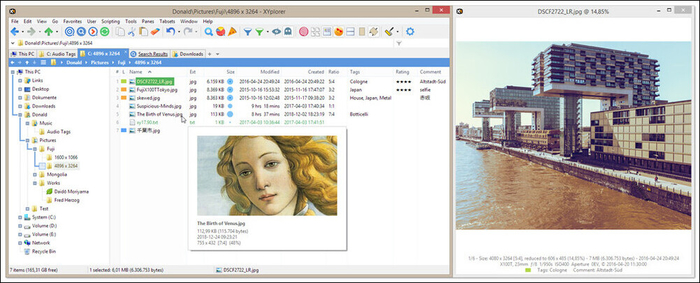 XYplorer functions as a file manager that efficiently scans, detects, and removes duplicate files from your PC. After removing the similar files, it helps to organize the existing files following the order to your quick findings. Nonetheless, it offers various customized removal processes. 
The features
Its Duper Detection feature is an excellent example of why the tool is popular
It offers a preview of scanned files
It has multiple filtering and sorting options to locate the specific dupe files
You can use customized keyboard shortcuts to operate the program
Pros 
Its interface is simple
 Undo/ Redo option is available 
It's a portable, lightweight application that works fast
Cons 
It doesn't support windows libraries, plugins and FTP
You cannot access the detected duplicate files in groups
10. AntiDupl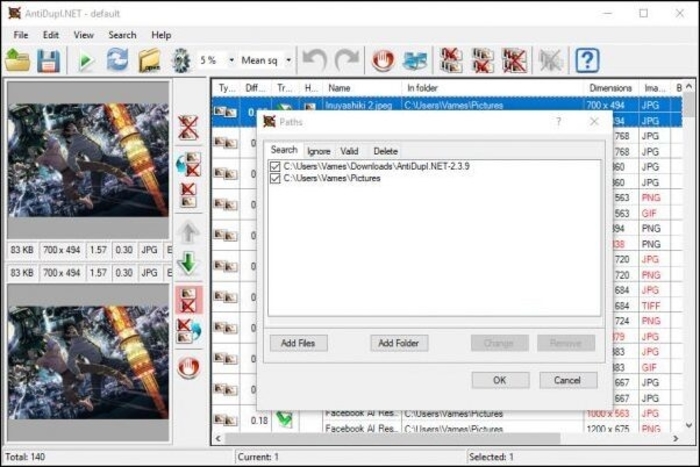 AntiDupl is a free and open-source application that can detect and remove duplicate files from the storage. Its advanced search algorithm helps you to scan and detect large-volume files. It supports various image formats for scanning and detection, and it's an efficient program you can try. 
The features 
It supports various image formats like TGA, PNG, ICON, JPEG, EMF etc
It has the technology to compare and analyze images to detect the similarities between them
It can reclaim the lost space by removing the duplicate or similar photos from the folders
Its advanced search option gives accuracy and high-speed
Pros 
Simple interface
It's an open-source program
It supports multiple image formats
Cons 
It only detects the duplicate image files
Not suitable for the beginners 
Final thoughts 
The above-noted applications are efficient in their respective fields. All are beneficial in terms of duplicate file finder windows 10. Based on your requirements and comfort to operate the program on your system, anyone you can quickly pick and start using. We arrange the order of the programs based on their functions and features, out of which users can get the benefits. Pick from our list that matches your requirements and install it on your PC. Good Luck!
No more content