One photo is never enough! 
While clicking a selfie or creating promotional photos for social media, we often tend to capture multiple photos to share the best shoot with our audience. Over time, the duplicate photos will consume a lot of space and eventually slow down the computer's speed, performance and create a boot-up problem. 
Using the best duplicate file finder, one can quickly scan the entire computer system and find/delete all the duplicate photos with a click. 
Top 3 Best Free Duplicate Photo Finder for Windows & Mac 
Now, let's move ahead and check out the three best and free duplicate photo finders for Windows and Mac. 
1. Disk Drill 
A robust data recovery tool with duplicate finder features. It allows you to remove duplicated files and recover deleted or lost data.
The Duplicate Finder is one of the many features of Disk Drill. Alongside file recovery, boot imaging, and storage visualization, Disk Drill is an excellent tool for finding and deleting duplicate files for Mac. It can fully analyze internal and external drives to find duplicate files such as photos, videos, documents, etc. 
Price: Free 
Compatibility: Mac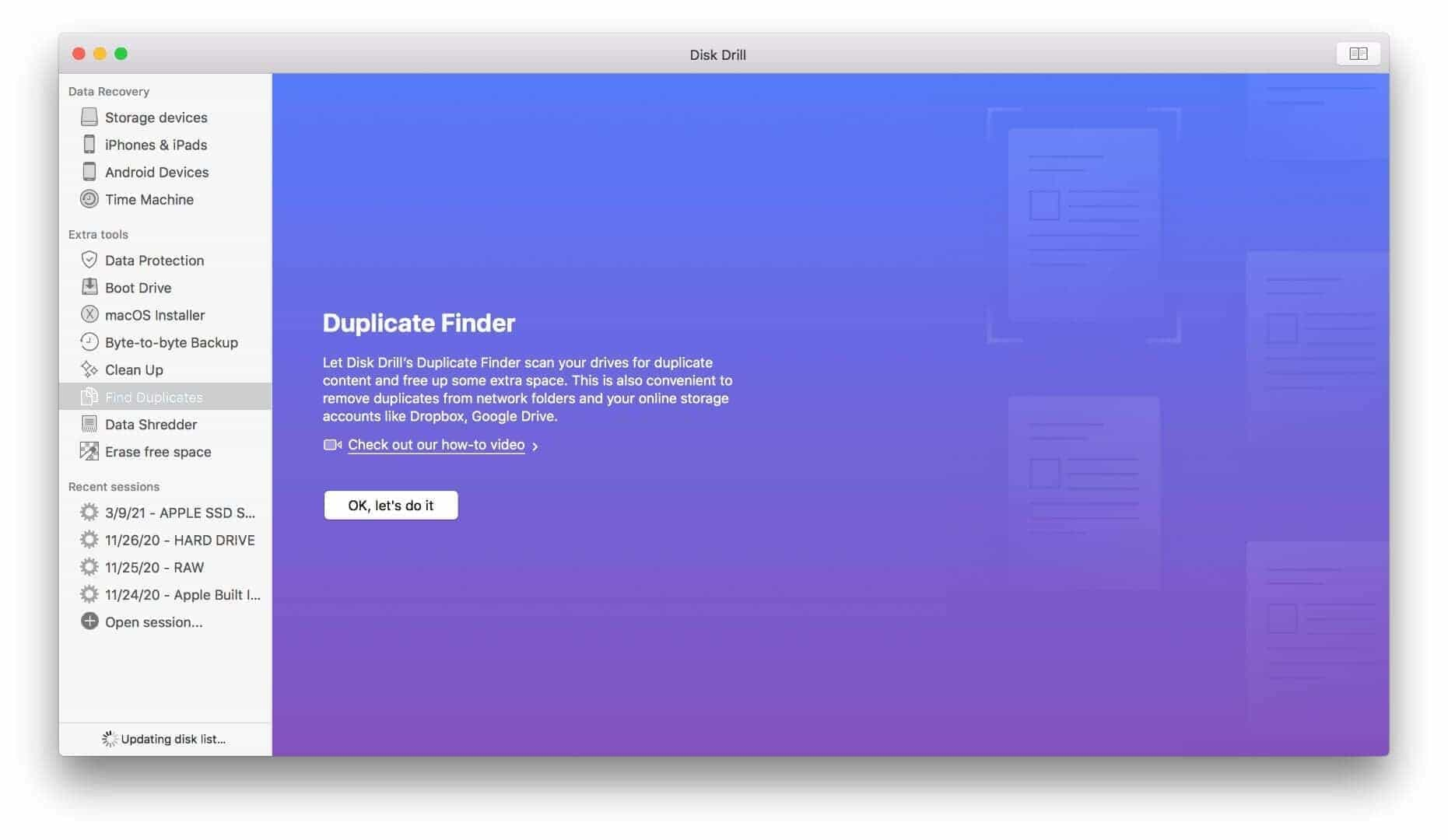 Pros 
Intuitive user interface 
A lightweight program that barely takes a few MBs of space
Bundled with data recovery system 
Works with M1 Macs 
Cons 
Not a standalone tool 
Free up to only 500 MB data recovery
2. dupeGuru
A fast duplicate finder with a fuzzy matching algorithm that can quickly detect similar-looking files.
dupeGuru is a cross-platform GUI tool to find duplicate files in Linux, OS X, and Windows. It can scan either filenames or contents. The filename scan features a fuzzy matching algorithm that can find duplicate filenames even when they are not exactly the same. It is also good with music and photos. It has a special Music and Photos mode to find the media-specific information in the duplicate results window.
As per your need, dupeGuru can be customized from the engine settings. Also, its reference directory and grouping system prevent users from removing wrong photos. 
Price: Free 
Compatibility: Windows, macOS, and Linux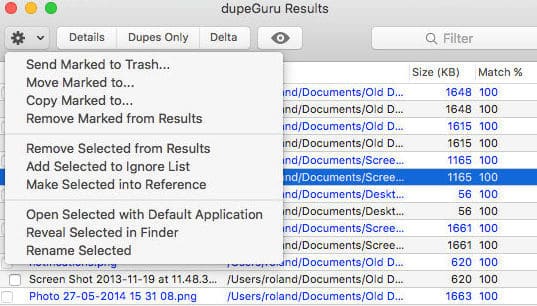 Pros 
100% free and cross-platform GUI
Excellent fuzzy scan algorithm to find similar files
Cons 
Basic user interface 
Complicated for beginners
3. Auslogics Duplicate File Finder
A smart duplicate image finder using intelligent algorithms to compare not only file names but also contents to ensure no false search results.
Auslogics Duplicate File Finder can scan a specific folder for duplicate content, present the analysis in a clean interface and allow you to decide which copies to delete. It offers numerous search parameters such as file type, file size, creation date, and more. Further, the software allows you to select whether to delete duplicate photos forever or send them to the recycle bin. 
Price: Free 
Compatibility: Windows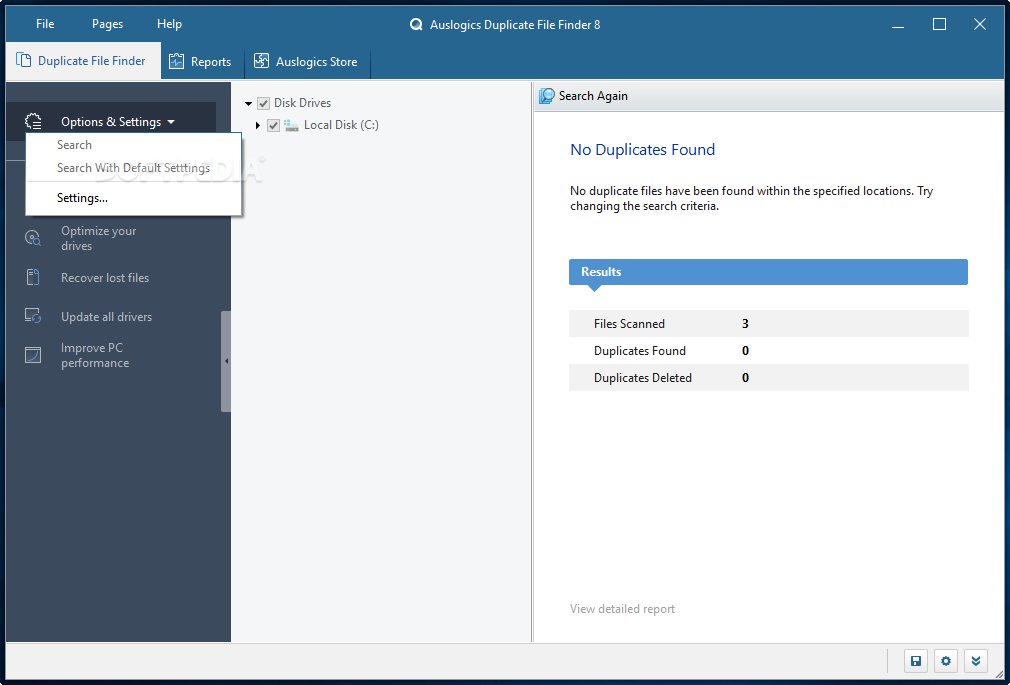 Pros 
Easy to use and fast scan speed 
Rescue center helps to restore mistakenly deleted files 
Various options to take action on duplicate files 
Cons 
Can't find many duplicates 
Inconvenient folder selection
Free Duplicate Photo Finder vs. Paid software
Free duplicate photo cleaners are good when you need a simple and quick solution. However, despite the cost-benefit, the free tools lack many features.
Free tools aren't as powerful and efficient as paid ones.
To use some free duplicate image finder like Disk Drill, supporting software is required.
Free tools can't fully detect all the duplicate content. This has been the main issue with Auslogics.
So, for professional support and robust features, it is recommended to invest a small sum to get the best duplicate photo finder. Easy Duplicate Finder is a comprehensive duplicate finder tool that can fit any pocket. 
Easy Duplicate Finder
Easy & Safe duplicate removal solution allows you to remove all types of duplicate files, including photos, videos, audio, or docs in just a few clicks.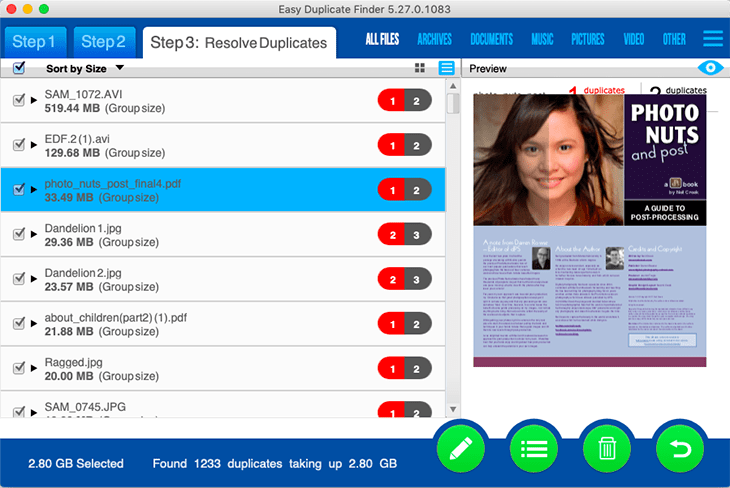 Key features
Manage, organize, and free up space on the internal & external drives.
Delete duplicate files in the Cloud storage like Dropbox or Google Drive.
Preview all types of files for a safer and more effective search.
Be sure your system files and folder are protected.
Offers undo button to easily recover wrong deleted files.
Price: Its single computer license charges $59.95/year.
Compatibility: Windows
Sum Up 
Whether you want to free up space on a hard disk or boost PCs performance, a duplicate picture finder can help you to a great extent. These tools can organize, manage and delete duplicate files such as images, music, videos, and other personal data with ease. 
If you want a basic duplicate finder, go for free software. But when you are looking for 100% accuracy, fast scanning speed, and additional features, get paid programs - Easy Duplicate Finder. 
No more content