Disk cloning is the simple process of copying every bit of information from a computer's hard drive to another hard drive, DVD, or USB drive. It is a compelling strategy you shouldn't be ignorant of, especially if you're someone who handles data and is highly interested in protecting and safeguarding every bit of the data.
Disk cloning has proven very useful when a hard drive needs to be taken back to its original composition after serious problems. This disk cloning could be carried out on a formerly used system to obtain personal information and take back the system to its original configuration in a case where it is going off for sale.
Disk cloning is very effective in retaining a system's information as it helps to replicate the computer's complete image at a single point in time. There is software available for you; using this software would help you protect and manage your data loss. This software enables you even to restore multiple computer systems simultaneously. To avoid data loss, it would be wise to clone your entire hard drive against moments when your hardware dies. This article offers you the top five clone drive software you can use to carry out your disk cloning easily.
Top 5 Clone Drive Software You Should Try
We all do not want to lose our essential data, so backing up the data is an important step you must take. For this purpose, we recommend you look for a dependable disk cloning third-party utility. Try EaseUS Disk Copy. It is a safe data clone software and can be used for home as well as professionals to migrate and restore the necessary data on a Windows-based computer. It has made all the data backup and cloning easier, quicker, and safer.

EaseUS Disk Copy Pro Review – Best Disk Cloning Software You Can Use
The key features of EaseUS Disk Copy are listed below:
Support Windows 11/10/8/8.1/7/Vista/XP
Sector level cloning
One-click OS migrate
Resize partition when copying disks
Support GPT disk
Create a WinPE bootable disk
Price: It starts $19.90/Monthly.
Compatibility: Windows
How to use:
Step 1. Download, install and run EaseUS Disk Copy on your PC.
Click "Disk Mode" and select the hard drive that you want to copy or clone. Click "Next" to continue.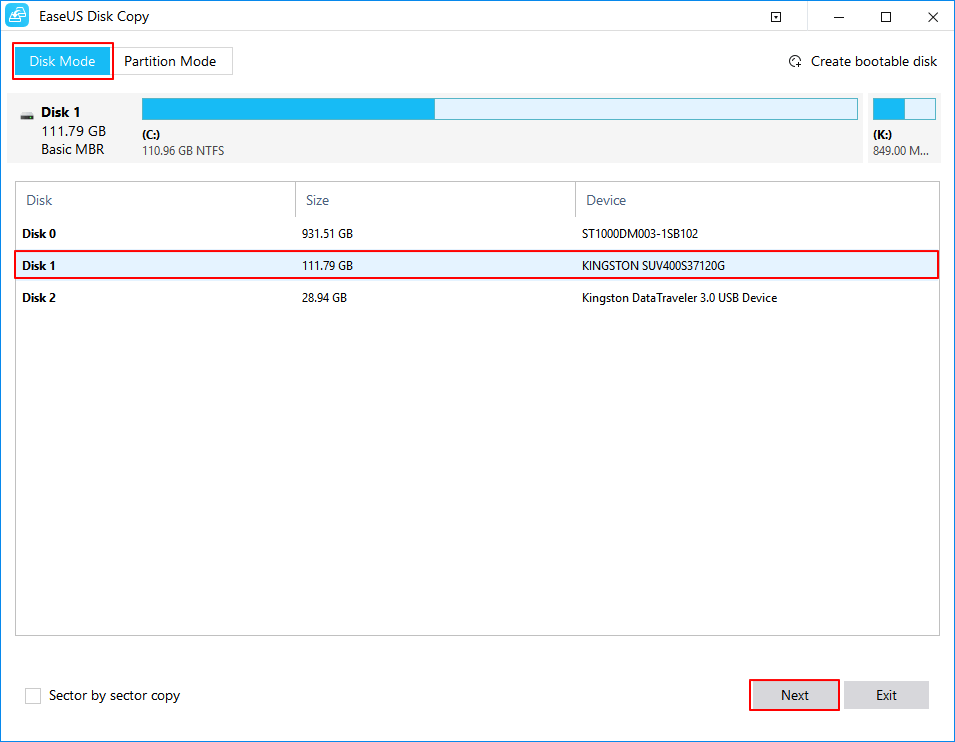 Step 2. Select the destination disk.
Note: The destination disk should be at least the same big or even larger than the source disk if you want to copy or clone the source hard disk.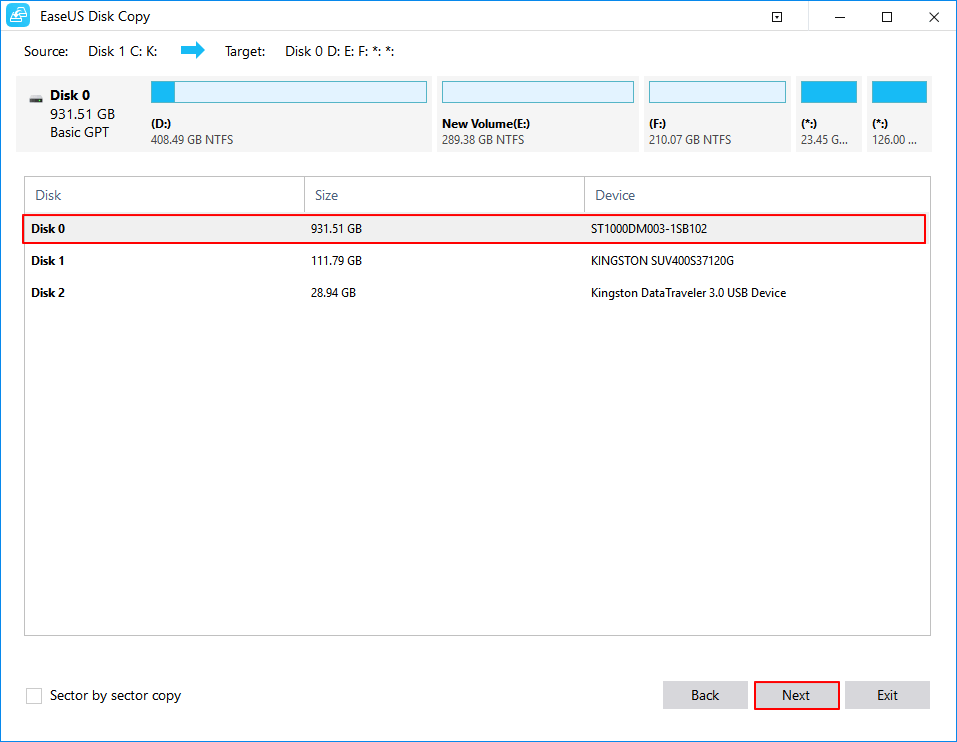 Step 3. Click "OK" to confirm if the program asks to erase data on the destination disk.
Step 4. Check and edit the disk layout.
If your destination disk is an SSD drive, do remember to Check the option if the target is SSD.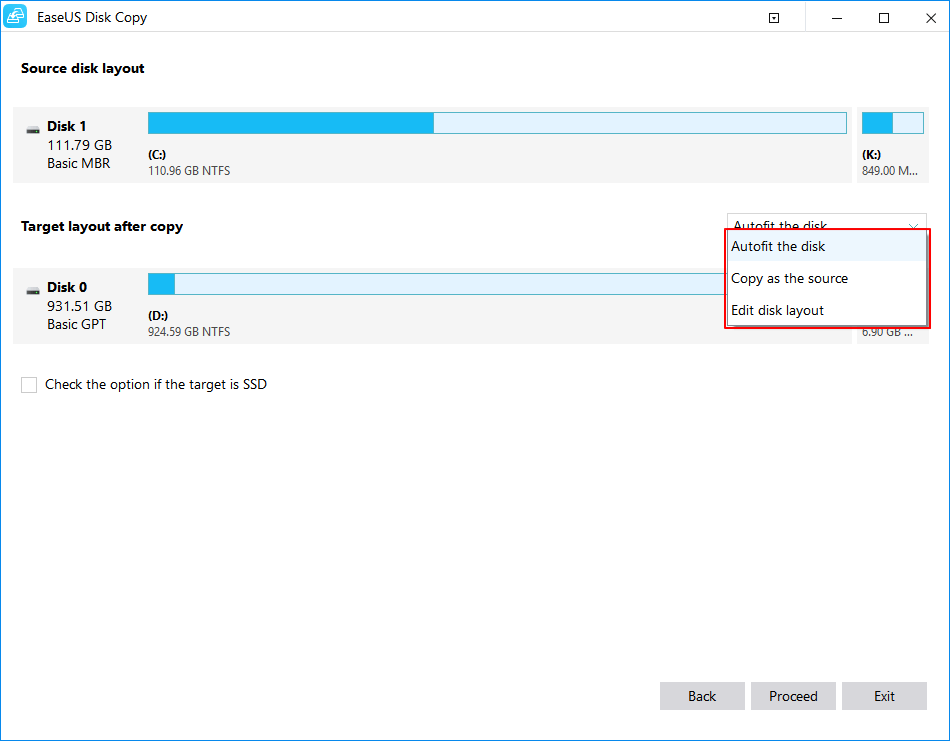 Step 5. Click "Proceed" to start the hard drive cloning process.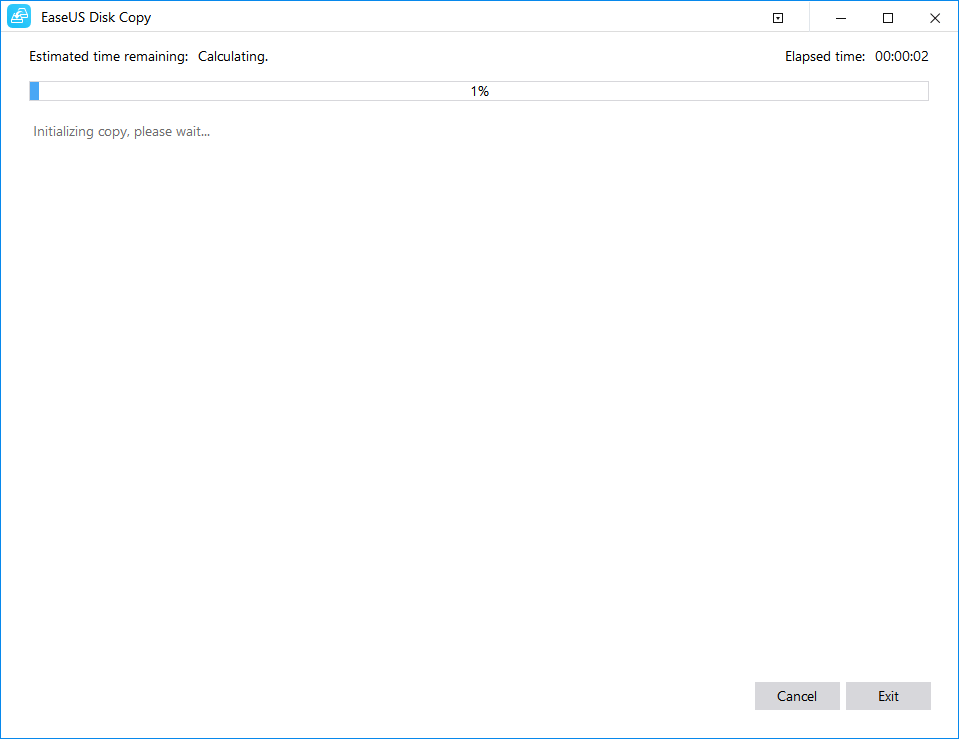 2. Macrium Reflect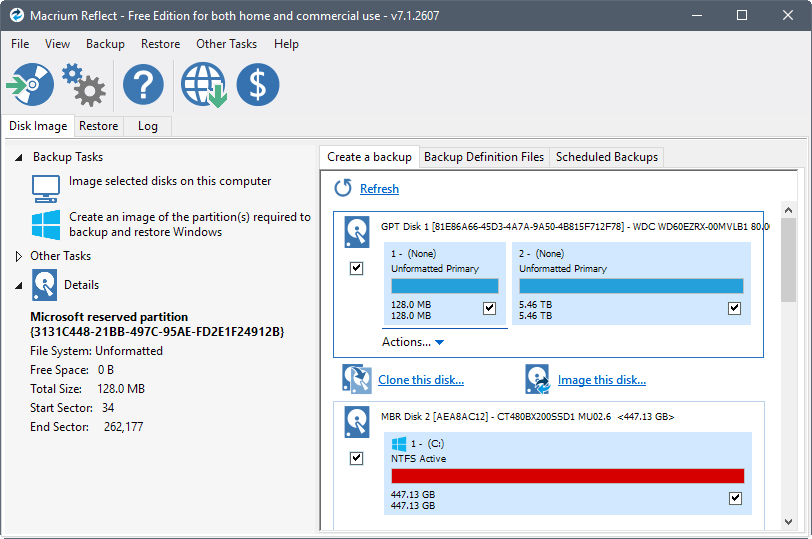 The Macrium Reflect offers help for Commercial and non-commercial use for creating a copy of disks, individual partitions, and files.
Pros:
It has features that enable one to clone the entire disk
It can create image backup for files and folders.
GPT and MBR support allows the creation of bootable drives.
Has a pre-defined backup template
Supports SSD trim
Cons:
Though the accessible version of the Macrium Reflect would be suitable for most users, an inclined business person should consider using the paid version instead.
Doesn't allow for Incremental backup and backup sync.
Price: The pricing plan for Macrium Reflect varies for both business and personal use. The personal use price package goes for $69.95. While for business use, there are nine different pricing plans you can check up on the website. You can try the 30-day trial version available for commercial editions.
Though the Macrium Reflect offers a free version for both personal and home use, its features are limited in this free version.
Compatibility: The Macrium Reflect works perfectly fine on Windows XP and later.
3. Paragon Software Hard Disk Manager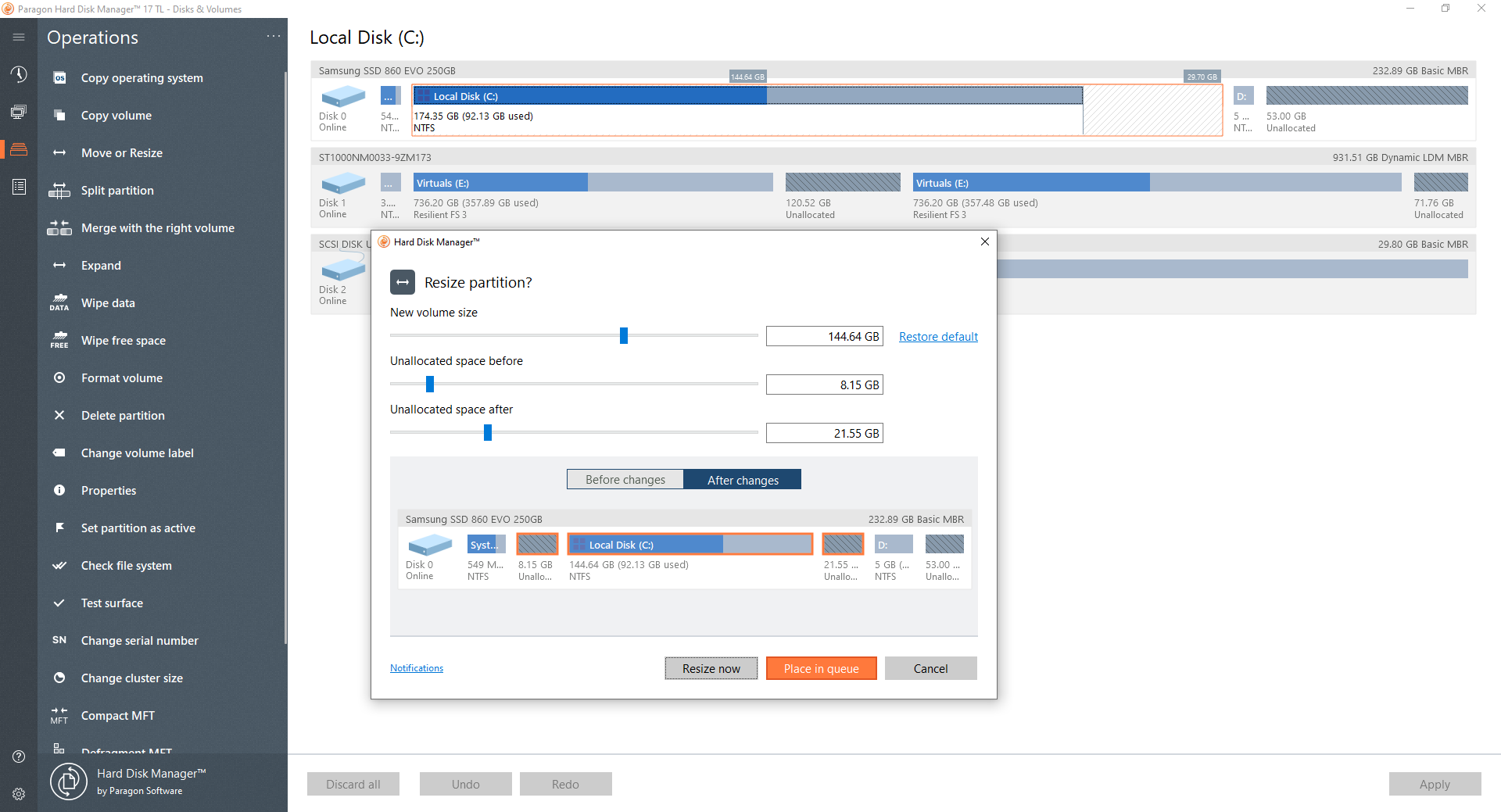 This Paragon Software Hard Disk Manager is ideal for Commercial and non-commercial cloning of disks. It has the basic functionalities for backing up and migrating data, and the application is excellent both for professional and personal use.
Pros:
Does data backup and migration
Has Basic partitions
Has MBR and GPT support
Has Microsoft Dynamic Disk Support.
Cons:
Does not support Incremental/Differential backups
Price: It has a price plan for both personal and business use. The personal use costs $79.95, while the business version is offered in four different packages stated on the website. In this software, there is no trial or free version available.
Compatibility: The Paragon Software Hard Disk Manager works on a Windows 7+ operation system.
4. Clonezilla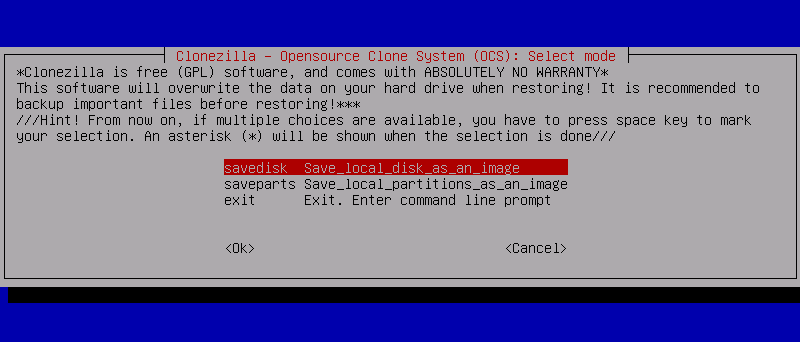 Clonezilla is a free, open-source hard drive cloning and imaging application. The Clonezilla is one of the few free cloning software tools that work on drives with bad sectors. This application allows the system admins to carry on bare backup and entire system deployment, supporting the simultaneous cloning of 40+ systems.
Pros:
● Does multicast cloning
● Has BitTorrent
● Does AES 256 encryption
● Has MBR and GPT partition.
Cons:
It does not allow for Differential/Incremental backup and Online imaging/cloning.
Price: It is free!
Compatibility: The Clonezilla would work on a Linux, Mac, and Windows system.
5. Acronis True Image 2020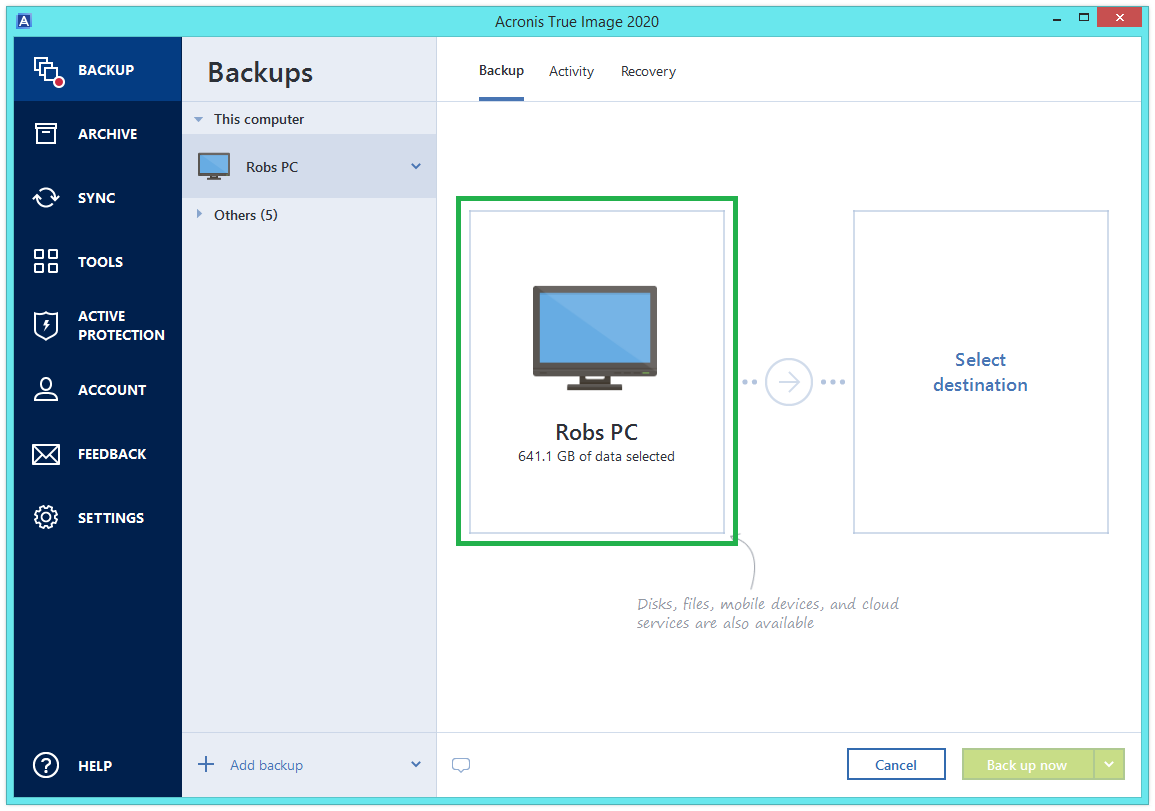 Acronis True Image 2020 is a disk cloning and mirror imaging software capable of doing many things. The application supports cloud disk cloning and backup management. It also features advanced AI technologies and blockchain data notarization that provides real-time protection against crypto-jacking and ransomware.
Pros:
Easy disk cloning and mirror imaging
Does cloud backup management
Has Incremental backups
Has Blockchain verification
Has End-to-end AES-256 encryption
Cons:
You will need Heavy Resource Usage to use this software
Price: Acronis True Image comes in three different pricing plans. A 30-day trial version is available to test the features of the software.
Compatibility: The Acronis True Image works perfectly well on Windows 7+, macOS 10.11+, iOS 10.3+, and android 5.0+ mobile devices.
Bonus tip: How to clone OS and programs
EaseUs Todo Backup is used for the commercial and non-commercial purposes of creating a backup of folders, files, and partitions on Windows and Mac systems. You only need to choose the type of backup you would want to get, and you can leave the rest for the program. The EaseUS Todo Backup proffers different options when you use it to create a backup. These options include Disk/Partition Back-Up, File Back U, System backup, and intelligent backup.
It provides you with the option of recovering your files to the original position or separate recovery location and the choice of you replacing existing files or not. EaseUS is very suitable for average users, but professionals may not find it appealing because it does not support some significant functions.
Pros
● It does image backup
● It does incremental and differential backup
● It can back up to the cloud
● It has an MBR clone function
Cons
● It does not support file sync and mirroring
● It does not support the GPT/GUID partition table.
Price: It starts $19.95/Monthly.
Compatibility: Windows
How to use
Step 1. Launch EaseUS Todo Backup software and then choose "File", "Disk/partition" or "OS" for different backup purpose.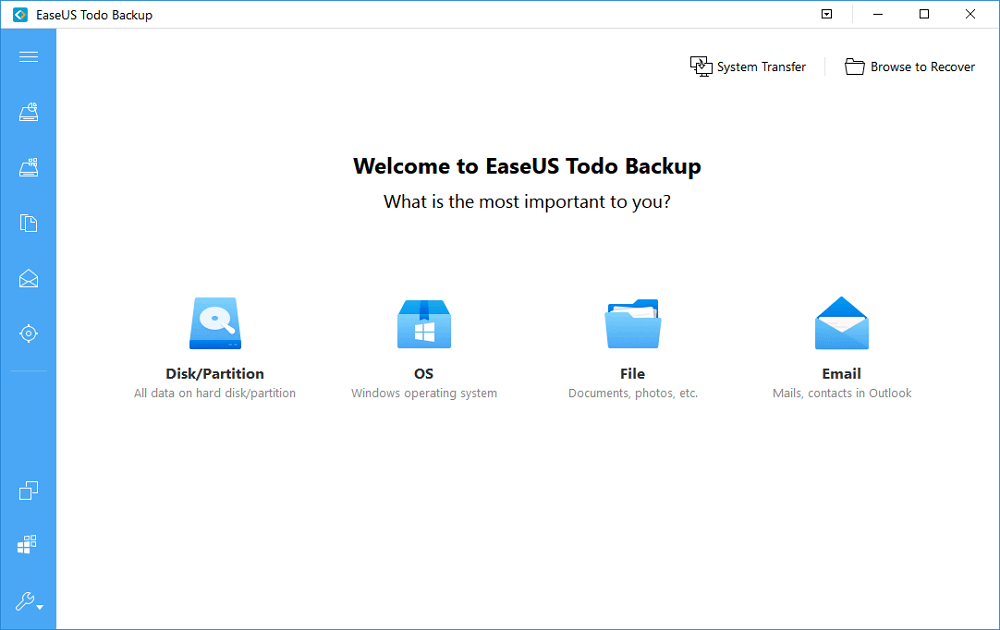 Step 2. Choose the system, disk partition, files or apps that you want to back up. Then click "Browse" to select a destination where you want to store the backup file.
 Product News

EaseUS Todo Backup now supports users to back up files to the cloud. All you need to do is sign up with an EaseUS account, then you could enjoy a large cloud storage space. More advantages of backing up to the cloud include accessing backup files anytime and anywhere, saving file copies offsite, so you don't need to worry about virus attacks or computer failures, and easier and faster backup and recovery operations.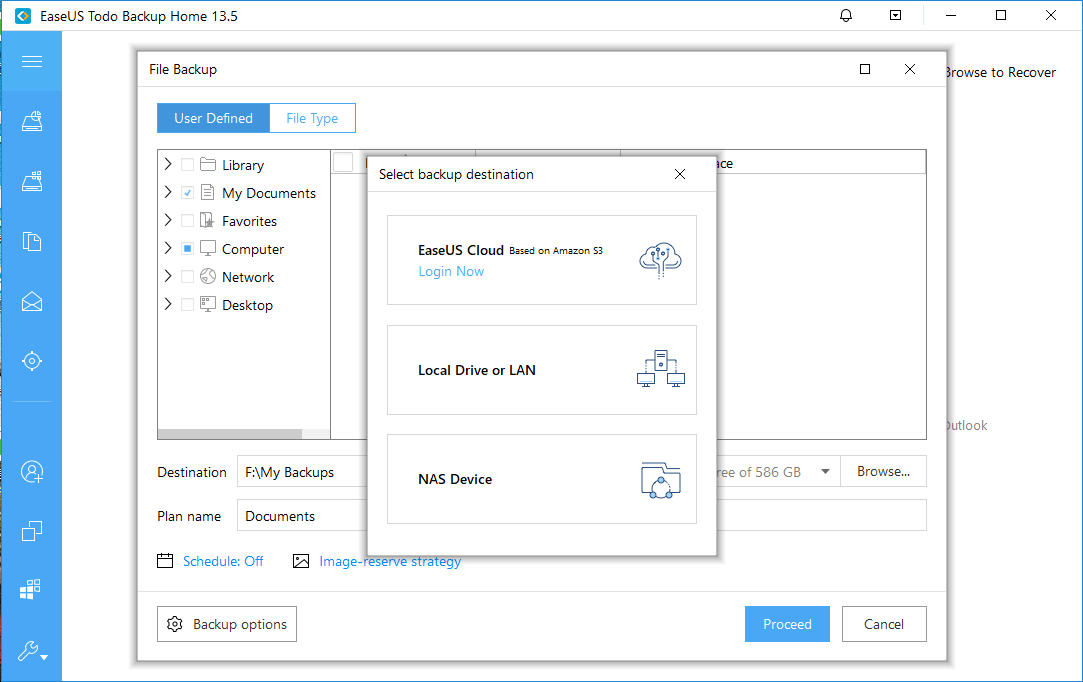 Step 3. Click "Save" to start the data backup process.
Conclusion
With the numerous benefits of disk cloning, using the most suitable software would be the perfect decision to make. Although several disk cloning software abounds, one of this software will suit well for your disk cloning: The EaseUS Disk Copy is your one-stop software to achieve your disk cloning management goal.
Price: It starts $19.90/Monthly.
Compatibility: Windows
No more content