The importance of having updated drivers cannot be stated enough. This is because drivers ensure the hardware components are firing on all cylinders and in turn improve user experience. 
In this article, we have gathered and reviewed the top 10 best driver update tools 2022 in a bid to ease your search. Irrespective of your budget and specification, you will surely find one that suits your needs on this list.
PCs are designed with default driver updater tools – Device Manager in most cases. Unfortunately, most updater tools fail to provide vital functions such as searching for the latest updates available, automatic installation, and sending updates alerts.
In essence, the best drivers update software should constantly update all your hardware drivers with little to no input from you. And this is where third-party driver updater tools come in handy. The best of them automates your computer's driver update with little settings.
Top 10 Best Driver Updater 2022
Driver Easy
Simple to use driver updater tool - With just a click, it automatically downloads and installs all outdated and missing drivers on your computer. Even if you can't access the internet with your PC, this one-of-a-kind driver updater allows you to download with another PC and copy to your PC while offline.
What's more, it has over 8 million certified and reliable drivers in its database. This ranks it amongst the drivers with the most extensive database. With its scheduled scans feature that allows you to be preset and forget update schedules, you know your hardware components will always be on a song without much input from you.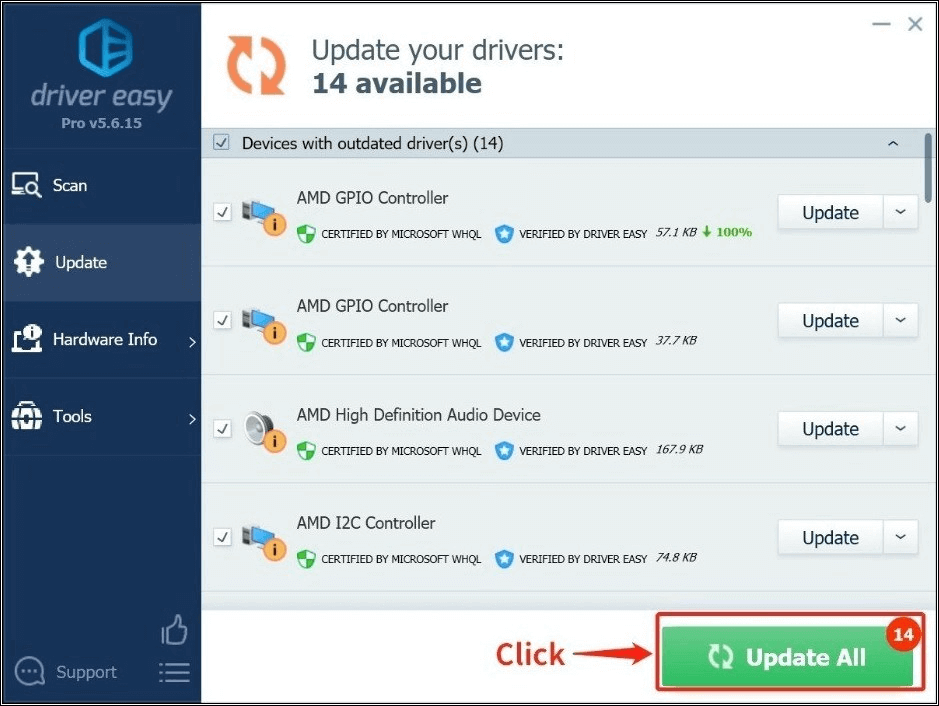 Price: Its 1 PC version costs $29.95/year, 3 PCs version costs $59.90/year.
Compatibility: Windows
Pros
Allows scheduling.
Drivers are downloaded within the software.
Works in offline mode.
Robust database.
Cons
Does not allow bulk download of drivers.
Some features are restricted to the paid version.
Driver download is sometimes slow.
AVG
Safe and secure driver updater software that only chooses official drivers from over 100 major brands, including HP, Microsoft, Sony, Intel, and Compaq. In addition, it automatically scans your computer at all times to update drivers or download missing or corrupt drivers.
AVG's database is frequently updated, ensuring that your computer only gets the latest drivers. Furthermore, it creates a unique profile for your PC to safeguard your PC gets the best drivers specifically for it online. Lastly, it allows you to back up your drivers if you need to restore unwanted driver changes later.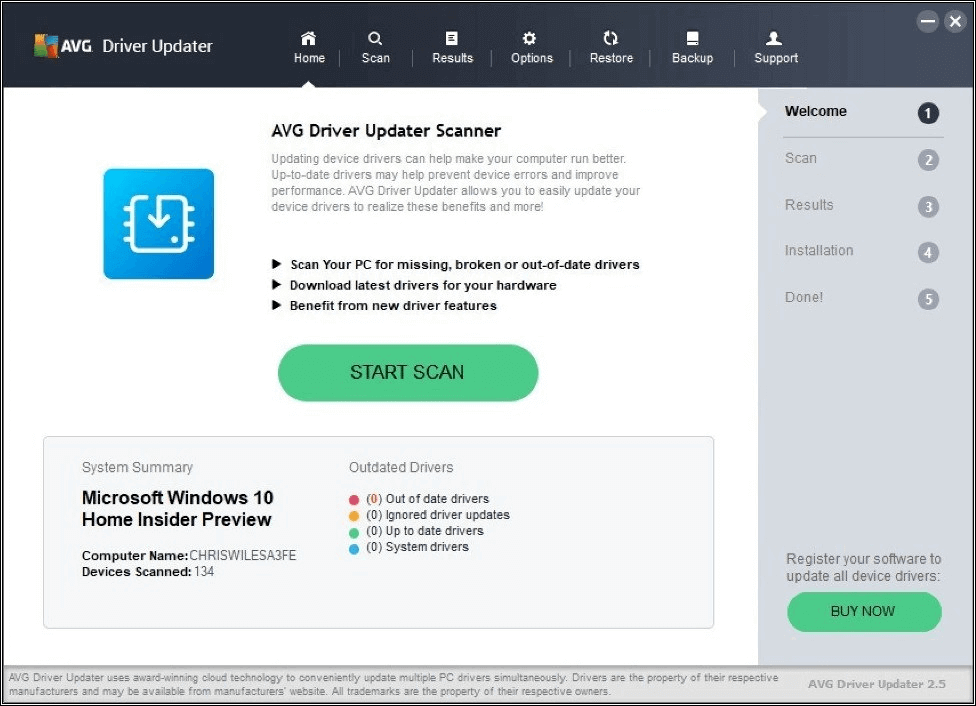 Price: $39.99/year.
Compatibility: Windows 
Pros
User-friendly interface.
Effortless driver download and installation.
Downloads drivers using cloud technology.
Backup drivers for future use.
Cons
Uses a lot of CPU resources when running in the background.
A bit expensive for a driver updater.
Trial version only scans.
DriverHub
Driver Updater software that is effective and reliable for users to scan, download, and install driver updates. It only downloads updates from the official sites of manufacturers, which makes it safe.
It provides an easy-to-use and clean user interface for easy navigation. Also, it eases the update process by suggesting the programs to install. However, you can decide to install other driver updates by using Advanced Mode.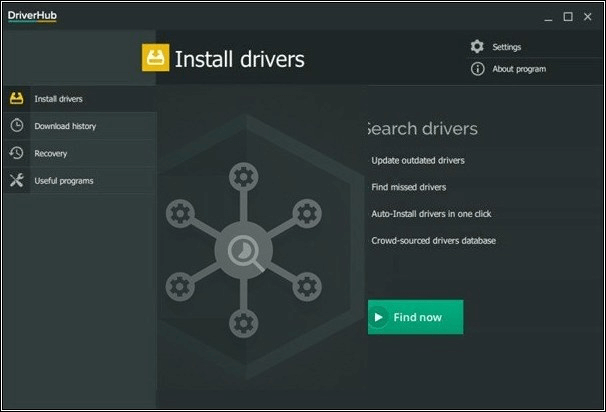 Price: pro edition at $9.00/month
Compatibility: Windows 
Pros
Easy to use interface.
Automatic installation of drivers.
Downloads drivers in bulk.
Cons
Does not have a schedule option.
Requires you to install some other programs during installation.
Download speed is limited.
DriverFix
A driver update software with a vast database - It has a whopping database of over 18 million driver files that are readily available for download. In addition, this database is also frequently updated to make sure you always have the latest drivers available.
DriverFix scans at a superfast speed showing you the results of outdated, missing, and corrupt drivers in no time. It also allows you to schedule driver scans and set update notifications for future updates. Lastly, there is the option to save your drivers in a zipped file for future use.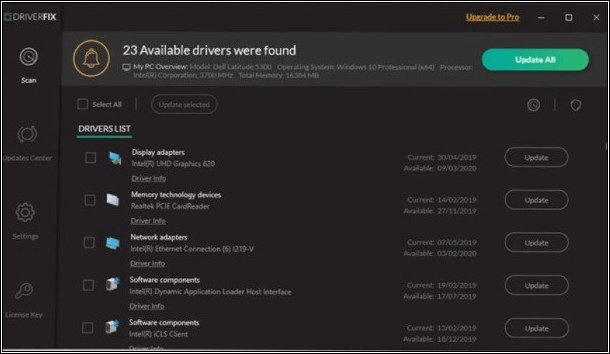 Price: $19.95/year (personal pack), $29.95/year (Family Pack), $39.95/year (Extended pack).
Compatibility: Windows
Pros
Superfast.
Huge database.
Uses little PC resources.
The interface has multiple language options.
Cons
The free version is limited.
The personal package is a bit expensive compared to other packages.
Pop-ups can sometimes be frustrating.
Ashampoo Driver Updater
Easy update scheduler - It has a backup feature that allows you to save and restore your desired drivers. The Ashampoo driver updater updates outdated drivers, downloads missing drivers, and also repairs & replaces corrupted drivers. It caters to popularly known hardware components and devices as well as those from not well-known brands.
It has over 400 000 drivers from trusted and official manufacturers available in its database. Similarly, it supports over 150 000 devices that consist of all the hardware components of your PC.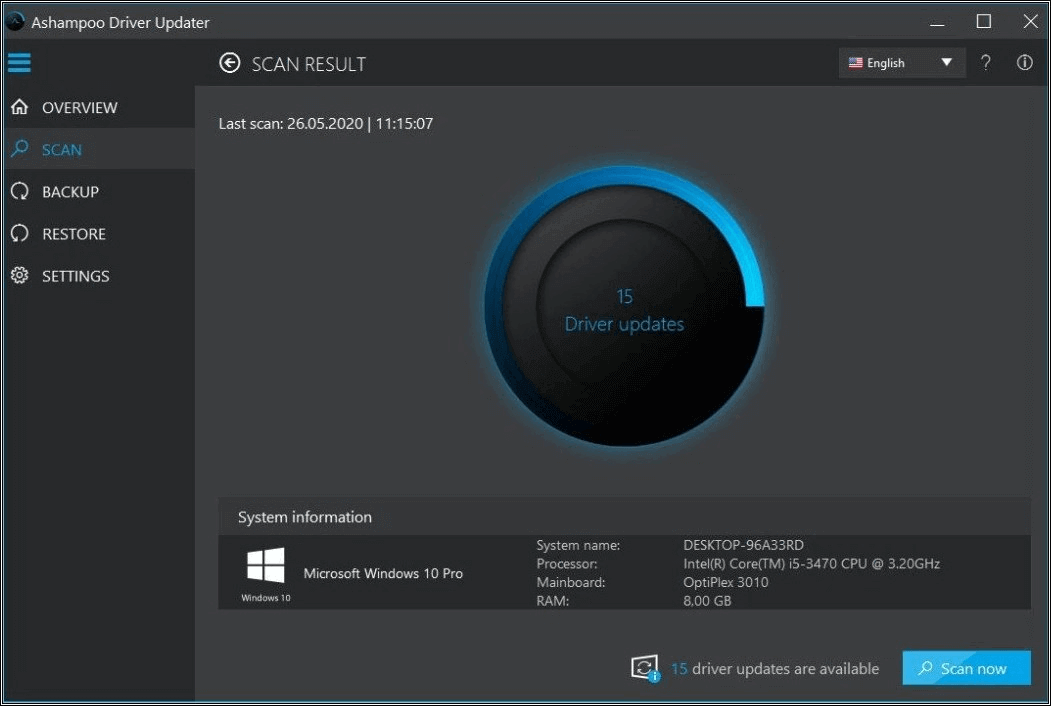 Price: $29.99/year for 3 PCs
Compatibility: Windows 
Pros
Optimizes system performance.
Relatively cheap.
Has multiple language options.
Free of ads.
Cons
Bulk driver installation is not available.
The free version is very limited
DriverFinder – Excellent Driver Backup
Excellent Driver Update and Backup software - In terms of backing up driver updates, few can match DriverFinder. It provides easy backup options that are readily available for restoring when the need arises.
DriverFinder can not only tailors driver updates to your PC's brand, OS, and model but also has the option of finding drivers for your external and removable devices. It has three levels of driver scanning for deep scanning and updates, even the less used hardware components.  Finally, this tool does not use much of the system's resources compared to other software.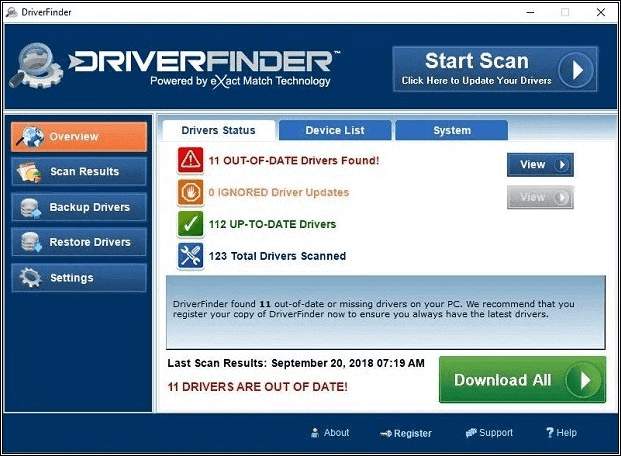 Price: $29.95 /year.
Compatibility: Windows 
Pros
Superfast scanning.
Constantly scans for updates even in idle time.
Effective backup and restore feature.
Robust database.
Cons
The website could do with improvement.
The user interface is old.
You must have activated it by paying before you can run the driver's scan.
Driver Genius
A tool more than a driver updater. Apart from its excellent driver updating feature, it also cleans up junk files, transfers files, and displays hardware information.
It has a vast database of over 2 million safe and reliable drivers. Also, it updates all outdated drivers and downloads missing drivers that could be slowing down your PC. Finally, it gives you the option of creating a backup of your drivers before updating them in case you need to restore them later.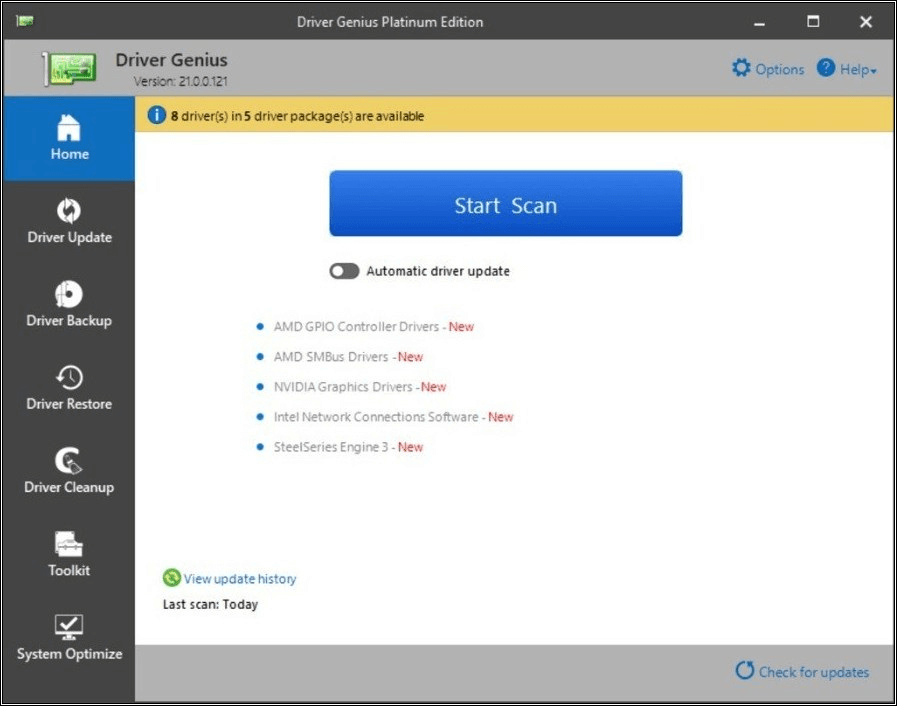 Price: $29.99 /year for 3 PCs
Compatibility: Windows
Pros
Optimizes system performance.
Huge database.
Drivers are from trusted sources.
Cons
The user interface could do with improvement.
Uses quite a lot of the system's resources when running in the background.
Driver Reviver
An easy-to-use driver update tool with clutter-free Interface. It scans at lightning speed and displays the scan results for action. Also, it automatically backs up your drivers before updating for reversal of updates at a later time.
Also, it has an exclusion feature for adding drivers you don't want to be updated. Similarly, there is the scheduler for automation of future scanning and updating of drivers. Lastly, the interface offers multiple language support for those with iffy English proficiency.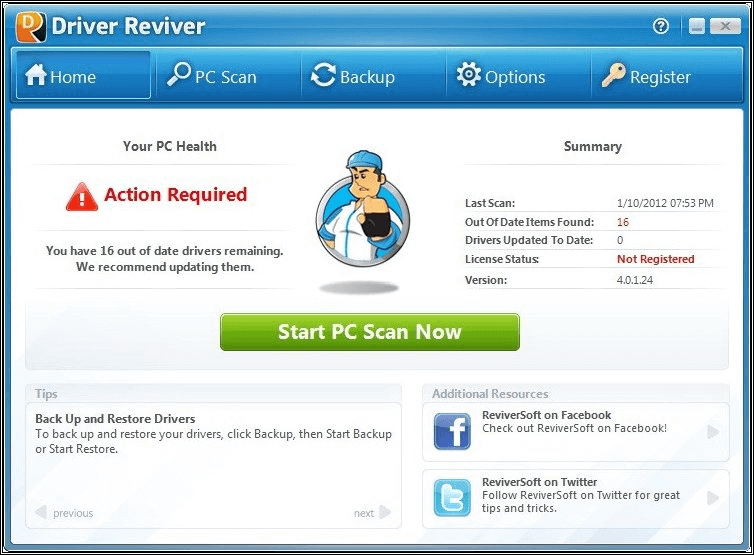 Price: $29.99/year
Compatibility: Windows
Pros
Automatically backs up drivers before the update.
An exclusion list helps to maintain desired drivers.
User-friendly interface
Cons
Drivers cannot be uninstalled.
Does not permit offline driver installation.
The price is a bit expensive.
Driver Cloud
A free online driver update software that scans the length of the web for possible updates for your drivers. It provides you with enormous options that are inexhaustible. It has an automatic installation option for installing the best drivers with the help of the software, while you can also install the updates manually.
It also has an offline scan option that is stressful and not effective as the online method. Also, it does not just show drivers updates but also other vital system information. Lastly, it builds a restore point for you in case you need to restore your drivers later.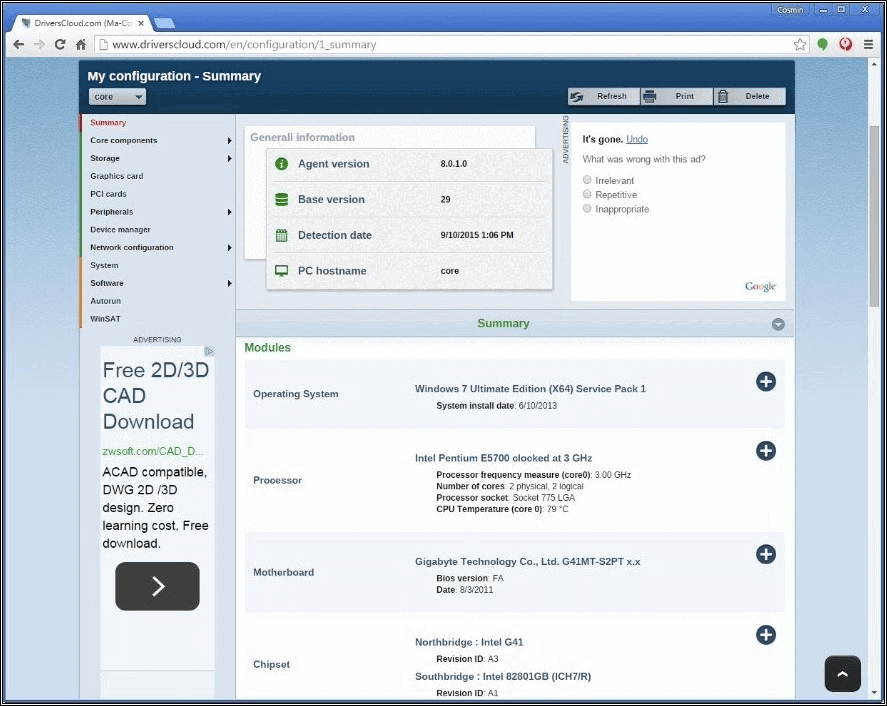 Price: Free
Compatibility: Windows.
Pros
The fast download of drivers.
Show hardware reports.
Work offline.
Find some beta drivers too.
Cons
The website is full of ads popups.
The automatic feature is not fully automated.
The information provided is sometimes ambiguous.
Driver Booster
An affordable Driver Updater software that offers a free version with a series of functionalities that can carry out essential updates and scans. 
All its drivers are sourced from the official websites of the manufacturers. This is to provide your computer with compatible and safe drivers. Also, it ensures that the drivers pass the Microsoft WHQL tests before they are installed on your computer. What's more, its Pro version boasts over 3 million drivers, a backup feature, and no activity limitation.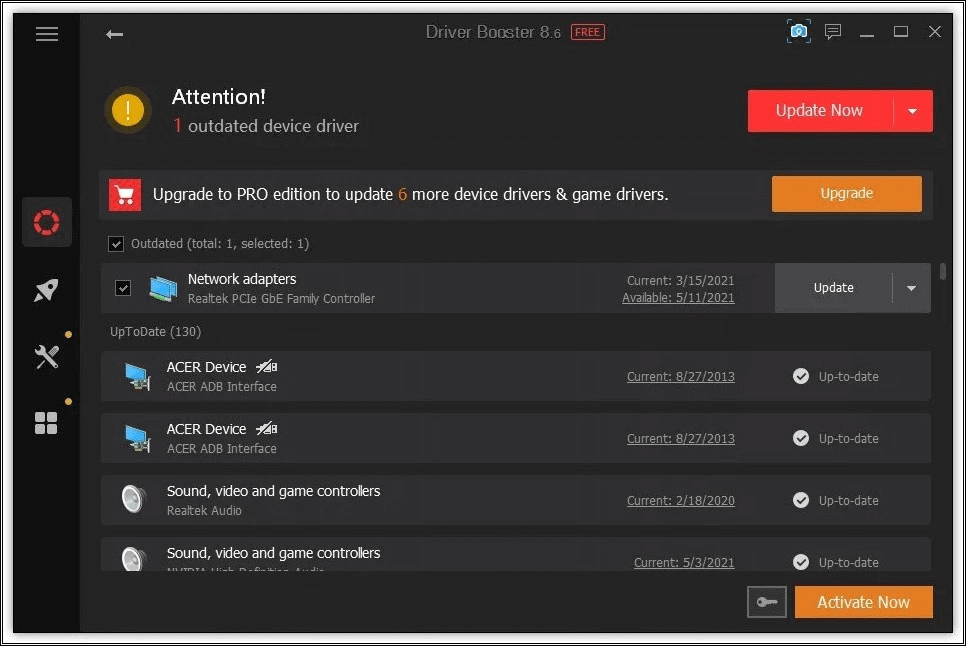 Price: $39.95/year.
Compatibility: Windows 
Pros
Drivers can be updated in the free version.
Drivers are downloaded from within its huge database.
Scans can be scheduled.
The interface can be customized.
Cons
The free mode can only carry out two driver updates per day.
Pop-up ads of manufacturer's other software.
Does not show alerts for missing drivers. 
Which Driver Update Software Should You Use?
Choosing a driver update software depends on a series of factors and features. However, there are some essential factors you need to consider before committing to any driver updater tool. Below are some of the defining characteristics to keep in mind:
Driver database: You need an updater tool with a large enough database to cover all your computer's hardware components.
Reputable Brand: The public image of a brand goes a long way to determine the reliability of its product.
Customer Reviews: There is arguably no better way to find out about any product than from honest reviews from people who have used the product.
Features: Features such as backups and restore, scanning speed, scheduler, and exclusion list should be the minimum you should look for in the best driver update software.
Value for money: Ensure you get the best value for whatever price you are paying. The cost of effective software does not have to be on the high side.
Driver Easy is an excellent all-rounder that fits the bill irrespective of the factors you consider. It boasts an incredible database, and it is of a reputable brand while also being relatively inexpensive for the work it does.
In terms of features and ease of use, it certainly ticks the right boxes. Lastly, it has a full money-back policy to back its reliability and efficiency. It is, without doubt, a good shout for the best driver updater tool.
No more content