WhatsApp status is one of the best ways to share with your friends and families. Not only do people enjoy it, but they also like to share whenever there is something new or exciting. One of the most addictive parts of such videos is that they are short, and you can quickly move to another. 
That said, what if you want to download those videos and share them? Not everyone can find the original video status and share it. Or maybe you want to share what your friend has shared. However, all this is impossible unless you get the original video you can share.
Since WhatsApp doesn't offer such a feature, it makes everything difficult. But everything has a solution. There are tons of apps that allow you to download, reshare and even watch the video status of someone else without getting noted. 
If you want to download these videos, you can use any of these Android and iPhone Apps to download them on your smartphone.
6 Free WhatsApp Status Video Download Apps for Android & iPhone
We have listed apps for both iPhone and Android, ensuring everyone is covered. They work with both images and videos.
2. Status Saver For WhatsApp Save
3. Status Saver Down for Whatsapp   
6. Status Saver For WhatsApp Scan
Some of these apps can also download status from other social media. So, make sure to try each of them, and find out what works best for you.
1. Status, Sticker Saver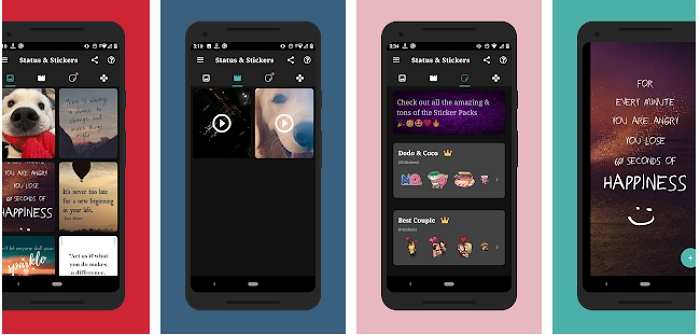 Status, Sticker Saver app can download WhatsApp status in high-quality format or any other format. The best part of using this app is that it can download the status from multiple contacts in one go. 
Since you will be using this app to share the status, you can also add stickers from their collection and make the status even better.
Features
Delete, Repost or Share WhatsApp status.
Easy Repost without Saving to save space
Built-in Image Viewer & Video Player
High-Quality Download
2. Status Saver For WhatsApp Save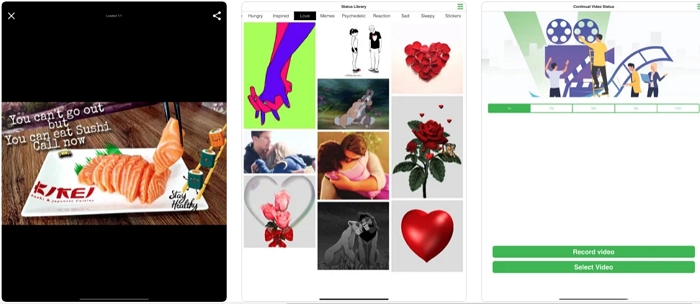 Status Saver for WhatsApp is a small, simple, and speedy Status Saver app for iPhone Users with which you can save your WhatsApp Status videos from WhatsApp to your Phone. 
Once downloaded, you can watch them offline, even on iPhone and any iOS device using the built-in viewer. So, if you are worried about restrictions on iPhones, this app has you covered.
Features
Supports iPad and Web QR Code to connect.
Works with WhatsApp Business
View WhatsApp Status in invisible mode.
Built-in photo editor to add effects
40 handcrafted filters with live previews, color correction, effects, text designs, stickers
3. Status Saver Down for Whatsapp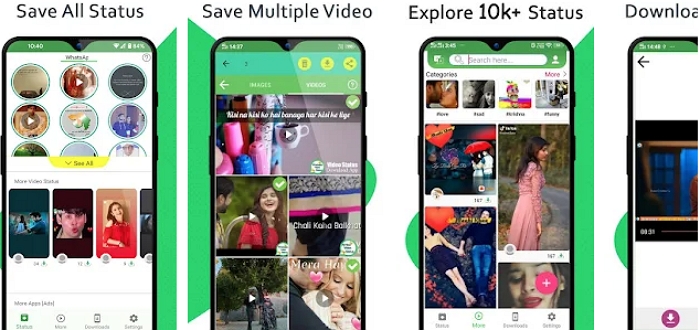 The Status Downloader app is an excellent application that allows you to download status videos right in your WhatsApp inbox. The app is well-designed, easy to use, and features a powerful downloader tool. The app also comes with a built-in file manager. 
Besides, the app lets you set it as the default video downloader and video player. It maintains a history of all your downloaded videos for quick access. It is available in both free and premium versions.
Features
Automatically download all latest status videos from Facebook, WhatsApp, Instagram, Vine, BBM, Twitter, Snapchat, and Reddit.
Download videos in HD quality
Supports multiple languages
Automatically download status videos in consecutive order.
Manage all downloaded status videos in a single location.
4. Status Save To Gallery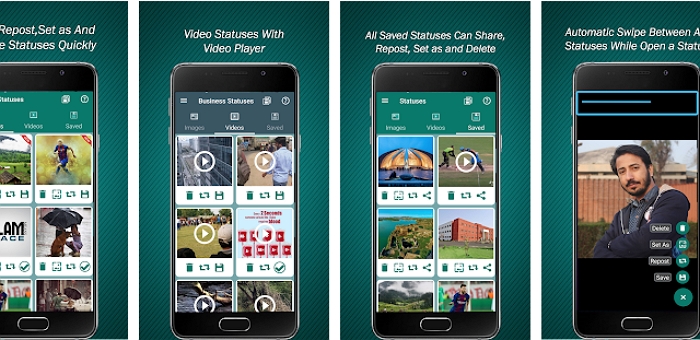 Status Save to Gallery WhatsApp Status Video downloader app is a Video downloader app that saves status videos. By downloading status videos, you can save them to your gallery. You can save the status videos as a GIF, a PPT, a GIF, and a Video. 
The app supports status videos from WhatsApp, Facebook, Twitter, Vivo, WeChat, Snapchat, Line, Skype, Instagram, Kik, Tango, Viber, etc.
Features 
View all types of statuses such as business and usual.
Save multiple statuses on the go
Reshare videos without saving
Download status videos in any folder
Built-in media player to play videos.
5. Helo Video Status Saver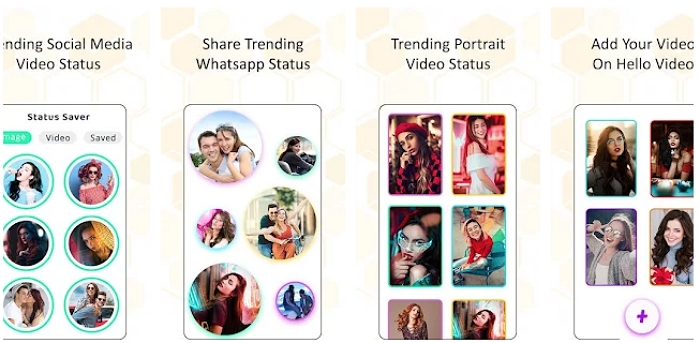 It is an excellent downloader app that can simplify your life, especially when downloading and sharing videos. Apart from downloading the status video, you can also create your status using the built-in tool, stickers, and video collection.
Apart from downloading status, you can also entertain yourself with the built-in social network where you can find new ideas for WhatsApp status.
Features
Create your status using the status maker feature.
Enjoy free video status, status video, status music of your friends.
Fastest video downloader app with no ads
Download and watch videos from WhatsApp, Facebook, and other social media groups
Search video status by category
Make a whatsapp sticker from any image from the gallery.
6. Status Saver For WhatsApp Scan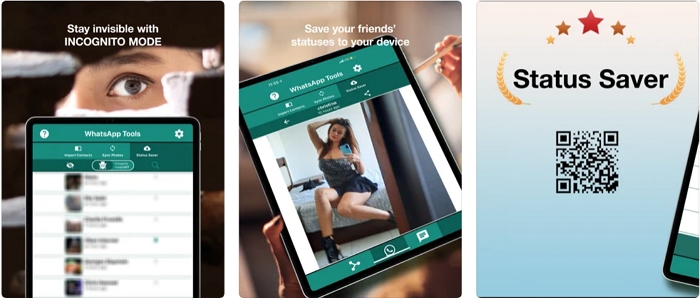 If you are looking for a status saver that allows you to watch and save WhatsApp status on your iPhone secretly, this app is the simplest of them all. The app scans through the WhatsApp folder to find the status videos and images and then allows you to see through. The app also makes sure you can watch the status in invisible or incognito mode.
Features:
Offers iPhone Widget apart from the downloader
Can import contacts from WhatsApp to iPhone address book
Sync WhatsApp contact profile pic with address book
Open WhatsApp chat without saving to contacts
Merge Duplicate/Similar Contact
Final Words
Downloading the WhatsApp Status video is easy if you have the right app on your phone. While we have listed the six best apps you can try,  we find Status Saver For WhatsApp Save and Helo Video Status Saver better than these.
It is best to pick an app that helps you download the status and helps you create one. Helo Video Status saver is one such app enabling you to find out trending videos and download and edit them. If you want something simpler, try out Status Saver For WhatsApp SaveStatus Saver For WhatsApp Save, which simply downloads the video and is done with it.
However, the choice will change based on your preference, and hence it's best to try. That said, ensure you don't misuse the app to download and share videos that people would like to keep personal. It is always a good idea to take consent. 
Want to download videos from YouTube, Facebook, or any other social media websites? Then, you can try EaseUS Video Downloader, reliable and professional software that can help you download videos from any site. What's more, you can use it to extract MP3 format music, with the different qualities you can choose from. download and give it a try.
Price: Its Windows version starts at $23.95/month for 3 PCs, its Mac version starts at $39.95/month for 3 machines.
Compatibility: Windows and Mac
No more content