In the technology-focused world of today, data safety is highly important. Most devices, software, and functions run on different data types, so any loss can badly affect users. Around 90% of companies do not keep any data backup and, as such, cannot manage to recover their lost data. Here, looking for the best data recovery software is the right step to take. These programs can efficiently retrieve all lost data from damaged hard drives, CDs, or software without potential crashes. 
Making a choice itself is a hard task with so many varieties available. Moreover, they have different capacities, device compatibility, features, and file recovery functionalities. So, carefully understand your requirements and first assess the brand/product value. 
Data Recovery Software Selection Criteria
For the best experience with data recovery, you must install trustworthy software that manages the tasks it promises. Here, there are particular factors you should consider to distinguish the right options outs of the varied software alternatives available. 
Storage compactivity- The compatibility of the software with various devices and storage media is crucial for determining which data recovery software is highly efficient. The best options support different file systems, including FAT16, NTFS, FAT32, and exFAT. 
Strength- Another important thing you should focus on to select the best data recovery software for PC is the power of the software on different electronic devices. Top-quality varieties recover data quickly and have a simple, user-friendly interface. 
Encrypted media recovery- Some tools allow users to encrypt any sensitive data, like BitLocker Drive Encryption for Windows users. If you lose the encrypted data, you have to use powerful software to pull said data. Here, choose specific software types that support the encryption tool.
Types of data- There are software options that only recover specific data types from corrupted files, drives, or software. Moreover, they can successfully retrieve only specific types of data content, like standard HTML information or graphical data. The top-grade versions can successfully pull a wide variety of files in several formats, like email data files, photos (JPEG, JPG, GIF, PNG, etc.,), documents (DOC, DOCX, XLS, etc.,), audio (AAC, MP3, etc.,), and video (MP4, MOVI, AVI, FLV, MKV, etc.,). 
Preview- One of the best features that only a select number of top-ranking data recovery software types includes is preview capability. It gives users a glimpse of the file content before downloading it into the device.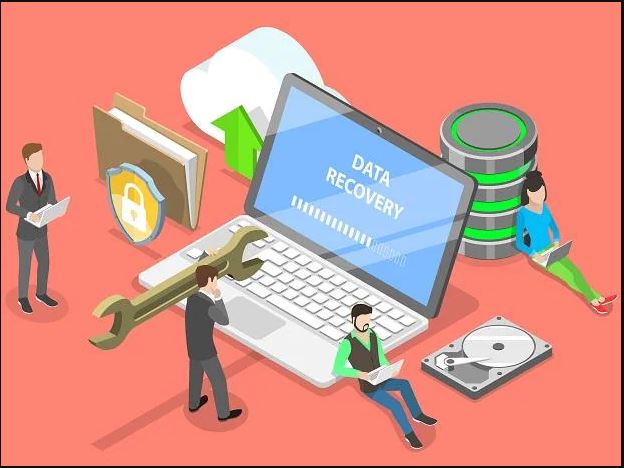 Top 10 Best Data Recovery Software 
Now that we have covered why we need data recovery software, it is time to select the best data recovery software Mac or Windows can trust. Here is a comprehensive list. 
This type of data recovery software is one of the best options available that supports both Mac and Windows. The usability of this program is very simplistic, making it an easy option to download and begin processing. Users with a limited understanding of data recovery can understand and use it quickly. 
Through this version, you can recover different types of lost data like documents, images, files, and videos in case of issues like partition loss, formatting, virus attack, OS crash, or voluntary deletion. The software repairs the data as well.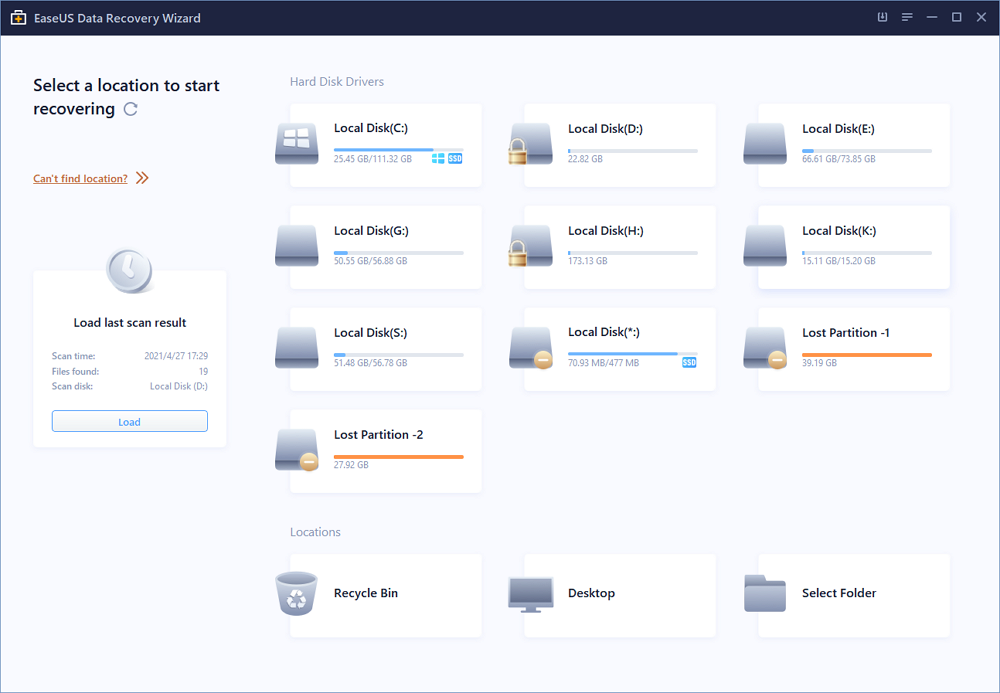 Price: $69.95 per month
Compatibility: Mac OS X 10.9 or higher, Windows 11, 10, 8, 7, Vista, XP
Pros: 
The powerful data recovery process includes flexible scanning modes. 
Preview before recovery is a useful feature to save time. 
Simple sorting/filtration for deleted files 
Cons: 
You can't create a bootable USB for data recovery with this version in case your system crashes or fails to start.
No free recovery in the trial version. However, you can recover up to 2GB of data with the free version. 
Scan time can sometimes appear wrong
Editor's Suggestion: We suggest you should use its free version first to test its recovery quality before you decide to purchase EaseUS Data Recovery software.
Price: It starts $69.95/Monthly.
Compatibility: Windows and Mac
This particular software has a very simple interface and is very easy to understand and adapt to. Furthermore, this particular software for data recovering can retrieve a wide range of file types in terms of performance. Many good features are available under the free version. 
In terms of usability, the software allows data backup benefits from rewritable media systems, like USB sticks, external hard drives, memory cards, etc. After a deep scanning, users can recover deleted/lost images, documents, music, videos, and emails.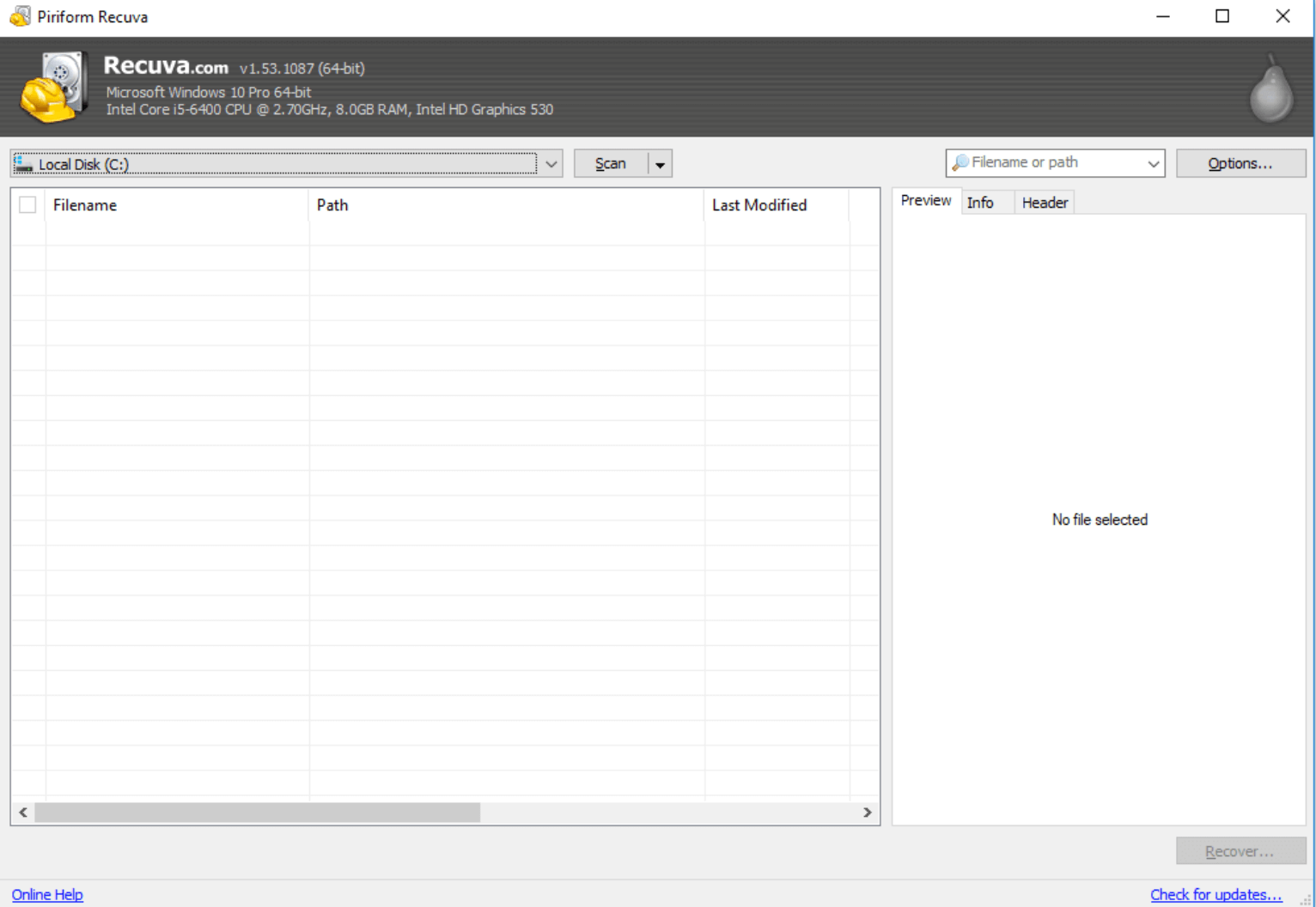 Price: $19.95 (1 Year Recuva Professional)
Compatibility: Windows XP, Vista, 7, 8, 10
Pros: 
Multi-format support 
Multiple previews 
Low cost 
Cons: 
Recovery is standard-level 
Better alternatives available 
Only works on Windows 
Editor's Suggestion: Recuva is only available for Windows, so do not trust any link or advert that promises access to Recuva for Mac.  
Stellar Data Recovery software is one of the best data recovery software for Windows 10, with a wide range of benefits on offer. It works well with many storage media systems, like FAT (FAT32/FAT16), exFAT, and NTFS formatted hard drives, memory cards (CF cards, micro SD cards, SD cards), USB flash drives, and SSDs. 
This service provider has two versions available, with different paid fee structures to get lifetime licensing. The professional version does not come with a photo or video recovery.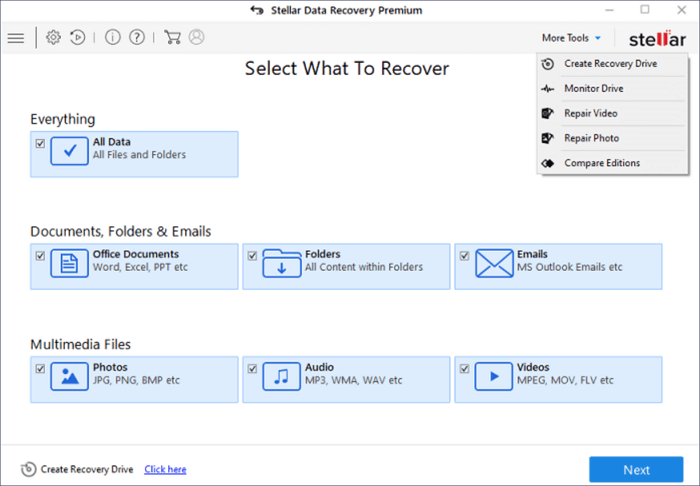 Price: $59.99 per month
Compatibility: Windows 7, 8, 10, 11, and macOS 10.11 or higher
Pros: 
Simple usability 
Different storage device support 
Easy previews 
Cons: 
Slow recovery and scanning 
Little Costly 
Glitches while selecting a storage device
Editor's Suggestion: It is a professional-grade software, mostly for high-level data recovery needs.
4. Disk Drill - Supports Many Formats
Different types of users can take the help of Disk Drill for data recoveries, such as home users and even professional companies. The functionality of this software is high-class, ensuring a smooth data recovery experience for users. It works with different file systems and storage devices and has a unique scanning algorithm to check for malware/spyware and other issues. 
It supports over 400 different types of file formats. Users can recover around 500MB of data while using it on Windows. File selection and review option is available before recovery, and they are kept in the Recovery Vault.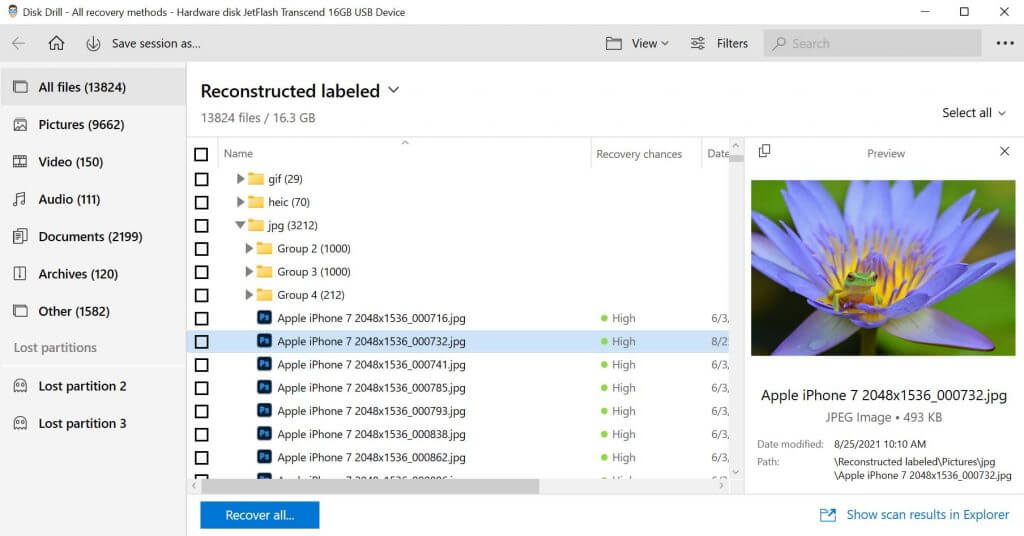 Price: $89 One Time Fee
Compatibility: Windows XP, Vista, 7, 8, 10, 11, and macOS 10.11.6 or above
Pros: 
User-friendly intuitive interface design
Works with more than 400 file types 
High-quality scanning algorithms 
Cons: 
Zero phone support 
File previews only on the free version 
Average speed for scans
Editor's Suggestion: From free to paid, the user interface is always simple here. 
5. R-Studio - Best for Professional Use
This particular type of data recovery tool is useful for specialists with a basic understanding of data recovery. Most beginner levels struggle slightly to know and operate R-Studio to its highest ability. 
Here, users can use different data recovery processes simultaneously with the multi-tab breakdown ability. The software supports different partition layout designs and file systems and can easily recover deleted/damaged partitions. You can restrict recovered files into creation time, extensions, access time, modification, etc.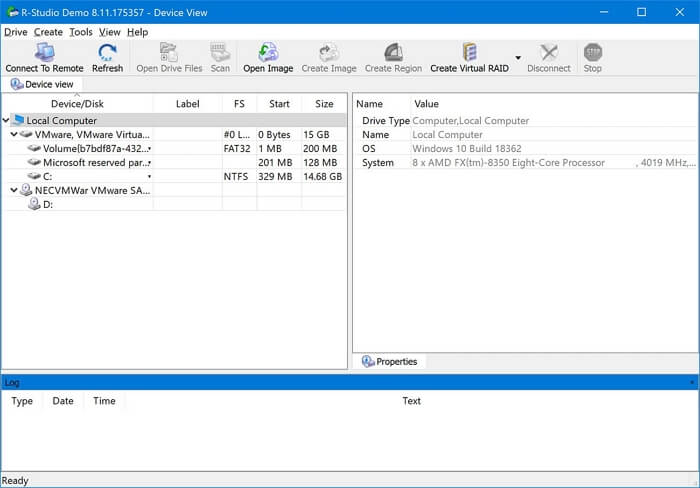 Price: $79.99/yearly
Compatibility: Mac OS X 10.5 or above, Linux, Windows XP, Vista, 7, 8, 10
Pros: 
Advanced data recovery features 
Disk sanitization 
Bootable ISO image availability 
Cons:
Non-technical users can use it well
Some formats are open to preview
No scan result display
Editor's Suggestion: Best for professional-level users who can fully utilize its features.
This particular software for data recovery is one of the best versions available online for Windows devices. The software has a rich and simple user interface that includes icons for the main screen features in large button shapes. Overall, the menu is simple and easy to navigate. 
Usable disk tool features better RAID recovery, fast recovery speed, scanning, and secure detection. Appearance-wise, the software is fit for home-based system users. However, the price value of it is extremely high.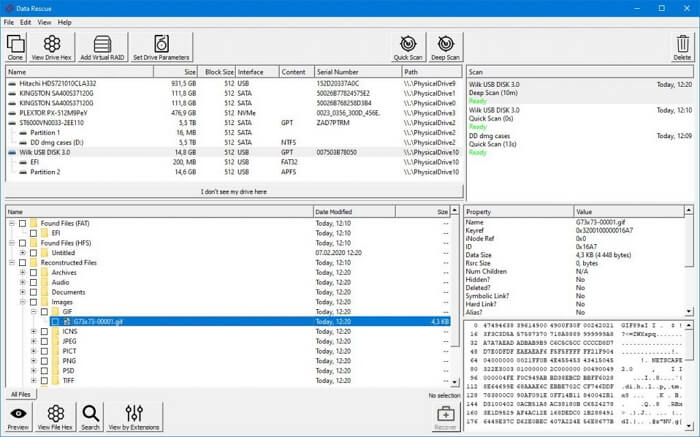 Price: $471 for Annual License
Compatibility: Windows 7 or later and macOS 10.12 or later
Pros: 
Simple and clean interface.
Drive duplication feature available. 
Can determine RAID configuration sets automatically
Cons: 
High cost 
The recovery process is complex 
Not best for basic usage only
Editor's Suggestion: It is more costly for homeowners; best for business-level use. 
The Remo Data Recovery Software is one of the most reliable options for quick and easy data recovery from different devices. Users can retrieve different files like video, photos, files, and audio from varying device types. 
The two scanners for deep scanning and easy scanning quickly and efficiently find all formatted and deleted partitions. This data recovery software supports ExFAT, NTFS5, FAT32, NTFS, and FAT16 file systems. It works to retrieve data from corrupted hard drives and crashed computers easily.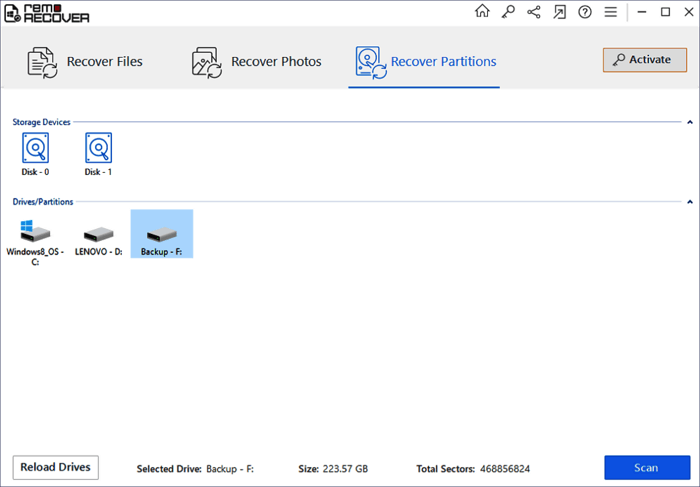 Price: Starts from $39.97
Compatibility: Windows XP, Vista, 7, 8, 10, Mac OS X 10.5.x and later, Android
Pros: 
Supports multiple formats 
Easy user interface 
Permanently deleted file recovery 
Cons: 
Long scanning process 
No sorting ability 
Images are previewed only 
Editor's Suggestion: It can work offline, so do not worry about data transfer to other devices.
This particular data recovery software is very similar to Stellar Data Recovery Software. Users opting for this variety can efficiently recover all deleted or lost images in case of hard drive crashes or accidental deletion. 
Home users are the ones who use Ontrack EasyRecovery more often. This is because its simple and intuitive interface requires no special learning. It supports different file types and can repair the recovered data properly.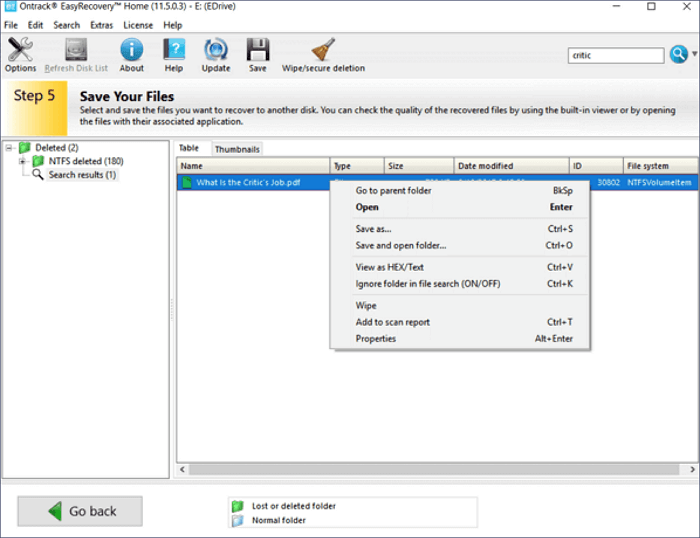 Price: $79.36 for One Year License
Compatibility: Windows 7, 8, 10, macOS Big Sur support
Pros: 
Simple interface 
Easily navigable 
Many types of programs 
Cons: 
Top tier plans have high price 
Need to manually backup
Not original 
Editor's Suggestion: The Version 15 option includes more optimized features, so use that. 
This software supports different types of formats for data scanning and recovery. Essentially, users can quickly get their files back after fully scanning the system, with deep and quick scan features. Users can also get a free preview first.
The file recovery process is simple for both new users and veteran Windows users with data recovery experience. Plus, the resume recovery process is simple as well.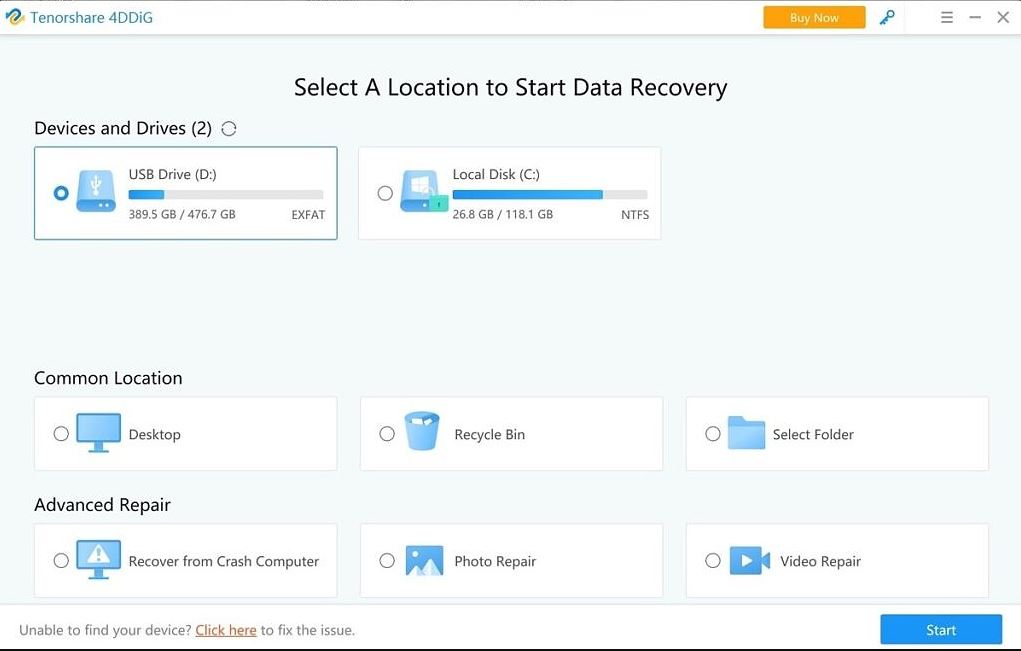 Price: $45.95 for 1 license for 1 computer
Compatibility: Windows 7, 8, 10, 11, and macOS 10.10 and above
Pros: 
Recovery possibly from different devices 
Moneyback guarantee
Technical support and free upgrades
Cons: 
Select drives one by one 
Data recovery is not free
Better alternatives available 
Editor's Suggestion: It is suitable for first-time users. 
One of the best software for PC performance improvement is Glary Utilities Pro, which fixes crashes, errors, and freezes. It promises high processing speed and includes a simple interface.
It ensures a clean and fast operating PC system and promises high data security. Some of the best features of this software include system cleaning, privacy protection, and even registry repair, all in an automated mechanism.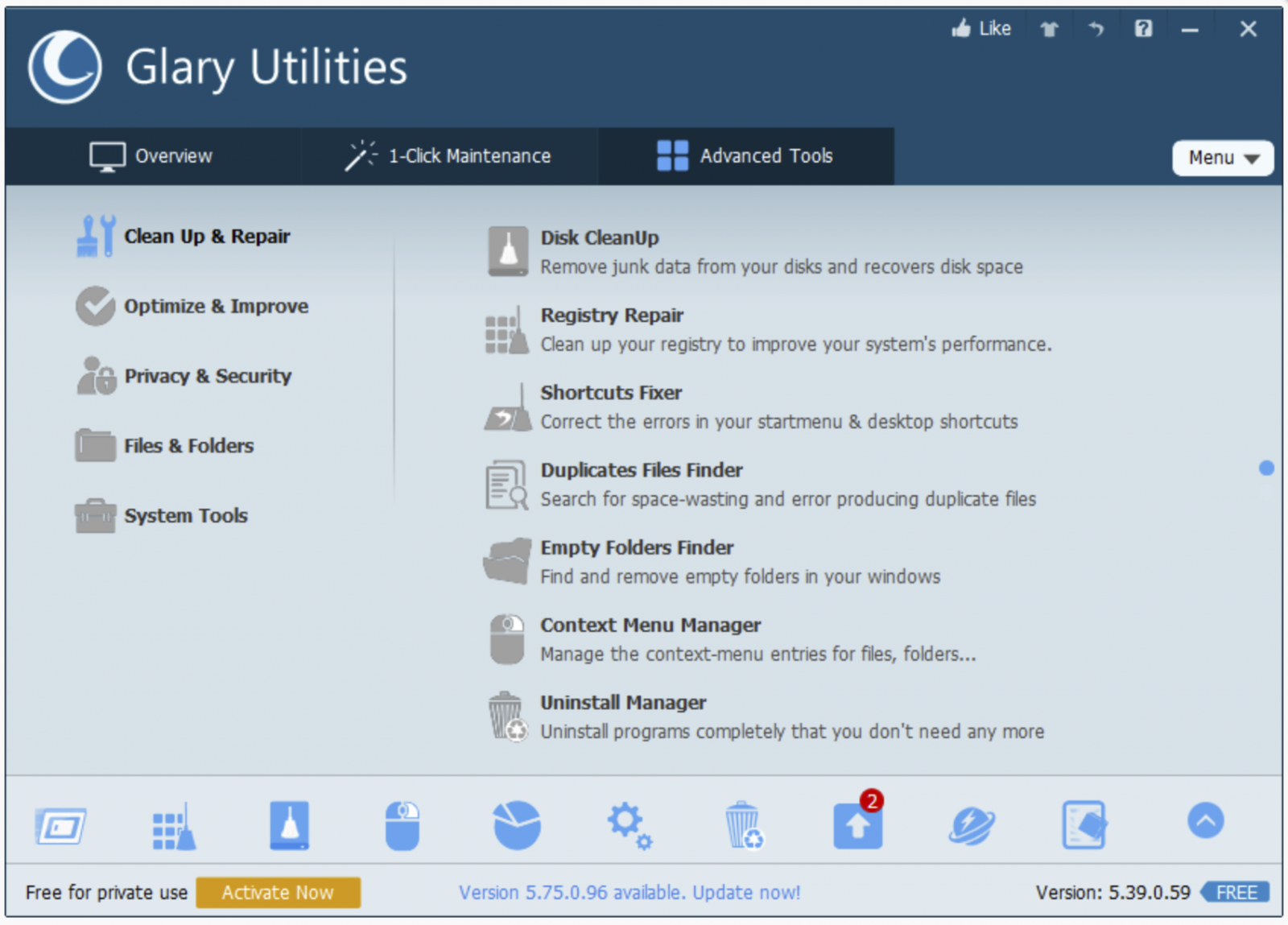 Price: $19.97 for 1 Year
Compatibility: Windows XP, Vista, 7, 8, 10, 11
Pros: 
Quick Processing 
Certified and licensed 
Attractive UI
Cons: 
Does not support many formats 
Not compatible with multiple OS
Not the best security 
Editor's Suggestion: Its services like File Decrypter/Encrypter protect files from unauthorized access attempts. 
Which Data Recovery Software Is Best for You?
Ultimately, make your choice for a data recovery software based on your needs. There are multiple options with high-quality uses, one of the best being the EaseUS Data Recovery Wizard. It allows both advanced and Quick Scanning, has an optimized recovery algorithm, supports various formats, and allows pre-recovery previews. Choose the best one for you after carefully researching all options.
No more content