DirectX is a set of Microsoft Windows APIs for creating graphics and audio programs. Manufacturers of audio and graphics devices produce DirectX drivers to work with the DirectX APIs, which Windows developers use to program. Using DirectX, you may "directly." low-level access functionality via a high-level interface. It uses Windows' hardware abstraction layer to get at this information.
In 1995, Microsoft released the initial DirectX API to encourage video game developers to port their programs to Windows. In the days before DirectX, PC games were developed in DOS so that the screen could be redrawn quickly enough for real-time animations. Because of this, game developers had to design drivers for a wide range of graphics cards, which was a time-consuming process.
Windows' GDI graphics interface lacks access to the graphics card's frame buffer and other advanced functions, while DirectX does. Drivers for graphics hardware's low-level functionalities were immediately developed after DirectX was announced by vendors. 
5 reasons force you to update DirectX drivers
DirectX can emulate visual operations in software that aren't part of the graphics card through HEL (Hardware Emulation Layer). Now, if the user requires the maximum output from the hardware, DirectX will help draw the juices out of peripherals. The updated version of DirectX is way more important for your games or applications to interact with the PC's hardware components. You need to consider updating DirectX drivers for the following reasons.
Top tier developers of Video Games support DirectX to develop games for the Windows platform.
Users can get the full potential of their hardware components in the shape of higher FPS in games.
A better multimedia experience while using full capabilities of audio and video hardware installed in a PC.
Better texturing, the latest shader models, and improved post-processing will result in graphics close to reality.
With the latest DirectX update, a user can distribute the workload over multiple CPU and GPU cores for simultaneous execution for more realistic game-play.
Update DirectX in Windows 11/10 to get the latest drivers
How to check your current DirectX version on Windows 11/10 PC
Windows 11, 10, Windows 8, and Windows 7 all have support for DirectX 11.0. Once the platform has been updated, Microsoft has made support for Windows Vista available. You can download either the 32-bit or 64-bit version by visiting the Microsoft website. Windows 11/10, Windows 8, Windows 7, and Windows Vista all have DirectX 10 functionality.
The most recent DirectX version is 12.0. Windows 11/10 launched with DirectX 11.0, and then DirectX update 12.0 was provided through Windows 11/10 updates.
DirectX version can be easily checked on your Windows 11/10 PC by following these simple steps:
1. To open the Run dialog box, press "R" while holding down the "Windows Key."
2. When prompted, enter "dxdiag" and then click "OK."
3. A dialog box will appear, prompting you to choose "Yes."
4. The DirectX version you're using will be shown on your screen.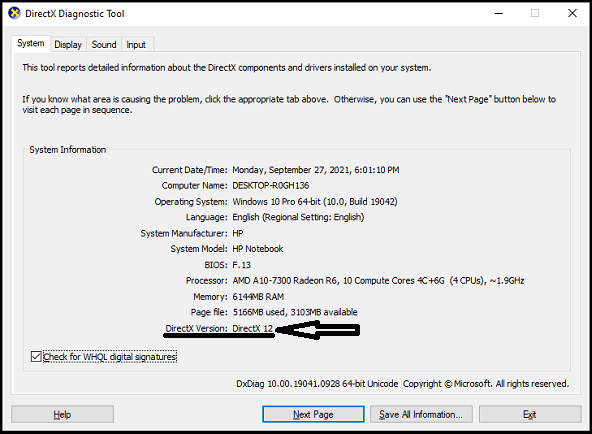 How to update DirectX in Windows 11/10
DirectX drivers can be downloaded from Microsoft's website or obtained via Windows Update. DirectX compatibility issues might lead to messages stating that DLL or OCX files could not be located or had unexpected references when using an outdated version of DirectX. It is generally possible to fix these issues by updating to the most recent version of DirectX. In most cases, it is not essential to remove the previous version first.
If your DirectX version is less than 12, you must upgrade to the most recent DirectX version.
To update DirectX in Windows 11/10, simply follow the steps stated below:
Step 1: Open Windows Settings by pressing Windows + I, and then select Updates & Security from the drop-down menu that appears.
Step 2: A window will open, and on the right side of the box, click the Check For Updates button.
Step 3. This will download and install all the most recent Windows Updates on your computer by checking for them in the Microsoft database and then downloading and installing them.
Automatically upgrade DirectX drivers with Driver Easy
However, updating drivers is equally crucial as updating DirectX when you want to play games or watch films. It is the job of drivers to serve as a bridge for transmitting orders from users to hardware and to display messages received from hardware back to the user. As a result, it's critical to keep your driver up to date at all times to maintain smooth communication between your computer's components. You won't have to waste time looking for drivers now. For Windows users, Driver Easy is a no-cost driver updater that provides instant access to millions of device drivers. In addition, the application is extremely user-friendly.
Driver Easy has millions of users for a reason. Using it is simply because it scans your system for outdated drivers and lets you update them with a single click. Even though this program has a lot to give, you should know a few things before using it.
Driver Easy comes in two versions: free and paid. There are a few important features in the free edition, like the ability to scan for outdated drivers, manually update them, and verify your hardware resources. Many more useful features are only available in the Pro version. The Pro edition costs $29.95 per year for a single computer or laptop.
Price: Its 1 PC version costs $29.95/year, 3 PCs version costs $59.90/year.
Compatibility: Windows
Driver Easy is easy to set up on Windows 11/10, thanks to the built-in wizard. To get the free version of the software, go to the main website and click on the "Free Trial" button in the upper-right corner. Starting with Windows 7, the executable installation file is compatible with practically all Windows operating systems. Furthermore, it works with Windows 11/10 64-bit and 32-bit editions.
Driver Easy can be installed by anyone, regardless of technical skill. All you have to do is download and run a file to get it started. It is possible to install in "custom mode" by selecting a directory, creating a desktop icon, and scheduling a scan.

Driver Easy Review: Quick & Simple Driver Scanner & Updater
To update DirectX drivers using Driver Easy, simply follow the steps stated below:
Step 1. Download and install Driver Easy, then run it and click Scan Now. 
Step 2. Wait patiently until Driver Easy finish scanning your computer and listing any hardware with missing, outdated or mismatched drivers.
Step 3. Click Update All to download and install all the new drivers automatically.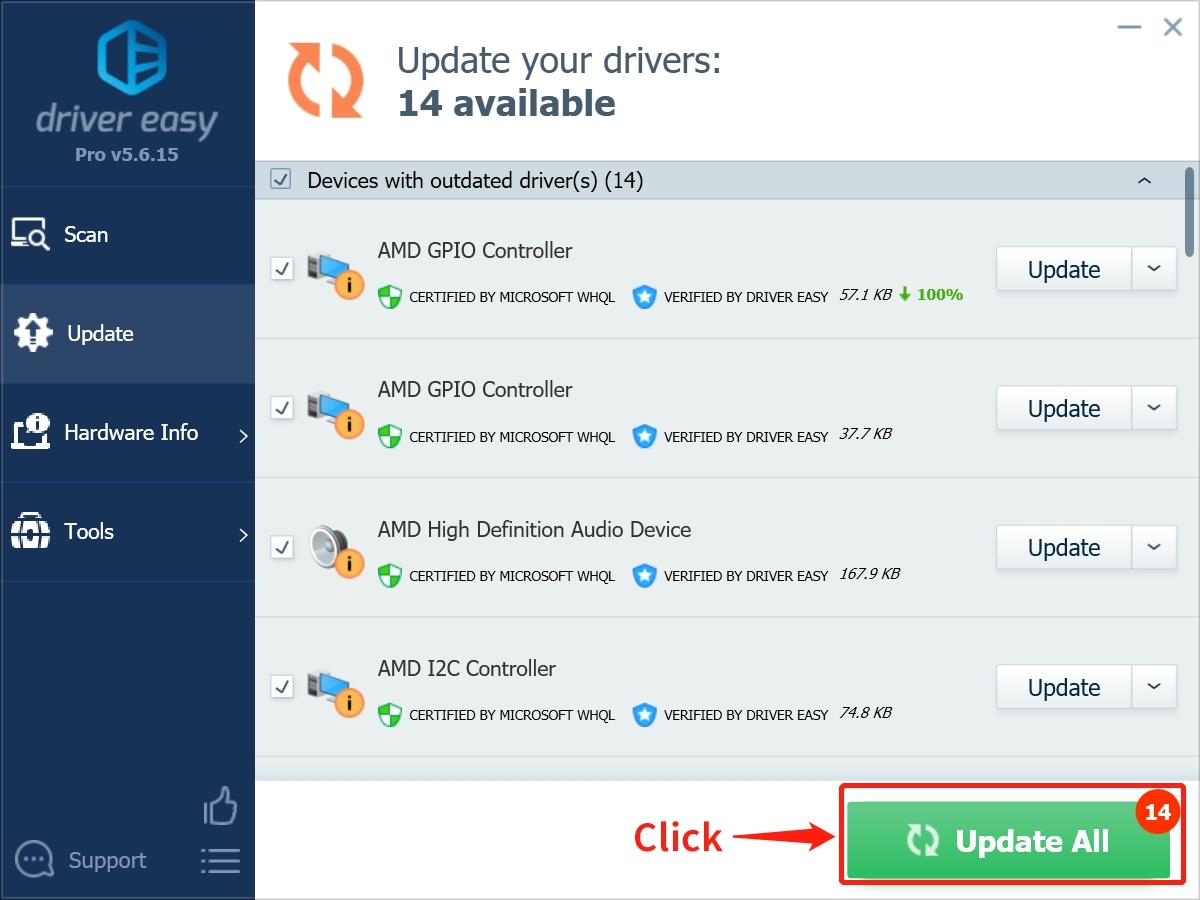 By following these easy steps, users can get driver updates without any hassle but pros and cons remain there for every solution.
Pros
A comprehensive collection of drivers
A user-friendly UI
Scanning and updating drivers in the background
Utilize minimal system resources.
Internet access isn't required.
Resolves driver compatibility issues.
Cons
Only available on Windows-based computers
Driver Easy Pro has a ton of additional functions that aren't available until you purchase it.
The free version's download speed is below average
Conclusion
DirectX is a set of Windows components that enables video and audio hardware to work directly with software, particularly games. Media accelerator capabilities built-in to your hardware can be used more efficiently by games that use DirectX, which enhances the entire multimedia experience.
Incompatibility with the DirectX version currently installed is one of the most typical issues while running these programs. A pre-installed copy of DirectX is included with every Windows purchase. The good news is that DirectX is regularly updated with new features, bug fixes, and support for new hardware. Nowadays, many display card drivers update DirectX to the latest version.
It's simple to update a driver as long as you're using the correct channel. Manual installation would need you to identify all of your computer's hardware, download the latest versions of the drivers for each piece of hardware, and then install them all. This is a time-consuming and labor-intensive process that will require your full attention. As an alternative, you can use a driver updater tool such as Driver Easy Updater to quickly and easily update all of the drivers on your computer at once.
No more content