Table of Contents
The Best Disk Cloning Software for Cloning a Failing Hard Drive
How to Clone a Failing Hard Drive to New HDD/SSD in Windows 10/8/7
Why clone failing hard drive
If your hard drive is failing, you may find your computer becoming slower and slower. Even worse, your PC would show a blue screen, and tell your PC ran into a problem. To avoid data loss, it is necessary to clone the failing hard drive to another place.
Cloning a failing hard drive means transferring the whole data to another HDD, SSD or other storage devices. But most cloning ways can't read and clone bad sector to a drive. And if the failed disk is the system disk and became unbootable, simple cloning tools can't help you at all.
The Best Disk Cloning Software for Cloning a Failing Hard Drive
EaseUS Disk Copy is one of the best disk cloning programs on the market. It enables you to clone disk with bad sectors, clone a small disk to a large one, clone HDD to SSD, clone OS, and so on. Depending on the results of hard disk failing, EaseUS Disk Copy provides you with different solutions to clone a failing hard drive in Windows 10. 
Price: It starts $19.90/Monthly.
Compatibility: Windows
If you've just encountered problems with corrupted data and strange sounds of the damaged hard drive, you can clone it directly in the Windows environment. But if you run into problems with bad sectors, the computer won't boot, and Windows runs slowly, you'd better clone a failing hard drive in WinPE with a bootable disk. How to do it? Read the tutorial in-depth.
How to Clone a Failing Hard Drive to New HDD/SSD in Windows 10/8/7
EaseUS Disk Copy is a powerful software that enables you to simply clone and transfer dead or failed hard drive data to a new disk offline without losing any data.
You can download, install this risk-free software on your PC and activate this software to gain the full capacity for cloning your failing disk to a new HDD/SSD with all contained data by a few simple clicks on your Windows 10/8/7/XP and even Linux computer now.
Detailed Instructions on How to Clone A Failing Hard Drive in Windows 10/8/7
Step 1: Download, install and run EaseUS Disk Copy on your PC.
Click "Disk Mode" and select the hard drive that you want to copy or clone. Click "Next" to continue.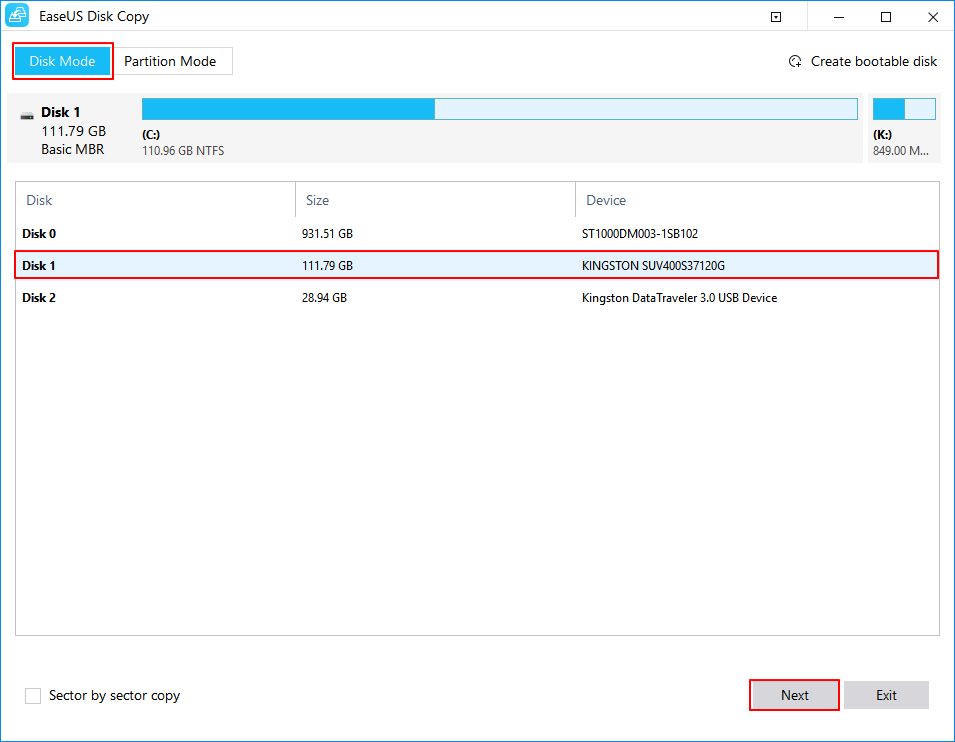 Step 2: Select the destination disk.
Note: The destination disk should be at least the same big or even larger than the source disk if you want to copy or clone the source hard disk.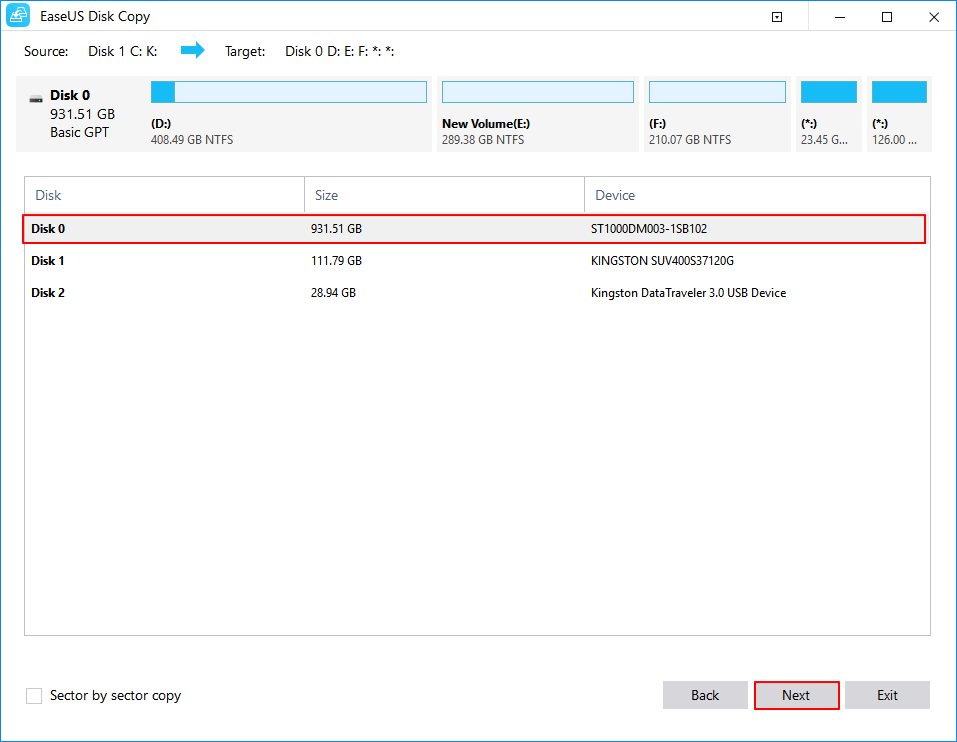 Step 3: Click "OK" to confirm if the program asks to erase data on the destination disk.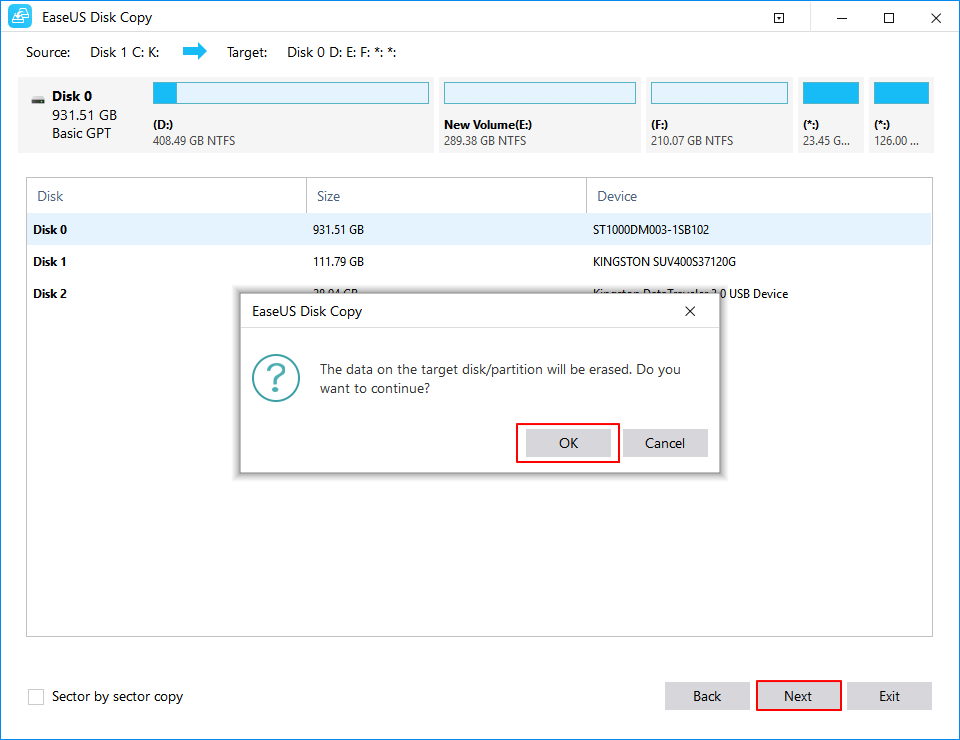 Step 4: Check and edit the disk layout.
If your destination disk is an SSD drive, do remember to Check the option if the target is SSD.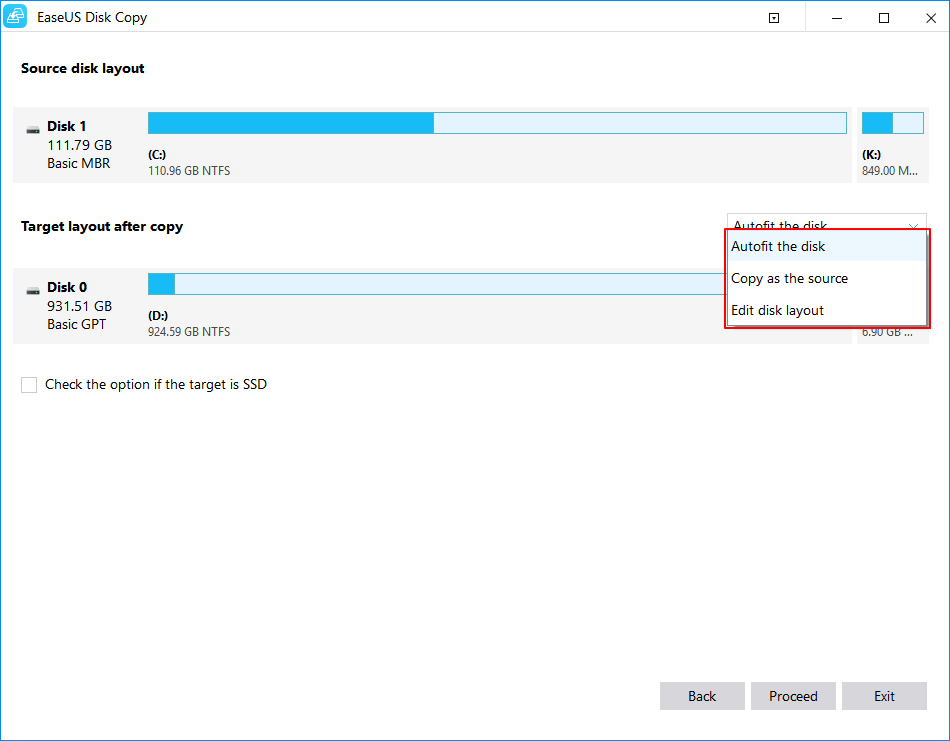 Step 5: Click "Proceed" to start the hard drive cloning process.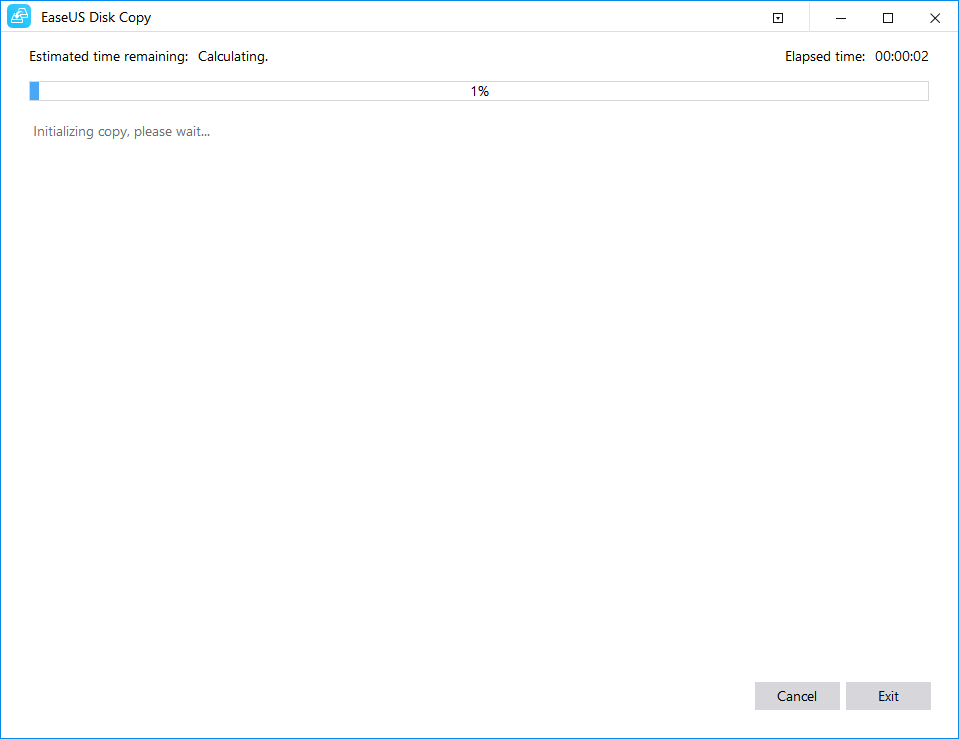 EaseUS Disk Copy Pro Review – Best Disk Cloning Software You Can Use
How to fix failed hard drive
If you think hard drive clone is too complex, you might as well try repairing the problematic hard drive first. If it can be fixed, then, you can save much time.
1. Check the cable connection and power supply. If the Windows PC can't be recognized by your hard drive, please check the cable and power supply first. Remove the hard drive from the PC and several seconds later, reconnect it to the machine and check whether Windows detects the hard drive in BIOS or File Explorer.
2. Install the hard disk to another PC to see whether it can be detected. If yes, you'd better reinstall the device driver.
3. Fix bad sectors with Command Prompt: Run the utility of Command Prompt and execute a repairing command for all partitions on the hard disk: chkdsk E:/f/r (It will find and fix logical and physical problems for the hard disk. Relace E with the current drive letter)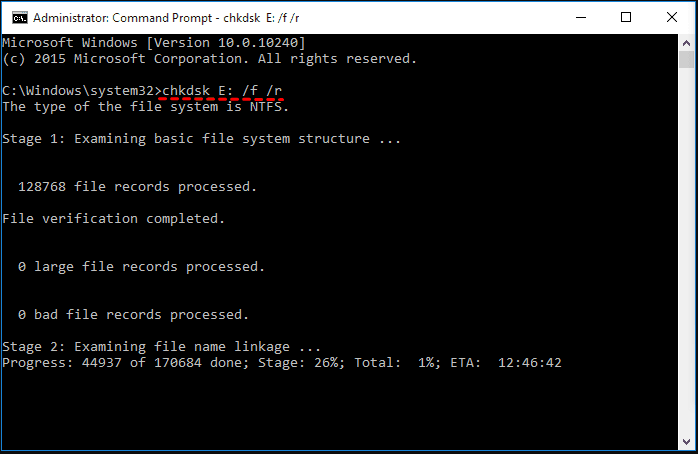 If running the CHKDSK is too difficult for you, that's OK, you can run EaseUS CleanGenius.
If the command line is not your ideal choice, you can apply this command-line alternative tool - EaseUS CleanGenius. Use this one-click tool to fix the file system error on your hard drive.
Step 1. Download EaseUS CleanGenius on your computer for free.
Step 2. Run the software. Click "Optimization" on the left panel, and then choose "File Showing".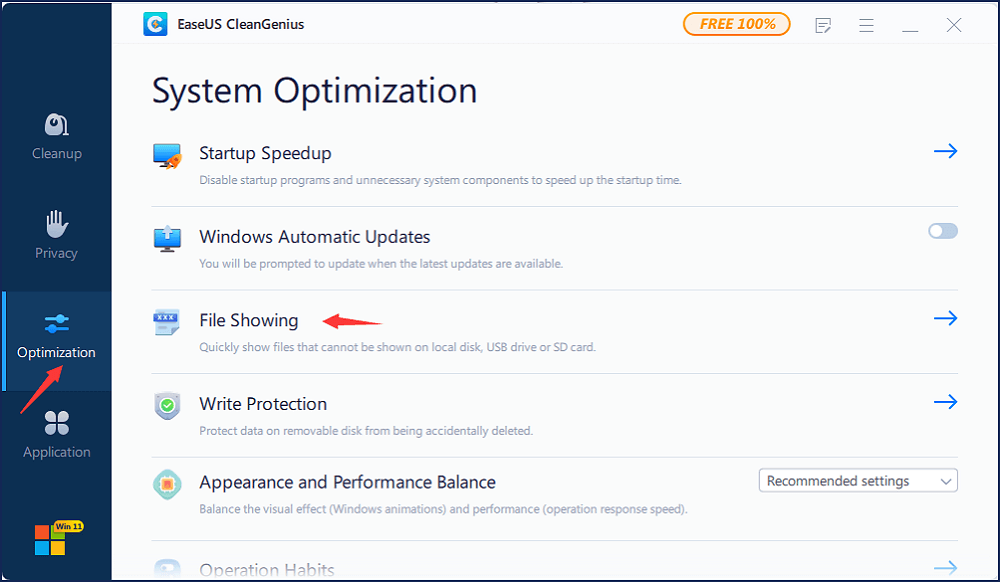 Step 3. Go to "Choose drive" and select the drive with a file system error. Check the "Check and fix file system error" option and click "Execute".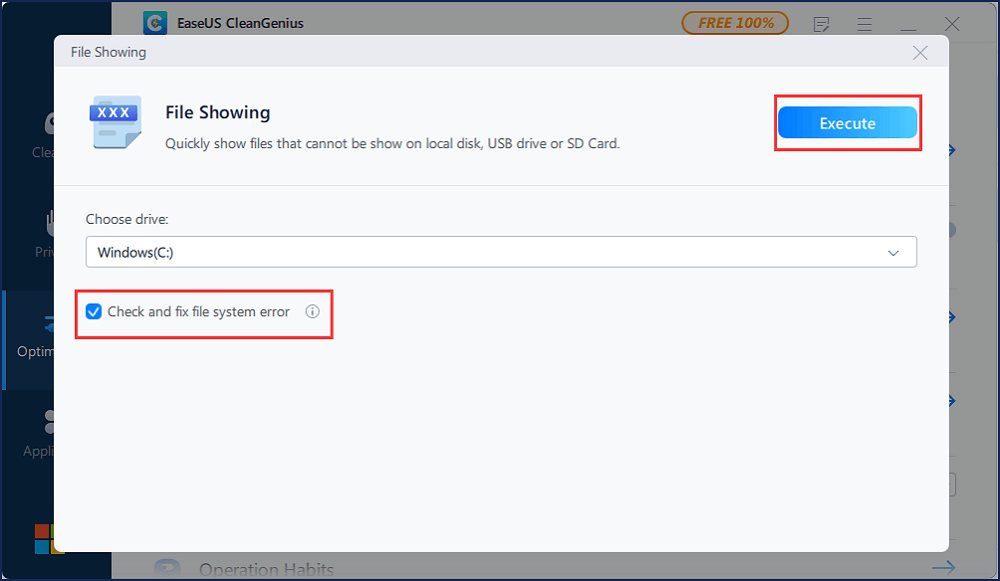 Step 4. Wait the EaseUS CleanGenius completes the repairing process. After that, click the "here" to view the result.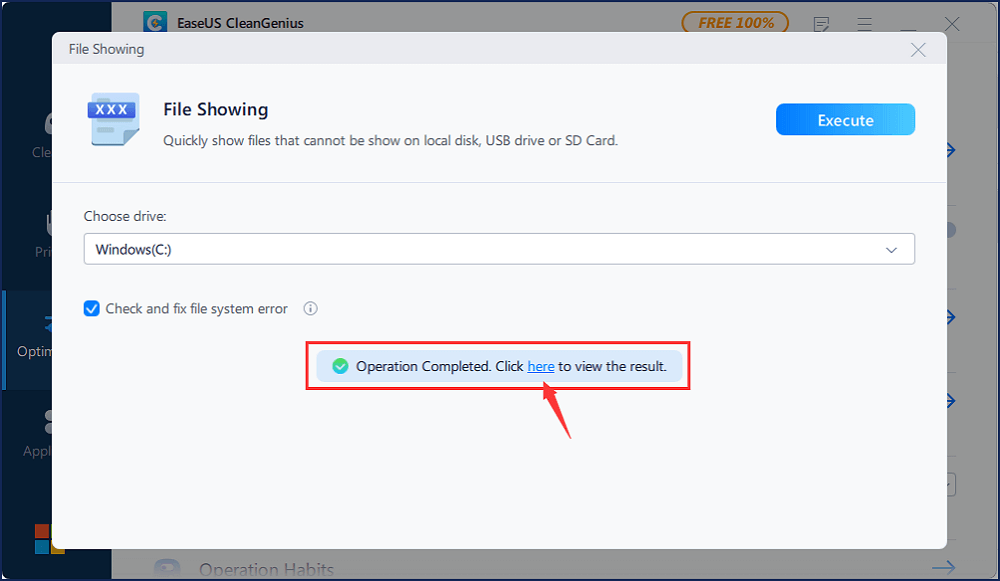 Conclusion
Hard drive corruption is a common issue for most users. You can clone a failing hard drive in Windows 10 to protect your data. After the cloning process, connect your external hard drive to your PC. EaseUS Disk Copy plays an important role in failing hard drive backup. You can always try this software to protect your data.
Price: It starts $19.90/Monthly.
Compatibility: Windows
No more content