What is Phone Hacking
Phone hacking refers to gaining access to your phone data. This is accomplished without requiring physical access to the phone handset.
The exploit relies on many consumers not updating their voice message service's default pin or selecting a simple to guess PIN. To make it easy for the hacker, the message box was not locked if you entered the PIN incorrectly multiple times. Changing the default PIN is always a good idea. Also, try to come up with a PIN or password that is difficult to guess.
Some common reasons for phone hacking include revenge, financial gains, sabotage, vandalism, corporate data leak, or blackmail.
Phone hacking is accomplished by installing software on the phone that allows for remote access to the phone's functions. The software's functionality is unknown to the phone user. The data is sent over the phone network and is not easily recognized from the phone bill.
This article will discuss the possible signs of hacking and "how to remove a hacker from my phone".
How to Know If My Phone Gets Hacked
There are some signs which will let you know if your phone gets hacked, including:
1. New Calls and Messages in Your Log
Strange things start showing up when your phone gets hacked. One of the signs is new calls and messages in your log, and inbox with new messages which you don't recognize. You start observing new things on your phone which aren't supposed to happen.
2. Your Phone Loses Charge Quickly
Hackers start using way more resources and battery power starts losing faster than usual. Malware working in the background might reduce its power significantly.
3. Constant Notifications
When your phone has spyware or malware you start receiving constant notifications. Suspicious notifications are the sign which let you know that your phone has been hacked.
4. Excessive usage of data
When your phone has malware or spyware, you might start observing that your phone is losing data more quickly than usual. Malicious processes might be consuming your data.
5. Installed Apps that you didn't download
When any malware is in your phone, you might start observing that there are a lot of installed applications that you didn't download.
How to Remove A Hacker From My Phone
In this part, we have explained different methods to know how to remove a hacker from your phone.
1. Delete Suspicious Apps
Suspicious apps that track and spy on you, like some apps, are tracking your location. Use safe and reliable applications. Hackers have numerous methods to hack your phone. So, it is necessary to protect your privacy and security by deleting suspicious applications. This is the top way to protect your phone from hacking. Your phone's setting enables you to find hidden apps, and you can access those apps by looking at the phone's data usage.
2. Fix a Hacked Android Phone with a Factory Reset
When a hacker tries to hack your phone, and you start observing unusual things on it, it is time to reset your phone. Here are some steps to follow to factory reset your phone.
Step 1. Go to the phone's setting and press 'System.'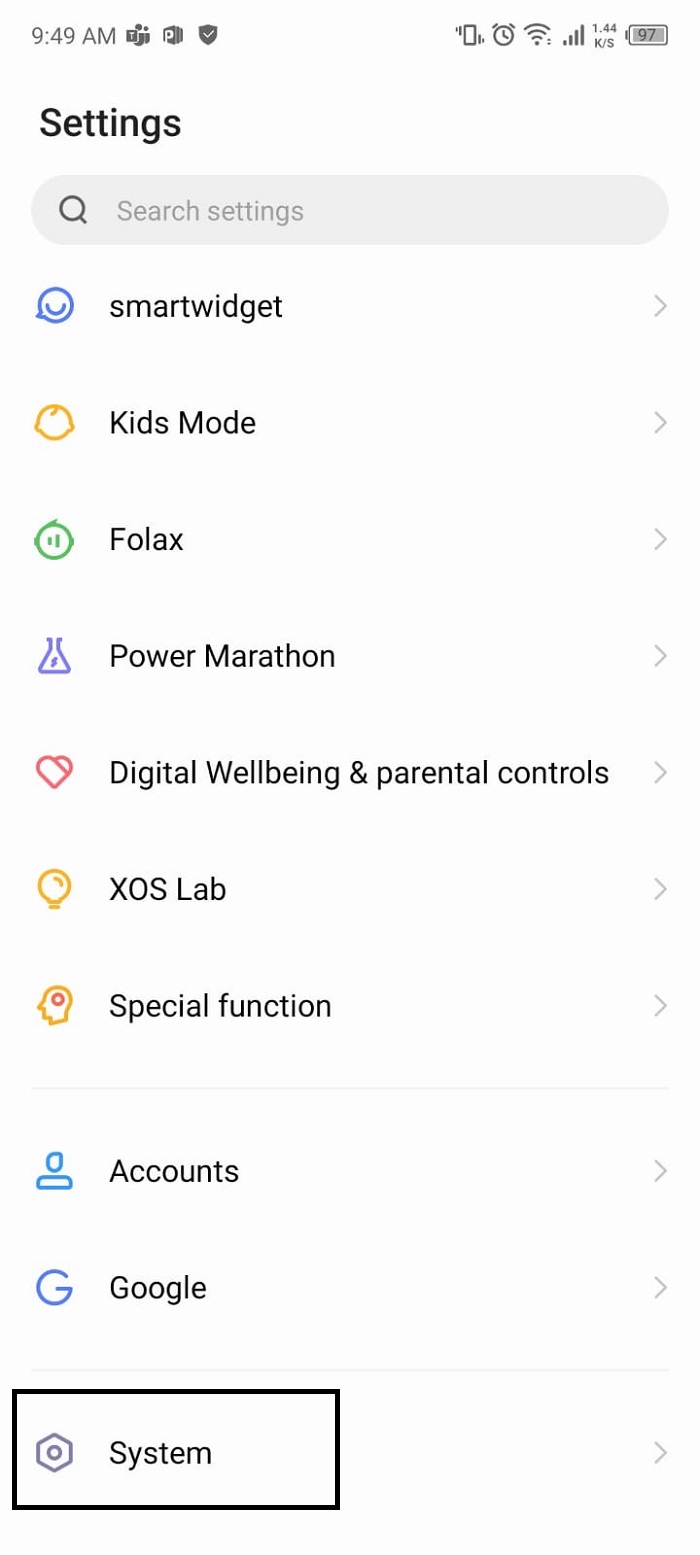 Step 2. Then select "Reset Phone".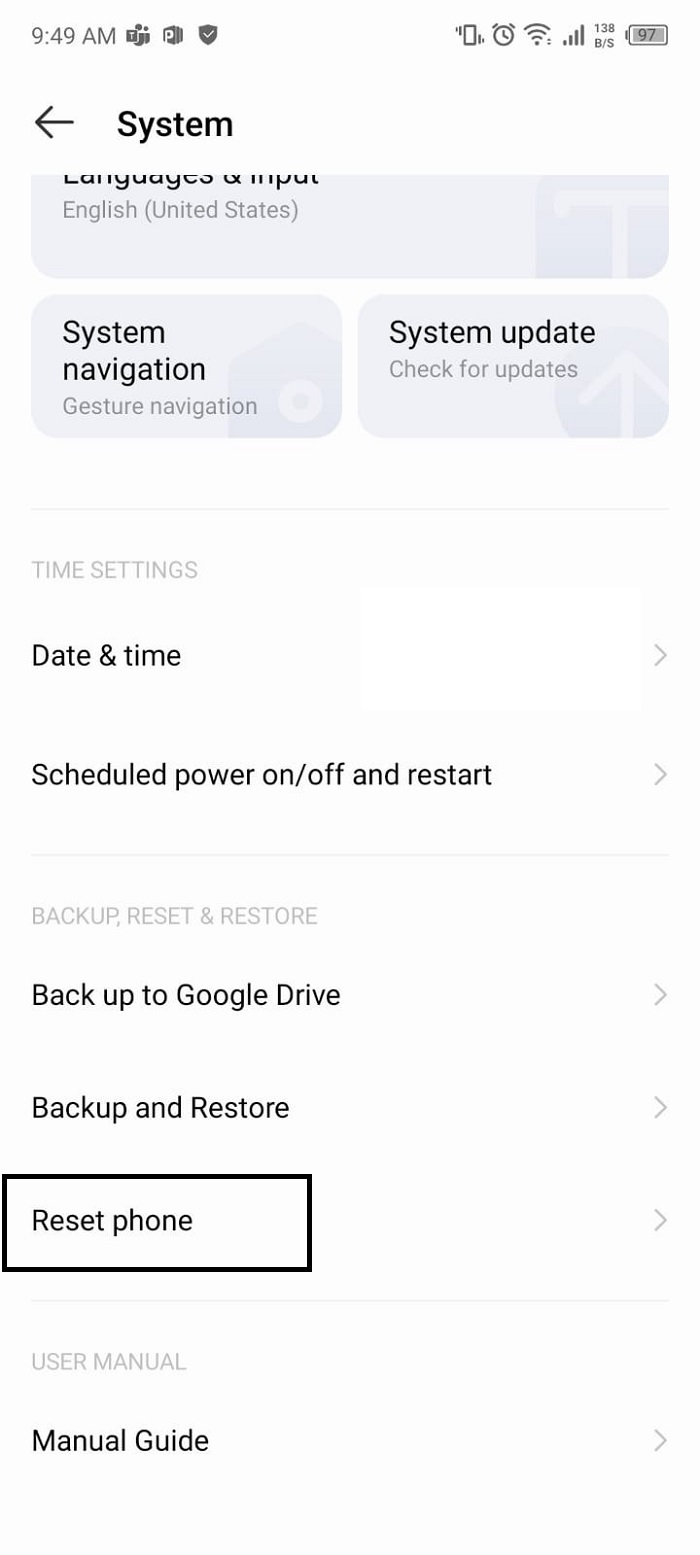 Step 3. After that choose "Erase all data" to factory reset the phone.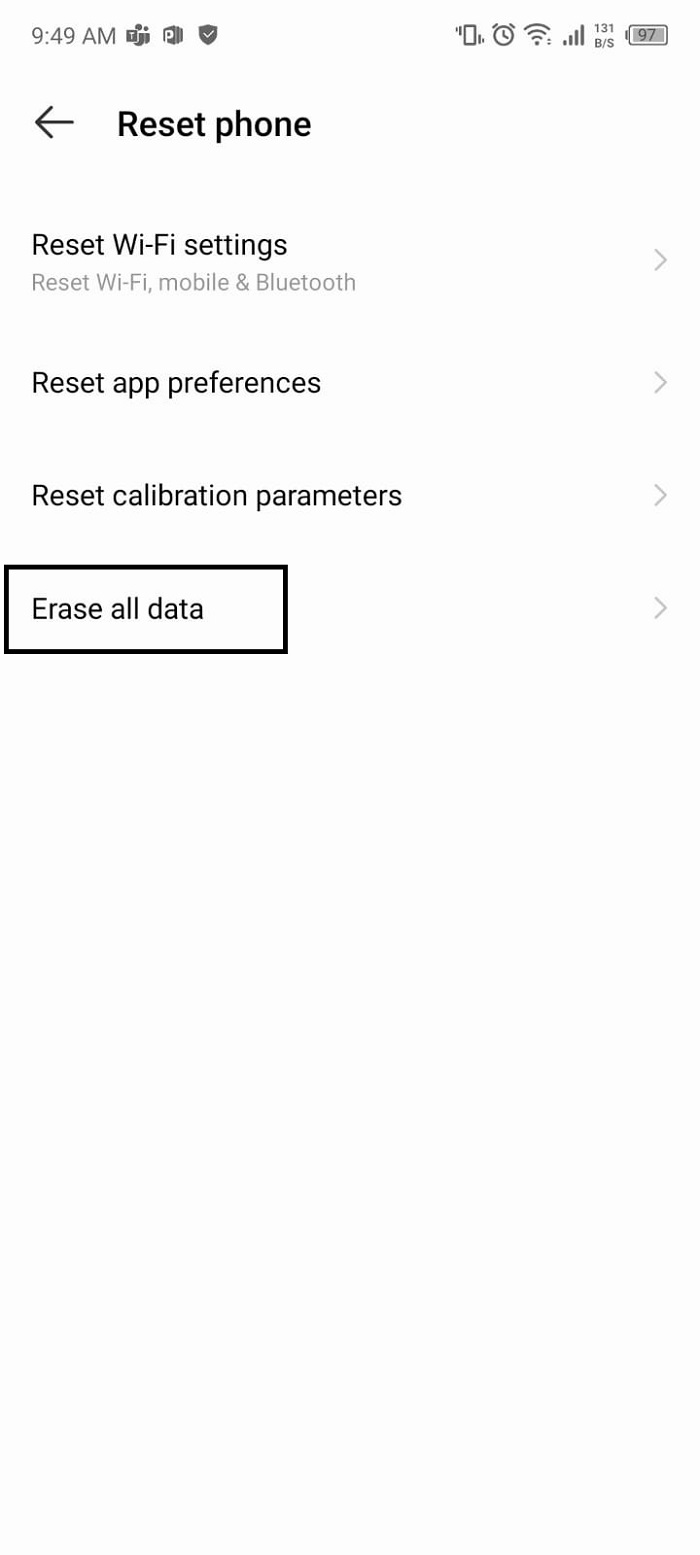 It takes time depending on the data you have stored in your phone.
3. Remove jailbreaks
You need to remove jailbreaks to secure your phone from being hacked. Jailbreak increases the risk of unknowingly getting hacked. Your phone won't be able to get the updates and keep functioning without updates, which increases the risk of being hacked.
4. Keep hackers out of your online accounts.
This is the method to make hackers frustrated. You must create strong and unique passwords using characters and symbols to protect your accounts. Moreover, you can use multi-factor authentication, which doesn't let anyone use your account except you, and don't use the same passwords for all online accounts.
Follow these simple steps to turn on the 2-factor authentication on any app. We are taking Gmail as an example.
Step 1. Open your Gmail account settings. Go to Security and tap "2-step verification."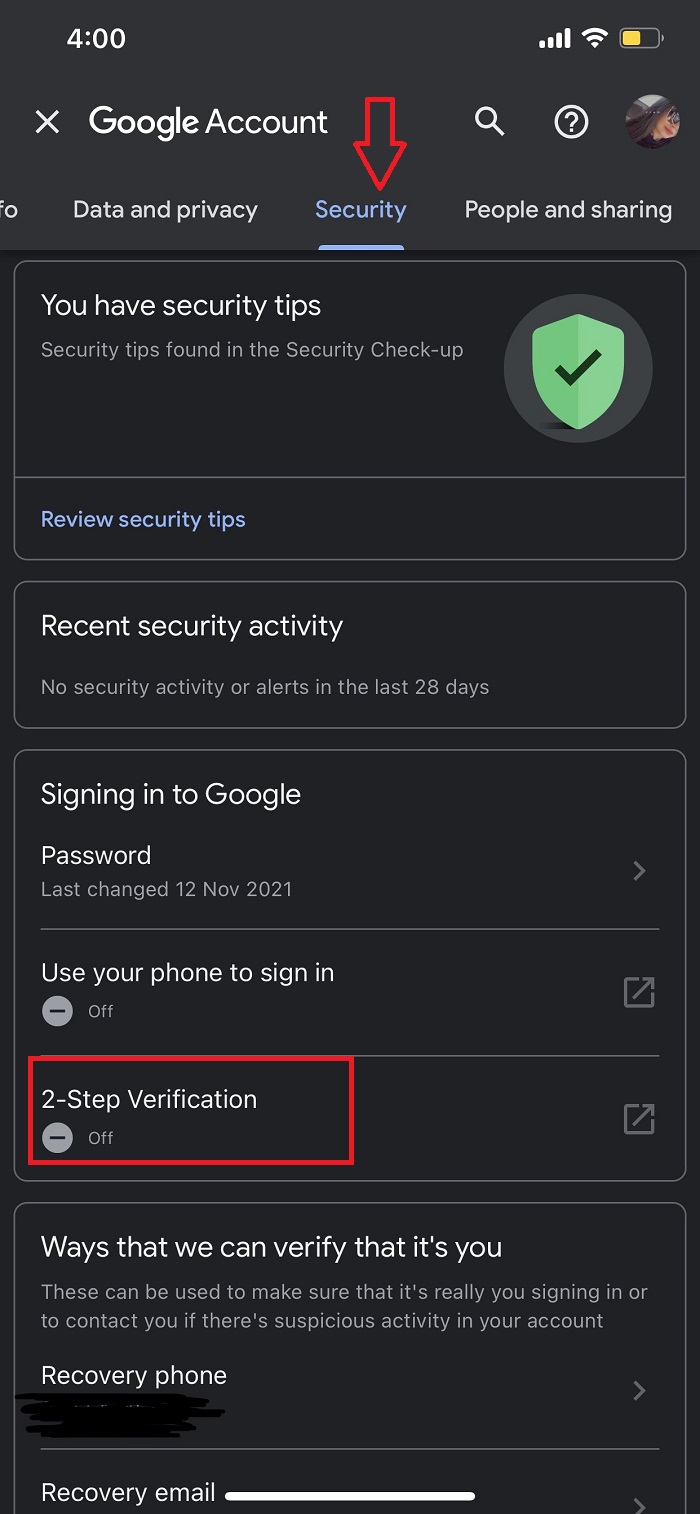 Step 2. Tap "Get Started."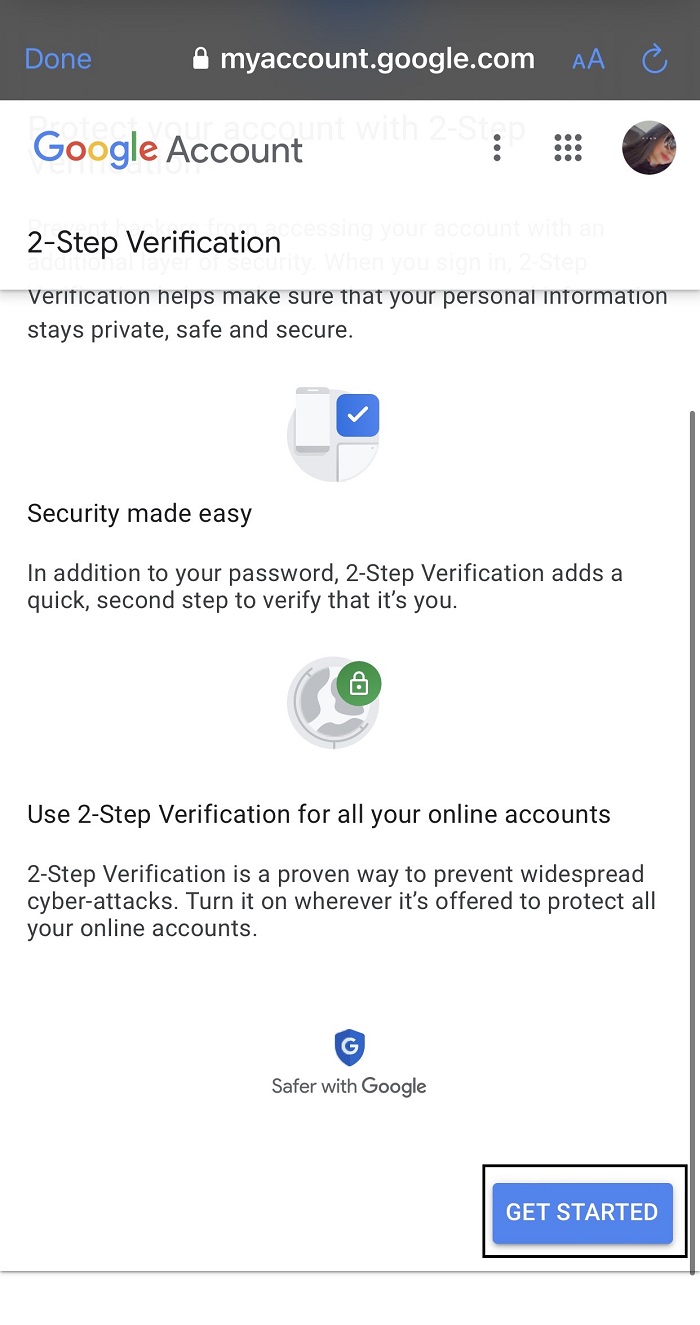 Step 3. To get the verification code on your phone number press "Send."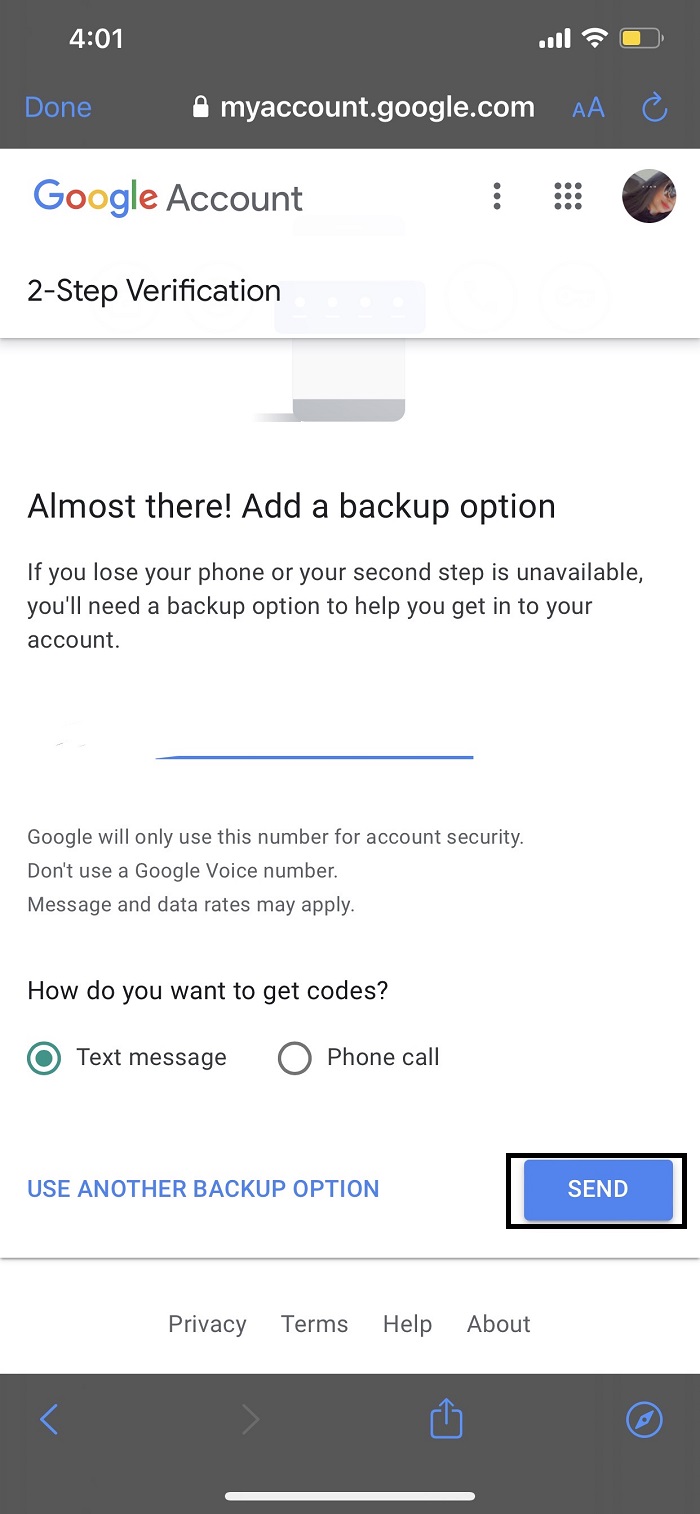 Step 4. To turn on your 2-factor verification, tap "Turn on."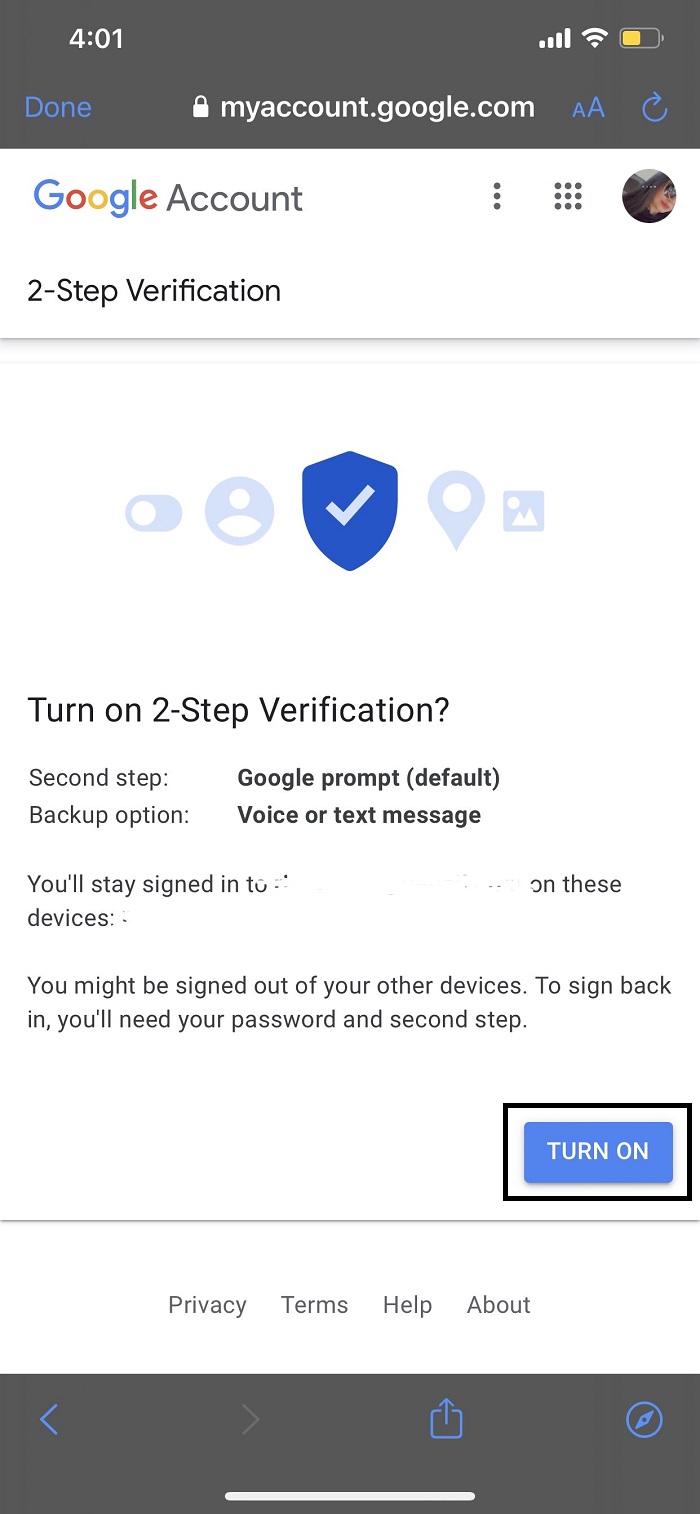 5. Don't store your passwords on your device.
Every account asks you to save a password for the future. Always press 'Never save passwords on your device, which is the method to secure your device from hacking.
6. Don't use public Wi-Fi.
Public Wi-Fi is not secure and would harm your device's privacy and security. This helps the hackers to track your device easily.
7. Wipe away your footprints on the internet
It would be best if you wiped away all footprints on the internet to save your device from being hacked. You need to delete your internet history and all cookies to remove your footprints. Make a rule not to use public systems and if you do, then deleting history is the best way to secure your online accounts.
8. Encrypt everything
Encryption maintains confidentiality by hiding the content of the message by translating it into a code. You need to startusing encryption in handling personal data and confidential messages. So, encrypted applications are suitable to be downloaded to avoid hacking.
9. Stop sharing your hotspot
This is the easier way for the hacker to access your device by simply connecting with your hotspot. The VPN number is the connection code that helps the user easily access your device.
How to Prevent Your Phone From Being Hacked Again
1. Avoid downloading sketchy items
If you're not sure, read reviews and do some research before installing. If you're unsure about the app or program's safety, do not install it.
2. Use VPN and Antivirus
Antivirus software scans your phone for viruses and malware before removing any dangers. Only Android users, however, require antivirus on their mobile devices. Learn how to get rid of a virus on Android and which antivirus apps are the best.
Antivirus software isn't necessary for iPhones and iPads, as Appstore does not allow suspicious apps in the first place. But they can be hacked in other ways. In many circumstances, antivirus software can deter hackers.
3. Use complex passwords and avoid biometric security.
Biometrics, such as fingerprint and facial scanners, is a wrong approach to safeguarding your phone, contrary to what manufacturers would have you believe. Because hackers have devised numerous ways to circumvent biometrics, you're better off using an old-fashioned PIN or password (including simple tricks like the infamous 2019 exploit that allowed users to bypass fingerprint scanners on various Samsung Galaxy phones using only third-party screen protectors).
Regrettably, not every password is made equal. Although having a PIN/password is preferable to having none, utilizing a complex password can considerably improve your security. At least 16-20 characters with a combination of capital and lowercase letters, numerals, and symbols are recommended. This applies to your accounts, not just your phone's password.
4. Beware of spam and phishing emails.
Although the spam folder in your email service will catch many of these threats, it will not prevent all of them from reaching your inbox.
If an email appears to be suspect, do not open it. Never click on a link in an email that seems to be phishing. Mark any suspicious email as spam or trash; this helps your email service's monitoring program identify suspicious emails more effectively in the future.
5. Disable voice assistants on the lock screen
It's easy to have Siri or Google Assistant available before unlocking your phone, but it's not the most secure option.
6. Review what's already on your phone
It's more challenging to track which apps have certain rights, but many security apps can help. These apps can also detect and notify you if you're trying to install malicious software or if a "phishing" assault attempts to fool you into entering a password into an untrustworthy app or webpage.
Bonus Tip: The Best Tool to Transfer and Manage iOS Device Data for Security
EaseUS MobiMover is a robust iOS data transfer and management tool that helps you to access your iPhone and iPad data from a computer and transfers data from one device to another, which replaces iTunes perfectly. Download it and enjoy its amazing features.
Features
Transfer files between iPhone/iPad and PC/Mac
You can download videos and music to a computer or iPhone/iPad
It stores backup and transfers data for security
Price: Its Windows version starts at $23.95/month for 3 PCs, its Mac version starts at $39.95/month for 3 machines.
Compatibility: Windows and Mac
How to use:
Step 1.  Connect your iPhone/iPad to your computer and tap "Trust" on your device to continue. Start EaseUS MobiMover and navigate to "PC to Phone" > "Select Files".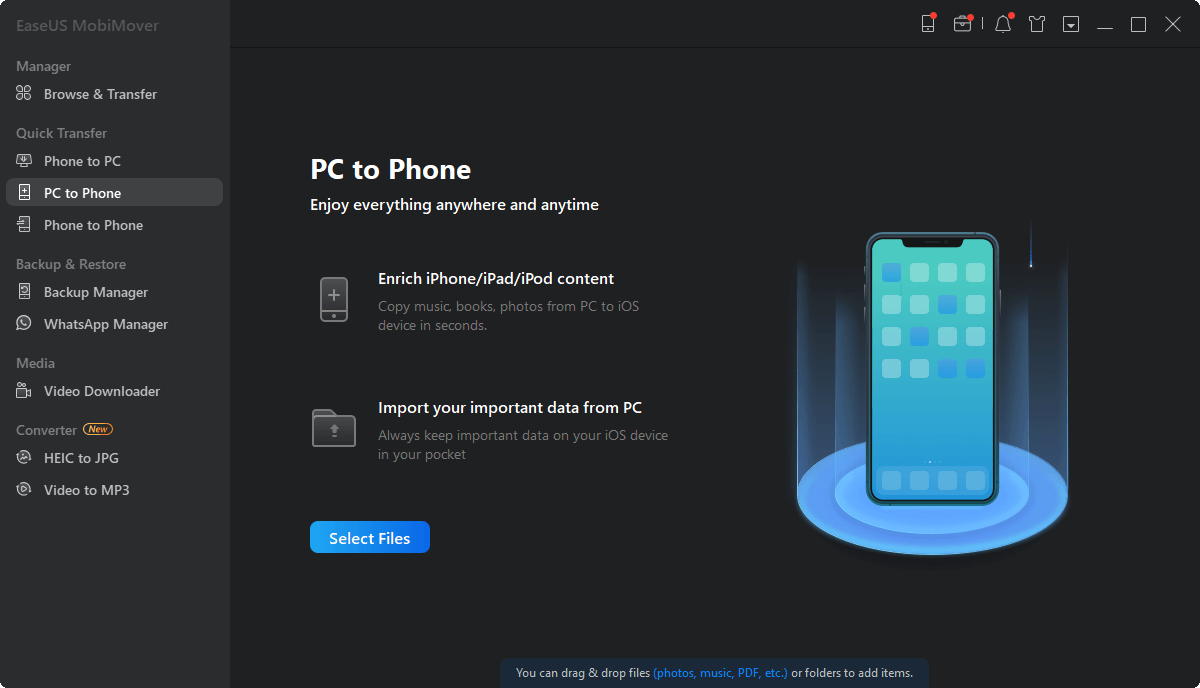 Step 2. Select files on your computer and then click "Open" to transfer from your PC to iPhone.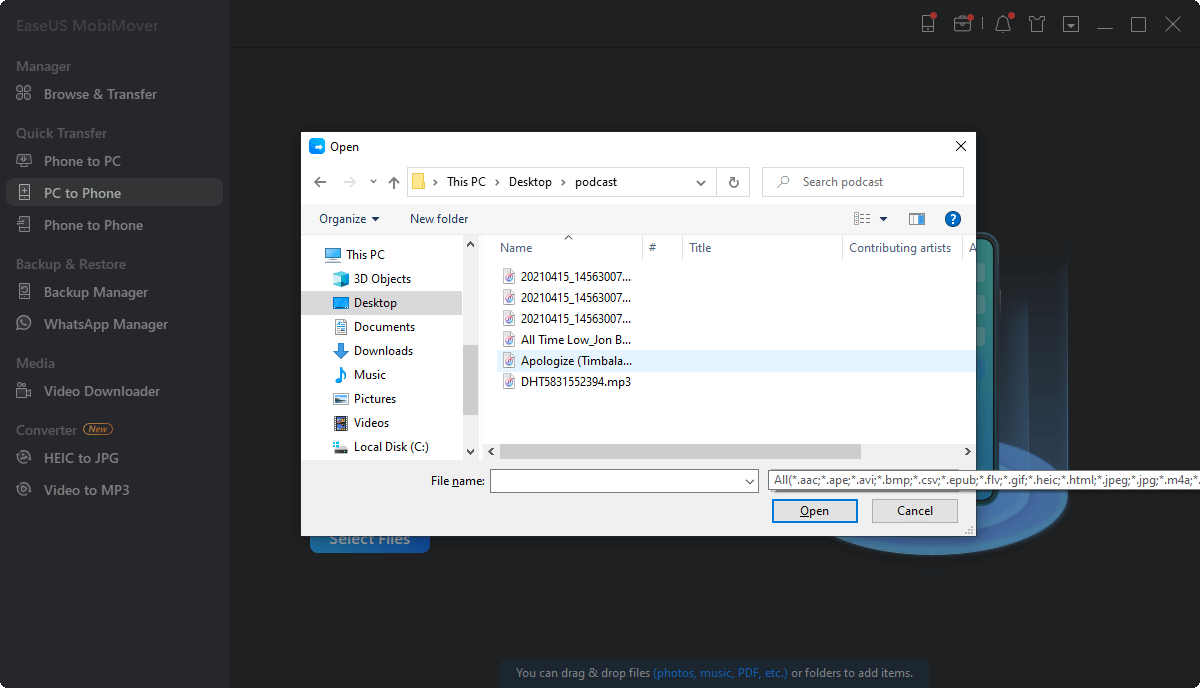 Step 3. Here you can view the selected files. You can add files by clicking "Add Contents" or you can directly drag & drop files from your PC to the pointed area. Once done, click "Transfer".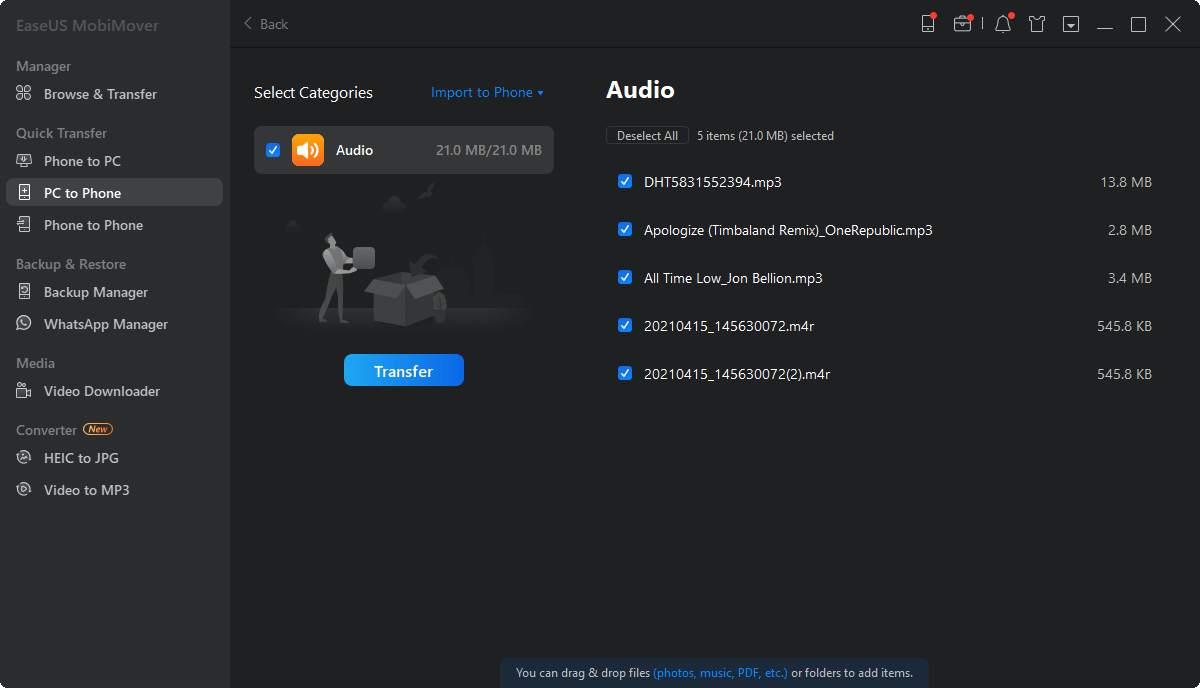 Wait for the transferring process to complete, and you can go to the corresponding location on your iPhone to check the migrated contents, such as images in Photos, videos/movies/TV shows in Videos, music/playlists in Music, ringtones in iPhone Settings.
Alternatively, you can select "Phone to PC".
Conclusion
This article mentions a number of ways and methods about "how to remove a hacker from my phone". Privacy is essential, and it is your responsibility not to give easy access to anyone to your phone or any confidential files for security. It is good to transfer files from one device to another with encryption. EaseUS MobiMover is the tool that helps you to transfer personal files and data without any violation. So, download it and set up your privacy settings.
No more content