TikTok is a well-known app for creating and sharing short video snippets. Millions of users flock to the platform in the hopes of becoming the next viral phenomenon by creating amusing and engaging films that resonate with their intended audience. But what about influencers who wish to share their TikTok videos on other platforms? While you can save TikTok movies to your device before publishing them, they will download with the TikTok watermark if you try to keep them after that.
If you're recycling it for other social media platforms, you probably don't want that watermark on your TikTok footage. The best part is that the watermarks can be removed in a variety of ways. This article will discuss some of the best applications for removing TikTok watermarks on iPhones. We'll even demonstrate how to utilize them so you can get started right away!
2 Ways to Remove Tiktok Watermark on iPhone
Method 1: Use RepostTik to Remove Tiktok Watermark on iPhone
Method 2: Use Video Eraser - Remove Logo to Remove Tiktok Watermark on iPhone
Method 1: Use RepostTik to Remove Tiktok Watermark on iPhone
By downloading the original file, RepostTik is one of the best ways to remove the TikTok video watermarks. During the process, no watermark will be burned onto the photograph. As a result, no mosaic or pixilated region will exist. As the name implies, you may also use this app to repost material from other users.
Features:
No advertisements
Video Reposting
Reposting Schedule
Hashtags
Pros:
RepostTik - Repost for Tik is a safe app to use.
With time, the app improves.
Each release includes a major bug fix.
Apps for Mobile
Cons:
Some features are missing.
Support is sometimes slow.
Step-by-step Guide:
Step 1. RepostTik is available on the AppStore. Download it to your iPhone. Visit Site. 
Step 2. Copy the link to the video you like by clicking the Share option.

Step 3. Tap Continue after pasting the link address into the RepostTik box.
Step 4. Scroll down to the Save Video option, then tap Save. The video will begin to download to the camera roll.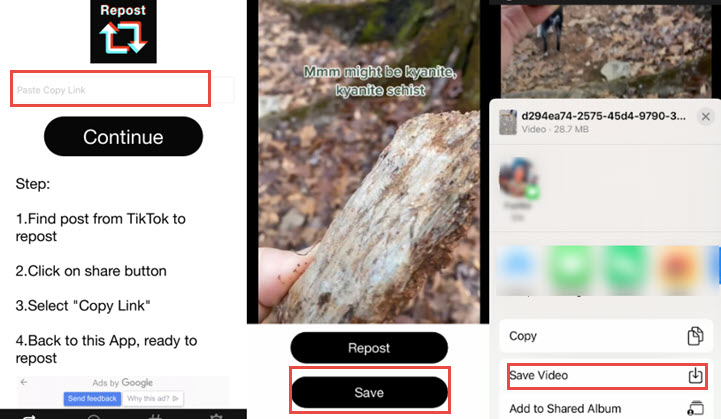 Open the Photos app and look in the Recent albums for this video when it's finished. The TikTok watermark is no longer visible.
RepostTik is used to preserve video metadata. For example, it contains the video's tagged date, not the day you downloaded it. As a result, the movie may not appear in the most recent place in the iPhone pictures library > All photos. It remains in the position set by the TikTok user on the day it was made. It can be found in Albums > Recents.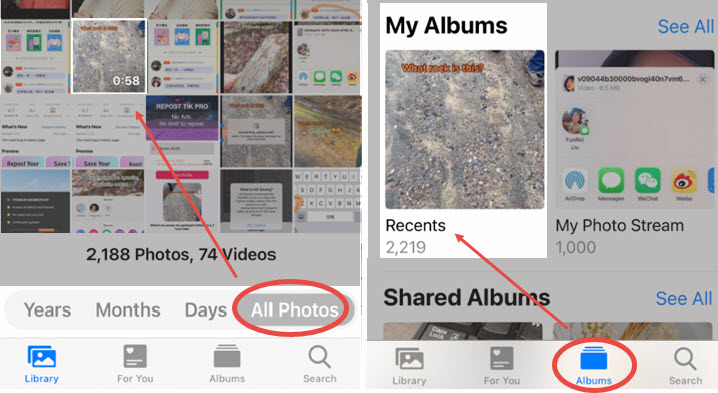 Method 2: Use  Video Eraser - Remove Logo to Remove Tiktok Watermark on iPhone
Video Eraser is a simple iOS software that removes your video's watermarks, logos, and unwanted items. It's not particularly strong, but it's a good program for MP4, M4V, MOV, and 3GP files.
Features:
There are two options for removing the watermark.
You can use this to add a watermark, text, and images.
Pros:
Simple selection tools are available in this app.
It is an entirely free application.
Cons:
Advertisements appear frequently.
Only a few video formats are supported.
Step-by-step Guide:
Step 1: To remove the watermark, Visit Site, go to More > Crop video and select the TikTok video you want from your camera roll.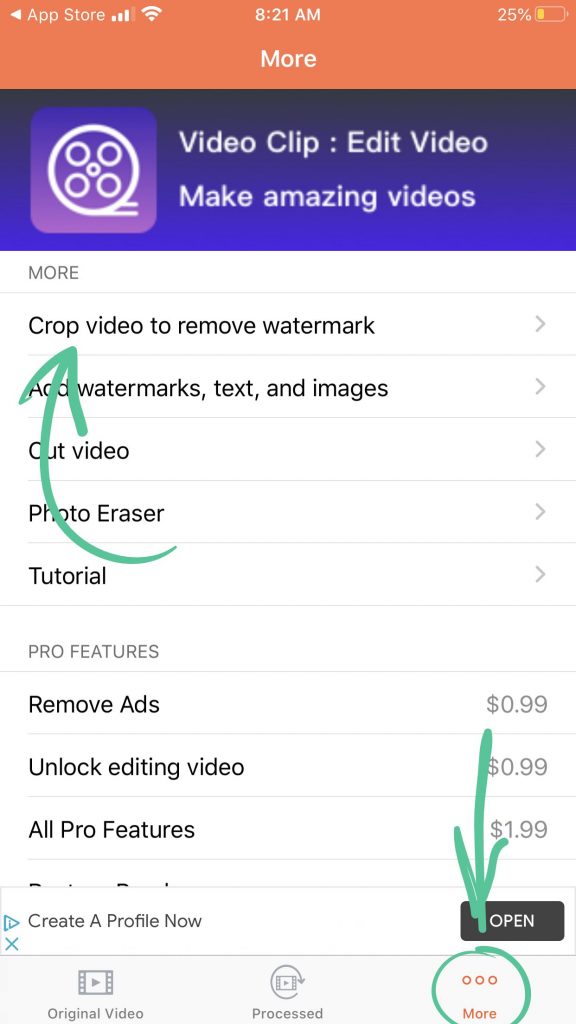 Step 2: Next, choose your TikTok video's aspect ratio and select the parts of the video you wish to keep using the grid's corners.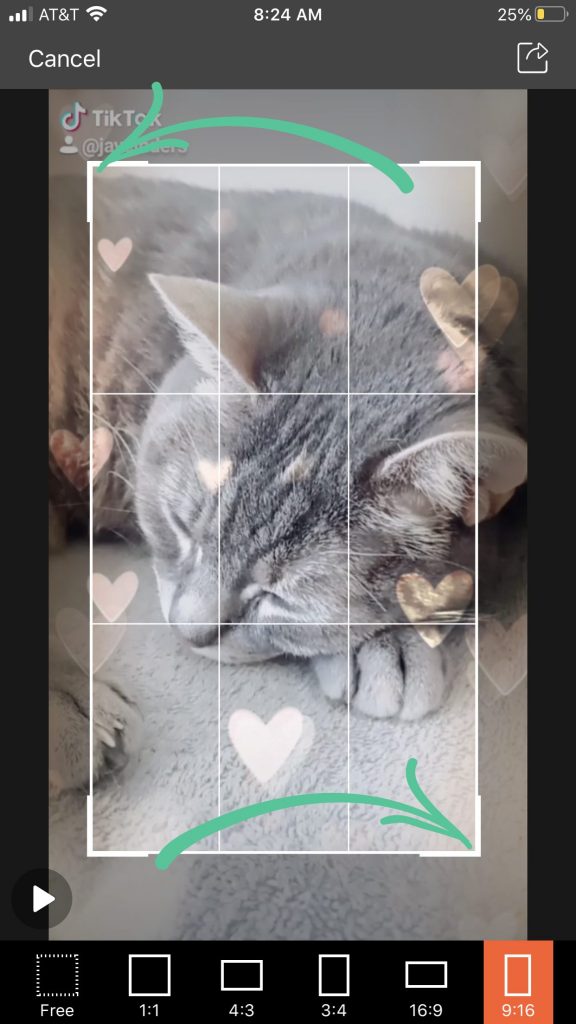 Step 3: Hit the export icon after selecting the region with the watermark and wait for it to finish.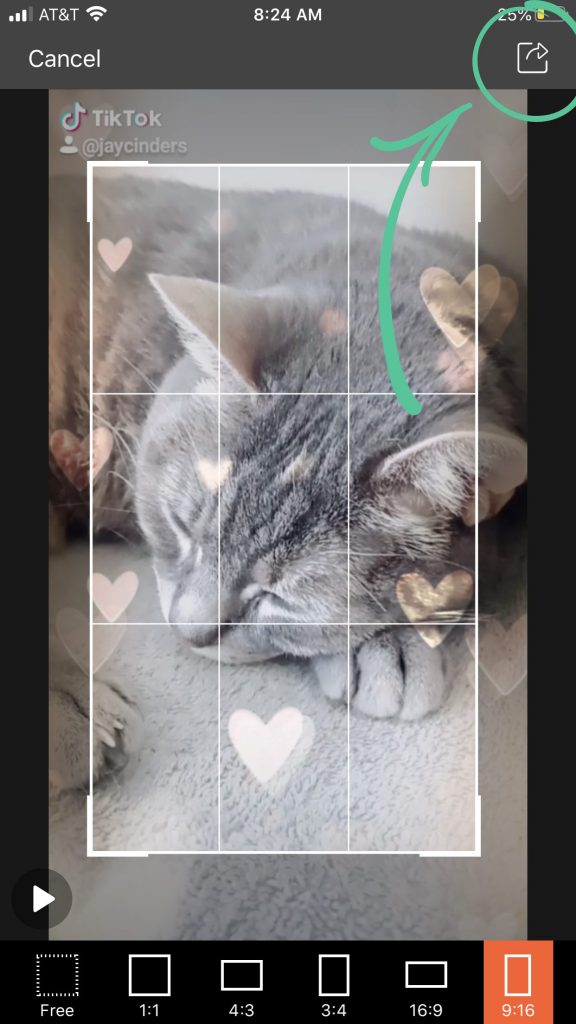 Bonus: How to Remove Watermark on Windows PC
Apowersoft Watermark Remover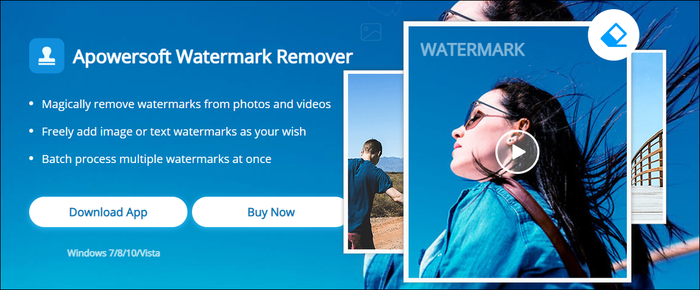 You can simply and magically erase watermarks and unwanted objects with Apowersoft Watermark Remover! Select any part of the annoying watermarks with ease, and batch processing of the watermarks is also supported. Remove the photo stamp with a single click! Choose any watermark region and delete all kinds of things in the batch.
Watermarks are a pain to deal with because they often wholly damage photographs. Processing abilities are necessary to erase a watermark that has been inadvertently added to users' photos or one from a protected image. Apowersoft Watermark Remover is a software that aims to make removing watermarks easier by eliminating the need for extensive photo editing.
Features:
Both photographs and movies can have watermarks removed.
Remove the photo stamp from your photos.
Batch watermark removal
Marquee, Polygonal Lasso, and Brush are the three watermark selection techniques available.
Almost all regularly used formats are supported.
Price: It costs $25.00/Monthly, $39.00/Annual, and $59.00/Lifetime.
Compatibility: Windows

Apowersoft Watermark Remover Review: An Easy-to-use tool to Remove and Add Watermark for Phots & Video
Conclusion
You've read the post and discovered the simplest ways to remove TikTok watermarks on your iPhone, allowing you to repurpose your TikTok footage to your heart's content. Pick the one that appeals to you the most and run with it! If you seek the finest software to remove watermarks on Windows PC, we highly recommend Apowersoft Watermark Remover, which is included as a bonus. We tested it and found it quite user-friendly with a basic interface. We hope you enjoy the software we propose.
No more content