Have you ever gotten lost in the maze of trying to describe the procedure, only to come up empty-handed? In such a circumstance, screen recording comes in handy. Unfortunately, Windows 8 lacks a built-in screen recorder. So, in this article, we looked for the finest Windows 8 Screen Recorder, and thanks to the fantastic developers all over the world, we discovered the best of the best. Some screen recorders on the market offer built-in editing capabilities, such as adding annotations, but others do not; therefore, for a better experience and features, we will show the Top 7 Windows 8 Screen Recorder with such standards.
Top 7 Windows 8 Screen Recorder

EaseUS RecExperts is a screen recording software for Windows that allows users to capture a complete screen or a specified section of the screen, record narrator voice or system sounds, and improve the overall quality of the individual clip. The technique can be used to create professional-looking videos on a computer. EaseUS RecExperts enables webcam video recording, allowing users to capture movies within the webcam or as an overlay, allowing for higher levels of interaction. It includes its unique game recording mode that captures popular 2D/3D games in 4K UHD resolution. Users can use the built-in task scheduler to complete their recording tasks on time and automatically. The software includes various advanced editing options such as annotation, cutting, watermark placement, and more. Users can export recordings in various file formats, including MP4, AVI, and WMV. They can also upload the resulting video on YouTube. Furthermore, noise removal and audio boosting are additional features provided by the software.
Key Features
Full-screen and screen area recordings are supported.
Add sound and video from a webcam to any recording.
Automatic recording functionality (based on a schedule)
Automatic file splitting and recording stop functionality
Audio-only recordings and exports are supported.
Webcam-only recording is supported.
Price: It starts $19.95/Monthly.
Compatibility: Windows and Mac
How to use:
Step 1: Launch the EaseUS RecExperts software on your computer. 
Step 2: You can either click the "Full Screen" option (for recording the whole screen) or select "Region" (for customizing the recording area). Upon that, choose the recording area with your mouse. If you want to record video with audio, you need to click the "Sound" icon on the bottom-left corner. 

Step 3: Click the "Settings" button to apply more options and select the corresponding specification based on your needs. When finished, click "OK".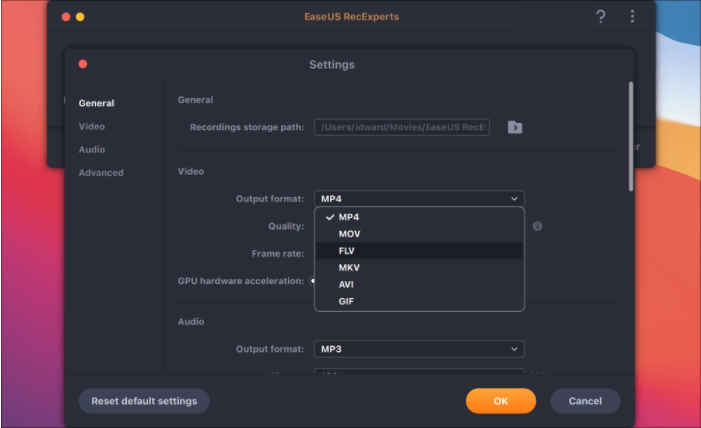 Step 4: Hit the "Sound" button on the bottom-left corner and open the system or microphone sound if you prefer to record audio and screen simultaneously. With that, select "OK" to ensure the audio options.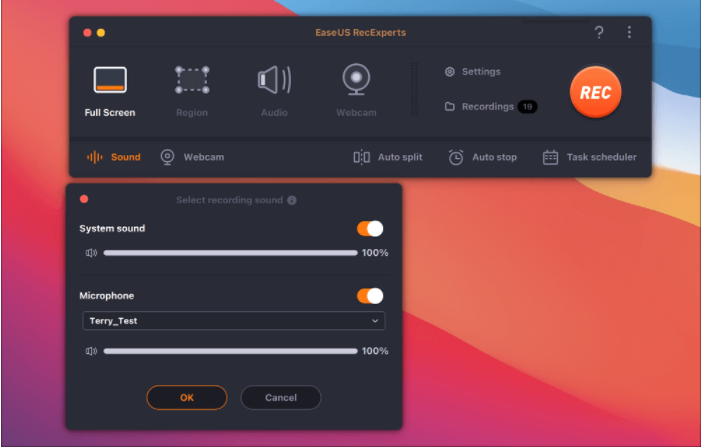 Step 5: Click the "REC" button to start recording. And click the red button on the timing bar to stop recording when it finishes.
You can find the recording videos in the "Recordings" which is located in the main interface. Select the video and edit it as you want.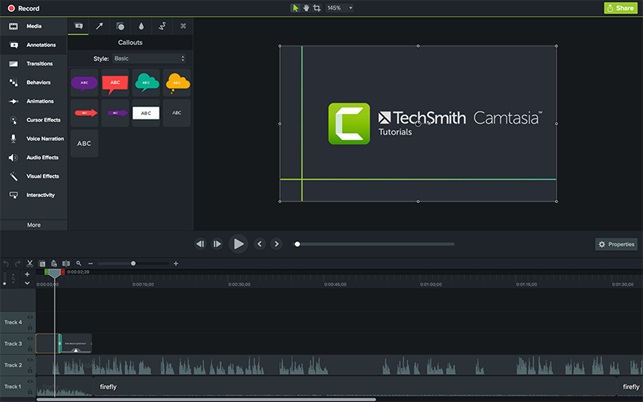 Camtasia is a wonderful alternative for screen recording on Windows 8 or other systems. Not only can you record the screen on your machine with this product, but you can also edit the recordings. Whether you want to create a training video or a product demo, Camtasia can assist you without wasting your time.
Pros
Edit your screen recordings quickly and effortlessly.
Capture video from the webcam.
Take the audio from your microphone and record it.
Free screen recorder for Windows 8
Cons
Most users will find it prohibitively pricey.
The free trial period is only for 30 days.
Price:
Individual and Business pricing: $224.99 Per User
Education pricing: $161.03 Per User
Government & Non-Profit Pricing: Starts from $201.74 Per User
Compatibility:
Windows 8/10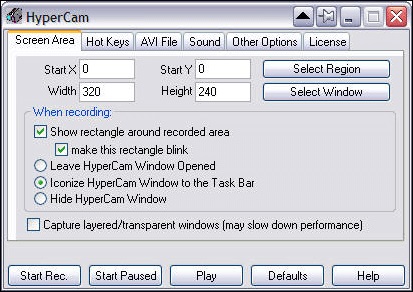 Hypercam is a completely free screen recording application for Windows 8 that may be used in professional and personal settings. This tool not only lets you record your screen but also lets you record the sound from your microphone. Furthermore, the interface is really straightforward, allowing you to utilize this instrument effortlessly.
Pros
Customized screen recording area selection
The most effective screen recorder for Windows 8
Configure the hotkey for screen recording.
Cons
User interface that is old and out of date
It's challenging to work with system audio.
Price:
$ 39.96 Billed annually
$ 6.49 Billed monthly
Compatibility:
Windows 2000/XP/Vista/7/8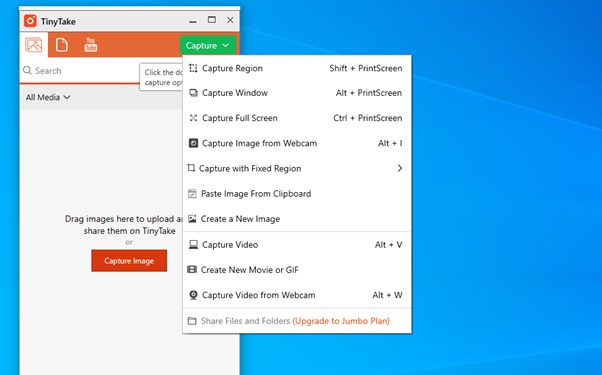 TinyTake claims to be Windows 8's fastest screen recorder. Screenshots and screen recordings are also supported. If you don't want to capture the entire screen, you can choose a specific region to record on. Once you've completed your recording, you can publish it using the same tool and generate a shareable link that you can share with others so they can view the content.
Pros
You can record your screen for up to 120 minutes.
Include the video from your webcam.
Customized capture area
Cons
Unless you upgrade, it only has 2GB of storage.
There is no support for many social networking sites.
Price:
Basic: Free
Standard: $29.95/Yr
Plus: $59.95/Yr
Jumbo: $99.95/Yr
Compatibility:
Windows 7/8/10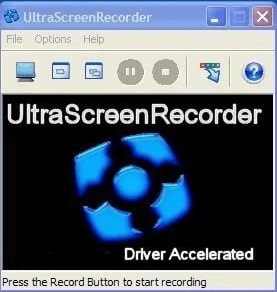 On Windows 8 machines, UltraVNC Screen Recorder works effectively for screen recording. There aren't many features in this tool, but everything you find will work to the best of its ability. What distinguishes this free Windows 8 video recorder from others is how few resources it consumes while yet allowing you to capture the computer's screen. It employs some form of compression to ensure that the output files are smaller while keeping video quality.
Pros
Experience with rapid screen recording
The utility includes video compression.
There are numerous codecs included.
Cons
An outdated user interface
There are no regular updates.
Price:
Free
Compatibility:
Windows 2000/XP/Vista/7/8/10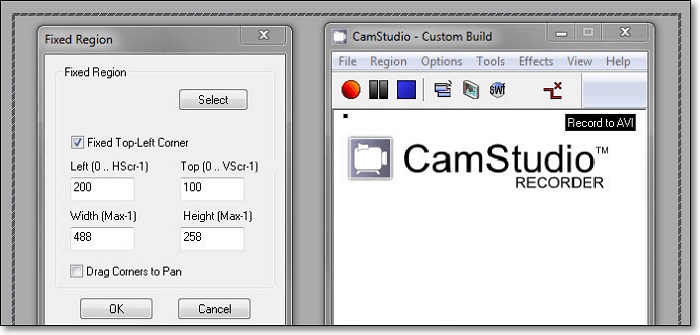 CamStudio allows users to create procedure demos on their computers. This free screen recording app for Windows 8 is effective. This software simplifies the creation of procedure films, tutorials, instructive movies, and even humorous videos. Furthermore, it records anything that happens on your screen and the sounds from your computer.
Pros
Screen recorder with multiple functions for Windows 8
Make videos that are low on bandwidth.
Captions should be added to your videos.
The most effective screen recorder for Windows 8
Cons
Recording features are limited.
There are no animation options.
Price:
Free
Compatibility:
Windows XP/7/8/10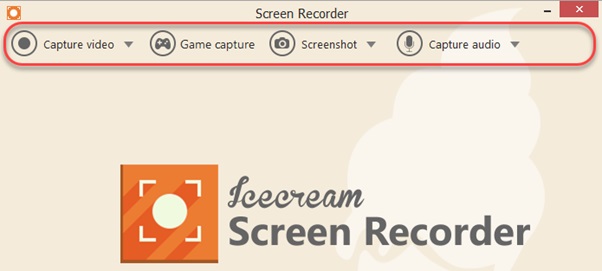 Icecream Screen Recorder is a terrific piece of software that allows you to create a variety of screen recordings on Windows 8. It will enable you to choose the area where you wish to record your screen or sounds from a microphone. Furthermore, it can automatically determine the region to be recorded on Windows 8.
Pros
Include a logo in your screen recordings.
Screen recording software for Windows 8 is quite helpful.
Capture your gameplay without sacrificing quality.
Cons
The free version has a recording time limit of five minutes.
The watermark is present in the trial mode.
Price:
Free trial version
Starting From: $29.95 one-time
Compatibility:
Windows Vista/7/8/8.1/10
Conclusion
This post introduces the top 7 Windows 8 screen recorders. Choosing the right option might be tough when there are so many options available. According to our recommendations, EaseUS RecExperts is the best pick because it has a lot of functionality while keeping the interface simple. You can also use different recorders if you like.
Price: It starts $19.95/Monthly.
Compatibility: Windows and Mac
No more content