Partition-related concerns are never fun to deal with, but they aren't as difficult to resolve as they appear. Simply use the best partition recovery software available, such as the ones discussed in this article. You should be able to recover your data in no time if you have capable partition data recovery software, regardless of how seriously damaged the partition is.
Common Causes of Lost/Deleted Partitions
The first question you'll ask if you receive an error message stating that a partition is missing is, What happened? There can be a number of reasons for the partitions to be lost or destroyed, including:
1. Accidental deletion: Even specialists have problems managing their hard drives from time to time, so it's not uncommon to accidentally remove a partition that you need or to clear an entire volume when you only wanted to clean a single partition.
2. Data corruption: A virus or improper disc operations can corrupt the partition table, resulting in the loss of a partition.
3. Power outages: A rapid increase in power or a power loss might disrupt the driver's activities, rendering a partition inaccessible.
4. Bad sectors: Bad sectors on the disc can prevent the operating system from recognizing your partition.
The good news is that you may be able to recover a lost partition if you act promptly after noticing it is gone.
How We Selected Top Partition Recovery Software
We evaluated these tools against characteristics that we believe will directly help persons who will use them:
Performance: Not all file recovery software can recover all sorts of files. Not everyone can restore files from external storage, either. As a result, we hunt for solutions that can recover a variety of files from various types of storage media.
User-Friendliness: Both newbies and enthusiasts might benefit from a good recovery solution. This is why we chose tools that are either simple to use straight away or contain some simple-to-learn fundamentals to get you started.
Price: When it comes to anything, price is always a consideration. We've hand-selected methods that we believe are cost-effective, so you won't have to break the bank to get your data back.
Compatibility: We sought to identify tools that could be used in any type of configuration because not everyone utilizes the same operating system, file system, storage media, or device.
Why Timing Matters
When a partition is destroyed, the system often removes the system's assignment for that position on the hard drive, allowing that area of memory to be overwritten as needed. The longer you use your computer, the more likely it is that that area of the hard drive may be overwritten with fresh information. As a result, the sooner you attempt to restore missing partitions and the less you access the hard drive, the better.
However, as long as that region of the disc is unaltered, you can still use recovery software to restore the partition. Here are the top best partition recovery software for you to recover lost partitions efficiently. 
EaseUS Data Recovery Wizard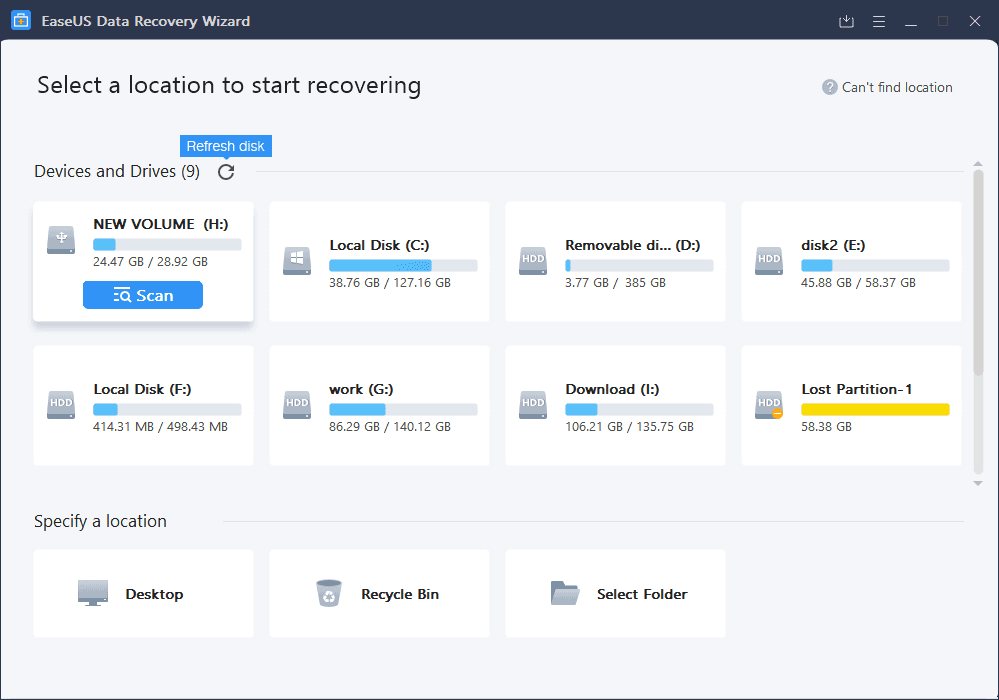 EaseUS Data Recovery Wizard is a well-known data recovery program that can also recover partitions. When partitions are lost, destroyed, RAW, or inaccessible, you can use them. Its modern user interface is welcoming and easy, and it supports over 1,000 file formats, allowing you to recover all types of information, including documents, photos, videos, audio, emails, and file archives.
Partition recovery with EaseUS Data Recovery Wizard is as simple as three steps, and the utility even allows you to start, halt, or resume a data recovery scanning process at any moment, which might be useful if you need to use your computer for something else.
Pros:
User interface is modern.
Recovery sessions can be exported and imported.
There is a three-step healing process.
Cons:
Expensive
Marks files that are unrecoverable as recoverable.
Supported file systems:
FAT12/16/32, exFAT, NTFS, NTFS5, ext2/3, HFS+, and ReFS are all supported file systems.
Price:
Try it out for free for up to 2GB of data.
$69.95 for a monthly subscription
$99.95 for an annual subscription
Upgrades for Life $149.95
Supported OS:
Windows 11/10/8.1/8/7/Vista/XP are supported operating systems.
User experience:
Many things make EaseUS Data Recovery Wizard Pro the best. It has been around since 2004, and it does well on all our other tests. It's available for both Windows and Mac, and you can try it out for free to see if it can find your data before you pay for it.
Price: It starts $69.95/Monthly.
Compatibility: Windows and Mac
Acronis Partition Recovery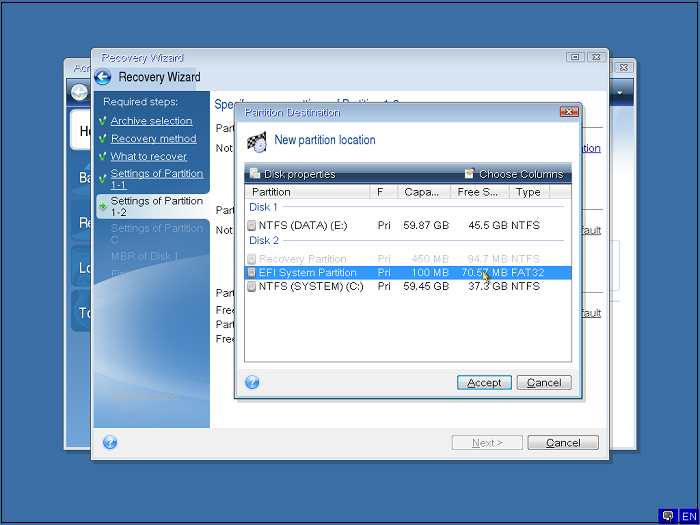 You may also use Acronis Recovery Expert Wizard as the best partition recovery program if your partition is misplaced or missing. Acronis Recovery Expert Wizard can recover partitions that have been lost due to unintentional deletion, data corruption, faulty sectors, or power failures. It can also assist you in manually or automatically restoring your partition.
Features:
You can merge, divide, move, and resize your partitions.
File Recovery from Deleted or Lost Partitions
Acronis Disk Editor Recovery Tool HEX Acronis Disk Editor Recovery Tool HEX Acronis Disk Editor Recovery Tool HEX
Compatibility with Linux
Acronis Disk Editor Recovery Tool HEX Acronis Disk Editor Recovery Tool HEX Acronis Disk Editor Recovery Tool HEX
Price:
Acronis Partition Recovery is $49.99 for the home edition.
Compatibility:
FAT16, FAT32, NTFS, Windows XP to Windows 10
Ext2, Ext3, ReiserFS3, and Linux SWAP all require 256MB of RAM and 150MB of free space.
Pros:
It doesn't take any technical knowledge to use, and the manual recovery mode gives you more control over the recovery process.
The automatic mode instantly locates and recovers all deleted partitions.
Cons:
Recovery takes a long time.
User experience:
Acronis Disk Director Home makes it easy to make, change, and organize partitions. All the actions and tools are on the left pane of the main application window. This includes the Acronis Recovery Expert, which helps people who have lost or damaged their partitions get them back.
Disk Drill Partition Recovery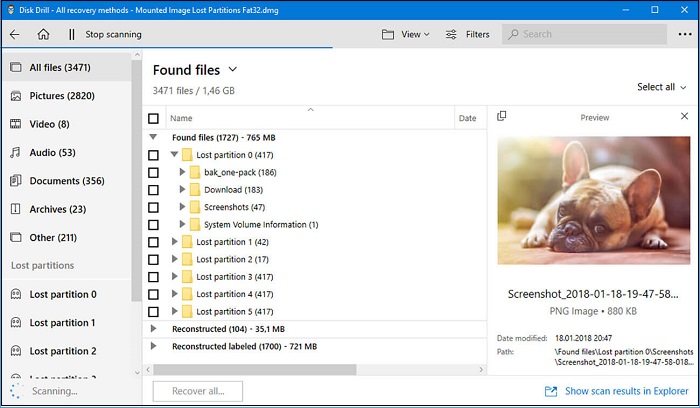 For a variety of reasons, Disk Drill is the best partition recovery software. To begin with, the tool combines strong data recovery algorithms with a simple user interface, giving regular Windows users access to professional data recovery skills.
NTFS/NTFS5, AFPS, HFS/HFS+/HFSX, FAT/FAT32/exFAT, EXT3/EXT4, and other popular file systems are all supported. Disk Drill can also recover files from RAW volumes that have no file system at all (over 400 different file types in fact).
Disk Drill for Windows' free version can recover up to 500 MB of data and includes various helpful disc tools that many other developers sell as separate applications. Windows 7 SP1 and newer are supported by the current version of Disk Drill for Windows.
Pros:
It's simple to use
It has powerful data recovery techniques
All common file systems and file formats are supported.
Additional disc tools
500 MB of free file recovery
Cons:
There is no method to get in touch with customer care over the phone.
File systems that are supported include:
NTFS, NTFS5, exFAT, HFS, HFS+, APFS, ext2/3/4, RAW, FAT12/16/32, NTFS, NTFS5, exFAT, HFS, HFS+, APFS, ext2/3/4, RAW
Price:
Disk Drill Basic is a free program that allows you to drill discs.
$89.00 Disk Drill PRO
Enterprise Disk Drill $499
50% OFF Upgrade for Competitors
The following are the limitations of the free/trial version:
Only 500 MB of data may be recovered using the free version.
Operating systems that are supported include: Windows 11/10/8.1/8/7/XP/Vista/XP/Vista/X
User experience:
We like Disk Drill because it has a lot of different uses and is very easy to use. It has versions for Windows, Mac, Linux, Android, and iPhone, recovering data from memory cards, cameras, and other external media. You can also recover/back up data with the help of phones and tablets.
It's cheaper to use Disk Drill than its competitors if you have more than one device or if you're willing to pay $89 for a lifetime upgrade.
EaseUS Partition Recovery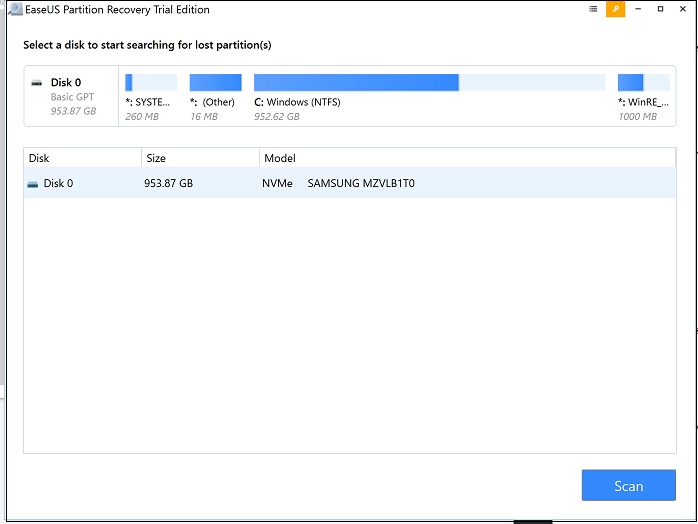 It's always a good idea to clone partitions that are still usable when recovering lost or deleted partitions to prevent additional data loss, which is where EaseUS Partition Recovery comes in.
Whatever caused the partitions to be lost, EaseUS effectively locates the missing partitions and assists you in restoring all of the contents stored on them. To recover a lost partition with EaseUS, simply download and run the software > choose the disc where the partition was lost > click Recover. Click the Scan button to see the partition list in preview mode. Locate and pick the partitions you want to recover, then click Proceed.
Pros:
Easy to use
Comprehensive partition management
There are a lot of features in the free edition.
Cons:
It's only compatible with Windows.
EaseUS Partition Master is $69.95 win / $89.95 mac.
Compatibility:
FAT, NTFS, Ext2, and Ext3 are among the file systems that are supported.
User experience:
EaseUS Partition Recovery is a partition manager that focuses solely on partition management. It allows you to copy existing partitions, resize partitions, change drive letters, and more. Although the software is user-friendly and well-designed, some features may be obscure to less experienced users.
DiskInternals Partition Recovery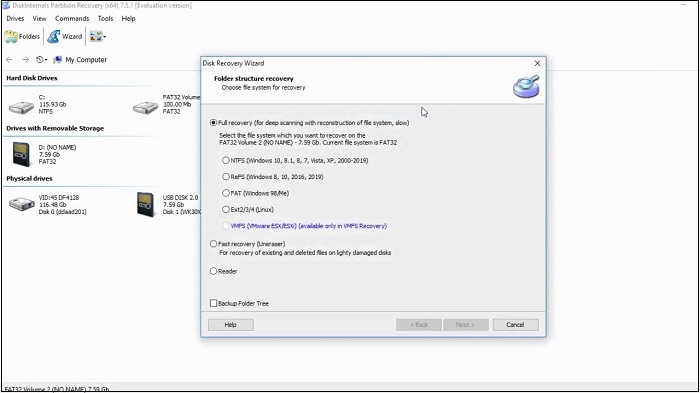 DiskInternals Partition Recovery is a partition recovery application designed specifically for household and commercial customers that need to recover partitions and the data they contain. The program can recover partitions lost due to a variety of causes, including unintentional deletion, faulty sectors, malware damage, and corruption induced by a power outage.
It comes with a step-by-step recovery wizard that does an excellent job of guiding the user through the recovery process and assisting him or her in selecting between the many scanning modes. FAT, ReFS, UFS, HFS, NTFS, ReiserFS, APFS (reader mode), RomFS (reader mode), Reiser4, XFS, Ext2, Ext3, and Ext4 are among the file systems supported by DiskInternals Partition Recovery.
Pros:
Can open unreadable partitions in File Explorer
Recovery wizard with step-by-step instructions
Numerous file systems are supported.
Cons:
The scan speed is slow.
The trial period is limited.
File systems that are supported include:
ReiserFS, APFS(reader mode), RomFS(reader mode), Reiser4, XFS, ext2/3/4, FAT, ReFS, UFS, HFS, NTFS, ReiserFS, APFS(reader mode), RomFS(reader mode), Reiser4, XFS, ext2/3/4.
Price:
Trial version:  Only preview
Personal: $139.95
Business $219.95
Free/trial version limitations:
Only recoverable files can be previewed in the free trial version.
Supported operating systems:
Windows 11/10/8.1/8/7/Vista/XP/2000.
User experience:
The UI is one of the most outstanding aspects of DiskInternals Partition Recovery. Because it resembles the native File Explorer interface, anyone who can handle a computer system can use the program without difficulty. It can also recover lost partitions on solid-state drives (SSDs) and other forms of external storage.
TestDisk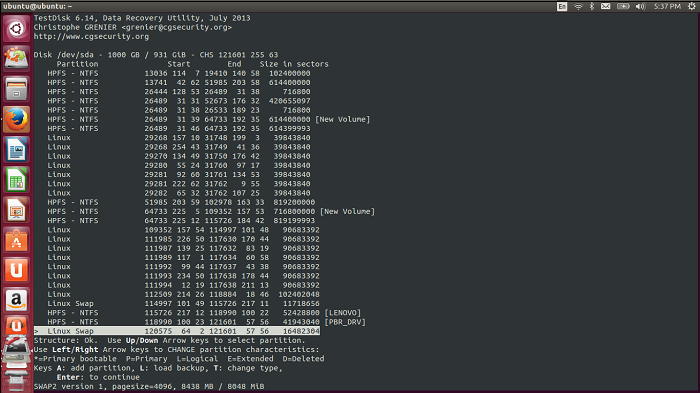 TestDisk is the most widely used free partition recovery program. Windows 10/8.1/8/7/Vista/XP, Windows Server 2016/2012/2008/2003, DOS (actual or in a Windows 9x DOS-box), Linux, FreeBSD, NetBSD, OpenBSD, SunOS, and macOS are all supported. The utility was created to aid in the recovery of lost partitions and/or the re-booting of non-booting drives, and it excels at both.
TestDisk is generally avoided by inexperienced users because of its unappealing command-line user interface. In practice, the utility performs a good job of guiding users through the partition recovery procedure, although it isn't as user-friendly as graphical partition recovery software.
Pros:
Can be used to re-boot non-booting drives
Open-source and completely free
Compatible with Windows 10/8.1/8/7/Vista/XP
Cons:
CLI (Command-Line Interface)
File systems that are supported include:
BeFS, CramFS, FAT12/16/32, FATX, exFAT, HFS, HFS+, and HFSX, JFS, btrfs, ext2/3/4, GFS2, LUKS encrypted partition, Linux RAID md 0.9/1.0/1.1/1.2, RAID 1/4/5/6, Linux Swap, LVM, LVM2, NSS, NTFS, ReiserFS 3.5, 3.6, and 4, Sun Solaris i3
Price:
Open-source and free software
Operating systems that are supported include: 
Windows 11/10/8.1/8/7/Vista/XP
User experience:
It's hard for people who aren't computer experts to use TestDisk because it has a command-line interface. Because the tool doesn't show users how to use it, it's not as easy to use as software that shows you how to use it.
Active Partition Recovery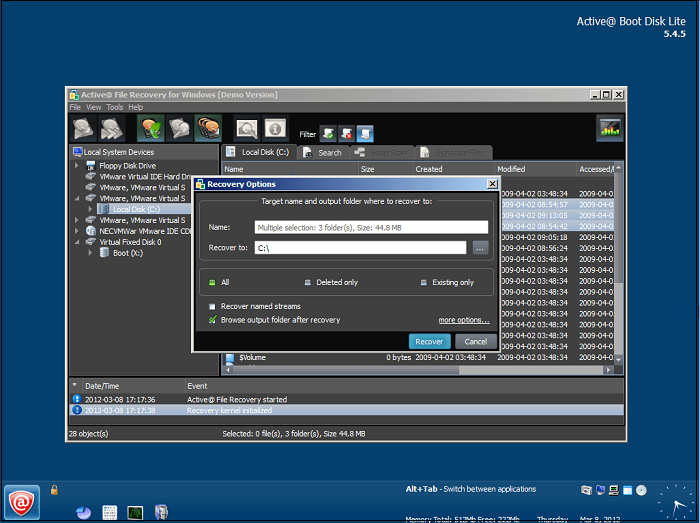 Active Partition Recovery is a freeware program that helps you to recover logical disks and partitions that have been lost, destroyed, or damaged. It has three scanning methods: QuickScan, SuperScan, and Last Chance, each of which is more thorough than the previous.
Its main features are the ability to restore partitions and discs to their previous states, the ability to repair broken partition tables, and the ability to roll back partitioning modifications if something goes wrong.
Other Active products, such as UNDELETE and File Recovery, can be used in conjunction with Partition Recovery. Instead, each tool has its own license, which can add up quickly if you want to use several.
Pros:
Easy-to-use interface
Repairable partition tables
Cons:
The free edition has a limited number of features.
File systems that are supported include:
FAT, FAT32, exFAT, NTFS, HFS+, UFS, and Ext4/3/2 are all file systems.
Price:
Free Version: Only preview for lost or formatted partitions
Standard license: $39.95
Professional license: $49.99
Ultimate license: $69.99
 Limitations of the free/trial version:
You can only search for missing or formatted partitions using the free version. Recovery is only available as part of premium membership.
Supported operating systems:
Windows 11/10/8.1/8/7/Vista/XP.
User Experience:
With the help of partition recovery software, you will be able to get back all your essential files in a few simple steps. By following the directions and being very careful, you will get your lost files. Active Partition Recovery is an excellent software that anyone can download for free. It is now one of the most advanced and powerful programs you can use to help you get back your lost data.
Concluding Words
The winner will be determined by what you require as a user of the product. What happened to your files? Do you require assistance with more than one system? What happened to your primary partition if that's the case? Or the availability of money.
All these things will play a role in deciding the above-listed software. Each has its own set of benefits and drawbacks for different people. Even so, any of these options will be a good one once you know which features you need to get back your deleted or damaged partitions.
No more content