The Chinese company ByteDance Ltd owned company TikTok is a video-focused social networking service provider that hosts pranks, jokes, dance, stunts, and many other entertaining 15 seconds to 10 minutes videos in around 40 languages.
Since this platform is quite compelling, it's natural for you to scout the best TikTok watermark remover to make the most out of any of your own or others' TikTok videos. So, let's look at why you even need any TikTok watermark remover.
To share your or others' TikTok videos on any other social media platforms
To use TikTok videos for any personal or professional reference.
To use any TikTok video for any promotional purpose.
To establish your brand for any of your work in the virtual platform using any TikTok videos.
These are the most common reasons for any TikTok user to get rid of watermarks. So, it's time to get rid of the TikTok watermark with the top 7 most popular TikTok watermark removers.
Best TikTok Video Watermark Remover Software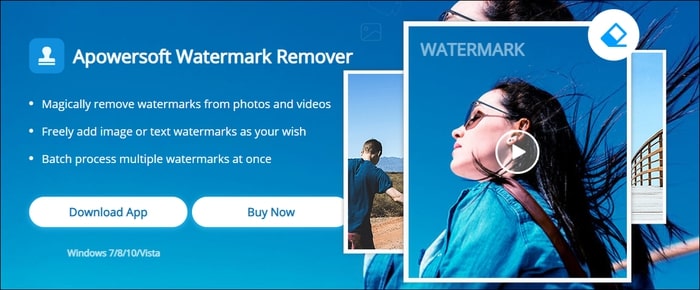 Apowersoft is one of the best TikTok watermark removers for Windows 7/8/10/Vista. With the batch process, you can remove multiple watermarks at one time. With the help of the dead & drop option and simple but customizable editing tool, you can remove the TikTok watermark on your PC. This software maintains the size and quality of your output file the same as the original one.
It is the most popular TikTok watermark remover for Windows or Mac platforms. You can remove any watermark from any video with the three watermark removing tool options. You can select any of them depending on your choice, and with this software, you can remove any certain part of any video logo while leaving the rest of the part as it is.

Apowersoft Watermark Remover Review: An Easy-to-use tool to Remove and Add Watermark for Phots & Video
Pros
It supports almost all major photo/video formats to remove watermark while using the drag & drop option.
You can remove watermarks from multiple videos with the batch watermark removing options.
The output file quality and size will be the same as the original one and video transfer easy after removing the watermark.
Cons
There are limited editing features to remove watermarks from the video.
This is not free software.
Price: It costs $25.00/Monthly, $39.00/Annual, and $59.00/Lifetime.
Compatibility: Windows
How to remove watermark via Photo/Video Watermark Remover
To remove the watermark from the TikTok video, you need to follow these steps:
Step 1. Download and install Apowersoft Watermark Remover on your PC. 
Step 2. Run the software, choose the Remove watermark from video option.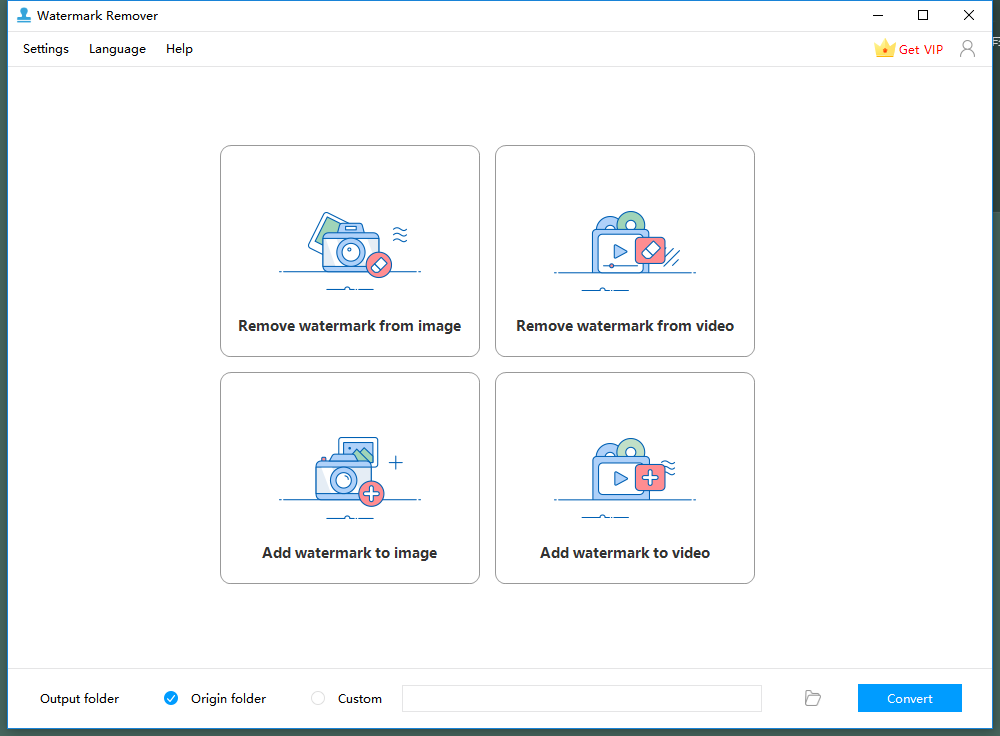 Step 3. Tap on the + sign to the import the video on which you want to remove watermarks. You can select multiple videos too. 
Step 4. Select the Selection Tool button and put a red box on the area from where you need to remove the object.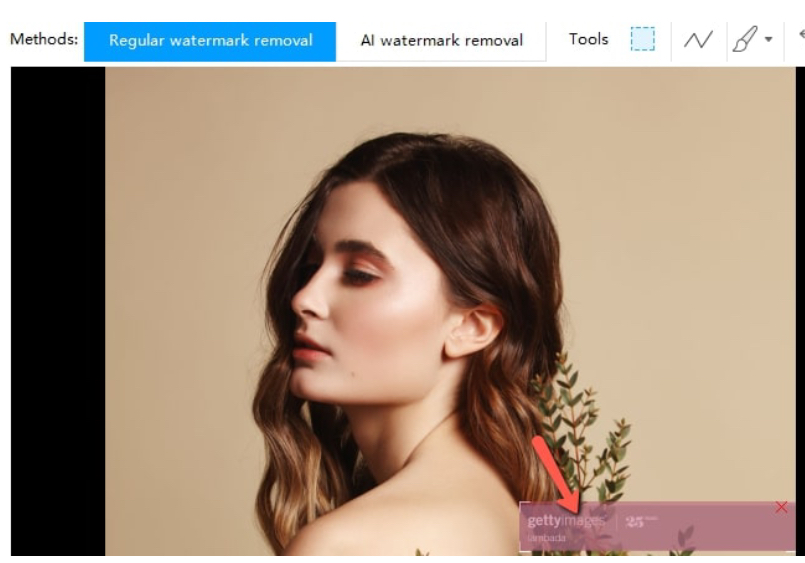 Steps 5. Now, click on the Convert button to start the process.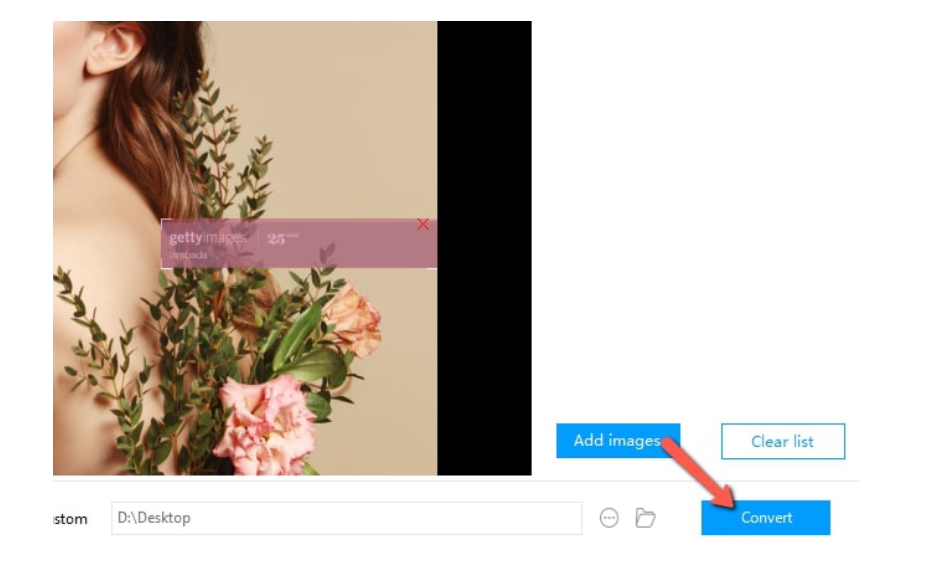 Once the process is complete, you will receive a notification from the software and the edited video will be saved on your computer.
Top 3 TikTok Watermark Remover Apps for Android & iPhone
1) Remove & Add Watermark for Android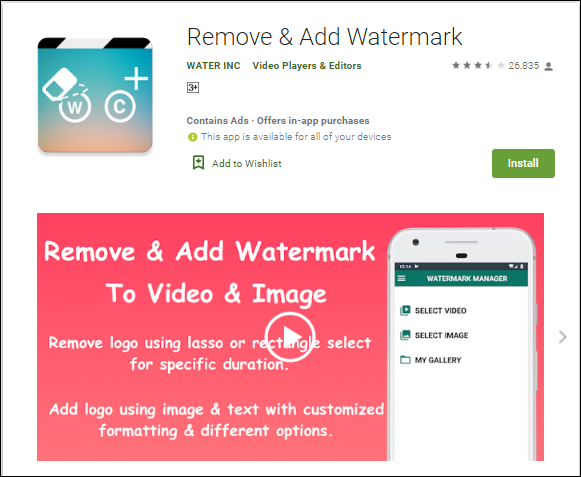 Remove & Add Watermark for Android is one of the best free TikTok watermark removers for Android devices. You can remove any watermark from any photo or video by selecting that particular area via the lasso or rectangle select option. You can quickly delete the selected area by interpolation of the surrounding pixel. The alpha-blend watermarks work perfectly while blending the surrounding pixel with the watermark removed area. It supports mainly Mp4 format, but if you have video in another format, then this software has transcoded it to Mp4 format.
Pros
Crop out the watermark from any video.
Custom and Zoom options for selecting watermark area.
Multiple watermarks remove options.
Cons
The removing speed is slow.
The removed area gets blurry.
Price
This is free software.
Compatibility: Android 4.2 version and above.
2) Video Eraser- Remove Logo

Video Eraser- Remove Logo is one of the most effective and useful TikTok watermark removers for the iOS platform. While using three simple steps of importing video on the app, selecting the watermark, and finally clicking on the "start to clean the watermark" option, you can remove any logo, image, or icon watermark from any TikTok video within a few minutes.
Pros
It supports Mp4, MOV, 3GP & M4V formats.
With the paid pro version, you can have an ads-free version.
It works perfectly on any iOS platform with Apple M1 Chip.
Cons
Quality gets compromised after importing the video.
The free version comes with ads and limited features.
Price
The pro version comes for $ 1.19 or $ 2.49.
Compatibility: iPhone/ iPad/iPod Touch: iOS 8.0 or later. And Mac OS 11.0 or later.
3) ReposTik
With ReposTik, you can remove any watermark of any TikTok video on an iOS device. While removing the watermark, you can repost any of your TikTok videos on your account to grab attention and traffic. Even if this is free & ad-free software, few in-app advertisements and promotions appear in it, and there is also an in-app purchase option. With the three steps, you can remove the watermark of any TikTok video.
Pros
You can save and share TikTok videos without watermarks.
The scheduling reports option is there.
The hashtag option is there.
Cons
You have to take the consent of the video owner before reposting any video.
You have to update the software regularly to make the reposting function work.
Price
It has in-purchase option with a cost between $5-and $15.
Compatibility: The 1.2.3 version of this app is updated for iOS 15.
Top 3 Online Watermark Removers for TikTok You Should Know
1) SnapTik

SnapTik is one of the most used online TikTok watermark removers that allows you to download and save any of your favorite TikTok videos without a watermark. Using the copy & paste method of any TikTok video link on the app via a browser, can you get your TikTok video without a watermark.
Pros
No installation hassle of the app since it provides online service.
You can access this app on a PC, laptop, tablet, or phone.
You can have high-quality TikTok downloaded videos without a watermark.
Cons
Free software comes with limited features and ads.
Security is vulnerable.
Price
Free software.
Compatibility: Computer, Tablet, Mobile & laptop
2) Media.io TikTok Watermark Remover

Media.io TikTok Watermark Remover is one of the most popular online TikTok watermark removers, and it allows you to remove a watermark with one click while selecting the watermark on any TikTok video manually. You can preview your edited video before downloading or saving it to ensure the absence of the watermark.
Pros
Multiple watermark, Logo, or image can be removed simultaneously.
You can cover the TT logo with this flexible TT watermark remover.
Support all common formats, including Mp4, Mp3, MOV, WMV, etc.
Cons
Video upload speed is a maximum of 500MB.
More features could be incorporated.
Price
Completely free app.
Compatibility: Windows, Mac, Linux, iPhone, iPad & Android
3) TikMate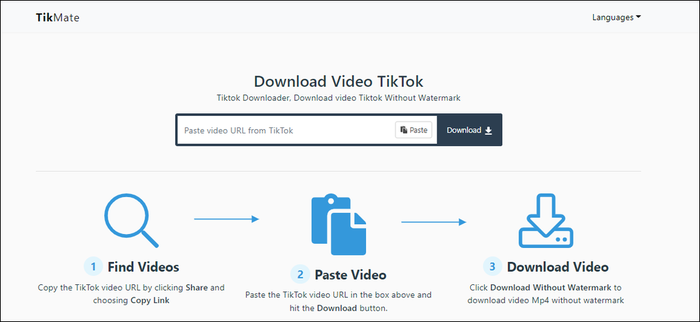 TikMate is the perfect online application to remove watermarks from TikTok on the Android platform. You can simply download any TikTok video of your choice by copying & paste the link method and sharing the HD downloaded TikTok videos with friends. It allows you to enjoy the background downloading option while accessing another app on your phone. The light-weighted application allows you to share, repost and rename downloaded TikTok videos.
Pros
Downloading speed is 3 times faster.
Easy to handle and 100% safe.
The built-in software allows you to download videos offline.
Cons
The watermark removal process is not smooth.
Compatibility limitation Windows & iOS platforms.
Price
Free online application.
Compatibility: Android device
Wrapping Up
While going through the simple and sorted steps of these all TikTok watermark removers for different devices and different platforms, it is quite comprehensive how important and effective these software could be to all the TikTok admirers across the world.
However, while observing the detail of the TikTok watermarks removal process, it has been very clear that maximum customizable output video editing options would ensure the output video quality after removing the watermark, and therefore nothing would beat the customizable and flexible video editing options of the Apowersoft Watermark Remover.
Price: It costs $25.00/Monthly, $39.00/Annual, and $59.00/Lifetime.
Compatibility: Windows
No more content