It's always fun to behold your face differently when using a face swap application. The exciting part is that individuals can unleash their creativity when using this fun medium. Moreover, face swap apps are easily installed on iPhones and Android devices, thereby accessible to many individuals.
With face-sharing apps, you can have great times with friends, produce great content on social media, and become famous by rocking the face of your favorite celebrity. If you're the type that loves to unleash your style with face swap applications, here are the top 15 face swap apps for iPhone and Android devices in 2022.
Top 15 Best Face Swap Apps for iPhone and Android Devices in 2022
1. Reface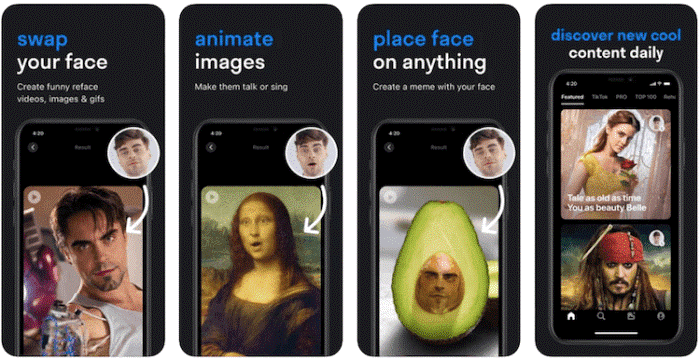 Reviews and installs in the Google Play Store do not lie. With over 100 million downloads and millions of active users worldwide, Reface is undoubtedly one of the most famous face-changing apps ever. Thanks to the powerful face-changing features it brings.
This app can help you change your face with movie characters or celebrities. It promises realistic results thanks to its fantastic technology. It also supports live face swapping and gender-swapping, so you can see how you look in other genders.
Share your happiness to double the fun. It allows you to share your funny videos or meme creations on social networks. A few taps can help create unique new content right from your smartphone.
Download for Android, Download for IoS
2. B612
It was initially just a photo editor, and B612 can change faces in photos and videos. It's a feature that functions in the same way as on Snapchat. By simply selecting the B612 Face Swap effect, you can change faces with your peers or with celebrities at ease. The products are relatively excellent, if not outstanding, and changing the face of the B612 is sure to have you and your peers laughing while you're doing this. Also, you can use it as a funny photo and video editor for Instagram Reel.
Download for Android, Download for IoS
3. Reflect: Realistic Face Swap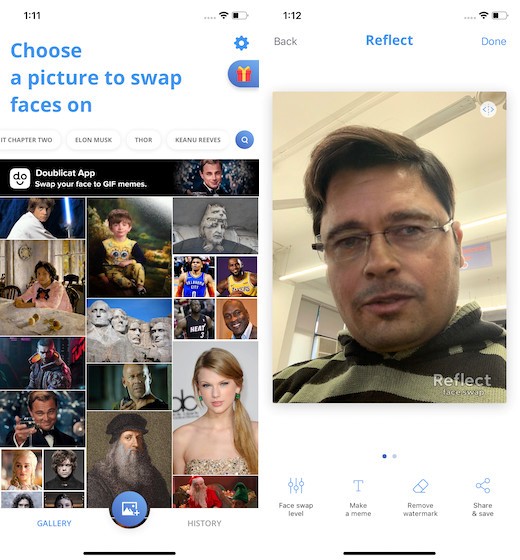 Reflect is a highly respected face swapping app that makes full use of artificial intelligence to swap faces accurately. Automatically adjusts skin tone and smoothness to produce better images. Apart from that, it also offers the option to adjust the exchange rate.
This means that you can choose to make a complete change or reduce the exchange rate for an unrealistic view. Another capability that deserves consideration is the incorporated meme generator, so you can quickly generate funny memes that you can upload on your social media accounts.
Download for Android, Download for IoS
4. FaceApp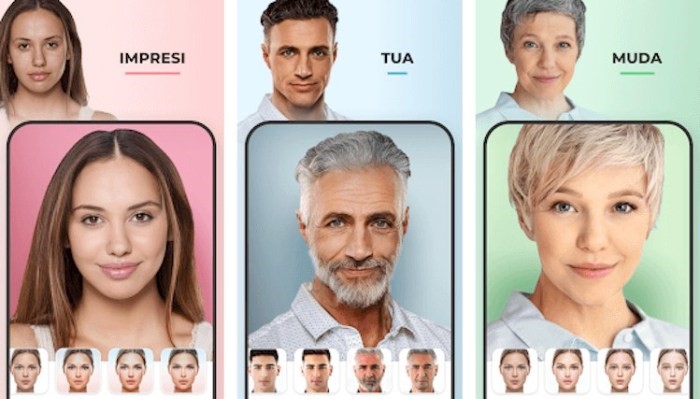 FaceApp is one of the most famous face editing apps rated by many end-users worldwide. It is enhanced with AI and can make exciting pictures with distinct filters, effects, and backgrounds. Thanks to the versatile tool that promotes one-touch editing.
Being one of the face-swapping apps with excellent performance enables one to change faces with peers or people in the same setting. It supports many other effects like changing celebrities' pictures, the ageing effect, and the baby effect of knowing what your baby might look like.
In addition, FaceApp is equipped with abundant features to enhance your face, such as filter effects, increased hair volume, smooth wrinkles, and removal of acne or blemishes. The app can also change hairstyles and hair color for a new look that might be better without actually visiting the salon.
Download for Android, Download for IoS
5. Face Swap Live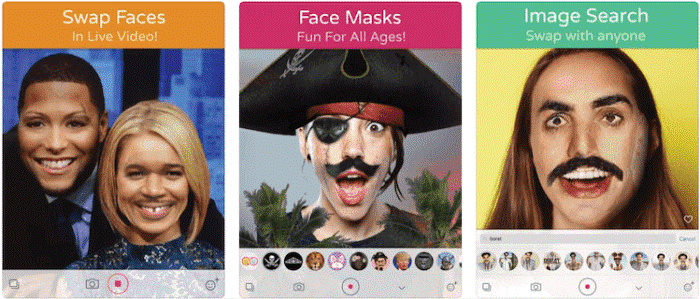 Make a face-swapping very interesting using the Face Swap Live app. This remarkable application allows you to change faces in real-time, enabling you to record videos or take pictures of other people's faces. If you want to switch faces with a colleague or a celebrity, this tool is for you.
The application has exciting features such as the mask mode and about 25+ other effects, moustache and beard party mode, and even a face editor. There are also finger painting options to edit your face to your soothing.
Download for Android, Download for IoS
6. FacePlay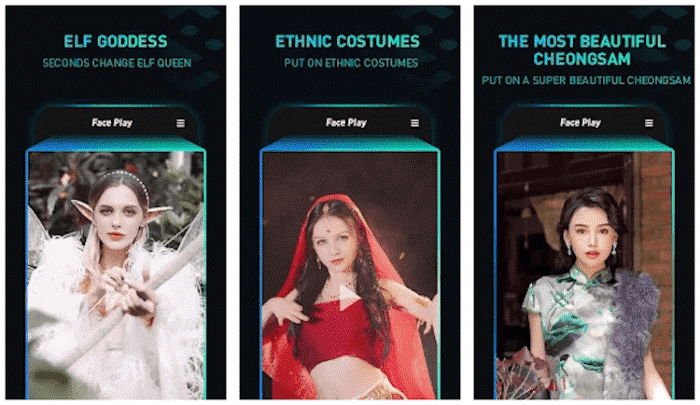 FacePlay is one of the best free face-sharing apps that offers many valuable features. There is a range of short video templates in the app to change faces, select videos and photos, and let this app do the rest.
Creating unique videos has never been easier. Fun and creative videos can be made in minutes using only a few taps. It also has a feature that lets you share on social media.
With over 5 million downloads, FacePlay is one of the most famous face switch apps among Android and iOS users. This app has got you covered whether you want to create vintage costume videos or ethnic minority outfits.
Download for Android, Download for IoS
7. Banuba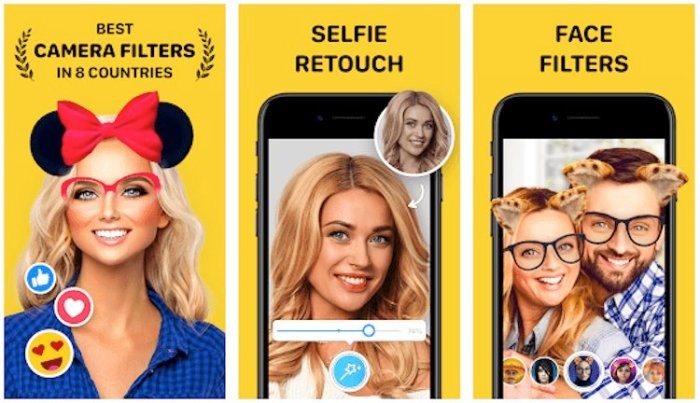 Designed as a versatile selfie app, Banuba gives you over 1000 face filters to choose from and try out. It is also one of the excellent face swap apps that highlights face swap with which you can easily swap faces with celebrities, superheroes, or even animals.
Banuba is more than just a face swap app - it's a powerful photo and video editor that lets you apply unique filters and effects to your photos or videos. Even better, you have the option to change the sound of your video to sound like an alien, animal, or superhero.
Banuba has an emoji maker that lets you create funny faces and videos to express your emotions if you want to express yourself. You can share the media you create and have fun with colleagues on social media.
Download for Android, Download for IoS
8. Snapchat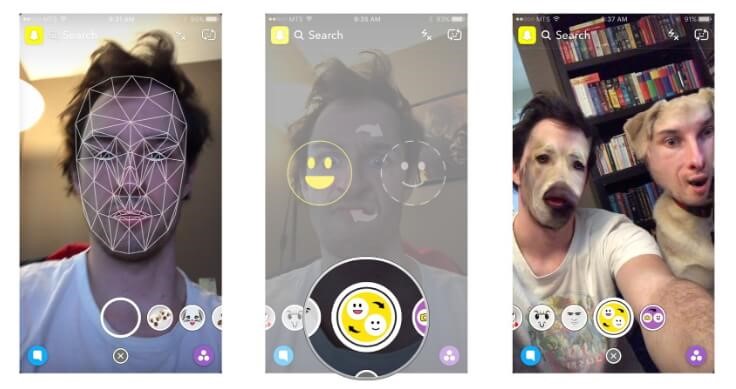 Snapchat is among the most significant social media application, having about 200 million active users daily. It is not news that it allows excellent options for recording videos and taking photos, but many do not know it can be used to switch faces. When taking pictures or recording videos, put your finger on your face until several faces appear on the lower screen. Just look for the option to switch face and click on it. You can then move on to the following photo or video on social media.
Download for Android, Download for IoS
9. Jiggy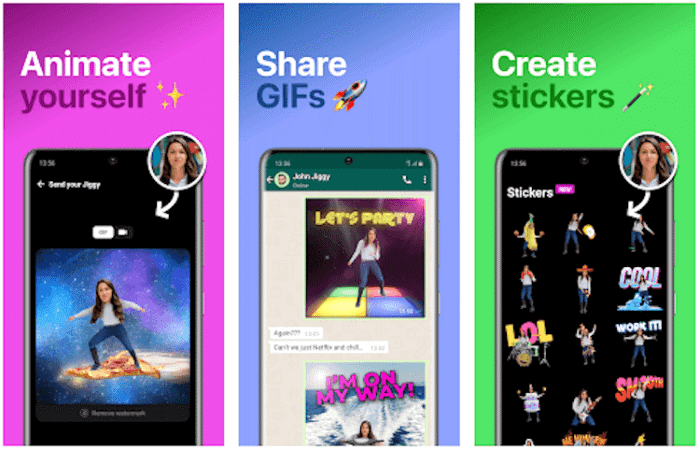 Easy to create fun videos with Jiggy. With this application, you can instantly transform your body and change your face. All you have to do is upload a photo, and it will automatically turn it into a funny GIF video. You can also share with your colleagues on social media to spread happiness.
For your convenience, Jiggy includes several key features. Mention multi-item support that allows up to 3 people to change. Moreover, it offers more than 100 fun and unique dances for GIFs and videos. Moreover, the developer keeps updating the stickers every week.
If you have old photos, Jiggy brings them to life with animated videos. It also supports live gender swap, face swap, and realistic swipe to enhance your experience. And if you want to bring your WhatsApp conversations to life, this app can do the job.
Download for Android, Download for IoS
10. Mixbooth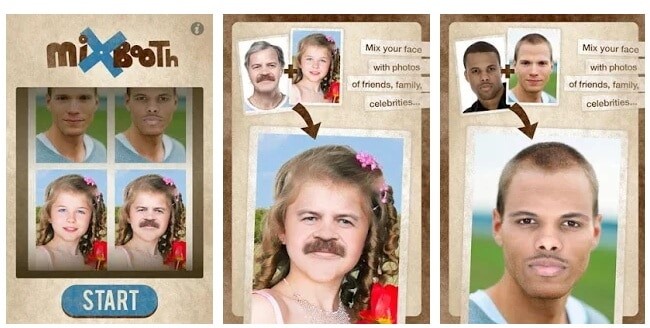 Become a movie star, favorite singer, or other celebrity in seconds. Using the app is very simple as you need to select the picture containing the face you intend to swap with, and the application performs the changes automatically. Mixbooth allows you to use your camera or import images from your photo library or even your Facebook account. To look at the final image, shake your phone, and if you like the result, you can save the photo to your phone or share it on your favorite social media platform.
Download for Android, Download for IoS
11. Face Swap Booth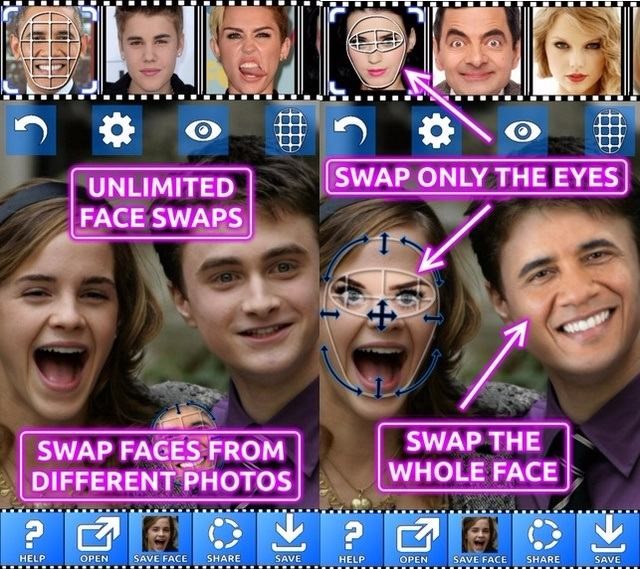 If you want different faces saved that you can change anytime, Face Swap Booth is your ideal app. This friendly face switch app enables you to attach faces, which can be input manually or detected automatically with the application. These several faces can be used to swap different people's faces, which is fun. Moreover, you can even change your face with preloaded celebrity faces in the app.
Besides that, the application allows advanced manipulating tools, fun skins, and more, just that you might need to upgrade to the app premium to use some functions.
Download for Android, Download for IoS
12. Impressions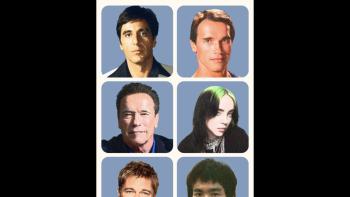 Put your top celebrity's face in your photo with Impressions. It supports face-to-face videos and photos, and it is handy to help you create unique content for social platforms. With the AI incorporated in the app, you can swap faces quickly.
Operating this app is relatively very easy. All that's required is to choose the face of your top celeb. Record a video, take a photo or select a photo from your gallery, and the app will detect your face and make you the celebrity of your choice. With realistic results, everyone thinks the pictures are accurate.
Impressions give users a lot of realistic photos and videos and over 600 celebrity faces to choose from in terms of features. It also supports lip sync to match your favorite movie scenes.
13. Cut Paste Photos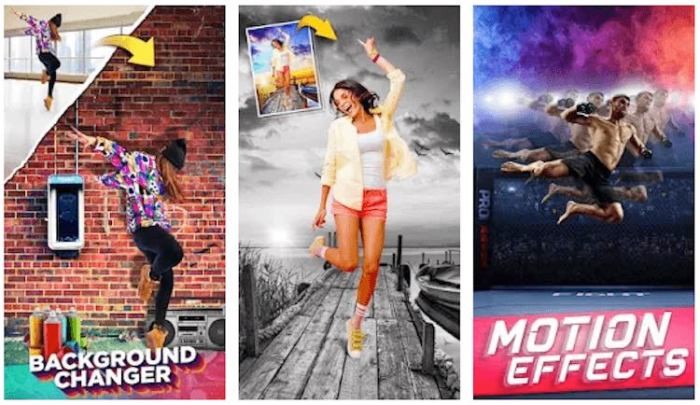 If you love to cut and paste, this tool could be the best partner for converting photos. One of the best face changer apps allows you to crop faces and paste them on other photos. Thanks to the intelligent editing tools that make this job much more manageable.
Cut Paste Photos app has an AI background eraser, with which you can extract backgrounds and remove them from your photos. It also offers a manual copy to change faces with manual cropping.
The photo collage is another essential point to find in this application. This feature helps create beautiful collages from your photos.
Download for Android, Download for IoS
14. Cupace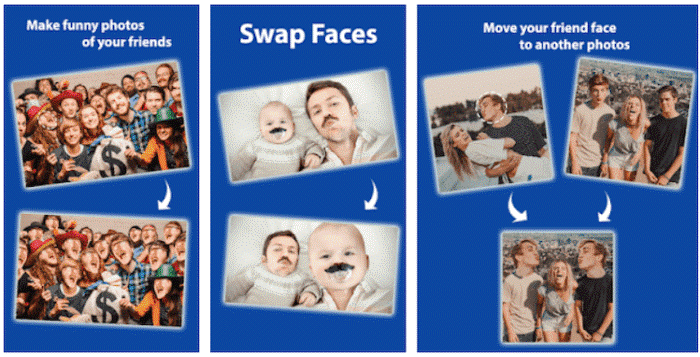 How to change your face with wounds and faces? If you are into ​​creating funny pictures and memes, the right app for you to use is Cupace. Boost your creativity and see how you can laugh with this app.
Many features are included to update your photos. Not only can you cut and paste faces from one photo to another, but you can also add stickers or emojis to make it even more festive. The text option is also available to write funny quotes.
The good thing about Cupace is that all cropped faces will be saved in your gallery. Open your phone gallery and find the face you want whenever you need to use it. Since you don't have to cut them again, it saves you a lot of time.
15. Copy Face Swap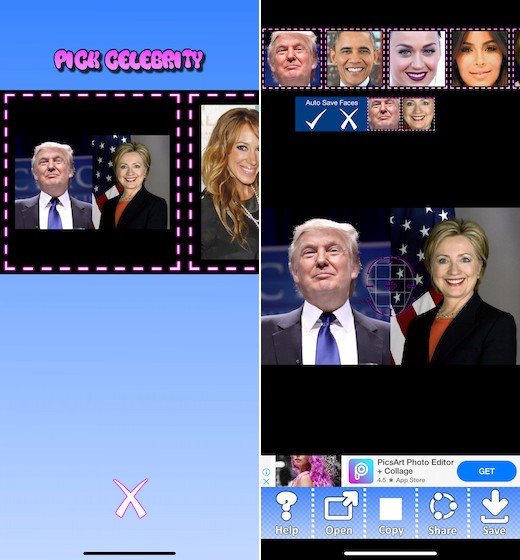 If you need to be creative with your face swaps, "Copy Face Swap" could be the perfect plugin to make your photos look great. This app gives you the flexibility you need to customize your entire screen. For example, you can copy the entire face or only a part of the face, such as eyes, lips, and nose, which are helpful in creating unique faces. Besides that, it also allows you to layer multiple faces on top of each other, making your image look completely different.
Conclusion
Swapping faces in pictures and videos have gained popularity in editing apps. Most currently used apps incorporate modern functions like face swapping to attract and interest more people. Thanks to developments in technology, we have the best face swap apps available for use aforementioned in the list. An undeniable reason for the fame and acceptance of face swap applications is because they enable users to imagine what they will look like in the future. You can also use face swap apps to swap faces with celebrities you like for fun and share them with your friends.
No more content