If you are a bibliophile, you must have shelves loaded with a variety of books, but if you are still craving new reads, there must be enough storage space too. With the changes in technology, you can grab books without worrying about the physical storage space. Ebooks are available in different formats to give you a comfortable reading facility on a bundle of gadgets.
One such ebook format is Mobi; however, it may be possible that it may not load on your favorite gadgets quickly. So, what to do next? Nothing to worry about, as you can convert Mobi to pdf to get reading compatibility along with accessibility across a variety of devices. Not only this, but the Pdf format is easier for encrypting, editing, copying, sharing, and even printing.
Let us find some best tools for converting Mobi to pdf format.
Best 5 Tools to Convert Mobi to PDF
1. Epubor Ultimate

Epubor Ultimate is a robust Mobi to Pdf converter that lets you enjoy your ebooks in almost any format. You can also utilize the batch conversion facility to save time by converting the ebooks at sixty times faster speed. Like a cork, you can seamlessly fix all metadata-related problems with Epubor Ultimate. However, you don't have to load the books manually as it allows automatic detection of devices along with the loading of books. In addition, you can find support with this software on various devices, including Kindle, Kobo, or Adobe Digital Edition for your Mac or PC devices.
Price: Its Lifetime license costs $49.99/1 PC, $54.99/1 MAC.
Compatibility: Windows and Mac
Let us go through its step-by-step guide to get more information about the usability of Epubor Ultimate.
Step 1: Firstly, you must install the software on your Mac or Windows PC and then drag your ebooks in Mobi format to the main interface of Epubor Ultimate.
Step 2: Now, you must select the PDF output format.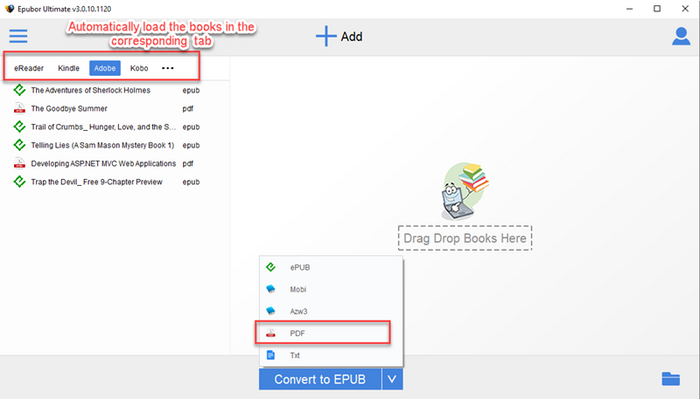 Step 3: After that, click on the button 'Convert to PDF' to start the conversion process. You will see an automatic upload of books in corresponding tabs showing up in the left bar. If you wish to remove the DRM protection, you need to proceed with dragging and dropping the ebooks into the right column.
Step 4: As soon as you find that your files are converted, you can proceed with clicking on the succeeded option given towards the end of a book title. It will lead you to open the destination folder with converted files.
2. Calibre

If you are looking for an easy-to-go tool that is both open-source and free of cost for your ebook management, then Calibre can help you out. It seamlessly converts your ebooks from Mobi to pdf format by making you utilize its simple interface. Along with this, it also lends its support to various output and input formats.
Editor's suggestion:
Calibre can be your go-to option not only for converting your ebooks to a comfortable PDF format, but it also helps add notes and comments to them while creating a library of your most-loved books with this tool. However, with many good things, Calibre also has a downside: its complexity of usage, especially if you are new to the ebook format.
Pros:
It can smoothly run on Mac, Windows, and mobiles.
It helps the users in the creation and editing of metadata with ease.
A portable software version is also available to be utilized as an ebook converter.
Cons:
No facility to lend support for epubs that are DRM protected.
3. Hamster eBook Converter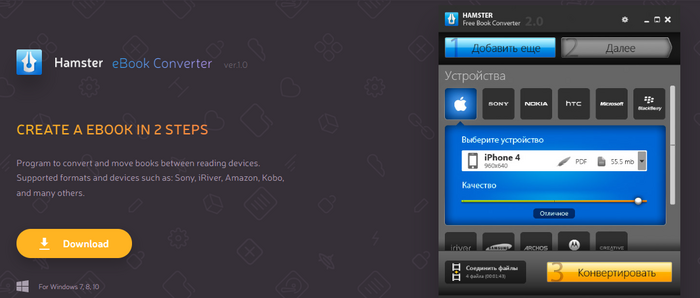 Hamster eBook Converter is a valuable tool, especially if you love reading. It helps in the transformation of ebooks into a comfortable format and helps you in the conversion of Mobi to PDF so you can use it across a variety of devices. In addition, it provides compatibility with many formats, including TXT, HTMLZ, LRF, PUB, etc.
Editor's suggestion:
The user can access the Hamster ebook converter for ebooks on Amazon Kindle and many other devices such as iPhone, Explay, iPad, etc. However, if you are looking for a few customization settings for your output files, this software will disappoint you.
Pros:
The conversion process is pretty fast.
The software offers a straightforward approach that can be used even by beginners.
It lends support to almost all formats and ebook readers.
Cons:
There is no facility for customization by the user for output files.
4. Cloudconvert
Cloudconvert is a management tool for documents and is perfectly designed to easily convert files from formats like Mobi to pdf. It has an API integration that is powerful enough to provide integration of required files into sites owned by third parties. This tool helps easily convert the format needed into high quality with a few clicks. The user can also make an export of the resulting files and can save them on the necessary cloud platform to avoid their download.
Editor's suggestion:
If you want higher quality converted files from Mobi to pdf format, then Cloudconvert is available in free and paid versions. It has a robust integration of API and helps the users in the conversion of files as a quick process. However, if you are seeking a swift tool, CloudConvert disappoints you with the time it takes to convert big files.
Pros:
Cloudconvert has an easy-to-use interface that can be used even by beginners.
It provides confidentiality to files and makes them secure.
Cons:
If you are converting bigger files, the software may take a lot of time.
5. CleverPDF

CleverPDF is a highly easy-to-handle Mobi to PDF converter that is free. You can easily upload the file and download the output in the desirable PDF format using simple steps. For example, suppose you are worried about your data protection. In that case, this software provides you with an SSL connection to provide safety and a feature of automatic deletion of your files after approximately 30 minutes.
Editor's suggestion:
CleverPDF is a great Mobi to PDF converter that is easy to use even by beginners. It also provides extra support in the form of protection for users' data with the backup of an SSL connection. However, it limits the users with a restricted upload size of 20 MB for their files.
Pros:
This software is pretty easy to use.
The user interface of CleverPDF is neatly arranged and can be used by beginners.
It provides data protection to its users.
Cons:
It gives you a limitation of uploading a maximum file size of 20 MB.
Conclusion
Looking at the changing technology scenario, we can say that PDF files directly replace paperwork in private and business life. Similarly, the ease of use of this format on various devices is a boon for readers to enjoy ebooks across Kindle or any other gadget. Sometimes ebooks may be available in Mobi format instead of PDF, which may bring you to look for a Mobi to pdf conversion tool.
Here we assisted you with Calibre, which helps you with an additional facility of adding notes to your ebooks, whereas Hamster ebook converter is compatible with several formats. Also, if you wish to have ebooks of high quality, go for CloudConvert, or you can choose CleverPDF if you need an SSL connection for security.
However, all of these efficient tools have a flip side, so our recommendation goes to Epubor Ultimate, which has the capabilities of all the above tools with no significant drawbacks.
Price: Its Lifetime license costs $49.99/1 PC, $54.99/1 MAC.
Compatibility: Windows and Mac
No more content