To talk about any software, it is always best to know its origin, purpose, and benefits to make the most out of it. EPUB Reader is nothing but a simple file reading software that helps readers read ebooks saved in EPUB file format. From computer to mobile, you can access your favorite ebook through the EPUB software that usually comes with eye-catching features, including text highlighter, in-built dictionary, animated page flipping benefits, and so on. 
You can have easy access to your favorite ebook in multiple languages through the clean and comprehensive features of the best epub readers for Android. So, in this pandemic situation, the epub reader software industry has come up with some exceptional product that has uplifted the ebook reading experience to its extreme extent. Now, here we go with the top 10 list of best android epub readers that would completely change the game of your ebook reading experience.
Top 10 list of the best epub reader for Android for free
1. FBReader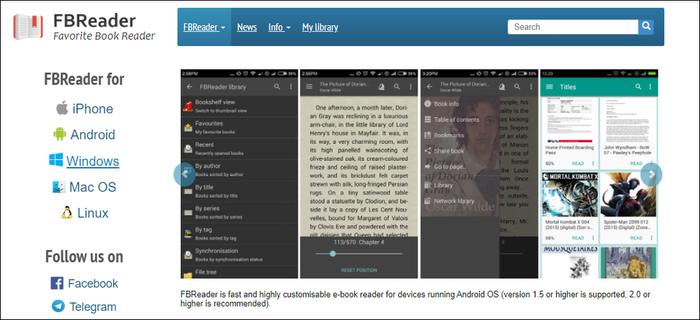 FBReader is one of the best epub readers for Android that allows you to create your ebook library through the most skillfully designed interface. It has the customizable feature of interchanging the font and color of your ebook. It gives you a preset "table of content" for every book to have easy access to your desired page directly.
Advantages:
Bookmarks, annotations, and in-built dictionary options are there.
Very fast on the android platform.
It is a free epub reader.
2. FullReader
FullReader is one of the best epub readers for Android. Therefore it makes your ebook-reading experience on your smartphone easier than ever. It provides support for OPDS libraries and Google Drive, Dropbox, and OneDrive cloud storage.
Advantages:
This free epub Reader provides support for audiobooks available in MP3 format.
Play text audibly options from audiobooks with choices of speed, language, tone, and voice.
Timer reading aloud.
3. Google PlayBook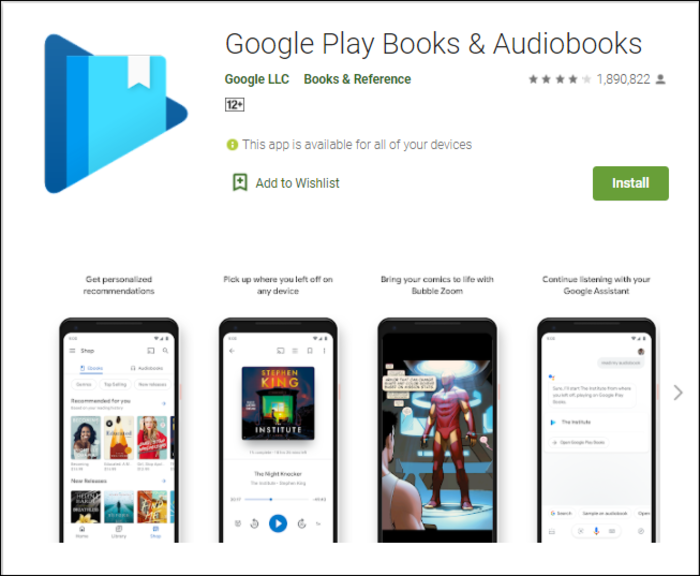 Google Play Book is another best android epub reader that supports different types of ebook formats. From magazine to comic book format, you can get the widest range of options in this virtual Library. While uploading your ebook in the cloud, you can read them anywhere anytime.
Advantages:
This free app has Book rental option, a quick bookmark feature, and rapid skim mode.
Color contrast support for text highlighting and note-taking.
Zoom out view with easy page sliding option.
4. Moon+Reader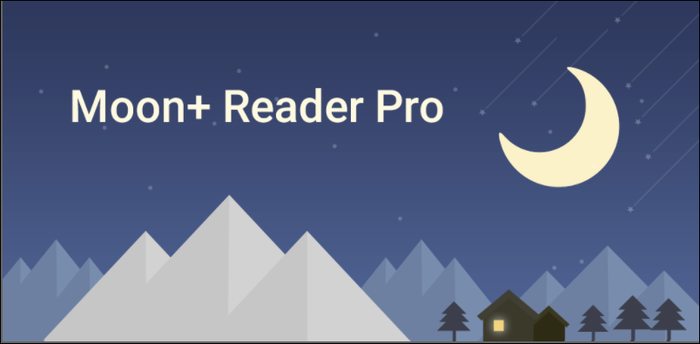 Moon+Reader is the best epub reader for Android that provides support to the broadest range of ebook formats, including EPUB, MOBI, PDF, OPDS, and many more. From gesture control, auto-scrolling, EPUB3 support to cross-device synchronization through Dropbox, you will get multiple options in one platform.
Advantages:
Get thousands of ebooks for free.
10+themes embedded with day and night mode switching options.
There are different types of paging options, 24 customized operations, 15 customized events, five auto-scroll modes, and many more outstanding features.
5. Lithium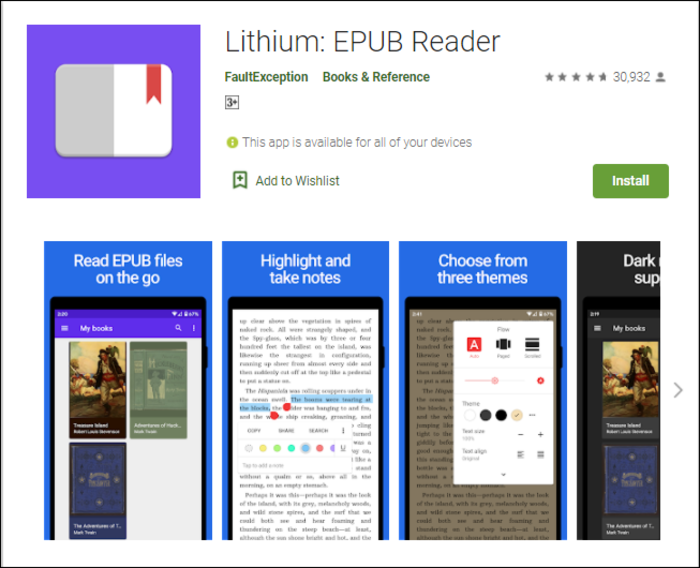 Lithium is one of the simplest epub readers software for Android that would provide you hassle-free ebook reading experience without fancy features and functions. This epub Reader only supports epub format files, and this app is built with Material Design.
Advantages:
It detects and manages your ebook automatically with highlighting and note features.
100% ads-free software.
It comes with a night and sepia theme with switching pages and scrolling features.
6. ReadEra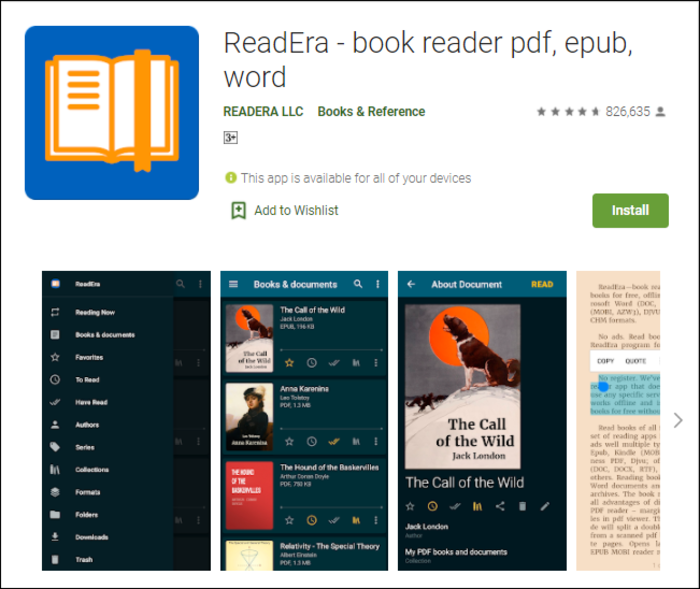 ReadEra is another best android epub reader that provides users with free and ads-free ebook-reading facilities. It supports several formats, including EPUB, FB2, PDF, DJVU, MOBI, RTF, TXT, CHM, and DOC. This app automatically detects and displays your reading documents on your device while identifying duplicate files. While operating autonomously, this software doesn't need any network connection. It comes with lots of convenient reading settings, including screen size page adaptation, visual themes, single page, and vertical page list mode.
Advantages:
Features table of contents, Bookmarks, font face and size settings, page margins, line spacing, and many more.
Order in documents feature comes with grouping them according to author and series. You can sort them through creation time and last reading time along with an editable book list.
Well integration into the system.
7. PocketBook Reader
PocketBook Reader is a very effective and best epub reader for Android. It gives support to different formats such as DjVu, TXT, FB2, PDF (Adobe DRM), EPUB (Adobe DRM), CBZ, CBR, CBT, zip, CHM, and HTML(basic). This app has become very popular with its highly functional and user-friendly interface and preset background color customizable selection option.
Advantages: 
It helps you to sort books with date, title, and author.
Add your favorite ebooks to the ' Favorite' option.
Use the 'Search' option to find your book from the Library.
It provides cloud synchronization service of your customized libraries among Android, iOS devices, and E-ink eReaders.
8. eBoox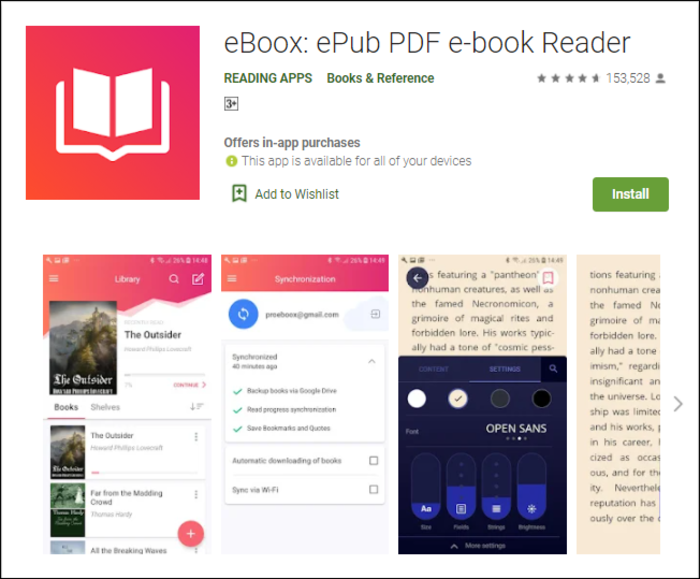 Ebook is another best option to read ebooks for free without ads disturbance. This attractive epub Reader has come up with a simple and funny UI design. With sufficient customizable reading features, including night mode, you can read your favorite ebooks at night. You can comfortably download your books from any folder from a phone, SD card to cloud service to browsers.
Advantages:
It supports epub, fb2, doc, Html, cbr, cbz, Mobi, PRC, txt, RTF, odt,docx, and mini formats.
Fastest downloading with instant page loading option.
You can easily export every comment and annotation given in the book.
9. eReader Prestigio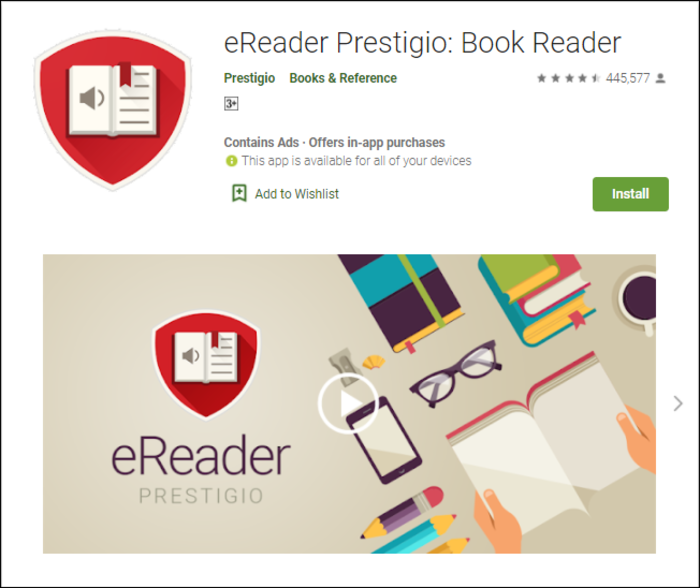 eReader Prestigio is one of the best epub readers for androids that gives you reading facility of content in more than 25 languages. In its digital Library, you will get more than 50 thousand ebooks with a Text-to-speech feature that helps you read ebooks when you are tired. Along with audiobook format, this software supports other different formats pdf, Mobi, epub3, DjVu, epub, HTML, fb2, txt, and fb2.zip.
Advantage:
Customized features of simple navigation and material design.
Scan library, inbuilt dictionary, Night mode, multiple font sizes and styles, file manager, and many more.
Synchronization with cloud services including Google Drive, OneDrive, and Dropbox.
10. Cool Reader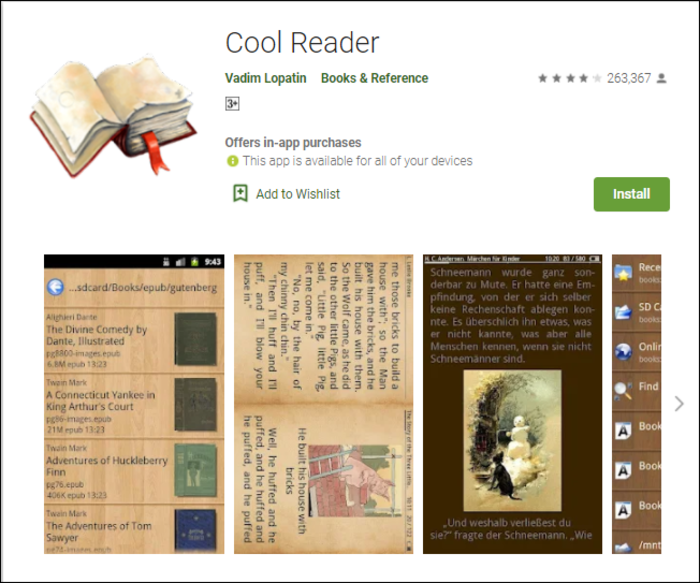 Cool Reader is the best epub android reader that gives you a real book reading experience. Its customizable ebook-reading feature of parchment paper, soothing background, and excellent scrolling options add an aesthetic to your virtual reading world. However, even though it doesn't provide support for PDF file format documents, it does support other formats, including PDB, PRC, Mobi, pml, epub, fb2, doc, tcr, txt, RTF, HTML, and chm.
Advantage
Text to speech, Dictionary, and OPDS support.
Export bookmarks to text files along with automatic page flipping.
Page-turning animation like Paperback.
Bonus: How to Remove DRM in Files
After downloading books from online websites, like Amazon, Google Play, Netflix BBC, Microsoft, etc., the books are usually protected by DRM. It is impossible if we want to take a note or change the content of the books. So it is necessary to remove DRM in files. How to that? If you want to find an easy and professional method, the Epubor Ultimate must be on the list. 
The Epubor Ultimate is a powerful and practical software that is designed to remove DRM and convent file formats. With easy operation, you can remove DRM with just one click. Now let's see the specific steps.
Step 1: Download and launch the Epubor Ultimate software. On the left column of the displaying interface, you can see different formats of books which are coming from different resources, like Kindle, Adobe, Nook, etc. 
Price: Its Lifetime license costs $49.99/1 PC, $54.99/1 MAC.
Compatibility: Windows and Mac
Step 2: Find and select the file you want to remove DRM, drag it into the right column, the Epubor Ultimate will decrypt the file automatically.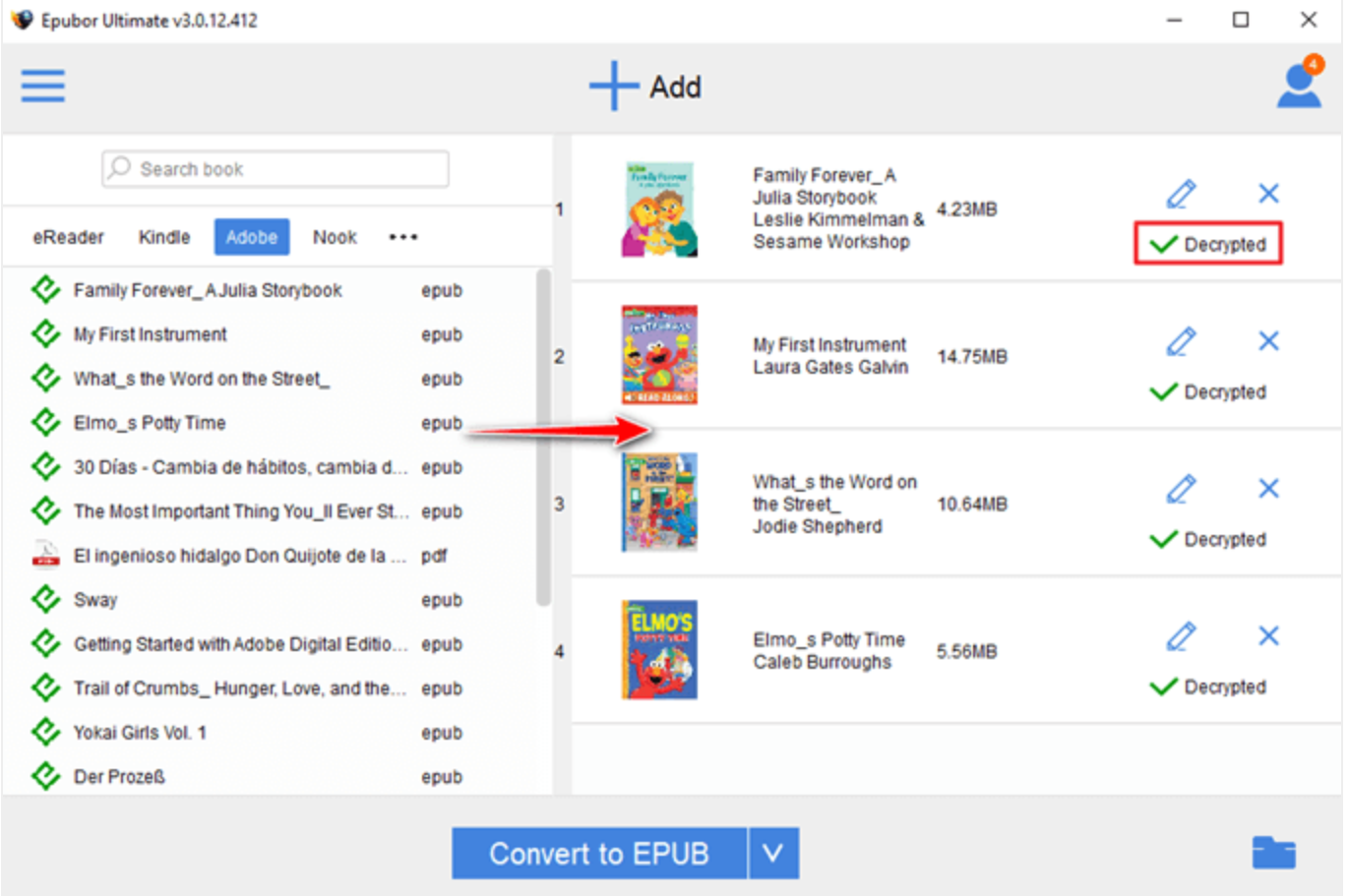 Short Suggestion 
So, once you have the most powerful list of the top 10 free best epub readers for Android, then nothing can stop you from cherishing your avid reading habit on any of your comfortable android devices. When FBReader and FullReader are all in one platform to have ultimate satisfaction in virtual reading, on the other hand, Moon+Reader would just nail your ebook-reading experience by providing everything in one forum. 
And while narrowing down your effort to stick to the best android epub reader you just can not ignore the implacable popularity of the ReadEra epub reader. Now, it is your call to pick the most effective one to experience excellence in your ebook-reading journey.
No more content