Spotify is the essential music streaming service available to us. But, it would help if you had a premium subscription to download its songs for offline usage. The Spotify to MP3 converters allows you to download Spotify music and remove their DRM protection.
DRM stands for Digital Rights Management. Spotify songs are DRM protected, so you can not play them outside the Spotify application even if you download them. That's where the Spotify to MP3 converter helps you by removing the DRM protection.
Our article has composed a list of top 10 Spotify to MP3 converters. Each converter is presented in detail to choose the best one for yourself. So, let's see each converter one by one without wasting any time.
10 Best Spotify to MP3 Converters
1. TuneFab Spotify Music Converter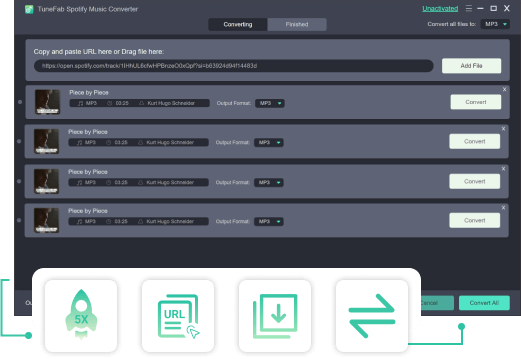 TuneFab is the number one Spotify to MP3 converter in our list. It helps you easily convert Spotify music to MP3, M4A, FLAC, or WAV format. Also, it is listed number one because the conversion is lossless and in original quality.
The software comes as a desktop application. After conversion, the DRM protection is also removed from Spotify music. TuneFab also gives customization of bit rate, sample rate, and channel rate of the Spotify music. It has a free trial, and the premium starts from $13.95/month.
Main Features
● Multiple formats support, e.g., MP3, FLAC, WAV, and M4a.
● DRM protection removal.
● The customized output format for Spotify music.
● Batch conversion.
2. NoteBurner Spotify Music Converter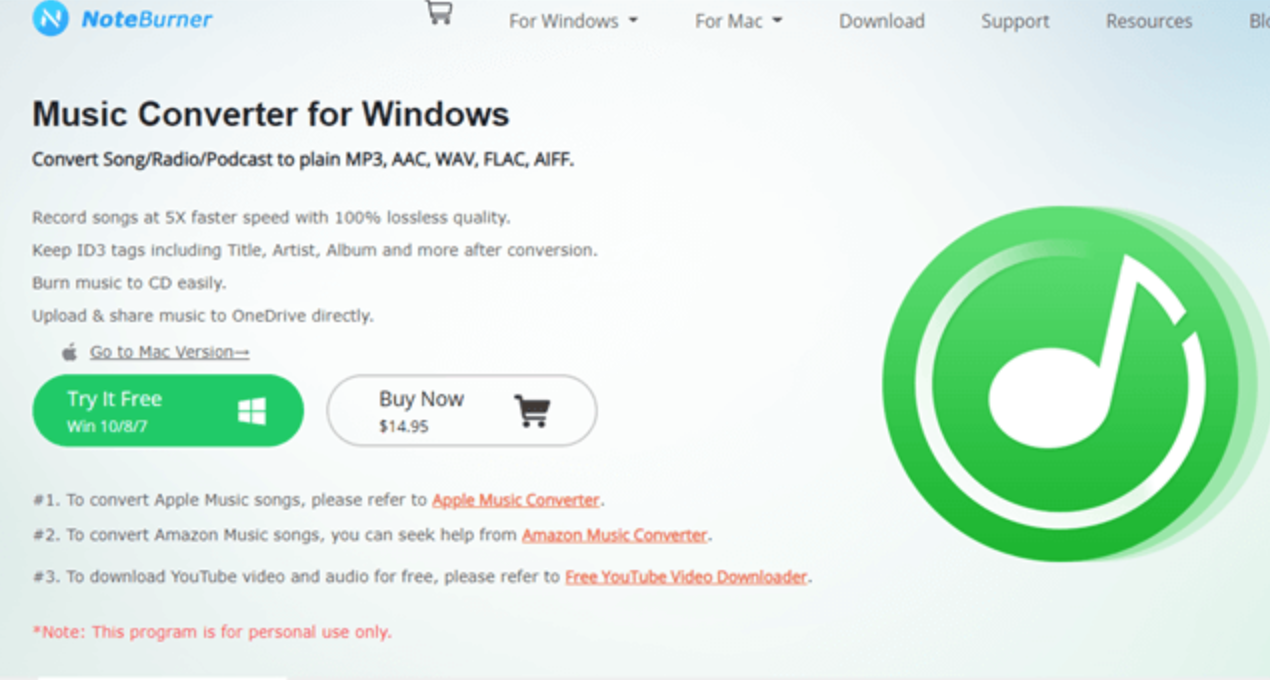 NoteBurner Spotify music converter is one the fastest converter software in the market. You can get easily convert your Spotify music using its highly user-friendly interface. Currently, the software is available for both macOS and Windows.
Like other converters, it also supports multiple MP3, FLAC, M4a, etc., for Spotify conversion. NoteBurner gives you a free trial, but you can also buy its premium version for $14.95/month.
Main Features
● 5x faster conversion speed.
● Multiple audio formats are supported.
● Easily drag and drop Spotify music in the software.
3. Sidify Music Converter
A Sidify music converter makes Spotify music conversion fast, reliable, and accessible. The conversion speed of Sidify is also 5x more quickly than its competitors. Also, it makes sure that no ID3 tags are lost while preserving the original audio quality.
All you have to do is add your Spotify music through drag-and-drop in the software and click on the convert button. The free version offers a limited set of features. You can buy the premium by paying a $14.95 one-time fee.
Main Features
● It supports multiple audio formats.
● The conversion speed is 5x faster.
● Lossless and original audio quality conversion.
4. Allavsoft
Allavsoft is a simple tool that requires just two steps to convert Spotify to MP3 format. Along with audio, you can also convert videos through this software. It supports all the famous audio formats such as AC3, WAV, etc.
Suppose you have tons of Spotify songs to convert. You can easily do that with the batch conversion feature of Allavsoft. After trying its free trial with a limited part, you have to pay $19.99/month for the premium subscription.
Main Features
● Preview audio files after conversion.
● Batch conversion of files.
● Support of multiple famous audio formats.
● Stop/pause option during the conversion process.
5. AudFree
AudFree is another brilliant Spotify to MP3 music converter. It gives you lossless audio conversion with 5x speed and supports multiple audio formats. Also, AudFree comes with a user-friendly interface and requires two steps to perform the conversion.
After conversion, AudFree gives you a feature to organize the converted songs as you please. It has a free version with ads, and the premium version costs $14.95/month.
Main Features
● Lossless audio conversion.
● Fast speed.
● Organize your converted music library.
● Customize output quality.
6. AllToMP3
AllToMP3 is a freeware software that gives you a simple feature to convert Spotify music into MP3 format. Following its two-step process, you can easily convert Spotify music into MP3.
Although it is freeware, its conversion speed is fast, and it also does the lossless conversion. Along with Spotify, AllToMP3 supports YouTube, SoundCloud, and Deezer.
Main Features
● Simple user interface.
● Lossless audio conversion.
● Two-steps process and batch conversion.
● Fast and efficient.
● Free.
7. SpotiKeep
SpotiKeep is a simple Spotify DRM removal software. After removing the DRM protection from Spotify, it helps you convert the Spotify music into MP3 format. Spotify songs, podcasts, albums, or audiobooks can be downloaded using SpotiKeep.
Another reason to recommend SpotiKeep is its simple user interface. Any user with low or minimal experience can learn and convert Spotify to MP3 using this software.
Main Features
● Remove DRM protection from Spotify songs.
● Brilliant user interface.
● Original quality preserved during conversion.
8. Cinch Audio Solutions
Cinch is an audio recorder software that allows you to record streamed Spotify songs. The recordings are saved in MP3 format, and hence you get easy Spotify to MP3 conversion.
Using Cinch, it is easier to create custom tunes from Spotify songs. In addition, if you have a free Spotify account, it will automatically remove the ads from the Spotify songs while recording them.
Main Features
● Lossless recording from Spotify.
● Make Spotify custom tunes from Spotify.
● Automatically removes Spotify ads from recording.
● Free to use.
9. Audials
Audials is one of the fastest Spotify to MP3 music converters. It has the best conversion speed and supports the drag-and-drop of Spotify music. In addition, the software makes sure that all the ID3 tags are kept while converting the Spotify music.
Audials also supports multiple audio formats, and you can convert Spotify to MP3, FLAC, M4a, etc. However, audials are currently available for 39.90$, which is expensive compared to Spotify to MP3 converters.
Main Features
● 30x faster conversion speed.
● Support for drag-and-drop of songs into the software.
● Multiple audio format support.
10. Leawo Music Recorder
Leawo is another music recorder that can record a streamed Spotify song. Once registered, you can download the recording in MP3 format. Apart from the MP3 format, you can also customize and choose any other form of your choice.
The software gives you the ability to filter songs that are being recorded. Also, there is an in-built recording editor through which you can edit all your Spotify recordings. You can buy its premium version for $19.95 for a full license.
Main Features
● In-built audio recording editor.
● Multiple supported audio formats.
● Filter the recorded songs.
Conclusion
Spotify is the biggest music streaming service because of its vast songs library. All the newly released albums and tracks are available on Spotify. However, you can only download Spotify music if you have a premium subscription.
Also, the downloaded Spotify music is in DRM-protected format, which prevents you from playing outside the Spotify application. Therefore, you need tools that can help you convert Spotify to MP3.
Our article presented the ten best paid and unpaid tools that help you convert Spotify to MP3. The detailed introduction of tools can help you quickly decide which is best for you.
No more content