Most people prefer a SanDisk SSD because of its high-end performance and capability. However, the SanDisk SSDs do not have data migration software by default, as in the case of Samsung and Crucial SSDs.
Imagine a situation where you have opted for a new SanDisk SSD and need to transfer the system and data from the old hard drive or SSD to the new one. In this case, it is a great option to use the third-party SanDisk SSD Clone software.
If you search online, you will find lots of such tools. Choosing the right one can help migrate all your data effectively and efficiently without hassles. This page introduces you how to choose the best SanDisk SSD Clone software and how to clone hard drive to Sandisk SSD.
EaseUS Disk Copy - the best SanDisk SSD clone software
If you are looking for the best possible experience of enjoying one of the most unique and capable software for migrating your SanDisk SSD, we would recommend using EaseUS Disk Copy as the primary tool that can do wonders for you. The safe and professional disk clone utility is what would further enhance your experience by multiple counts.
Some of the salient features offered by the software can be summarized as
An effective Disk Cloning – the software can migrate practically all your data, including your applications, user profiles, systems, and programs, without data loss to another SSD.
Helps you upgrade to larger storage – If you are running out of space, using the software can be handy enough to upgrade your drive and storage capability. Effective data migration makes it easy to upgrade your drive without time-consuming tasks.
You can keep your data backup handy – It should be your best bet at keeping your data backup handy. You will be able to create a complete backup of your source drive and restore the data within minutes.
Price: It starts $19.90/Monthly.
Compatibility: Windows
Some other features that you would find quite valuable and practical can include
The one-click data migration operation
Sector by sector cloning or intelligent cloning as per your preferences.
Resize option for partitioning your disks
Support for all operating system versions that include Windows 11, 10, 8, 8.1, 7, XP, and Vista
Steps to Clone Hard Drive to Sandisk SSD in Windows
Step 1. Download, install and run EaseUS Disk Copy on your PC.
Click "Disk Mode" and select the hard drive that you want to copy or clone. Click "Next" to continue.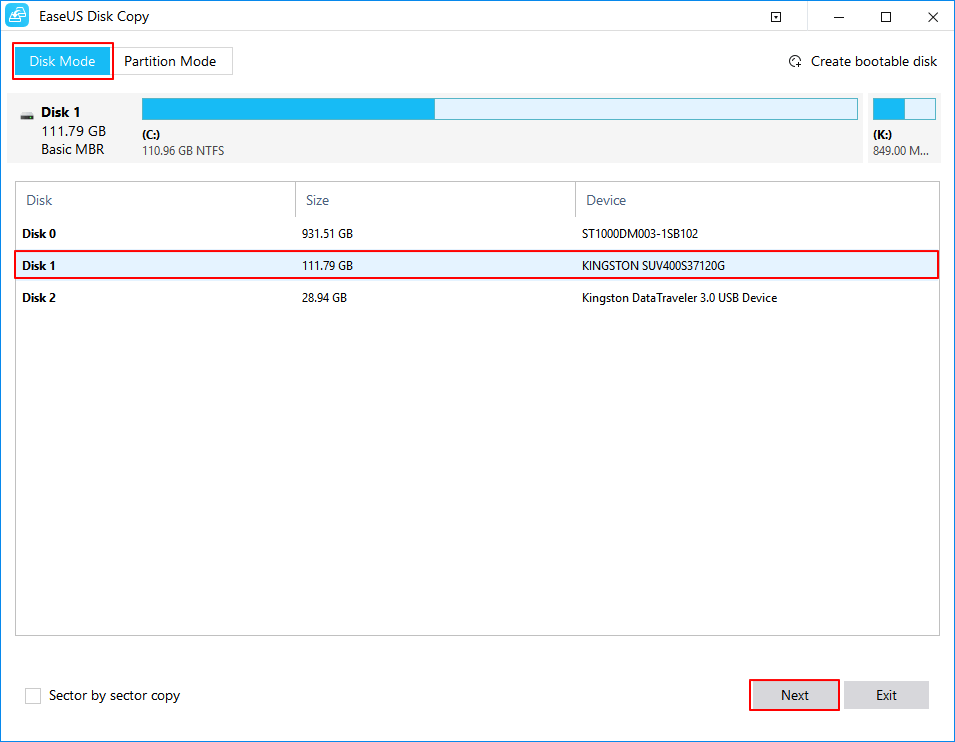 Step 2. Select the destination disk.
Note: The destination disk should be at least the same big or even larger than the source disk if you want to copy or clone the source hard disk.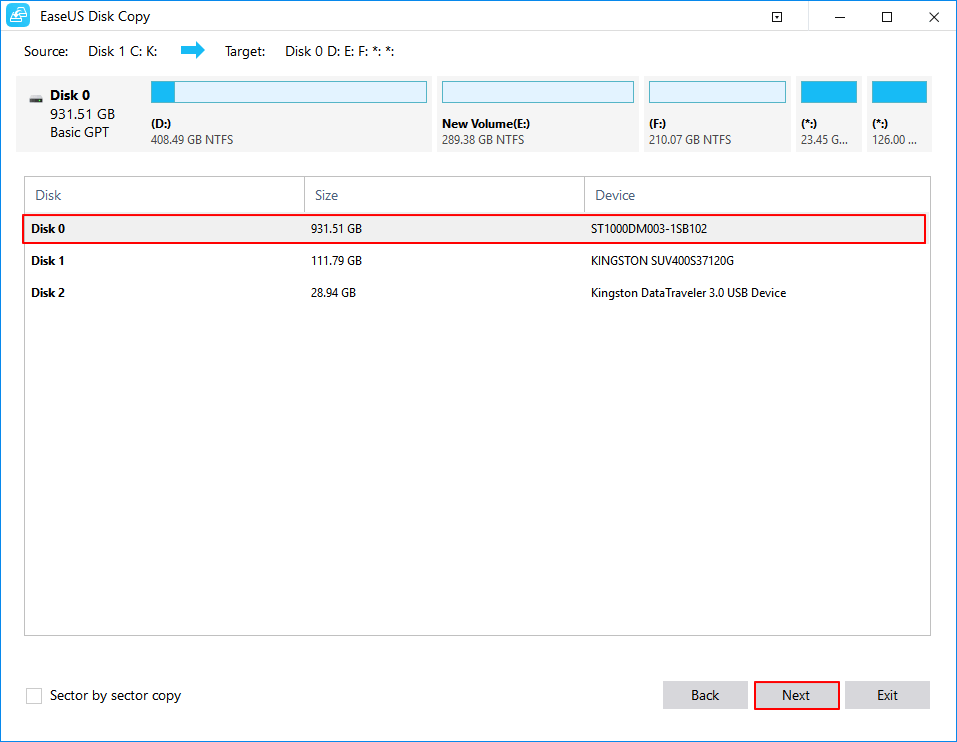 Step 3. Click "OK" to confirm if the program asks to erase data on the destination disk.
Step 4. Check and edit the disk layout.
If your destination disk is an SSD drive, do remember to Check the option if the target is SSD.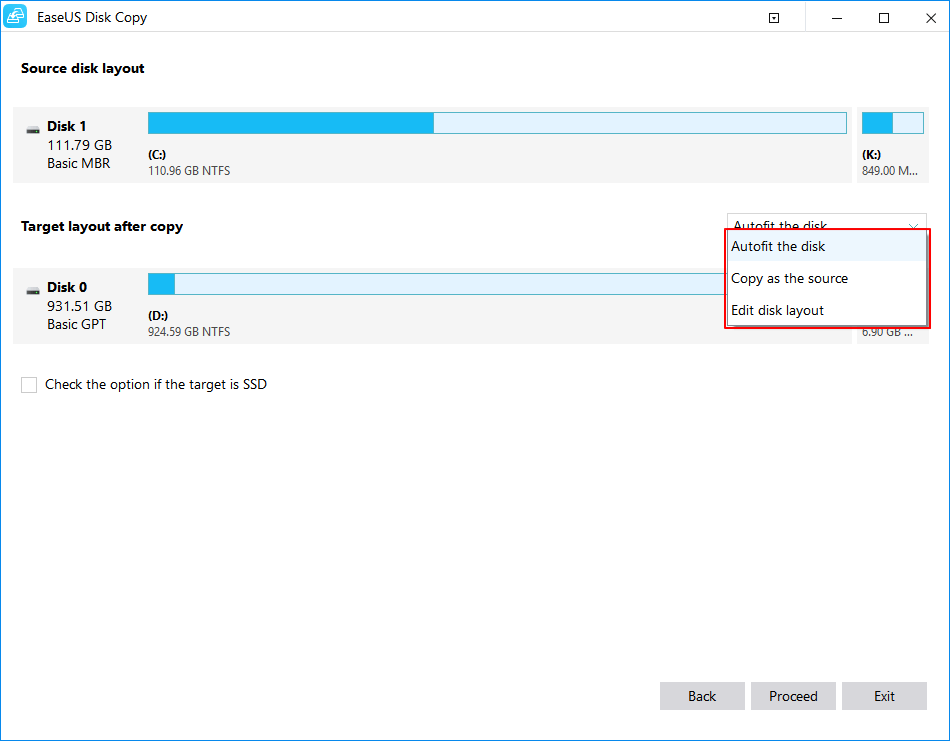 Step 5. Click "Proceed" to start the hard drive cloning process.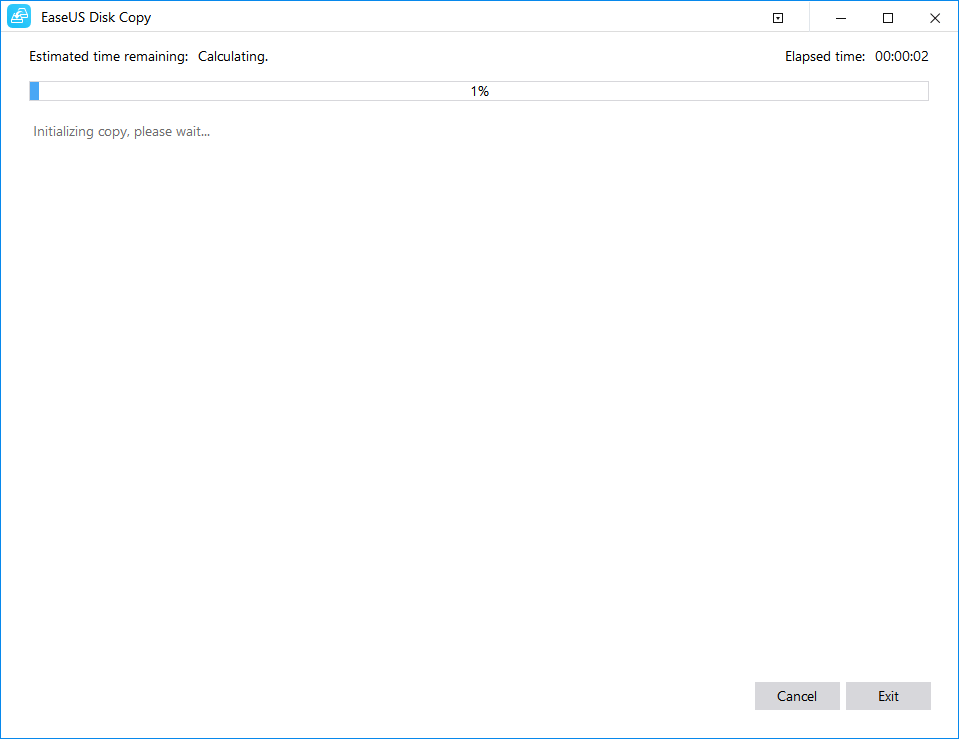 Further reading: how to choose a SanDisk SSD clone software
One needs to consider several factors when choosing a reliable SanDisk SSD Clone software. 
Support for a wide range of operating systems – The clone software should support a wide range of options for the operating system, such as Windows 11, 10, 8, or even 7. That would provide you a wider spectrum to work with
An enhanced speed for data migration – High-speed cloning and migration can be one of the prime factors that would make it a rather formidable option. Check out if your chosen software has an optimized speed of operation.
Availability of sector by sector cloning – An option for sector by sector cloning should be what would further make it a formidable choice. That would ensure that you can create an exact copy of the disk.
Support for all file formats – A support for all file formats should be what would make it a formidable choice. The software should support every format, such as NTFS, FAT32, and Ext4.
The Closing thoughts
Well, cloning a SanDisk SSD is one of the essential options you need to focus on if you want to migrate your data from one storage drive to another. You may also need to check out your options if you're going to change or upgrade your SSD Clone software. That way, you would get access to an enhanced degree of experience in achieving a better data migration.
We recommend you go with the EaseUS Disk Copy as the preferred option for the efficient SanDisk SSD Clone software. It would help achieve more positive results in effective data backup and data storage capabilities.
No more content