Screen recording software assists users with the facility of taking the video of the happenings on the screen of your PC. The users can record the entire display of their PC monitor or curtail themselves to the screen's specific area or a particular window. For recording your screen, you may require the audio both from your PC and microphone to give you a sync in video and audio recording. 
 The following users can use a screen recording facility for different purposes:
Teachers give a step-by-step tutorial to their students.
Gamers get a good hand at their game.
Employers utilize it for reviewing the performance of their employees along with their daily activities.
Employers obtain a better understanding of any errors in their system.
Business people can use it to track their customers' behavior while visiting the product's website.
You may have numerous reasons for utilizing a screen recorder, so here we provide you with the five best options for a free screen recorder for Windows 10. 
Top 5 Best Free Screen Recorder for Windows
Catch a detailed glimpse of the five best options for screen recording in Windows 10 for free.
1. EaseUS RecExperts 

EaseUS RecExperts is a top-notch free screen recorder Windows 10 that assists you with an intuitive recording experience of your screen and a user-friendly interface. You can easily create recording tasks, annotate recordings, or edit already recorded videos. This dedicated software also allows sharing the captured videos on the platform of your choice. For example, if you are seeking a few editing actions while recording your video, it offers you a drawing board to carry out this function seamlessly. You can use it on both Windows and Mac devices without a hassle.
Pros
Even if your Windows is locked, this software allows you to record your screen perfectly.
It is helpful for gamers, YouTubers, teachers, learners, etc., to create videos, online meetings, and other utilities.
It also helps the users with zooming in function by using a dedicated shortcut key.
It emphasizes the critical parts along with details in recordings of the users by utilizing spotlight recording. 
Cons
Some of the Pro features need to be paid.
Price: It starts $19.95/Monthly.
Compatibility: Windows and Mac
Step-by-step Guide:
Step 1. Run EaseUS RecExperts on your Windows. If you want to capture everything on your screen, click the "Full Screen" option. This is a perfect choice when playing the streaming video in full-screen mode.

Step 2. Alternatively, you can opt for "Region" to record the specific area if you want to play the streaming video in a window.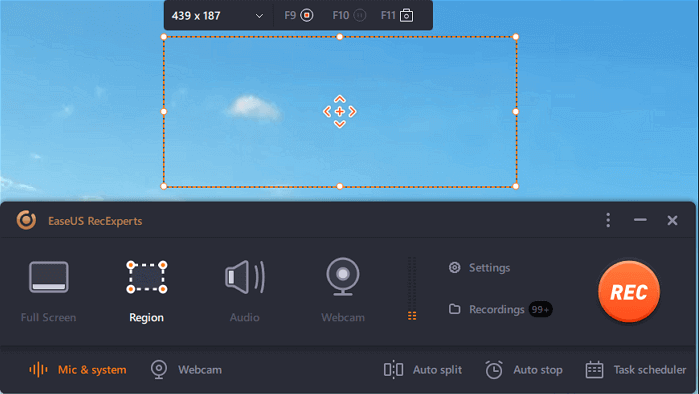 Step 3. Now, you can hit the "System sound" button to choose the sound source you prefer and adjust the volume. Upon that, click "REC" to start recording.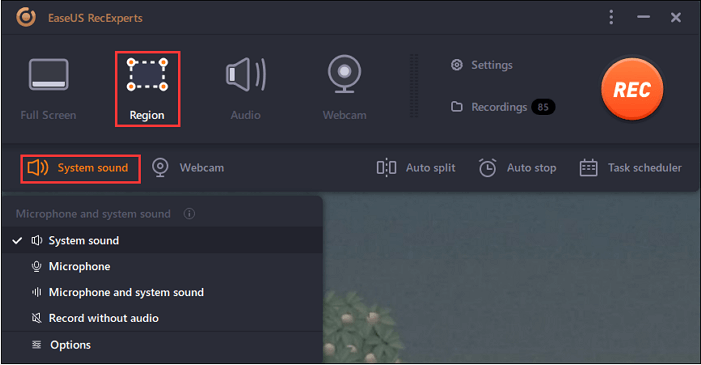 Step 4. When the recording is ongoing, you'll see a toolbar floating on the screen, which you can avail yourself of to pause or stop the recording process.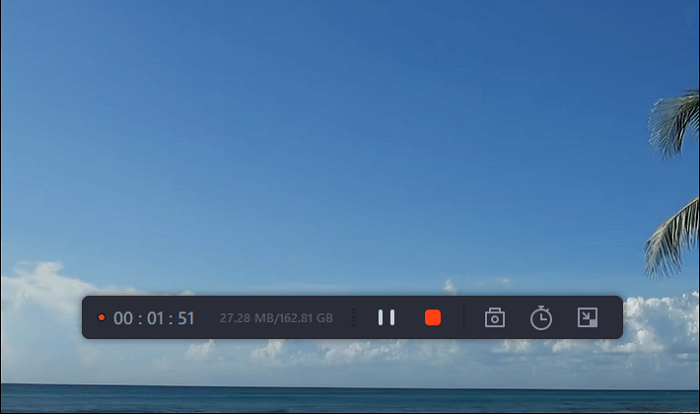 Step 5. Once you are done with the recording, click on the red stop button and then your captured video will be automatically saved on your device. You are also allowed to view the recording and utilize tools for trimming it, extracting audio from it, or adding an opening and ending section as the built-in media player appears.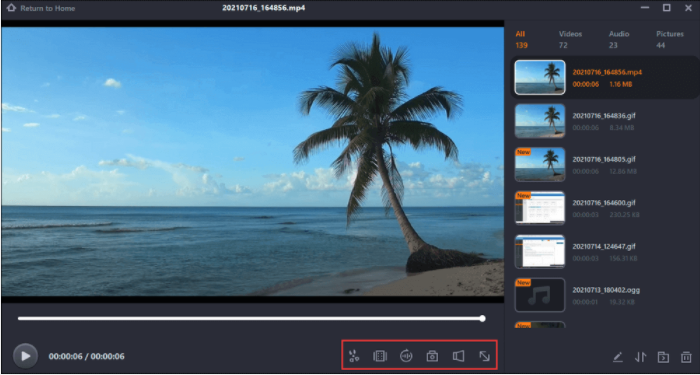 Video Guide:
2. Free Cam

Free Cam can be one of the top choices for a simple and user-friendly option for free screen recorder Windows 10. It has a built-in editor for both videos and audio, and its intuitive and attractive interface allows the users to record either a part or the whole screen of your Windows. Additionally, even free, it does not leave any watermark on your work and is free of ads.
Pros
The resolution provided by the software is of top-notch quality.
The users get the facility of saving videos in WMV format, or they can directly upload them on YouTube as well.
There are significant effects available for your audio needs. 
Cons
There is no facility available for recording of webcam.
It assists with saving the recordings only in WMV format, making its use quite restricted.
Video Guide:
3. ShareX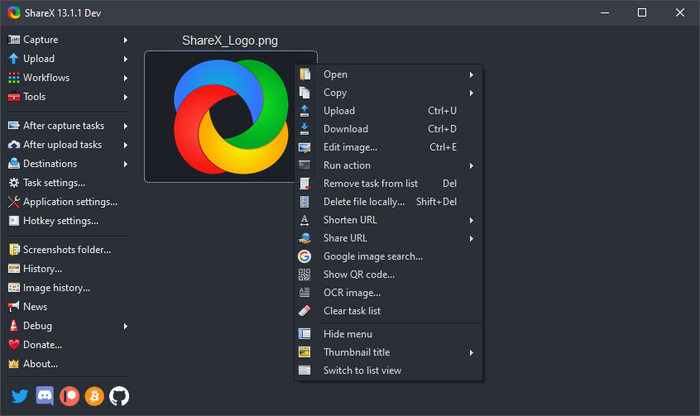 ShareX is open-source and free software, available for a free screen recorder Windows 10. This software is specially meant for power users and developers as it has many customized features that may be absent even in the top-notch paid software. But an average user may find it challenging to use the superbly advanced tools of this software. 
Pros
It helps record windows, full screen, region, monitor, free hand, and scrolling facilities.
It lends its support to multiple sharing services for URLs.
It helps incorporate hotkeys for a quick and easy user navigation facility. 
Cons
It records games in low quality.
There is no recording available for the webcam.
It may not be very easy for an average user. 
Video Guide:
4. Ezvid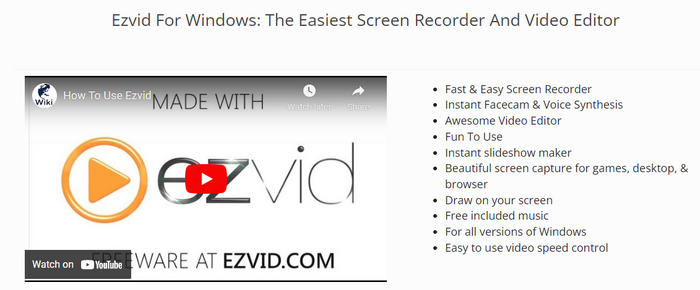 If you are looking for a free screen recorder Windows 10 that also assists you with lightning speed and saves you a lot of time, then Ezvid can help you out. It also helps users upload videos directly to YouTube in a short time, and it is beneficial for users who enjoy games and movies and cannot compromise on speed anyway. 
Pros
There is a high resolution available in an automatic mode.
You can utilize it for narrative purposes as it provides speech in computer-generated form.
It helps in uploading videos to YouTube instantly.
The interface of Ezvid is sleek, giving it a modern look.
Cons
Sometimes there are minor bugs along with some inconsistency.
A few users complained about extra noise while using the software.
Full-screen availability is not available, which can be a hurdle for gamers. 
Video Guide:
5. CamStudio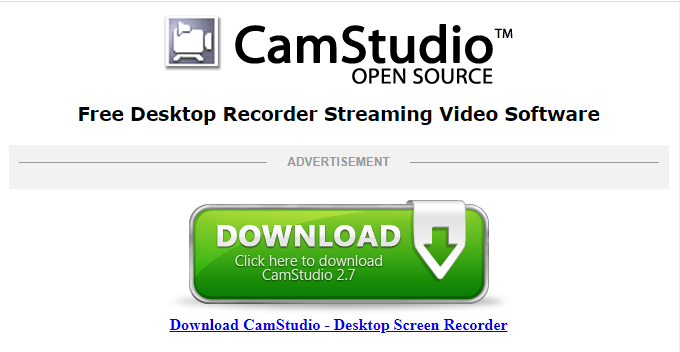 If you do not use screen recording daily and are an occasional user of this facility, then CamStudio can help you with its minimal editing features. It is open-source and lightweight software for creating videos in AVI format. Also, you can convert the videos to SWF format on demand. Primary users can drool with its compact structure, and valuable technical support is available for the users in case of any further development of any issue. 
Pros
Many options are available to get a good quality of the output video.
This software allows the users to create files in a smaller size.
It helps in the creation of a screen-in-screen video. 
It also has a custom cursor that can be useful for beginners. 
Cons
This software is not compatible with various browsers.
Sometimes the users may find audio falling out of sync and may not be in accordance with the video.
There are no animation and interactive features for the users to utilize. 
Video Guide:
Sum Up
You can utilize screen recording software in multiple creative ways to enhance your business's performance, taking your productivity to a higher level. For example, if you are a professional gamer, a free screen recorder Windows 10 lets you perform exceptionally in games as it helps you monitor every move of your players and check on them later. 
In this article, you get to see that Free cam lets you work with audio and video. If you are a developer, ShareX can provide you with the needed utility in screen-sharing software. With CamStudio, you can convert the screen recording into SWF format to share them on the web efficiently. On the other hand, Ezvid also provides you with the same facility at lightning speed. 
We have provided you with the five best options for screen recording facilities, and you can select any one among them according to your needs and requirements. However, we recommend EaseUs RecExperts as it has comprehensive features like removal of background noise, task scheduler, etc., that can be utilized by users of all kinds individually. Plus, along with Windows, it is also available for Mac users.
Price: It starts $19.95/Monthly.
Compatibility: Windows and Mac
No more content