PRTG, or Paessler Router Traffic Grapher, is one of the most popular networks monitoring solutions for analyzing and monitoring a whole IT infrastructure. Businesses of all sizes use it. One of the most severe issues with PRTG is Paessler's insistence on keeping it as a network monitor. You'd have to use additional tools in addition to PRTG if you needed access to configuration management utilities. This isn't cost-effective, and it can increase the amount of time spent on software maintenance and learning, which brings up why you need a PRTG alternative.
Best 5 Best PRTG Alternatives
We will guide you through the top 5 PRTG alternatives, discussing their features, why you should go for them or otherwise, and their advantages and disadvantages. Follow through the PRTG alternatives listed below to select your best choice.
1. SolarWinds Network Performance Monitor
SolarWinds is a prominent provider of IT management software throughout the world. NPM is a sophisticated and cost-effective network monitoring tool that allows you to identify, diagnose, and manage network performance issues quickly and outages. It features powerful analytical tools supplemented by NPM's easy-to-understand network monitoring reports.
The dashboard structure and design, which shows data in easy-to-understand and easy-to-interpret charts and graphs, is one of NPM's best features. Using a single interface, you can diagnose interface downtime, poor hardware health, flapping routes, and more. With the gathering and correlation of multi-vendor flow data over minutes, days, or months, NPM may even assist you in analyzing network traffic trends.
Editor's suggestion: Our team found SolarWinds NPM to be incredibly straightforward to install, and we're now using it to monitor our network firewalls, load balancers, and switches. We can monitor our entire network infrastructure using its customizable console. We may also use it to compute lag time anytime one of our customers complains about slower site access.
Click here to visit the site.
Pros:
Monitor uptime and create alerts for nodes that are down.
Collecting Syslogs and Traps.
Cons:
NPM is very slow at drawing charts and historical data from the SQL database.
Cloud Monitoring.
2. OpManager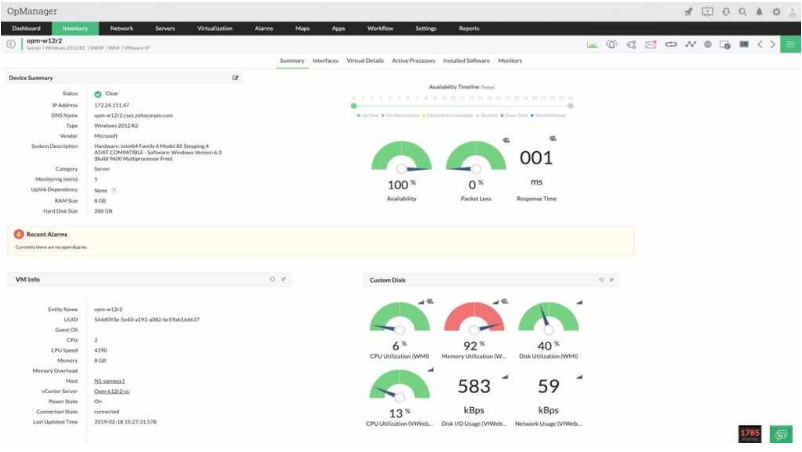 ManageEngine OpManager is a simple-to-use and economic network monitoring system. This PRTG alternative tool combines server monitoring with network and application tracking features. OpManager can be deployed on Windows Server and Linux, giving it a platform advantage over PRTG.
The network monitoring feature in OpManager, like PRTG, employs SNMP to keep track of equipment status. Auto-discovery and network mapping are also included in this utility. The dashboard is simple to use (even more than PRTG's dashboard) and provides current status and vital data. In addition, similarly to PRTG, OpManager's alert system sends messages to experts through SMS or email. Wireless access points, distant infrastructure, and cloud-based services are among the equipment types that OpManager can monitor. It can also track Citrix Xen, Hyper-V, and VMware virtualization.
The bottom line is that it is comparable to PRTG. However, unlike PRTG, it does not use a sensor-based pricing
Editor's suggestion: Our team discovered ManageEngine OpManager to be highly adaptable, allowing clients to pick and choose infrastructure monitoring modules based on their specific needs, such as capturing errors or metrics for network bandwidth, IPAM/SPM, or APM; at the same time, the unified console provides end-to-end visibility across the entire infrastructure.
Click here to visit the site.
Pros:
Monitoring servers that go down.
Have some unique features like rack views and business views.
Cons:
Lack of integration with App manager (Application Monitoring).
Setting up login credentials for various devices.
3. ExtraHop Reveal(x)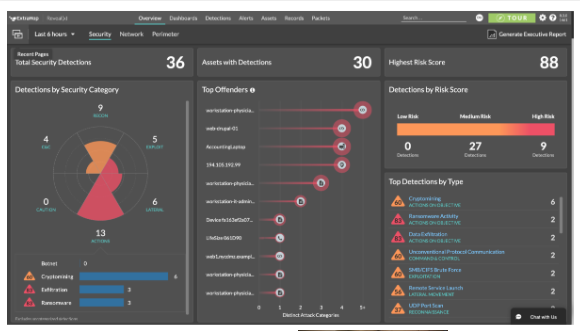 ExtraHop is a best-in-class IoT security solution that is simple to set up and identify threats in IoT ecosystems.
ExtraHop uses the cloud to enable businesses to manage threat detection and mitigation duties across heterogeneous infrastructure. ExtraHop takes a new approach to threat detection than typical Security Information and Event Management (SIEM) solutions. Network Detection and Response is the name of the technique (NDR). The NDR method entails network traffic analysis to look for unusual behaviors and risky activities at layer two through layer seven levels. When it comes to threat detection, NDR is 60% more successful than PRTG as a PRTG alternative.
Editor's suggestion: After a detailed review, the quantity of data gathered from this tool, which sits on the cable, astounded me. Based on our findings, we were able to identify certain ostensibly network performance concerns and determine that they were application layer difficulties.
Click here to visit the site.
Pros:
Remote site Visibility.
Machine learning approach to the solution.
Cons:
Passive to non-Direct traffic (VPN).
4. Zabbix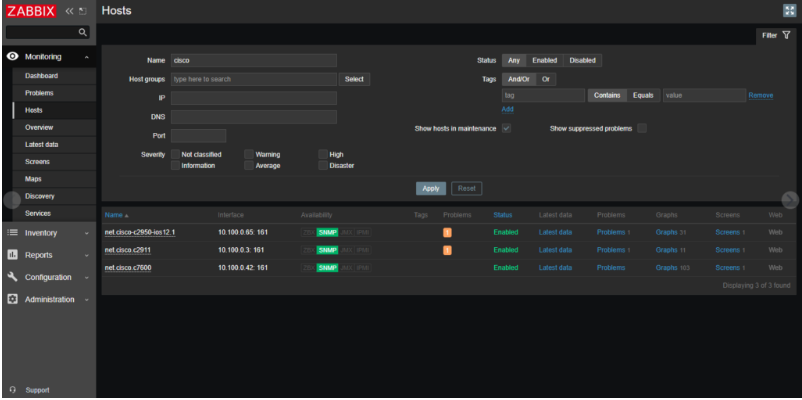 Zabbix can help you monitor your IT infrastructure holistically and intelligently.
Zabbix is a free infrastructure monitoring tool for Unix, Windows, Linux, and Mac OS X. This system uses SNMP to detect and monitor network device states, and it processes alarms to keep you informed, just like PRTG. Zabbix's alert system is more flexible than PRTG's, allowing you to get notifications through SMS, email, and even an instant chat application. Alerts can be saved to a file or transmitted as a notice and displayed on the dashboard.
It makes task automation easier using scripting. Problem-solving and data collection might be among the tasks. Depending on your company's needs, they may be set up to send out warnings or operate regularly. The Zabbix dashboard offers an easy-to-understand structure that aids status comprehension. Wherever feasible, data is displayed visually and color-coded for ease of comprehension.
Editor's suggestion: Zabbix provides a complete but unified picture of our whole IT system. Zabbix appeals as it can be used in various architectures, ranging from smart home monitoring to multi-tenant business applications. It provides broad-scale monitoring, regardless of how complicated or extensive our IT system is.
Click here to visit the site.
Pros:
Server Health Checks.
Creation of new alerts.
Cons:
5. Atera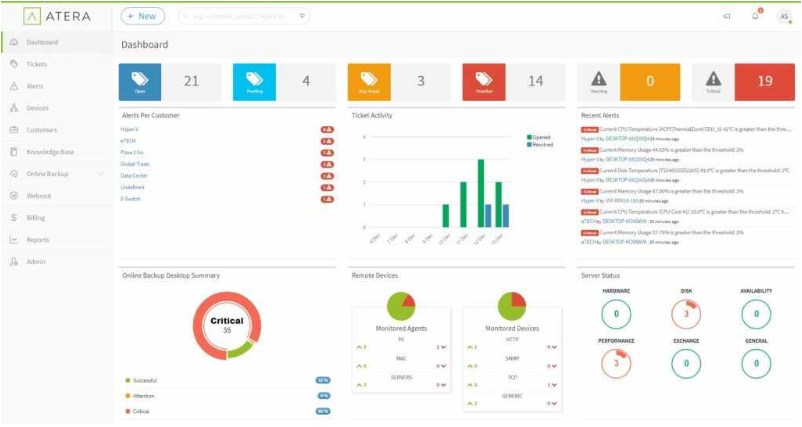 A cloud-based robust network monitoring tool, Atera is a software platform that caters to managed service providers (MSPs). This tool aids MSPs in keeping track of their clients' apps, servers, and networks. In numerous aspects, Atera is identical to Paessler PRTG as a PRTG alternative. Both PRTG and Atera, for example, maybe used remotely, but PRTG cannot do administration duties like backup, restore, or patch management.
With Atera, you don't have to be concerned about system compatibility. Because this solution doesn't require any servers, you may quickly begin controlling the IT infrastructure of other firms. Personnel may use a conventional web browser to access the product, allowing them to operate from anywhere. A mobile application is also available for the Atera console.
Editor's suggestion: During our trial with Atera to monitor all of the Computers and servers on the network, we discovered that it not only has an excellent interface but it also plays an audio cue to draw attention to warnings, ensuring that we are notified if any of our critical equipment goes offline.
Click here to visit the site.
Pros:
Monitors Devices on the network.
Customized system alerts.
Has a clearly readable dashboard.
Cons:
Limited support for MAC.
Categorizing tickets from specific sources automatically.
Slow refresh of status.
Conclusion
Although PRTG is an excellent tool, other PRTG alternatives may suit your company's needs. The alternatives outlined above are excellent options for small and large businesses, as they are built to scale as the company needs change.
No more content