A USB flash drive, also known as a USB stick, USB thumb drive, or pen drive, is a portable storage device with flash memory that can be carried on a keychain. When a user plugs a flash memory device into a USB port, the computer's operating system recognizes it as a removable drive and assigns it a letter. 
A USB flash drive can be used to store crucial files and data backups, carry favorite settings or applications, perform diagnostics to solve computer issues or boot an operating system. A lot of vital data is now stored on hard drives or in the cloud by businesses. On a regular basis, you might save everything to a USB stick or an external hard drive.
USB data might be lost for various reasons, Anyone who has experienced data loss, whether due to hardware or software failure, unintentional deletion, or cybercrime, can attest to how stressful it is.
While there are a variety of data backup software options and disc cloning software that can make data recovery relatively simple and easy to do, if you don't have anything like this in place, you'll need dedicated USB data recovery tools to help you restore your missing files and folders in the event of accidental deletion, hard drive corruption, OS crash, or virus attack.
EaseUS Data Recovery Wizard
EaseUS Data Recovery Wizard is a data recovery program that allows users to recover lost or straightforwardly deleted information. Windows users can recover up to 2 GB of data with the tool's free trial version.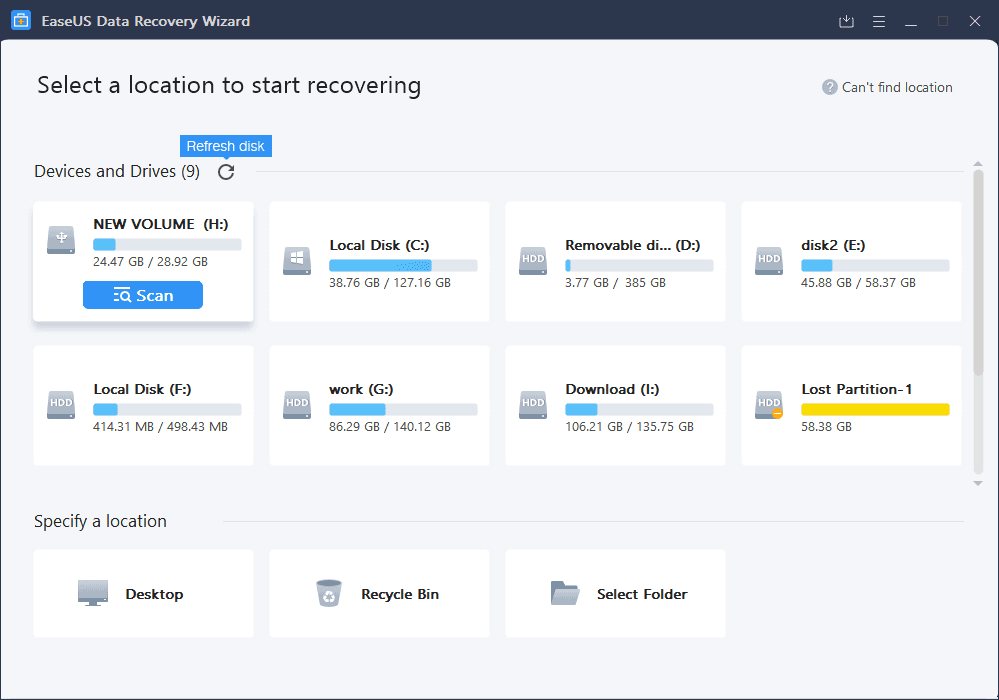 This program is a sophisticated data recovery program with a simple user interface that restores deleted files in a matter of seconds. Previewing recoverable objects before recovery ensures that the correct files are recovered. Filters allow you to limit the scanning process to just look for the files you're looking for.
Many data loss scenarios are addressed by EaseUS, including mistakenly formatting a partition, inadvertently deleting files, and being infected with malware. The utility is compatible with all disk-based storage devices and can recover hundreds of various file formats. All of the tool's capabilities are simply accessible thanks to the straightforward interface, and this data recovery solution is ideal for individuals with average computer skills.
Pros:
Windows and macOS versions are available • An easy-to-use interface makes data recovery a breeze
Comprehensive site knowledge base that aids users in data recovery
MS SQL databases and Exchange emails can be recovered.
Positive recovery outcomes
Cons:
The subscription model is more costly than other options.
Large file recovery can be time consuming
Price:
Try it out for free with a 2GB data limit
$69.95 for a monthly subscription
$99.95 for an annual subscription
Upgrades for Life $149.95
System requirements:
Windows 11, 10, 8.1, 8, 7, Vista, XP / macOS 11.0–10.9
Supported file systems:
FAT12/16/32, exFAT, NTFS, NTFS5, ext2/3, HFS+, and ReFS are all supported file systems
Editor's suggestion:
EaseUS Data Recovery is a well-known data recovery tool for both Windows and Mac. Its creators have made the complicated process of regaining lost data simple and easy for anyone to do. There are no menus with many layers and options that need a lengthy manual to figure out what they mean.
If you don't have a lot of money, you can buy EaseUS Data Recovery for one month. But, we recommend that you buy a lifetime license for $149.95 so that you can get all the new versions for free.
Price: It starts $69.95/Monthly.
Compatibility: Windows and Mac
Recuva
Recuva is a simple data recovery tool for Windows that is completely free. You can recover a variety of files from your hard drive, memory cards, and other storage devices.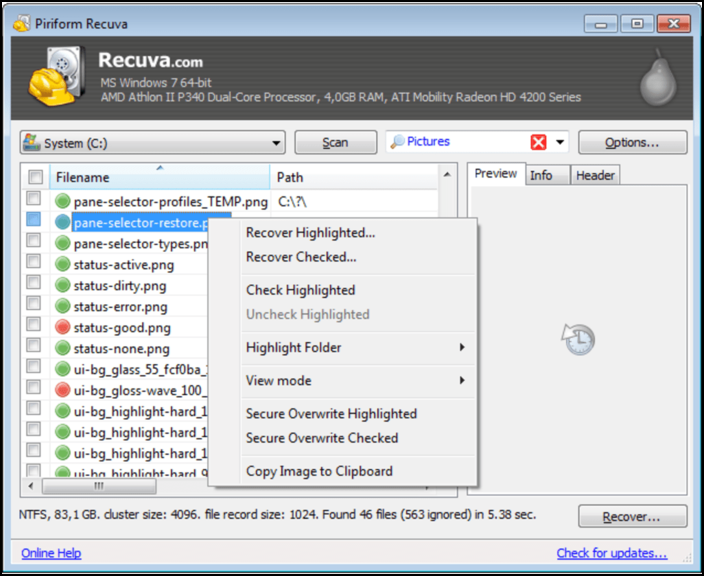 The user-friendly interface of Recuva distinguishes it from many other freeware tools. It can recover deleted photographs, audio files, and documents from a range of storage media, including external hard drives, memory cards, and USB flash drives. The program can help restore data from drives that have been damaged or formatted.
A thorough scanning option is included in the freeware solution to look for evidence of deleted files. The option to securely remove data from your computer, making them unrecoverable with other software programs, is a useful function.
Pros:
Freeware with a modest fee for the Pro version
A user-friendly interface
Display of a preview
Deletes files safely
Cons:
Less effective recovery than compensated solutions
Price:
Recuva Free is a free version of Recuva with limited professional features.
$19.95 for Recuva Professional
The free/trial version has the following limitations: Unlimited free recovery.
System requirements:
Windows 11, 10, 8.1, 7, Vista, and XP are all supported.
Supported file systems:
FAT, exFAT, and NTFS are the file systems that are supported.
Editors suggestion:
We like Recuva because it's cheap, simple, and easy to use. It only found two-thirds of the deleted files on my test drive, and that might not be good enough in a real emergency. Still, it's not a bad idea to download the free version and give it a test first.
R-Studio
R-Studio is a commercial data recovery software program that was created with data recovery specialists in mind. It has become more user-friendly over time, and anyone may currently use it. The program is available in Windows, Mac OS X, and Linux versions.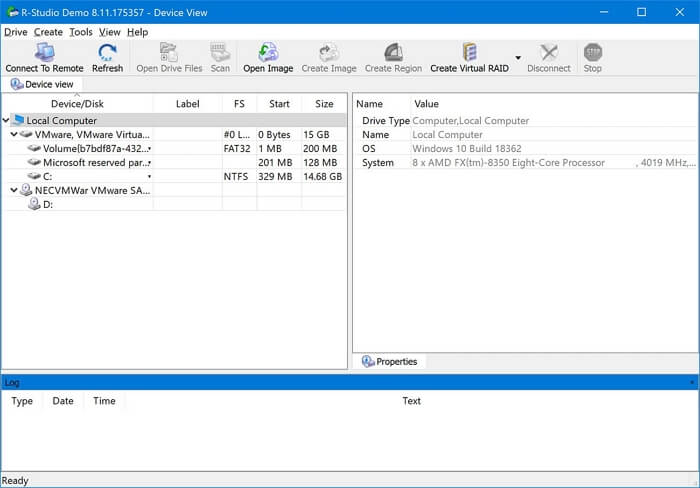 R-Studio is a true cross-platform solution with many recovery possibilities. Any supported operating system, independent of the OS hosting the tool, can be used to restore files. This feature provides versatility and removes the need to purchase several software versions. Data may be recovered from local and removable devices, as well as machines linked to a LAN or the Internet, using R-Studio.
Due to its initial audience of data recovery professionals, the program offers numerous advanced features that may not be necessary for the majority of data loss circumstances. R-Undelete, a simplified and wizard-driven recovery experience intended for beginner users, is also available from the firm. You can upgrade to R-Studio within a year after purchasing R-Undelete by paying the difference in price between the two systems. The ability to produce disc images, a multi-language GUI, and S.M.A.R.T. monitoring technologies are just a few of the application's powerful capabilities.
Pros:
Demo version available
R-Undelete, a simplified version of the utility, is available.
Customize the file types that can be recovered
Data recovery across a network
RAID array reconstruction
Cons:
Expensive in comparison to other options
For some users, the UI and many functionalities can be bewildering
Price:
FAT $39.99
NTFS $47.99
R-Studio $63.99
Network $143.99
Technician $719.20
The free/trial version has the following limitations: It can only recover files that are less than 256 KB in size
System requirements:
Windows 11/10/8.1/8/7/Vista/XP/2000 or Windows Server 2019/2016/2012/2008/2003/Mac OS X 10.5 Leopard or later/Any kernel 2.6+ Linux distribution capable of installing. rpm or. deb packages
Supported file system:
NTFS, NTFS5, ReFS, FAT12/16/32, exFAT, HFS/HFS+, and APFS (Macintosh), Little and Big Endian variations of UFS1/UFS2 (FreeBSD/OpenBSD/NetBSD/Solaris), and Ext2/Ext3/Ext4 FS (Linux) partitions are all supported file systems
Editor's suggestion
R-Studio is for people who already know about getting back lost or deleted data. Even if some files are damaged or deleted, it can work with all standard file systems and partition layout schemes.
You can arrange them by their extensions, creation time, modification time, access time, making it easier to find the lost files
Stellar Data Recovery
Stellar Recovery is a respected name in data recovery software that has been operating for over 20 years. It lacks some advanced features found in other solutions, but it has a solid track record of recovering popular file formats.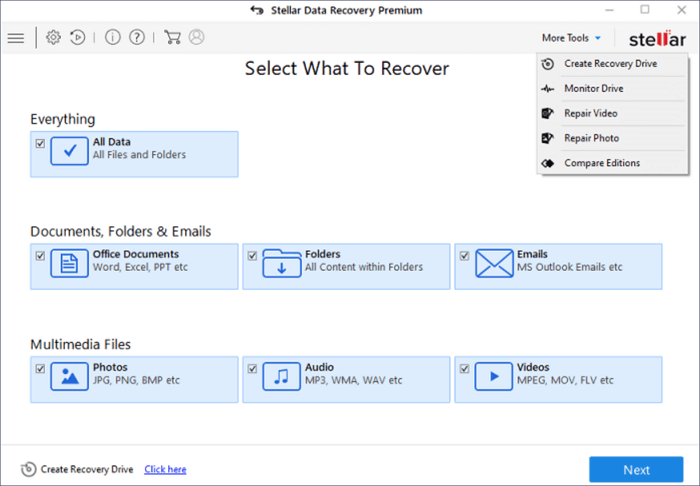 Stellar Photo Recovery helps recover files that have been lost or destroyed from a variety of digital storage devices. The tool works with a variety of different platforms, including action and drone cameras. It has a simple and user-friendly interface that makes recovering data simple, and it can even recover data from encrypted drives.
Advanced users can manually add new file headers to increase the application's functionality. The premium edition of the software can repair damaged images and video files. Stellar is capable of interacting with storage devices larger than 6 TB.
Pros:
For further functionality, users can manually add new file headers.
To safeguard damaged devices, create sector-by-sector disc images.
There are three scan preview options to help you quickly locate the files you wish to restore.
Supports the recovery of Unicode files
Cons:
A yearly license is required
With the trial version, there is no free data recovery
Price:
Only the preview version is available for free
$89.99 for a year of Professional Edition
$99.99 for a year of Premium Edition
$199 for a one-year Technician Edition
Limitations of the free/trial version: The free version simply allows you to preview recoverable data
System requirements:
Windows 11, 10, 8.1, 8, and 7 / macOS 10.11 - 11.0 are the system requirements
Supported file systems:
NTFS, exFAT, and FAT (FAT16/FAT32) are all supported file systems
Editor's suggestion:
This Stellar data recovery app is easy to use because it walks you through a simple wizard that lets you choose what and where to look for deleted files. This app has a unique feature: You can look at the results while the scan goes on. You can see which files the application finds as it scans in real-time.
Pandora Data Recovery
Pandora Recovery is completely risk-free. We ran Pandora Recovery through popular antivirus programs like Malwarebytes and Avast Antivirus, and both of them rated it as safe to use. The application had no malware or viruses. During the installation process, there were no hidden installations or spam.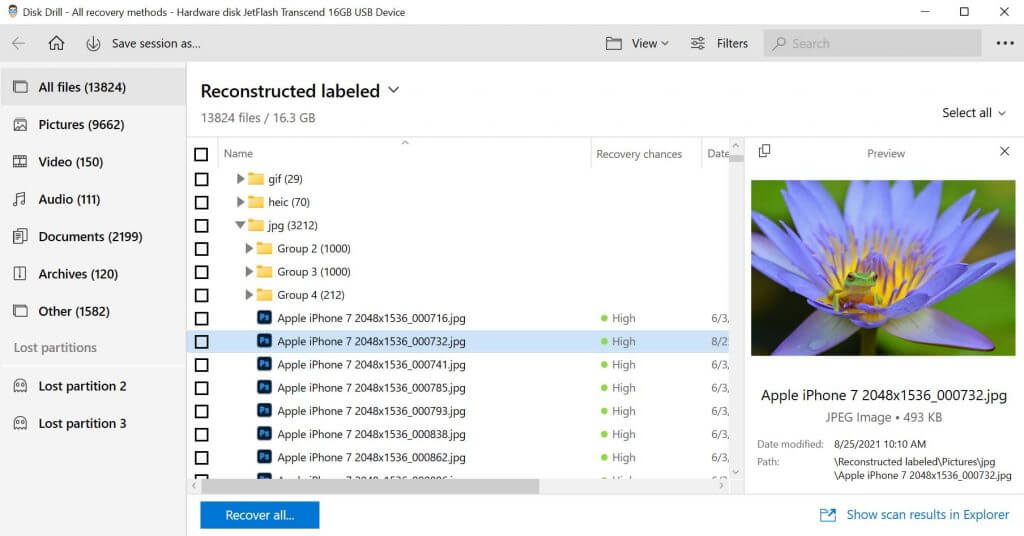 Pandora Recovery does not require an internet connection to function, thus your personal files will not be transferred to the internet. Furthermore, the software is free of advertisements. If you're using the free version, you'll just see a 'Buy Now' or 'Upgrade Now' popup. Aside from that, the software simply examines and accesses the files you've erased. Other files on the hard drive are unaffected. Overall, Pandora Recovery is a secure data recovery program.
Pros:
Quickly and easily recover lost files
You can preview recoverable files using the built-in preview tool. Most popular image formats, as well as several text formats such as XML, TXT, LOG, CSS, BAT, and others, can be previewed
 A variety of advanced and powerful options, including Quick Scan, Lost Partition Recovery, Deep Scan, and others
FAT32, FAT16, NTFS, exFAT, and other major file systems are all supported
Simple navigation and a user-friendly UI
Cons:
Despite the fact that there are no hidden installations, Pandora Recovery requests that you install a browser toolbar during the installation process, which can be inconvenient
The software does not come in a portable format. To use the tool, you must first install it on your computer
Some file systems and drives may be incompatible with the software. It can't, for example, restore erased files on the ZIF18 Microdrive
Price:
While there is a free version of Pandora Recovery, it is not completely free. This is due to the fact that the free edition has various limits, like a limit on the number of discs that may be scanned, a limit on how much data you can recover, and so on. You'll need to upgrade to the PRO edition to get access to all of the software's features. The software's PRO version costs around $89. You can also purchase the Enterprise license. It costs $499 and includes priority assistance from developers as well as the ability to utilize the software by up to ten users.
System requirements: 
For Windows 10/8/7/XP/Vista and macOS X 10.14 - 10.6.
Editors suggestion:
Pandora Recovery may appear to be too good to be true if you've ever erased vital data and emptied the Recycle Bin without recognizing it. While there are no certainties for retrieving deleted data, Pandora Recovery can recover it if it can find it.
SoftPerfect File Recovery
SoftPerfect File Recovery, another top recovery program for PC, is a free and simple tool that will help you recover your lost files in no time. Because it is portable software, there is no need to install it. Data can be recovered from hard drives, flash drives, SD cards, floppy discs, and other storage devices with the file recovery program.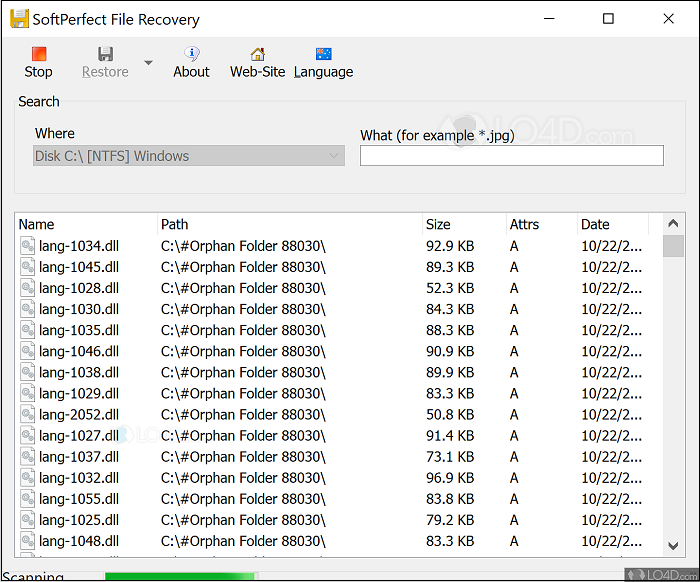 Pros:
It's a small and free data recovery program. Also supports compressed and encrypted volumes
There is a portable version
Recovers files from floppy disks, hard drives, USB flash drives, SD cards, and other storage media that have been mistakenly deleted
Cons:
Out-of-date dashboard
No updates
Price:
Data recovery software is available for free
System requirements:
Windows 10, 8, 7, XP, Vista, Windows 2000, and Windows 2003 are all compatible
Supported file systems:
Compatibility with compressed and encrypted volumes, as well as file systems including FAT32, FAT16, FAT12, NTFS, and NTFS5
Editor's suggestion
This software offers a fundamental yet powerful user interface, allowing users to recover all erased files. Users can search for recoverable files using this tool, which works from any portable place such as a flash drive.
Furthermore, it allowed us to locate a deleted file by utilizing a file extension or file name. You can undelete several deleted files at the same time.
Undelete 360 Recovery
You can recover files from the recycle bin, PC, digital camera, and USB flash drive using Undelete 360 Recovery. Hard drives, digital cameras, floppy drives, and USB flash drives are all supported. It employs a quick and efficient algorithm. It has the ability to recover files and folders that are deleted by specific applications or files irreversibly deleted with the Shift+Delete keys.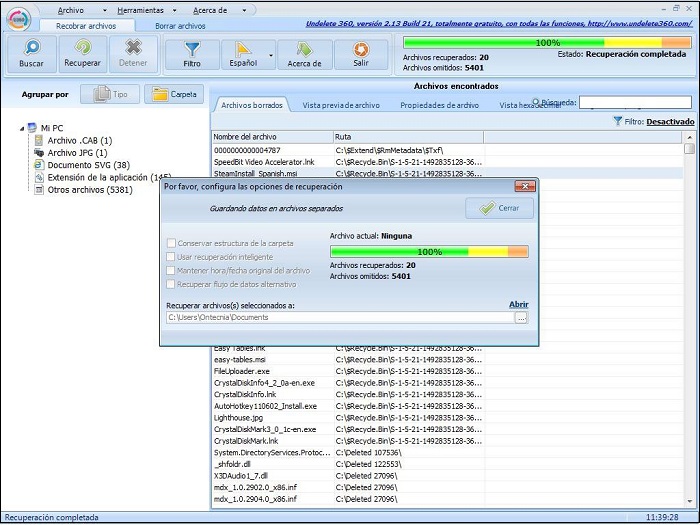 Pros:
The core functionality is for free.
You don't have to renew Paid packages.
The interface is simple to use.
It can recover files erased from the command line.
 It can recover files from Windows network shares and USB memory sticks that have been deleted.
Cons:
Not updated since 2016
It is unclear how to get the premium version
Only Windows supported
System requirements:
Windows 2000, XP, Vista, 7, 2003, or 2008 Server
Require at least 128 MB of RAM and 15 MB of hard disc space
Editors suggestion:
Undelete 360 is a reliable piece of software. It doesn't have many luxuries, but it works. Even with the free version, you'll be able to recover files. It is compatible with a wide range of file formats and storage devices.
Data Rescue
You can recover your deleted data from a USB drive with Prosoft's Data Rescue. It comes with a number of useful data recovery tools. It's been in the works for a while and has been tested by a professional data recovery lab. When we look at this, we can see how dependable and essential this tool is. It's an excellent program for recovering lost or deleted files on Windows.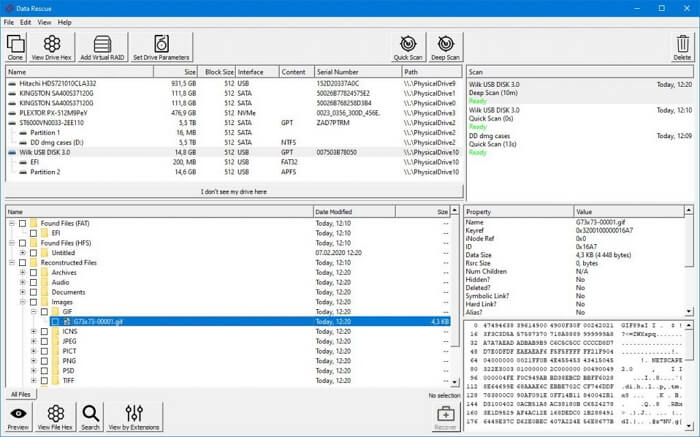 You can use this software to create a clone of a drive when data recovery fails or takes too long.
Pros:
A large number of scanning options
Excellent recovery results
Secure Erase is used to delete files
You have a number of settings to pick from
The user interface is professional
The setup and activation processes are straightforward
Cons:
Extensive deep scanning periods
Scans cannot be paused or resumed
There are no trial recoveries
Price:
Aside from the free version, it also has a standard edition that costs $19 per recovery and $399 each year
System requirements:
A secondary storage location, Windows 7 or later, and an internet connection are required
Editor's suggestion:
Data Rescue 6 has many exciting features, like its FileIQ feature, which lets you add file types for the program to recognize when it needs to find them. But, the biggest problem would have to be how much it costs. Other than that, Data Rescue 6 has a simple UI that makes it easy to use and navigate, making it simple to use.
In general, Data Rescue 6 is a good tool, but not the best.
UndeleteMyFiles Pro
UndeleteMyFiles Pro includes a number of useful recovery functions as well as some appealing extras. While using this software, you can search for ordinary and media files independently, as well as apply a search filter. It also has two additional useful features: the first is "Files Wiper," which permanently deletes any file, and the second is "Disk Image," which ensures that the deleted file is not overwritten.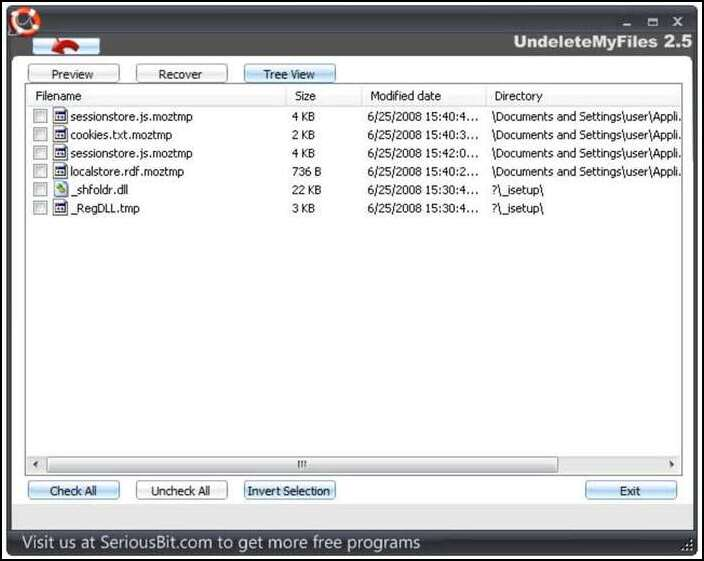 Pros:
It is a free program that allows for deep scanning and the recovery of lost or deleted files

  It has a quick and straightforward solution to locate and restore deleted data

It can recover media files in a few simple steps

Specialized filters that enable you to find specific deleted data

Mail Recovery Wizard is a program that helps you recover emails from your inbox
Cons:
Deep scanning for file recovery is a slow and time-consuming procedure
File recovery from a damaged or inaccessible hard disc is not supported
Price:
It is a free professional tool to recover deleted files
System requirements:
It can run on Win 10/8/7/Vista/XP and Mac OS X
Editors Suggestion:
UnDeleteMyFiles Pro's appearance isn't engaging as it includes more than data recovery tools. Recovery can be a hit-or-miss because there is no sign of the quality of files — you have to hope that the retrieved files are in a proper form.
SysTools Data Recovery
SysTools Data Recovery Software appears to be a capable data recovery solution on paper, but appearances can be deceiving. In reality, not only is SysTools Data Recovery Software difficult to use, but its data recovery performance is also lacking. So, why not give it a shot? One reason is that it supports a wide range of file formats, and another is that it allows you to preview recoverable data items.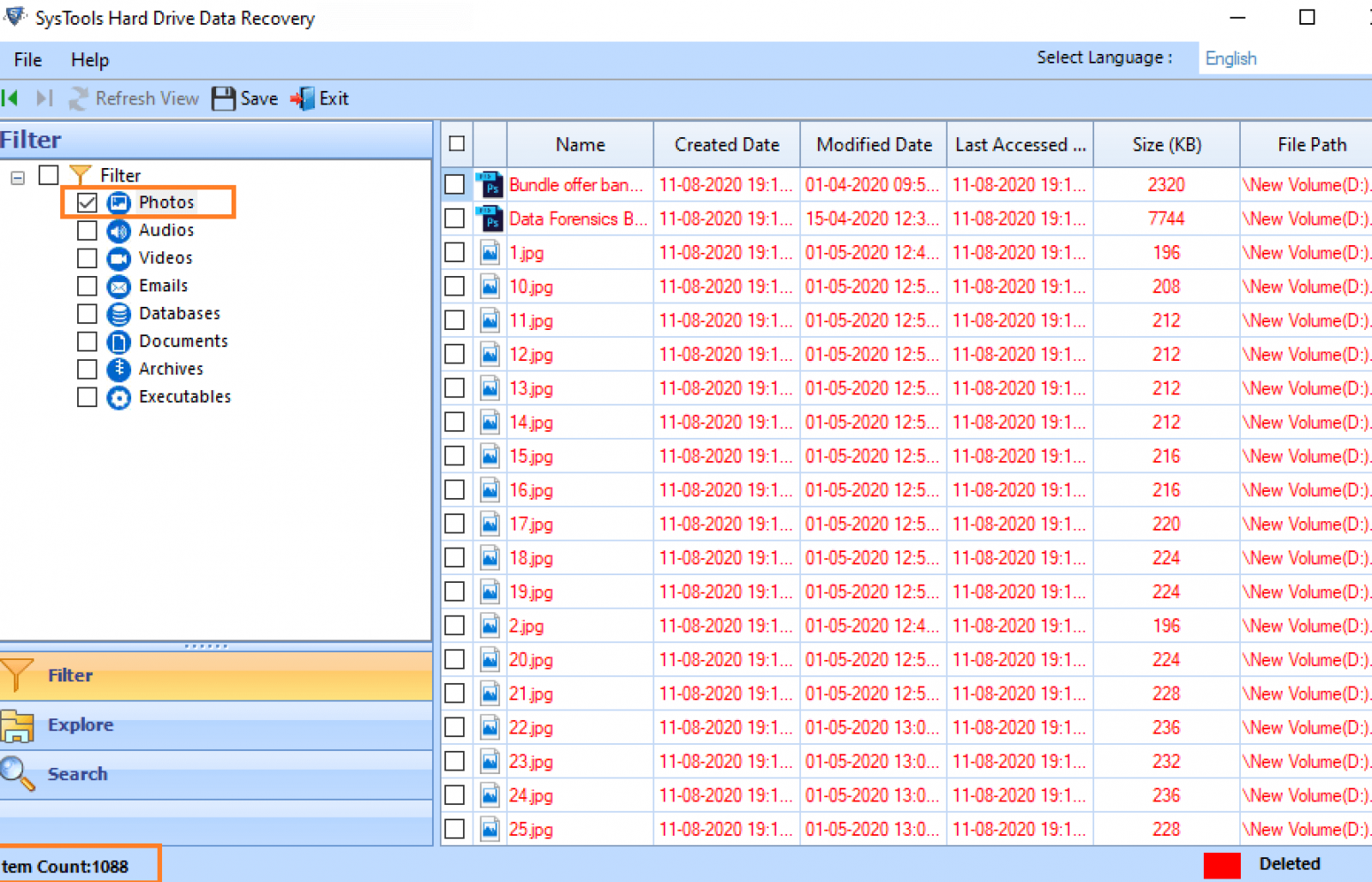 The data restoration applications from SysTools allow you to see destroyed data before deciding which files and folders to restore.
Pros:
Easy-to-use UI and options
The majority of file formats are supported
Files that have been lost can be viewed using a category filter
Only a preview is available in the free version
Cons:
There is no preview for scanned photos
The process is a little tricky
There isn't a free version that can be used indefinitely
Unable to resize the product's window
Price:
Personal, Business and Enterprise licenses are available for $39, $99, and $399
System requirements:
Windows 10, 8.1, 8, 7, Vista, XP, 2012, 2008, 2003, and 2000, with 100 MB of free space and 1 GB of RAM
Editors suggestion:
SysTools Data Recovery is an excellent application. With the help of this program, one may fix corrupted or damaged files without compromising their integrity. I also value and promote this lightning-fast and excellent program to others. I'd like to give the Hard Recovery tool a 9.8 out of 10 rating based on its performance.
What Is the Best USB Recovery Software
Most people think that they only have to run hard drive recovery software. Many times, it's not necessary to use high-quality commercial data recovery tools when you lose a lot of data. In sporadic cases, native operating system functions can get back data. It might be possible to get your files back if you delete a file by mistake, have your computer crash, or get infected with a virus. Hard drive recovery software might be able to help you get them back, too.
As long as your deleted files haven't been overwritten, you can try to get them back with one of the apps on this list, but the chances of getting them back vary. Always back up your files when you make changes or add new ones. It's a good idea to back up your files every day. If you're working on a critical project, you should back it up more often.
No more content