There are fun apps available with different kinds of uses, like recording voice, making face filters, and modifying voice tones. Many people find apps with a call voice change functionality useful for various reasons. Common reasons a lot of users download this app are:
To add voice to games/social media elements
Voice over to videos or animations
Change voice to protect identity against unknown callers
Entertaining situations like prank calls
You can use the Avast SecureLine VPN (Visit Site)software to keep your privacy and connection secure. Besides that, download the best call voice change-related apps, either for protection or fun. Here, we list our pick of the top 10 best options.
10 Best Voice Changer for Android and iPhone
We went through many apps that can call voice change and voiceovers changes. Out of the many options we tried out, we came across ten suitable functionalities, features, and ease-of-use options. Read to learn more details.
5. Call Voice Changer – IntCall
1. FunCalls
One of the best apps available for call voice change is FunCalls, suitable for various devices. You can easily add your friend's phone number, choose their location, and select the voice type to use. The app would modify the voice as chosen in real-time. Users can also include funny or exciting sounds in the middle of a call.
Besides other redeemable offers, you will also get rewards from using this application.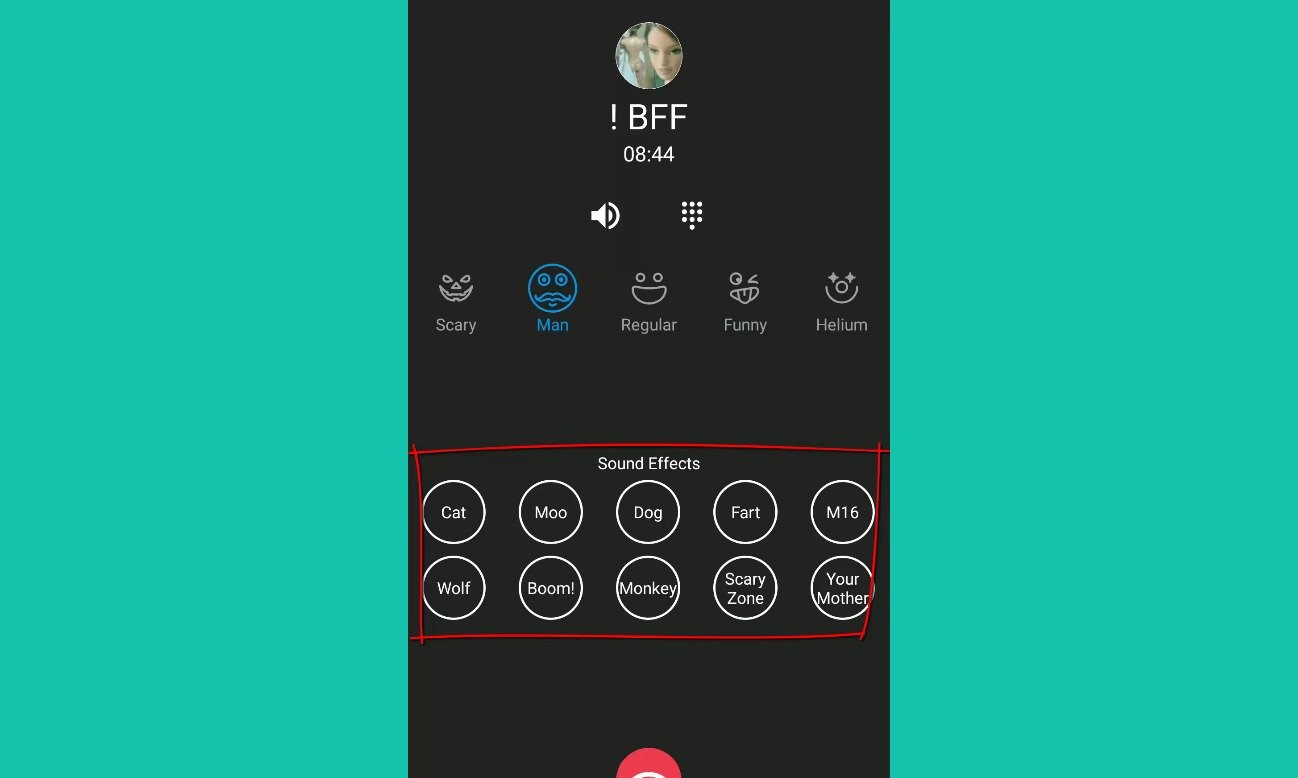 Compatibility: iPhone, Android
Pros:
Add funny voices and interesting audio elements
24x7 customer support available
Easy to make international calls
Cons:
Features are very diverse
Connection issues in some areas
2. Prank Dial
Another suitable application you can use to call voice change is Prank Dial. You can add some pre-recorded audio clips and play them between the calls.
This works well for pranking unsuspecting friends with hilarious voice clips that sound natural and not pre-recorded. You can also record the whole call and share it online or play it on your device.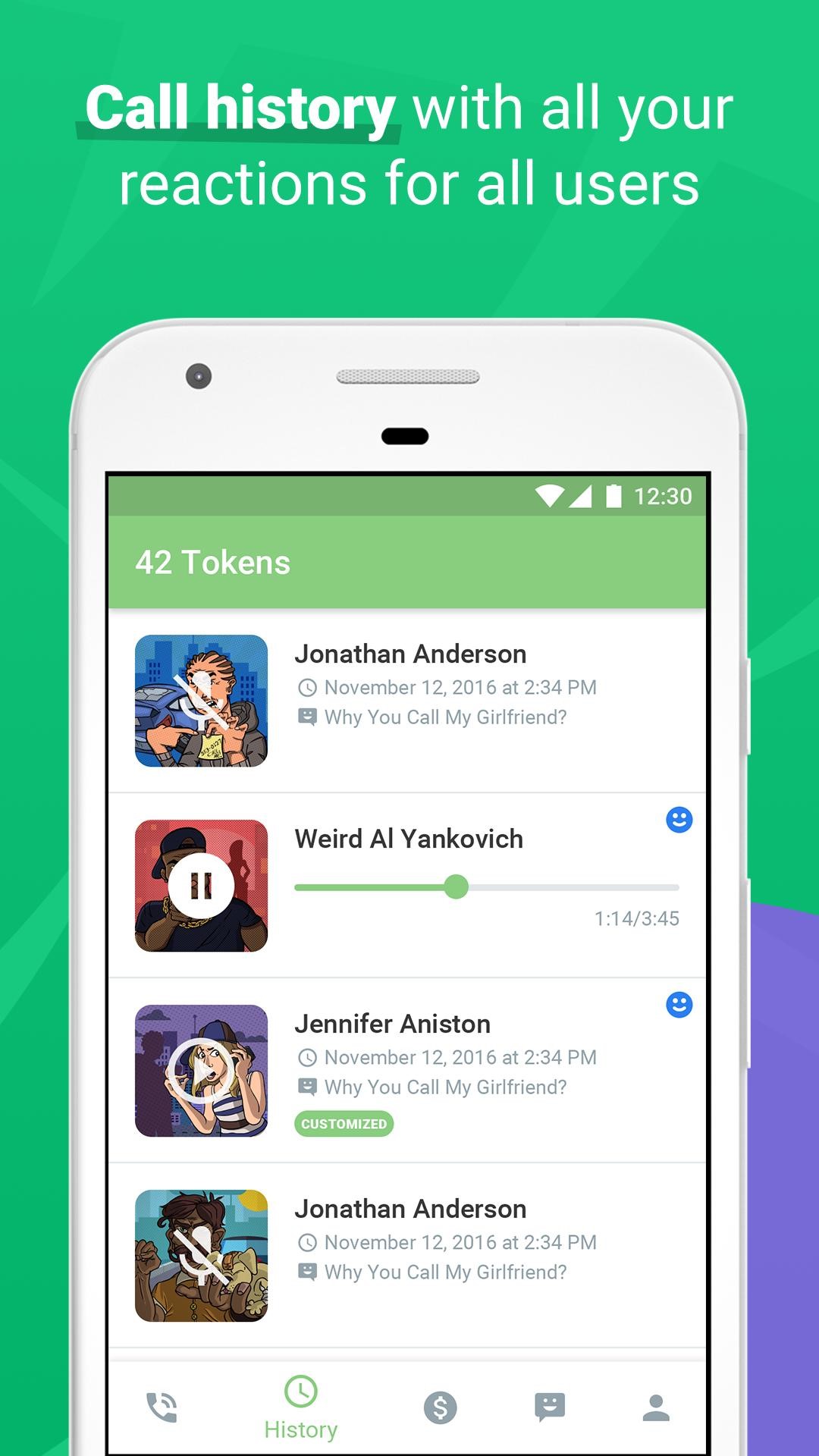 Compatibility: iPhone, Android
Pros:
Automated replies during calls
Free calls are unlimited daily
Recordings are easy to save
Cons:
Pre-set prank scenarios are not a favorite of all users
Mainly centred around pranking
3. Voice Changer With Effects
Another fun app for voice changing during calls is the Voice Changer with Effects app for Android users. You can completely modify your original sound and sound like another person or animal.
There are over 40 voice effects to choose from under this app, with background noise change and effects. For example, you can add effects as if you are talking into a megaphone or standing inside a cave.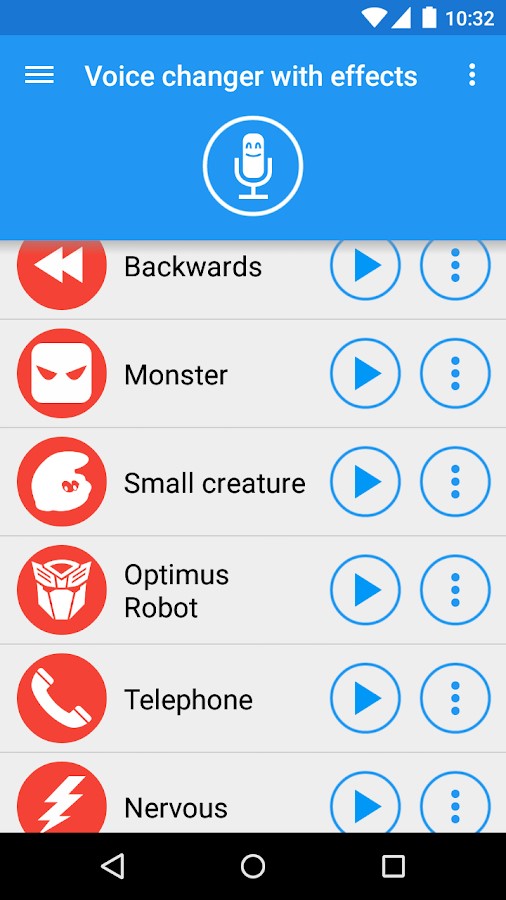 Compatibility: Android
Pros:
Over 40 different voice effects
Change voice with pre-recorded sound
Save recording and add it into a video
Cons:
Not best for live calls
Not available for iOS users
4. Magic Call
One of the best apps available to call voice change is Magic Call. You can get on a call with your friend or family and talk in a completely different intonation and sound.
The app allows users to choose between different voice types, such as King, Cartoon, Woman, and Child. When you apply your preferred type, the voice automatically changes and even sounds realistic.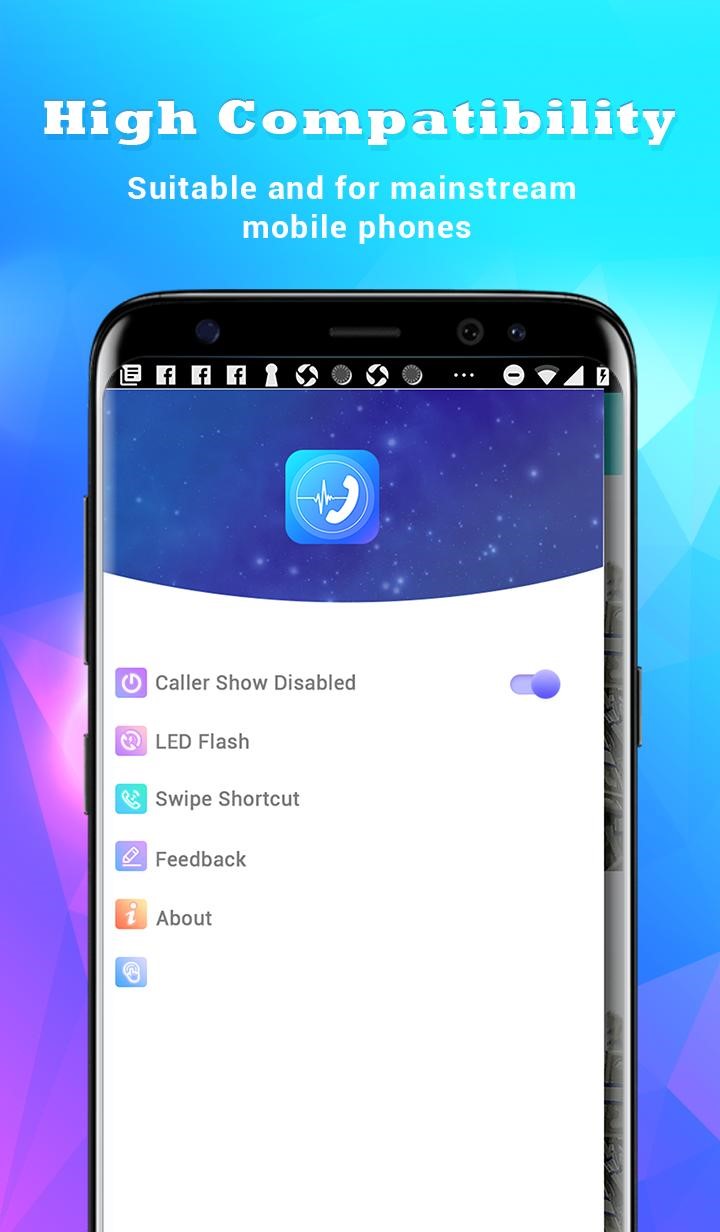 Compatibility: iPhone, Android
Pros:
Activate by calling the number: *500*33#
Simple to use and change voice type during calls
Realistic sound
Cons:
Only valid for calling other Magic Call users
Costly for users
5. Call Voice Changer - IntCall
iPhone users download and use this application to change their original voice and make phone calls during pranks. This entertaining app also includes sound effect addition functionality and diverse voice changer types. The sound effects completely alter users' voices, adding deep intonation, high pitch, and subtle husky sound.
The app is mainly used as an entertainment tool; users engage in fun conversations with different voice pitches.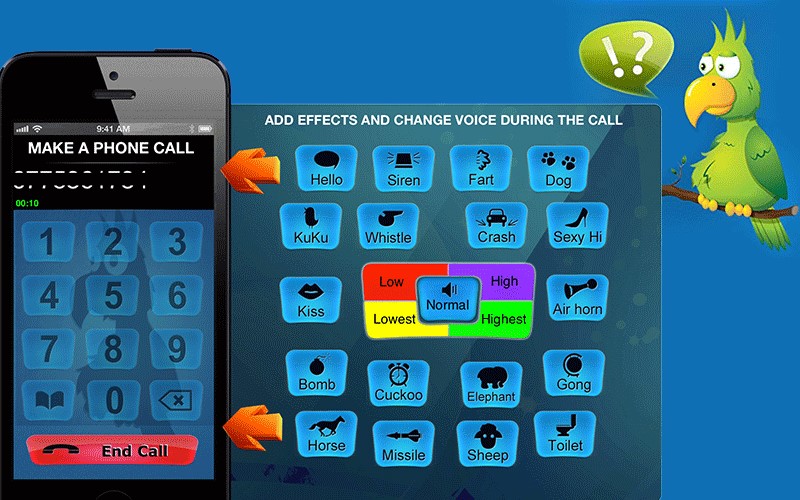 Compatibility: iPhone
Pros:
Many of the best features are available in the free version
Add sound effects in real-time
Include different types of sound effects like multi-lingual greetings, cartoon character sounds, etc.
Cons:
Only for iOS users
Subscription auto-renewal sometimes causes issues
6. Voice Changer Plus
This is another worthy iOS-based app for voice-changing functionality, which is usable through online platforms. You can add effects to your voice like an older adult's sound, young child's voice, reversed phrases, Star Wars characters, and more.
The app supports live voice recording or adding effects into the pre-saved audio file. Before sharing or saving, you can review the recording. Also, use the trimming function to adjust the recording.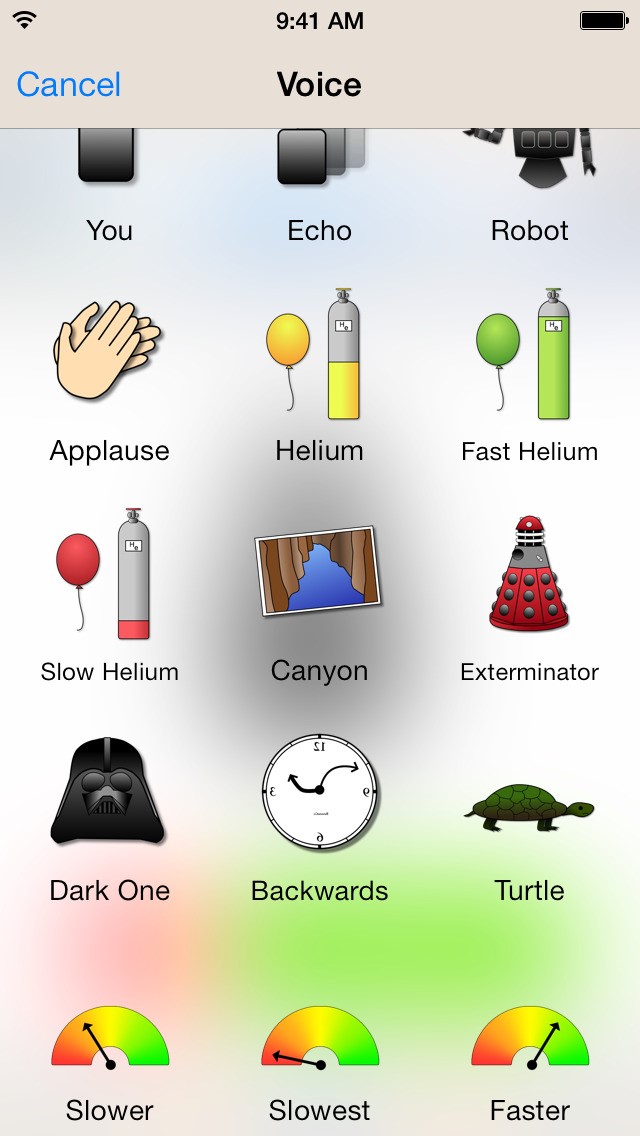 Compatibility: iPhone
Pros:
Free to use
Intuitive and engaging UI
Compatible on iPhone, iPad, and iPod Touch devices
Cons:
Not available for Android users
Only works with iOS 11 version or higher
7. Voice FX
Voice FX is another suitable app for changing and recording voice from the phone. The modified voice sounds entirely different and seems realistic. Users can include diverse audio effects into the sound. Later, listen to the sound on playback after adding voice effects into them and save the recording.
Users can stream their altered voice live to web browsers or media players.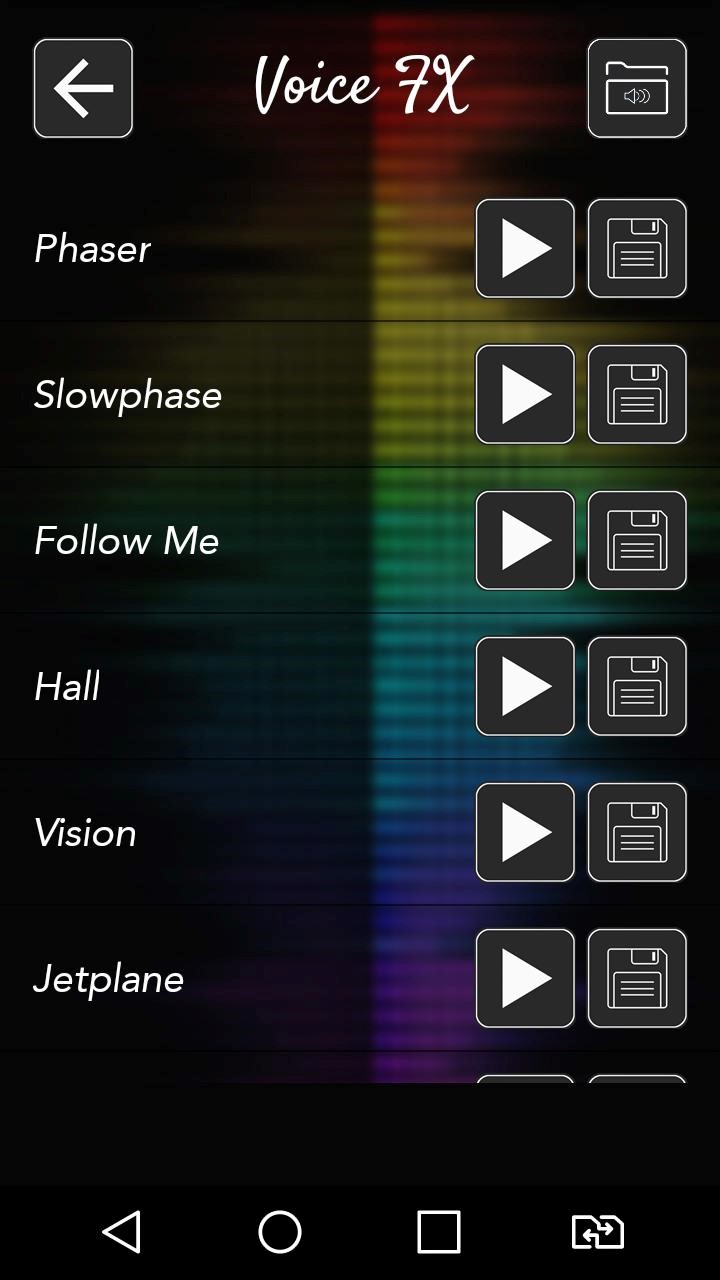 Compatibility: Android
Pros:
Live playback
Various audio effects like Kid, Male, Female, Chipmunk, Autotune, etc.
Save in MP3 format and share
Cons:
Not available for iOS users
Not best for live calls
8. Change My Voice
This app is helpful for completely altering your voice and sounding like a different individual during calls. Android users download and utilize this app due to its diverse features. You can add elements like chorus or echo effect.
Moreover, you can use the app to control your voice tone. There are pre-set features and recordings available that you can apply to modify your voice entirely.
Compatibility: Android
Pros:
Supports Android 1.6 version and onwards
Simple to use
Free
Cons:
Not available for iOS users
Basic level features
9. VoiceMod
VoiceMod is a high-quality app that allows users to distort their voice/video sounds among the different types available. Then, you can share the clips.
It has different features that users can change their voice, like a robot, children, or chipmunk sound. The quality of the new sound is relatively reasonable and easy to understand.
It works well with Discord, so gamers install this app more often for functions like male-to-female voice change or vice versa.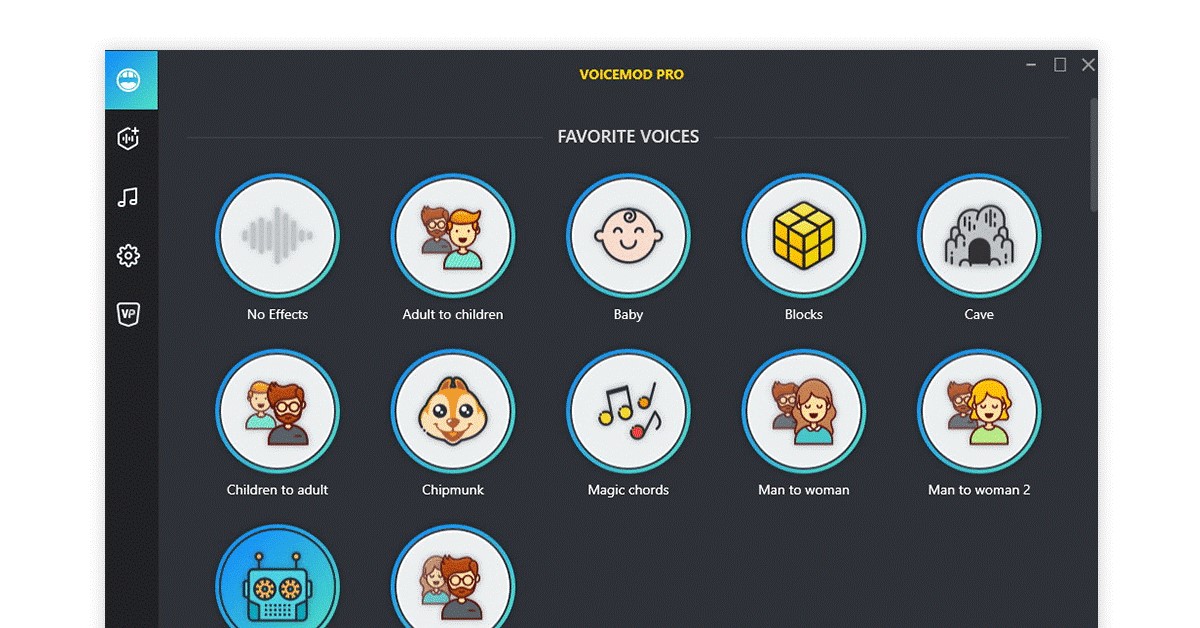 Compatibility: iPhone
Pros:
Free to use
Best for video and audio content editing
Add DJ-themed and diverse sound samples
Cons:
Not available for Android users
Sounds effects are not prominent when played via speakers
10. Skype Voice Changer
The Skype Voice Changer is a suitable app for voice changing, adding a new sound into any video. Users can adjust different sound effects using this application and upload them directly into different platforms. You would get access to different voices; use them to modify your voice entirely.
Then, you can replay these sounds during calls, adding pre-set effects. Edit audio as necessary.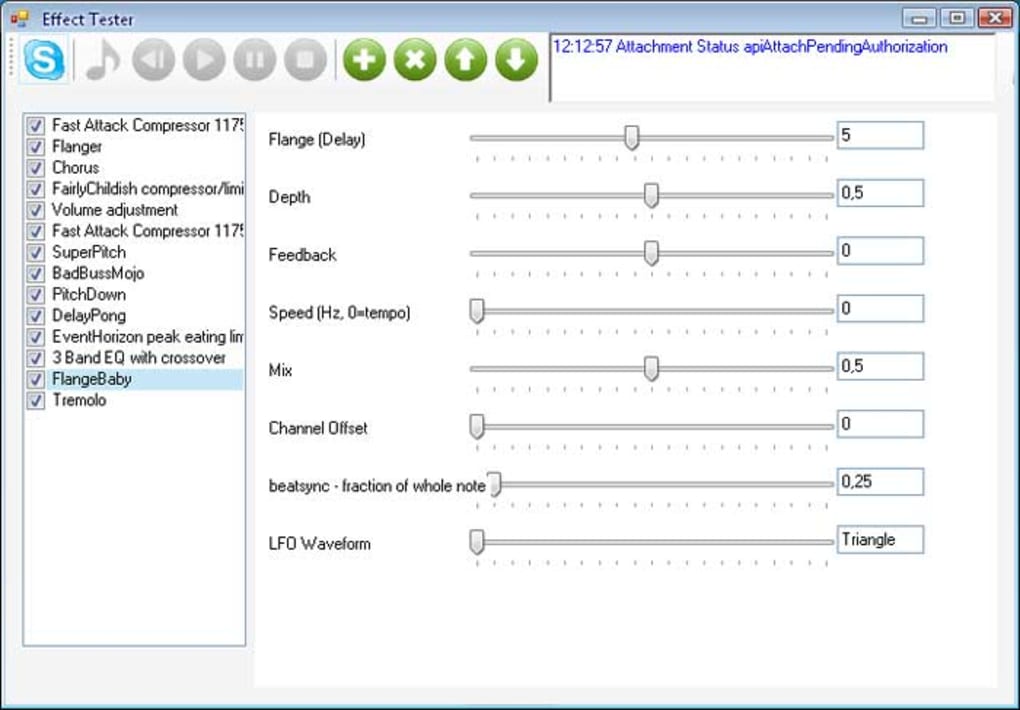 Compatibility: iPhone, Android
Pros:
Easy installation process
Supports different audio formats for recording
Easy to use a slider for voice changing
Cons:
Free trial ends after 14 days
The features under the free version are limited
Conclusion
There are different types of apps available, with pre-set effects to use to alter voice during calls or live modification features. You should check for compatibility and features available to choose the type of app you can use easily. If you found this helpful, you should also look through our other posts.
No more content