The secret to running a successful business, whether the team operates remotely or chooses to share an office, is being able to interchange information. The primary purpose of PDF converters is to make PDF content accessible. PDF Converter commonly converts PDF files into other file formats, such as Word, Excel, PowerPoint, Plain Text, HTML, and others, in addition to converting other documents or photographs into PDF for simple file sharing. The top PDF conversion software is listed below.
Best 4 PDF Converters on Windows
On a Windows PC, there are lots of compatible applications that are available for download. However, to shield you from trying out different low-specification apps for your PDF conversion, we have highlighted the most excellent PDF converters based on their performance.
1. EaseUS PDF Editor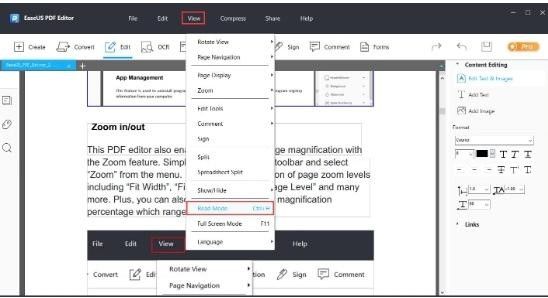 EaseUS PDF Editor is a good PDF converter software that lets you create, view, edit, manage, and even convert your PDF documents using this all-in-one PDF creator. But, most significantly, even if you have little experience, you can easily use this Windows PDF editor because of its simplicity.
In actuality, that is a minor feature of this PDF application. Other incredible features include page management, protection addition, signature, form preparation, and more.
For navigation and viewing, EaseUS PDF Editor offers Flexible page view modes. For fans of eBooks, the application features "Read Mode." To read the file in "Read Mode," click "View" or "right-click" on the document. There is a "Full screen" mode (To exit, press the "Esc" key). The navigation bar at the bottom of the page allows you to set the page to be displayed in Tile or to fit one full page into the window.
Basically, it is the best application for you regarding any operation on or use of PDF files.
Price: It costs $29.95/Monthly, $49.95/Annual, $79.95/Lifetime.
Compatibility: Windows
2. Epubor Ultimate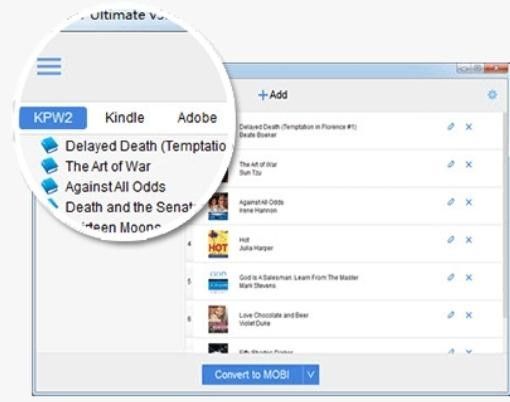 The clever and unique converter enables free reading. You can convert many books easily to EPUB, PDF, or Mobi, and the converted books are displayed just as they are.
Epubor Ultimate will instantly identify your e-Reader when you connect it to a computer and show all downloaded books in the left column. The program works with popular e-Readers, Kobo Paperwhite, Kindle Voyage, and Kindle Oasis. Adobe Digital Editions for Windows and Kindle are just a few e-reading apps supported by the program.
Price: Its Lifetime license costs $49.99/1 PC, $54.99/1 MAC.
Compatibility: Windows and Mac
Pros
● It can convert and decrypt books from services and retailers like Amazon, Sony, Nook, Kobo, and Google Book.
● Allows you to change the book's metadata or descriptive data.
● Easy-to-use interface
Cons
● The free version comes with limited features.
3. Soda PDF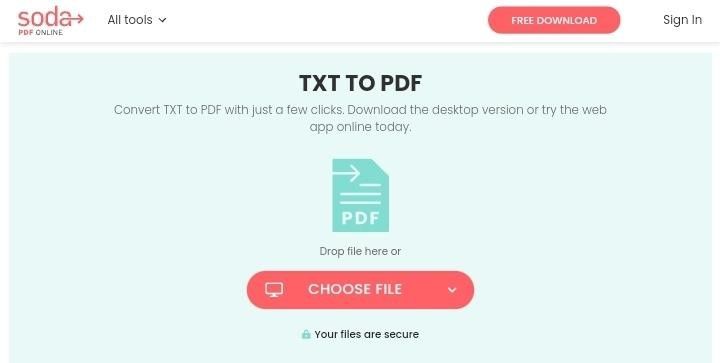 Soda PDF is the first completely functional PDF solution that is both desktop and web software. Users can access features, such as a desktop computer, laptop, smartphone, or tablet, free to use any web-enabled device. In addition, it includes cutting-edge PDF conversion, editing, reviewing, security tools, a respected e-signature solution, Bates numbering, cloud integration, and many other features that are specifically meant to boost productivity.
Features:
● Combines various file into a single PDF document with the PDF Merge tool.
● Compress PDF files to make them smaller without sacrificing quality.
● Convert Word, Excel, PPT, and other files to and from PDF using the PDF Converter.
● Edit any PDF document's text, layout, and structure using the PDF Editor.
● It allows you to append your digital signature to PDFs.
Pros:
● Easy app installation.
● User-friendly and attractive interface.
Cons:
● Limited features with the free version.
Click here to visit the site.
4. Lumin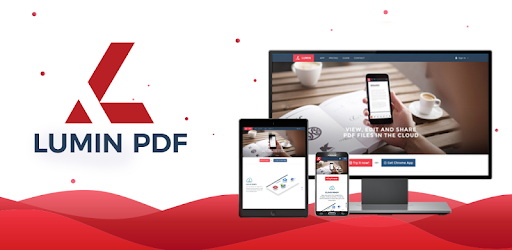 Lumin offers a complete solution for PDF editing, online collaboration, and project management with one easy, user-friendly interface. It's simple to edit, evaluate, and manage your resources with Lumin since the all-in-one solution eliminates the need for lost papers or back-and-forth communications. The following features make Lumin an excellent app with PDFs.
● You may turn your scanned paper documents and photographs into editable files using Lumin's OCR (Optical Character Recognition) technology.
● Conversion: Create PDFs from files and more. Make anything into a PDF!
● Split / Merge PDF Files: With Lumin's Split / Merge tool, you can divide a single PDF file into multiple copies or combine many PDF documents into one.
● Remove passwords from PDF files to unlock them, reducing PDF files' size.
Pros
● Simple to use and inexpensive
● It is user friendly
Cons
● The free version has limited features
Click here to visit the site.
Best 2 PDF Converters on Mac
Due to the dedicated apps that run on Mac, a lot of Windows applications do not have the Mac version. However, there are great performance PDF converters on Mac, among which we listed the best two below:
1. iLovePDF
iLovePDF is a document management program that aids in centralizing document digitization for enterprises. It enables team members to make document collections with customized watermarks, company logos, and individual signatures.
By merging, dividing, compressing, rotating, and annotating documents, iLovePDF enables staff members to organize, optimize, and modify PDF files. It allows users to convert files into various file types, including Word, Excel, PowerPoint, and JPG. Additionally, it will enable team members to translate papers into other languages and process many files simultaneously from a single platform using the drag-and-drop interface.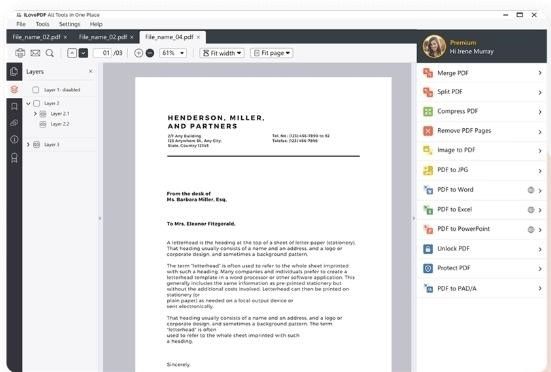 Additional Features
● Freedom to select your platform, with simple web, mobile, and desktop accessibility.
● You can work from the cloud thanks to Google Drive and Dropbox integration.
● To share default activities, you can establish and administer your team.
Pros
● Very easy to use.
● It has a very simple and understandable user interface.
Cons
● The free version restricts large files.
Click here to visit the site.
2. SmallPDF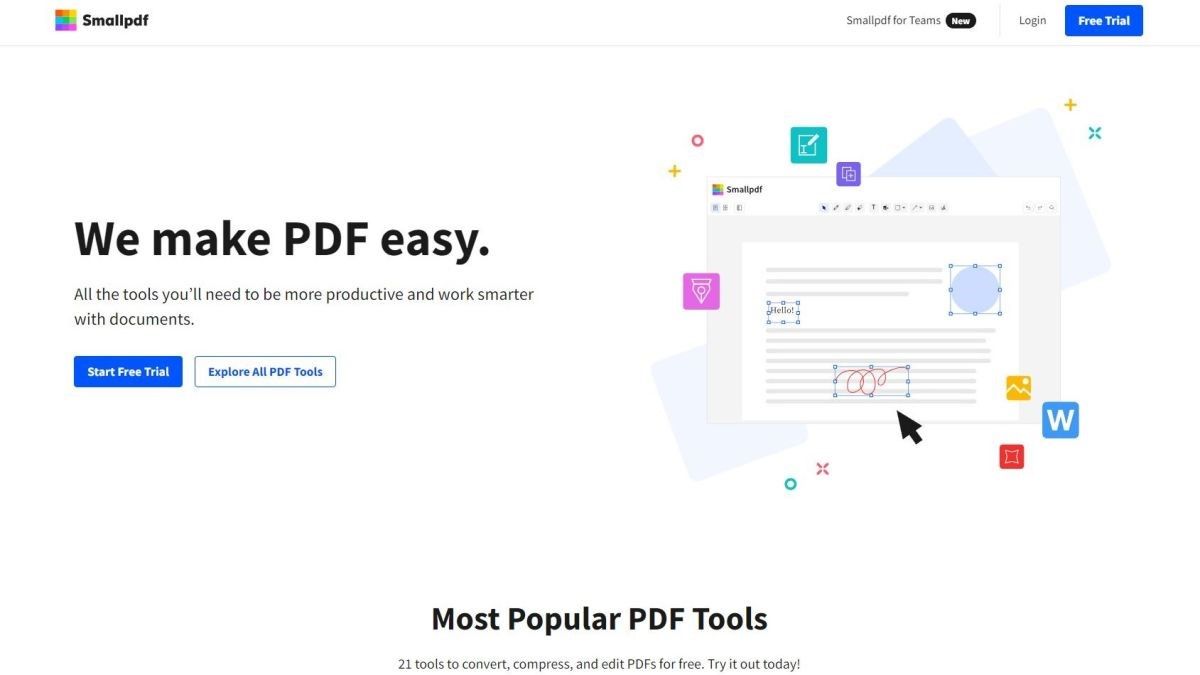 SmallPDF provides a lightweight, trustworthy alternative to complex, cumbersome PDF software by strongly eliminating pointless functionality and emphasizing the user experience. In addition, software often restricts large file sizes, which is helpful in that situation. Launch the SmallPDF program in the browser to obtain the compressed file.
The best feature of SmallPDF is its seamless conversion of PDF to Word and many other formats.
Pros
● It's hassle-free to use.
● It is user-friendly.
Cons
● Some restrictions apply to the free version.
Click here to visit the site.
Best 2 PDF Converters online
Not every user is convenient will downloading and installing every app when the need arises; some use these apps occasionally. Thus, it is advisable for such users to do their PDF conversion online, especially if they plan on doing it just one or two times.
1. Online PDF Converter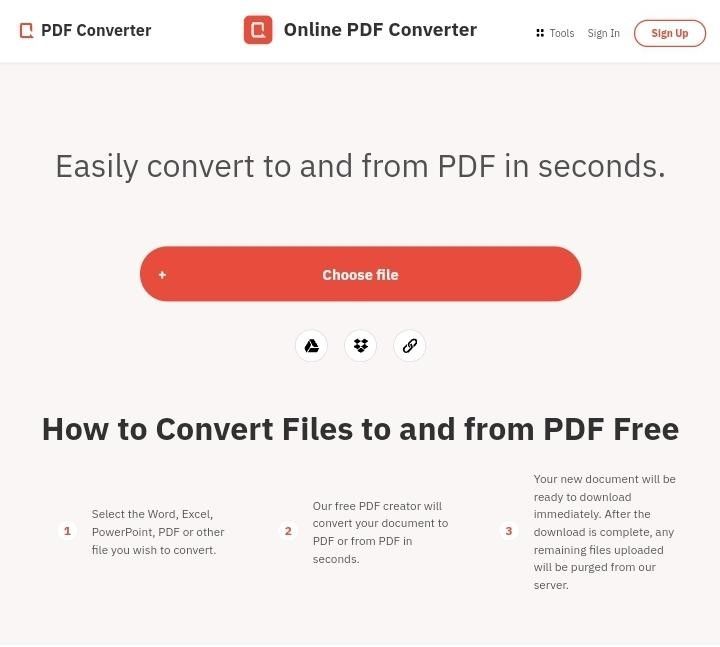 Online PDF Converter is a fundamental and user-friendly online tool with Universal conversion. This web app is more than just a PDF file converter, regardless of the files you need to convert. For all of your file conversion requirements, it is a good option.
Feature
● Your files, papers, and data are protected thanks to encrypted files.
● Your files are automatically deleted.
Pros
● Very easy to use.
● User-friendly.
Cons
● There is no offline accessibility.
Click here to visit the site.
2. SmallPDF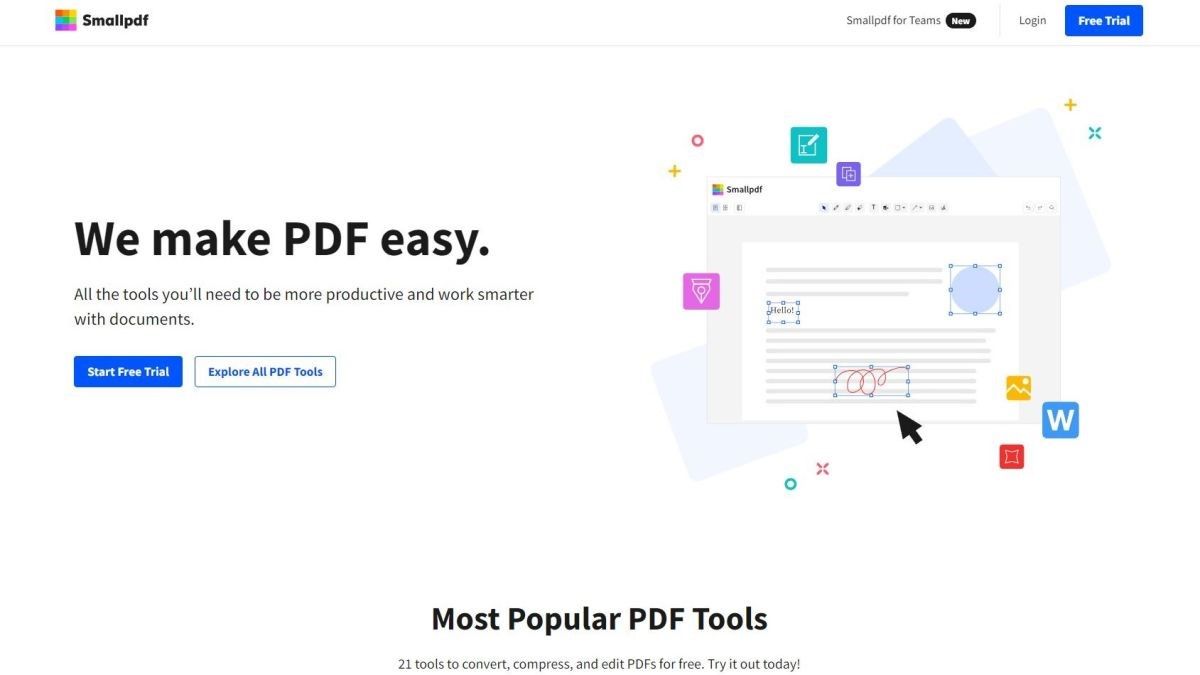 With SmallPDF, Online management of cumbersome, uncomfortable PDF applications is made simple, secure, and trustworthy.
Pros
● It is simple to use.
● It is user-friendly.
Cons
● Some restrictions apply to the free version.
Click here to visit the site.
Conclusion
PDF converters can generally convert PDF files to various formats and vice versa, but there are some differences between different PDF converters. A variety is online, while some are offline. Most PDF converter software requires payment to access all their functions. However, the free and premium versions of EaseUS PDF have practically everything you need to handle your documents.
Price: It costs $29.95/Monthly, $49.95/Annual, $79.95/Lifetime.
Compatibility: Windows
No more content