Mp4 screen recorder software records your PC screen with the best audio and resolution as it seems the original. Various software offers several features and functions along with a price tag. You need to be picky and selective to take the right tool for your professional requirements here. While you go for screen capture to watch the last meeting of your office or out of entertainment, you record the gameplay screen to upload it on your YouTube channel, select the best tool based on your requirements so that you can capture your PC screen without any hassle.
To capture the PC screen, you need a tool equipped with the latest technology, a stable internet connection, and running Windows, and you are all set to record your PC screen and ensure your professional growth. If the features and functionalities are the measures of the software selection, then let's understand which mp4 screen recorder will best suit you.
Best 6 Free MP4 Screen Recorder for Windows and Mac
1. EaseUS RecExpert

EaseUS RecExpert is an intelligent tool that helps you capture video, audio, or webcam. Its state-of-the-art features help you capture the screen, edit the recording, create screencasts, and many more. The mp4 screen recorder brilliantly performs when you need to record the screen of an online meeting, video tutorial, gameplay recording, streaming video, etc. Its scheduled recording option gives you auto-record mode without your interference, and the tool will capture the screen. The best part is the software can use by anyone, learners or experts; the user interface is equally graceful and easy to use.
Pros
The software can capture anywhere on the screen, partial or full screen
With video, you can record the audio from your PC
After reaching the record limit, its auto stop and auto split options are activated and divided into the recording file
The tool supports 10+ formats that include mp4, MOV, AVI, PNG, etc
Cons
Users don't register cons
Price: It starts $19.95/Monthly.
Compatibility: Windows and Mac
How to use
Step 1: Launch the EaseUS RecExperts software on your computer. 
Step 2: You can either click the "Full Screen" option (for recording the whole screen) or select "Region" (for customizing the recording area). Upon that, choose the recording area with your mouse. If you want to record video with audio, you need to click the "Sound" icon on the bottom-left corner. 

Step 3: Click the "Settings" button to apply more options and select the corresponding specification based on your needs. When finished, click "OK".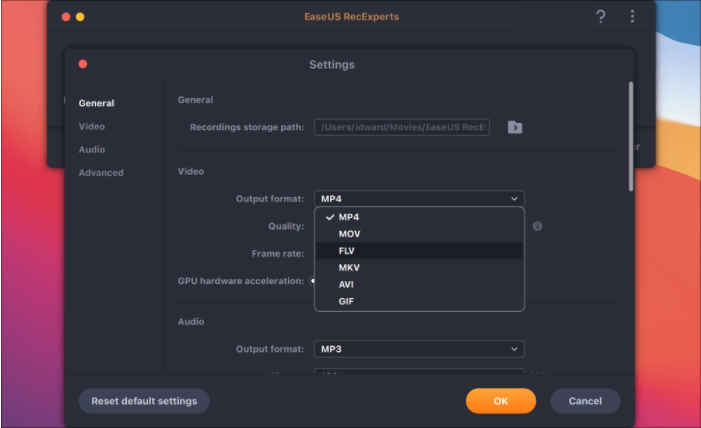 Step 4: Hit the "Sound" button on the bottom-left corner and open the system or microphone sound if you prefer to record audio and screen simultaneously. With that, select "OK" to ensure the audio options.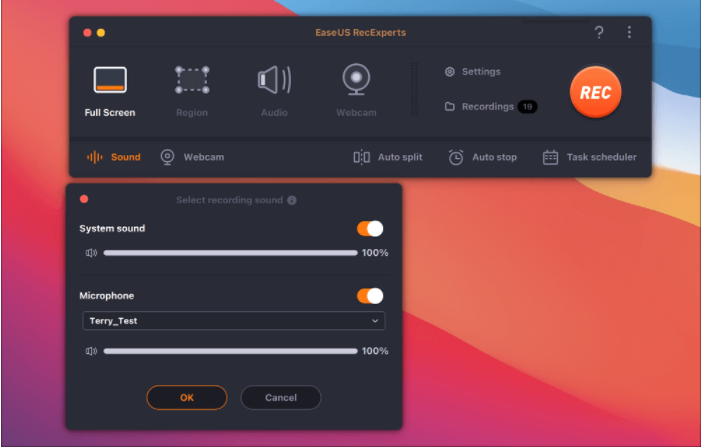 Step 5: Click the "REC" button to start recording. And click the red button on the timing bar to stop recording when it finishes.
You can find the recording videos in the "Recordings" which is located in the main interface. Select the video and edit it as you want.
2. Camtasia Screen Recorder and Video Editor

If you're looking for a professional video editing tool, Camtasia can serve your purpose. With its assistance, you can create a video tutorial, meeting recording, webinar recording, presentation recording, etc. The software allows you to record the screen and edit the recording using their vast template and theme library to give the recording a professional look. Its high-end features include webcam capture, cursor fix option, and a comprehensive editing option that gives you the liberty to do justification with the recorded file.
Pros
It can record HD videos
It offers an excellent editing option
The tool supports 16 file formats that include AVI, Mp4, Mp3, MPEG, GIF, etc
It has built-in themes and template option
Cons
The tool is not lightweight
Bug issues may give you trouble
Price:
Individual plan starts $299.99
Business plan: $299.99
Education Plan: $214.71
Compatibility: Windows and Mac
3. Aiseesoft Screen Recorder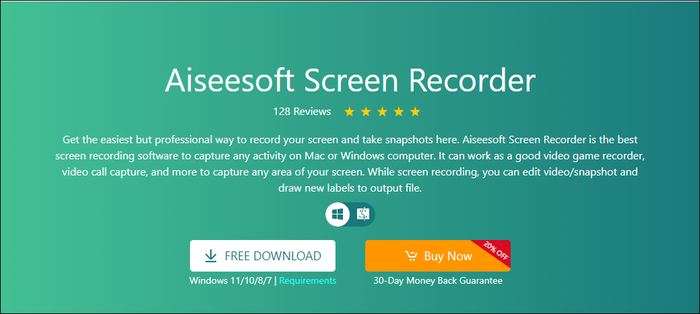 If you're looking for a screen recorder to capture the screen and give it a professional look, use Aiseesoft Screen Recorder. Modern technology keeps you way ahead in all the competition, and Aiseesoft understands your stands in terms of your professional attainment. It helps you capture a PC screen to record video games, online meetings, and many more activities. The high-quality recording doesn't come with a watermark, and you can select the area and support various formats. The tool is a gem for beginners and pro users. Its GPU acceleration boosts the screen recording process, and you can record your screen within a blink.
Pros
It can record your voice from a microphone while recording the PC screen
Snapshot and editing of the screen record option are available
Can use hotkeys during recording
Optimize audio recording option to ensure both video and audio quality will be standardized
Cons
Limitations in the trial version
Need to improve in video editing option
Price:
For one monthly license, pay $20,
For a Lifetime license $47.20,
For the Business license, you need to pay $99.00
Compatibility: Windows and Mac
4. Movavi Screen Recorder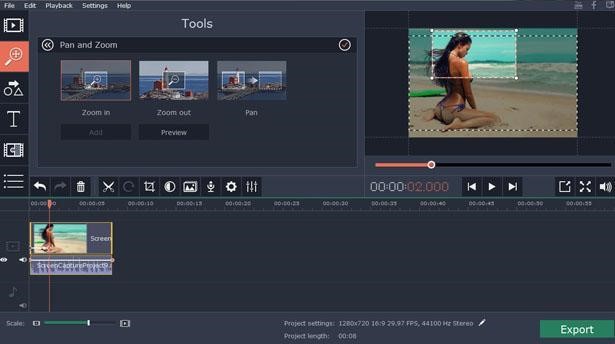 If you're looking for software for commercial purposes, Movavi can sort out your requirements. The mp4 screen recorder offers innovative screen recording options and advanced-level editing functionalities. It has frame-by-frame editing, stabilizing, and supports pan/zoom calls. The recorded file can be optimized to watch them simultaneously from a smartphone and PC. The multitask software helps you edit videos, capture screens, convert media, and edit photos. All these benefits are under one banner called Movavi.
Pros
It has multiple functions, including screen capture, editing, converting the file, and edit photos
Optimize video clips for TV and Smartphone
The software supports more than 180 formats that include AVI, MOV, Mp3, etc
No time limit for video recording
Cons
The free trial doesn't come with all the features
No preview option is available
Price:
For Business licence $49.95/1year
Personal licence $39.95 Lifetime/ 1 PC
Compatibility: Windows
5. Snagit Screen Recorder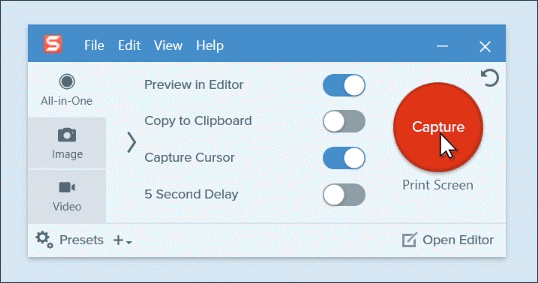 You can quickly capture your PC screen using Snagit and make a professional video out of the recording. Make your visual presentation a standard one to uplift your career prospects, and Snagit could help you in your journey. An mp4 screen recorder Snagit offers extensive editing options to the recorded file that you can mold it the way you want. It offers cloud syncing of your recorded file to keep it in safe custody. Its premade layouts help you make visual documentation, training materials, and many more.
Pros
All-in-one capture option is available
Record camera and audio simultaneously with similar quality
It offers an inclusive editing option
It offers a cloud library to keep your recording safe
Cons
You have to pay to receive each update
Editing options need to improve
Price: It's available with single pricing that you need to pay $62.99
Compatibility: Windows and MacOS
6. Cyberlink Screen Recorder

If you're a gamer or a streamer, run your own YouTube channel, Cyberlink Screen Recorder is the best for you. Cyberlink screen recorder provides you with a robust platform to capture the screen of your PC. The screen recording option functions as an All-in-one solution to record game plans, vlogging, or share screens. Further, it offers a real-time webcam and Mic preview option with a quick adjustment of resolution and settings.
Pros
Best tool for the gamer and live streamers
A healthy recording and editing presentation
Mic preview and webcam are available in real-time
Multistreaming options for various social media platforms
Cons
The editing tool is not up to the mark
A bit complicated for the beginners
Price: It costs $49.99
Compatibility: Windows
Final Words
The mp4 screen recorder contributes a lot to making you a professional in your respective field. The recorder with the output video files furnishes your digital presentation more tricky and up-to-the standard and helps you to grow eventually. The current trend is digital, and people prefer to visit websites to get information and watch videos on social media to learn new things.
You can offer your potential customers the best tutorial videos or DIY videos to educate them on a specific topic. Or simply record your last day's meeting to keep safe the essential notes that help you close a deal with your client and claim a pay hike. Simply your life goal with an mp4 screen recorder and install EaseUS RecExpert to reach out to your career perspective.
Price: It starts $19.95/Monthly.
Compatibility: Windows and Mac
No more content