The frequency (rate) at which consecutive images (frames) show on a display is called the frame rate. The number of frames displayed per second in games or films is FPS (frames-per-second). And we can deduce that the higher the frame rate, the smoother the video appears. If you're a gamer who wants to record high-quality gaming videos for YouTube or other sites, you'll need to select a screen recorder with a high frame rate.
Fortunately, there is plenty of great FPS screen capture software. The following guide will help you solve your problem by listing the Top 5 Free 60 FPS Screen Recorders in 2022.
Best 5 Free 60 FPS Screen Recorder in 2022
On the list of 60 FPS screen recorders, EaseUS RecExperts comes out on top. The clean and simple user interface makes it simple to use for all levels of users, including those with no prior knowledge of technology.
With its help, you may capture games or the entire screen in 60 frames per second in only one click. If your computer's performance isn't quite up to par, you may adjust the frame rate on the Settings tab, which allows you to choose from 1 to 60 frames per second. Additionally, this screen capture will enable you to capture your screen and save it in various quality settings, including Standard, High, and Original. Let's take a look at some of the other exceptional capabilities of this 60 FPS screen capture software:
Features of EaseUS RecExperts
Capturing that is adaptable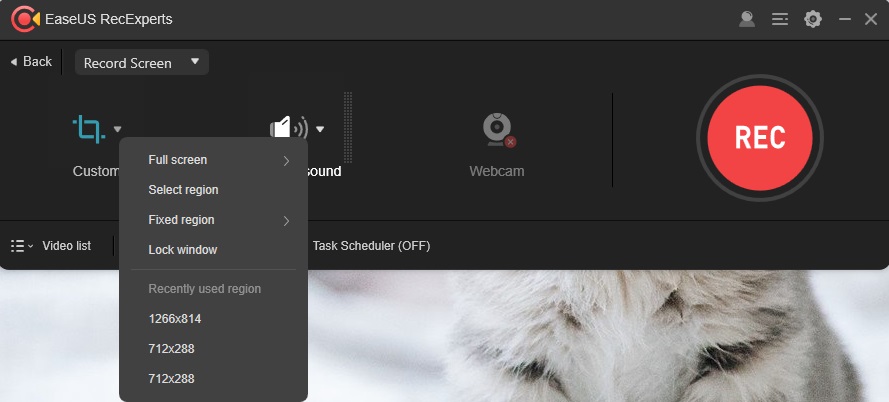 You may effortlessly record any part of your screen with this app.
Simultaneous Video and Audio Recording
It allows you to use your microphone to capture both background sounds and a voice simultaneously.
It can be used to record webcams and as an overlay to boost engagement.
You can design personalized shortcuts that are tailored to your needs.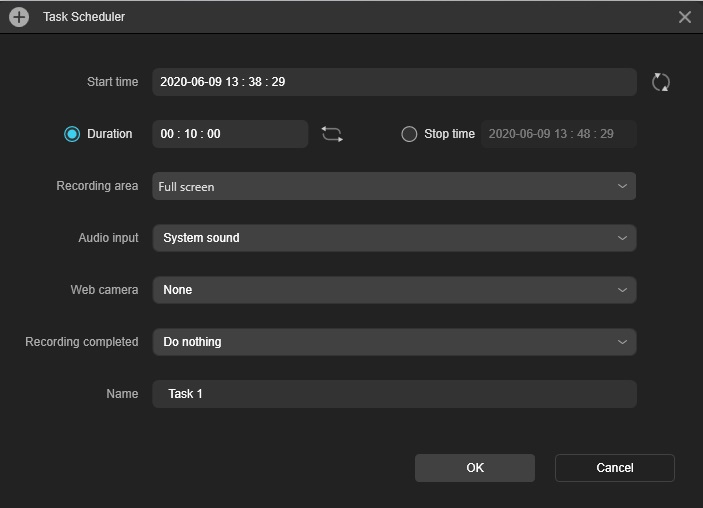 The recordings can also be scheduled by the users.
Supports a Massive Format
MP4, M4V, AVI, MOV, FLV, WMV, SWF, ASF, and more formats are supported by EaseUS RecExperts.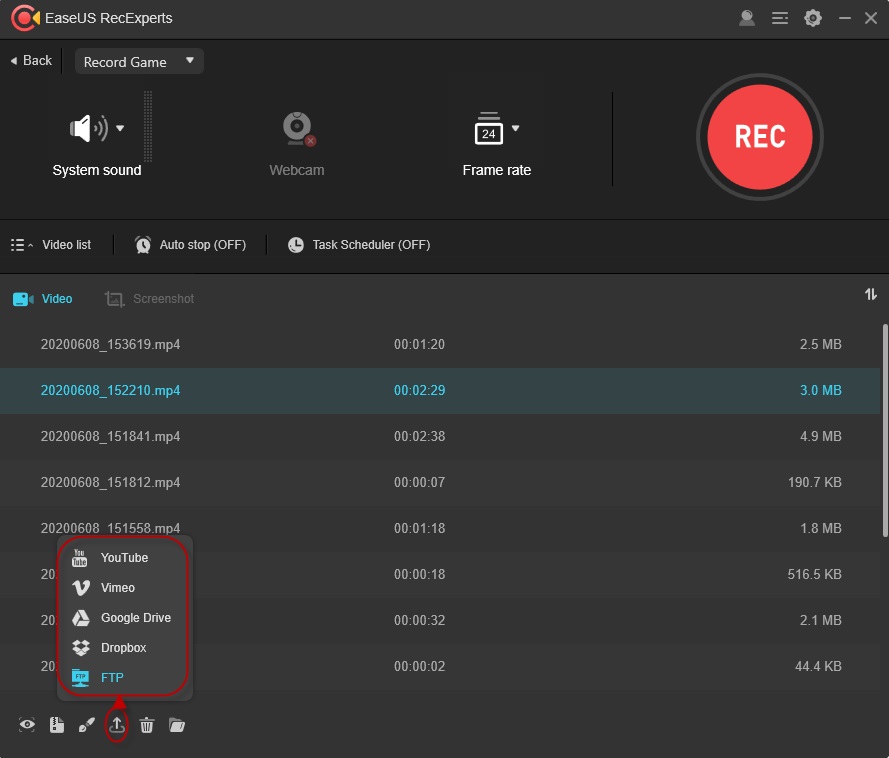 Simply export the recording or share it immediately on major video platforms like YouTube and Vimeo, and then save it to Google Drive or Dropbox.
Price: It starts $19.95/Monthly.
Compatibility: Windows and Mac
Pros
Excellent characteristics.
Throughout, the UI is simple and clutter-free.
Extremely helpful when it comes to computer resources.
Video recording in a variety of formats is possible.
Cons
The free trial allows for only two minutes of video recording time.
How to use:
Step 1. Run EaseUS RecExperts on your Windows. If you want to capture everything on your screen, click the "Full Screen" option. This is a perfect choice when playing the streaming video in full-screen mode.

Step 2. Alternatively, you can opt for "Region" to record the specific area if you want to play the streaming video in a window.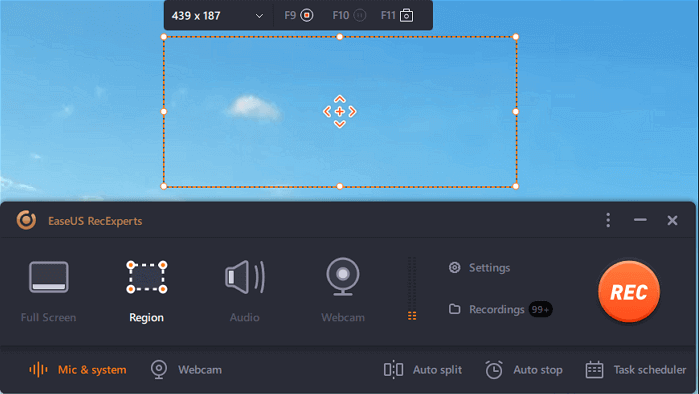 Step 3. Now, you can hit the "System sound" button to choose the sound source you prefer and adjust the volume. Upon that, click "REC" to start recording.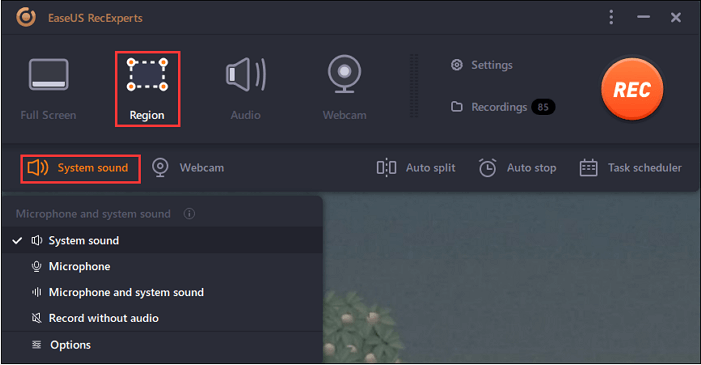 Step 4. When the recording is ongoing, you'll see a toolbar floating on the screen, which you can avail yourself of to pause or stop the recording process.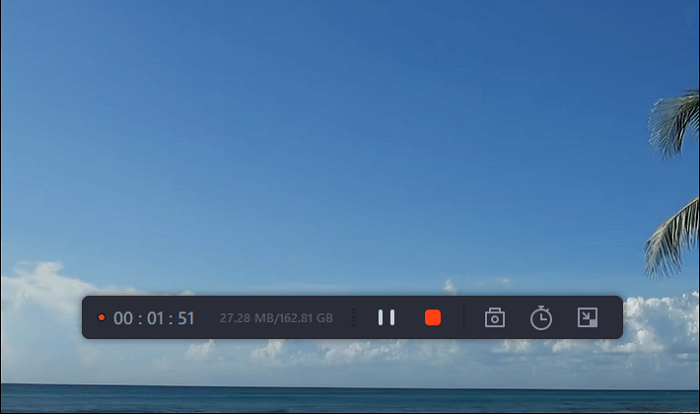 Step 5. Once you are done with the recording, click on the red stop button and then your captured video will be automatically saved on your device. You are also allowed to view the recording and utilize tools for trimming it, extracting audio from it, or adding an opening and ending section as the built-in media player appears.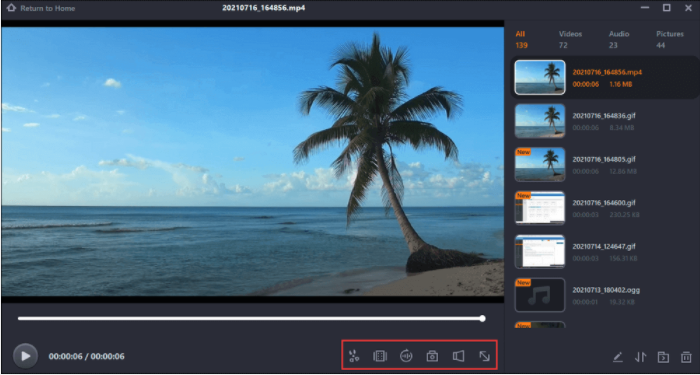 Visit Site: EaseUS RecExperts
2. Mobizen Screen Recorder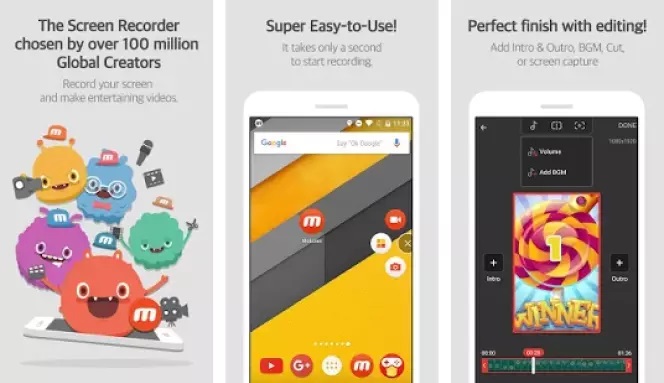 Users that require a dependable and secure screen recorder will benefit the most from this product.
Mobizen Screen Recorder is another program to consider as the best free 60 FPS screen recorder. This award-winning software, which is available directly from the Google Play Store, has been downloaded by hundreds of millions of people and has charted in various countries across the world. It's a highly safe and secure program to record in 60 frames per second and 1440p because it doesn't save any data on the server; therefore, everything is recorded locally on your smartphone. It's also simple, with a straightforward user interface and high-quality recording options.
Pros:
A safe and dependable app
Millions of users throughout the world rely on it.
recordings of high quality
Cons:
When using the free version, there is a watermark.
Compatibility: Android
Price:
Free (with ads),
Premium from $3.35/month
Visit site: Mobizen Screen Recorder
3. OBS Studio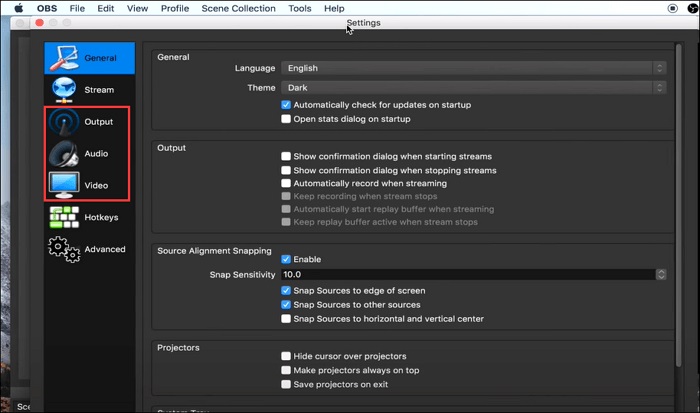 Look no farther than OBS Studio if you're looking for an open-source screen recorder.
This shareware works on Windows, Mac OS X, and Linux PCs and allows you to record your screen in 1080p at 60 frames per second. This multifunctional software will enable you to record multiple screens, capture streaming videos, and even stream to YouTube or other social media networks. Although it performs well in screen capture, it is a little difficult for beginners to use.
Pros
Downloading is completely free.
Exceptional results
Streams to social media and other streaming channels with ease.
Cons
Novice users may be intimidated.
The app must be restarted after changing the language.
Price: Free
Compatibility: Windows, macOS, and Linux
Visit site: OBS Studio
4. Bandicam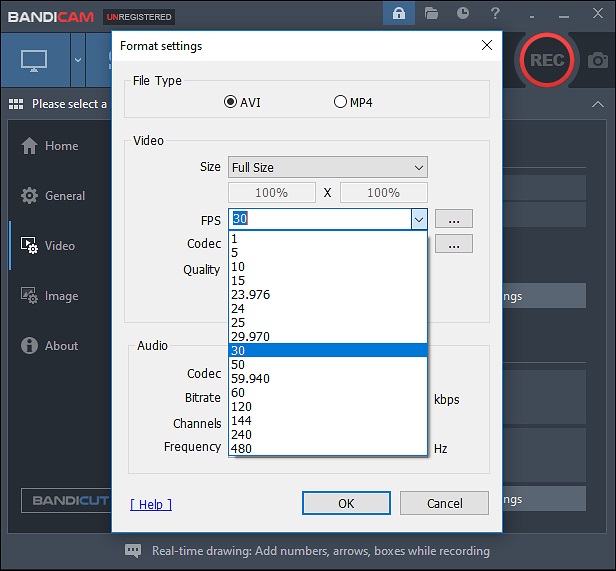 One of the most popular 60 FPS screen recorders for PC is Bandicam. You can alter the Frame Per Second number in this Windows screen recorder to 60, 120, or 480, depending on your needs. It also optimizes recording performance by employing a hardware-accelerated encoder, which means that if your graphics card supports the hardware acceleration function, you will get a greater FPS during the recording process.
Bandicam is a well-known 60 FPS screen recorder for PC. Depending on your demands, you can change the Frame Per Second number in this Windows screen recorder to 60, 120, or 480. It also improves recording performance by using a hardware-accelerated encoder, which means that if your graphics card supports hardware acceleration, you'll get a higher frame rate when recording.
Pros
The platform is straightforward because the entire setup is fluid, and even sophisticated users find it enjoyable to use.
With it, you may upload files directly to your YouTube channel, saving you time and effort.
Other useful features of Bandicam include real-time painting, voiceover, keyboard shortcuts, and more.
Cons
Bandicam does not allow for live broadcasting, which is essential for gaming.
The free version of Bandicam limits the amount of time you may record and adds a watermark to your video.
Price:
The price starts from $39.95.
A free version(limited) is also available.
Compatibility: Windows
Visit site: Bandicam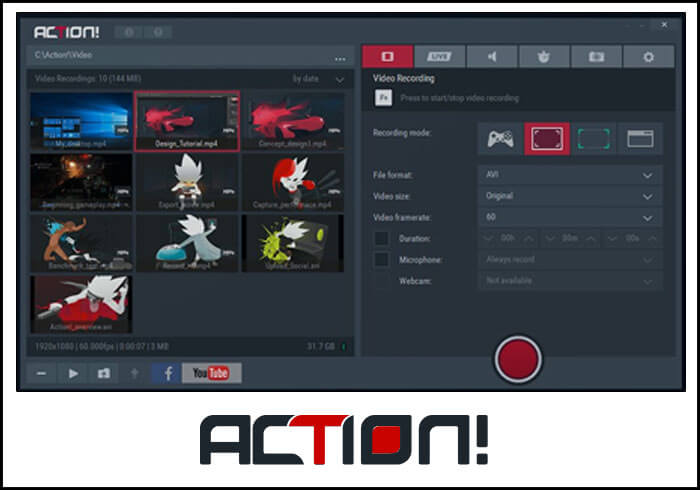 Action! The recorder is the final but most powerful 60 FPS screen capture program. It has a simple user interface and ensures professional performance while using little CPU and GPU resources. You may use it to capture HD gameplay or videos at up to 120 frames per second, which you can easily upload to YouTube or Facebook.
Furthermore, it enables you to begin live broadcasting to Twitch, YouTube, Ustream, and various other platforms, including OBS Studio.
Pros
User-friendly interface
With a separate channel for microphones, you have a lot of editing and audio possibilities.
Live to broadcast, benchmarking, and screenshot capture are all supported.
Support for webcams and microphone commentary
Supports high-definition recording
Videos can be recorded at a 20-fold reduction in size.
CPU use is minimal.
Cons
The custom frame rate cannot be set.
The video bitrates cannot be changed within the software.
With the 30-day free trial, it's not really free.
Price:
Free trial(30 days)
Paid version starts from $19.77
Compatibility: Windows
Visite site: Action!
Conclusion
To sum up, we've presented you with the best 5 free screen recorders in 20222; which one do you prefer? Even though each software has its unique set of capabilities, we still recommend EaseUS RecExperts, which allows you to customize the FPS, output formats, and recording modes. If you give it a shot, you will not be disappointed!
No more content