Film lovers have many reasons to avoid going to the movies in the contemporary period. Several factors contribute to the decline of the movie-going experience: high ticket prices, high pricing for snacks, and high parking costs. Another factor is the (impressive) number of free movie applications available on the web.
You'd be wrong if you assumed that free applications were exclusive to the Android platform. Free movie applications for Apple's iOS are also available, allowing you to access hundreds of your favorite movies at any time. You may also watch TV programs on the move by streaming them to your smartphone. Here, we have compiled the Top 10 Best Movie Apps for iPhone free Download in 2022. Find out which one you would want to watch your favorite movies from now on!
10 Best Movie Apps for iPhone 
The following are some of the best movie apps for the iPhone in 2022. Choose the best one for yourself wisely.
1. Hotstar
Is watching television a problem for you? You can watch free TV series and movies on your iPhone with Hotstar. TV programs are streamed straight to your iPad/iPhone with this app.
Whatever your Internet connection's flaws may be, you may use Hotstar to stream TV episodes and free movies on your iPhone. It is the most popular video-on-demand service in India and the United States.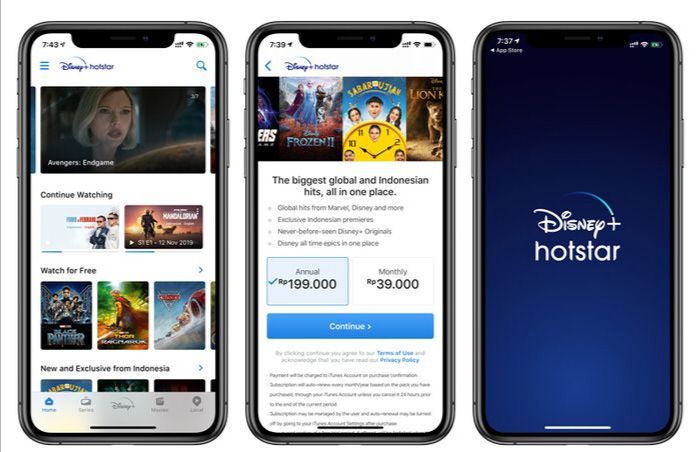 Movies Type
Documentaries, Classic, etc.
Pros
High-quality streaming
Create a playlist of your own
Watch a live cricket match as well
Cons
Not completely free
Consumes too much battery
2. Tubi.TV
There are many free TV programs and free movies available on Tubi TV, making it one of the most popular free movie apps on the market today. Its name implies an extensive library of TV series, and new titles are uploaded to it every week.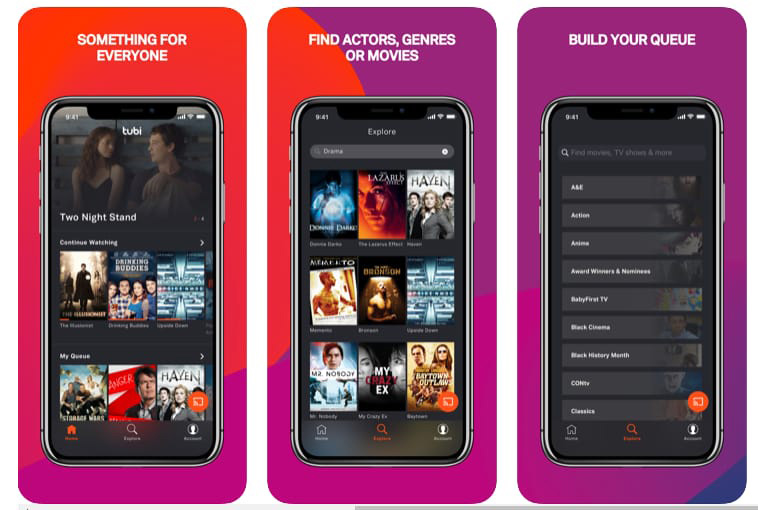 Movies Type
Includes all movie genres
Pros
Up to 35 movie categories
User-friendly app
Excellent search option
Cons
Hard to choose movies for users (since there are too many options)
App crashing issues on older iPhones
3. Kanopy
We'll round up our list of iPhone's top free movie applications with something unique. Kanopy is free movie-streaming software with a fantastic collection of material. However, remember that you'll need a library card or a university login to use Kanopy.
We are sure that many of you are already patrons of public libraries and students. As a result, you may reduce your monthly spending while still using Kanopy. Before you do so, double-check your eligibility if you are a library member or a student.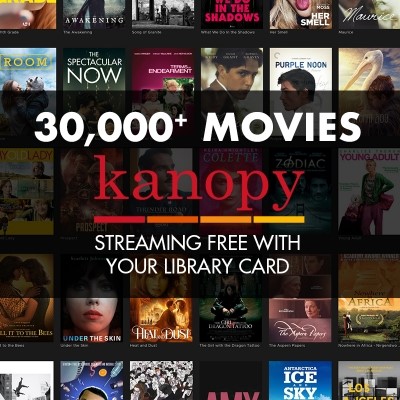 Movies Type
Thrillers, cartoons, dramas, comedies
Pros
Multiple award-winning movies
Excellent movie options from kids
Massive library to choose from
Cons
Ads during movies
You have to make an account
4. Crackle
Crackle, a video-on-demand service owned by Sony, is a free movie app for iPhone users. Crackle does not need a monthly membership fee.
Crackle's home screen, which has an elegant and fluid layout, displays the highlighted, most popular, and recently added categories, as well as the most recent additions.
This guarantees that searching for and managing television episodes and movies to watch free movies on iPhone is as simple as possible.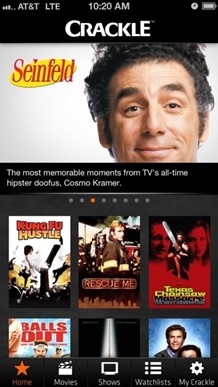 Movies Type
Pros
Stream multiple videos
Easy-to-install and stream movies
Smooth streaming
Cons
Too many ads
Same lagging issues
5. Vudu
With over 100,000 movies spanning all major genres and over a billion views, Vudu is unquestionably one of iPhone's finest free movie applications. The idea of free movies supplied by Vudu is similar to that of Tubi, although the number of ads is less and more pleasant than on Tubi.
In addition, this software enables users to download material and view it later without connecting to the internet while doing so. It also allows users to stream the material to other devices through Airplay, making it one of the essential iPhone movie applications to have on your smartphone.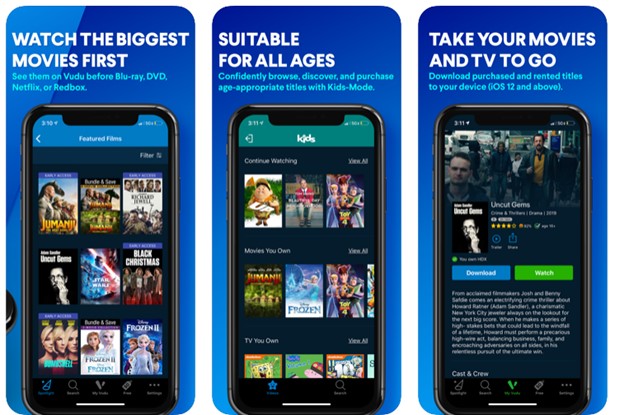 Movies Type
Thriller, Action, Animation, etc.
Pros
Completely free to use
User-friendly
Stream movies via Airplay feature
Cons
In-complete TV shows
Movie loading glitches
6. Popcornflix
Popcornflix is one of the top free movie applications available for the iOS operating system for the iPhone and iPad. It provides access to thousands of movies divided into all of the main categories and a few unique ones, such as Westerns, documentaries, thrillers, dramas, and specials.
Both Wi-Fi and mobile data connections are required to see the material. In addition, customers may choose between video resolutions ranging from 720p to 1080p. Popcornflix offers a unique function that allows you to download subtitles automatically.
The users may access the settings and choose their preferred language, font size, type, color, and design, and the subtitles would be received through Opensubtitles.com, a third-party platform.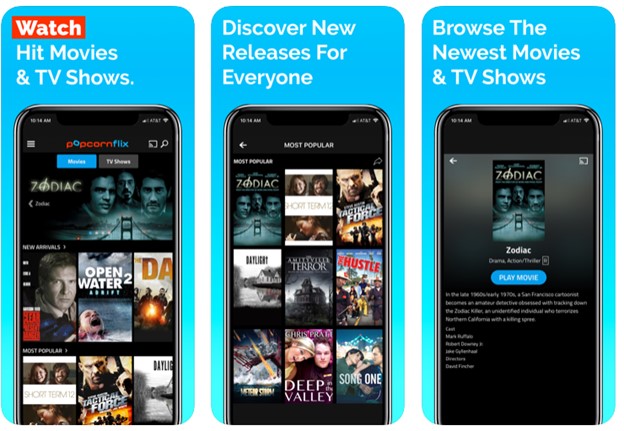 Movies Type
Pros
Option to change font size, color, etc.
Option to download subtitles within the app
Support both data and Wi-Fi
Cons
Average features
Too many ads
7. Viki
Viki is ideally suited for individuals who like foreign films, whether Chinese, Korean, Japanese, or Indian. Subtitles are included, so you won't have any trouble watching your favorite foreign films. One of the most delicate features of this app is that there are no commercials to break up your immersion. It also hosts a variety of TV programming, including vintage US series.
This app also includes several indie films, TV series, and documentaries. There are also several popular documentaries and independent films. The availability of documentaries is a significant benefit for this app. It may be used for more than just amusement. Documentaries are often instructive and might help you extend your perspective on a specific topic.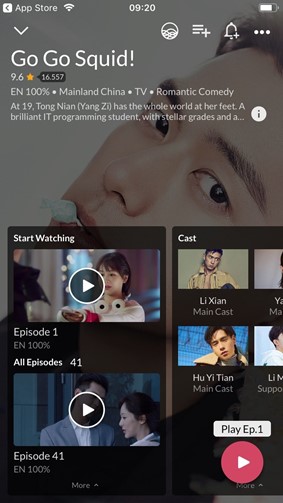 Movies Type
Pros
Ideal for k-pop lovers
Offers quality content
Multiple choices to choose from
Cons
Lags at times
Too many ads
8. Yidio
Yidio is another excellent app on our free iPhone movie applications list since it's more like a search engine than a movie app.
To put it another way, you may use it to find a movie or TV program you're looking for and see other ways you can view it.
In addition, it gives information on the most recent streaming material available, compares costs if relevant, and more.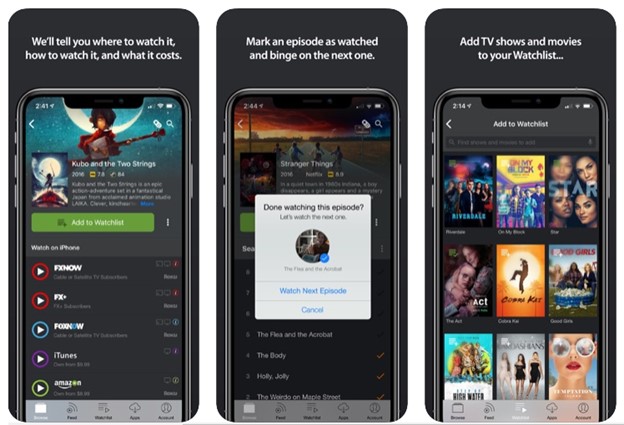 Movies Types
Mostly action and thrillers
Pros
'Add to Wishlist' option
Option to create account
Easy-to-use interface
Cons
More of a search engine than a quality movie app
Too many old TV shows
9. Filmrise
Despite its shortcomings, this software has a lot to recommend it. All of its material is HD, and it can be accessed on iPhones, iPads, and Apple TVs.
If you're looking for something to keep you entertained for a long time, this library will have you covered. With a modern interface and no bothersome adverts, it's the best of all worlds.
Check out The Iceman, Blitz, and Monster, to name a few of the noteworthy titles you'll discover here. If you're looking for TV series, you'll find titles like Midsomer Murders and The Last Place on Earth, among the many options.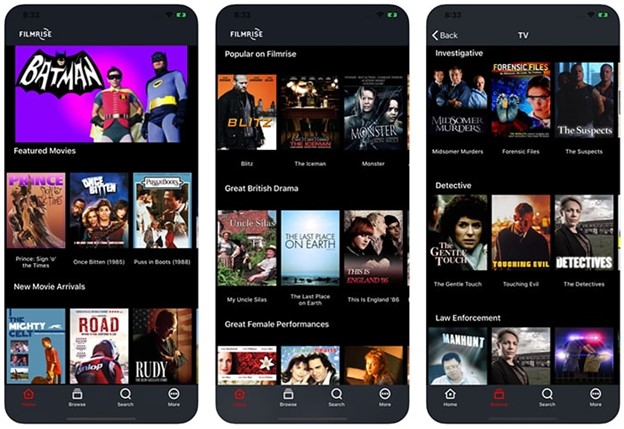 Movies Type
British-award-winning movies (web series, classic movies, etc.)
Pros
Bundle of options to choose from
Easy-to-browse
Profile making options
Cons
Fewer new movies
Constant ads
10. Pluto TV
Pluto TV, unlike most other applications, focuses on providing TV-like entertainment. As a new-age substitute for cable television, the application was born.
While this program does allow you to watch live TV and on-demand movies for free, it's essential to realize that it can also be used to view movies for free.
For example, you'll discover channels devoted to various categories, such as news or sports, with web material chosen from live TV outlets like CNBC and Bloomberg.
Check the most current and popular movie lists to see what's hot or new in this app's collection of movies. You can't re-watch a movie unless it is accessible on-demand in your location.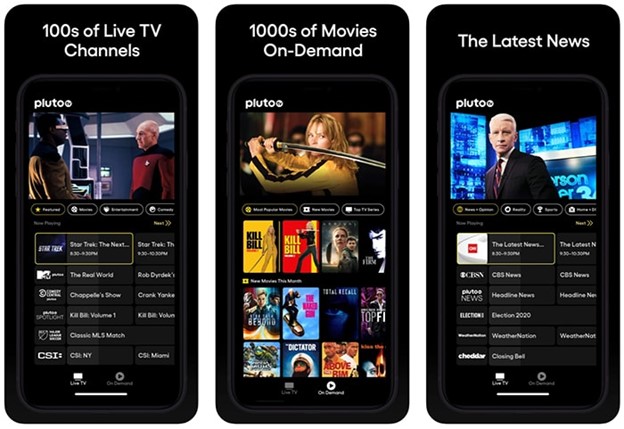 Movies Type
Classic, Action, Documentaries, etc.
Pros
Offers quality content
Videos quality options to choose from
All classic and vintage movies are available
Cons
Too many ads
A few glitches in audio
Conclusion
We hope the best Movie Apps for iPhone reviewed here have served their purpose by giving you multiple options to choose from. All these apps are free to use, and in addition, they offer seamless streaming for long hours so that you can finish what you started watching without lagging.
No more content