The internet is a quick source of a lot of different items and solutions that were previously available in hard copy, like books. However, a lot of these resources are bound by site limitations like registration and payment.
Specific sites are useful for users who want to read full-length books online free no sign up. These provide access to users to freely read free books digitally without using a dedicated device, book-reading applications, internet extensions, or installing an e-book reader app on their device.
Here, we list some of the best websites you can trust.
1. Internet Archive- Open Library
10 Best Sites to Read Full-Length Books Free No Sign Up
Here are the different websites available online for a free book-reading experience. Use them without any sign-up or registration requirements, and complete full-length books for free.
This website began its operation in 1996. It provides free access to digitized content for users. The common items on offer here include audio files, images, videos, and even books.
There are more than 25,000,000 free digital books and text files available. While the site does allow users to register for an account, users can directly search for many free books from the home page.
Access the Book icon to get to the Open Library, and choose the available books for reading. Scanned forms of the books appear, available with zoom/one-page view options.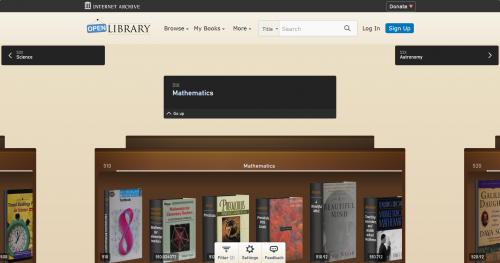 Recommended Reasons:
Book cataloging available by title, views, relevance, etc., for easier access
Foreign-language books are available; more than 20 languages
Text-to-speech reading feature
Choices include creator, collection, availability, media type, and language
One of the best sources for people to read full-length books online free no sign up is through Google Books. There is a wide range of free books available; it is accessible in an easy manner through a web search format. Users can type the book they want to read or keyword, and the list appears. However, all books available through Google Books are not free; check once before choosing a book. Refine your search.
Step 1: To make your search, click on the Search Tools options.
Step 2: Set your preferences for the types of documents, time range, and view.
Step 3: Read the preview of the book from the list of books that appear through the "Read" option.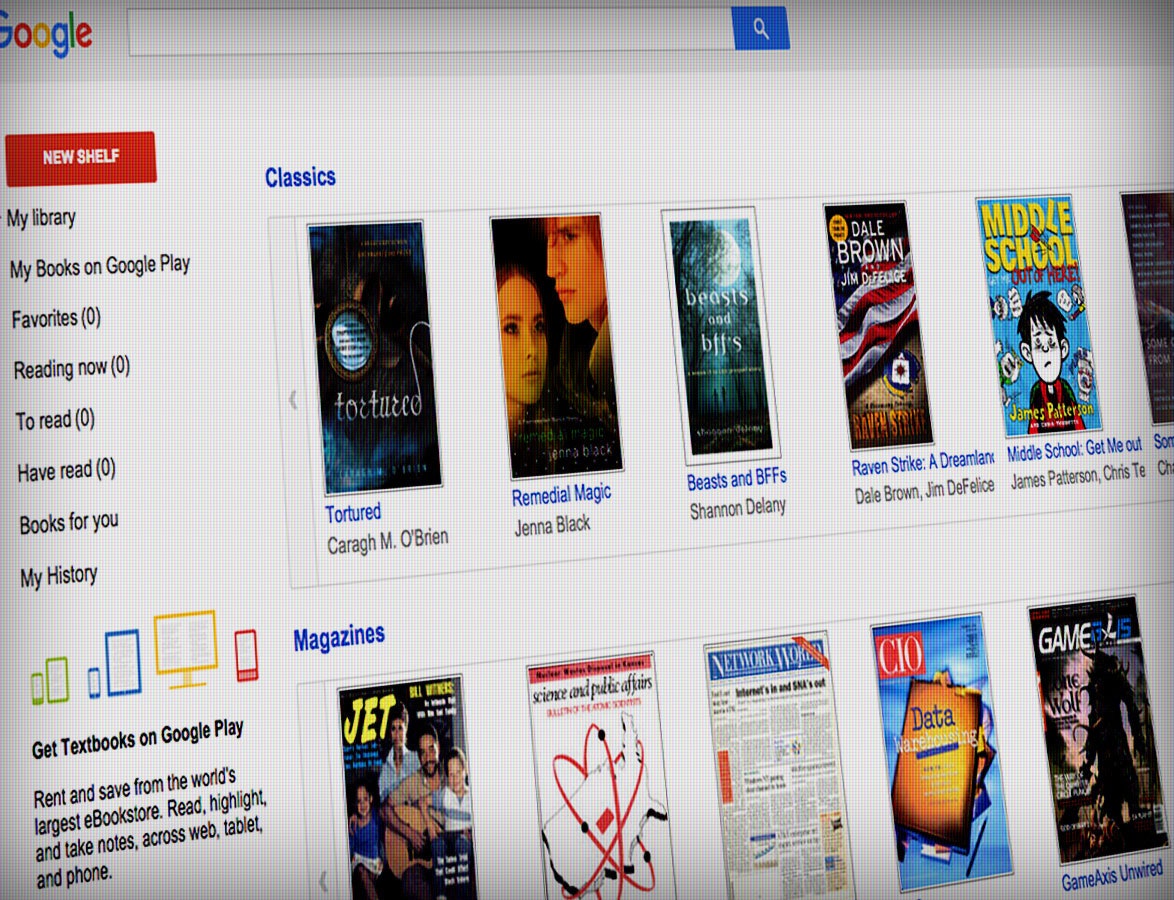 Recommended Reasons:
Easy interface
Simple preference selection method
Keyword-search optimized
One of the easiest options available for free book-reading is ManyBooks. The interface of this site is simple to use, with categorized sections for different genres of books. It is home to over 50,000 titles and they are available for free reading. The site has a simple navigation structure as well. People can search through keywords, titles, genres, or authors.
The steps for reading a book are simple as well.
Step 1: Search for the book directly in the search bar or choose the genre.
Step 2: You would notice a list of books and preference filters. Select as per Ratings, Genre, and Language. Click "Apply". Also, you can sort by popularity, title, author, and rating.
Step 3: Select the book you want to read. Two options that come are "Download" and "Read Online". Choose the latter.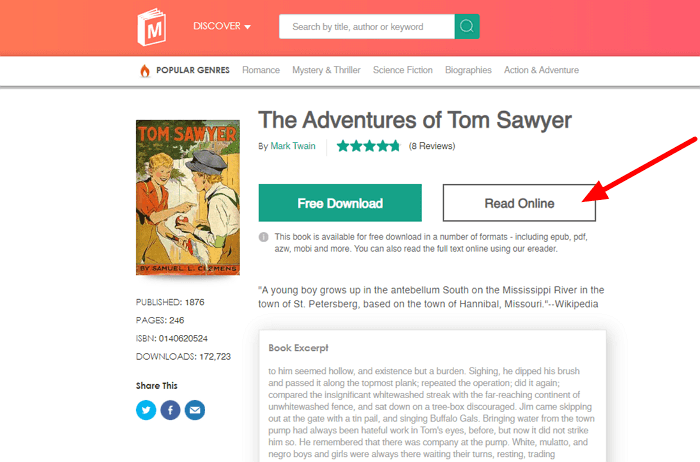 Recommended Reasons:
Simple and appealing interface
Multiple filters for preference selection
Genre types like Bios & History, Literary Fiction, Science Fiction, Non-Fiction, Young Adult, etc.
Multi-device compatible
Project Gutenburg is a long-running digital e-book collection that started back in 1971 and is still operational. It includes more than 60,000 free e-books, works suitably on web browsers and Kindle, and includes a simple-to-download process. The site runs on donations from users, but this is not compulsory to read the available free digitized books.
Users can directly search for e-books or browse by language, title, author, subject, popularity, type, etc. Other search options include Bookshelves, offline catalogs, and Frequently downloaded books. To read the newest books, you can access the "Recently Added" list.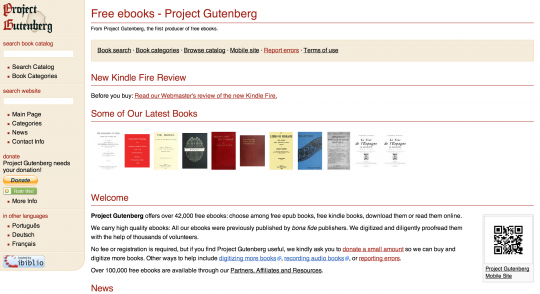 Recommended Reasons:
Simple navigation and search options
Diverse books available for free reading
Mobile/Kindle/Tablet/Nook compatible, and other readers
Programs available for editors like Distributed Proofreaders
HathiTrust Digital Library includes a wide range of titles on the platform, supported by more than 90 research and academic institutions. The usability of this website is simple, with a wide range of search options. You can configure the search setting as per catalog or full-text, and click the full view on or off.
Users can read books online through this site and browse categories to find relevant books. They can filter their search as per item viewability, author, subject, language, original format, place/date of publication, and original location (i.e., university it was published in).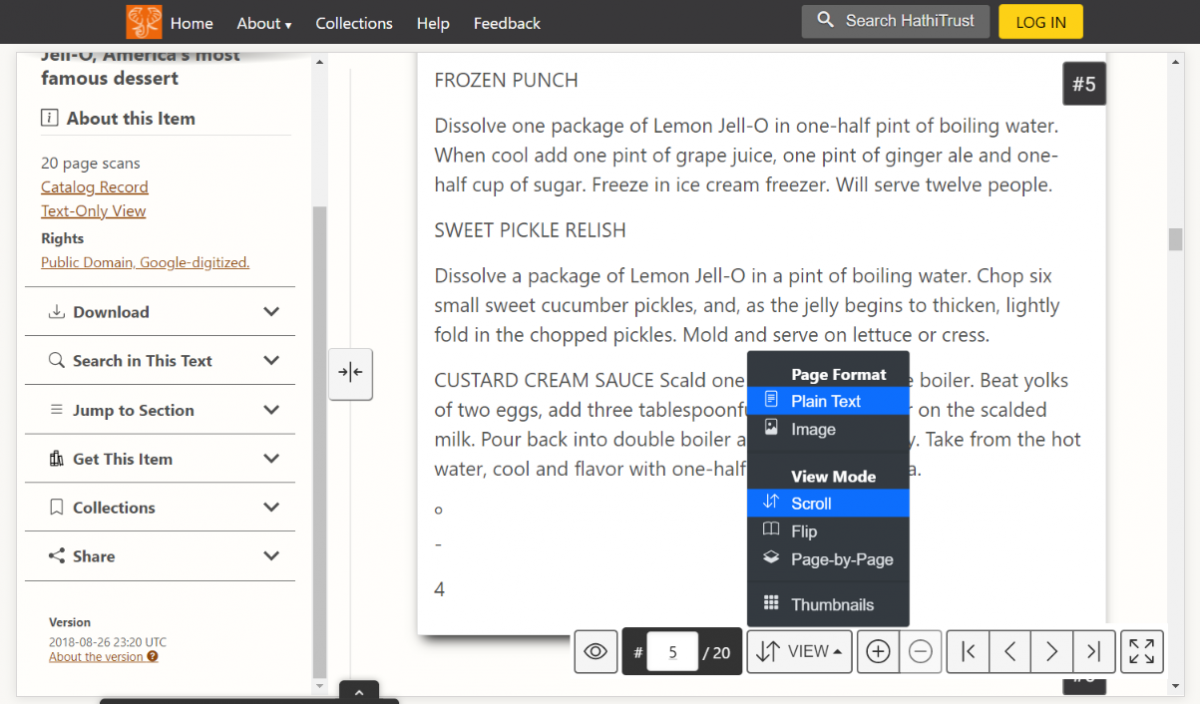 Recommended Reasons:
Suitable for students for research/scholastic reading
Diverse category selections
Full-view/standard view choice
Scanned full text
BookRix is one of the top platforms to read books that self-published writers have written. Plus, it features free e-books available in the public domain as well.  There are different books available for free reading through this site, divided per genre like romance, fantasy, fiction, and young adult books. You can browse as per the popularity sorting and directly search by the title or author name. Free books are also available here from contemporary writers.
Step 1: To read a book, click on the book title or cover. This would carry you to the details page.
Step 2: Click on the "Read Book" button.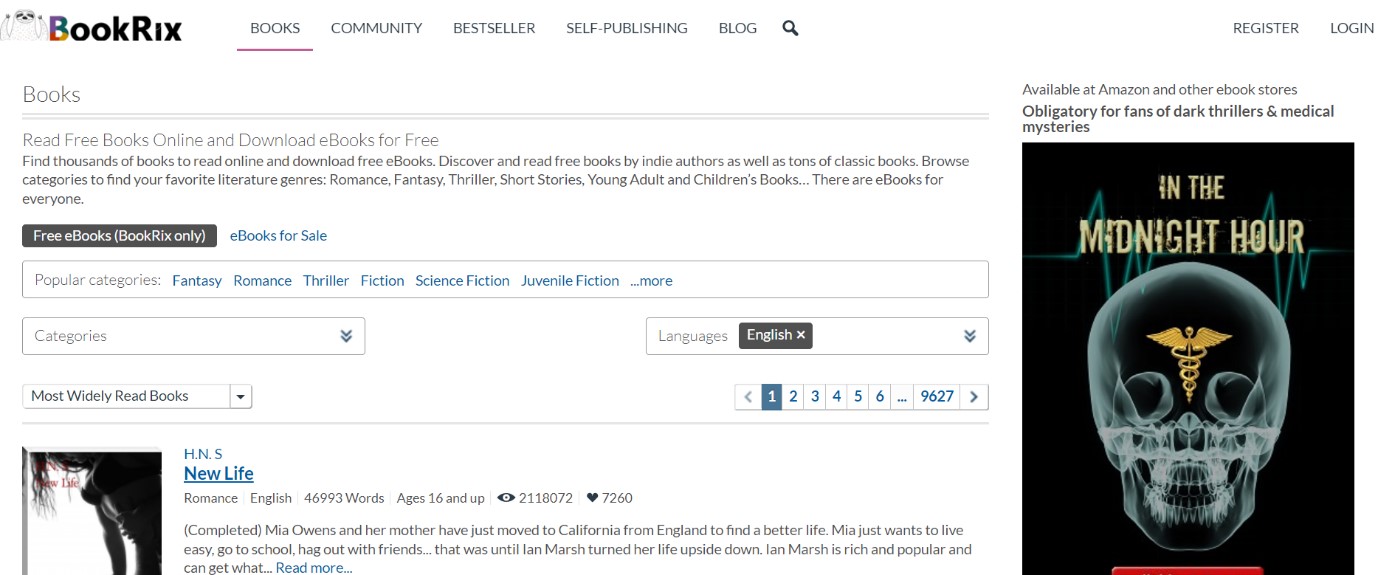 Recommended Reasons:
Community and blog section available
Both free books from the public domain and self-published books
Easy sorting features
Variety in genre
This is an online digital library containing a wide range of ebooks from independent publishers and writers. As of the time of this writing, there are 591,947 books available on this site and 89,766 of them are free. This count is always changing.
Users can easily search for the books they wish to read through the filtered preferences. Choose as per all books/special deals, length, and price (free). You can directly type the book you want to read.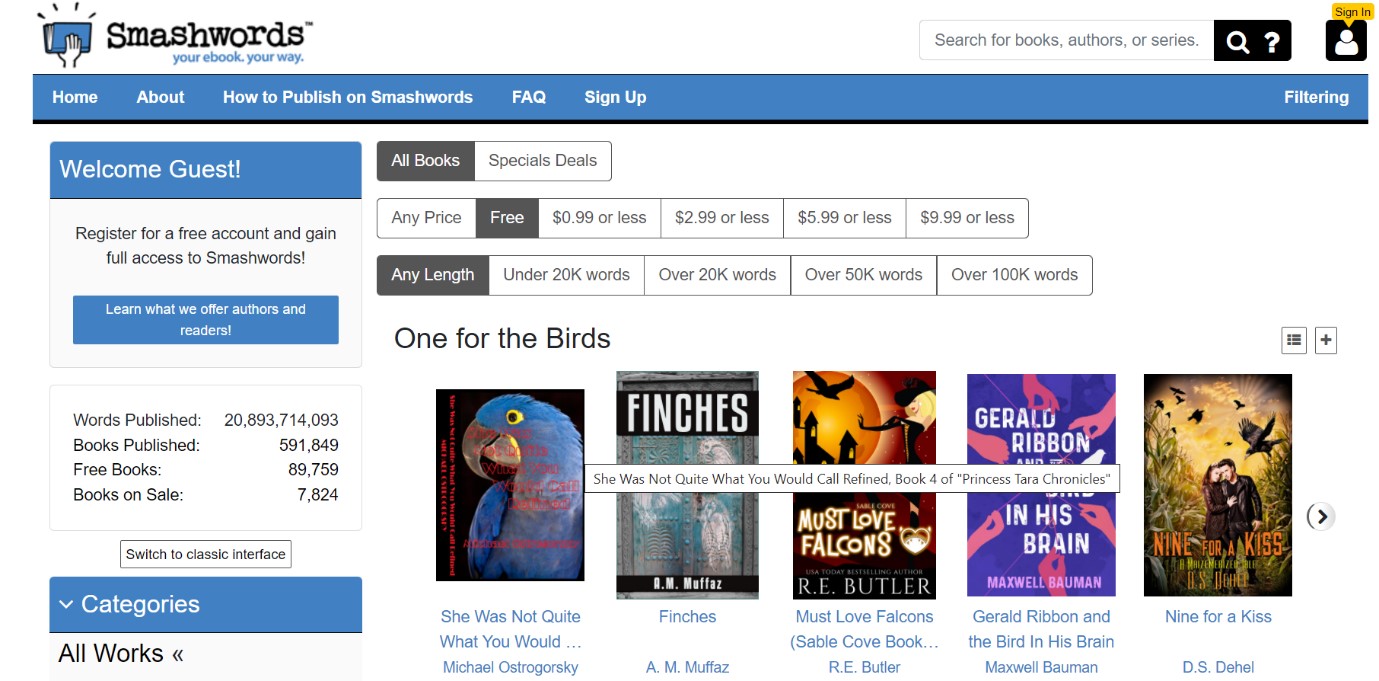 Recommended Reasons:
Publishers can set book preview length
Different font size and color selections
Easily filtered preferences
Authornama is a site for reading e-book content in different device types, and it works well with slow connections as well. The site has a very simple look and navigational structure. There are many titles available under this digital library. There were penned by major authors like Mary Shelley, Charles Dickens, Robert Louis Stevenson, and Jerome K. Jerome.
To use, select the title link of the book. Each chapter is broken into simple HTML views for straightforward reading.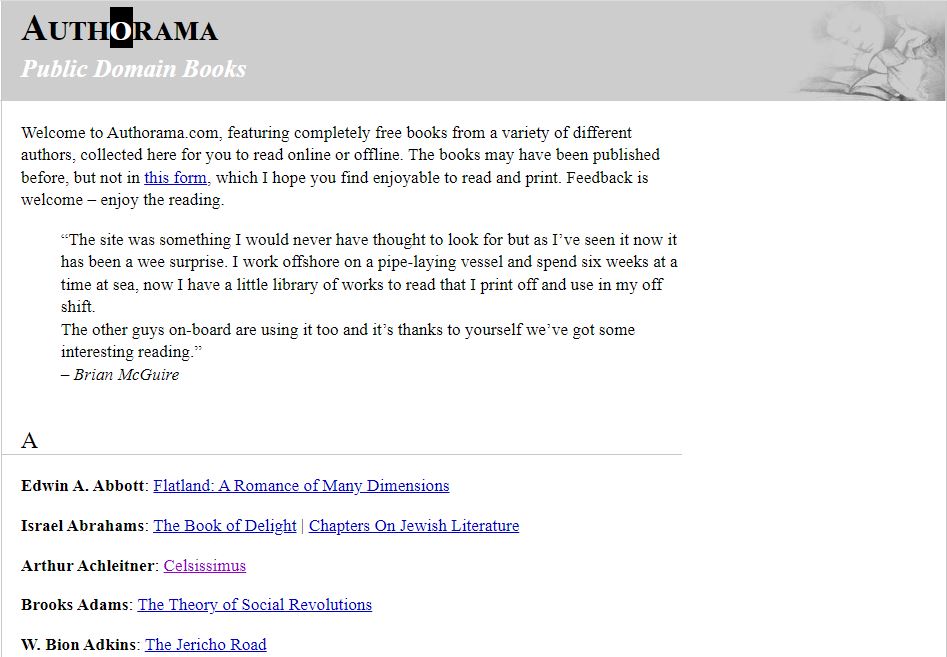 Recommended Reasons:
Classic books available
Easy HTML file content
Less storage or speed dependency
Another notable site for free access to digitized books online is the Library of Congress. This mainly showcases books that are pure classics and covers titles that are not available easily on any other platform. There are around 60 titles available on this list alone.
Most of the books available in this list are children's stories. They are scanned and then published in digital for easier reading. The interface of this platform is simplistic and to the point. To begin reading, you should choose the "Read This Book Now" option under the book image.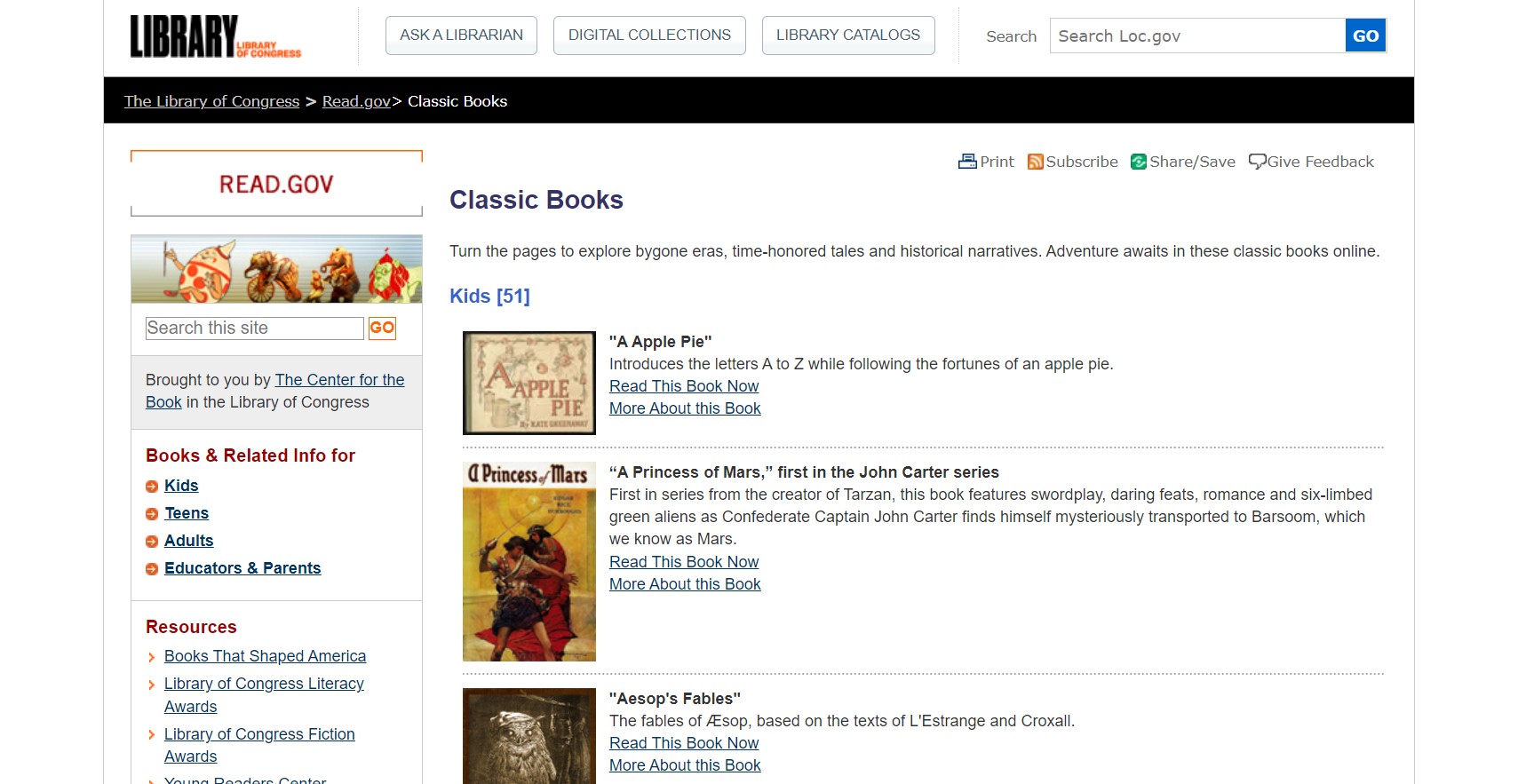 Recommended Reasons:
Books targeting kids, adults, teens, and parents/educators
Unique titles available
Multiple categories for easy selection
This site is one of the top websites for free e-reading purposes. Wattpad is a usable platform for both readers and aspiring writers, and the site holds a high 80 million+ user traffic.
Instead of completely published books, you would get original stories available through Wattpad. Authors on this site post them directly on the platform. However, it is important to mention that are professional-level written stories that are available for reading with payment. A lot of the content is free to read, and some are accessible to non-members. But one needs to register on the site to enjoy reading these books without numerous blocks.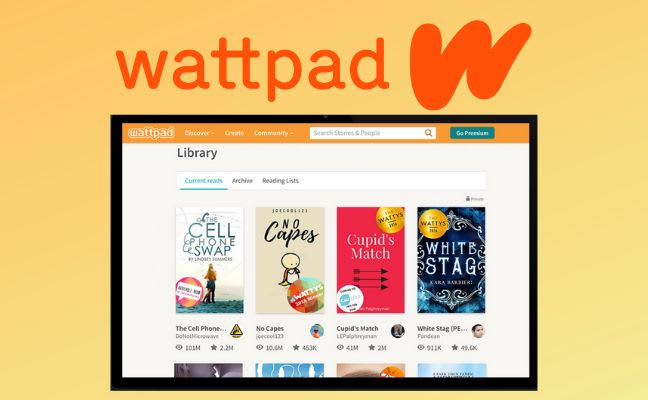 Recommended Reasons:
Free to use content and paid stories are available
Portal for original writers
Simple reading interface
Conclusion
Overall, there are many sites available for quick and easy access to a variety of books. If you want a simple reading view and variety, try ManyBooks or Internet Archive's Open Library. For research material, try HathiTrust and opt for BookRix for free books from published writers and new writers. We suggest you choose the best site to trust based on the type of publication you need.
No more content