CAD is often used to draw curves, figures, and solids in 2D and 3D spaces and is also known as CADD (computer-aided design and drafting). In fact, for the prosthetic, aeronautical, automobile, and shipbuilding industry sectors.
Engineers and architects utilize computer-aided design (CAD) software to generate, edit, evaluate, and enhance designs. It enables them to improve design quality, boost productivity, and improve communication via documentation.
Due to its enormous economic value, CAD has been a major driving factor in computer and communication engineering illustrations (both hardware and software), finite differential geometries, and computational geometry. Here is a list of the best fifteen free CAD software to help you make the right choice.
Best 15 Free CAD Software You Should Try [2022]
1. AutoCAD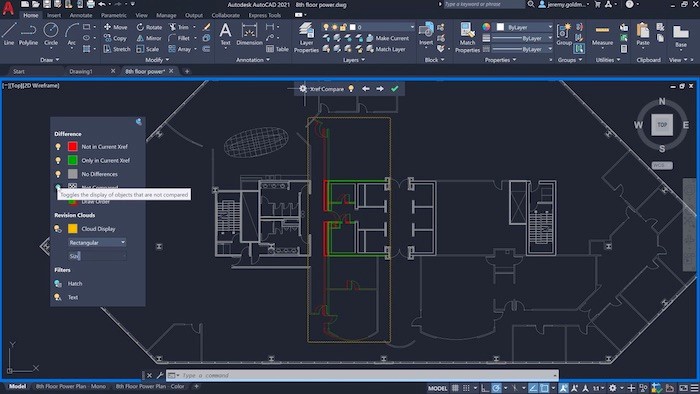 AutoCAD is a design program created and distributed by Autodesk, the leading 3D design and technology programs provider. It's a valuable tool that architects, illustrators, engineers, project teams, urban designers, and other professionals use frequently. With AutoCAD, your imagination is the only limit to how much you can create, simulate, and model. It has specialized design tools for schematic engineering and 3D mapping to accelerate your workflow and boost productivity.
Pros.
It's not difficult to grasp and understand.
Version control program incorporation is built-in.
It's a fantastic tool for designing anything and everything.
Cons.
The initial installation could be complicated.
With each newest version, it appears to be getting worse.
To visit site, click here
2. FreeCAD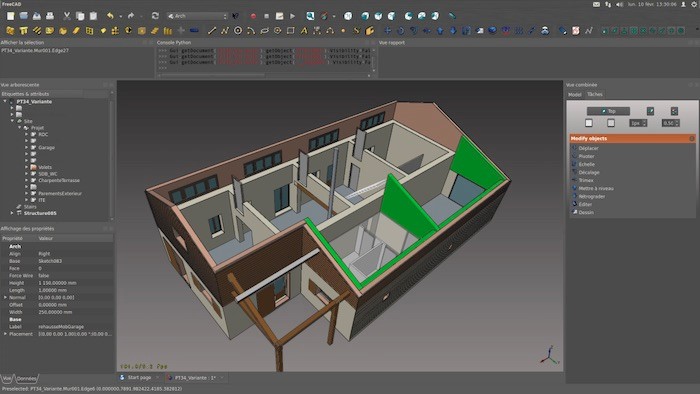 FreeCAD is an open-source, highly modular application that supports the finite element method (FEM). It comes with an OpenCasCade-based modeling component that allows you to perform various procedures on complicated 3D structures. There are numerous features available to extract design information from 3D models and create high-quality manufacturing drawings, and it provides you with all of the necessary functions. You can also use it in other fields, including architecture, building, and electrical engineering. Whether you're a developer, a seasoned creator, an enthusiast, or a student, FreeCAD will help you feel perfectly at home.
Pros.
It's simple to use.
The functions are depicted.
It's completely free.
Cons.
The user interface is poor and overly convoluted.
There are occasions when it crashes.
To visit site, click here
3. OpenSCAD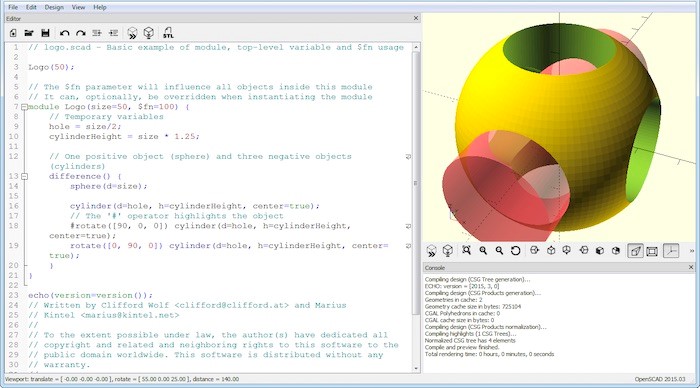 OpenSCAD is a script-only module for creating 3D CAD models. It analyzes a script file (which provides the item's depiction) and generates the 3D rendering. Developers now have absolute ownership over the simulation process, allowing them to tweak any stage or create designs based on configurable factors. You can use the program to design 3D printed components in the Stl file format, then export. Although OpenScad is a great tool, its intricacy necessitates some programming knowledge. It's a basic CAD program for creating open-source scientific instruments for study and education.
Pros.
You have full authority over your procedure.
Objects made are displayed in this gallery.
Sophisticated CAD tools.
Cons.
There isn't an immersive modeller.
To visit site, click here
4. BRL-CAD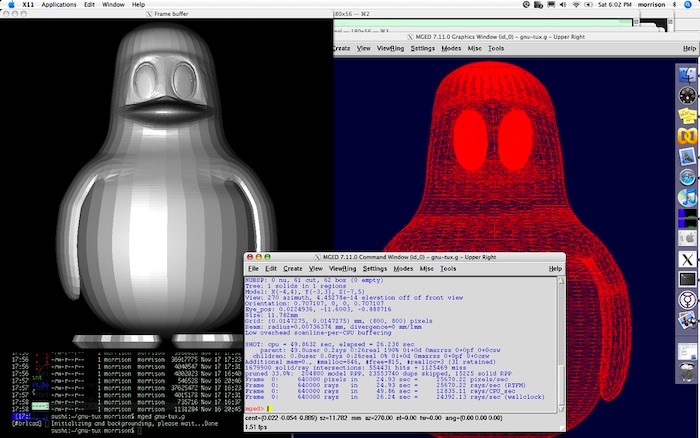 BRL-CAD is an immersive geometry tool. . It offers a computer server shared frame buffer and ray tracing capability for geometric analysis and visual drawing. While the program is suitable for various visual and industrial uses, it excels at ballistic and electromagnetic evaluations. Furthermore, the product's vast information and programming provide an intriguing and in-depth look at the software.
Pros.
It is pretty fast.
Constructive solid geometry is used (CSG).
It's free to use.
Cons.
There is no easy method to include common design elements.
Its user interface is clumsy.
To visit site, click here
5. Sculptris.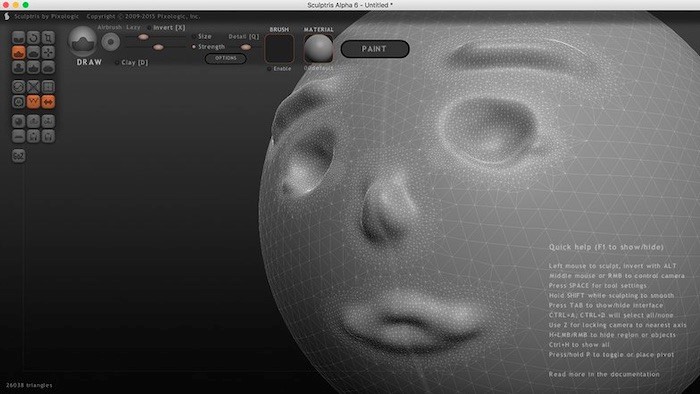 Sculptris helps make 3D sculpting as well as design intuitive and straightforward. While the program mainly focuses on modeling clay, it can also create complicated structures and animals such as dragons or Godzillas. You can import OBJ files or build from scratch. There's also no arduous process because the commands are identical to most industry-standard 3D programs. Somewhere at the bottom of the screen, you'll find hundreds of sculpting tools, programmable buttons, keyboard shortcuts, and helpful hints. It isn't just a simple sculpting tool, but you can paint directly on the mesh and generate texture. Many professionals use it as a means of fast development without the heavier resource overhead of the costly 3D software.
It makes it easier to express oneself creatively.
Works on Low-End Hardware.
Sculptris is available for no cost.
Cons.
Apart from sculpting, it doesn't do anything.
The modelling toolbox is limited.
To visit site, click here
6. SketchUp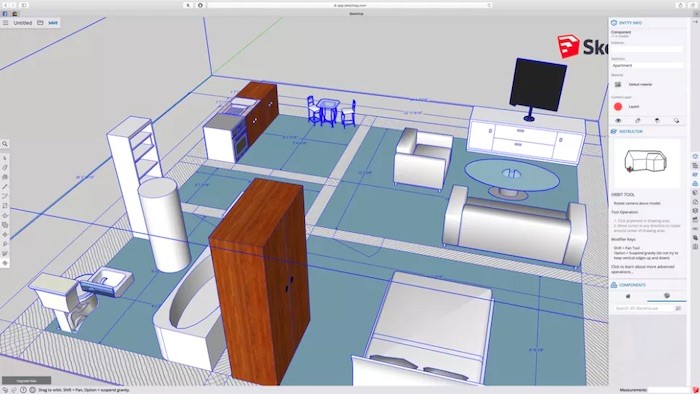 SketchUp is a 3d rendering software used for a variety of drawing purposes such as industrial and civil engineering, environmental engineering, home decor, and film and video games design. You can save designs locally and on the web (as an SKP file) or extract them as an Stl format for 3D printing. Overall, it's a strong tool with a beautiful UI and navigating choices, and when you get a grasp of it, you'll be able to create amazingly complicated models with minimal effort.
Pros.
You can integrate other design applications into it.
The app runs without a hitch.
Simple and straightforward to use.
Cons.
When your designs pile up, you'll find yourself lagging.
When it comes to troubleshooting designs, there are situations when you don't have the right tools.
To visit site, click here
7. BricsCAD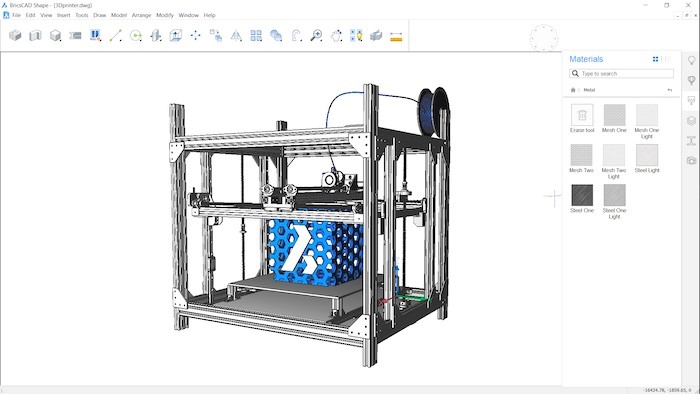 BricsCAD Bricsys' Shape is a freemium creative modeling tool. It is intended for newbies to CAD who want to start modeling in 3D right away. Its simple user interface displays only the essential tools, preventing you from becoming overloaded or confused. There's a graphic library, as well as pre-built 3D elements like furnishings as well as objects. You can move them around, link them, push/pull them, or resize them in any way you desire. Unlike those created by other CAD programs, Shape's solid models are incredibly accurate. You can fully customize every piece created in this program at any time and on the go.
Pros.
The interface is kept to a minimum.
Solid models are exact.
Simple and straightforward to use.
Cons.
Customer service is lacking.
On larger designs, it occasionally freezes.
To visit site, click here
8. NanoCAD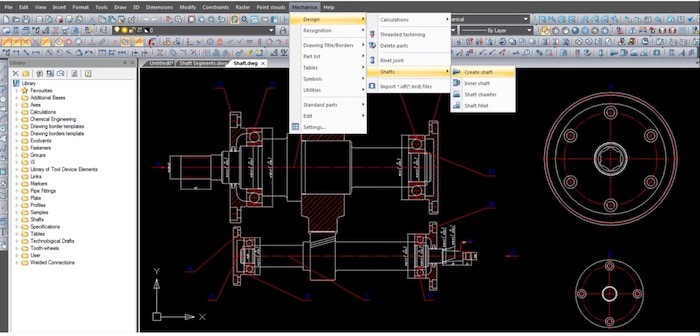 NanoCAD is a simple program with a straightforward UI, sophisticated design and modelling capabilities, native DWG capability, and an open API. The software was created to offer project and program technical information to businesses. You may create various technical drawings for various purposes, ranging from engineering schematics to vector-based artistry. It also has object-altering features that allow you to change designs with a few clicks. Enhanced dimensioning choices, customizable blocks, and external drawing reference materials will all help you speed up your sketching process.
Pros
A computer-generated layout with real-time commentary
Excellent user experience.
It's simple to use.
Superb tech support and easily customizable.
Cons
It is unable to create 3D polylines.
Using the mouse to pick tools is inconvenient.
To visit site, click here
9. Tinkercad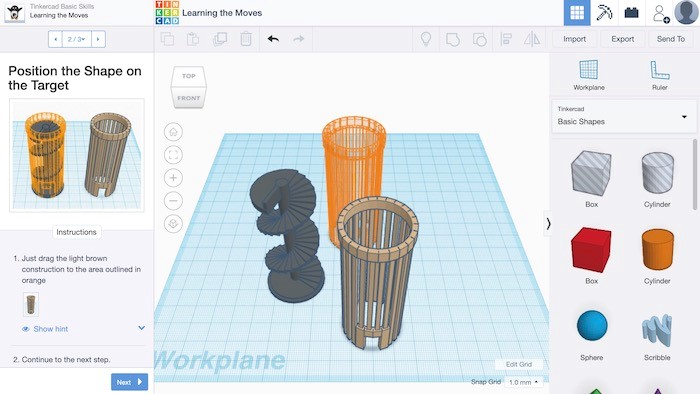 Tinkercad is a simple 3D design program aimed at children. You could use it to create home décor, toys, jewelry, models, and other items. It's an online tool: once you've signed up and logged in, you'll be provided with an easy-to-use interface for designing stunning objects and exporting them for 3D printing. There are many models and examples (posted by other people) that you can download. Tinkercard also lets you use Lego methods to build structures and transfer 3D designs to Minecraft Java Version.
Pros.
It can be downloaded for free.
Designing in 3D can be a lot of fun.
The user interface is simple and easy to use.
It's quite simple to use.
Cons.
It just has a few capabilities.
Zooming in and out is challenging.
It is only accessible over the internet.
To visit site, click here
10. QCAD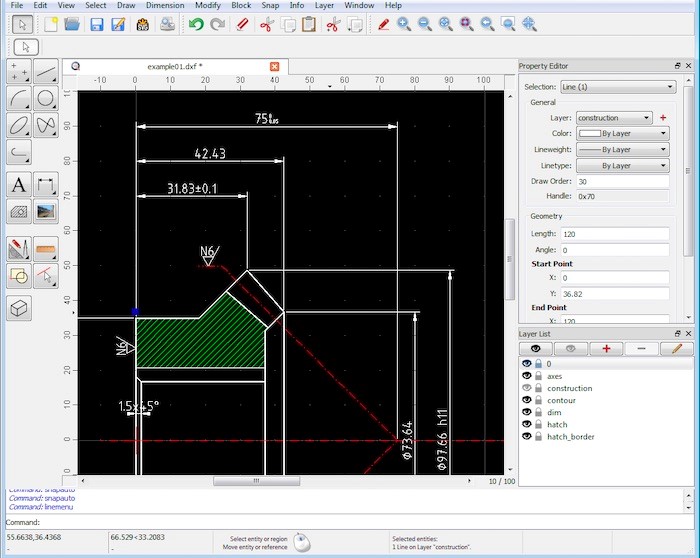 QCAD is a free, open-source CAD program for creating two-dimensional objects. Design drawings can be created, such as interior designs, mechanical systems, engineering drawings, and diagrams. Versatility, adaptability, plus portability are all features of the program. Its user-friendly interface allows creating and editing lines, arcs, curves, geometric shapes, texts, measurements, splines, polylines, overlays, fills, and graphic images a breeze.
Pros.
It generates highly detailed technical drawings.
Open many tabs with various projects and tasks.
Cons.
When under a lot of stress, it might occasionally freeze.
To visit the site, click here
11. LibreCAD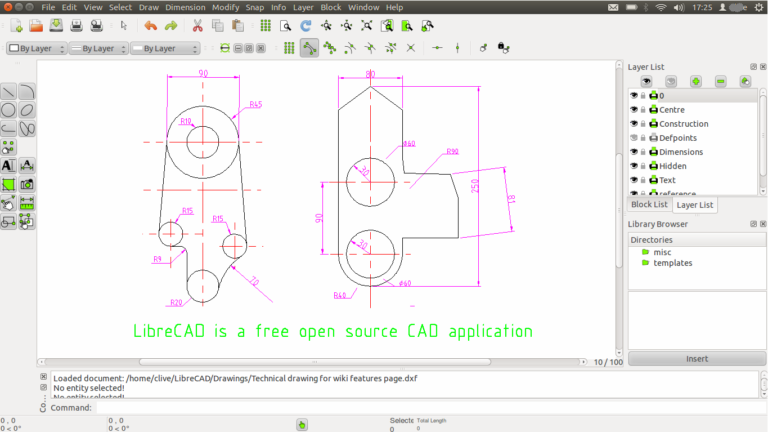 LibreCAD is a free and open-source 2D CAD program. It includes advanced snapping, blocks, hatches, surfaces, themes, and various tool types, including line, spline, line segments, text, aspects, and more. The best part is that users can download, use, and share the program without fear of violating copyright. It enables users to easily create complicated models, update existing models, and add additional layers. This application has a lot of options. As a result, both pros and amateurs can use it. You can use the built-in features extensively or install other add-ons for added convenience.
Pros
The user interface is accessible in a total of 30 languages.
In minutes, you may develop as well as alter complicated models.
The appearance is highly changeable.
Has a powerful collection of tools.
Cons
On the 'Categories' taskbar, there are no tooltips for widgets.
To visit site, click here 
 12. Bentley View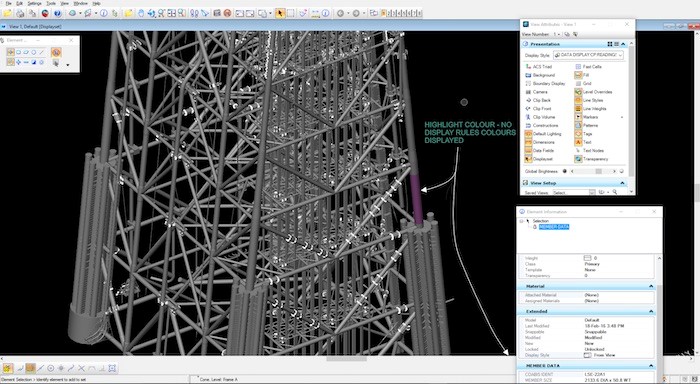 Bentley View is a CAD viewer and an AutoCAD reader. It allows the user to search for things, accurately estimate ranges and areas, and print designs to scale. Bentley View, widely regarded as the most efficient viewer in the industry, can read DXF and DWG drawings with about the same accuracy as the author program. It can open over 50 different file types and has excellent viewing capabilities. By adjusting display properties such as length, gradient, and aspect angle, you may search, dynamically discover, and evaluate models.
Pros.
Over 50 file types can be analyzed.
It's possible to use it as a MicroStation reader.
Support for touchscreen devices.
Cons.
It only works with Windows.
To visit the site, click here
13. Fusion 360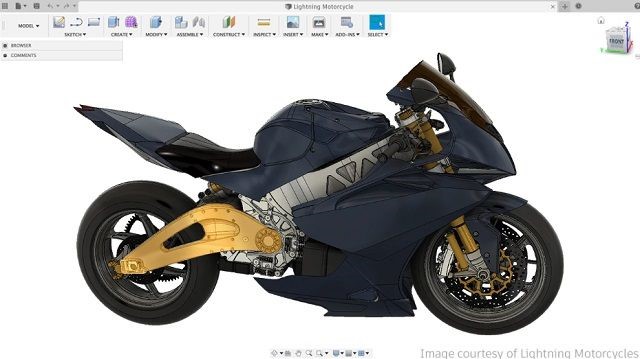 Fusion 360, for the uninitiated, is an Autodesk CAD program. It's free to download and use, making computer-aided design available to students, artists, and amateurs. As a result, it's also one of the most excellent apps for learners. Fusion 360 focuses on developing ideas first, making it a great learning software. You'll need to learn the fundamentals of 3D design and modeling, simulations, and generative design, among other things. Fusion 360's main feature is that you may do all of that in one location. Develop 3D models, generate complex mechanical designs, create a unique toolpath, run simulations, communicate over the cloud, etc.
Pros.
Non-commercial use is free.
Tools that are both powerful and intuitive.
Hobbyists will love it.
·Storage in the cloud.
Cons
In the course of a task, specific features.
It's especially perplexing for folks who aren't familiar with 3D drawing or CAD tools.
To visit site, click here 
14. Onshape.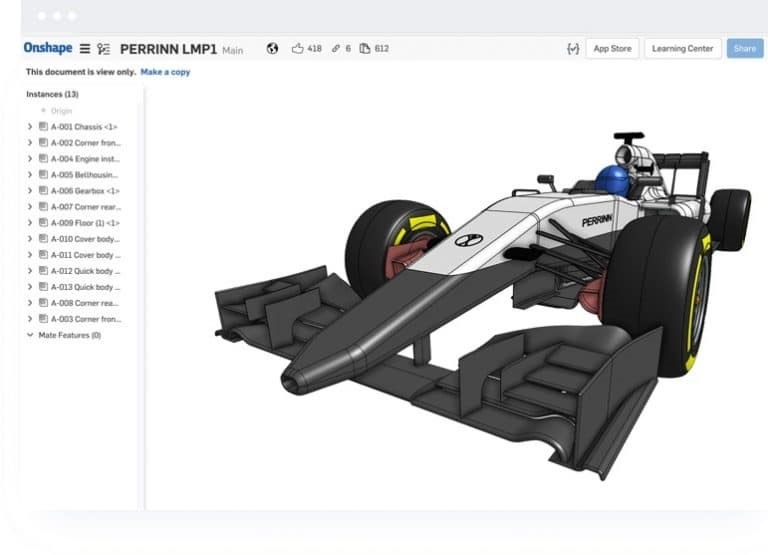 Onshape is a cutting-edge CAD program well-known for its creative library and assembly. Onshape is a cloud-based design platform, unlike many other software packages that are separate computer applications. You can use a browser to develop sophisticated solid and surface modeling without the risk of losing any design progress. Because Onshape is an internet software, all of your actions are automatically saved to the cloud, protecting you from data loss. As your project grows, the loss of design momentum in computer-aided design tools is a significant worry. Aside from that, Onshape includes three primary design tools: components, assemblies, and drawings.
Pros.
Learners, instructors, or enthusiasts can use it for free.
There isn't any need for a workspace.
Almost anything can be imported.
For big structures, there are no crashes.
Cons.
Drawings with little details that adhere to design requirements.
BOM functionality installed
To visit site, click here
15. DraftSight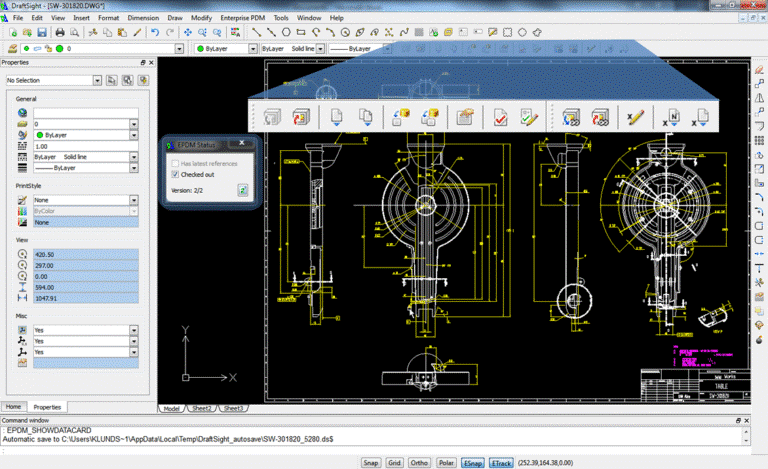 DraftSight is a sophisticated two-dimensional design and drafting application that allows you to create, alter, and display any two-dimensional drawing. It's a relatively simple and lightweight tool; thus, switching from another sort of CAD software to DraftSight is simple. You must first activate it with an email account to use the software. This CAD-free tool looks and feels like AutoCAD, and it even uses DWG, AutoCAD's native file format. It has various sketching tools that can help you produce professional designs.
Pros.
Design changes and modifications are simple.
Compatibility with other computer-aided design (CAD) programs
It's simple to set up.
Cons.
Customer service is lacking.
It's only a 2D CAD, not a 3D one.
To visit site, click here 
Conclusion
Some free CAD programs are available for creating 2D and 3D parametric models. We have included both user-friendly and understandable CAD software and some professional programs that may require some training. Autocad, Freecad, Tinkercad are recommended for designers, engineers, or students.
No more content