If you Google the best screen capturing software, you're likely to become overwhelmed. There are so many possibilities that it might be challenging to decide which one is appropriate for your role. Your organization may also have limitations for the type of software you can use based on security settings, price, billing, etc.
According to the most often referenced software in search engine results, we've produced a list of the 10 Best Screen Recorders for Windows & Mac below.
10 Best Screen Recorder for Window and Mac
Table of Content:
1.  EaseUS RecExperts (Recommended)
This program, being one of the most powerful and feature-rich screen recorders, is compatible with macOS and Windows.
EaseUS RecExperts allows you to record any video on your screen in various quality and frame rates. When recording a video in 4K, all of the details on the screen are restored, whereas recording in 720p allows for more economical storage space management. These functions will benefit your daily life, enjoyment, or business.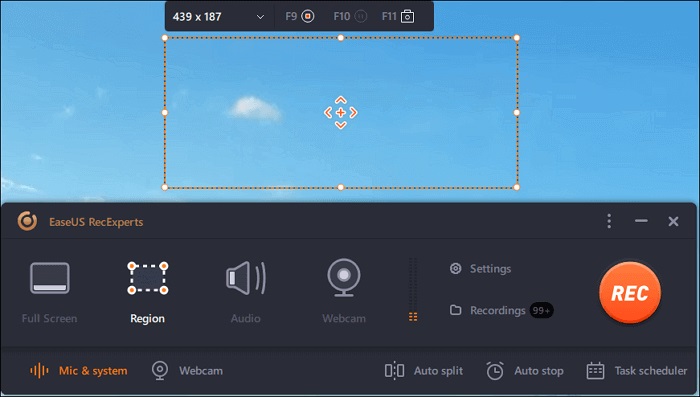 Furthermore, this screen recording program fully supports flexible screen capturing. You can opt to record the entire screen or only a portion of it. Additionally, collecting sounds from many sources is possible. For example, you can record system sound, audio from your microphone, or both.
Pros
The software is designed to be basic and straightforward to use.
You may record videos/screens from your computer in various modes/formats using multiple functions.
It allows gamers and video recorders to record webcams while recording the Windows screen.
Cons
Apart from not being able to set the audio in decibels, you can't think of anything else to dislike about it.
Compatibility: Windows 11/10 /8/7; macOS 10.13 or higher
Price:
Annual Subscription: 1 User/Year $39.95
Lifetime License Once-off: $69.95
Monthly Subscription: 1 User/Month $19.95
Price: It starts $19.95/Monthly.
Compatibility: Windows and Mac
2. VideoSolo Screen Recorder
VideoSolo Screen Recorder is an easy-to-use interface that allows users to record the screen, audio, webcam, or take a snapshot with a few mouse clicks. The most recent version of VideoSolo Screen Recorder has a "Game Recorder" option that allows users to preserve their gaming moments in excellent resolution. In addition, users will find it quite simple to construct tutorials for internet distribution.
Pros:
Best for novices and people looking for the most straightforward but highest-quality recording results.
Video recording in HD resolution is supported.
Maintains all functions in the most user-friendly manner.
Give the advantage of real-time recording without trailing back.
Cons:
If you use the free version, you can only save a 3-minute video, and you can't utilize the cutting tool.
Compatibility: Android and iOS
Price:
DVD Suite: $90.89
Blu-ray Suite: $118.90
3. Movavi Screen Recorder
Movavi Screen Recorder is one of the most outstanding free screen recorders available for Windows and Mac computers. Because of its small size, it does not interfere with desktop tasks when it is operating.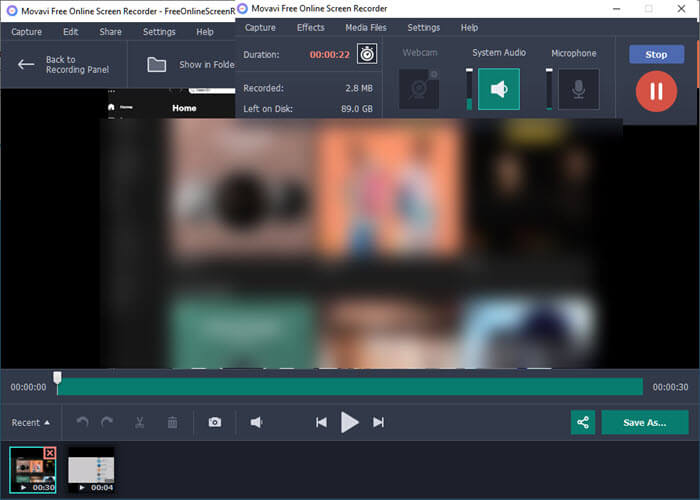 You can use this screen recording program to capture screen video, system sound, or microphone audio, grab and modify screenshots, and publish the results on social media. It can be used for online video streaming, video calls, and other PC activities.
Pros:
Capture a specified screen region or a separate window, or record in full-screen mode.
Because of the support for hardware acceleration, you can get high-quality output video.
Record the system sound as well as the microphone at the same time.
Take screenshots of mouse movements and highlight the cursor.
Cons:
The output videos now have a watermark.
Before sharing the video on YouTube, you cannot add a description or edit the tags.
Compatibility: Windows 7/8/10; Mac OS 10.10 or higher
Price:
4. Flashback Express
Flashback Express includes a sophisticated screen recording function and excellent video editing capabilities. This desktop recording software is ideal for persons with a more significant requirement for making video tutorials through recording, such as professors, professional gamers, business leaders, etc. It also does not place any restrictions on video length.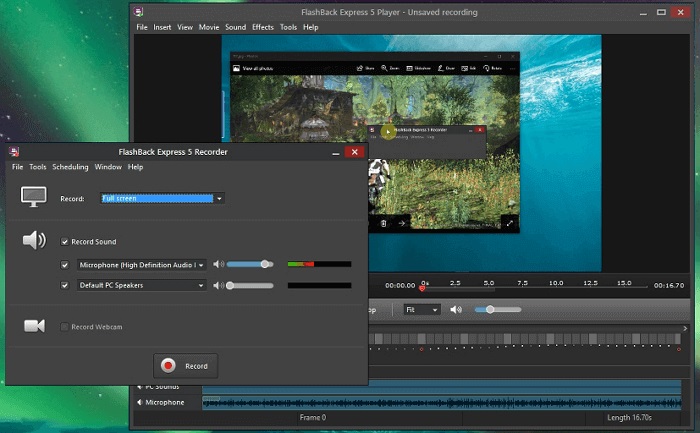 Pros:
Provides professional editing capabilities for adjusting videos once they have been recorded.
Videos are recorded without a watermark.
Provides a simple free version.
Captions, arrows, and photos can be added as needed.
Professional users will benefit the most, especially those who need to create video tutorials.
Cons:
It only supports Windows operating system.
When utilizing the free version, the editing functions are limited.
Compatibility: Windows
Price:
5. OBS Studio
One of the best screen recording programs available is OBS Studio. It's a robust platform that gives content creators everything they need to live-stream from their device while playing video games or doing anything else. OBS Studio is used by most YouTube and Twitch streamers to capture their screens.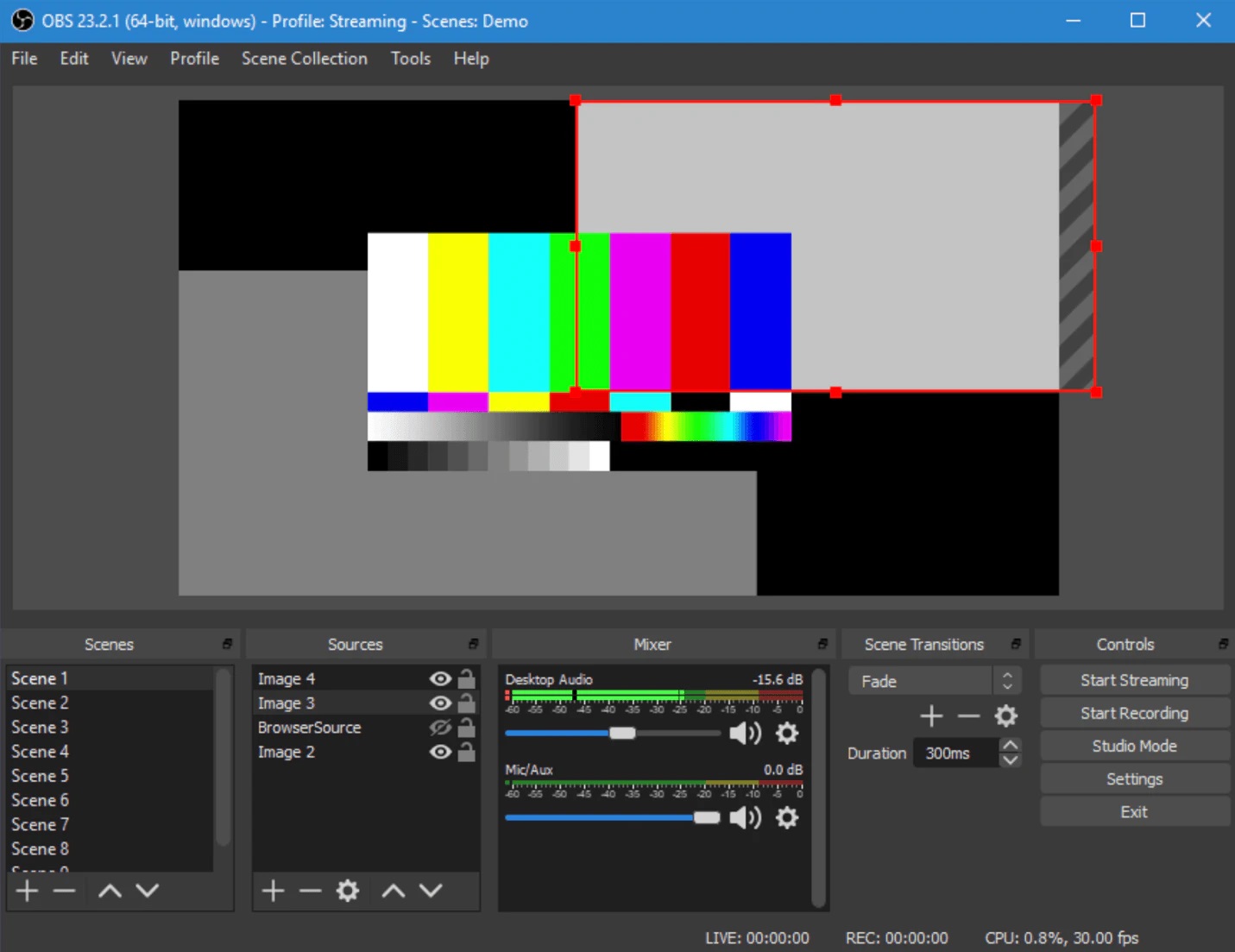 Pros:
Many OS systems are supported.
Without notifying anyone, you can record a Webex meeting.
For streaming videos, the best free screen recorder is
Cons:
Set up takes time.
For capturing, there is no "pause" button.
It may be challenging to use for beginners.
Compatibility: Linux, Mac, Windows
Price:
6. Quicktime Player
Apple developed Quicktime, which is a built-in media player. However, QuickTime is more than just a media player; it also has a recording feature that allows Mac users to record videos, audio, and microphone without installing additional software. After launching Quicktime, navigate to "File" > "New Screen Recording" to immediately discover the recording option. However, there is one apparent flaw: the application does not provide any editing tools for modifying recordings before saving them.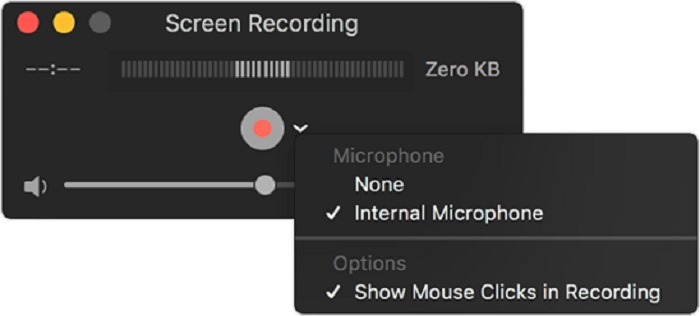 Pros:
Users do not need to download any other apps to record the screen.
The recording function is available with the simplest operations.
There is no charge to use the recording function.
This is the best option for Mac users who don't want to install another app to record the screen.
Cons:
Only Mac systems are compatible with Quicktime.
There are no editing tools available to change the recordings after being captured.
Compatibility: Mac
Price:
7. Apowersoft Free Online Screen Recorder
Apowersoft's free online screen recorder offers a straightforward user interface that makes creating how-to films and software lessons a breeze. This is one of the few web-based screen recorders available. Users only need to browse their website, complete a few simple instructions, and capture their screen in seconds.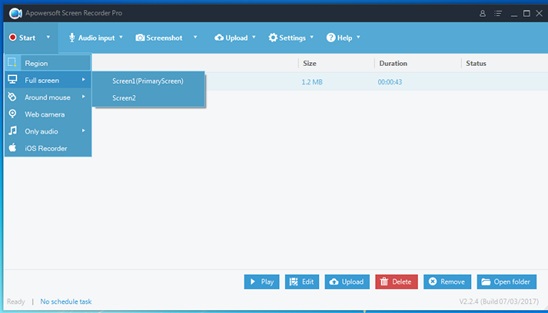 Pros:
The online version eliminates the need to download and install an additional program on computers.
This company offers a cloud storage solution.
The video can be uploaded to YouTube, Vimeo, Google Drive, and Dropbox.
Cons:
Some functions, for example, are restricted:
With the online one, task schedule recording is not possible.
It doesn't allow you to alter your footage in real-time
If you rely significantly on their cloud service to store your recordings, you may lose them.
Compatibility: Android, iOS, Windows, Mac
Price:
8. Loom
Through video, Loom's screen recording software aims to help teams communicate more effectively and increase productivity. Loom can be an excellent alternative for screen recording, whether you need to connect with clients or groups.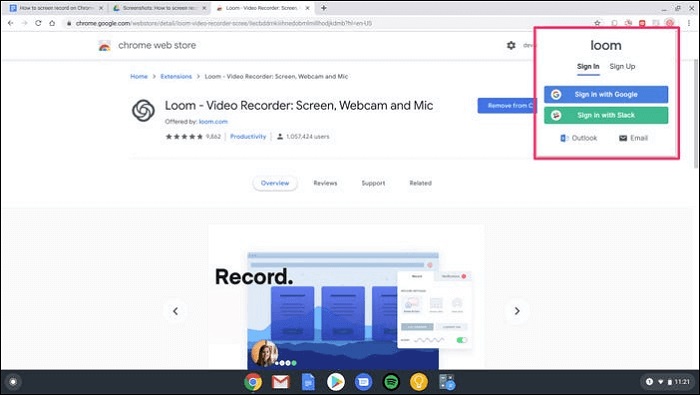 Pros:
Chrome extension, desktop app, and iOS app are all available.
Share a screencast, download it to your PC, and embed it on a web page.
You may collaborate with specific team folders thanks to team capabilities.
Emojis are used to express rich real-time reactions.
Cons:
On a 32-bit machine, this feature is not available.
Because of its restrictions, it cannot be utilized as a full-fledged video recorder.
In pro mode, you'll have access to more advanced features.
Compatibility: Windows
Price:
9. ShareX
This free screen-recording program is excellent for capturing videos. There are no watermarks or time limits on your recordings, and you can save your file as a GIF rather than a video. ShareX's primary advantage is its video file-sharing tools, making it simple to submit recordings directly to YouTube and other platforms.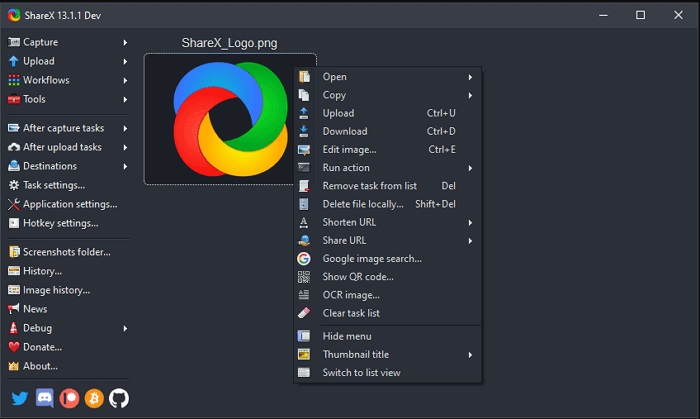 Pros:
Quickly detects borders or screens, making it simple to capture.
Individuals can customize keyboard shortcuts to meet their specific needs.
Workflow makes it simple to record the same thing every day.
Cons:
With FPS settings, there is no game capture mode.
Even for specialists, the UI is bewildering.
Only the most basic editing capabilities are available in the editor.
Compatibility: Windows and Mac
Price:
10.  VLC Media Player
VLC is a cross-platform multimedia player and framework that supports most multimedia files and DVDs and Audio CDs, VCDs, and many streaming protocols. While considering the convenient and advanced extensions, it is a video player and the finest free screen recorder.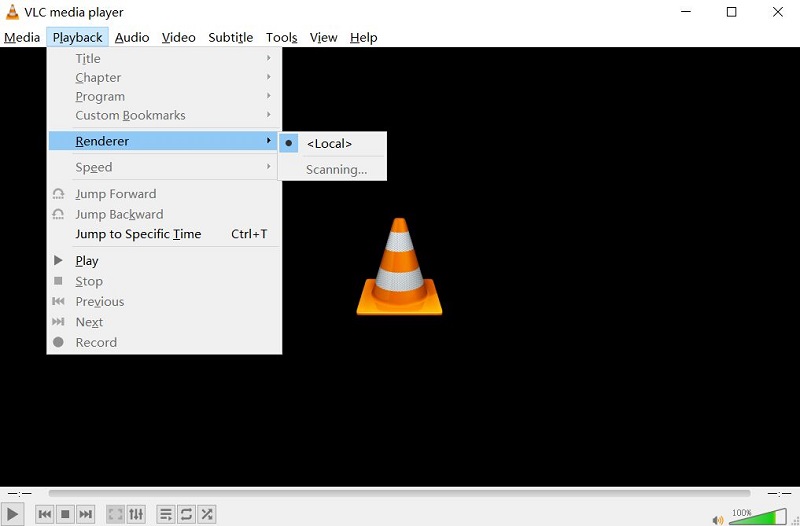 Pros:
The software is open source and completely free.
Streaming media is possible over a network or the internet.
A quick and easy way to make screen recordings
Cons:
Editing possibilities are limited.
It has only the capability to capture the entire screen.
Compatibility: Windows/macOS/Linux/Android/iOS
Price:
Sum Up
You can always upgrade to a paid service if you want more power or access to professional editing tools. Hopefully, one of these screen recording tools will meet your needs, whether you're doing a YouTube instructional or simply sharing a gaming accomplishment with your friends.
EaseUS RecExperts is an excellent option to test because it supports all sorts of recording and has no limitations in recording the screen or audio, including system audio. Beginners will find it simple to use, yet it has professional-level functionality.
Price: It starts $19.95/Monthly.
Compatibility: Windows and Mac
No more content