In a situation where you are getting really worked up about redundant files on your PC, such as duplicate mp3 files that you might have downloaded more than once or received from friends, and you can't keep track of them. It is usually difficult to free up space on your computer manually. The process of going through files one after the other to sort out which are useful or not can be time-consuming and stressful. However, this stress is avoidable for your music files. You can use a duplicate mp3 finder to search through your PC automatically and sort duplicate mp3 files. A duplicate music file finder saves your time and is far more effective. Following are duplicate mp3 finder apps that you should try out.
Top 6 Duplicate MP3 Finder You Should Try
If you are tired of coming across copies of the same music files on your PC, using the best available effective applications is better and more efficient. Here are the duplicate music files finder with the best features:
1. Easy Duplicate Finder
Easy Duplicate Finder is famous for its effectiveness and easy-of-use in removing duplicate files from your Windows or Mac PC. It is intended to detect duplicate files on both Windows and Mac systems. It can detect duplicate music files with the same name or attribute, and it supports several audio file formats like MP3, WMA, and AAC.
It allows users to search for duplicate music in specific folders using the SHA256 algorithm and hash comparison. It supports detachable media such as floppy and USB disks and computer hard drives. Also, the duplicate music file finder helps to create space for new music by clearing out duplicate MP3 files.

Easy Duplicate Finder Review
Price: Its single computer license charges $59.95/year.
Compatibility: Windows
Here is an easy guide on how to use Easy Duplicate Finder to find and delete the duplicate files from your computer in just a few simple steps:
Step 1: Run Easy Duplicate Finder's Wizard. This will assist you in getting started and selecting the directories in which you wish to locate duplicate files.
Step 2: Perform the Scan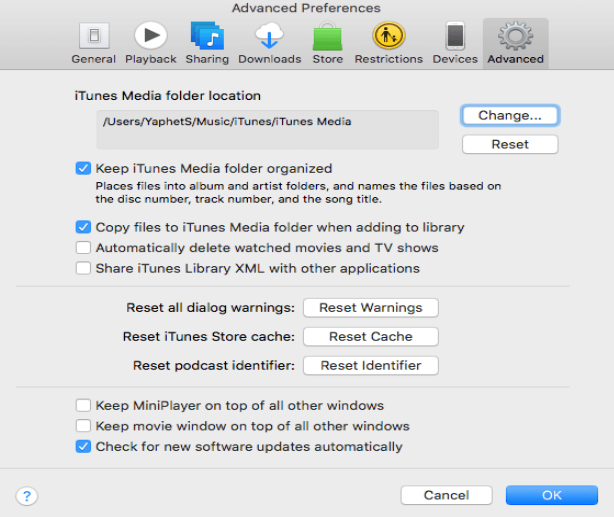 Step 3: Remove duplicates. Duplicate file removal is snappy because Easy Duplicate Finder speeds up the process. To pick which files to delete or move, use automatic selection or bulk-selection options.
Step 4: When you're finished, click the trash can button to delete all the duplicates at once.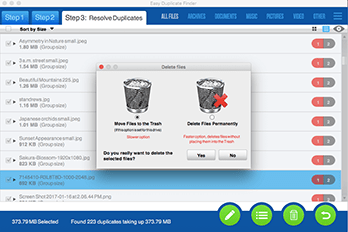 Step 5: To keep duplicate files, pick the Move option from the list-menu and specify the destination folder.
2. Similarity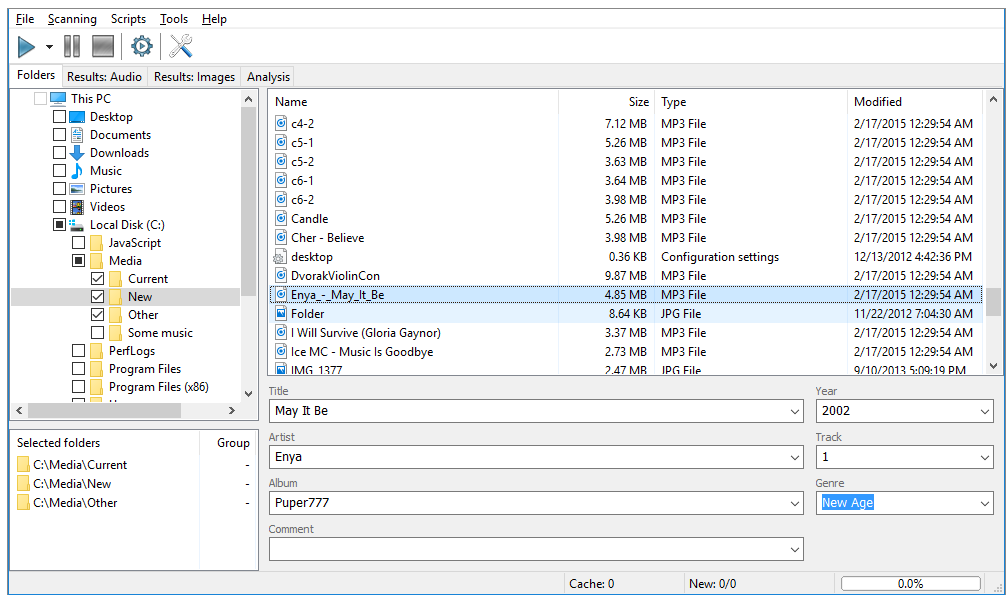 A great app designed to help you find duplicate music files quickly. It will display all duplicates it detects after scanning your music files. It supports various formats, including MP3, M4A, OGG, and others. This tool, like the duplicate MP3 detection applications listed before, can scan many files without consuming a lot of resources.
Editor's suggestion: Similarity is very light on system resources and quickly gets the job done.
Click here to visit the site.
Pros:
Available in 17 languages, including English, German, French, and Spanish.
Audios may be compared using their acoustic fingerprint, tag, and filename.
Effective as a duplicate MP3 cleanup
Other audio formats are also supported.
Cons:
It's a little costly because it only works with audio.
To use Similarity, select the folder(s) you want to check. It detects duplicate mp3 files and gives you options on what to do with them.
3. Duplicate Cleaner Free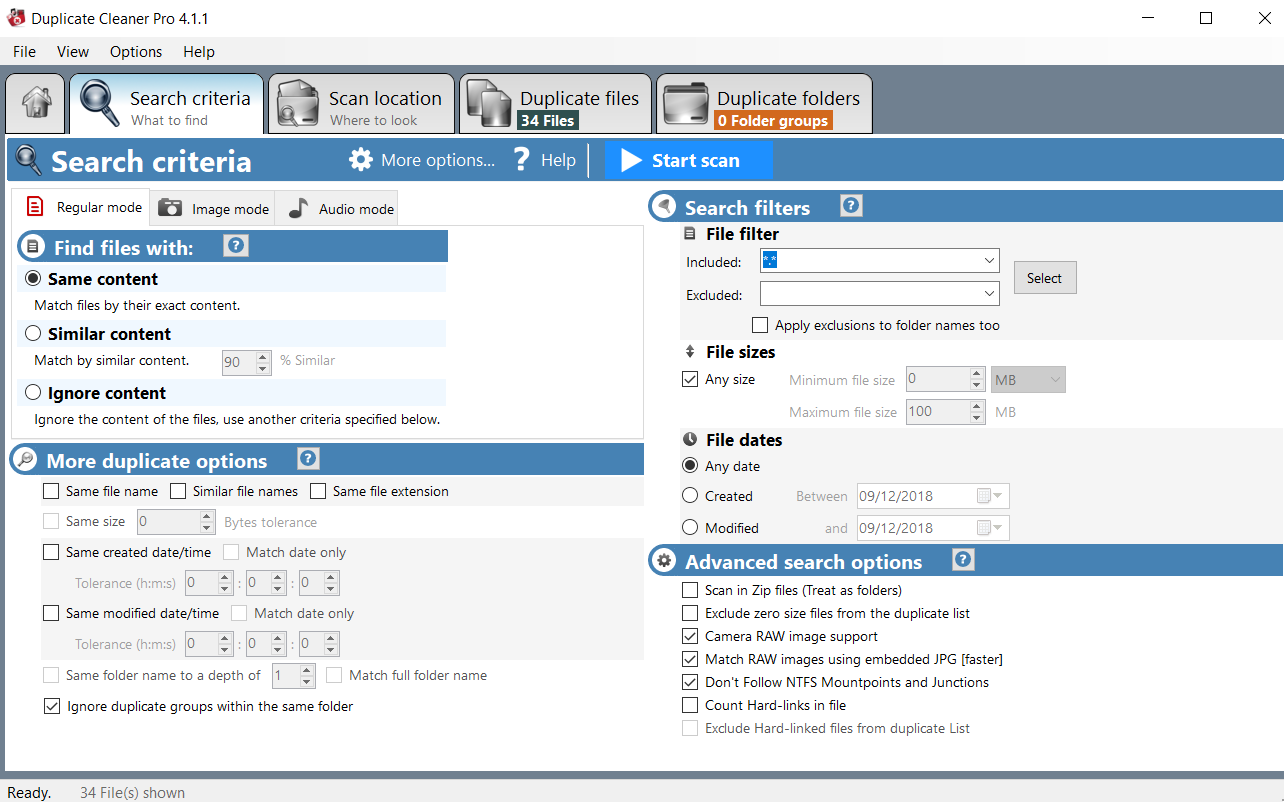 Description: Duplicate Cleaner is one of the best duplicate MP3 finders for Windows 10 and prior versions to delete duplicate music files.
In addition to MP3, it supports eight more formats, including OGG and WAV. To use it as an MP3 duplication finder, select Audio mode from the Search criteria window. You can select from a variety of matched kinds. For expert users, the Pro edition has more match configuration choices.
Editor's suggestion: When this MP3 duplicate finder has finished scanning, the Duplicate Files window will provide a list of all discovered duplicate MP3 files. The left column has a collection of Selection aid tools that will assist you in bulk marking undesired copies for deletion. Unwanted music can be deleted by moving them to the Recycle Bin or a folder. Other approaches include renaming files. It requires some technicalities, but it is very effective.
Click here to visit the site.
Pros :
Audio mode is useful for removing duplicate MP3 tracks.
It allows options for advanced search for skilled users
Built-in preview for music, pictures, and other media.
Other file kinds, such as films and documents, are supported.
Cons :
Not simple enough for first-time users
To use Duplicate Cleaner for mp3, follow these steps:
Step 1: Firstly, perform a Scan in the Duplicate files option.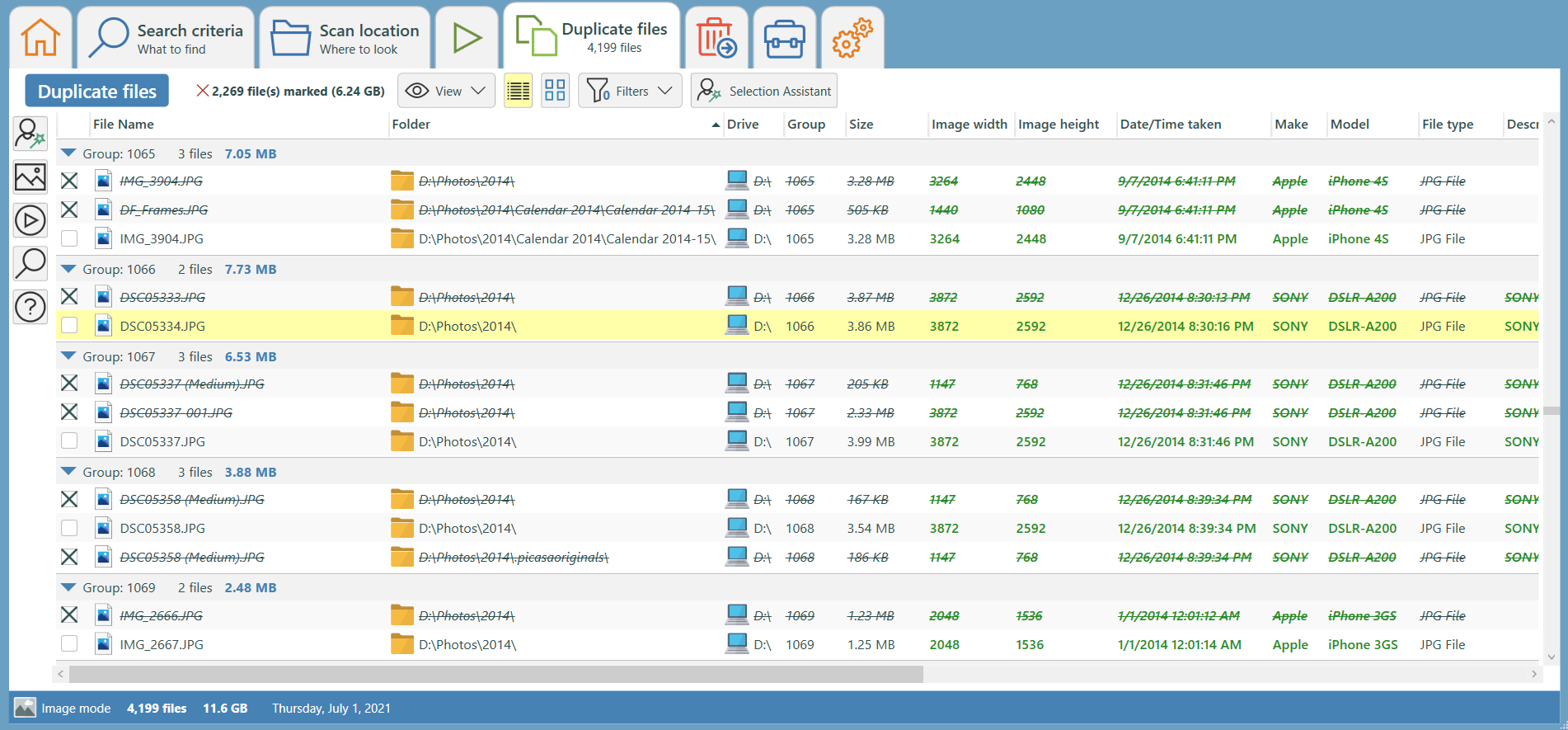 Step 2: Mark the files for actions to be performed on them
Step 3: To access the dropdown menu of view settings, click the 'View' button to choose your preferred view.
Step 4: Delete or perform the desired action on duplicate files.
4. dupeGuru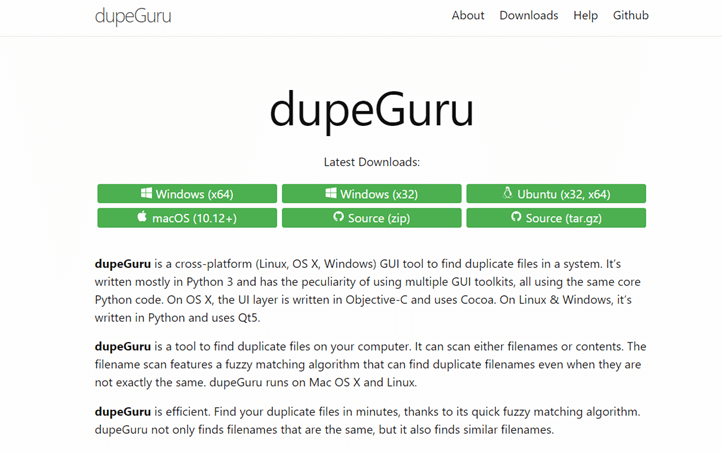 Description: This application is ideal for searching based on different parameters and options since it can search files of all formats, including music files.
Dupe Guru is an important and standard tool that allows you to compare files and discover duplicates using the established algorithm and numerous parameters. You can also use its sophisticated functions to locate duplicate music files and improve system performance.
Editor's suggestion: Its sophisticated matching technology makes the search simpler, quicker, and more efficient.
Click here to visit the site.
Pros:
dupeGuru matching Algorithm is fast and effective.
It can search duplicate files of different types.
Cons:
Non-duplicates are more likely to be deleted mistakenly.
To use the dopeGuru application:
Step 1: Select the music folder
Step 2: Scan for duplicates and wait for the results
Step 3: The mp3 duplicate finder can delete copies of mp3 files or move them to another location of your choosing.
Step 4: It also allows reprioritizing of the duplicates.
5. Duplicate Music Fixer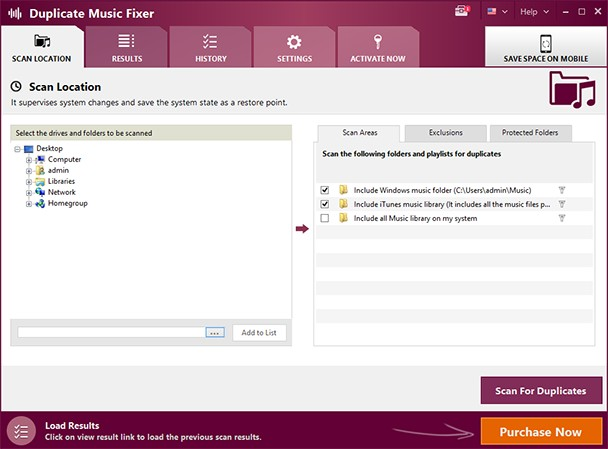 Description: Duplicate Music Fixer was created specifically to locate duplicate music. This duplicate MP3 finder supports a variety of file types, including MP3, WAV, M4A, and WAV. It may be used to locate duplicate MP3 files in specified directories.
It locates and lists the music library folders on your computer automatically. You may also scan directories manually. When you select Scan for Duplicates, the duplicate MP3 finder will begin scanning for duplicates. When compared to other similar tools, the scan is rather sluggish. You may locate groups of recognized MP3 music in the Results box.
Editor's suggestion: The Selection Assistant tools may auto-select duplicate copies based on default or custom parameters, making it simple to pick undesirable MP3 audios. The app, on the other hand, does not include a built-in media player. The software works well but may be enhanced.
Click here to visit the site.
Pros:
Locate music directories on your computer automatically.
Useful Selection Assistant tools for removing duplicate MP3 files
There are several methods for removing unwanted music duplicates.
Cons:
There is no drag-and-drop capability.
There is no audio preview.
To use Duplicate Music Fixer:
Step 1: Select the folder you intend to scan for duplicate music.
Step 2: Click on the "Scan for Duplicates" button to get started.
Step 3: The duplicate music finder may relocate MP3 files to the Recycle Bin or another location of your choosing.
6. Cisdem Duplicate Finder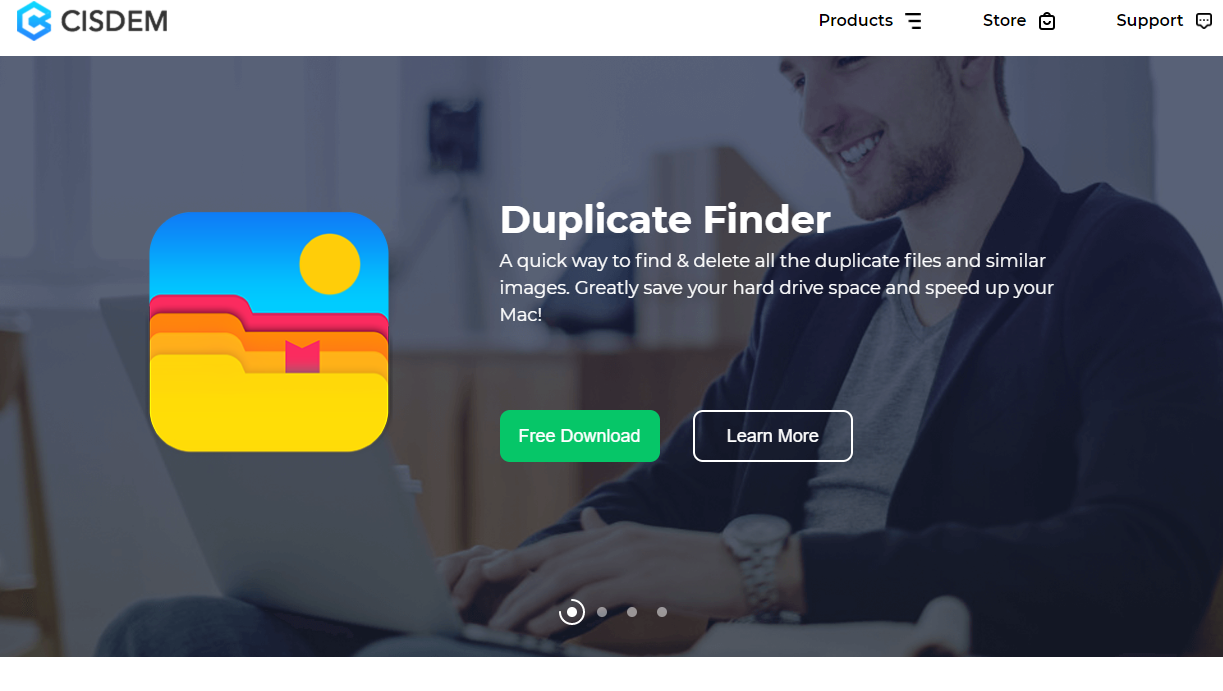 Description: Excels at removing duplicate music and other files. It is a tool with a user-friendly interface. Cisdem Duplicate Finder is a simple and effective duplicate file finder and uninstaller. It is more than just a terrific MP3 duplication finder; it can discover all sorts of duplicate files, allowing users to clear up storage space and make file management easier.
Editor's suggestion: Although the app is not as widely used as other duplicate music file finders, it does the job perfectly and is easy.
Click here to visit the site.
Pros:
Find duplicate music, movies, photos, Word documents, PDFs, spreadsheets, presentations, ebooks, archives, and other files.
Because of its modern algorithms, it provides exceptional accuracy and speed.
Duplicates in Photos, iPhoto, iTunes, and Music should be removed.
Cons:
It is not as widely used as other duplicate mp3 finders.
Here is how to find and remove duplicate MP3 files using Cisdem:
Step 1: To scan for duplicates, click the addition (+) symbol and choose one or more folders.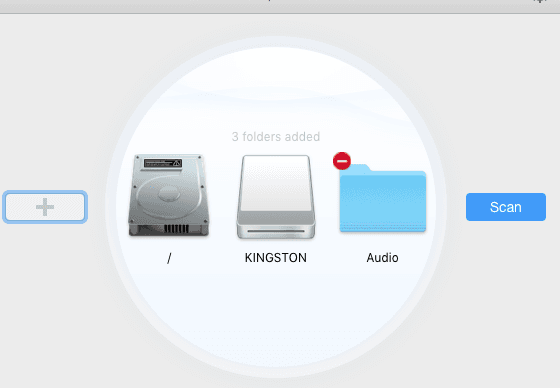 Step 2: Include directories in the search for duplicate MP3 files. The scan should be selected.
Step 3: When the scan is complete, go to the Music tab to get a list of all duplicate audio files and music. They may be sorted, viewed, and reviewed.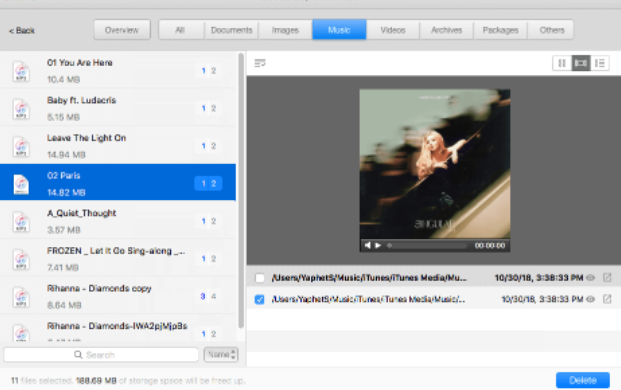 Step 4: To delete the chosen MP3 duplicates, click the Delete button.
Conclusion
If you are tired of finding duplicates of the same music files on your PC, utilizing the best available apps is preferable and more efficient. We have selected the top duplicate music file finders with amazing features for you in one post. We highly recommend the Easy Duplicate Finder app, which is very easy to use and does the job effectively.
Price: Its single computer license charges $59.95/year.
Compatibility: Windows
No more content