Duplicate files may be a major inconvenience when they accumulate and clog your Mac disc. It continues to nag you about the "storage almost full" pop-up. Duplicates can be found in multiple folders, such as large media and document files. These are created through numerous downloads or mistake copying, but the main flaw is that they stress your Mac.
When your Mac warns you about duplicate files, you must first send them to the quarantine. Yes, it is possible to delete duplicate files on Mac that may be hidden within multiple folders. As a result, it's preferable to use a duplicate file finder for Mac to quickly list out and eventually shred unwanted duplicate clutter on your Mac drive.
Check out our selection of the Top 5 Best Duplicate File Finder for Mac to help you remove duplicate files and restore important storage space on your Mac:
The 5 Best Mac Duplicate File Finder
1. Easy Duplicate File Finder
Easy Duplicate Finder may help you clear storage space by locating and deleting duplicate files on internal and external discs. It has simple and advanced modes for finding duplicate files. When the scanning process is finished, you can choose to delete duplicate files with a single click. However, if you are concerned about accidentally deleting some duplicate files, you can manually view the same files and decide which files to delete.
Pros
An easy-to-use UI.
Auto-removal is supported.
Supports two duplication detection models.
Cons
For free, you can only remove up to 10 duplicate files.
Price: $39.95
Compatibility: Windows and macOS.
Price: Its single computer license charges $59.95/year.
Compatibility: Windows

Easy Duplicate Finder Review
Step-by-step guide:
Step 1. Set the Scan Mode
Launch the Easy Duplicate Finder and set it to scan the entire hard drive or SSD using File Search mode.
Step 2. Scan to Search for the Duplicate Files
Wait for a few minutes to complete the scan. Depending on how many files you have on your computer, the Scan process could take a little while.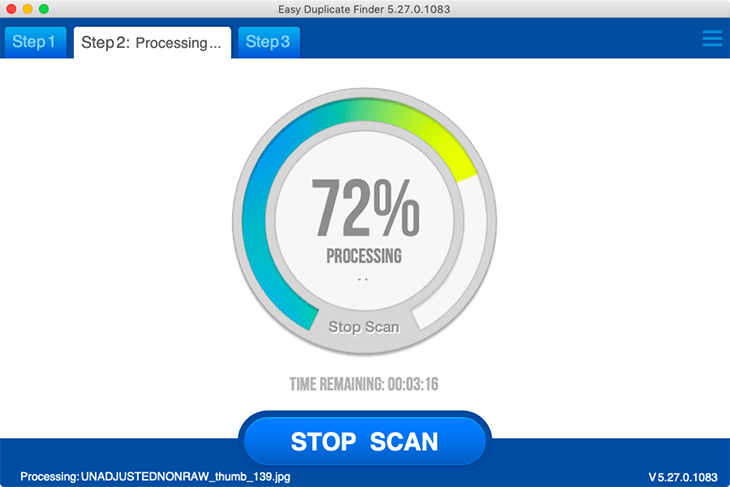 Step 3. Review Results
After the scan is complete, the identical files data will appear on the screen. Review the app's results for identical files, including audio, video, documents and more.
Step 4. Remove Duplicate Files
Easy Duplicate Finder automatically suggests which files you should delete, you can click a button to automatically move duplicate files to the Trash or set file management preferences to delete only certain files.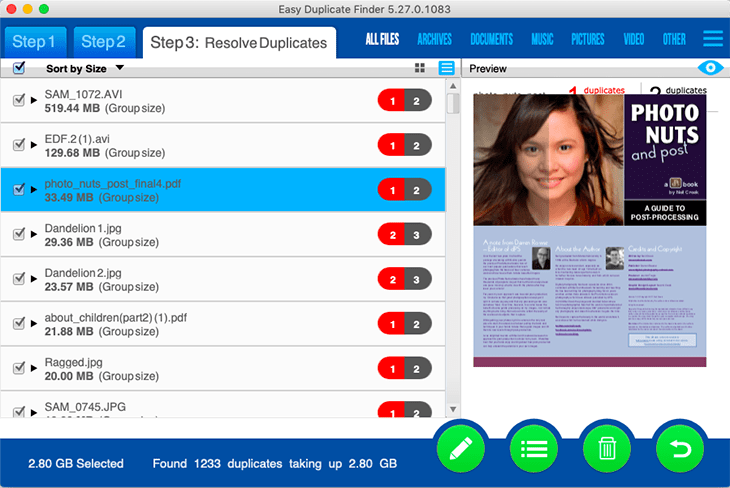 *If you accidentally delete a file that you didn't wish to, don't panic! Easy Duplicate Finder comes with a handy "Undo" feature, which will recover files that were mistakenly removed.
2. Gemini 2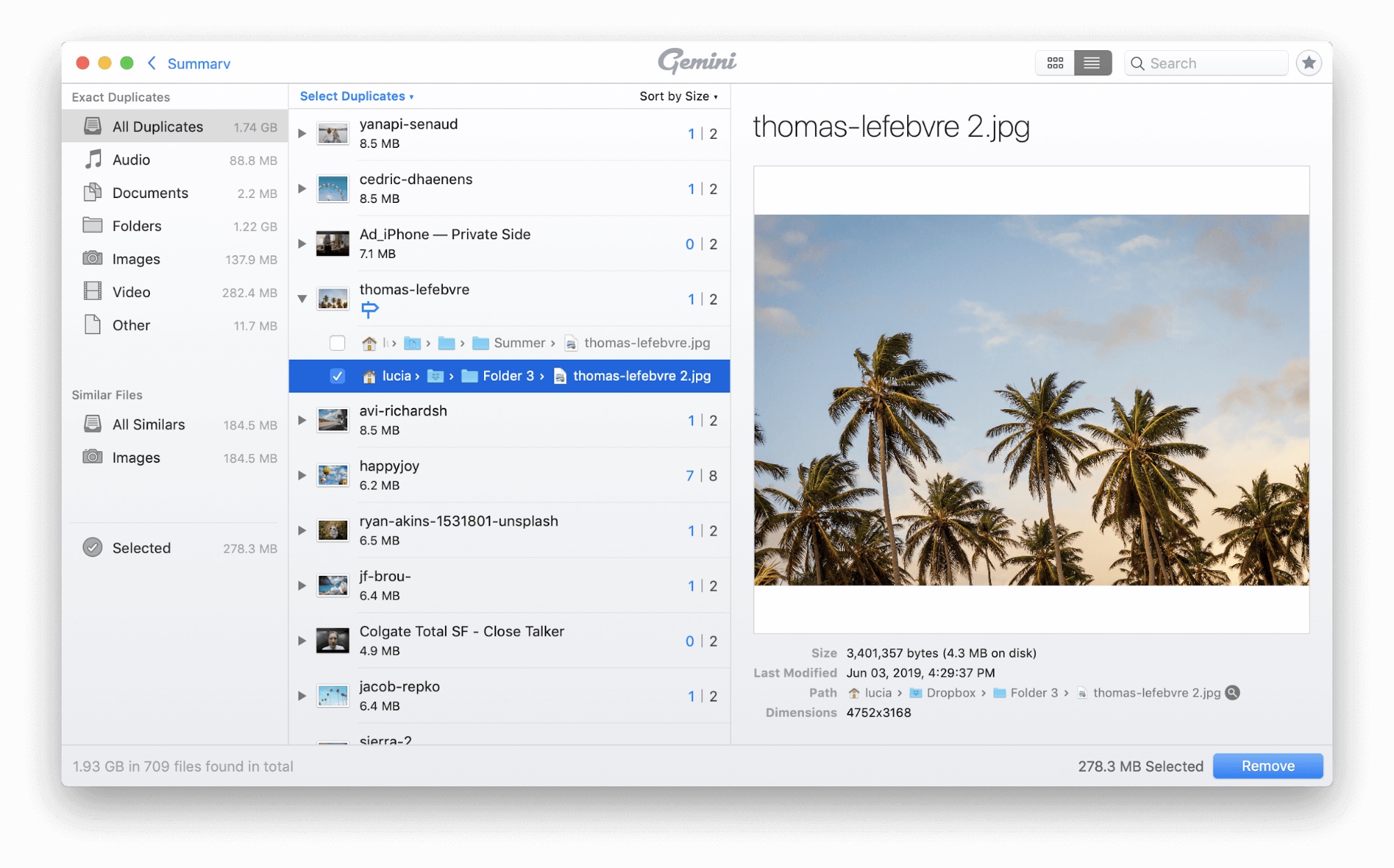 Gemini 2 is a Mac duplicate file finder that is simple to use. It deletes duplicate files in Mac using a quick scanning method. The program, like other utilities, allows you to see files before deleting them and supports more than ten languages. It's one of the most effective Mac duplicate file finders.
Pros
Comes has a lovely user interface
Scan for duplicate files and files that are identical to each other.
Photos and music supported.
Provide a built-in preview function.
Cons
You cannot delete files automatically in the free version.
·Scanning at a slow pace.
Price: $19.99
Step-by-step guide
Step 1: On your Mac, open the app and choose the portion you want to scan.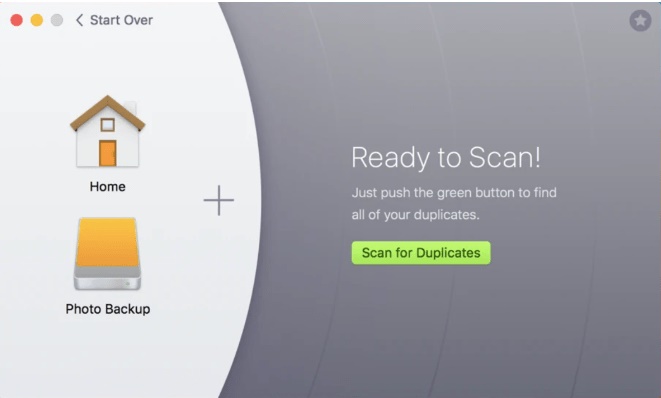 Step 2: Select Scan for Duplicates from the drop-down menu.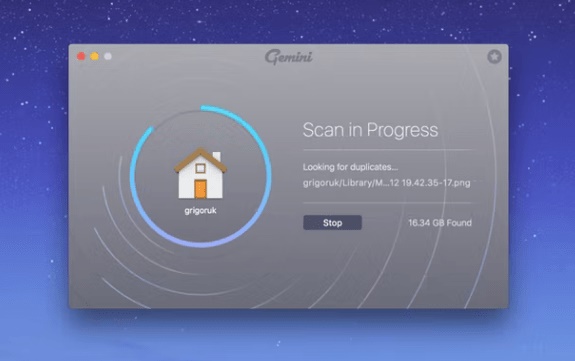 When the scan is finished, you will be given two options: Smart Cleanup and Review Results.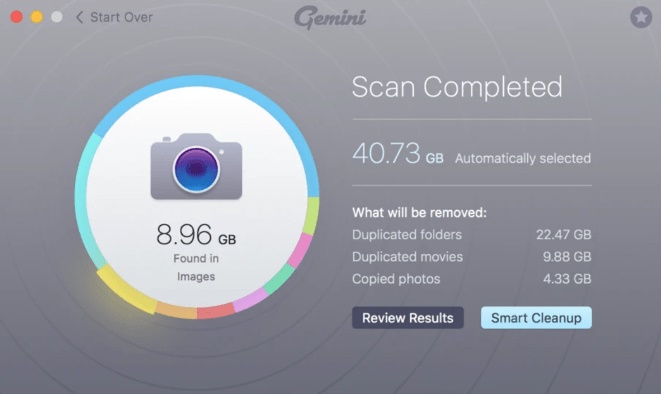 Step 3. When you click on Review Results, it will display all duplicate files detected on your Mac. To see a preview of the files, click on them.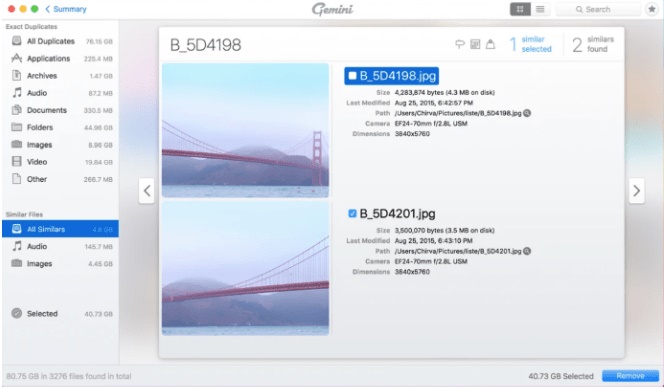 Step 4. Mark the files you want to remove and then click the Remove button.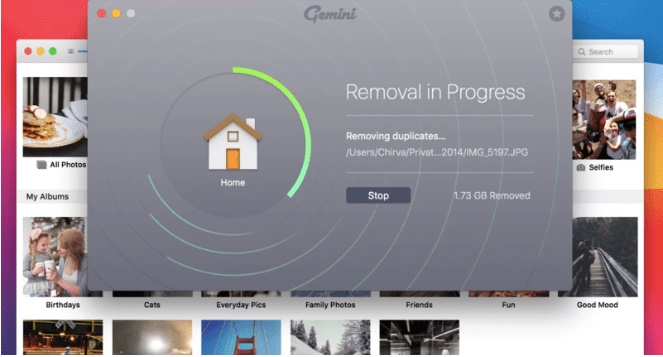 Duplicate files will be removed from your Mac almost instantaneously.
3. Duplicate Files Fixer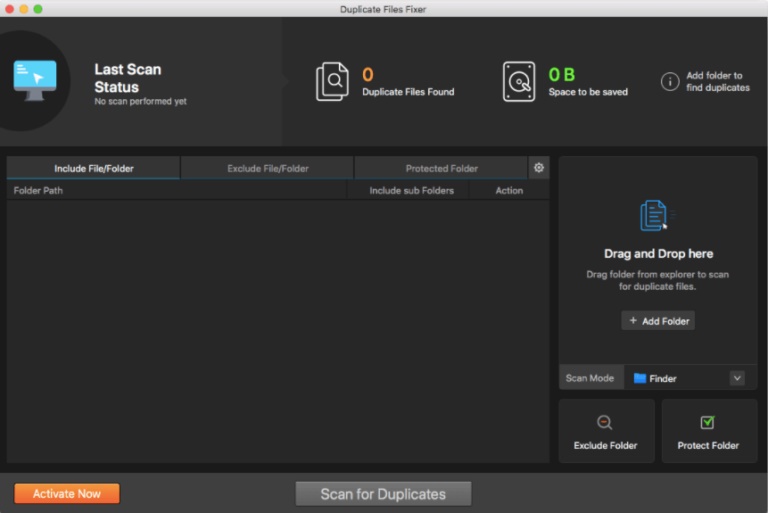 Another good duplicate file finder for Mac is Duplicate Files Fixer. On Mac, you may use it to rapidly add files and folders to scan for identical and similar copies. It operates on internal and external storage space and displays accurate scan results quickly. You may see a preview of the duplicates and use auto-select to remove them quickly.
Pros
Updates are made frequently.
M1 assistance
Excellent value for money
Cons
The changes are modest.
Options for auto-selection are limited.
Price: $8.99
Step-by-step guide:
Step 1: Duplicate Files Fixer can be downloaded and installed on your device.
Step 2: Select Scan Mode and begin scanning the device for duplicates after adding files/folders to scan.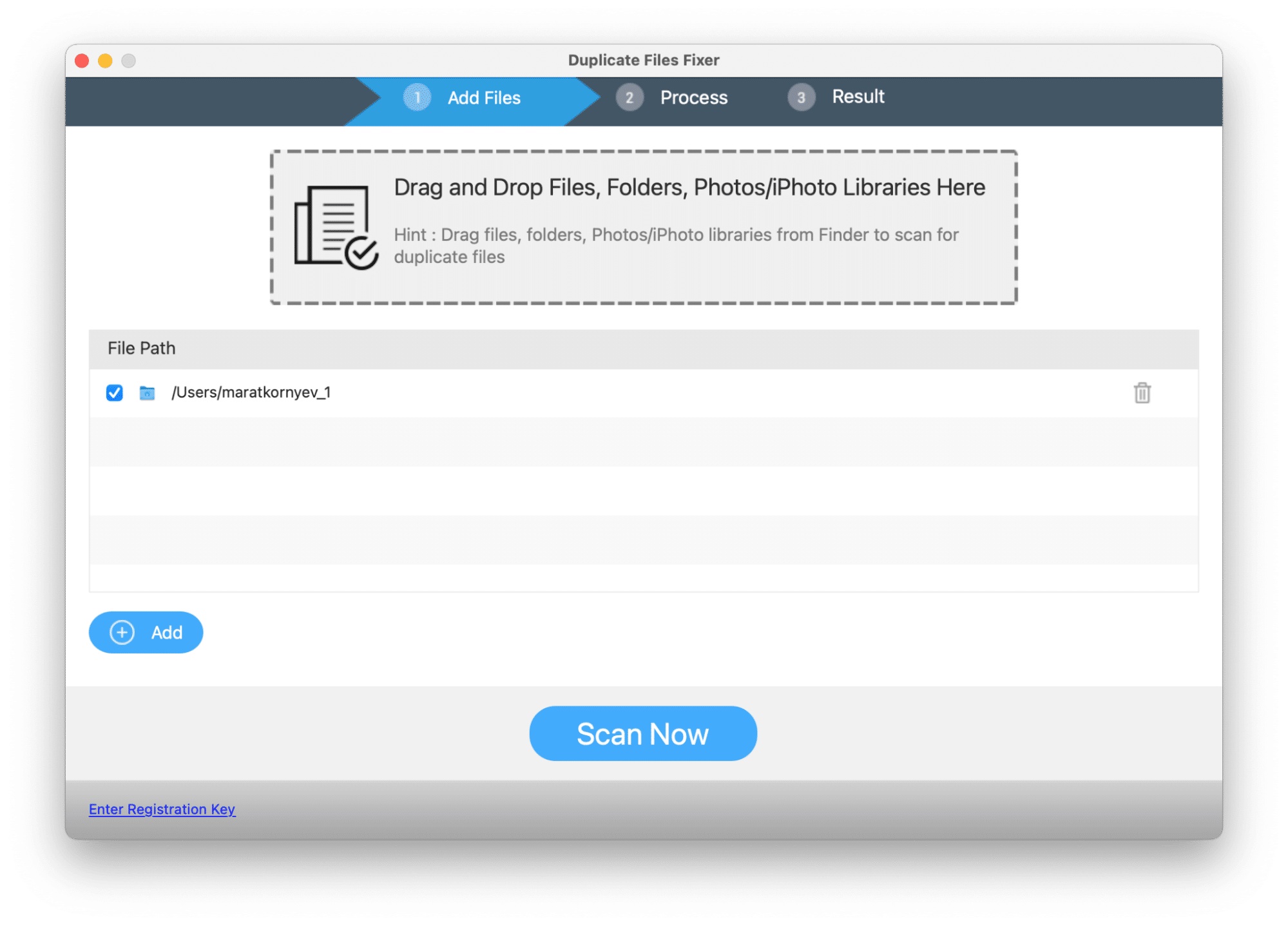 Step 3: Examine the scan results.
4. Duplicate Sweeper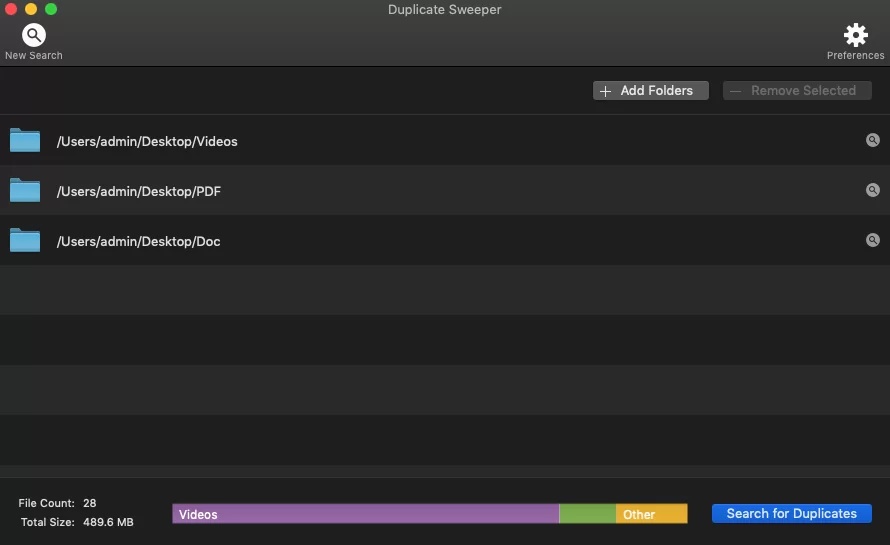 Duplicate Sweeper is a cross-platform duplicate file remover that can find and eliminate duplicate images, movies, audio, documents, and other items on Mac and Windows. There are two modes of operation available in the software: automated and manual. As their names suggest, the former eliminates duplicates automatically based on their file qualities, while the latter allows you to manually pick each copy you want to delete.
Pros
Detection of duplicate files across platforms
Purchase made only once
Duplicates can be viewed in advance.
Cons
The user interface is outdated.
Price: One-time purchase of $20
Step-by-step guide
Step 1: Duplicate Sweeper can be downloaded, installed, and run easily.
Step 2: Select the folders you want to look for duplicate files and click "Start Duplicate Search."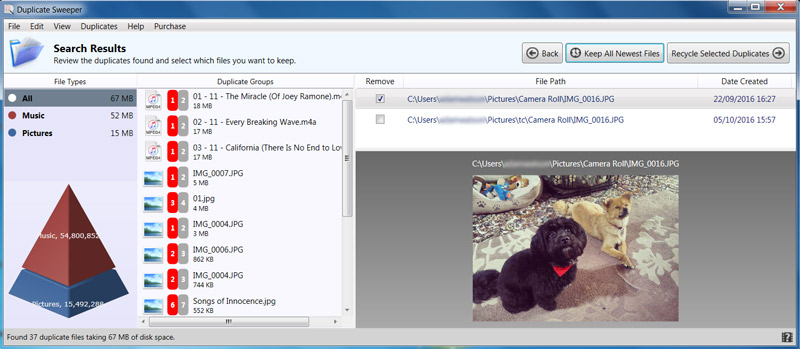 Step 3: Examine the duplicates detected and mark the ones you want to eliminate.
Step 4: Select "Recycle Selected Duplicates" and confirm that you want to eliminate the duplicates you've chosen.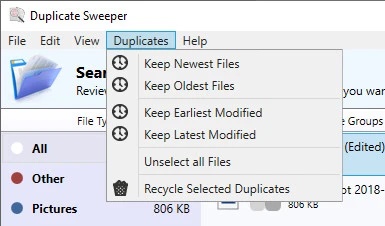 5. Dupe Guru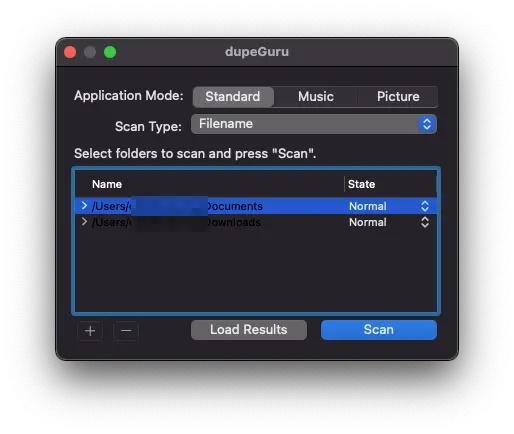 One of Mac's most fantastic duplicate file removers is DupeGuru. It can remove duplicates on both Mac OS X and Windows. DupeGuru for Mac is a tremendous duplicate file removal program that does an excellent job deleting duplicate files. It accurately recognizes copies to assist you in keeping documents organized and free of duplicate records.
Pros
Free and open source
Algorithm for fuzzy matching
Multiple languages have been translated.
Cons:
There is no support for photos or music.
It doesn't seem to be able to find all of the duplicates in the folder it checks.
Price: Open source and free to download
Step-by-step guide
Step 1: Install the app on your device.
Step 2: Choose "Scan" after selecting a specific folder.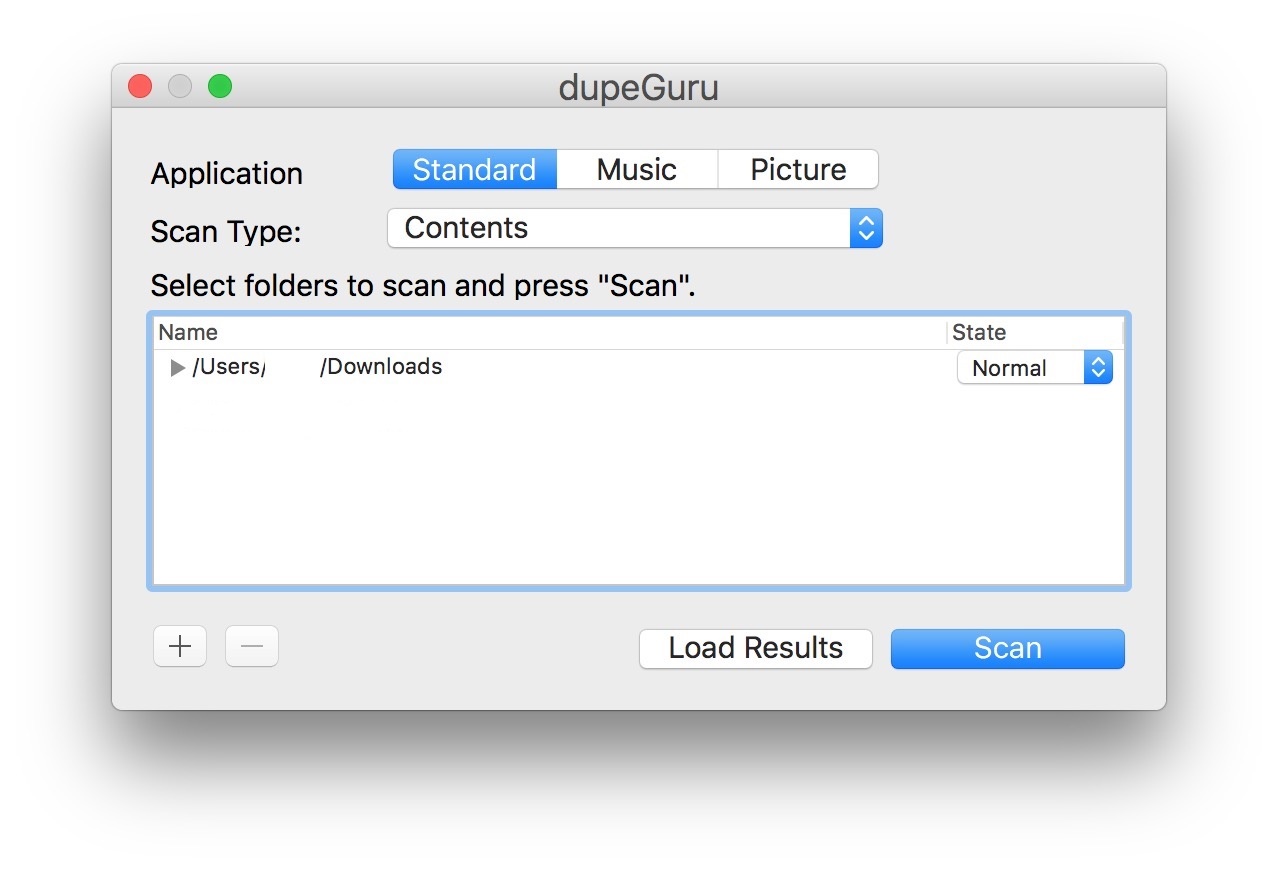 Step 3: Allow the scan to finish; depending on the size of the directory being scanned for duplicates, this may take some time.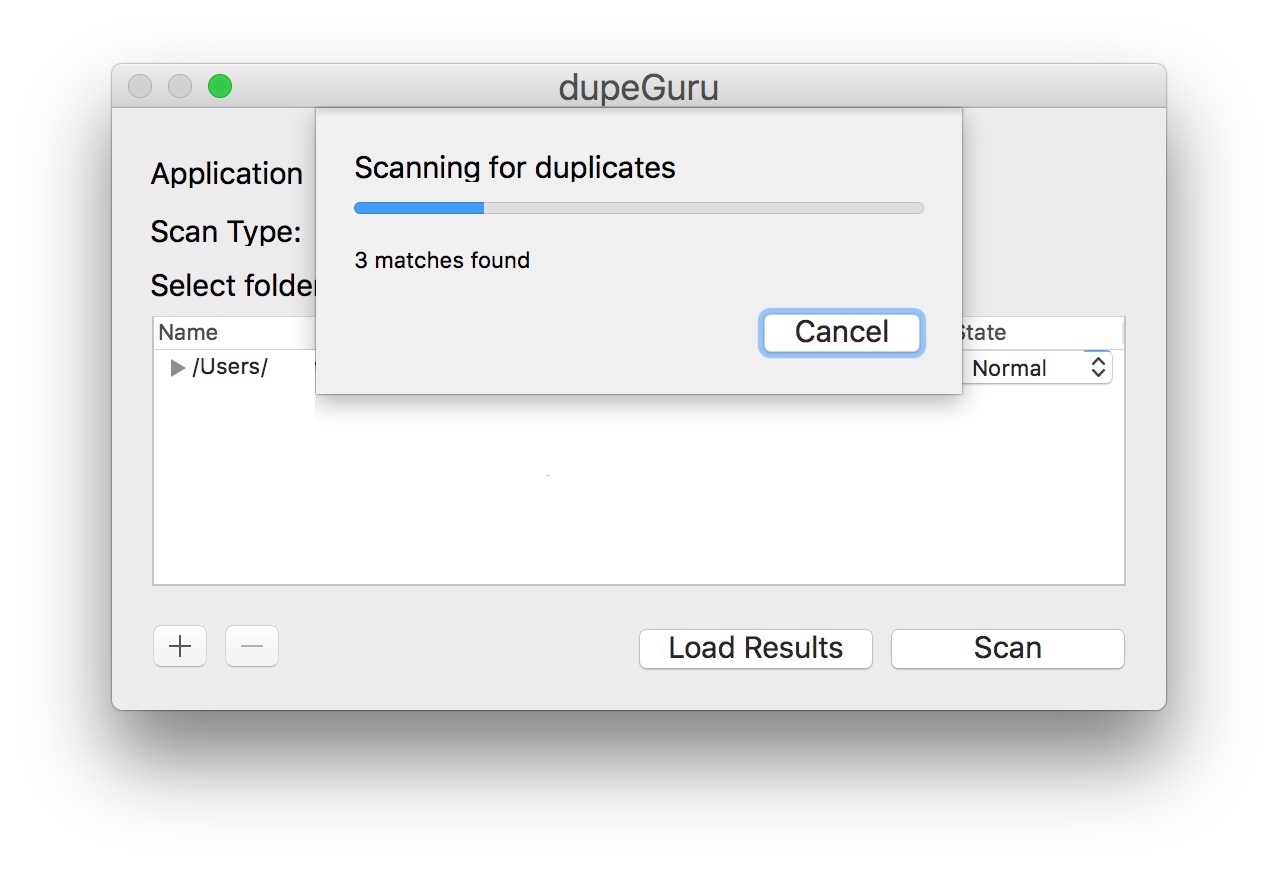 Step 4: When the directory has been scanned, a list of possible duplicates will appear on the screen.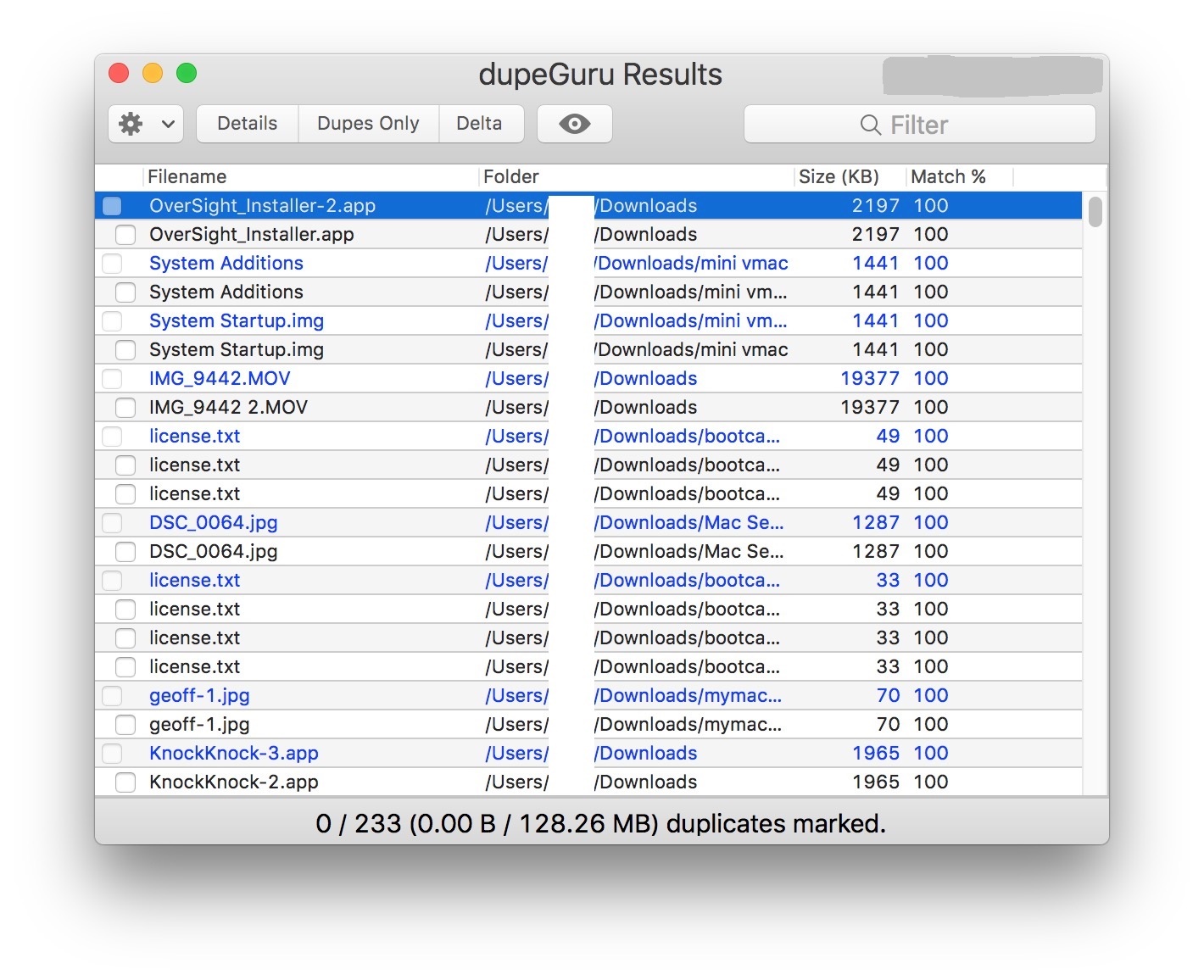 Wrapping up
We hope that this list has assisted you in determining the best app to remove duplicates from your Mac and keep it clean. With a duplicate-free Mac, you can increase productivity while saving precious gigabytes for more storage space on your Mac.
While most apps have a helpful interface that ensures you do not delete important files and folders, we strongly advise you to backup your Mac before attempting to remove duplicates.
No more content